How Ange Postecoglou turned sneers into songs en route to league title triumph with Celtic
Ange Postecoglou was meant to have been sacked long ago. Now he's taken Celtic to a Scottish league title while inspiring infatuation among the club's fans, writes GRAEME MACPHERSON.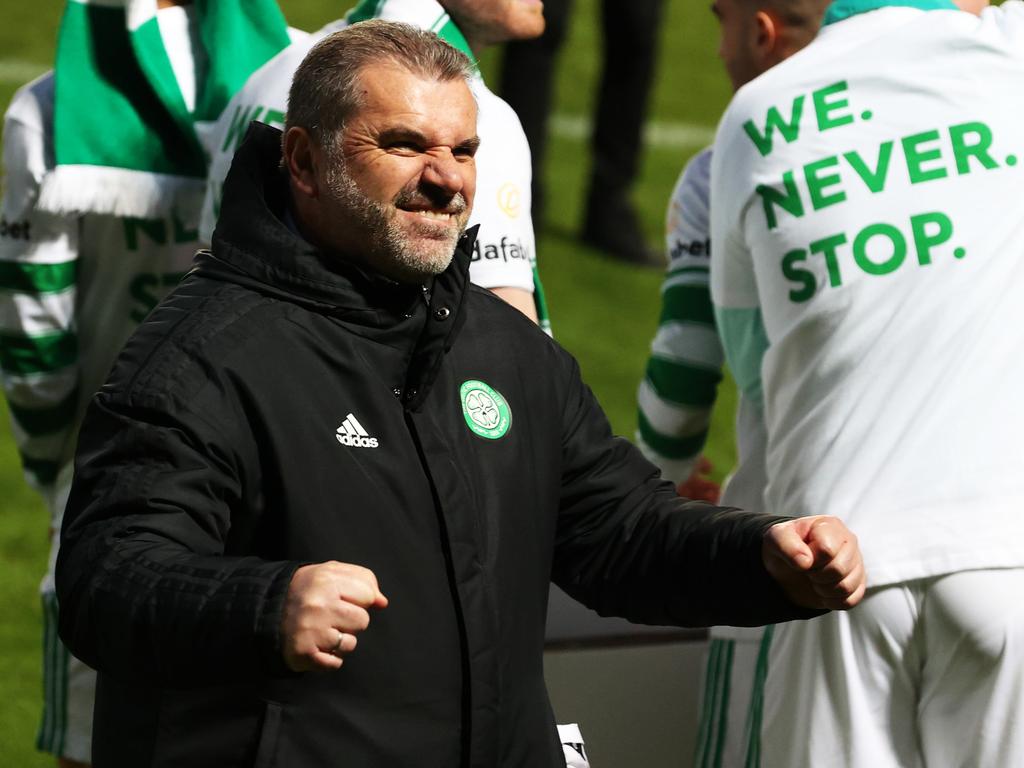 Celtic manager Ange Postecoglou celebrates winning the league after a draw at Dundee. A trademark saying of the Australian's featured on the club's championship t-shirt. Picture: Alan Harvey/SNS Group via Getty Images
Odsonne Edouard had a Stone Roses song reworked by the Celtic supporters in his honour during his time in Scottish football. That the tune bastardised in praise of Ange Postecoglou, who has led the Parkhead club to the Scottish Premiership title in his first season in charge, is older and not as cool feels almost appropriate.
It is 50 years since The Carpenters wrote Top of the World but it has been given a 2022 makeover by a jubilant fanbase in tribute to a man who has turned things around at their club in such dramatic fashion.
Top of the league
Looking down on the Rangers
And the only explanation I can find
It's the form we have found
Since Ange has been around
That has put us to the top of the league
Like The Carpenters, Postecoglou isn't particularly trendy or edgy – he seems to have mellowed with age – but has shown himself over a maiden season to remember to be someone of considerable substance and worth. Lifting the League Cup in December was the start of his acquaintance with Scottish silverware and now the main one, the Premiership trophy, is back inside the Parkhead cabinet, too, after a year across the city at Ibrox.
No.1: Celtic manager Ange Postecoglou after his team sealed the league title at Dundee. Picture: Craig Williamson/SNS Group via Getty Images
There were a few wobbles in the opening months but Postecoglou has successfully won over and then retained the backing of the Celtic support, even when others were initially sneering at this relative unknown who had arrived from Japanese football to try to salvage a club that had run aground in its desperate attempts to claim an unprecedented 10th successive league title.
Postecoglou conceded recently that he would likely have heard few dissenting voices if he had declared this a "rebuilding year" but that was never in the 56 year-old's thought process.
Backed by effective player recruitment – of the new signings only James McCarthy and Yosuke Ideguchi haven't made a notable contribution – and an ability to stay calm amid the maelstrom created by that difficult start, the former Yokohama F Mariners boss has delivered immediate results on the back of an attacking playing style that his predecessor, Neil Lennon, at one point earlier in the season wrote off as "kamikaze".
There were a few teething problems at first – it was always going to take defenders time to adjust to the concept of inverted full-backs – but it speaks volumes for Postecoglou's persistent, persevering style that every player has raised their game throughout the season to meet the demands of the manager. This is a system and style that everyone has bought into, allowing personnel to come and go without substantially altering Celtic's playing DNA.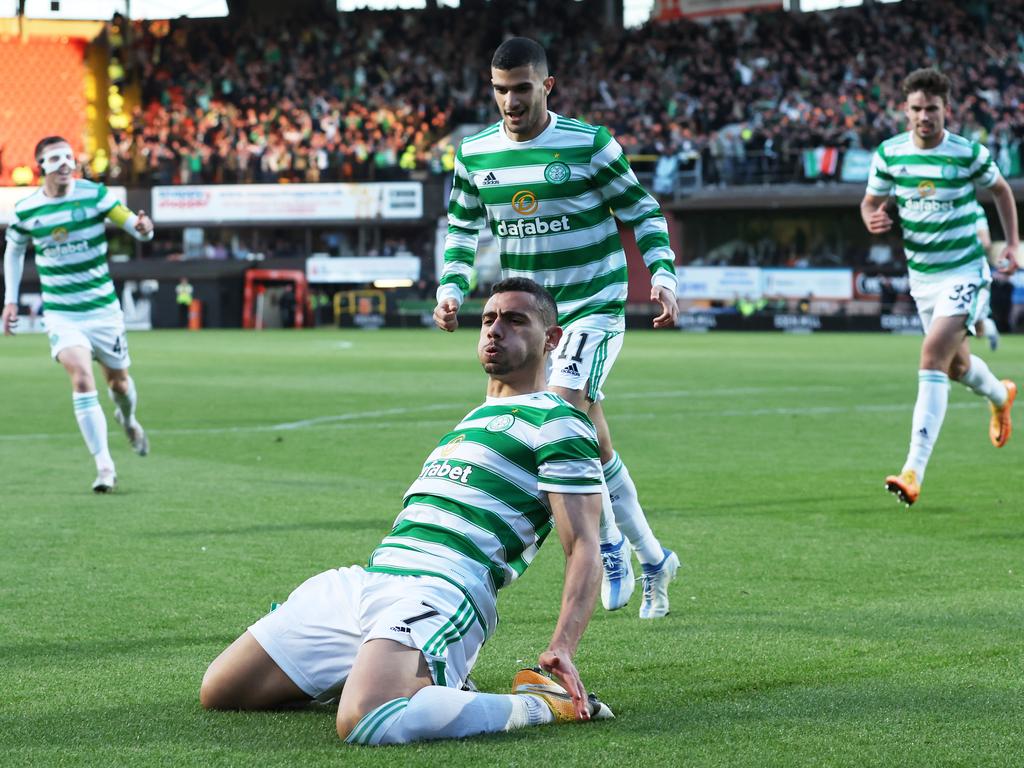 Celtic's Giorgos Giakoumakis, a proud Greek like his manager, celebrates after scoring his side's lone goal against Dundee United at Tannadice Park. It was enough to seal the title for Ange Postecoglou's side. Picture: Ian MacNicol/Getty Images
It has been one of the most competitive title fights for a while but once Celtic got their noses in front, there only ever looked like being one winner.
It has now been clinched, officially, against Dundee United at Tannadice, the same ground where Celtic had meekly surrendered the championship to Rangers a year earlier. And not even the most optimistic of Celtic fans back then would have predicted such a seismic sea change in such a short period of time.
"The fact we've won this league fairly convincingly is just incredible," says Hamish Carton, host of the Celtic fan media 67 Hail Hail YouTube channel. "I was always confident that Ange could turn it around but I wasn't always convinced that would mean winning the title.
"Beating Aberdeen away from home in October was possibly the most important win of the season. There were bigger results later on – beating Rangers home and away – but that day at Pittodrie was really a sink-or-swim moment for the team.
"It would have been a lot harder for them to recover from a slow start if they hadn't won there that day. Ever since then, their league form has been outstanding. To not lose a game in eight months is Invincibles form."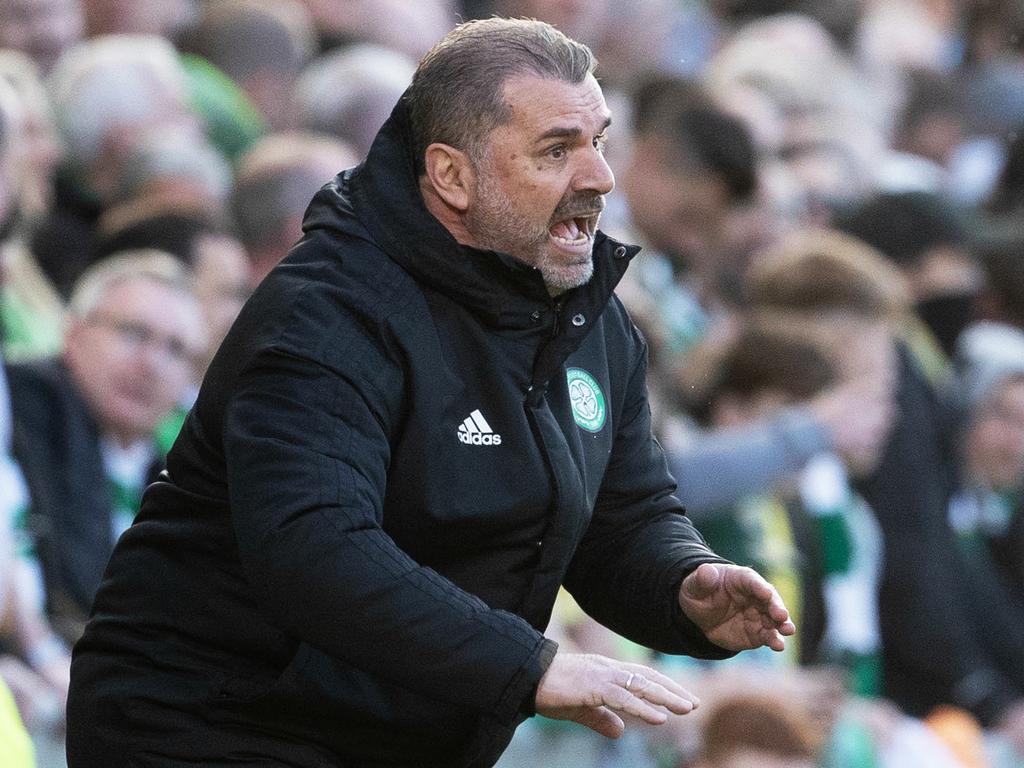 Ange Postecoglou urges on Celtic during the title-sealing match at Dundee. Picture: Alan Harvey/SNS Group via Getty Images
Mark Wilson spent six seasons as a Celtic player, winning three titles and three domestic cups, and felt Postecoglou had taken on a thankless task when he succeeded Lennon last summer. The subsequent transformation has been nothing short of miraculous.
"He's overachieved this season, there's no doubt about that," the former defender says. "The club was fractured and needed a lot of work to repair and restore it. I don't think many – if any – people would have looked at the situation last July and tipped Celtic to finish as champions.
"But Ange came in and just took the bull by the horns. For a coach who was relatively unknown in this country to come into a massive club like Celtic and command instant respect speaks volumes for the sort of man he is.
"The fans took him to their hearts right away and the players knew from the off who was the boss. It's not been perfect, as he had to go through a rough ride at the start of the season, but if anything that's made this achievement all the sweeter. He's survived the adversity and came through it stronger. He's recruited really well and made existing players better.
"And he's done it all himself. He didn't have his own coaching staff that he could bring with him to help in the dressing room. He had to sit down with the existing coaching staff – John Kennedy, Gavin Strachan, Stephen McManus, Stevie Woods and the rest – and tell them how he wanted to play and get them all to buy into it. And to do that is an incredible achievement in itself.
"It was probably around September when I started to change my opinion on who was going to win the league. I could see the Celtic team forming into what he wanted. And my feeling was that they were only going to better."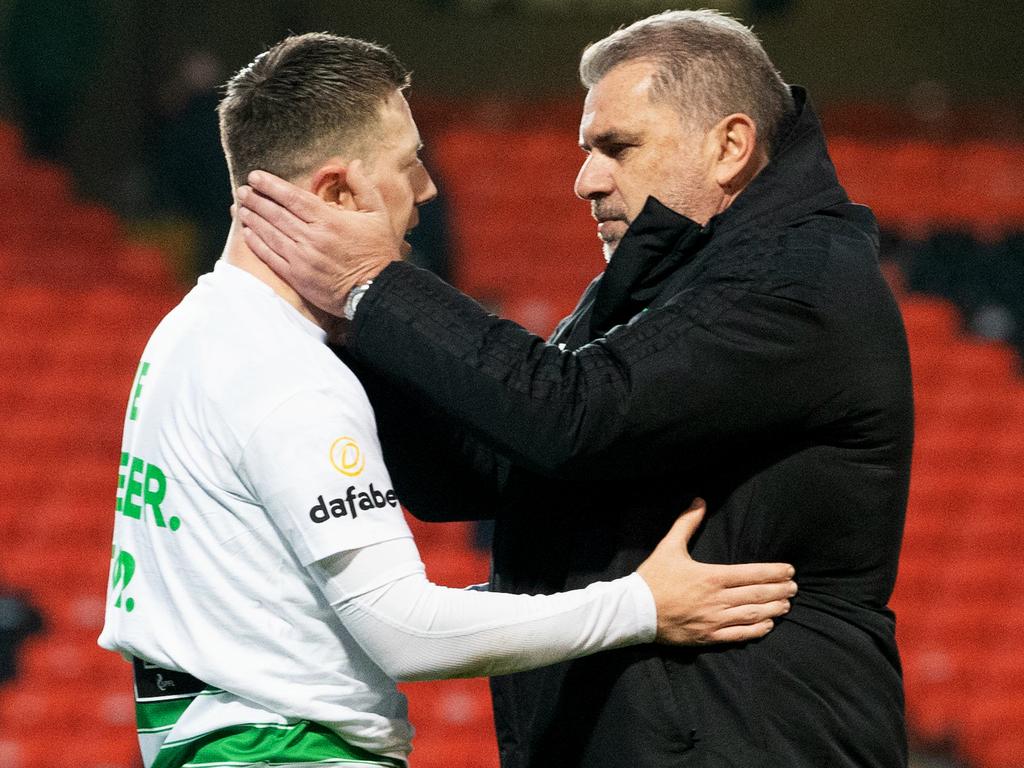 Celtic manager Ange Postecoglou and captain Callum McGregor after winning the title at Dundee. Picture: Ross Parker/SNS Group via Getty Images
It is rare for anyone connected to Celtic or Rangers to become admired throughout the rest of Scottish football but Postecoglou has somehow pulled it off; his easygoing, dry sense of humour making him popular with fans from other clubs, while a willingness to show an interest in other teams has not gone unappreciated either.
Marvin Bartley, the Livingston assistant manager, described a post-match chat with the Australian as like being "in the presence of greatness" and felt there was an "aura" around Postecoglou.
It was a similar story from James McPake, the former Dundee manager, who revealed that Postecoglou had happily spent 30 minutes chatting with him about football and offering bits and pieces of advice after a match earlier in the season.
"He just came across as a really good footballing man who had a lot of time, particularly for younger coaches," McPake said. "He came to me and said, 'Let's just have a chat', and it was for 20 minutes, half an hour. He asked how training was going and how we were going to approach the international break, that kind of thing. Myself and my staff at the time were very impressed by him."
Postecoglou, in return, has spoken positively about the welcome he has enjoyed since he first set foot in the country last summer.
"I haven't had any negative interactions since I've been in Scotland," he revealed. "I'll back this club in every corner, every contest, every fight we have. But I'll always have respect for the opposition. I'll always know there's a manager in the other dugout who'd going through the same trials and tribulations that I am. I hope people see that in me."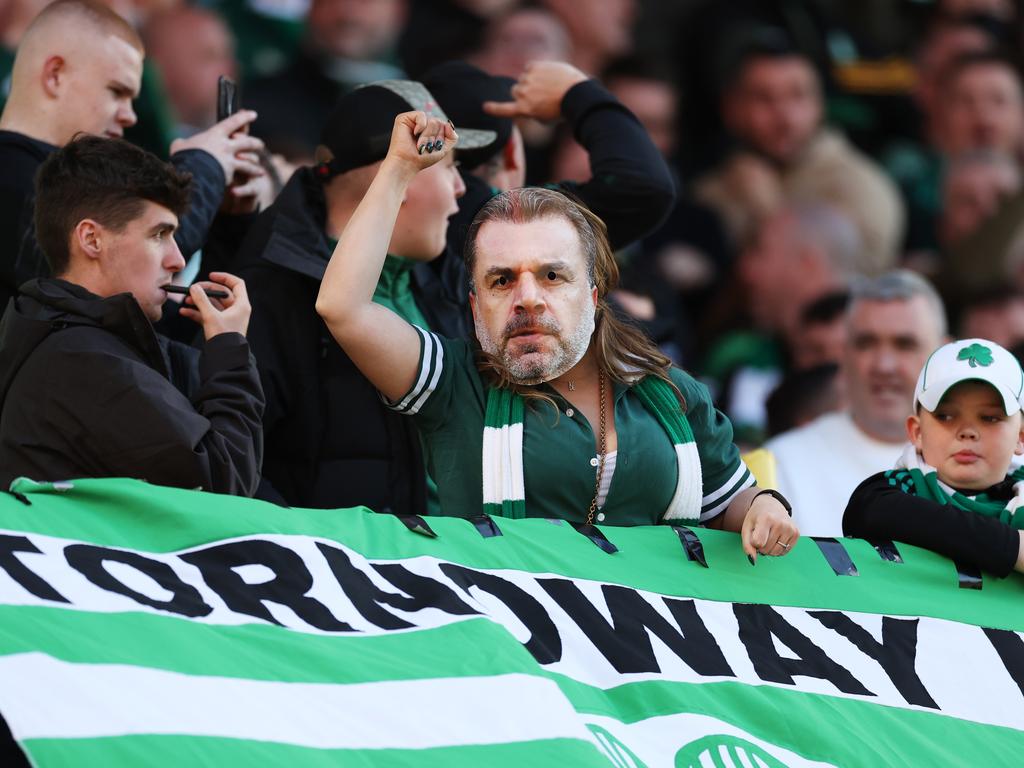 A Celtic fan wears an Ange Postecoglou mask prior to the Dundee game. The Australian manager has earned adoration from Celtic supporters. Picture: Ian MacNicol/Getty Images
Postecoglou recently expressed his bemusement that Rangers fans always feel the need to make clear where their allegiances lie whenever they run into him on the street. Those of them who took to radio phone-ins last summer, like Clyde's Super Scoreboard, to predict that the new Celtic manager would be gone by Halloween have been noticeably absent the longer the season has worn on.
"Celtic fans are always putting pictures on social media now reminding the Rangers fans of some of those doom and gloom predictions from the early days," adds Wilson, a regular pundit on the popular show.
"But you can almost forgive the Rangers fans for feeling that way, as Ange was a relative unknown and he had such a big job on his hands. Even someone who knew British football, like Eddie Howe, would have found it a difficult challenge.
"We're now getting the odd Rangers fan calling into Super Scoreboard and showing their admiration for the job Ange has done. And you don't get that very often when it comes to Celtic or Rangers managers! I think a big part of that is just because Ange is such a likeable character."
The Celtic fans could not be more infatuated with Postecoglou, both as a man and as a manager. At a recent derby with Rangers, one supporter proudly hoisted aloft a full-size Ange cardboard cut-out – goodness knows how he got that one through the turnstiles – while the bootleg merchandise market keeps on growing and growing.
One offering has Postecoglou mocked up as an Irish saint – "you can't spell angel without Ange" – while another leans heavily on Che Guevara stylings, with Postecoglou's face adorning a T-shirt with the slogan "Viva la Revolucion!"
A third simply has a picture of Postecoglou making that trademark pat of the Celtic crest on the chest of his training jacket, a low-key gesture that has become his favoured way of expressing his quiet gratitude to the Celtic support.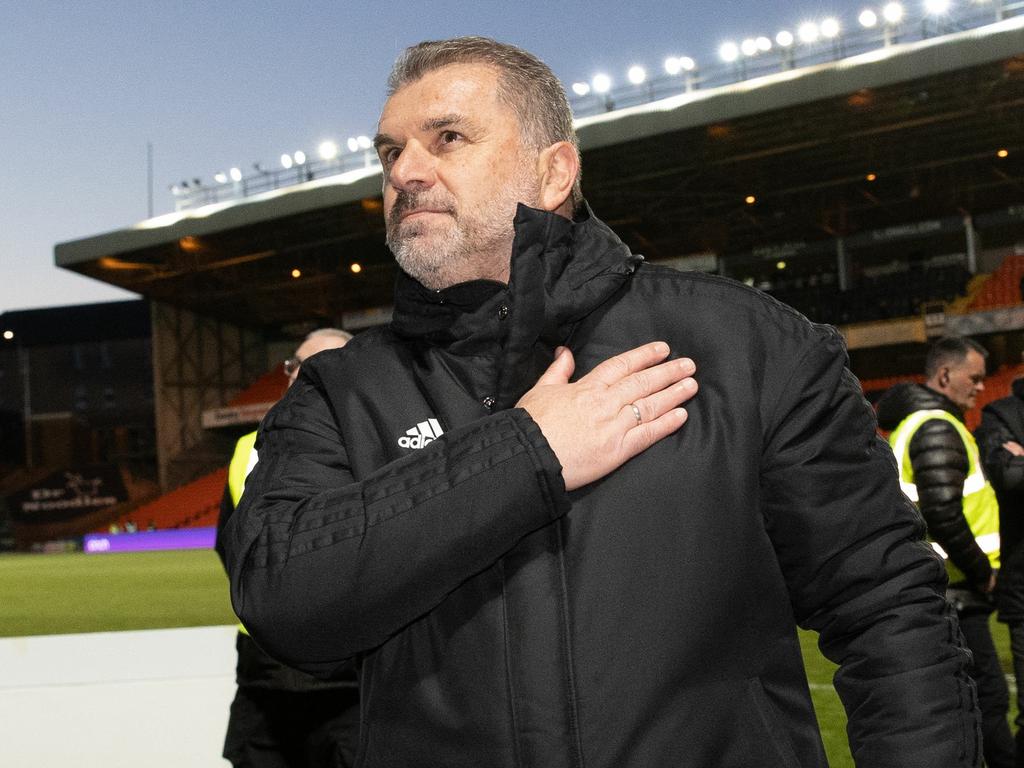 Celtic manager Ange Postecoglou celebrates winning the league by making a trademark gesture, touching the club's crest on his jacket. Picture: Craig Williamson/SNS Group via Getty Images
"There's such a strong connection just now between the fans and the team, and that's all down to Ange," says Carton, whose own merch of choice is a "Trust the Process" mug, a reference to Postecoglou's favoured mantra in the early days.
"I've spoken to a lot of Celtic supporters and this is probably the most we've enjoyed a title win since 2008. Yes, the Invincible season under Brendan Rodgers was incredible and some of the times under Neil Lennon first time around were good, too.
"But this one feels more special given where we were when Ange came in and the fact he's collated such a likeable group of players that we can get invested in. When he walked around the stadium after the win over Hearts that effectively clinched the title there was barely a dry eye in the house."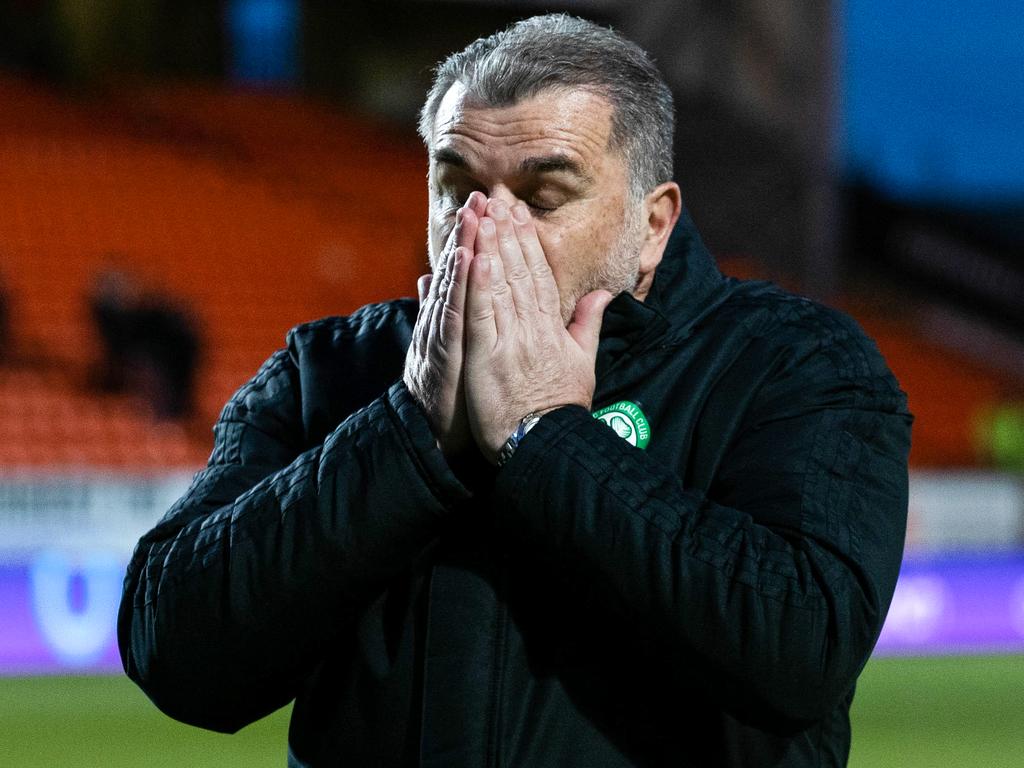 Emotion hits Celtic manager Ange Postecoglou during the Dundee game. His achievement of winning the league in his first season, having come in with the club in dire straits, has been extraordinary. Picture: Craig Williamson/SNS Group via Getty Images
Winning the Scottish title comes with the added bonus this year of direct entry into next season's Champions League group stage, providing Celtic with a seat at European football's top table for the first time in five years and the glamour ties and riches that come with that.
There has been precious little for the Celtic fans to grumble about this term, although there is a slight sense of anxiety about the team being sliced open again should they land a top-tier opponent like Real Madrid, Manchester City or Bayern Munich, as was the case in some European ties earlier in the season.
"I do worry a bit about us taking a bit of a pasting in these bigger Champions League games," Carton says. "But Ange isn't stupid. As much as he believes his way can beat anyone, I think he has to adapt that slightly away from home in Europe. Playing two attacking midfielders in the Bernabeu isn't going to end well."
Maybe another Carpenters song – We've Only Just Begun – would be more appropriate for Postecoglou given what potentially lies ahead for him and Celtic. His achievements in Scotland, though, won't have gone unnoticed across the continent, sparking the possibility of him moving on this summer to a bigger club. Carton, though, is confident it won't come to that with so much still to be achieved, both at home and in Europe.
"It would be interesting if a decent club down south showed an interest in him but I don't get the impression his eyes are drawn elsewhere, as was the case with Rodgers and Steven Gerrard when they were both managing in Glasgow," he added.
"I don't think he's desperate to move to the Premier League or the Bundesliga at this point. He's waited long enough for his chance to manage in Europe and I think he'll want to achieve more with Celtic first, especially in the Champions League. I think he'll be here for at least another couple of seasons before moving on to the next challenge. And no Celtic fan would have any complaints about that."