How Leicester City manager Brendan Rodgers helped revive James Maddison's career
James Maddison must not throw away his second chance at an England career, writes HENRY WINTER.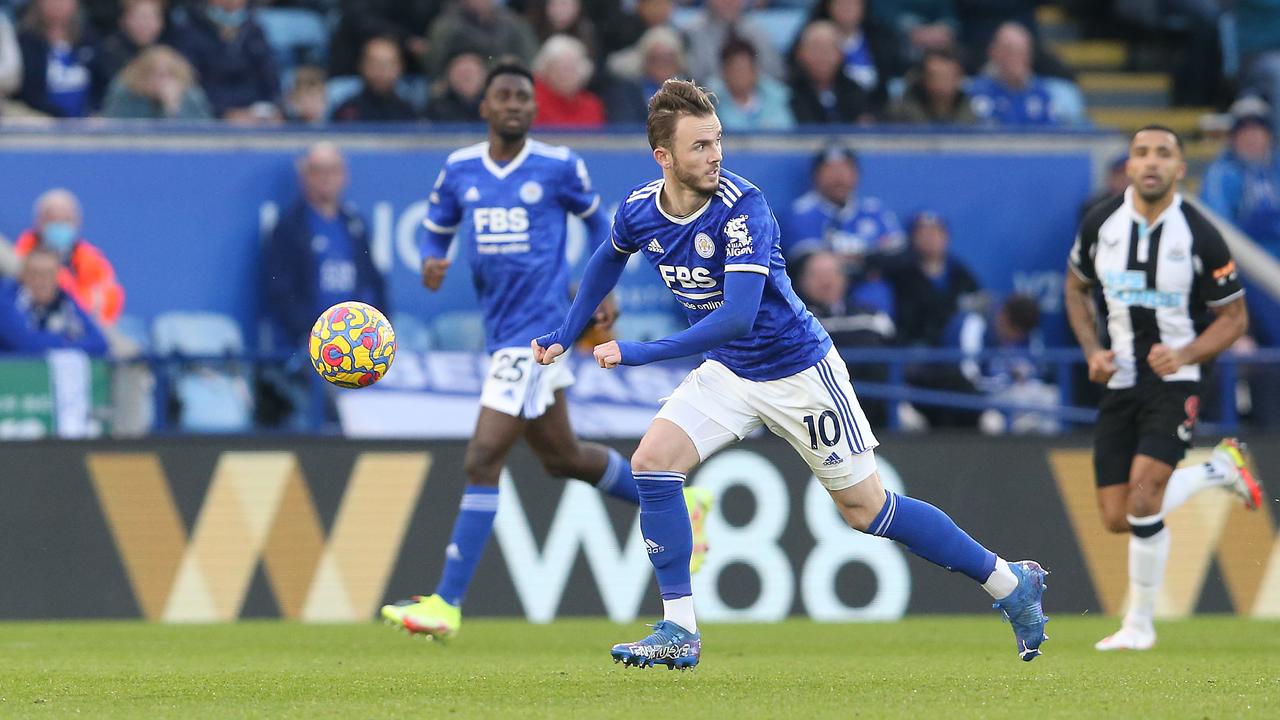 Leicester City's James Maddison during a Premier League match against Newcastle United. Picture: Stephen White/CameraSport/Getty Images
It was the meeting that changed James Maddison's season, and possibly his career.
The Leicester City No 10 sat down with his manager, Brendan Rodgers, to refocus on the fundamentals of what makes Maddison a good player and the work required to accentuate those qualities. It was a reset, part tactical, part technical, part psychological. It's a lesson for all those struggling for form.
Immediately after the meeting, Maddison responded with a goal against Brentford on October 24, then had a brief dip, but has now fully absorbed Rodgers's advice and has six goals and five assists in his past eight games. Leicester may be misfiring, but Maddison is a bright light amid the gloom.
Rodgers and Maddison analysed clips of the player in prime form, receiving the ball on the half-turn, moving it forward more quickly, playing with more of a swagger than in his subdued performances earlier in the season. Maddison is such a confidence player. Rodgers, such a good man-manager, reinvigorated him, making him believe more.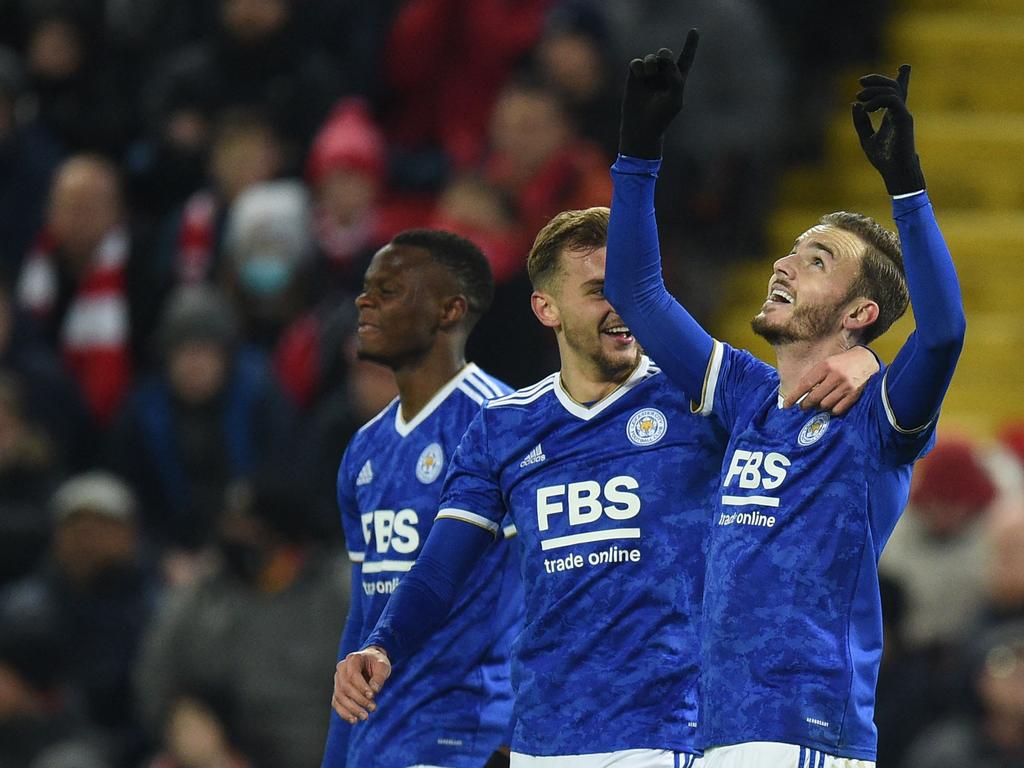 Leicester City's English midfielder James Maddison (R) celebrates with teammates after scoring a goal against Liverpool last week. Picture: Oli Scarff/AFP
It was more than an uplifting chat and jolly scroll through Maddison's greatest hits. They looked at areas Maddison should concentrate on improving. Rodgers could see that Maddison was working to try to regain his form but was blindly working at everything. So during their meeting Rodgers provided some clarity, encouraging Maddison to work on only a few things.
He is moving the ball forward more swiftly and precisely. He is more "efficient", to borrow Rodgers's description. Maddison's work out of possession has definitely improved since their meeting, his tackling, tracking back and pressing. He is involved more consistently throughout games, rather than drifting in and out. Maddison has been prone to streaks in form at Leicester since signing from Norwich City for £22.5 million in 2018.
His decision-making has clearly improved, as evidenced by his part in Ademola Lookman's goal in the 6-3 Boxing Day defeat away to Manchester City. The moment Maddison picked the ball up he was on the front foot. Each touch had value. There was no showboating, just driving forward, placing his boot on the top of the ball to drag it away from Ilkay Gundogan. A burst of pace and close control took him past Oleksandr Zinchenko. He stayed calm as Fernandinho thundered in, focusing on passing to Kelechi Iheanacho, who then set up Lookman.
Maddison divides opinion. After showing appreciation on his Instagram on Sunday to the travelling Leicester fans, "especially at this time of year", Maddison was inundated with replies ranging from the usual tribal barbs about getting pumped by Liverpool tonight and about diving, but also plenty of praise, such as "great to have the old Madders back".
Some simply celebrate the joy he brings to fans through his skill with both still and moving ball, and his natural exuberance as a player and a man. Others raise concerns over his consistency, his tendency to take a tumble (he apologised for a dive against Brighton & Hove Albion in 2018) and occasional overelaboration, and also his off-field behaviour, such as a breach of Covid regulations in April. Rodgers dropped him and warned: "To be a winner and to compete at the top end of this table, you have to act like a winner, and that winning mentality is a certain level of behaviour and a mindset."
Rodgers has worked with elite midfield players, such as Steven Gerrard, who give everything for every second of every game of every season. Maddison is a completely different player and personality but Gerrard is an example of the consistency he needs to aspire to. The next step for Maddison is developing the mentality to contribute game after game after game for entire seasons, as the very best players do.
James Maddison appears to have overcome a hip injury that was impacting his mobility.

Picture: Stephen White/ CameraSport/Getty Images
He has still to focus on his discipline, not tactically, as he is responding to Rodgers's guidance of keeping the shape, but in temperament. He still has to beware accumulating bookings: he has three in his past five games for fouls on Fernandinho, Liverpool's Naby Keita and Carney Chukwuemeka, of Aston Villa, all in the last 15 minutes of away games, signalling tiredness or frustration.
Maddison remains a work in progress, but that work is accelerating, and he turned 25 only last month. If regular inclusion in the England squad is the level he should be aiming for, and he was a huge fan of the national team growing up, then it's a sorry sign of his failure to impose his undoubted talent consistently that he has been in four squads in three years and played only 34 minutes (against Montenegro at Wembley 25 months ago).
That solitary cap came a month after he caused frustration inside the England camp after withdrawing from the squad for the Czech Republic game, claiming to be unwell, but was then pictured in a casino. Don't gamble with your career. Maddison could do worse than take a look at how the supreme professional Mason Mount performs on and off the field.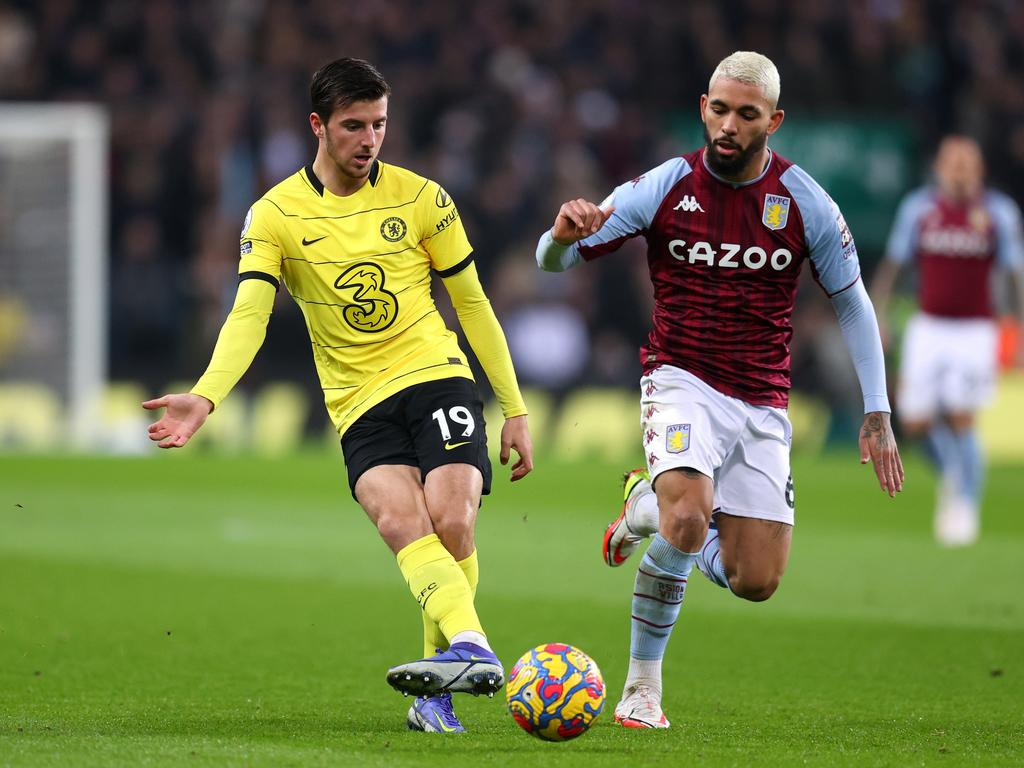 The conduct of Chelsea star Mason Mount could inspire James Maddison. Picture: Catherine Ivill/Getty Images
If Gareth Southgate picks on form then Maddison has a chance to be considered for a recall for the March internationals. But the England manager does not always pick on form, whatever he says. He looks at the player's character. He wants to know how dedicated the player is. Southgate does his due diligence on how the player is around the hotel, the camp; does he mix well, does his confidence manifest itself in cockiness, a Maddison trait? Southgate is not an admirer of flash players. He wants those that deliver on the field and show humility off it. Basically, Mount.
On the field, nobody can argue with Maddison's present work rate and determination to lift a struggling Leicester. His numbers over the past five weeks highlight his handsome contribution to the cause. In his past eight games, Maddison has scored and provided an assist against Legia Warsaw, scored and recorded two assists against Watford, scored against Southampton, had blanks against Aston Villa and Napoli, scored and provided assists against both Newcastle United and Liverpool and then scored against Manchester City.
There are other causes behind Maddison's revival. He is free of the hip injury that restricted his mobility. When he runs, there is no hesitancy to his movement. He flows more. Also, he became a father recently and that inevitably accelerates the maturing, responsibility-taking process.
He showed his willingness to stand up and be counted with a nerveless penalty in the shoot-out against Liverpool in the Carabao Cup quarter-final, which Leicester lost. He is working hard to become an elite player.
Maddison just needs this mindset every day, on and off the pitch. That meeting with Rodgers must prove the turning point.