How Luis Diaz become vital to Liverpool's historic quadruple bid
The 25-year-old's introduction against Villarreal in the Champions League semi-final marked shift from hapless first half to stunning comeback as Liverpool's quest continues.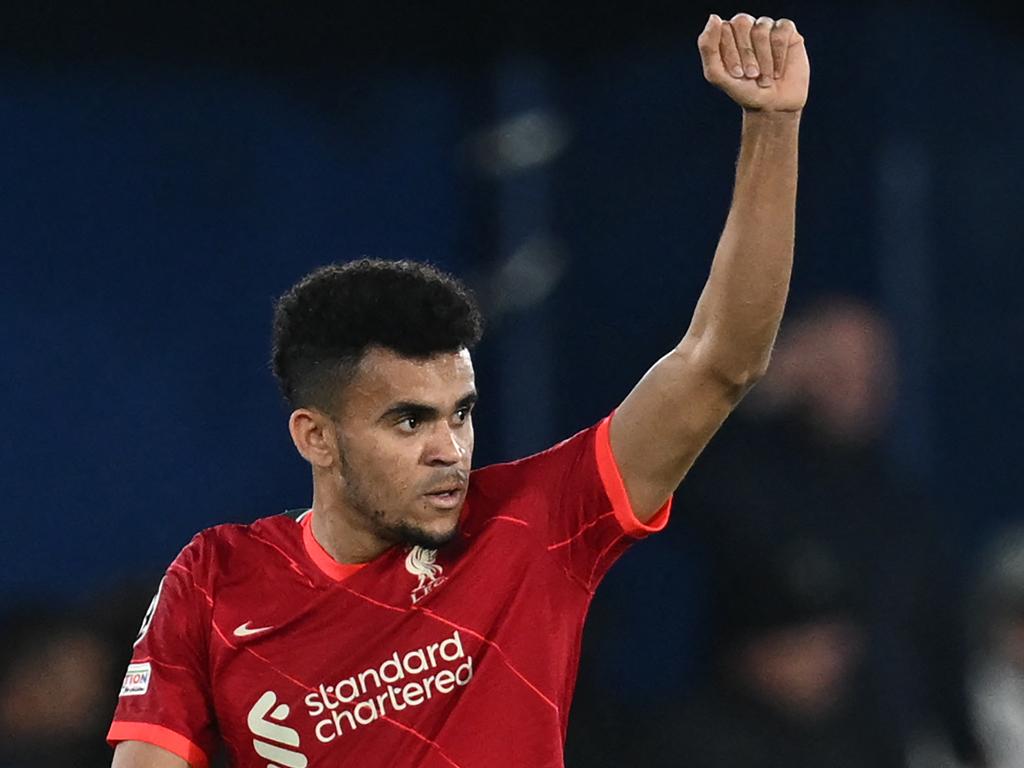 Luis Diaz scored again for Liverpool as they booked their place in the Champions League final. Picture: Paul Ellis/AFP
As half-time approached in the Estadio de la Ceramica, Jurgen Klopp assigned his assistant, Peter Krawietz, one task as he sought to avert a calamity.
The Liverpool manager wanted to find a video clip showing when his side had successfully followed orders during an otherwise ragged opening 45 minutes, in which Villarreal had reduced his team to a rabble and overturned a 2-0 first-leg deficit.
Klopp entered the dressing room ready to begin the analysis, only for Krawietz to shake his head. The footage could not be located because it did not exist.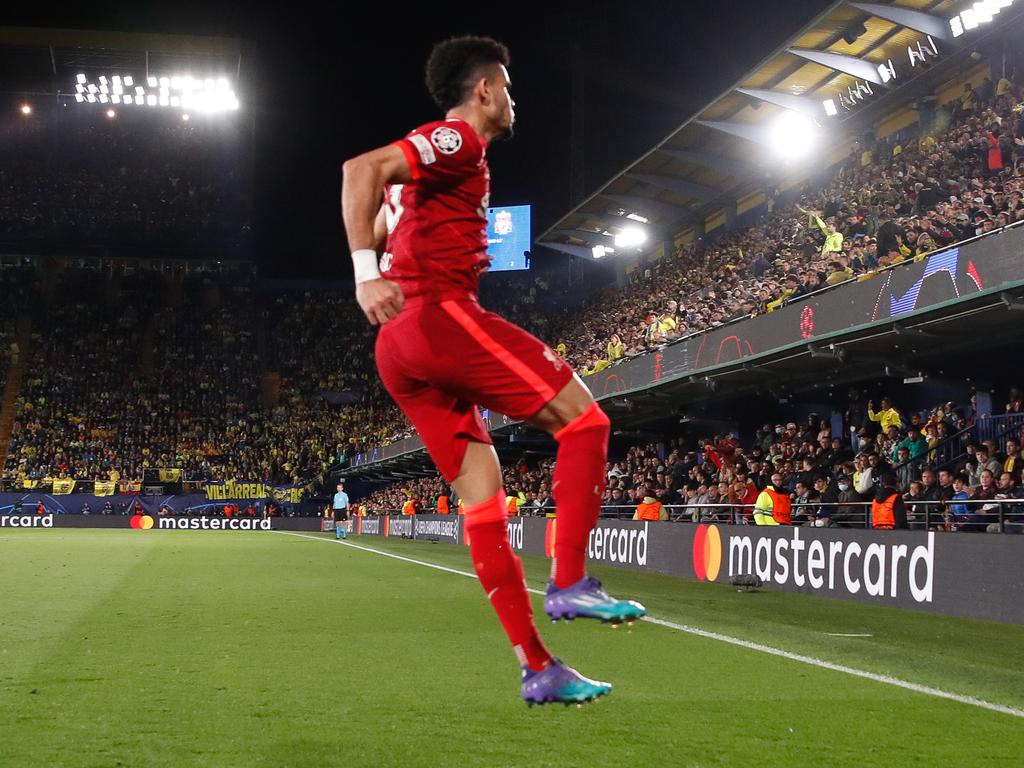 Díaz had the best passing accuracy (90 per cent) of any Liverpool player to feature for more than six minutes. Picture: DAX Images/NurPhoto via Getty Images
It speaks volumes for how poor Liverpool had been that they had "11 problems", according to Klopp, and so without any visual aids to make his point, he implored the group he trusts implicitly simply to play football.
Within a minute of the second half, he sensed the evening might not end in dejection. Liverpool won second balls, made passes stick and filled the right spaces, and when Naby Keita burst away from Daniel Parejo and Francis Coquelin in quick succession it was a sign the visiting side were looking more like themselves.
If a change in attitude was crucial to what became a stunning second-half recovery that smoothed their passage to a third Champions League final in five seasons, then the change in personnel was just as important.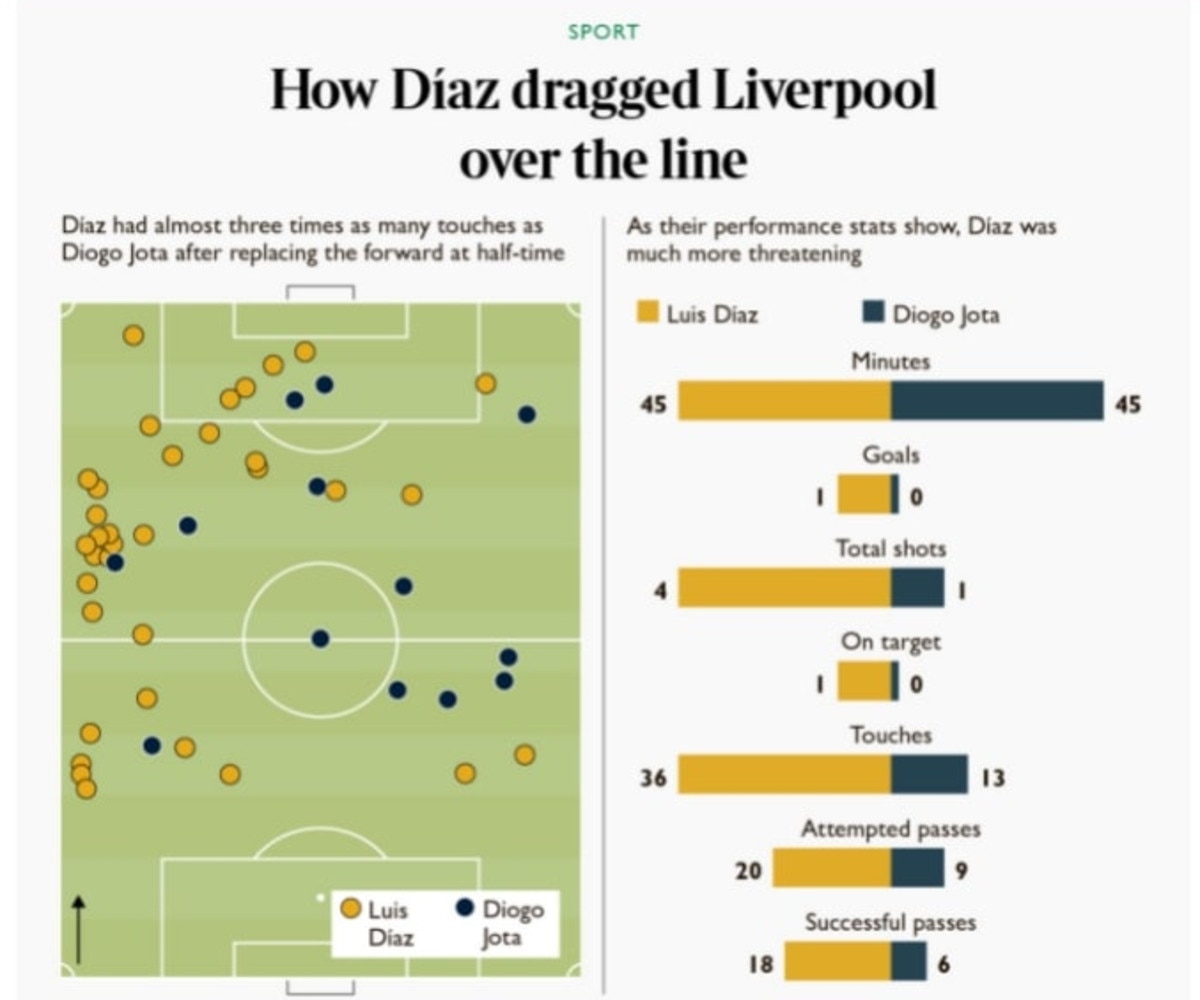 Diaz's introduction turned the game for Liverpool. Picture: The Times
Diogo Jota was the one who made way at the break, with Luis Diaz introduced on the left of the attacking three as Sadio Mane moved centrally.
Within 11 seconds of the restart, Diaz had pressured Juan Foyth, the Villarreal right back, into a hurried pass and a minute later was looking to scurry beyond the former Tottenham Hotspur player. Etienne Capoue, who had largely been able to do what he wanted in the first half, had to shuffle across to help out his teammate.
Doubt started to nag at Villarreal, with the elusive Colombian who plays with a grin across his face inducing grimaces from overworked opponents.
Diaz had already had two chances before timing his run between Raul Albiol and Foyth to head home Trent Alexander-Arnold's cross moments after Fabinho had halved the deficit on the night.
It was his fifth goal for the club, and Mane's breakaway effort confirmed safe passage to Paris on May 28, when Diaz's claims to start will be obvious.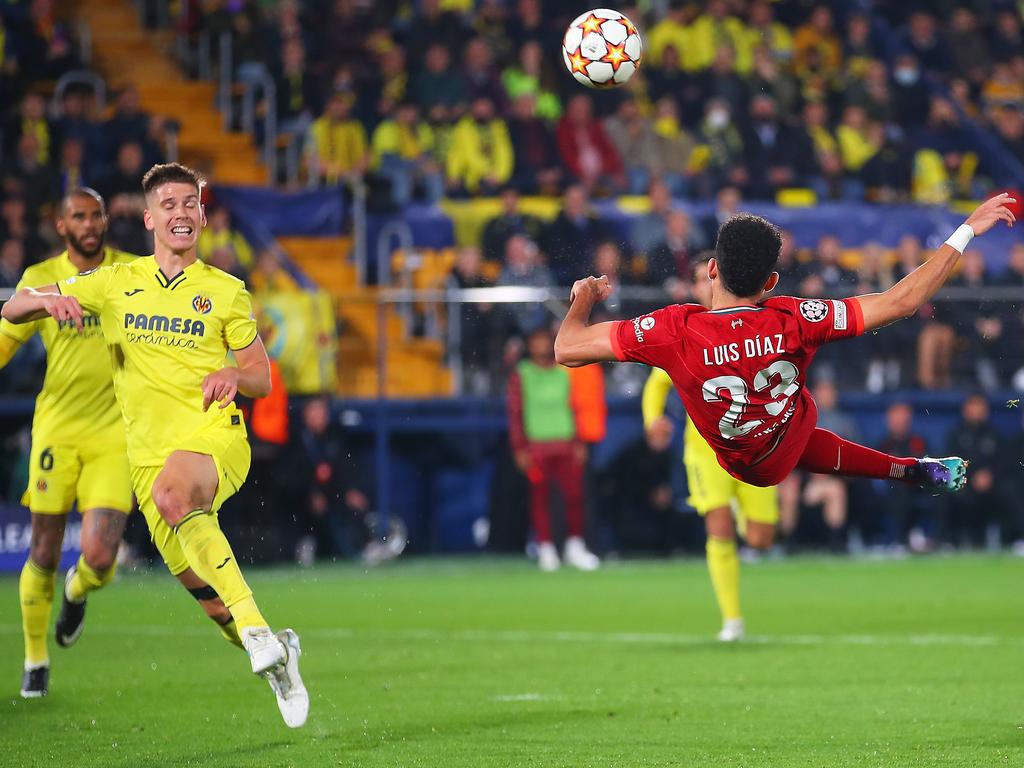 Díaz's move to Liverpool was accelerated by Tottenham's interest in the forward in January. Picture: Eric Alonso/Getty Images
His impact has been nothing short of remarkable since his arrival from Porto in January. The 25-year-old has confounded conventional wisdom that it takes time for players to adapt at new clubs.
"He has been special," Andrew Robertson, the Liverpool left back, said. "We've tried to help him as much as we can. We know how difficult it is coming in January. The coaches and everyone else have got him up to speed but he is a special, special player. The talent he has and the will to win – he fits us perfectly.
"It was tough to take Jota off, he's been excellent this season, but Luis came on and made a big, big difference. With a full pre-season under his belt I believe he will get better, which is scary, but what he has produced in the here and now is pretty special as well."
Diaz credits his desire to fight for everything and make the most of every opportunity to his upbringing. He grew up in the impoverished La Guajira region and hardships endured have sharpened his perspective.
"It comes from my roots," he told Uefa. "They are my characteristics, they have instilled in me several things and now I have grown much more. I have to take advantage of every moment, every minute I have.
"When we reach a final, what has already happened is erased. In a final you forget fatigue, you play, run and fight. I'm going to play in a Champions League final, like I always dreamt. The most important thing was I managed to help the team."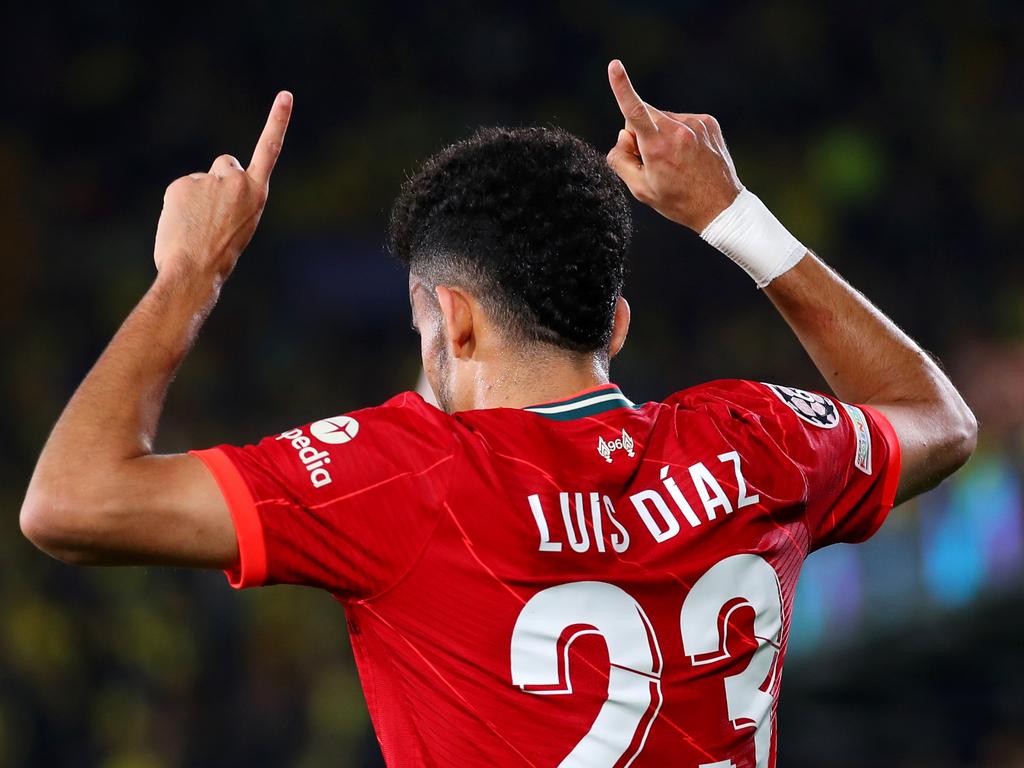 Diaz has helped accelerate Liverpool's charge for the quadruple. Picture: Eric Alonso/Getty Images
In addition to his goal and hard running, Diaz made more passes (20) in his time on the pitch than Mohamed Salah (18), boasted the best passing accuracy (90 per cent) of any Liverpool player who featured for more than six minutes and won 80 per cent of his duels. His introduction had been akin to flicking a switch.
And to think that without Tottenham Hotspur, it is unlikely he would be wearing red today.
Liverpool had followed Diaz for a number of years and were interested in signing him this summer until the Spurs chairman, Daniel Levy, struck a deal with Porto in January for pounds 37.5 million, with pounds 12.5 million in potential add-ons. Those terms appealed to Liverpool, who had baulked at paying a flat pounds 50 million fee, and they hijacked negotiations, aware that the player favoured them.
Levy was so furious that he offered to pay a guaranteed pounds 50 million but, by the time those frantic overtures had been made, Porto had already signed an agreement with Liverpool.
The atmosphere in the Anfield boardroom on Saturday – when Liverpool welcome Spurs – will be interesting, notwithstanding that the visitors subsequently recruited well in signing Dejan Kulusevski on loan from Juventus.
Still, as Liverpool hail a new hero, the truth remains that Levy will be sick of the sight of Diaz even before he has Spurs in his sights. Plenty of others, including Villarreal, are starting to feel the same.
– The Times

Originally published as How Luis Diaz become vital to Liverpool's historic quadruple bid