How the experience of Karim Benzema and Luka Modric have held Real Madrid together
Karim Benzema and Luka Modric, with a combined age of 70, have led the club back to the Champions League semi-finals in their soccer old age.
Benzema and Modric have starred as Real Madrid put on a season for the ages. Picture: John Berry/Getty Images
On the day Real Madrid unveiled a young French striker named Karim Benzema, the club threw him a special event, packing 20,000 fans in the stadium, all to watch him wear the famous white shirt for the first time. There was no game or practice scheduled, just a grandiose welcome party for a 21-year-old.
Yet even on that afternoon in 2009, the lavish performance felt like a supporting act. Just three days earlier, Real had packed in 80,000 to greet a different signing. His name was Cristiano Ronaldo. For nearly a decade, that remained the pecking order at Real. It took Ronaldo's exit in 2018 for the team to start thinking about a major rebuild. Only Benzema read the situation differently.
"Before we had Cristiano and now we don't not," he told reporters then. "So it's my turn and I'm ready for that."
Now, in a Champions League season dominated by some of the deepest, most dynamic squads ever assembled in European soccer, Real Madrid has fought its way through the semi-finals on the backs of the two oldest players on its roster: Benzema and Croatian midfielder Luka Modric. They are a combined 70 years old.
Modric, at 36, can't run like he used to, but his passing remains deadly — he has more assists this season than at any point in his Real Madrid career. And Benzema, 34, is deep into the third act of his career as one of the most prolific strikers in soccer. He leads the Champions League in goals from open play with 11, including hat tricks against Paris Saint-Germain in the round of 16 and Chelsea in the quarterfinals.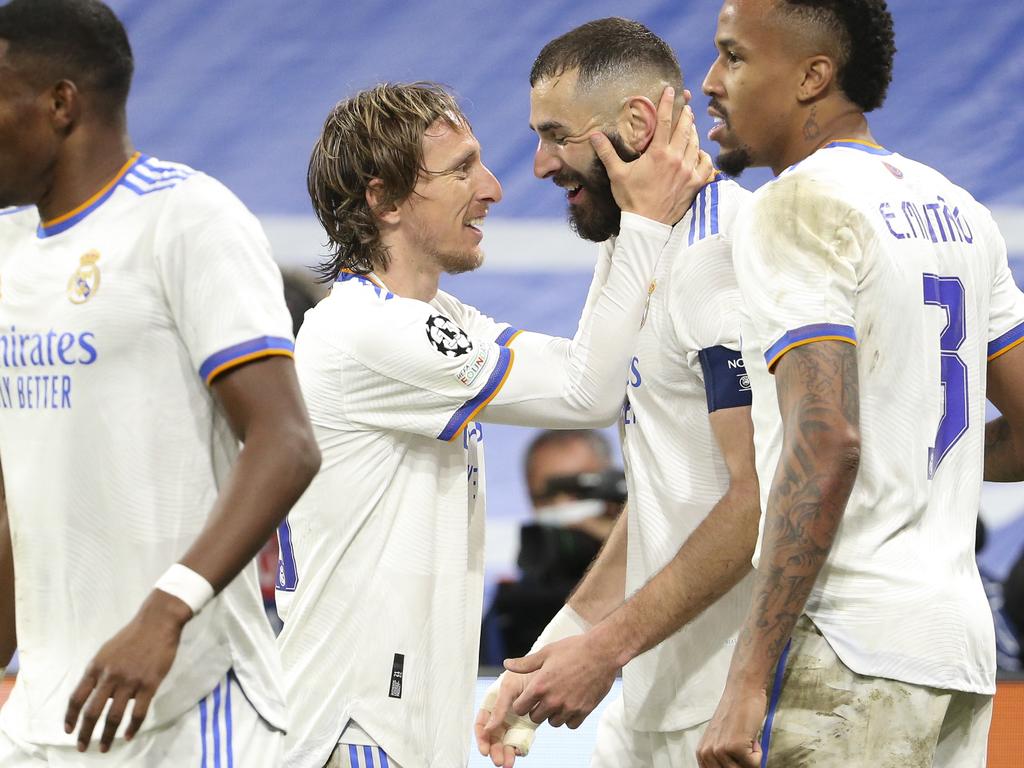 Modric and Benzema celebrate after the French strikers' second goal against PSG. Picture: John Berry/Getty Images
"He's better every day, like wine," Real manager Carlo Ancelotti said of Benzema after knocking out Chelsea. "Every day he shows more leadership, he feels more important for this team and this squad. That's what makes the difference in him."
Together, Modric and Benzema won the tournament four times in five years between 2013 and 2018. But that also happened to coincide with the peak of the Ronaldo era in Madrid. Ronaldo was the tournament's top scorer in three straight seasons with an uncanny knack for delivering in the biggest games. Real's glitz and Ronaldo's showstopping were a perfect match.
When he left, the club shopped for offensive help, failed to clear out spare parts, and found itself with a bloated, expensive squad that struggled in Europe. Eden Hazard, signed for $110 million from Chelsea in 2019, has started less than half of Real's games since then due to injury. And Gareth Bale, the $100 million player who formed such a potent triad with Benzema and Ronaldo, is still on the club's books — and mostly on the golf course.
Suddenly, Benzema became the focal point of the attack, a role he had embraced as a can't-miss prospect at Olympique Lyonnais in France but happily conceded in service of one of soccer's all-time greats. And when his moment came, he didn't miss: over the next three seasons, Benzema scored a Ronaldo-esque 87 goals across all competitions. This season, he's gone even crazier with 39 heading into Wednesday's semi-final first leg against Manchester City.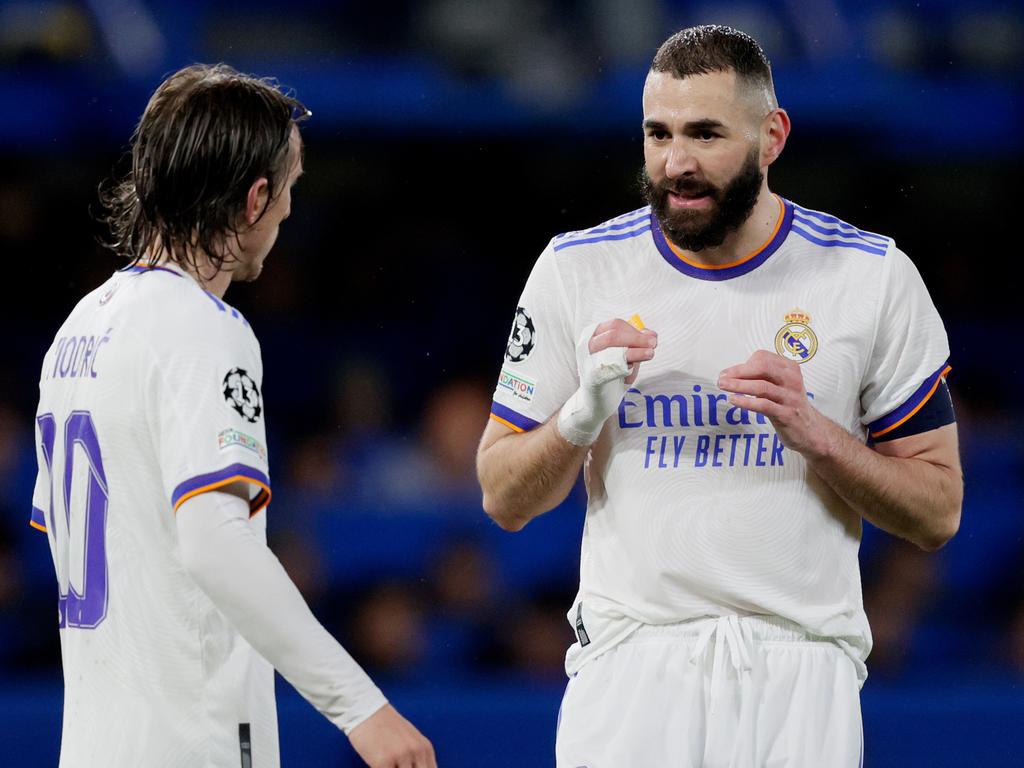 Benzema has been clinical in front of goal in the 2021-22 season. Picture: David S. Bustamante/Soccrates/Getty Images
This is hardly a typical progression for soccer centre-forwards. Strikers don't tend to get better as they age. They lose a step of speed, a few inches of vertical leap, and decide that the most useful thing they can do is drop further back on the field to assist with build-up play. Benzema's sheer versatility has kept him at the sharp end of the attack.
Ancelotti has also given him the tools to succeed. While Real used to supplement Ronaldo with other big names, the 2022 version of the club has backed Benzema with youth and speed. In scraping through the Champions League, Real has relied on players who were barely out of diapers when Benzema began his career, all to create space for him to operate. The Brazilian pair of Rodrygo and Vinicius Junior are both 21. French midfielder Eduardo Camavinga, who was so threatening off the bench against Chelsea, is 19.
The new recipe is just about working. Real overturned a 1-0 deficit against Paris Saint-Germain in the round of 16 to win the second leg 3-1. And in the quarters, it beat Chelsea 3-1 in the first leg and then held on with a 3-2 defeat in the second to advance by an aggregate score of 5-4 after extra time.
It was no surprise that Real's saving moment in that clash came from a piece of sublime technique from Modric, the player who had ended the 10-year streak of Ballon d'Or victories by Ronaldo and Lionel Messi in 2018.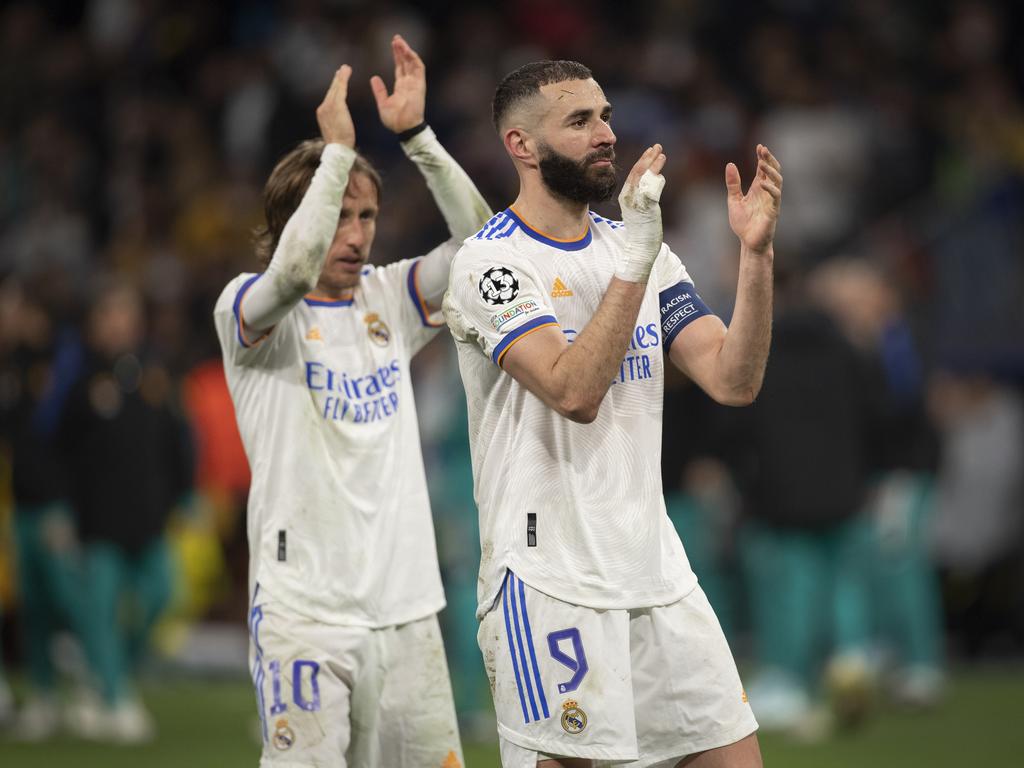 If Real Madrid are to go on and win the Champions League this season, they'll have Modric and Benzema to thank. Picture: Visionhaus/Getty Images
With his side in desperate need of a goal to stay in the Champions League, he lobbed a curling, 30-yard pass with the outside of his boot to tee up Rodrygo. A golfer with a pitching wedge could hardly have been more precise.
"Modric?" Ancelotti said. "He was extraordinary."
The only thing more extraordinary now would be Real surviving Manchester City and a possible final against Liverpool or Villarreal to win its first Champions of the post-Ronaldo era. And even if it doesn't happen this year, Modric and Benzema plan to keep trying. Both players intend to finish their careers in Madrid.
"Where else would I go?" Benzema said in French in 2019. "History happens at Real."
– Wall Street Journal