Kevin Muscat is at peace in Japan after emotional end to 15 years with Melbourne Victory
Kevin Muscat's time with his beloved Victory ended in tears, while his next gig lasted just six months. But just as Melbourne has risen again, so too has the combative coach, writes ADAM PEACOCK.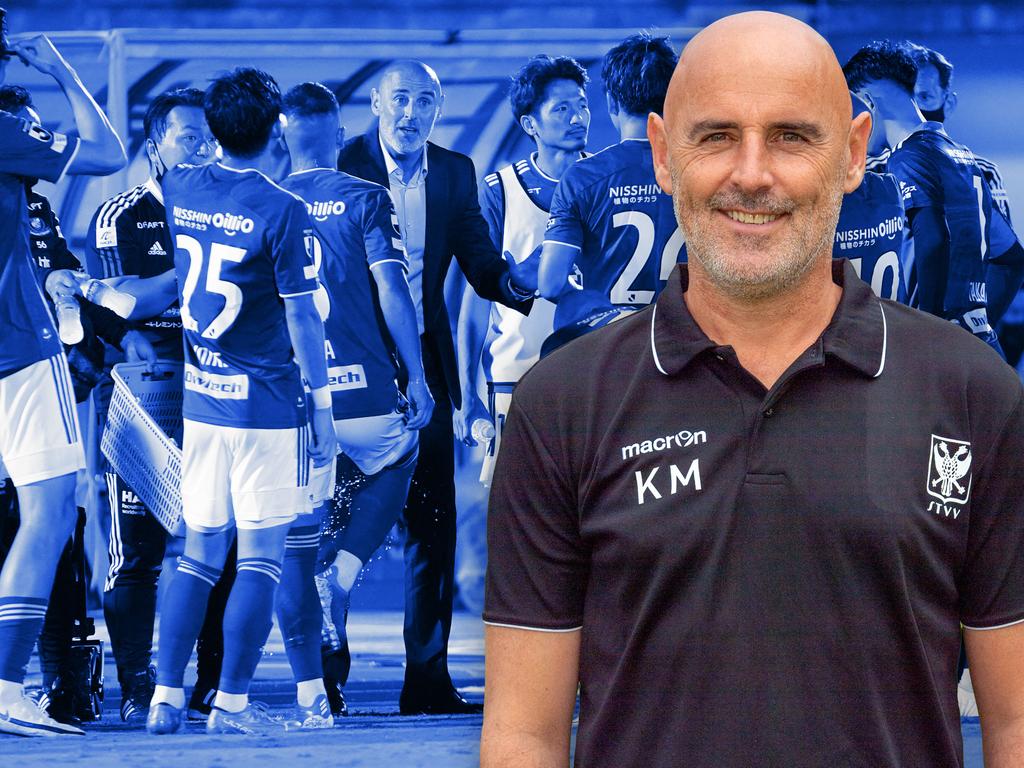 The joint was jumping again.
Melbourne Victory were surging to a FFA Cup final triumph against Central Coast, and the faithful's response reverberated around AAMI Park like rolling thunder.
The northern end, home to the North Terrace fan group, was a wall of exultant bodies, every single one of them in full voice.
The sins of the last two seasons, when Victory's men played like boys to become the punchline of a really bad joke, were of a past lifetime.
As the whistle sounded to bring about the night's biggest explosion of noise, a world away, the man who was front and centre for all the other good times, he smiled at his TV.
Happy for the club that he helped build.
And content. They've moved on, and so has he.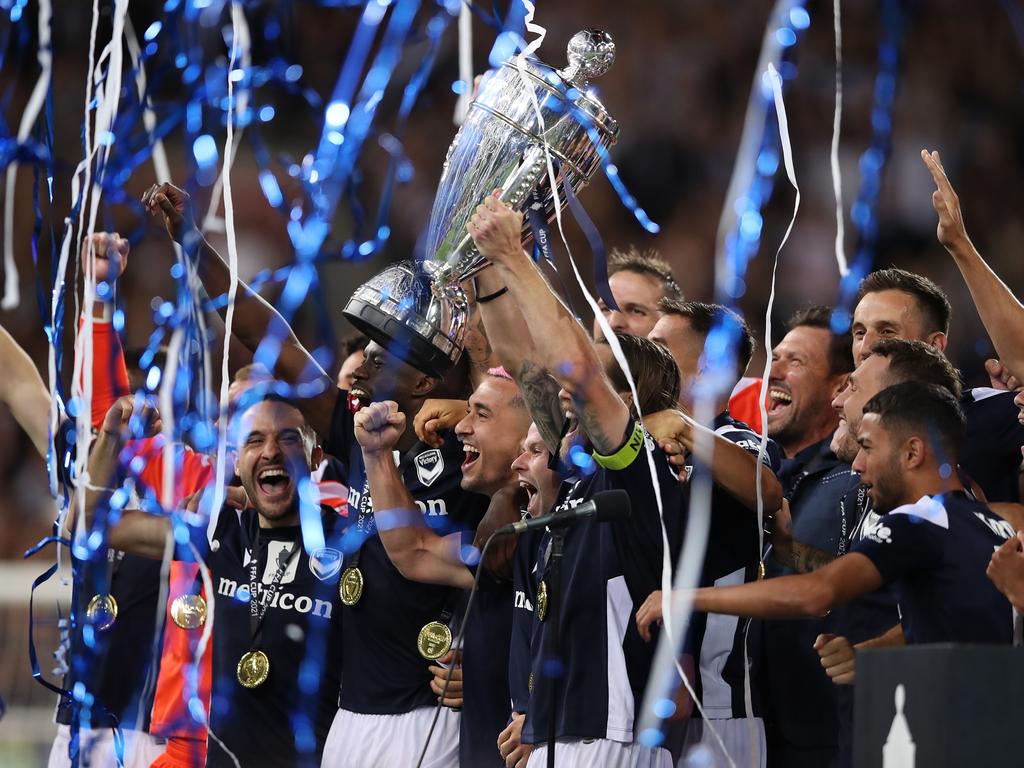 The good times have returned for Melbourne Victory after their FFA Cup triumph. Picture: Graham Denholm/Getty Images
*****
Kevin Muscat watched the last half hour of the FFA Cup final in his apartment on the outskirts of Tokyo after returning from a training camp with the side he now manages, Yokohama F Marinos in Japan.
The AAMI Park cacophony left a telling impression some 8000 kilometres north.
"Whatever the club and CEO Caroline Carnegie have done in getting fans back in the stadium," Muscat says, "It is the biggest success story at the club for a very long time."
Muscat's first text message of congratulations went to Leigh Broxham, the Victory legend who every year is meant to be on his way out, but keeps proving people wrong.
The ballad of Broxham can be reconstructed into how Australian managers fit into the landscape of world football.
They are walking down a path where daily, they have to prove people wrong.
Muscat is one of those, though the path is a little clearer now than it recently was, thanks to Ange Postecoglou.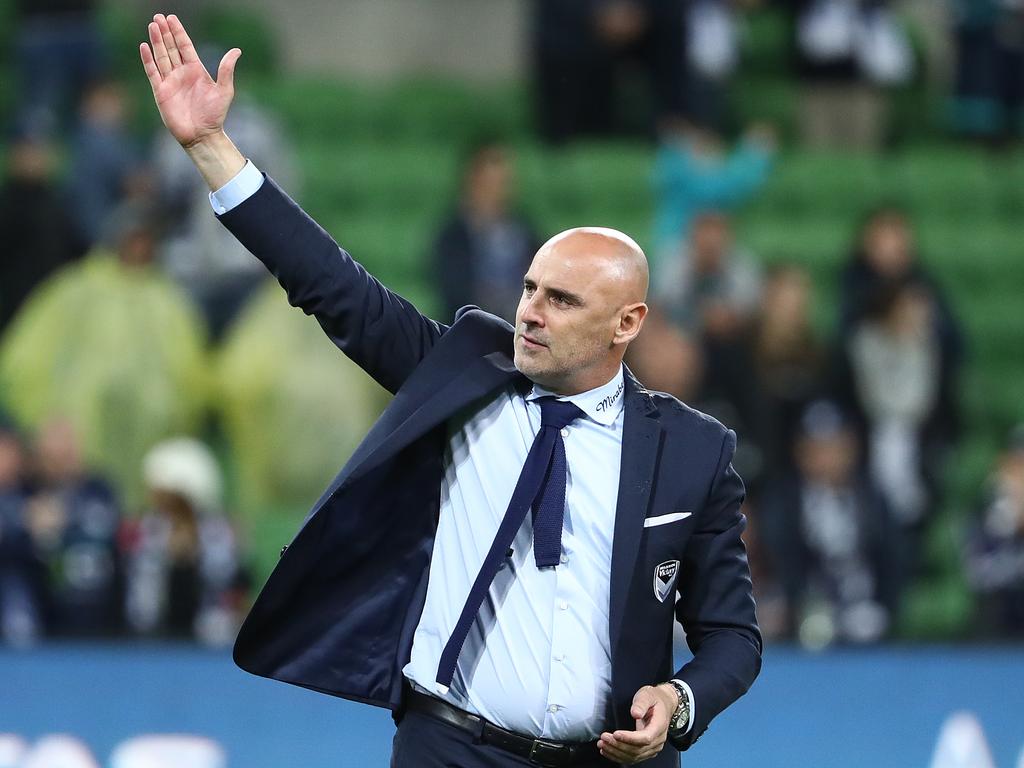 A club legend, Kevin Muscat salutes the Melbourne Victory crowd in 2019. Picture: Robert Cianflone/Getty Images
*****
Following his early exit from the Socceroos role in 2017, Postecoglou turned Yokohama F Marinos from a decent, stable club into the elite in all of Japan.
In 2019 Marinos won their first J League title in 15 years under Postecoglou's relentless attacking approach.
Then in June of last year, he got the job at Celtic. As Scottish football pundits tried to make sense of how to say Ange's name, let alone comprehend his CV, his old club Marinos had a vacancy to fill.
Muscat's name was put on a shortlist, no doubt with the help of Postecoglou, who Muscat calls "a good friend of mine and a mentor".
"Without the way he conducted himself and performed, would Marinos have spoken to me?" Muscat stares, leaving the answer unsaid, given how obvious it is.
Still, Muscat had to win the role. It wasn't as if his mentor demanded Marinos – run by some serious big hitters – would just give the gig to one of his mates.
There was a lengthy interview process, including a presentation to the President of Marinos' majority owners, the Nissan Motor Group. No pressure.
A mate and a mentor. Ange Postecoglou and Muscat in 2017. Picture:

Robert Cianflone/Getty Images
Muscat was clear. He'd continue the type of attacking, almost cavalier, approach Postecoglou implemented, with relentless intent to move the ball forward. Optimism with a purpose. Pessimism, a ghastly concept.
"I'm a different person to Ange, different voice, different way of delivering but ultimately, the values of the football club have to be upheld, and that's where the expectation is," Muscat says.
"There is a clear understanding of how the club wants to be known with its football. They want to be at the forefront of Japanese players wanting to come here, play well and go abroad. Nissan are strong with that too."
Muscat took over in the middle of last season with the club second on the ladder at the time of Postecoglou's departure. And that's where they finished, behind the current kings of Japanese football, Kawasaki Frontale. The attacking football continued under Muscat, best illustrated by a scoring rate in the second half of 2021 that trumped the goals collected in the first half of the year.
Hopes are bright for another successful campaign. It will be the sharpest test yet of Muscat's managerial career.
*****
All J League clubs deal with a high turnover of players, with movement high between clubs in Japan and younger stars often lost to European outfits as well.
Europe's appetite for Japanese players is strong, with 17 players moving to various parts of the continent, a figure Australian football clubs could only dream of.
Muscat puts the difference down to the evolution of football in Japan. Historically, Japanese footballers have always been known to be technically gifted, but physicality let them down. This was identified a decade ago, so measures like referees changing their interpretation of 'soft' fouls were introduced to help a more robust footballer develop, without losing sight of the technical qualities required.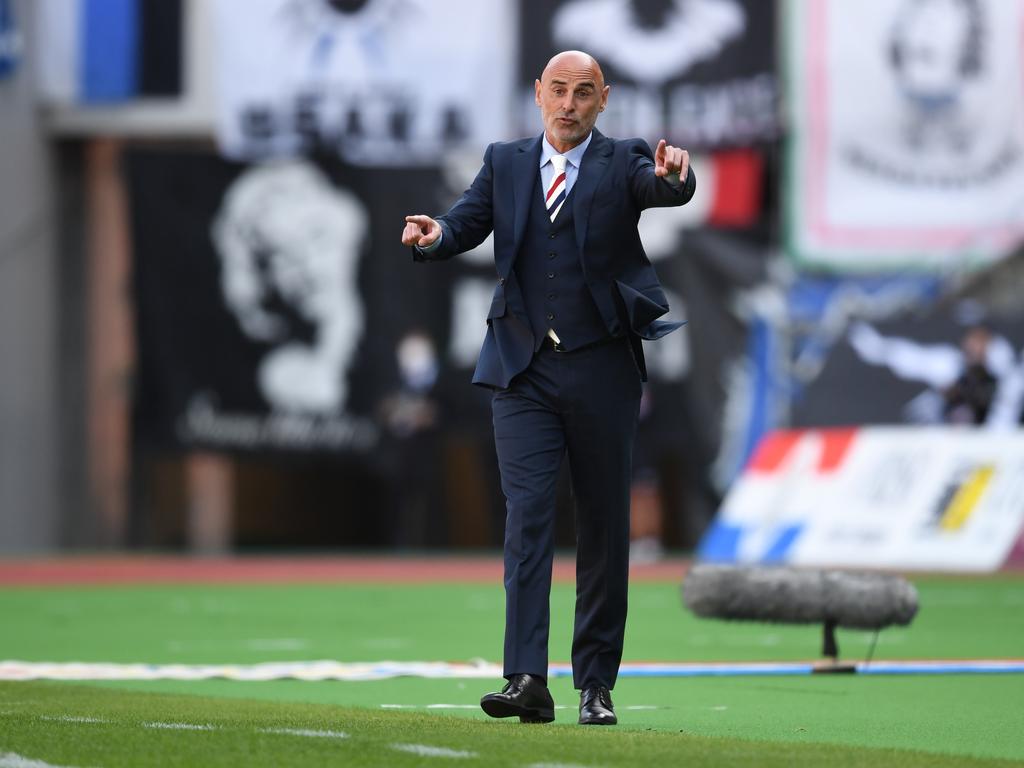 Muscat joined Marinos in July 2021 after Postecoglou moved to Celtic. Picture: Masashi Hara/Getty Images
Half of Muscat's squad for the 2022 season has changed, but he knows the deal.
"It's not a mandate here," Muscat says, "but it's widely encouraged that we want to attract the elite players in Japan. They can help us win, and we can help them fulfil getting over to Europe."
The simple way to look at it is that Muscat just needs to win to keep everything on track. The club stays happy, the players get what they want. His reputation goes up.
But there's more to it than that. It's how all that happens, and Muscat's job prior to Japan only reinforced that.
*****
"I'd rather die on my feet because I wasn't prepared to live on my knees."
Countless political figures have uttered those words throughout history, thought to have come from Greek playwright Euripides.
For Muscat, it is how he describes what went down with his first foray into overseas management, with Belgian battlers Sint-Truiden.
He joined the club in early 2020, and helped them avoid relegation from Belgium's top division.
For the next season, Muscat went all-in with attack-based principles. Risky, given Sint-Truiden were traditionally in the lower half of the ladder. Success for such teams is avoiding relegation, and the normal practice is to do so with a healthy dose of pragmatism. Sit back, defend, soak up pressure.
And even though Muscat knew the club was going into the new campaign with a lesser squad – those who departed replaced by a lower standard of player – he would not budge. There'd be more chance of an evangelical minister changing religion than Muscat stepping away from wanting his team to dominate possession, and attack.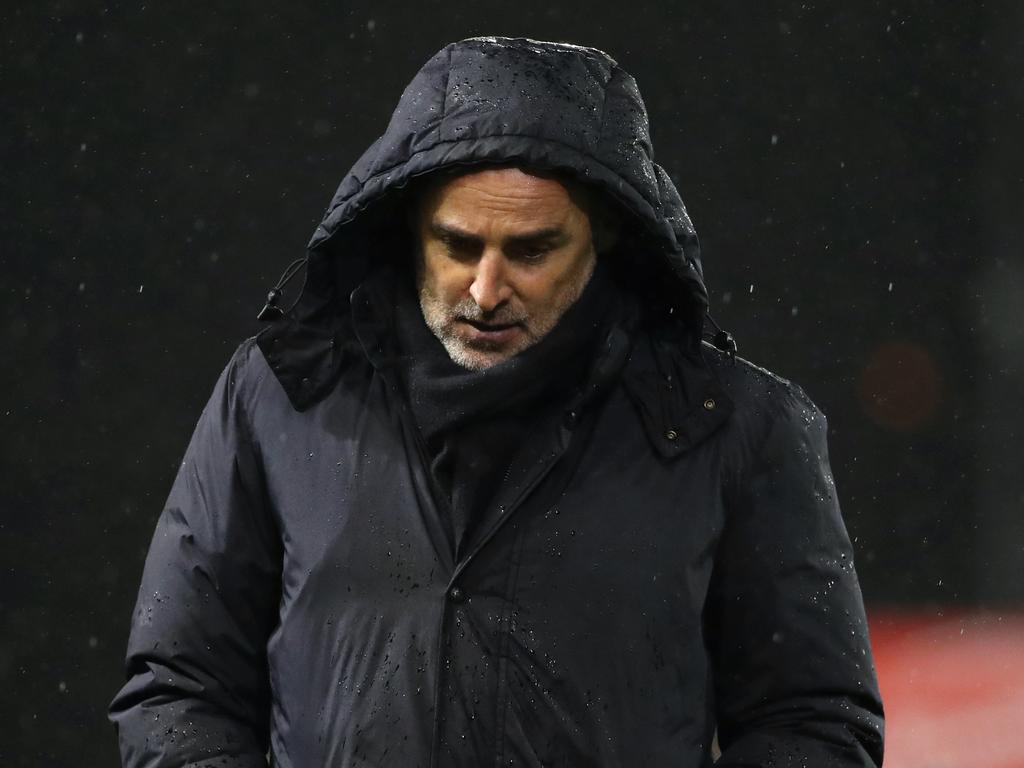 Muscat lasted six months at Belgian club Sint-Truiden, but was sacked in December 2021 after a string of poor results. Picture: Vincent Van Doornick/Isosport/MB Media/Getty Images
He knew the risks, but was not stupid enough to be blinded by those principles to feel perception changing, as the losses mounted.
"As soon as one person stops believing, it spreads like crazy, and from that point I just knew there was enough belief in the right places. You sense it when it becomes a result oriented thing."
The bad results kept coming, Muscat kept preaching positive play.
But in the end, he knew what was coming. "Bad news travels downhill," he quips, and after a 3-2 defeat to a lowly rival, Sint-Truiden sacked Muscat.
Bitterness did not befall the man. He walked away from Sint-Truiden even more certain that the principles of play he wanted to see from any team he is in charge of are the basis of a strong career, regardless of the fact being an Australian guarantees one thing – no respect.
"For me the definition of experience is how much knowledge did you gain," says of his time in Belgium.
"And I found out a lot about myself."
*****
Muscat sees no point dwelling on the past, especially from his little abode in Japan, where he's planning for a first full season in charge of Yokohama F Marinos.
Japanese border restrictions have kept his partner from joining him, so at the moment, it's just him and his thoughts to occupy the down time.
Homesickness doesn't enter the equation.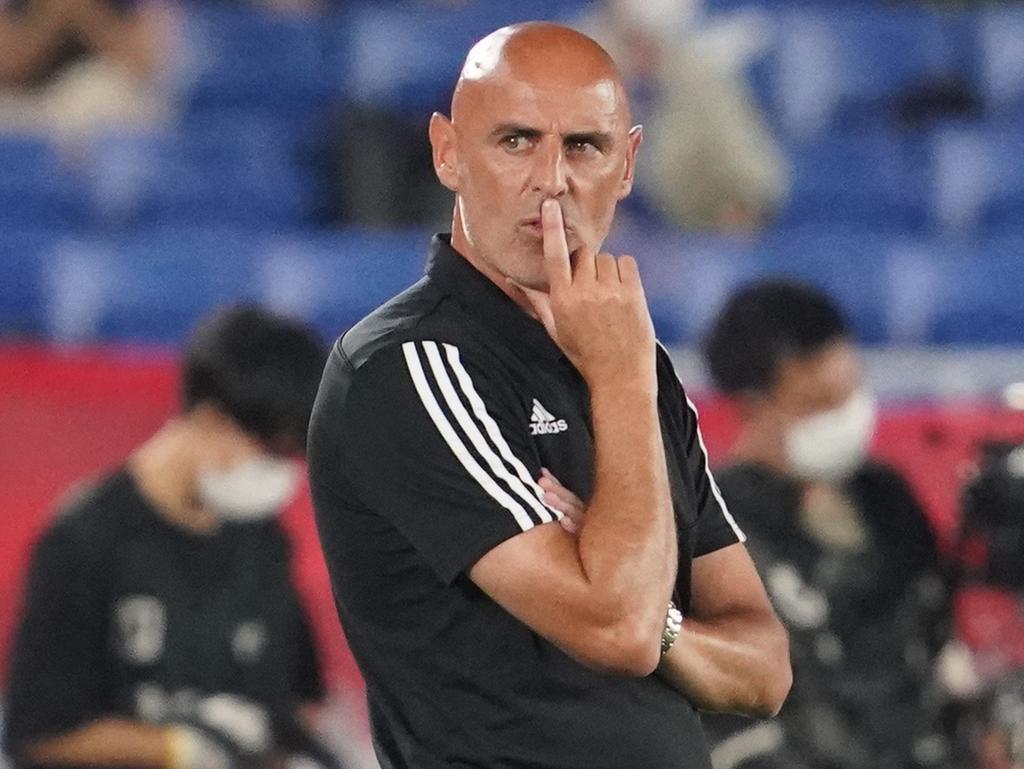 Muscat is getting ready for his first full season as Marinos manager. Picture: Hiroki Watanabe/Getty Images
Sure, Muscat misses living in Albert Park and of course, his kids.
But he's a little less flowery when explaining what he doesn't miss about Australia, and especially football's place here.
"I don't miss the double standards (in Australia) and scrutiny that our code comes under compared to other codes," he says.
"Some of it we have to accept as our own doing, but we get treated as second rate citizens. I don't miss 14 pages of every other sport and then a paragraph on ours. Don't miss that at all.
"The beauty here in Japan is if it's the same in the media, I don't have a clue!"
Muscat sees no value in comparing the state and standard of the A League to where he is now.
Japanese football, like its society, is run in an orderly sense.
"It's really hard to compare, and unfair as well. The resources aren't the same. The history of the competition is not the same. Why would anything be the same?
"Here, every decision revolves around football first. Resources, travel, organisation, kick-off times – everything revolves around what's best for the game.
"The fans are as passionate as anywhere in the world. They just show it in different ways. Not hanging off fences like South America, not holding flares like Greece and Turkey, but just as passionate in their own way.
"From a football perspective I'm totally loving it."
Muscat's departure from Victory in 2019 was hard. He broke down in tears at the announcement. Public tears from a man of his reputation are as rare as a compliment from a prison guard.
But deep down he knew he had to leave the place that he'd become synonymous with.
It's turned out OK so far.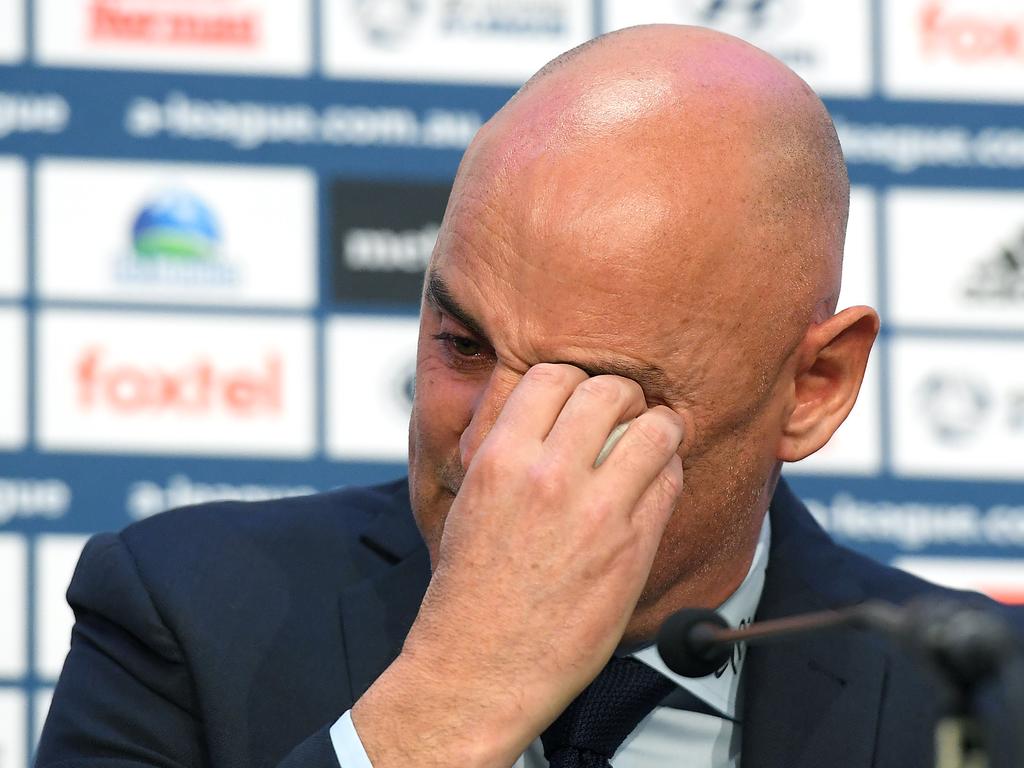 A passionate Melbourne Victory legend, Muscat shed tears when he left the club in 2019. Picture: Quinn Rooney/Getty Images
*****
Muscat knew he had to get out of his comfort zone, and test himself in the big wide football world.
Oddly enough, he reckons he's found peace.
"Japan has relaxed me!" he says, without a hint of sarcasm.
"It has! I get back to Melbourne, which will always be home, and everyone is rushing around beeping horns. [I have] been here in Japan six months and haven't heard a horn. [I can] be at traffic lights, when I first got here I was unsure what to do, they are just waiting patiently!
"As strange as this may sound, I'm enjoying the placid, relaxed side of it. Maybe it's working out who I really am!"
It won't always be this way.
The Japanese season starts in a week, and there will be extremes of exhilaration and profound emptiness on the touchline.
That's the game. But Muscat is intent, like the man before him, to do it his way, and see where it takes him.