Liverpool win FA Cup final on penalties over Chelsea as Kostas Tsimikas scores the winner
Liverpool's magnificent goalkeeper and an unheralded defender were the heroes as Liverpool beat Chelsea on penalties to win an FA Cup final that was scoreless at full-time.
It had to finish some time, somehow and finish it did: with red, sulfurous, smoke bombs on the pitch, with Adrian chairing Kostas Tsimikas towards the delirious Liverpool end and with Jürgen Klopp doing the goofiest dad dancing on the green grass of Wembley.
It finished with another trophy to Klopp and his men and their impossible dream of the Quadruple still possible, just about.
It finished with Mason Mount, hands on hips, vacant expression, standing in a world of his own, a world temporarily beyond consolation.
Liverpool took a knife-edge and historic FA Cup final. It was 150 years since the first final and for the first time ever the showpiece ended 0-0 even after extra-time had been played. And so it went to a penalty shootout, just as the Carabao Cup final did when the same sides met at Wembley in February. And the same outcome: Chelsea heartbroken, and Liverpool toasting a goalkeeper and unlikely hero.
In the Carabao Cup final those were one and the same person: Caoimhin Kelleher. Here the garlands were split. Tsimikas calmly sent Édouard Mendy the wrong way to convert the winning spot kick after César Azpilicueta and Sadio Mané missed and the shoot out went to sudden death. But perhaps the bigger protagonist was Alisson, Liverpool's magnificent Brazilian No.1, who had plunged and kept his left wrist ramrod strong to save a low effort from Mount.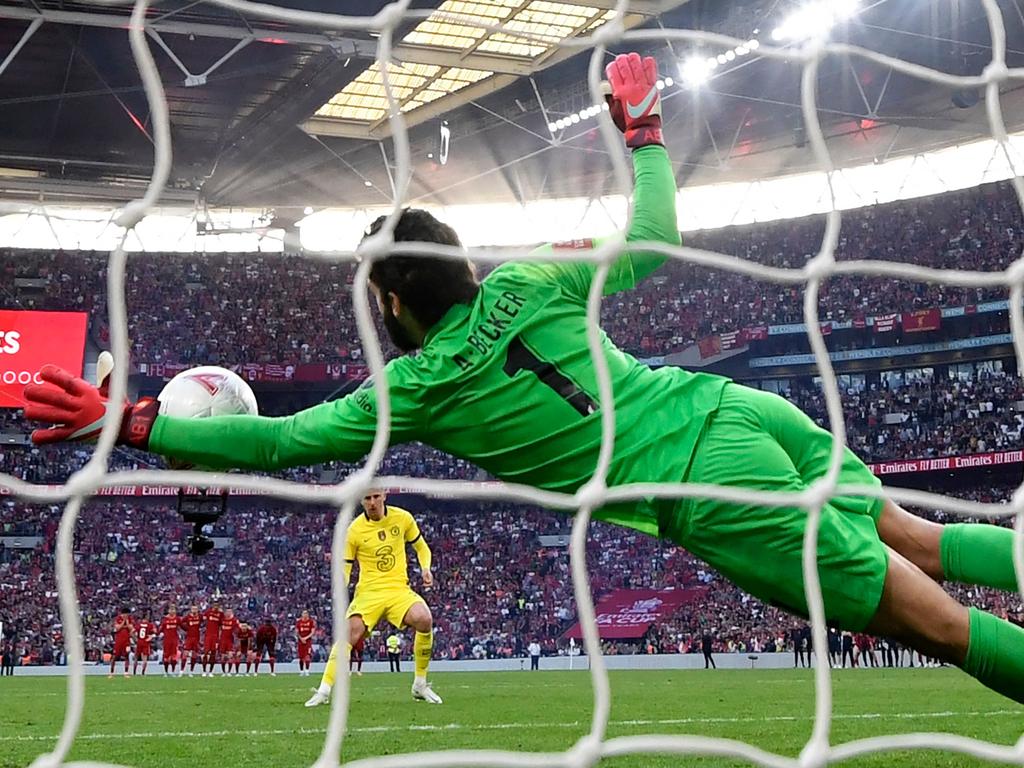 Liverpool goalkeeper Alisson Becker saves the shot by Chelsea midfielder Mason Mount that decided the FA Cup at the end of a penalty shootout. Picture: Glyn Kirk/AFP
Liverpool had begun normal time on fire but were doused when Thomas Tuchel used a break during which Mohamed Salah went off with a groin injury, to reorganise Reece James and Trevoh Chalobah, who were getting the run around from Luis Díaz. There were chances for both sides, with Diogo Jota going closest for Liverpool and Marcos Alonso for Chelsea but we reached 90 minutes without a goal being scored and throughout the additional period, both sides remained resolute.
The first act of Joël Matip, who replaced Virgil van Dijk at the end of normal time, was to race back and dispossess Christian Pulisic while N'Golo Kanté had Tuchel applauding a recovery tackle on Díaz and Antonio Rüdiger had Klopp on his knees when he chased down Mané to quash a Liverpool break.
Things got bitty and scrappy as, in extra-time, they often do and tempers frayed, legs tired, the substitutions came. By the end, both managers had used their five allotted replacements and yet still the dial had not shifted: for the fourth time this season — encompassing seven hours of football — these sides were level at the finish of play.
Liverpool manager Jurgen Klopp celebrates with the trophy after winning the FA Cup final. Picture: Glyn Kirk/AFP
Penalties, then. Chelsea seemed to have the advantages. Mendy was as much a hero Senegal's shoot out wins in the Africa Cup of Nations final and when beating Egypt to reach the World Cup and the spot-kicks were at the Chelsea end, where blue flags waved and fans baited every Liverpool taker. But after Azpilicueta's miss, Thiago Alcântara, socks down, sauntering run up, set the tone with a cool Liverpool conversion in off the post.
James, Ross Barkley and Jorginho were unerring for Chelsea but Roberto Firmino and Trent Alexander-Arnold replied leaving Mané with the chance to win it for Liverpool. Mendy dived to his left to get the better of his Senegal colleague and to sudden death it went. After Hakim Ziyech and Jota converted came Mount's miss, then Tsimikas's joy.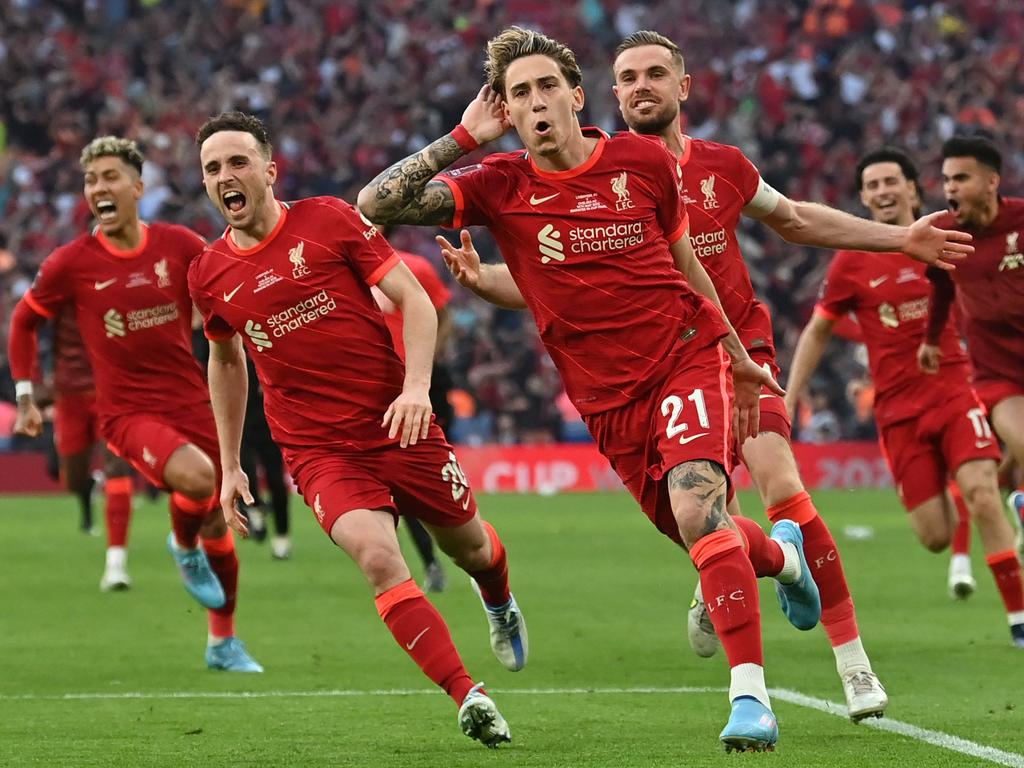 Liverpool defender Kostas Tsimikas (C) celebrates with teammates after scoring the winning penalty. Picture: Glyn Kirk/AFP
For this landmark showpiece, conditions were postcard perfect. In fact, Cup final perfect: clear blue skies, hot, still air, and Wembley's turf green as flawless as snooker-table baize. But perfect weather does not always make for perfect football and the question for both teams was whether they could bring their games of hard pressing and electric transitions in the lazy heat.
There were no issues for Liverpool, at least not at first. They started as if the FA Cup was the trophy they were hunting, instead of the second of four. As if this were a now-or-never game, and their urgency overwhelmed Chelsea for a good 20 minutes.
They were swarming Chelsea in midfield, smothering when they tried to play out from the back; they were getting ball-receivers behind Jorginho and runners into the areas wide of Tuchel's back three. Their principal tactic was the quick pass from deep into space outside Chalobah for Díaz and with more composure — and perhaps more two-footedness — Díaz could have decided the final in its opening stages.
With less than four minutes gone, Salah found Mané on the edge of Chelsea's area and Mané quickly moved the ball on to Díaz, who burst to the left of Chalobah then floated a cross to the far post. Thiago, leaping karate-style, could not quite reach the ball to touch it in.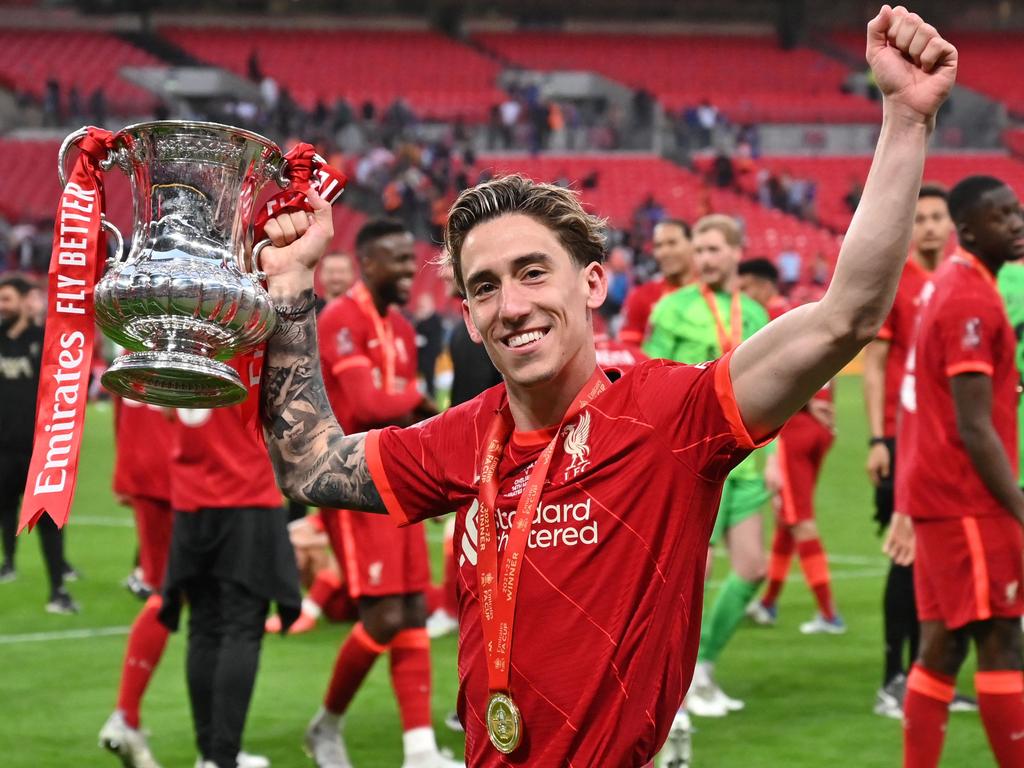 Liverpool defender Kostas Tsimikas celebrates with the trophy after winning the FA Cup final. Picture: Glyn Kirk/AFP
Soon Díaz was behind Chalobah again but his cut back went behind Salah and then Díaz was clear a third time, released by an exquisite, outside-of-the-foot Alexander-Arnold pass, but instead of shooting with his left the Colombian cut on to his right and could not bend his shot round Édouard Mendy who got a foot to the ball. Chalobah cleared before it crossed the line. Naby Keïta duffed his drive, following up.
Chelsea were unbalanced, once more, on their right flank when Andy Robertson scurried forward and speared a shot over. Tuchel, at that stage, was yelling and windmilling his arms but Liverpool's gas began running out and that right flank became a source of Chelsea penetration.
James drove into Liverpool territory and slipped a good ball to Mount, who darted to the byline then played an inviting cut back. It was one of Tuchel's choreographed counter-attacks: on cue, Christian Pulisic pulled into space to apply a deft touch to angle the ball wide of Alisson. Everything was perfect — except Pulisic's effort rolled an inch the wrong side of the post.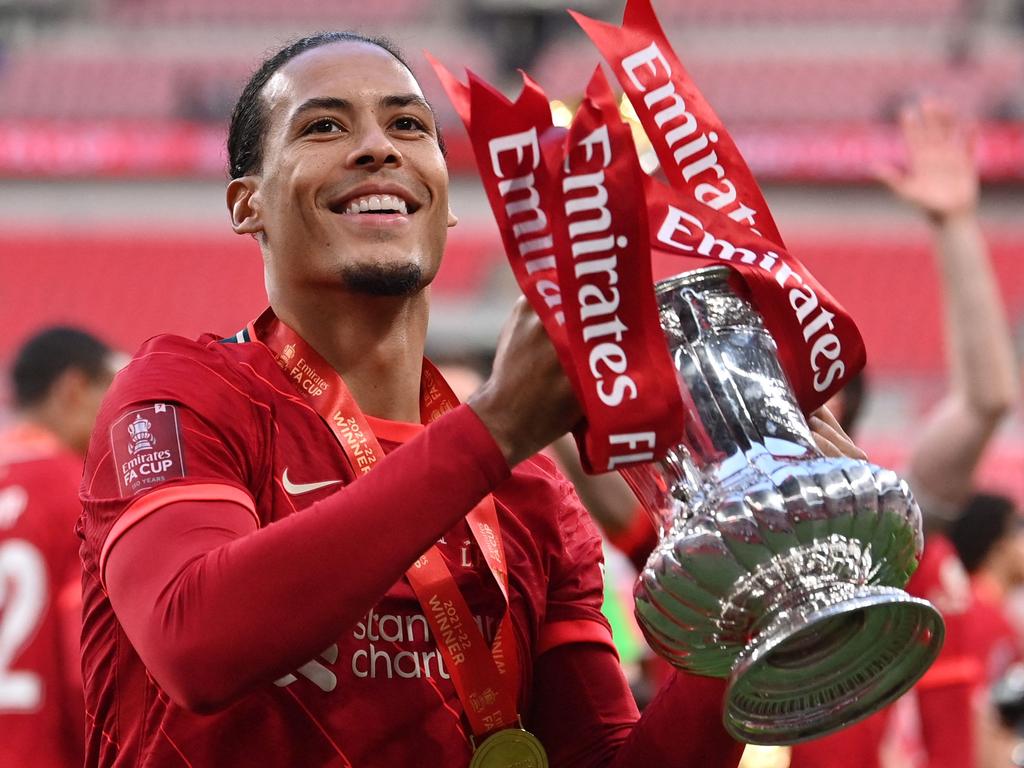 Liverpool defender Virgil van Dijk celebrates with the trophy after winning the FA Cup final. Picture: Glyn Kirk/AFP
Those counters began punishing Liverpool and bringing Chelsea joy. Pulisic came into a pocket to slide a pass through to Marcos Alonso, but the Spaniard's heavy first touch allowed Alisson to dart out and smother his shot. Mount, the most alert player on the pitch, then stole in on the blindside to dispossess Thiago. Mount played quickly to Romelu Lukaku but Van Dijk ushered Lukaku wide of goal and Lukaku rather ran out of ideas.
By then Salah had departed and Jota was on. He had the first half's best chance when Liverpool emerged from their torrid period to counter-attack promisingly through Mané. He squandered the situation with an under-hit pas but then Mateo Kovacic stumbled on the ball and Liverpool countered again. Thiago spread to Robertson who crafted a delicate cross to find Jota six yards out but Jota leaned back to knock it high over the bar.
Almost immediately, at the other end, Lukaku skied an effort of his own. The debate had been whether Tuchel would start him or Kai Havertz but hamstring issues meant Havertz did not even make Chelsea's match-day squad.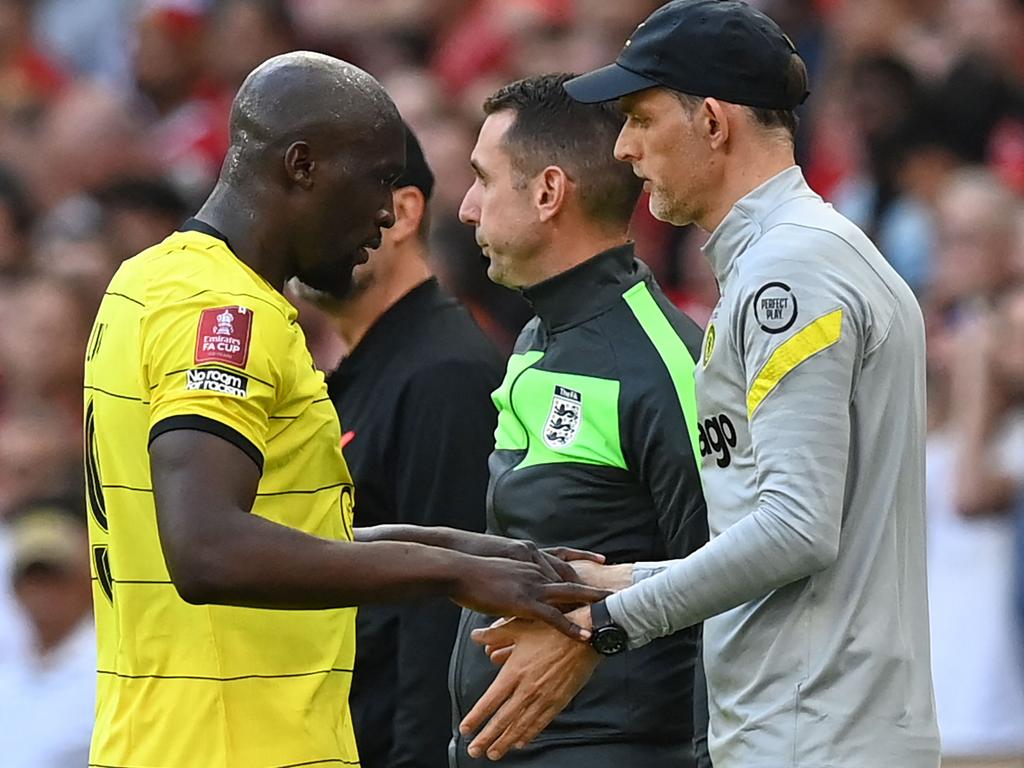 Chelsea striker Romelu Lukaku (L) is substituted by manager Thomas Tuchel, having failed to make the required impact. Picture: Glyn Kirk/AFP
Lukaku had experience on his side, having faced Liverpool more times (20) than any other club in his career, but that didn't appear to give him insight in how to better Van Dijk and after 84 minutes of lumbering labour Tuchel replaced him with Ziyech. Chelsea's dangers had continued to come from elsewhere. In a blitz at the start of the second half, Alonso dragged an effort just wide after James crossed and bent a free-kick against the bar. Pulisic, finding another pocket in the box, had the chance to beat Alisson but the goalkeeper covered the angles for an excellent stop.
Following Tuchel's pep talk, James and Chalobah worked together to curb Díaz much better but when Díaz switched to the opposite side, Mané released him to whistle a shot into the side netting. In Liverpool's next attack James Milner, having replaced Keïta, crossed expertly and Robertson thundered in at the back post only to smash his shot against it.
These chances came during a Liverpool flurry at the end of normal time and in the 89th minute, with Chelsea caught upfield and Liverpool countering quickly, Díaz rolled Chalobah and drove on Thiago Silva's outside before cutting inside and floating a shot agonisingly close. And so on to the drama of extra time then the penalty shootout drama.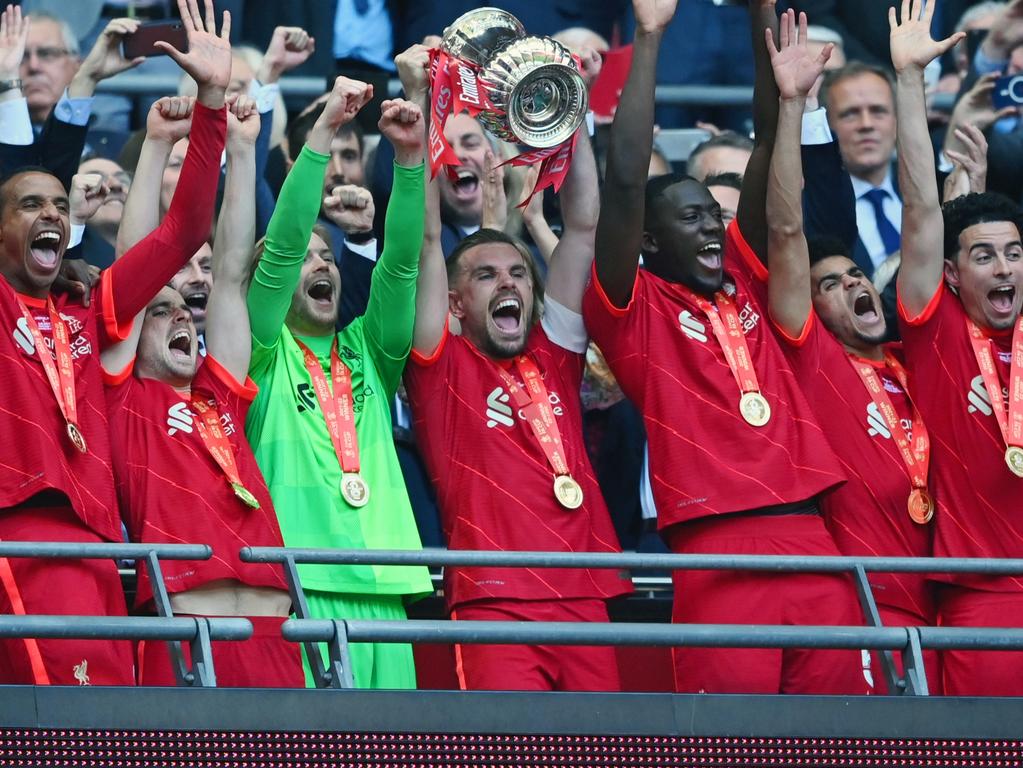 Liverpool captain Jordan Henderson lifts the FA Cup trophy. Picture: Shaun Botterill/Getty Images
Chelsea: E Mendy, N Chalobah (C Azpilicueta 106), Thiago Silva, A Rüdiger, R James, Jorginho, M Kovacic (N Kanté 66), M Alonso, M Mount, C Pulisic (R Loftus-Cheek 106), R Lukaku (H Ziyech 85), R Loftus-Cheek (R Barkley 120). Booked: James.
Liverpool: Alisson, T Alexander-Arnold, I Konaté, V van Dijk (J Matip 91), A Robertson (K Tsimikas 111), N Keïta (J Milner 74), J Henderson, Thiago Alcântara, M Salah (D Jota 33), S Mané, L Díaz (R Firmino 98).
Attendance: 84,897 Referee: C Pawson (South Yorkshire).
– The Sunday Times