Two mad minutes stun Manchester City in stoppage-time as Real Madrid book place in Champions League final
Real Madrid have left it late again at the Santiago Bernabeu to book their place in the Champions League final against Liverpool after Manchester City unravelled in stoppage time.
Manchester City walked into an ambush here in the Bernabéu. Real Madrid's impassioned fans willed their team to victory in this compelling Champions League semi-final. When they fell behind to Riyad Mahrez's fine strike, the home supporters simply backed their team even more loudly and were rewarded.
Rodrygo scored twice late in normal time, Karim Benzema won and converted the penalty in extra time and the Bernabéu claimed another victim.
Real now meet Liverpool in Paris in a repeat of the 1981 European Cup final, although that was at Parc des Princes rather than Stade de France. As Liverpool continue to pursue the Quadruple, City have "only" the Premier League to focus on and their fraught relationship with the Champions League continues.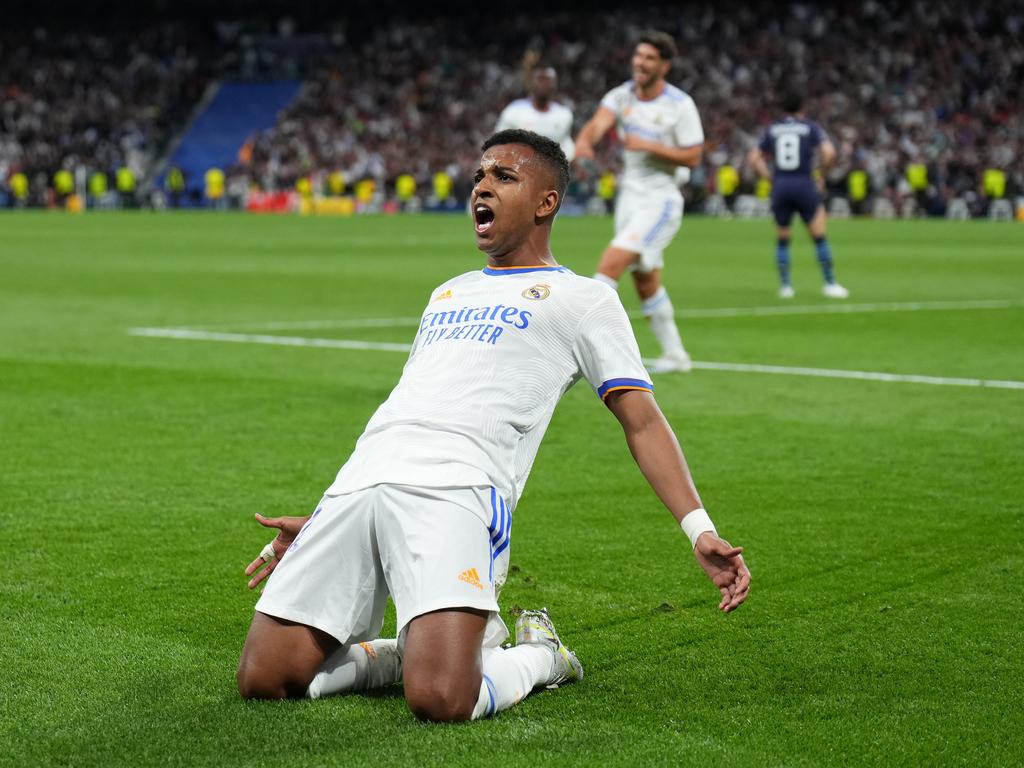 Rodrygo celebrates after sending the tie to extra time. Picture: Angel Martinez/Getty Images
City had been made aware of the challenge in store. Real's fans had arrived early, filling the air with plumes of smoke and songs of praise for Madrid and enmity towards Pep Guardiola. The 50-yard walk from the metro to the gates took almost an hour, squeezing past thousands upon thousands of Real supporters, standing on the road, the pavement, on bins, climbing up trees for a better vantage point, all singing, many holding flares. The smoke was immediately spread by the twirling scarfs.
The sustained roar when Real's bus inched its way past the crowd kept back by police was deafening, almost visceral. A special force permeates the Bernabéu, a belief as soaring as the tiers that reach for the sky.
Leading by a goal from the first leg, City were fighting against a wall of noise whipped up by the Real fans on all sides, and facing opponents who have shown their mastery of comebacks, against Paris Saint-Germain and Chelsea.
City stayed calm and concentrated, coping easily with everything that Real launched at them in the first half.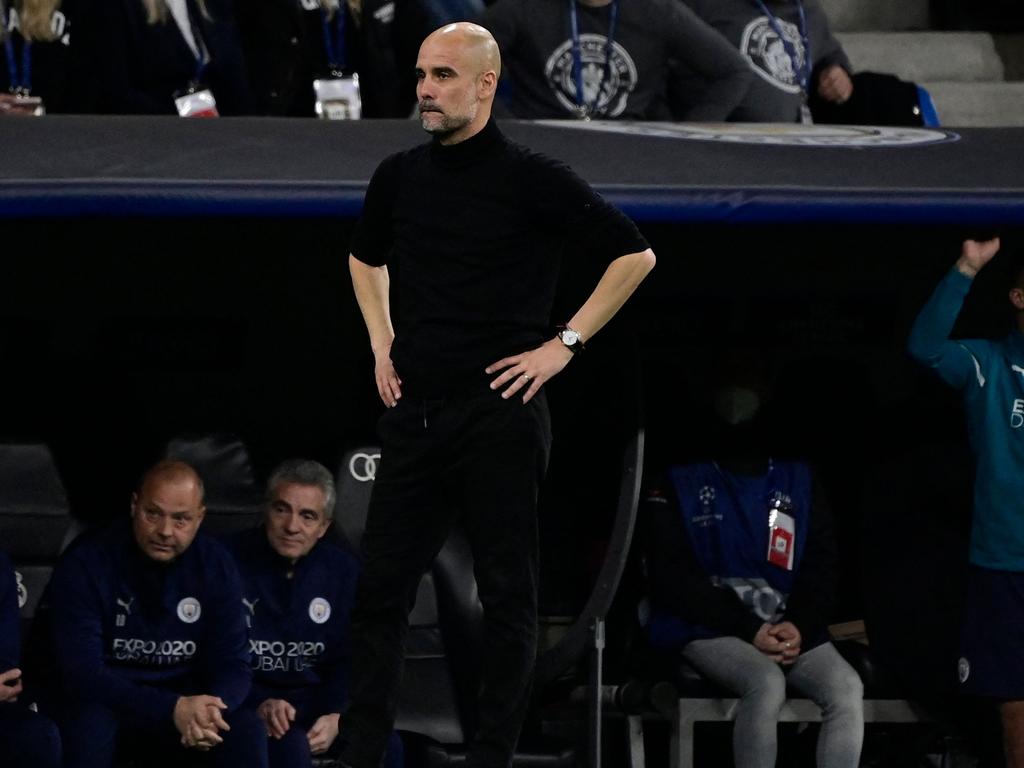 Having won the Champions League twice in his first three seasons as a manager, Guardiola has not lifted the trophy in the 11 seasons that have followed. Picture: Javier Soriano/AFP
Benzema, inevitably, threatened early, heading over a Dani Carvajal cross and then shooting over from Federico Valverde's pass.
Vinícius Júnior began running at the returning Kyle Walker, testing the England full back's noted pace. City were prepared and Mahrez, then Phil Foden, tracked back to help Walker to deal with Vinícius. The Brazil star did break through after 18 minutes but fired over.
Real fans were whistling whenever Ederson delayed taking a goal kick, and their derision spilt forth even more when Walker stayed down after taking a knock to his head when Éder Militão challenged him in the air.
Carlo Ancelotti's players kept complaining to Daniele Orsato, the Italian referee, and surrounded him at the break, but Real were fortunate to make it to half-time with the full complement.
Returning to midfield after injury, Casemiro inflicted a dangerous scissors tackle on Kevin De Bruyne and somehow escaped a booking. Aymeric Laporte rushed over, complaining to Orsato. Luka Modric became involved, and a brief altercation flared between Modric and Laporte, ending with the City defender inspecting the Bernabéu's lush surface. Orsato actually handled it well, administering a short lecture and yellow cards rather than reds, although Casemiro really should have joined them in the book.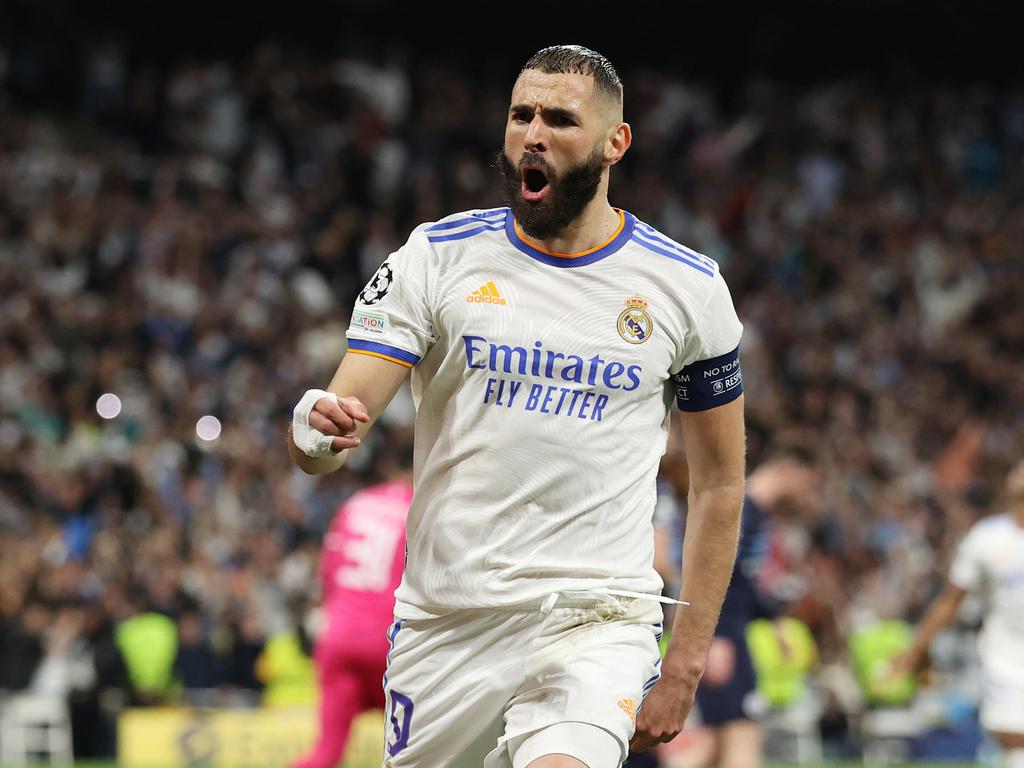 Benzema sealed the tie with his tenth goal of the knockout stages – equalling Cristiano Ronaldo's record from 2016-17. Picture: Gonzalo Arroyo Moreno/Getty Images
He almost had Foden's shirt off his back at one point and the Brazil midfielder, fearing punishment, stayed down, nursing an apparent injury before recovering. As Orsato walked away without booking Casemiro, De Bruyne and Bernardo Silva accompanied the official, engaging him in debate.
Casemiro really pushed his luck when taking a dive on the edge of City's penalty area, and then lay thumping the floor like a child denied a sweet. He's a fine player, and so important for shielding Real's back line, especially as it was missing the injured David Alaba here, but he pushes the boundaries.
City still found a way past Casemiro, breaking into the final third. De Bruyne started accelerating and passing forward. Foden darted around like a firefly, always showing for the ball. City had known that Real allowed opponents sights of goal, having conceded a remarkable 95 shots at the Etihad Stadium and in the ties against Chelsea and PSG.
So even though they were being tested by the movement of Benzema, the pace of Vinícius and the brief threat of a Toni Kroos free kick that clipped Mahrez and went over, City found time to attack in the first half.
Guardiola was never going to come here and sit back. De Bruyne sent Silva through but Thibaut Courtois pushed away his shot. Ederson then drove a 70-yard ball downfield. Gabriel Jesus juggled it to Foden, who chested it down and then used his right foot to test Courtois' reflexes with a volley.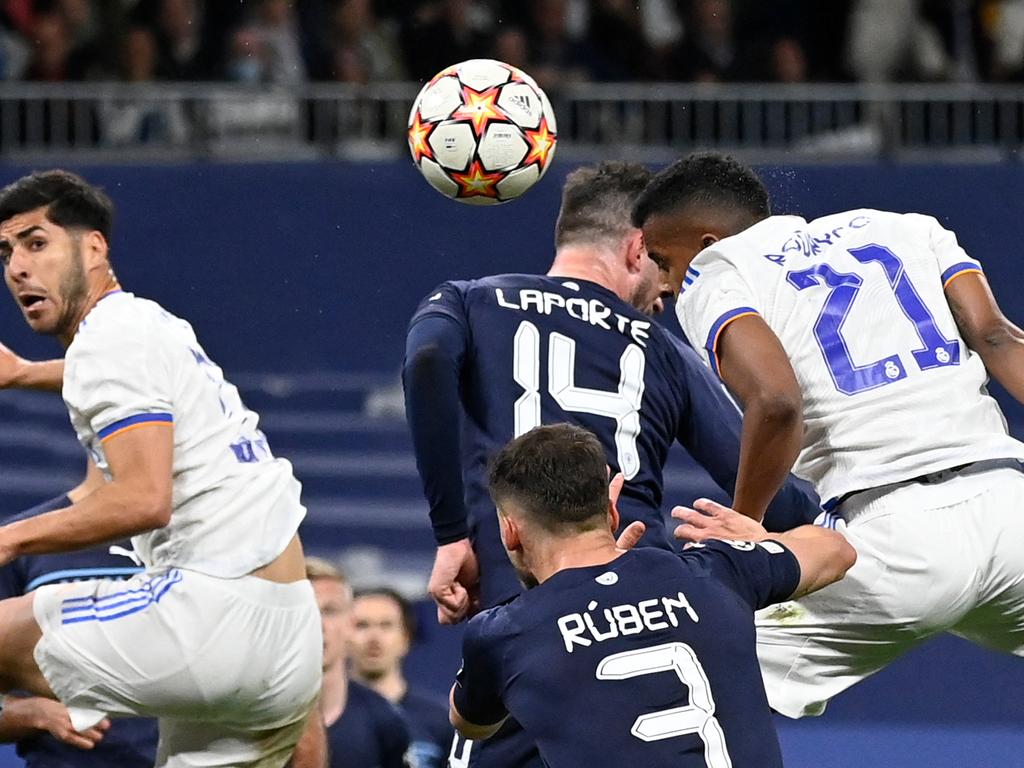 Rodrygo became the first player to score twice in the 90th minute of a Champions League knockout match as he forced extra time in dramatic style. Picture: Pierre-Philippe Marcou/AFP
Real fans cheered their goalkeeper and then assailed the officials with invective when Vinícius fell under a marvellous sliding challenge from Walker. It had to be perfect — and it was, a masterpiece of timing. Vinícius looked bemused.
As Ederson took up his place in goal for the second half, the Real fans behind him kept up their drumming and chanting, urging their team on. They should have taken the lead within a minute of the restart when Carvajal crossed from the right, Benzema failed to make contact in the centre and Vinícius sliced wide at the far post. City escaped.
Real attacked again and Rúben Dias did well to block a Modric shot.
City stayed firm in the teeth of this pressure and thought they had settled the tie with that sweetest of breakthroughs after 73 minutes. Silva drove down the middle, flying into untended space, and he cleverly slipped the ball right to Mahrez, who did what he does best, sending an unstoppable shot with his left foot into the roof of the net. And City fans raised the roof too.
Jack Grealish came on for Jesus, then Fernandinho for Mahrez, whose stroll to the bench annoyed Vinícius, who tried to chivvy him on his way. Grealish was magnificent, taking the game to Real, hunting a second, and he was soon unceremoniously bundled over by Militão. As City supporters sang his name, Grealish dribbled in again, almost setting up Foden, and then placing a shot just wide.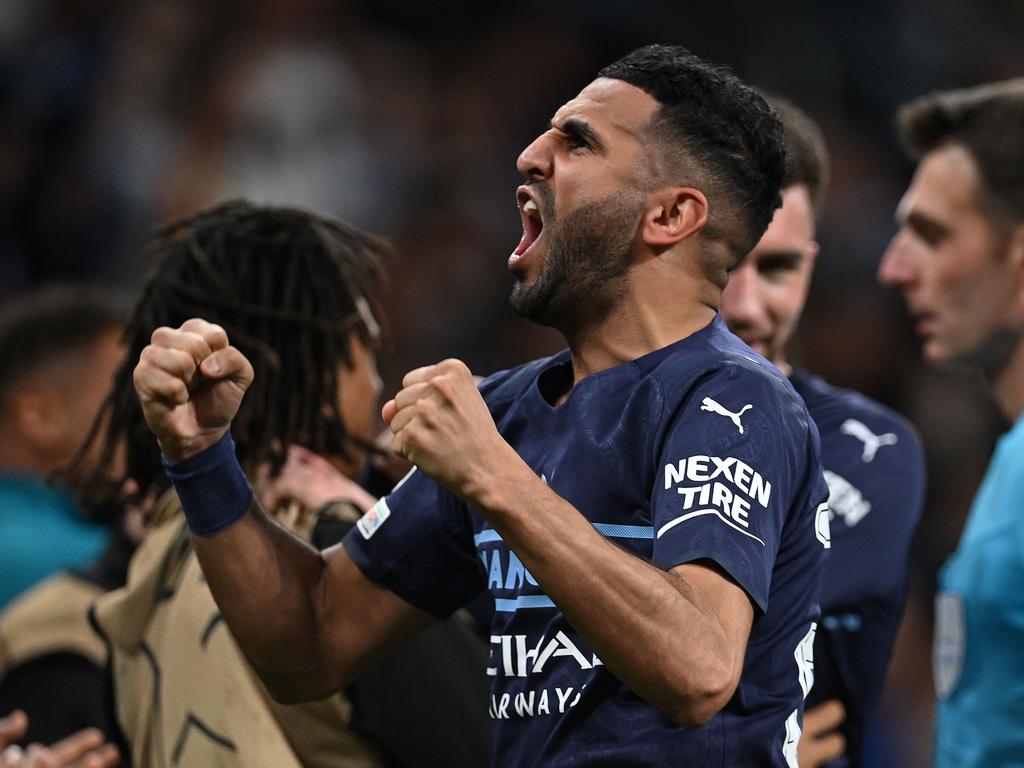 Mahrez thought his goal had sent City through to the Champions League final for the second successive year. Picture: Paul Ellis/AFP
But the Bernabéu has that force, and Real came storming back with two goals to force extra time. Eduardo Camavinga swept a cross from the right to Benzema, who met the ball with his high left boot at the far post and turned it across. Rodrygo, an inspired substitution by Ancelotti, darted in ahead of Ederson to poach an equaliser on the night.
As the announcer declared seven minutes of stoppage time, the Bernabéu breathed fire again, not relief, just belief. And the fans' faith was vindicated when Carvajal got in ahead of Grealish to cross and there was Rodrygo, rising high, to steer his header home and send this enthralling tie into extra time.
Camavinga then charged upfield, sliding the ball right to Rodrygo. The cross came in and Dias caught Benzema, who sent Ederson the wrong way from the spot.
– The Times