Robbie Slater speaks with John Kosmina about his colourful career as a top footballer and coach
ROBBIE SLATER speaks with John Kosmina about his colourful football career, including the disastrous A-League guest stint of a Brazilian icon and an infamous Socceroos campaign.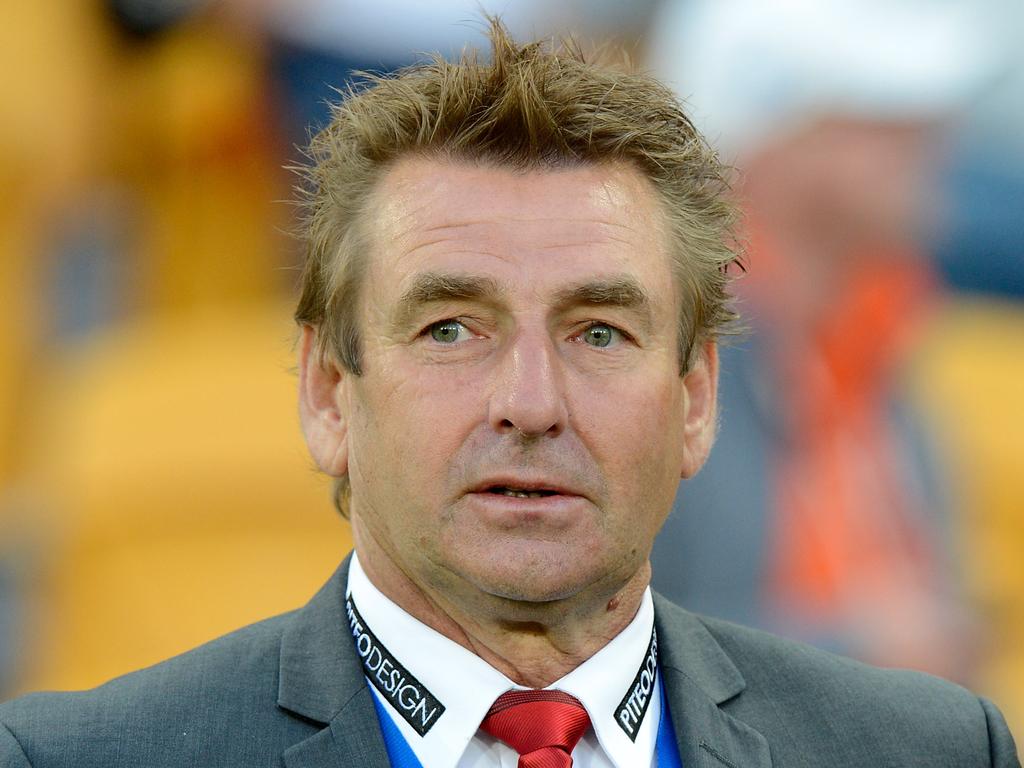 John Kosmina has been one of the central figures in key moments of Australian football. Picture: Bradley Kanaris/Getty Images
In his latest interview for CodeSports, Robbie Slater speaks with fellow Socceroos great turned long-time coach John Kosmina about a colourful career dotted with fabulous characters and stories.
Robbie Slater: Kossie, first and foremost, what are you doing these days?
John Kosmina: As little as possible! Always had an aversion to work! Not a 9-5 type of bloke but I'm still coaching, with school teams here in Brisbane. Also a technical adviser at a community club; really good working with kids who don't know a lot about the game. I help the coaches along, get a buzz out of that.
RS: Your playing career, when you started in the NSL, was so interesting because it was night one of the NSL in 1977. Exciting times?
JK: Yeah started in the South Australian State League, then the NSL started, I was with West Adelaide, it was great. A new era. Getting on planes to go to games! It was the first national sporting league, (before) footy, basketball, baseball, netball. That first weekend, I played a local league Cup game on the Friday, then flew to West Adelaide the next day and scored a goal on night one of the NSL! It was good fun, felt like a bright future ahead for the game.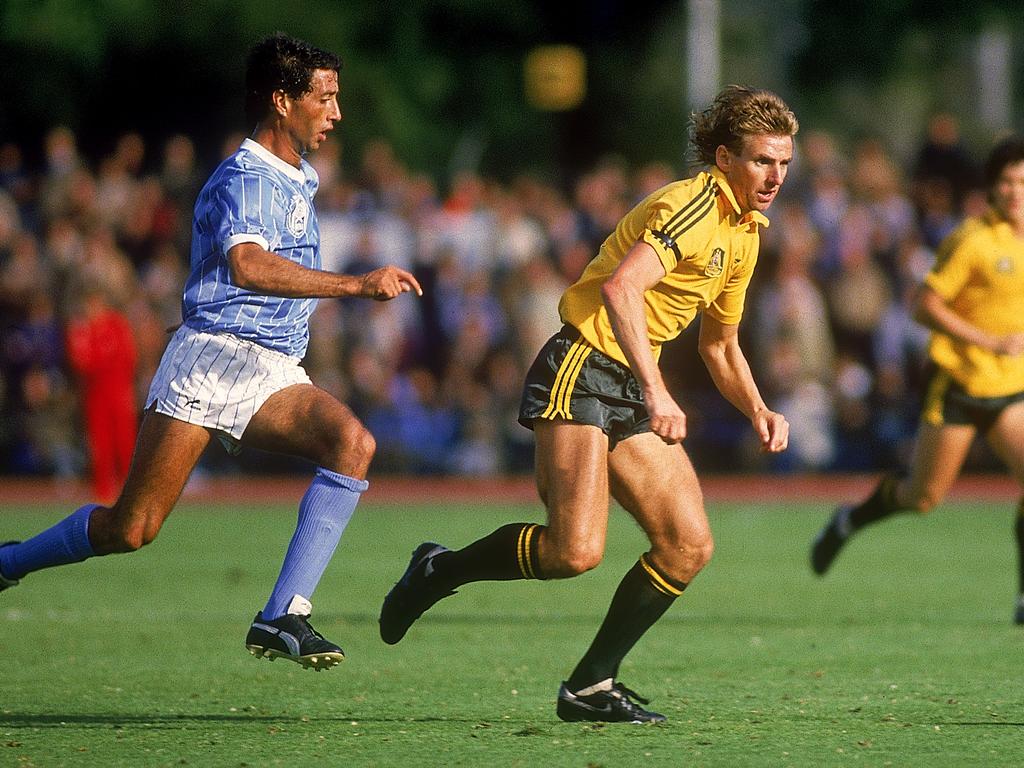 Kosmina in action for Australia in a match against Israel in 1985. Picture: Tony Feder/Getty Images
RS: You developed into an international through the local game, how did the NSL help with that?
JK: Well, it happened before that. I was lucky. Grew up playing at a Polish club, my dad was Polish and they bought some great international players, they got them out of a communist country; come out here, work as a labourer and play. They taught me a hell of a lot. Then playing in a national league, playing against players and clubs I had never seen before, I couldn't help but get better.
RS: After one year of the NSL, you caught the eye of Arsenal. Until Mat Ryan last year, you were the only Australian male to play for Arsenal, and it all happened because of a friendly the Socceroos played against them. Seems odd to think now!
JK: Yeah, Terry Neill was Spurs manager in 1976. They played a South Australian team and I had a blinder and then 12 months after he'd switched to Arsenal, I scored against them in a tournament the Socceroos played in against Arsenal. Before that, I had an offer to go to the Tampa Bay Rowdies in America, but the agent said hold on with that, I can get you to London.
RS: And what was that experience like?
JK: Going over, I was pretty confident, thought world domination within a few months, and it was a lot harder than I thought. Departed Adelaide, it was 40 degrees, got off in London it was minus five and snowing.
But getting out of the airport was an ordeal. I filled out the customs declaration with my occupation as 'footballer'. I had blond hair and a really good suntan and he says, you ain't a footballer, wait here. Took me three hours to get in touch with the Arsenal rep. They wouldn't let me page the guy. Thought I was taking the piss!
It was January, freezing cold, and I could only train for six weeks while my work permit came through. Did a lot of running, up those stairs in the stands at Highbury. It was a real eye-opener for me.
RS: How did it end at Arsenal?
JK: I wasn't playing much at Arsenal and a contact of the manager Terry Neill was at West Adelaide. He tapped me on the shoulder and I took the easy out. Looking back now, I should have stuck it out a little longer.
RS: You came back to West Adelaide but ended up at Sydney City, where you played more than 150 games and scored 80 goals, with future Socceroos boss Eddie Thompson as manager. How was Eddie day in, day out?
JK: Thommo was brilliant in that he could put players together. Understood how teams functioned. I look at teams as a big jigsaw puzzle, pieces have to fit or the picture isn't going to look right. Thommo had that knack, affable character, sort of one of the boys. You could have a laugh and joke, have a beer with him. It all flowed smoothly until the hierarchy at Sydney City worked out it wasn't very profitable and a waste of money to keep funding a football team because the NSL was starting to struggle.
RS: 100 games for the Socceroos (including full international and A-international games), over 40 goals, tremendous record, and three World Cup campaigns, which started our run of heartbreaks. What stands out there?
JK: The '82 campaign was a disaster. Rudi Gutendorf, and I don't like to speak ill of the dead, as our national team manager was a debacle. Nothing was done properly. In a critical game at the SCG, we lost to New Zealand at home 2-0. I got told at lunchtime the day of the game I wasn't starting, then got to the ground and I wasn't even on the bench! Rudi had no idea with player management. That was the only time Oceania qualified directly for a World Cup and the Kiwis went instead of us.
RS: The next campaign for the '86 World Cup, we end up in a qualifier against Scotland. That second leg, the 0-0 in Melbourne, we were a little unlucky?
JK: Mate, we were. The first leg over in Scotland, 63,000 in Glasgow, there was a Scottish pipe band playing before the game. Our manager Frank Arok, bless him, made us go out and warm up among them! Weaving in and out. The chant from the terraces was, 'You sheep shagging bastards!' Scotland were too good, 2-0, Kenny Dalglish played that night. We came back for the return leg in Melbourne, we were unlucky. I had a free header that to this day I have bad dreams about.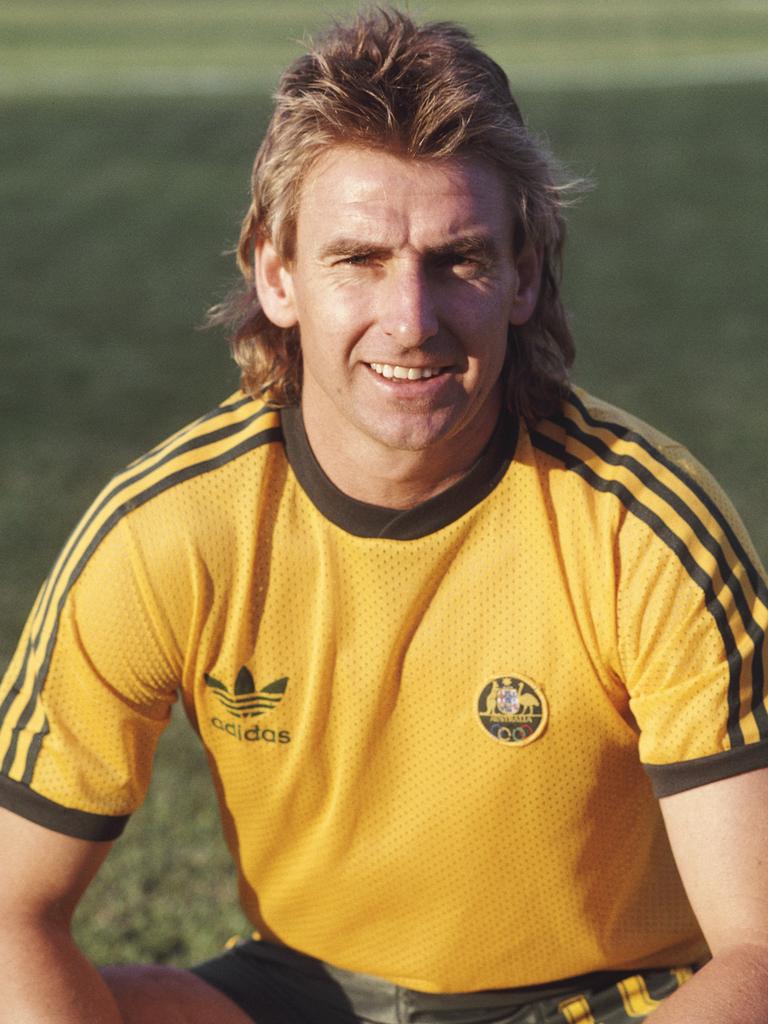 Kosmina before the 1988 Seoul Olympic Games. Picture: Rusty Cheyne/Allsport/Getty Images
RS: The 1988 Seoul Olympics was a great experience. I loved it, so did you. After we got knocked out, we had to keep training for World Cup qualifiers but you'd retired from internationals by then, and I recall you took full advantage of your freedom …
JK: The Olympic Village was a fantastic place. Knew the basketball team, a few of the baseballers, they were out in Seoul; I'd go out and have a good time with them. I can remember the odd occasion coming home while you guys were getting on the bus for training!
RS: Playing done, you got into coaching; firstly in the NSL and then in 2003, Adelaide United came onto the scene in the last year of the NSL. How was that for you?
JK: Brilliant. Adelaide City pulled out of the NSL for the 2003-04 season at the last minute, so they cobbled together a club last minute, and everything was about local flavour. Because it was so rushed, we didn't play our first game until four weeks after the rest of the NSL started.
Seventeen thousand were at Hindmarsh Stadium, with 3000-4000 locked out. It worked, and it's the key to some of the solutions we are looking for as a game. Adelaide's name: United. There are these different parts of the game, ethnic communities that never got along with each other, stopped progress. Adelaide United put that all to bed. That first night, the whole of the Adelaide football community supported one club.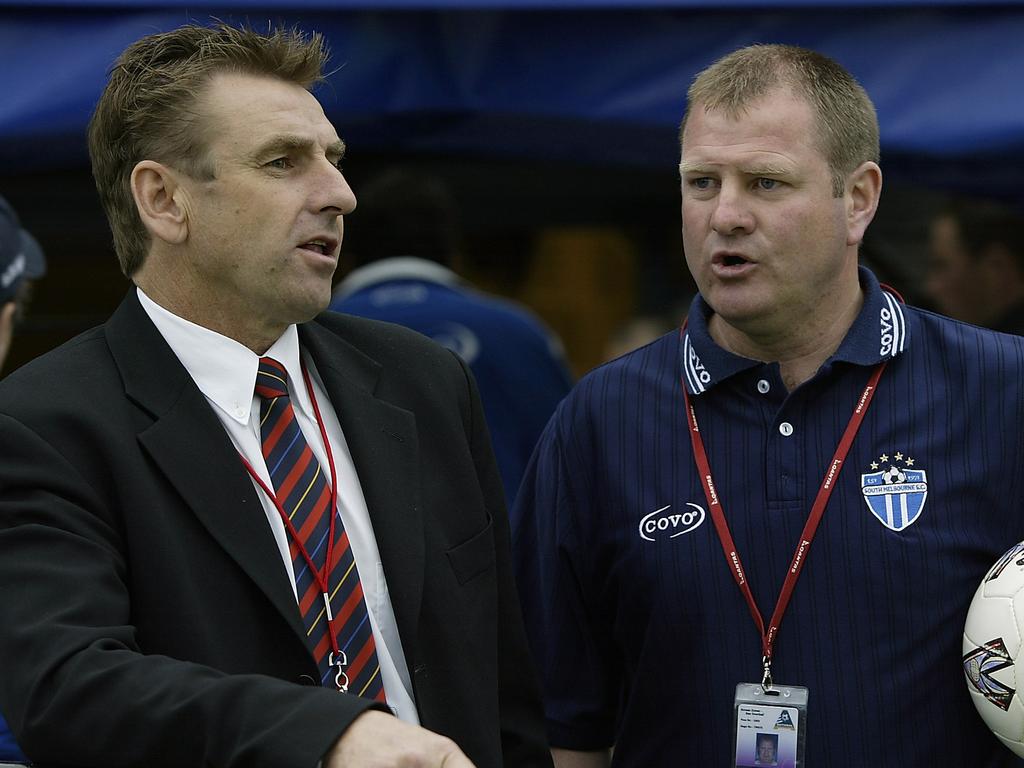 Kosmina as coach of Adelaide United in 2003. Picture: Robert Cianflone/Getty Images
RS: Adelaide United went into the A-League as the NSL folded and your club found it easy to create rivalries with Sydney FC and Melbourne Victory. Why?
JK: We played the underdog theme. It was a success though, we picked local players. In Aussie rules, there was an old campaign around State of Origin, 'Kick a Vic'; we just fed off of that! The Victory games were fantastic. But looking back, we didn't handle the big games well. We won the premiership in the first year but no good in the finals.
RS: Yeah, the infamous 6-0 grand final loss. Archie Thompson scoring five, Ross Aloisi your captain a red card after 30 minutes. How do you reflect on that night, 15 years on?
JK: Kevin Muscat was a clever player but he did have a reputation for being a little on the mean side. He snapped Diego Walsh in the first five minutes. I've looked at it and it was a red card. Not even a yellow. Ross had a whinge about it, got a yellow, then 20 minutes later got another and was off. We'd played our grand final the week before (winning on penalties vs. Newcastle). We were cooked. And it was a strange season; momentum was hurt a bit with the whole Romario thing.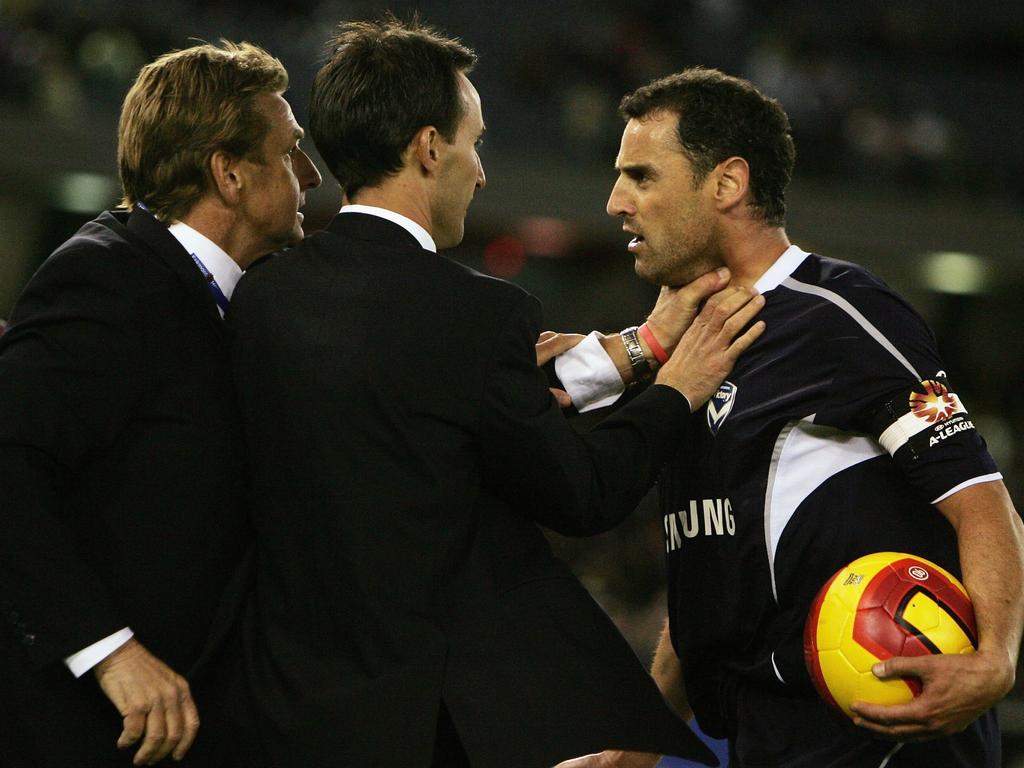 Kosmina and Muscat enjoyed a frosty relationship. Picture: Quinn Rooney/Getty Images
RS: Ah yeah, Romario, the great Brazilian striker joined you that season at the age of 40 for a four-game guest stint. Did you have a problem with the signing?
JK: I was asked about him and I didn't want him. We were up the top, doing well, and I knew Romario coming in would upset the whole thing. I told Michael Petrillo (then Adelaide football manager) I didn't want him on a Friday, went away, got back on Sunday and pick up the paper to read we've signed Romario!
It had nothing to do with football, it was an ego thing. Petrillo and the board were starstruck.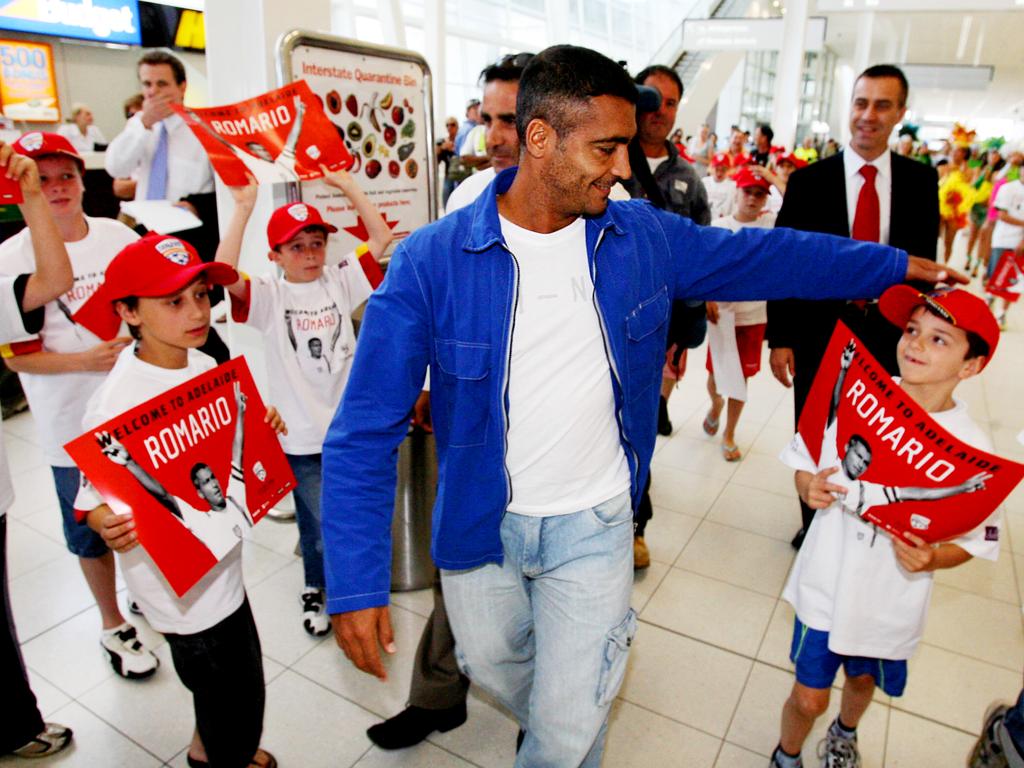 Romario arrived to plenty of fanfare in Adelaide. Picture: Sam Mooy
I was against marquees when the A-League started at Adelaide, because it didn't suit the mentality I wanted there. I knew having Romario there for a four-game stint was going to be a pain in the arse. We were getting good crowds anyway. It was more to do with egos and it really pissed me off.
I actually had an argument with him. Took him off against New Zealand Knights but as soon as I took him off, the whole team picked up. I got dragged into the office, basically saying, 'You can't take him off again'. I was told in that meeting they didn't care if we won or lost. That was like lighting a stick of dynamite with me.
RS: You are kidding!
JK: No, I'm deadset serious.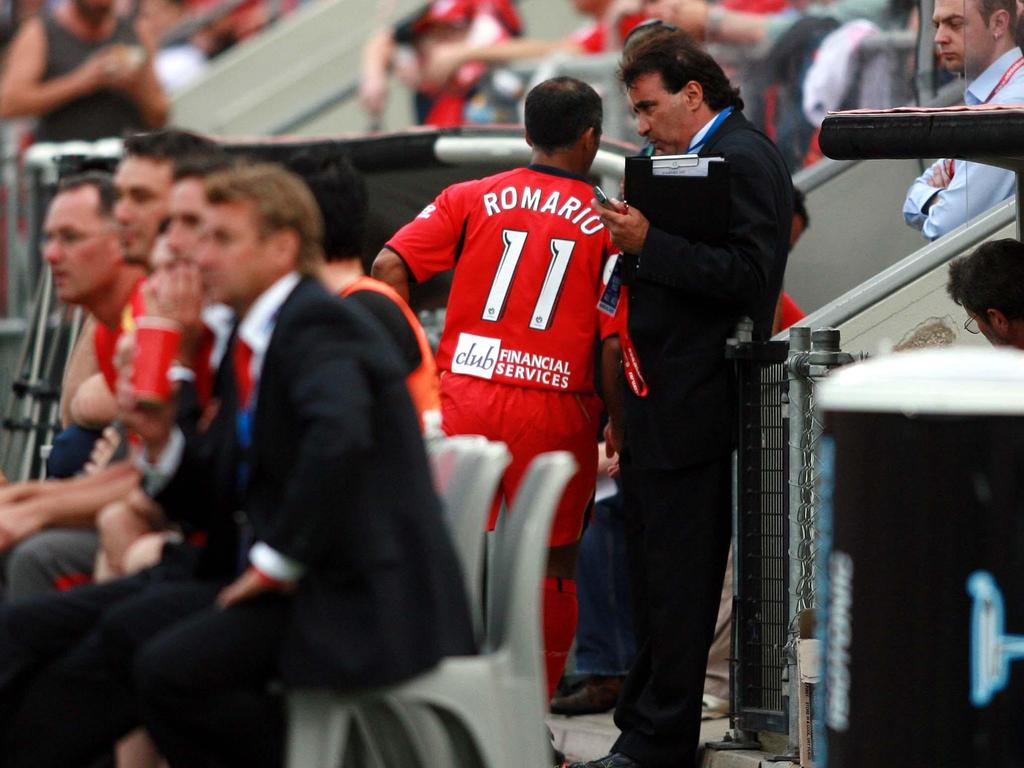 Romario heads straight to the sheds after being substituted against the New Zealand Knights. Picture: Matt Turner
RS: After that season you left Adelaide and lobbed at Sydney FC, but it didn't quite work out. Why?
JK: The first season was good but season two, the wheels fell off. Whole lot of reasons why, political being one of them; but to Sydney's credit, they gave me the season then paid me out the last year of a three-year deal. No complaints but I was probably trying to manage Sydney FC like I played at Sydney City in the NSL. Old-school. Time had moved on since then.
RS: Around club commitments, you worked as an assistant to Graham Arnold at the 2007 Asian Cup. Many call it a fateful campaign, one of failure. What's your recollection?
JK: Arnie has almost been typecast by that outcome and it's not really right. Arnie made his bed with the current campaign and has to take responsibility with the results, but when people say he stuffed up and ruined something in 2007, that's not fair.
We went to the World Cup in 2006, those players went through hell. Guus took them into camp for six weeks and smashed them. His philosophy was, we're not as good as others, so we have to outrun everyone. All these guys are playing in Europe, 12 months later we're in the Asian Cup, we're just going to wipe the floor with everybody. [But] players didn't want to be there, they hadn't had a break for three years. Can't do that!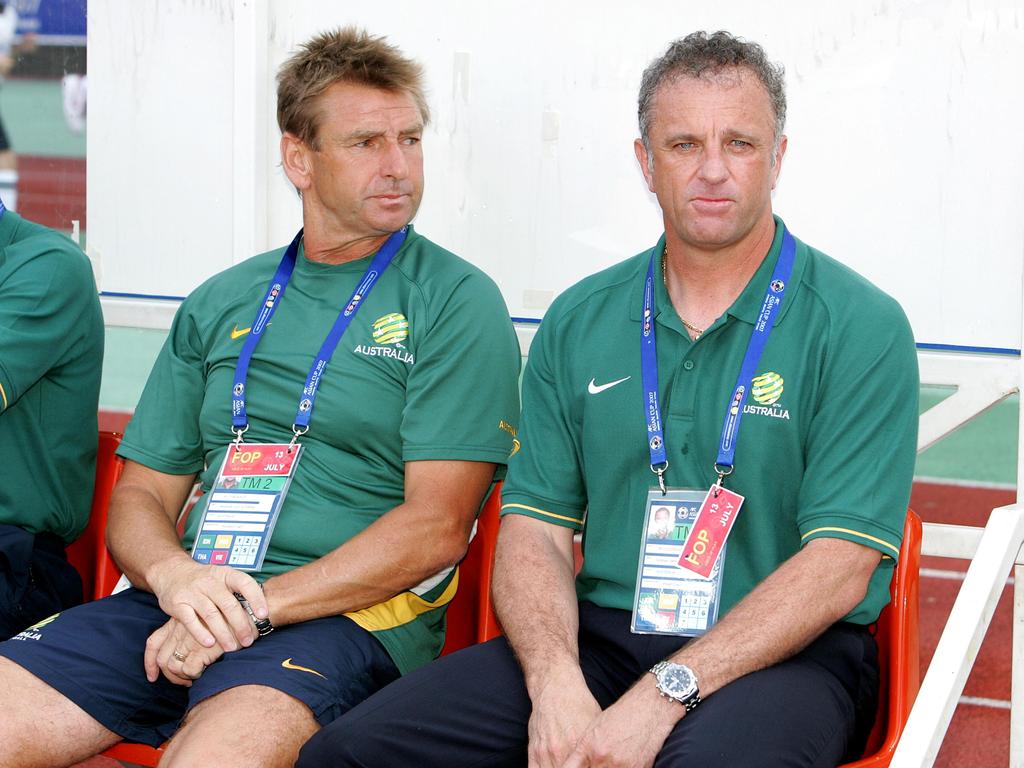 Kosmina and Arnold struggled with the Socceroos at the 2007 Asian Cup with players who didn't want to be there. Picture: Peter Wallis
RS: How disjointed was it?
JK: Mark Viduka didn't want to go, had to be cajoled into going, Lucas Neill spent two weeks on the beach in Phuket before the training camp. Harry Kewell, John Aloisi, Tim Cahill were injured. And then lost on penalties to Japan in the quarter-finals. The two to miss pens were Harry and Lucas. Is that Arnie's fault? People might say I'm just protecting Arnie, he's your mate. Well, these are the facts.
RS: What about the future, how do you see the next period of the game in Australia?
JK: I'm a big one on perspective. The game isn't as bad as people make it out, the football is not that bad. Adelaide play attractive football, Melbourne City play tactically-adept football, Victory play a really organised transition game under Tony Popovic.
The issue isn't the football being played. The issue is more off the field, where everyone keeps saying it's crap. The NSL had a lot of great individuals. The A-League has a more tactically and technically rounded group of players. Now, sometimes we over-analyse things, but the game is OK. All the noise is making it worse.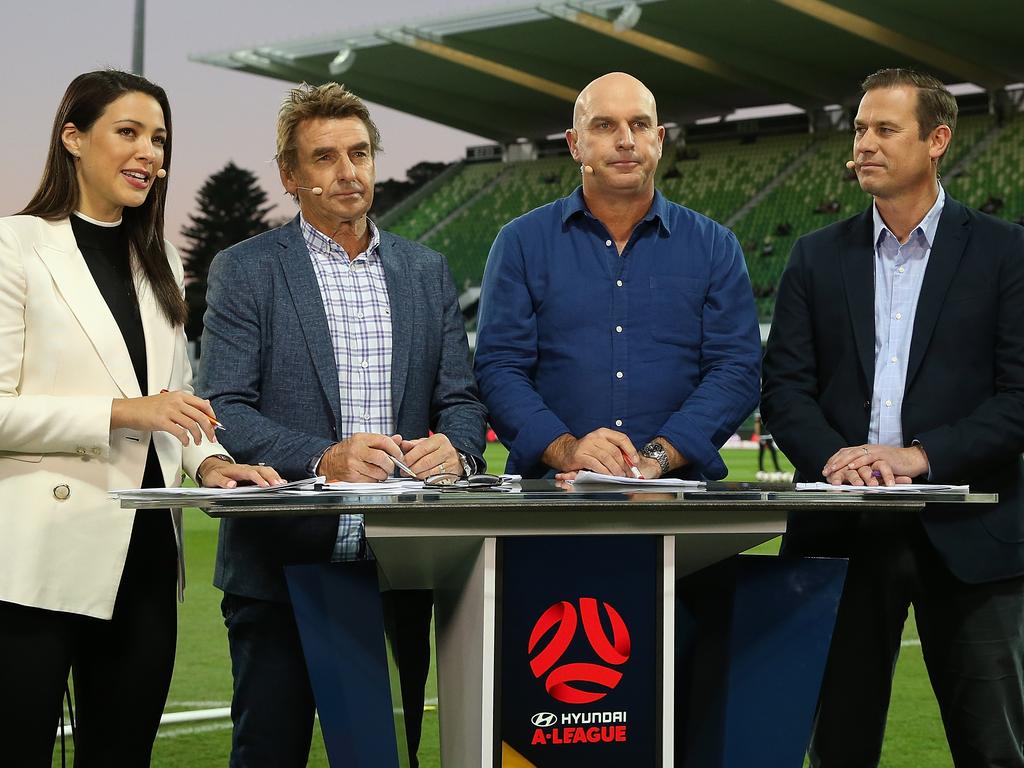 Kosmina continues to keep an eye on the A-Leagues. Picture: Paul Kane/Getty Images
RS: What about developing players, are we in trouble there?
JK: Not as much as some think. How did players develop in the old days? There weren't academies, private coaches, where'd they come from? Did they fall off a tree? Development has become a cash-cow for a lot of people, be it clubs, federations or entrepreneurs. It's not that important, we just need a more holistic approach to the game as a whole, not just bits.