Sam Kerr: I do things that get me in trouble – but my whole life is lived on the edge
The 28-year-old Chelsea forward talks about her love of the spectacular that can dazzle fans and rile her teammates.
With another league title and Golden Boot, Sam Kerr is loving life at Chelsea. Picture: Catherine Ivill/Getty Images
That is absolutely extraordinary. It was audacious. It was ambitious. It was so Sam Kerr.
These were the words of Jacqui Oatley, the commentator tasked with describing Kerr's chest and volley to seal a third successive Women's Super League title for Chelsea last Sunday. The second of two strikes in a 4-2 victory against Manchester United at Kingsmeadow — when Chelsea twice fought back from a goal down — it will also be the favourite to win goal of the season.
"I don't know why I ever thought to do that, but I just did it," Kerr, 28, says. "The commentating made it even better because the way it said 'it's so Sam Kerr' I just laughed because I thought 'that is so me'. I don't know if any other player would try that. It's kind of stupid but nah, just the moment was sick, and the crowd at Kingsmeadow absolutely went nuts."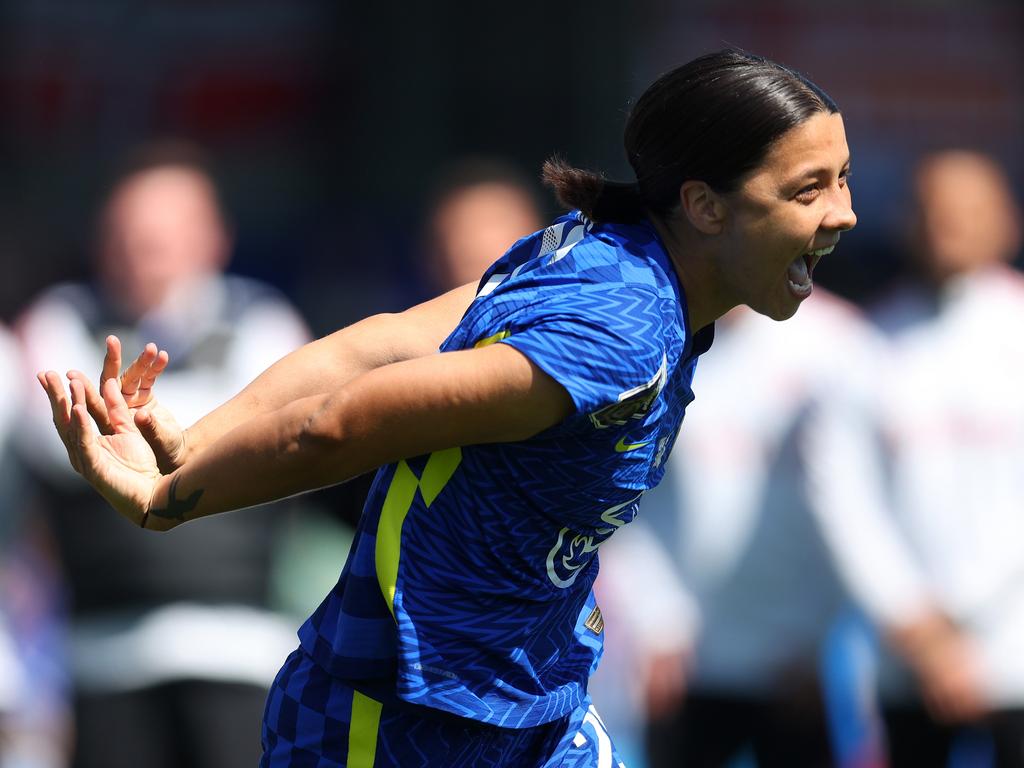 Kerr celebrates one of two spectacular goals against Manchester United. Picture: Catherine Ivill/Getty Images
This Sunday, she will be hoping she can produce something similar against Manchester City at Wembley, where the FA hopes to break the record attendance of 45,423 for a women's Cup final.
Where does the confidence come from then — to attempt that strike when nine times out of ten it would go high and wide? "That's just who I am as a person," she says. "I do that stuff in training all the time. Sometimes the girls get annoyed at me and sometimes it looks good … I feel like I am who I am on the field, off the field, the same person. I'm a risk taker. Probably annoying! All my friends and family will tell you I'm the most stubborn person in the world because if I want something or I don't want something I'm doing it.
"There was no doubt in my mind that I was just hitting that ball once it came off my chest and I think that's what I mean when I say I'm a risk-taker, I probably do things sometimes that get me in trouble or make me look bad. But I live on the edge, my whole life is lived on the edge, I either go big or go home."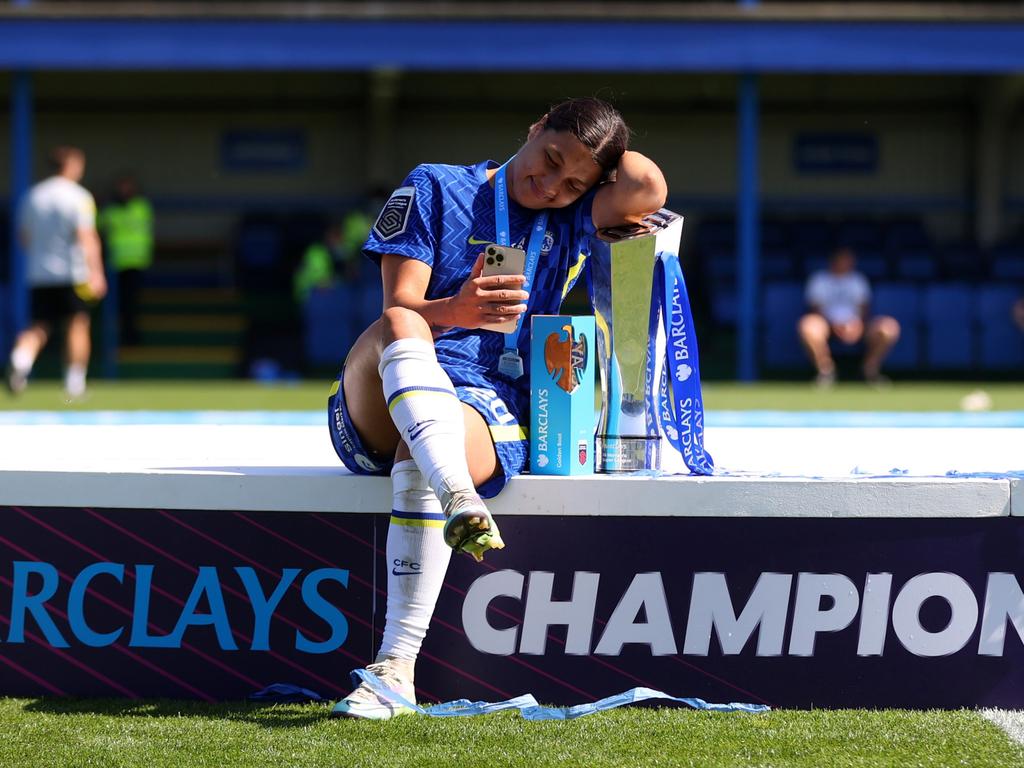 Chelsea have navigated injuries and the uncertainty of Abramovich's ownership to seal the WSL title, largely in part thanks to Kerr's contributions. Picture: Catherine Ivill/Getty Images
Yet, the greatest risk of all, the one that took her to Chelsea, thousands of miles from her home in Australia, was almost one she did not take. Emma Hayes, the Chelsea manager, had identified the prolific striker — who began playing football after she discovered girls could not play Australian rules professionally — and a move to Chelsea looked likely before Kerr got cold feet.
"Most of the time when I've been to a new club I've met the coach when I found out that they had traded me [in America], not always that being my first option. But I spoke to Emma two years before I chose to come here and the year before I was close, but then I chickened out a little bit," she says.
Her debut in January 2020 brought a fanfare rarely seen in women's football; everyone wanted a piece of the new star signing, who arrived as the record goalscorer in the Australian and American top flights.
It did not immediately go to plan. There were questions as to whether Kerr could adapt to the English league. "One day they hate you, one day they love you — that's life," Kerr says, with the confidence of someone who knew her luck would turn. It was also the belief of Hayes, who after her WSL winning exploits declared "Sam Kerr is made for Chelsea."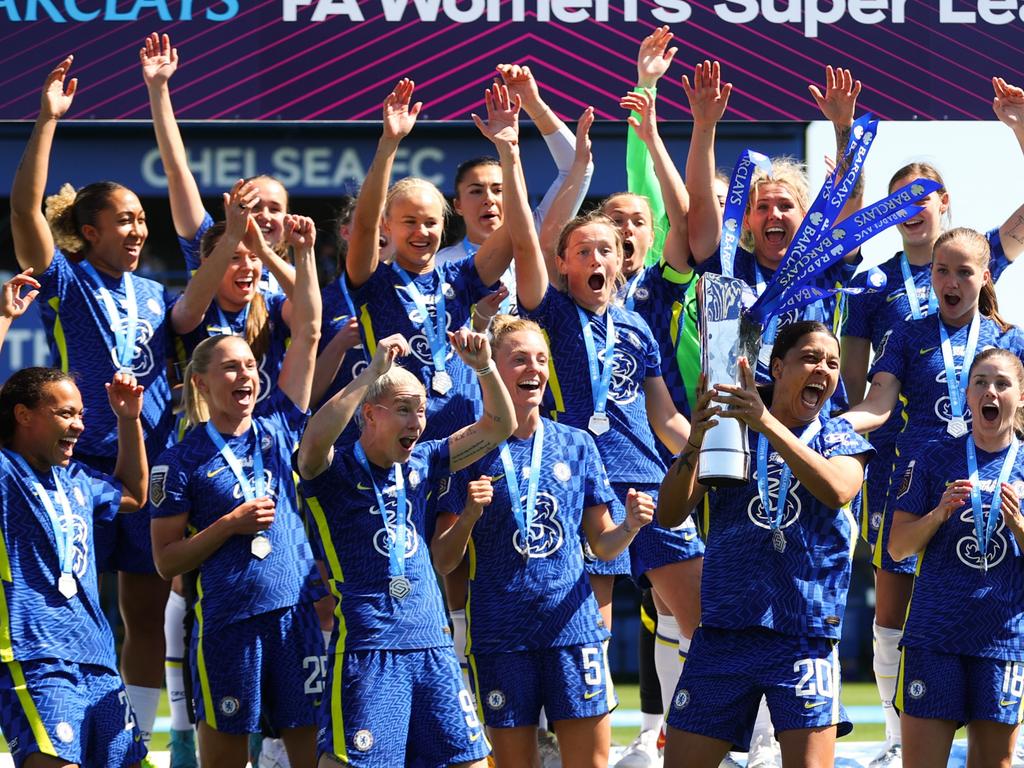 Chelsea will seek to win a second trophy in two weeks against City at Wembley on Sunday. Picture: Catherine Ivill/Getty Images
Due to the strict Australian border controls for much of the pandemic, Kerr grappled with the "weird feeling of being locked out of your own country". And the turning point was when she began to feel at home with her new teammates. Since then, her form has been spectacular, and her two goals against United secured the FA WSL Golden Boot for a second consecutive season, six goals clear of Vivianne Miedema, of Arsenal, her nearest competitor.
"I love the challenge [in England] … that's why I love the games because you get right on the cusp of doing something amazing," she says. "I'm a bit of a risk taker. I love that feeling of being on the edge and that's what those big moments are for.
"I can't imagine playing for any other club in the league, or Europe for that matter. I hope that they value me as much as I value the club, because it's definitely the best club I've ever been a part of and I'm really proud to represent Chelsea."
Kerr has become the deadliest finisher in a Chelsea team who have navigated a series of injuries and the uncertainty around Roman Abramovich's ownership of the club to secure the WSL title, which many consider their greatest achievement. Only three teams have beaten Chelsea domestically this season — Arsenal, Reading and Manchester City — the latter a particularly painful defeat in the Continental Cup final that they are keen to avenge.
In typical Kerr fashion, she says "you need to lose, you need a little bit of a kick up the butt".
– The Times