Adam Peacock: How Graham Arnold's Socceroos pulled off a stunner to reach Qatar 2022 World Cup
They were ridiculed and written off but Graham Arnold's Socceroos are into the World Cup. The final triumph against Peru belonged to many unlikely heroes, writes ADAM PEACOCK.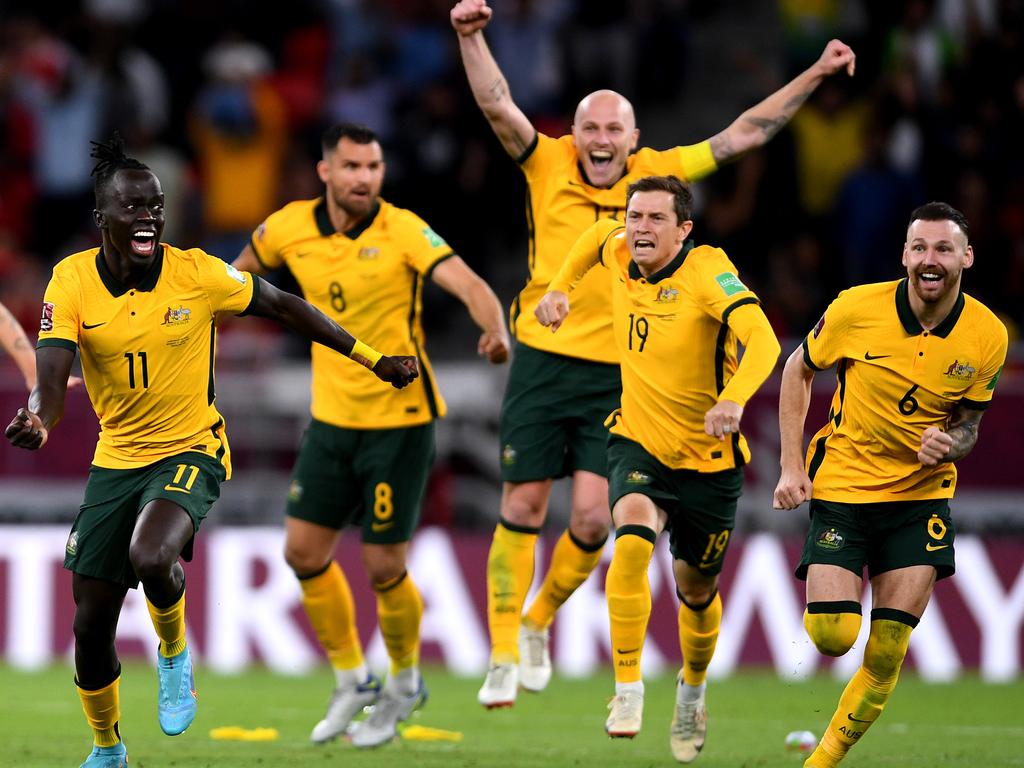 It was a night to remember against Peru as Australia booked their place in the 2022 World Cup. Picture: Joe Allison/Getty Images
One split second. That's all an entire qualifying campaign of ups and downs, of being sent to far-flung lands in lockdown, of diminishing hope and growing worry came to.
A huge gamble which paid off.
The Socceroos are off to a fifth straight World Cup.
On penalties. Just like 2005.
The two hours of soul-spilling determination ended in the brutally succinct method of five players stepping up to take a spot kick, and one in gloves trying to stop them.
Incredibly, Andrew Redmayne, once an unsure keeper who bounced around A League clubs looking for the right place to get the most out of him, before finding it in Sydney and winning a grand final on penalties with them in 2019, was flung in at the expense of captain Maty Ryan.
Redmayne danced and pranced about during the Peruvian spot kicks just like in that grand final, which put off Perth's takers. It was then labelled the Wiggles routine. He was the Yellow Wiggle. On this occasion, Redmayne was dressed in grey.
Socceroos fans turned that colour and the remaining follicles on Graham Arnold's head turned a lighter shade of silver.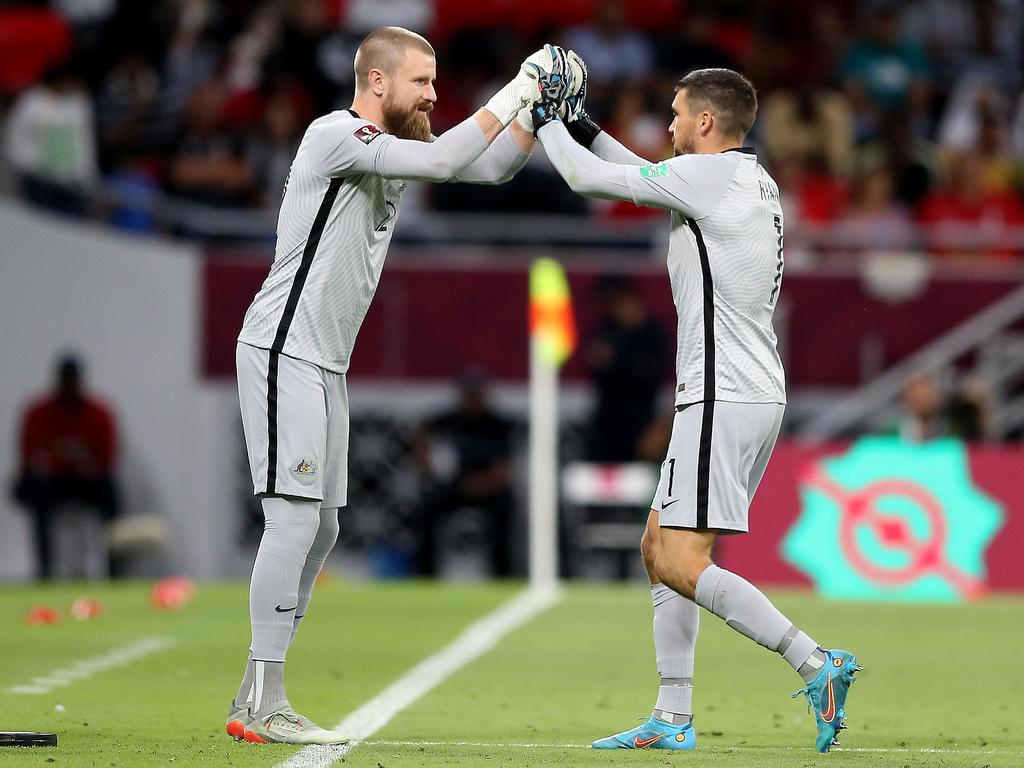 Redmayne's substitution was always set to be a massive moment in the game. Picture: Mohamed Farag/Getty Images
Redmayne missed getting a hand to the first five.
After Martin Boyle's miss, Aaron Mooy, Craig Goodwin, Ajdin Hrustic, Jamie Maclaren and Awer Mabil all did their cool-headed bit and buried spot kicks.
Then Redmayne guessed right. One split second, from the boot of Alex Valera, to the palms of the Grey Wiggle.
Australia's World Cup hopes, which for a while have seemed lost, reappeared, magically.
Australia remain the only nation in the past 40 years to overcome South American opposition in a last stage playoff to get to a World Cup.
The beauty of it is, the Socceroos have done the same trick twice.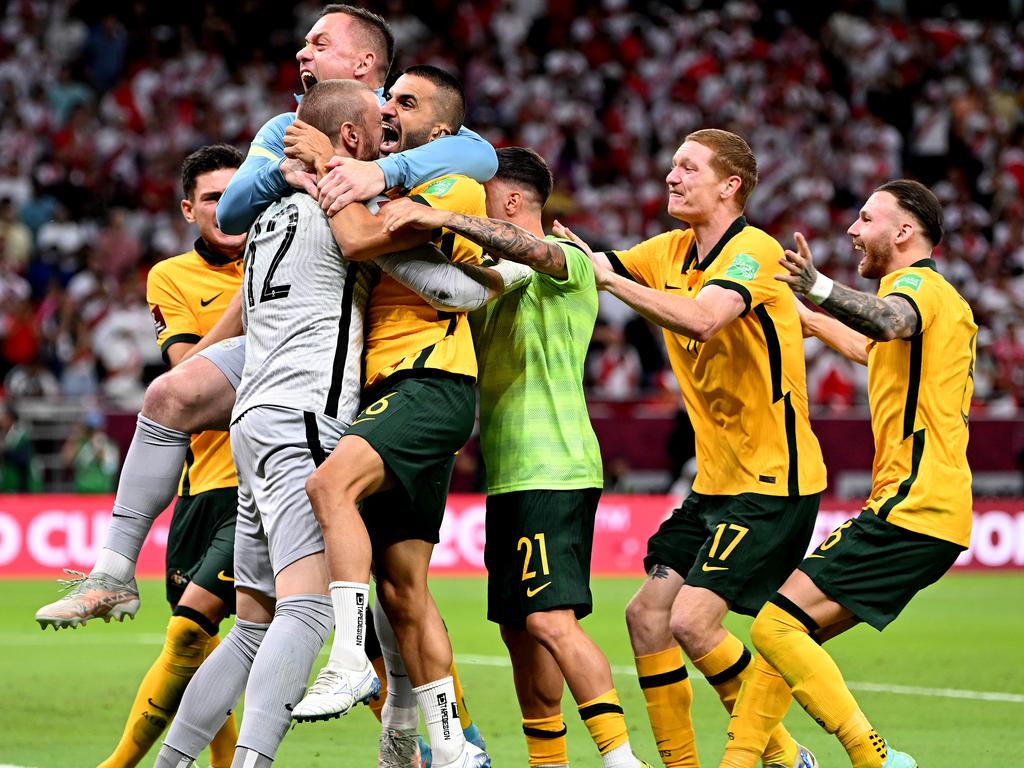 Andrew Redmayne was the hero with two saves in the penalty shootout. Picture: Joe Allison/Getty Images
*****
All the noise pre-game from an Australian perspective was about Arnold's call for the 'Aussie DNA' to reveal itself. In the vacuum of time before such a contest, this sparked its own discussion about the need for 'fighting and kicking and scratching' for every ball, as if it were some Neanderthal play.
One's own self-doubt lends itself to an overestimation of others. The Socceroos frailties which sent them down the playoff path automatically made the Peruvians better players and more technically adept.
Without the ball, this was certainly evident before kick-off.
Mitchell Duke's selection up top indicated a willingness to harass anything in red into a mistake.
Arnold had Duke as a youngster at Central Coast a decade ago, and as a raw youngster Duke would run around the pitch at full pelt without regard for energy perseverance, nor tactical solidity. "Dukeeyyy!"
A more rounded player after time spent in Japan, Duke dutifully went in search of uncovering uncertainty amongst the Peruvians. Behind him, nine others in gold followed their defensive instructions implicitly.
With the ball was the surprise. The Socceroos caused Peru problems throughout. Time and space was allowed. South American grit and cunning was expected. It wasn't apparent as Aaron Mooy and Ajdin Hrustic, the two chief creators from midfield for the Socceroos, were allowed time and space to pick passes forward.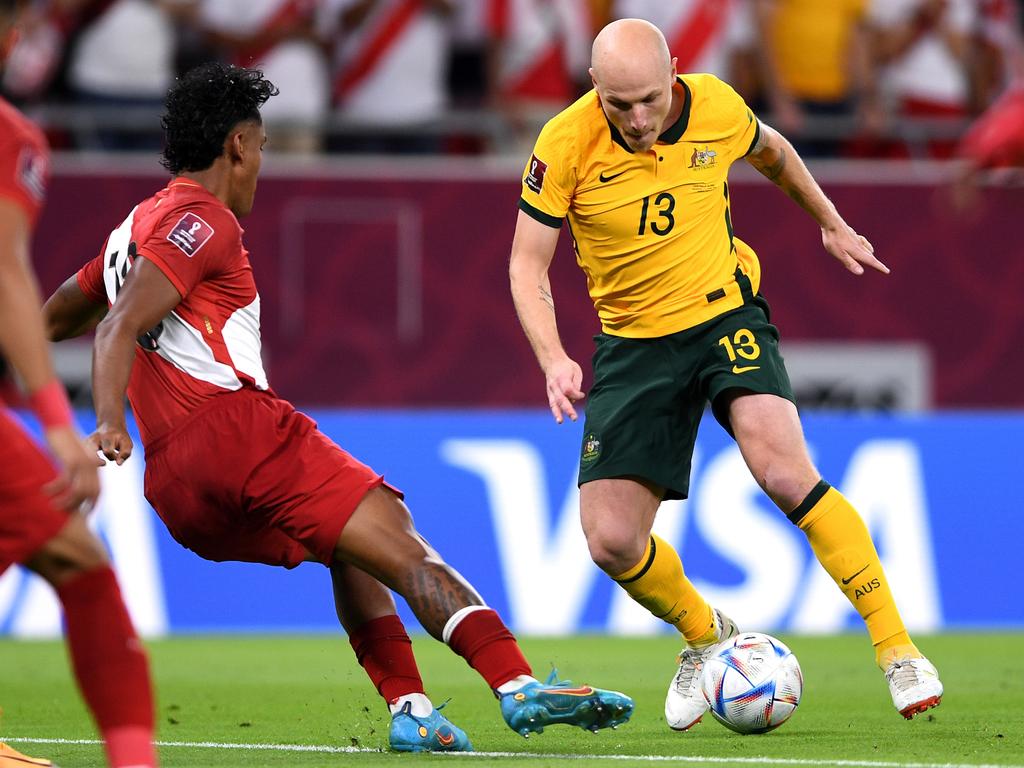 Aaron Mooy played the full 120 minutes despite not playing a club game since January. Picture: Joe Allison/Getty Images
Ricardo Gareca, Peru's manager of God-like status in the Andean nation despite his Argentinian passport, was becoming increasingly annoyed, like a simmering father whose children are ignoring his requests to get off the couch and do something with their day. Mutterings turned to audible frustration and by the end of the first half, it was full-scale verbal disgust.
One imagines the dressing room foundations inside the newly-constructed Al-Rayyan Stadium received its first structural test with the noise bellowing from a Gareca blast.
Whatever the words, not a lot changed in the second half.
Peru's thrusts forward were without impetus. Gianluca Lapadula, an Italian striker recruited thanks to his Peruvian mother, was barely sighted after a fourth-minute chance in which he cunningly got rid of his chaperone for the evening, Kye Rowles.
Rowles was playing just his third senior international. It looked like his 103rd. Lapadula was muted. Rowles, along with Bailey Wright, held his nerve. The centre backs showed verve by calmly restoring possession and passing out of trouble, rather than default-setting to pumping the ball to the moon at every opportunity.
Peru's other threats remained quiet. Andre Carillo, the direct, quick winger, was withdrawn just after the hour mark, while Christian Cueva, in the No.10 shirt, which in South American lore translates into 'give him the ball', was strangely subdued.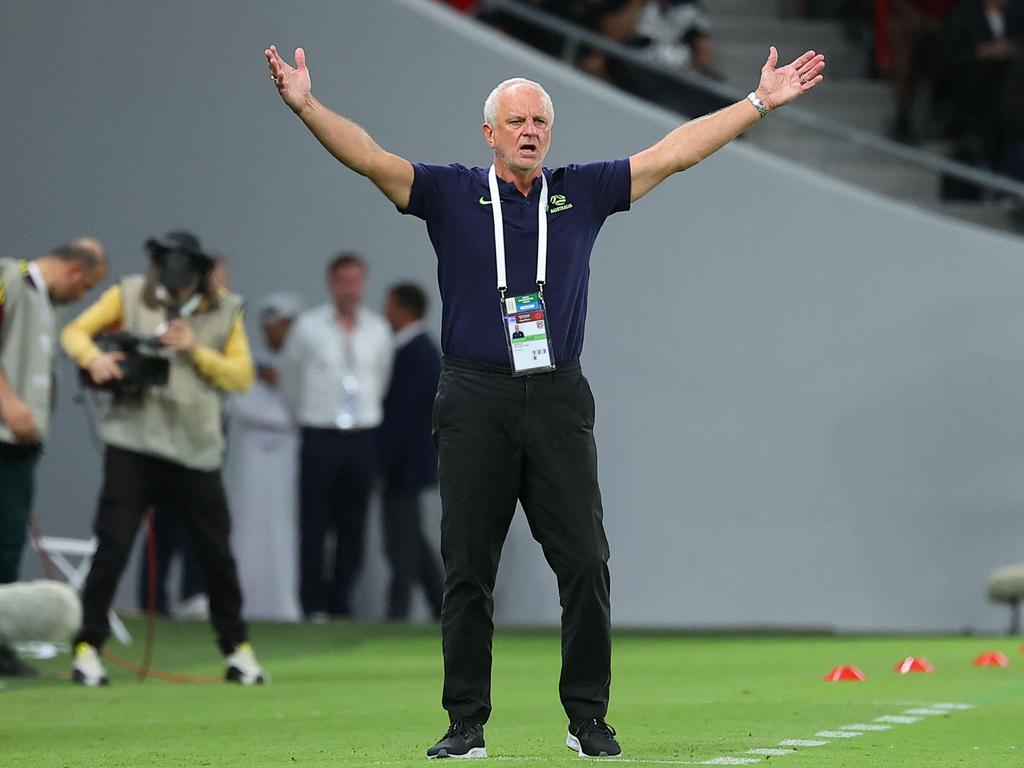 Despite plenty of tribulations, Arnold got the job done. Picture: Karim Jaafar/AFP
A prime example of his mindset came on 72 minutes, when driving into dangerous territory from the left, straight at Nathaniel Atkinson, who had been on a yellow card since the 10th minute.
Atkinson backed off, not willing to risk a second caution and an inglorious exit. Cueva had no desire to attack him and meekly shot wide with a poor left-foot attempt. Strange.
The fire still burned bright for Australia. When Mooy was dispossessed on 72 minutes, six gold shirts sprinted back to extinguish the danger and as the end of 90 minutes neared, it was the Socceroos surging.
Aziz Behich, having a brilliant night at left back, cut inside and brushed the post with a right-foot shot. Previously, it was thought Behich's right foot was purely for balance purposes. This shot nearly tipped Peru off its axis.
Hrustic's left-foot swat at a Awer Mabil cross was saved. Irvine was barrelled over tempting VAR into action, but the referral never came. Still, Peru were rattling, the Socceroos surged into extra time.
*****
As the extra 30 minutes started, it was impossible not to fall into recollection; back to November 16, 2005, to be exact, when Australia and Uruguay couldn't be separated. Penalties. The galling way to decide a game was now very much in the frame.
Peru shot to life.
A rasping drive from substitute Edison Flores was safely held by Mat Ryan, who to that point had been more a witness than a participant.
Then Cueva, hair and body still standing, shot desperately close to Mat Ryan's right post. The left post was soon rattled, from a Flores header, yet he wheeled away swearing to the heavens.
Rattled, the Socceroos fought, tanks nearing empty, still full of a desire.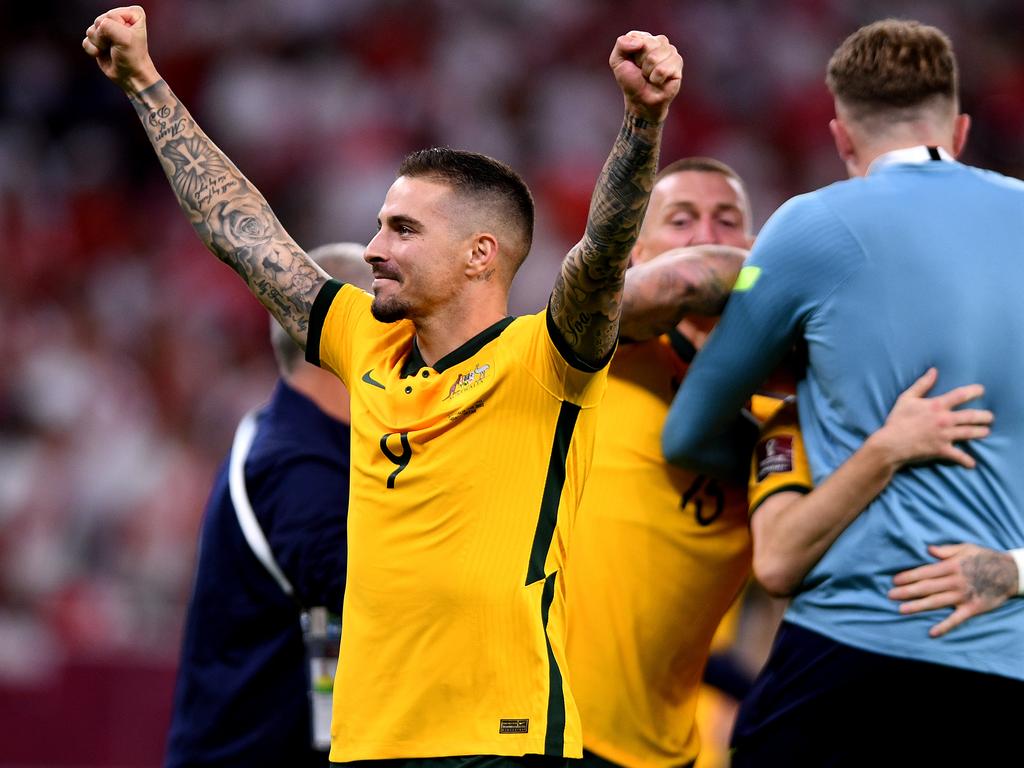 The Aussies got the job done in the end on penalties. Picture: Joe Allison/Getty Images
Peru counter-attacked in the 113th minute and eight Australian bodies sprinted back to defend. In the end, Cueva's delivery came to nothing and finally his night ended on a stretcher, his hair now horizontal to the earth, writhing in cramped agony.
And then, the big play.
Andrew Redmayne, a two-capped Socceroo was suddenly on the sideline.
This was going to be the play in 2005. Mark Schwarzer noticed Zeljko Kalac warming up during the second half of extra time against Uruguay, only for Brett Emerton to succumb to cramps for the first and only time of his career. Schwarzer got a reprieve and became an eternal hero.
Now with five substitutes on offer, Redmayne could make his entrance as the last change. Maty Ryan made way. And the rest is now history.
*****
The celebration deserves to go for days.
Once the inevitable hangover lifts, what then becomes of the reputation of Graham Arnold?
Criticism has been easy to find of Arnold's methods. A positive start to the final qualifying stage turned into a grind. Losses to Japan and Saudi Arabia, the hallmarks of which were sloppy structure and poor concession of chances, left a major question to be answered.
Would Arnold survive to the playoffs?
After the last group stage game in Saudi Arabia, Arnold went to breakfast with Football Australia CEO James Johnson fully expecting to be sacked. He got a reprieve. His paymasters didn't exactly rip the heads off anyone who suggested a change was in the wind – Tony Popovic was strongly touted to take over – but the FA stuck with Arnold. Such a decision is vindicated now.
Forgotten in the Socceroos struggles of late for Arnold was his steering of the under 23's team to a first Olympic Games since 2008, when he was also in charge of that side. The win over Argentina in Tokyo was a high point, and was achieved from the same playbook.
Outrun and outwit.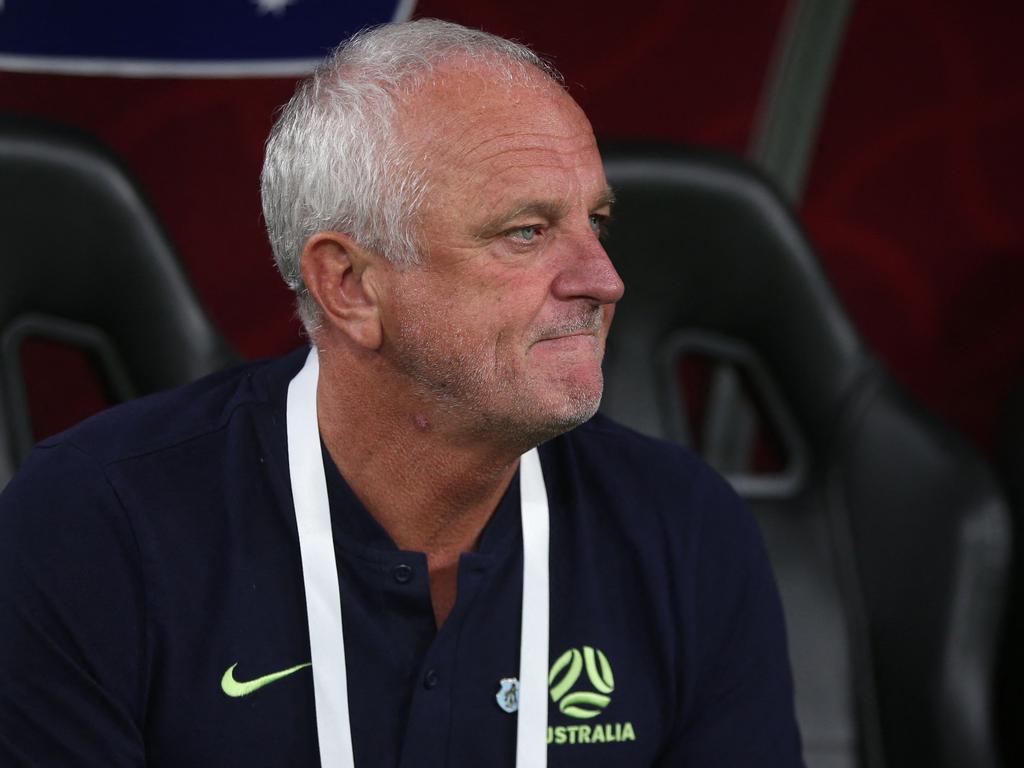 Graham Arnold has to be celebrated for leading Australia to the World Cup. Picture: Mustafa Abumunes/AFP
The group stage exit in Tokyo wiped away positive sentiment from that Argentina win, but it was brought back to life when Arnold desperately needed it against Peru.
Peru, a proud football nation whose absence will make the World Cup poorer for the fact its fans won't be there to add so much colour, were clearly second-best. No easy feat, considering they were on a run of results, had a loved-manager in Gareca and a group of players who knew each others' games inside out.
Australia's set-up chipped away at all of those strengths before claiming victory in the shootout. Luck? Is it luck?
Guus Hiddink had the nickname 'Lucky Guus'.
He spoke of luck after he guided the Socceroos to a shootout win over Uruguay in 2005.
"What is in my area of influence, I try to influence, for the best result, to get as close as possible to the luck, and then we are depending on execution of players.
"It's a world of difference when you got to the penalties, if (the player) scores his penalty. If he doesn't score, it's, 'Kill him, whatever!'"
Arnold's reputation is alive. The manager influenced what he could influence this morning. And it worked.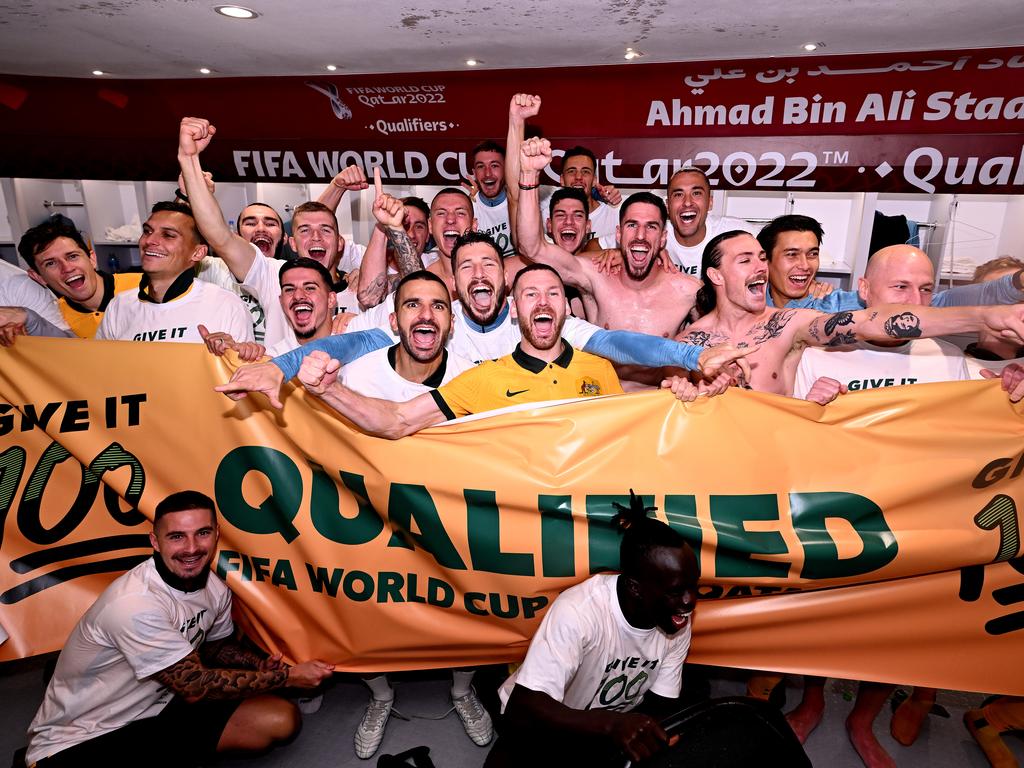 Celebrations are set to go long into the night for the Socceroos. Picture: Joe Allison/Getty Images
*****
Walking out of Australia's group stage game against Peru in Sochi at the 2018 World Cup was a hollow, bitter experience.
We had been defeated, bounced from the great celebration of football with barely a whimper.
Not one of the 31 others nations in Russia feared Australia going in, and not one had a new-found respect after the fact.
Something similar is expected going to the 2022 edition in Qatar. Not many will fear Australia, as much as France, Denmark and Tunisia will extol the kindness of respect in the lead-up to the group stage contests in late November.
But Australian football hasn't had a heap to celebrate of late, so this night and morning should be savoured. Forget, for a moment, the desire to avoid another moment like this, and put all resources inside the game into furthering the game.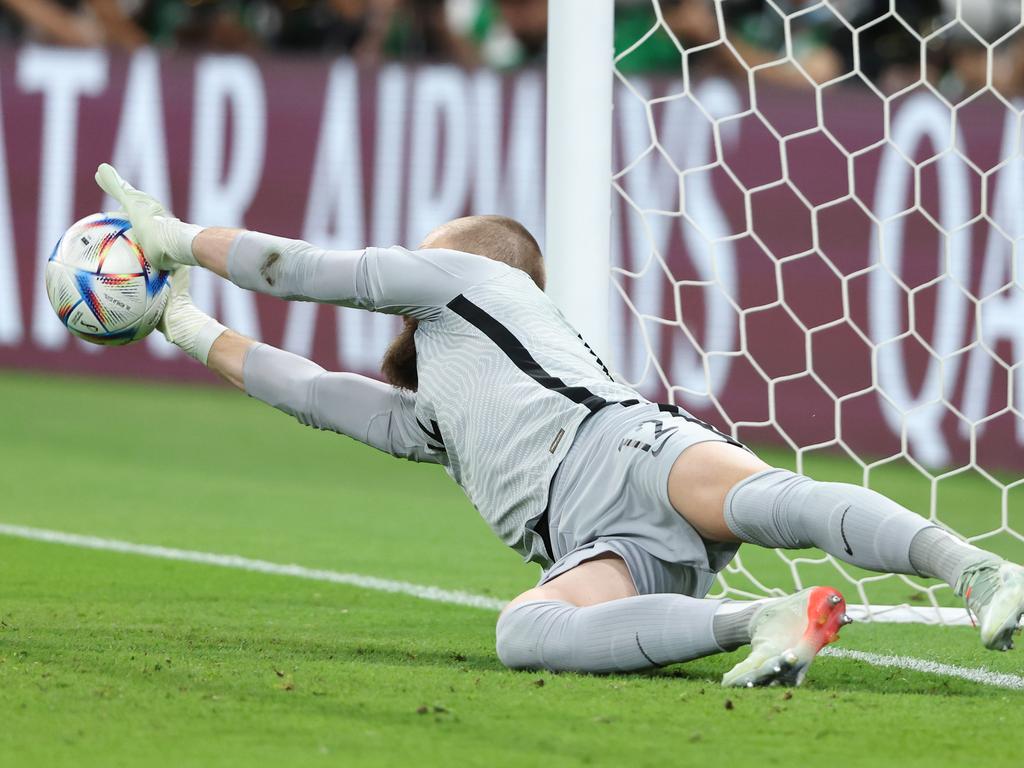 The save that will go down in folklore for Australia. Picture: Matthew Ashton – AMA/Getty Images
They remain relevant points but defeat is the time to think laterally, immediately. Victory breeds the narrow thought of enjoying the moment just experienced.
For those in Doha, the desert night feels alive. For those in Australia, the cool morning is irrelevant to a heart warmed by a performance which at first surprised and then delighted.
The Socceroos are going to a World Cup for a fifth straight time.