Adam Peacock with James Johnson: The big questions after Socceroos' World Cup qualification
Graham Arnold thought he'd be sacked well before the Peru game, yet a Socceroos moment witnessed by Football Australia's CEO saved him. James Johnson discusses football's biggest issues with ADAM PEACOCK.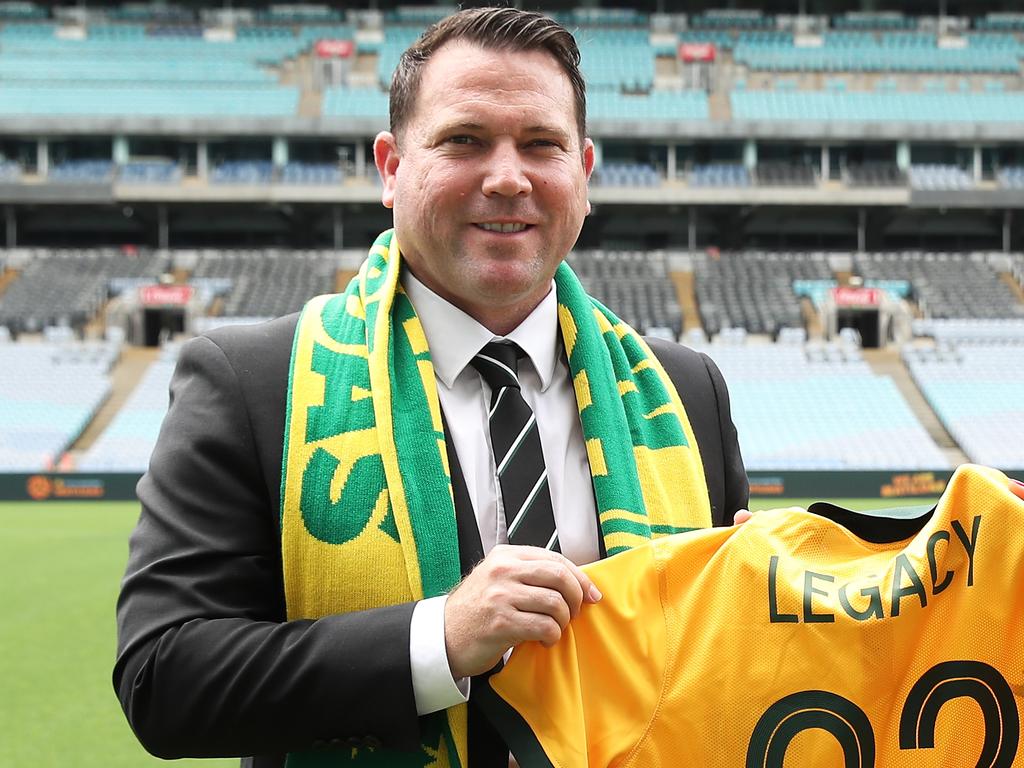 Football Australia CEO James Johnson. Picture: Matt King/Getty Images
The Socceroos are off to a fifth straight World Cup. And next year, Australia will host a Women's World Cup.
There's plenty to look forward to as far as football's governing body, Football Australia, and its CEO James Johnson is concerned.
But beneath the excitement are the same issues that would exist without those two events, namely growing the game and developing players to make sure our national teams compete at a World Cup, rather than just take part.
Adam Peacock sits down with Johnson to pick through the issues facing football in the short and long term; from sticking with Graham Arnold to what he hopes the sport will look like in a decade from now.
*****
AP: James, thanks for your time. We know what the Socceroos' World Cup qualification means to the football community but what does it mean to Football Australia?
JJ: It means the world to us, Adam. First of all, we're going to a fifth consecutive World Cup, which is something the country and the football community should be proud of. We are. Also the way we got there. It was by far the most complex qualification process that the team and FA has needed to go through. Even when national team football was being played, Australia's borders were still closed. Had issues with Covid-19, with two camps without Graham (Arnold) in the first match of both, key injuries to players like Harry Souttar and Adam Taggart. So we're extremely happy about qualifying.
The Socceroos celebrate their nail-biting penalty shootout win over Peru. Picture: Nikku/Xinhua via Getty Images
AP: Graham Arnold. I would have put his position as uncertain after the March qualifiers. Of course we can look forward now, but at any point was his position uncertain within the walls of FA?
JJ: Over the past couple of years, we've really focused on bringing a high performance culture into the business and the sport. That means you're continually going through processes. We have KPIs with all the national team coaches and there are reviews when things aren't at the level we expect. There were times during the campaign where the Socceroos were not playing as well as we thought (they could). In the end, we backed Graham the whole way through and for me it comes down to what Graham is about at his core: he's going to do everything in his power to represent the country and the badge. He's got what I call grit, does anything he can to get a result, and ultimately that's what this team needed.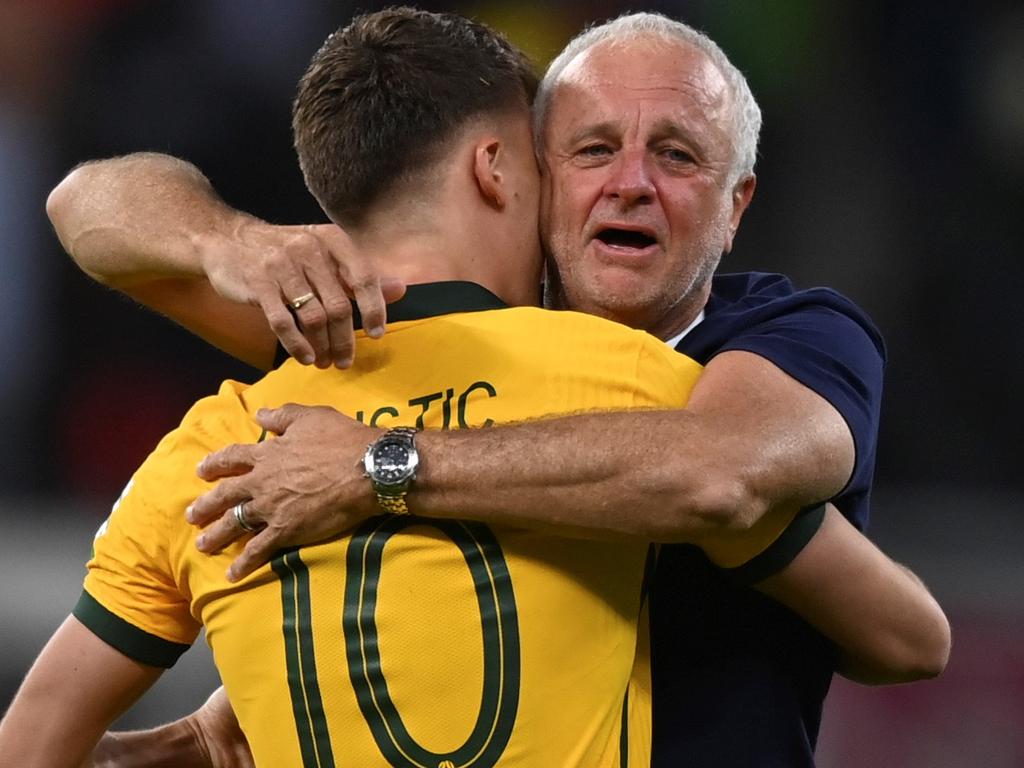 Arnold was emotional at the Socceroos' triumphant World Cup qualifying result against Peru. Picture: Nikku/Xinhua via Getty Images
AP: There was a meeting the morning after the Saudi Arabia game in Jeddah in March with Arnie (in which he expected to be sacked). What confirmed to you, 'He's our guy'?
JJ: At that point, the team needed a circuit breaker. For me, watching the team how they played against Saudi Arabia was important. We didn't win the match but you look at it, the team went into bat for Arnie. He was under a lot of pressure after the Japan match, a lot of people calling for his head. What I was looking at was, 'How would the players respond?' I saw the players wanted to win the match for Arnie; to me, that was very important. It's a family and having been in the recent camp in Doha, it really is. The fight for each other and Arnie and that's what was needed to get through.
The Socceroos match against Saudi Arabia proved a crucial point in Graham Arnold's national team coaching career. Picture: Steve Christo – Corbis/ Getty Images
AP: Did your kids play football on the weekend?
JJ: Yep. I'm down at Leichhardt Saints every weekend.
AP: On the barbecue? What's the specialty?
JJ: Yep, I do the snags quite well (laughs).
AP: How was the vibe there last weekend?
JJ: There's a buzz about it, for sure. Even before then, I got home from Doha and couldn't sleep and went for a jog at 4.30am. And I saw two people running with Socceroos shirts on; that's what's exciting. The Socceroos are a really strong brand. It's been hard and they haven't played much in Australia (four home games of the 20 qualifiers), but we all felt it when 'Redders' (Andrew Redmayne) saved the penalty. To have that strength back, with the Matildas, we can be excited about it.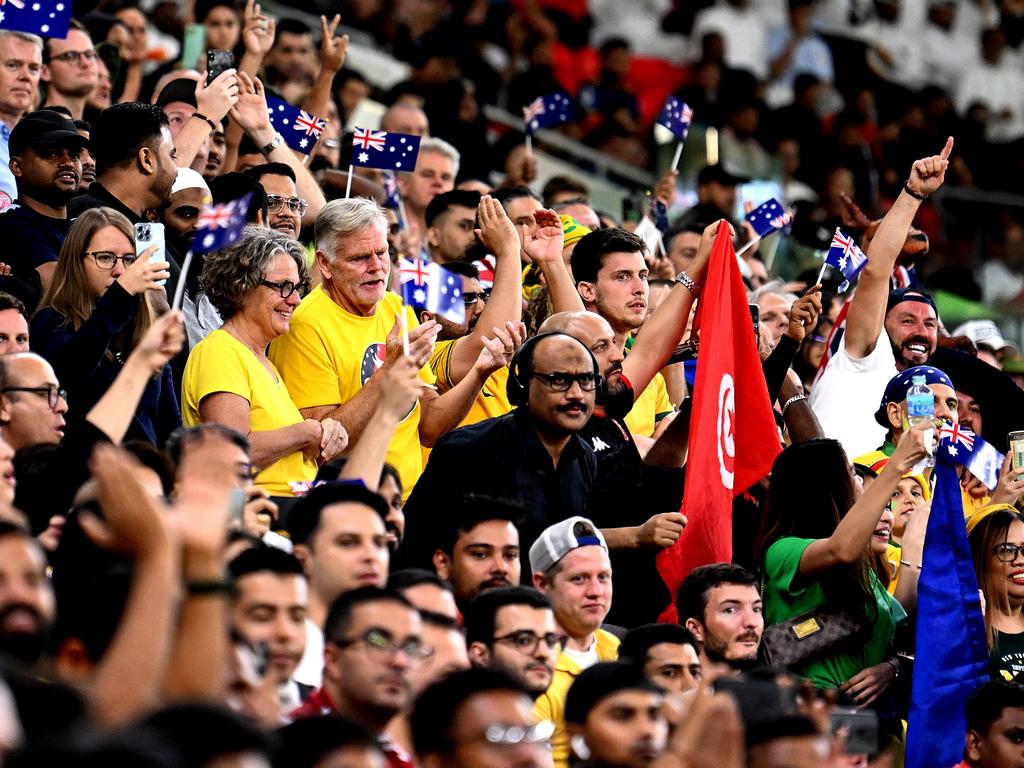 Australian football fans were outnumbered but not unheard at the Ahmad Bin Ali Stadium. Picture: Joe Allison/Getty Images
AP: The Socceroos' qualification means a lot of things, not least the $15 million for qualifying – a fair bit of that gets invested in preparing the best possible way for the World Cup?
JJ: We've invested in this campaign more than ever before in the Socceroos. And we'll continue to do that. We want to give the team everything they need to be in tip-top condition. Got a break at the moment. Asking Arnie to take time off. Players back at clubs to recover …
AP: … and Andrew Redmayne living up to celebrity status now …
JJ: (laughs) Yeah! Grey Wiggle. We are very proud of the Grey Wiggle. But look, we come back in September with two games against New Zealand but the planning starts well before that. September is important, too, because whether we qualify or not, we are playing a very good New Zealand to celebrate our 100-year history, and that's important for the organisation and the whole sport. We'll announce soon when the Australia leg will be played, and when. Then come mid-November, they are back in camp. Work with Graham and the team what is best – we won't be getting back to Australia in that window, given the logistics – but there will be a match before the opening World Cup game against France.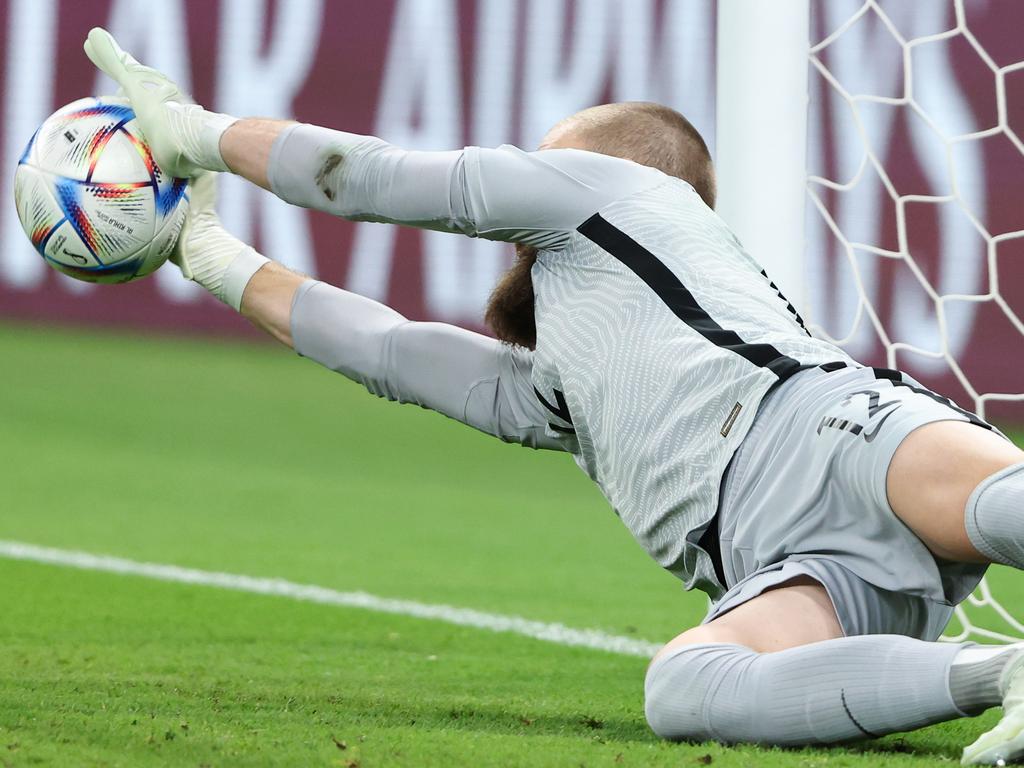 'The Grey Wiggle': Andrew Redmayne became an overnight sensation when he danced Australia into the World Cup. Picture: Matthew Ashton – AMA/Getty Images
AP: Graham Arnold wants the A-League to start earlier to give local players more time to prepare. In a lot of countries, the local league would say, 'Yeah, let's adjust', but here, with the A League clubs having independence, is it too difficult?
JJ: We are in constant dialogue with the APL about the domestic match calendar. It's an ongoing process. There will be a lot of club football played in September, one way or another. Ultimately, it doesn't matter what competition it is, the important thing is they are playing competitive matches. We'll make sure that's the case.
AP: So if not A Leagues, it would be the Australia Cup (formerly FFA Cup)?
JJ: Yeah, we'll sit down in a practical sense with Arnie and get players playing as early as possible.
AP: Just on that, slight diversion – I recall you mentioned a while back about a League Cup concept, a third competition for clubs. Is that still on the table?
JJ: It's not a priority at this stage. Australia Cup, we've tried to relaunch it with changes to the access from it into the Asian Champions League (for the winner), the calendar ensuring it starts before the A League starts to get a longer season. The next focus in terms of men's competitions would be a second tier (under the A League) before we got to a League Cup.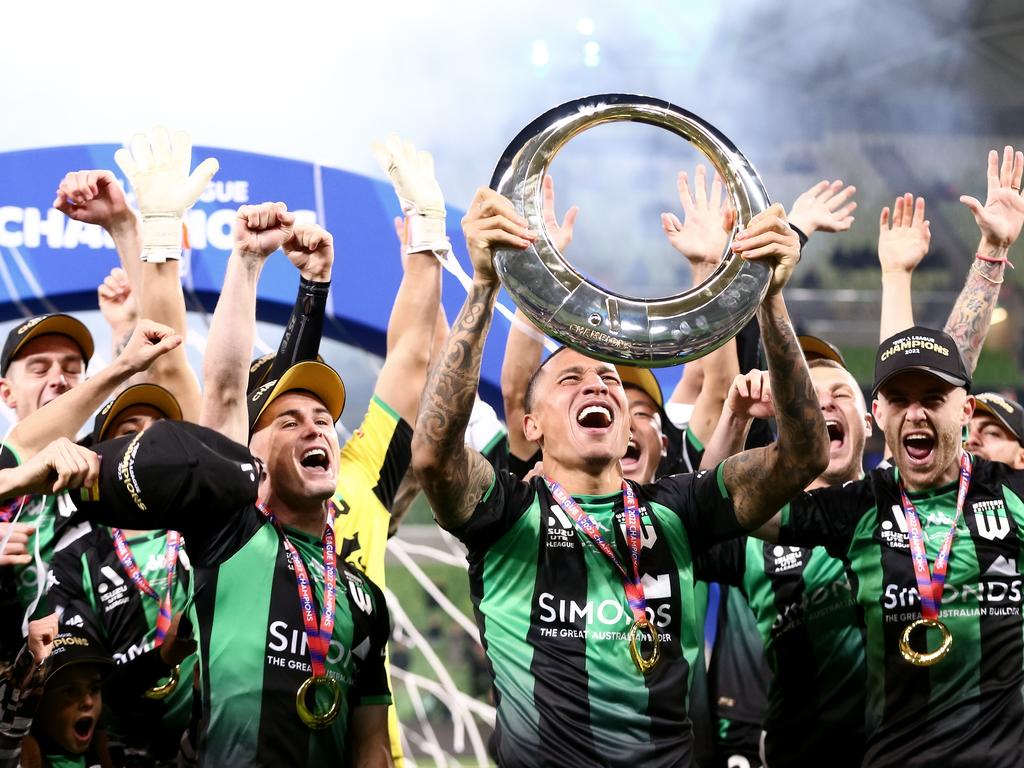 Football fans might expect to see more games being played earlier in the year. Picture: Dave Hewison/Speed Media/Getty Images
AP: To the development framework, working backwards from the Socceroos here. Ever since the A-League started in 2005, it's been a topic. My opinion is that the development framework is disjointed. Has it become more, or less, disjointed in the last 12 months?
JJ: It's become less disjointed in the past 12 months. We're entering a period in the next year that we haven't seen before as a sport. The Men's World Cup that we are playing for a fifth straight time, then six months later we're hosting a Women's World Cup. This is a huge opportunity, and one that we need the football community to buy into and reap the benefits going forward, pushing the politics and agendas out of the way.
At the same time, we can't drop our guard when it comes to solving the long-outstanding issues of the sport. Player development is key. It's very tempting to push them aside. Decisions you take today are issues that administrations are dealing with in 10 years' time. We've put forward very strong views for football structural changes. We'll push hard for further implementation of the domestic transfers system (where clubs are rewarded financially for developing players for other clubs in Australia). We're going to keep introducing and implementing club licensing systems, keep working on the second tier discussion and all aimed at the same thing: putting player development at the very heart of the structure of football. We won't drop our guard on it.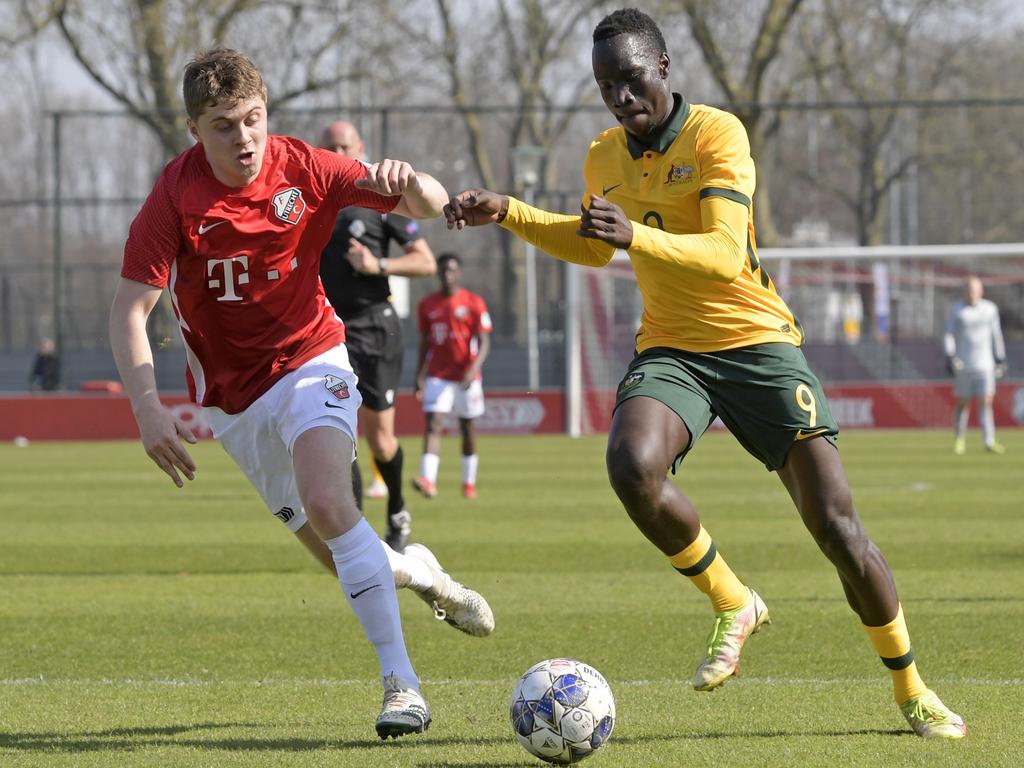 Johnson believes the development of young players, like U23 national star Alou Kuol, will continue to be a key focus of the FA. Picture: ANP via Getty Images
AP: So how do you actually plan for that when many in this administration won't be here when the fruit falls off the tree?
JJ: We've put a lot of work in the last two years to bring a lot of football expertise into the business. Got a lot who think about football every day. Culturally, we are geared up for it. Yes, the Women's World Cup will be awesome, and that's the short term; people from the game really care about where it will be in 10 years. There's a lot on how we increase investment into our youth national teams. We're sending for the first time a women's under-23 team to the AFF competition soon, how we get more camps. About to appoint men's 17s and 20s coaches. Then it's about underpinning all that with the things I mentioned: transfer systems, licensing and more competitions, which means more match minutes. All on the table now.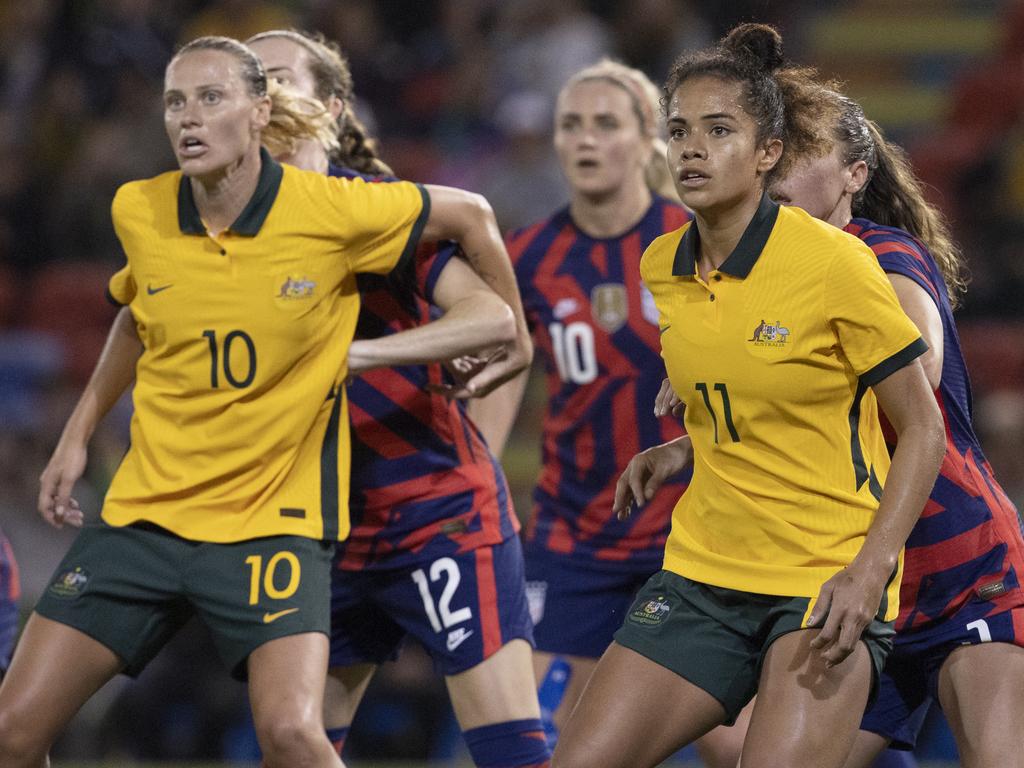 The Women's World Cup will be an important starting point for the further development of women's football. Picture: Steve Christo – Corbis/Getty Images
AP: So – taking players from clubs for national youth camps and games is great, and it leads to qualifying for an Olympics, which helps those players get moves overseas and the clubs benefit. But in the short term, those clubs losing talented youth players for chunks of a season might not go down that well. How do you facilitate that relationship to make it best for the kid?
JJ: It's a growth cycle. You need match minutes in the A Leagues for a player to make the national team. You need youth national team experience to increase the level of a player in the A Leagues. What we've tried to do is call out some issues in the sport. Just before Covid started, we sat down with Arnie and saw young players weren't playing enough. Some will say the clubs only ended up doing that because of Covid but I don't think that's fair on the clubs. We did the analysis, we helped them understand there's going to be an end-up movement outside of Australia and revenues come back in. That's where our role is in world football.
There's buying and selling countries. We can be a selling country. That's an honour. Netherlands, Belgium, Croatia, and Uruguay – these are selling nations. We can be in that space, but we need our young players playing more often and in competitive international competitions like the Olympics. We're moving in that direction and very happy about it.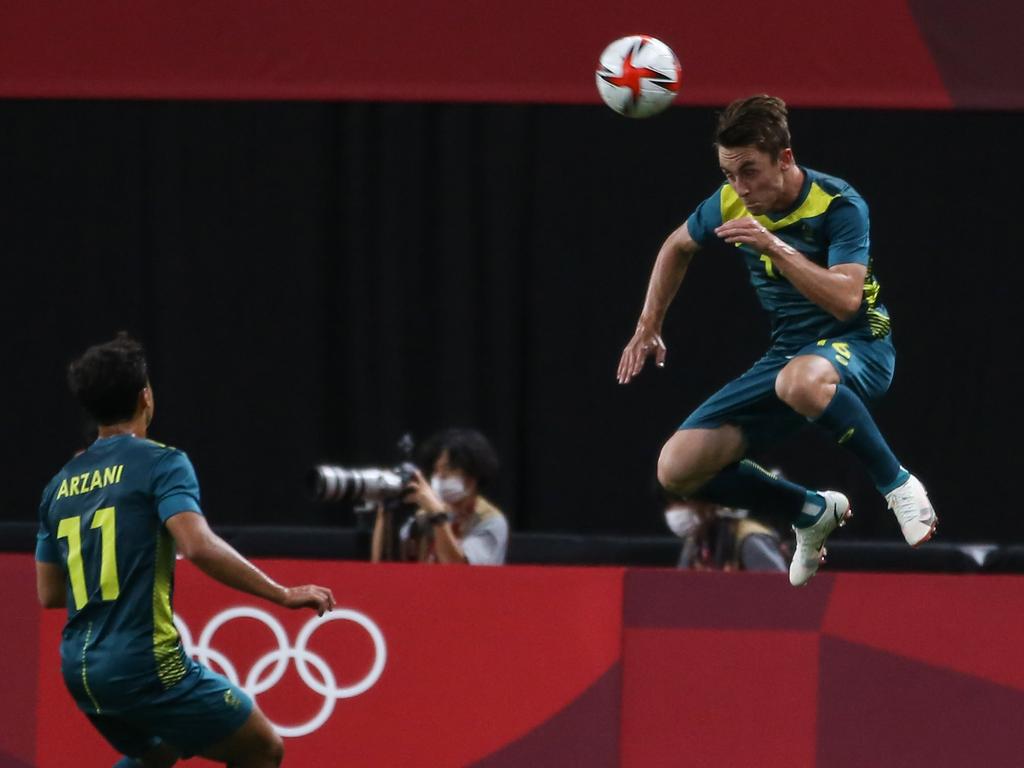 Johnson believes more international competition is key to developing young footballers. Picture: Ayman Aref/NurPhoto via Getty Images
AP: With the federations, it still feels like they do their own thing. There's no uniform competition structure, for instance. WA do it differently to Victoria, who do it differently to SA, who do it differently to NSW. One day, can you see the FA with total control of those structures so everyone is on the same page, or it doesn't need to be that way?
JJ: If you're asking me if what we have at the moment is good enough, the answer is no. A lot of room for growth in that space. I don't think we should have the cookie cutters out for one approach; Tasmania is different from NSW, that's just the reality. It starts with strategy, we'll be releasing soon a One Football strategy where for the first time ever, the FA and the State federations will agree on a strategy together.
AP: What does that include?
JJ: Community, high performance, the way we engage with participants and our fans. Having an aligned strategy is the way we need to go. That's going to be good for the sport to help with alignment, which will help qualify for World Cups going forward.
Johnson believes an aligned strategy across all levels will help Australia perform at the top. Picture: Nikku/Xinhua via Getty Images
AP: How does the FA think about football every day?
JJ: We issued the Eleven Principles in July 2020. The executive leadership team meets every week and we use it as a bible. We go back to the principles and measuring tools at the time. Same with the board as well. Something that if you're the APL or the state federations, it's very clear what our priorities are. If you look at every step we've made over the past two years, and look at the Eleven Principles, people know where we are going.
At the heart of the principles is ensuring we can have two strong national team brands. Lot of work has been done on the Matildas brand in the last two months and we've seen a steep increase in interest (commercial, broadcast, attendance, social engagement). With the Socceroos, we are seeing that bounce back now. We want two strong brands in a market, for double the content. We want to make sure that's connected to the base of our pyramid. If we compete against NRL, AFL, rugby, netball, our competitive strength is two strong national team brands. We can play other sports off the pitch if we can connect them to the community.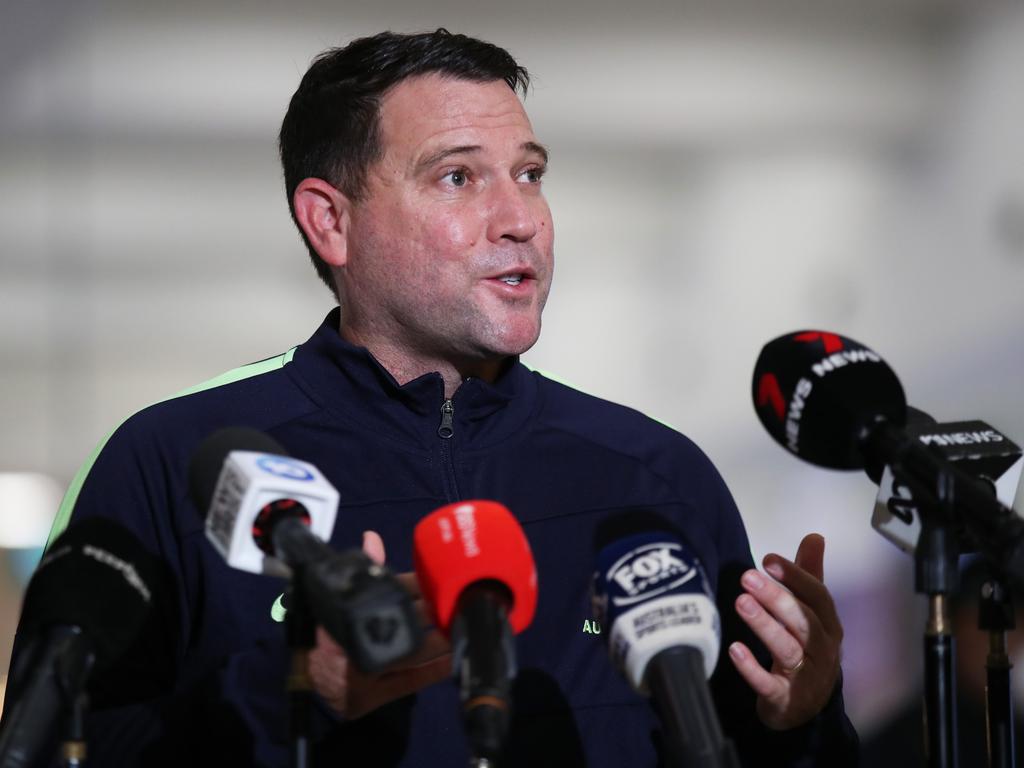 Maintaining two strong national brands in the Socceroos and Matildas is the key focus of FA, says CEO James Johnson. Picture: Matt King/Getty Images
AP: So that's how I was going to wrap it all up. We've got this wonderful feeling, but the heart of this discussion has been about ensuring it's not so fraught going forward. You're absolutely confident in a decade that Australian football can look back and say they planted the right seeds back then?
JJ: We're planting the right seeds, but will caveat with we need stakeholders to be clear, yes, it's an exciting 12 months, but the work we do now – getting behind a transfer system that puts player development at its core, club licensing system, second tier – we have to keep putting pressure on to solve these football issues. We're planting those seeds but need to allow the trees to grow. That's my focus, and to take advantage of the next great 12 months we have ahead.