Analysis: Where the Socceroos have edge on World Cup opponents France, Tunisia and Denmark
Now the dust has settled on a watershed World Cup qualification, ADAM PEACOCK investigates how the Socceroos can make it past the group stage against France, Tunisia and Denmark.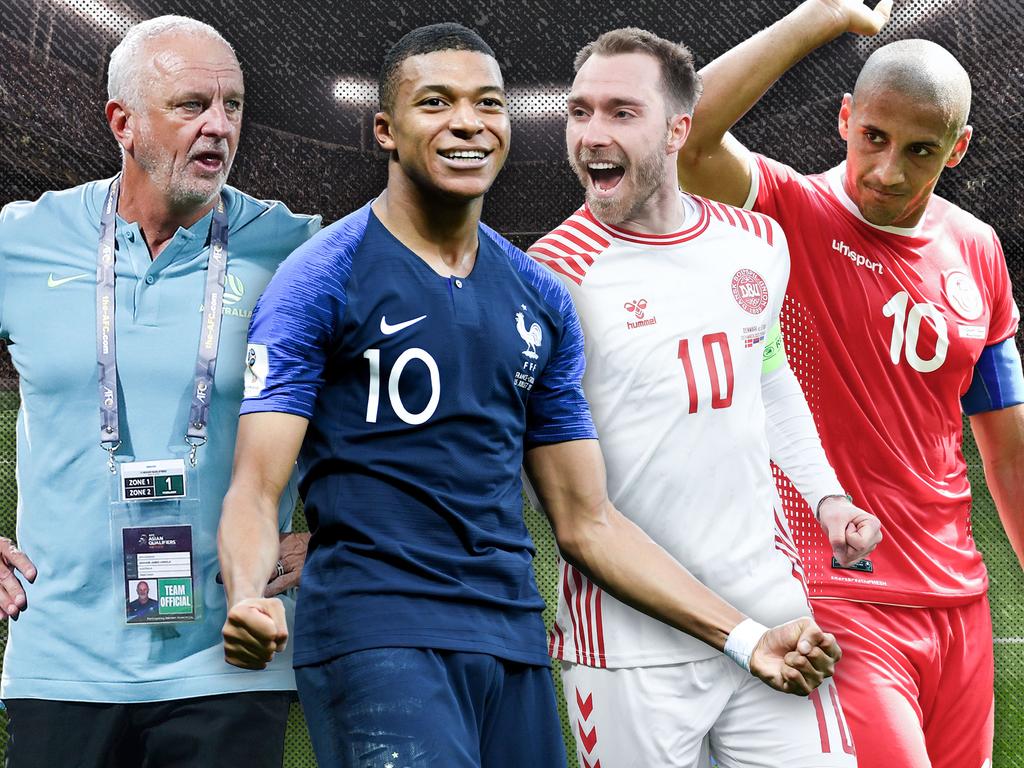 The Socceroos will have it tough in their group.
Sometime in the next week, the fog of glory and a worthwhile hangover will lift for Socceroos staff and thoughts will crystalise on what the World Cup group stage will bring.
It's not the toughest draw – Japan can't be too pleased about occupying the same space as Spain and Germany. But not the easiest.
Australia, ranked 42 in the world, will play France, Tunisia and Denmark within the space of eight days. The preparation will be different, with players released only a week out from the tournament.
CodeSports has talked to experts of the Socceroos' three opponents in Qatar, and while all three aren't exactly quaking in their boots about facing Australia, there are areas of concern.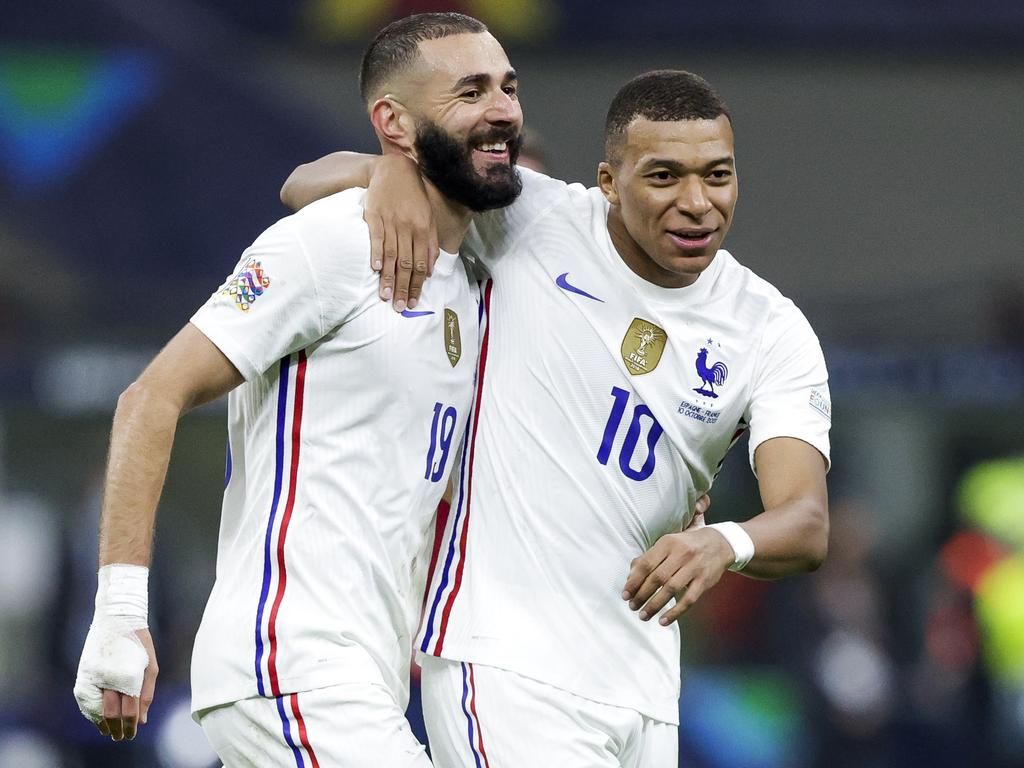 Karim Benzema and Kylian Mbappe await the Socceroos. Picture: David S. Bustamante/Soccrates/Getty Images
France
FIFA World Ranking – 3
Reigning world champions. Player of the European season in Karim Benzema. The most exciting player in the world in Kylian Mbappe. A development system which has given the national team more depth than any other country. On face value, France is the envy of just about every other team in international football.
But while it must be viewed through the prism of relativity – Australia would love problems such as France's – there is an underlying feeling of unease about becoming the first team since Brazil in 1962 to win successive World Cups.
Much of the unease centres around manager Didier Deschamps, who became the third man in history to win the World Cup as a player and manager after leading the French to the title in Russia four years ago.
"There's quite a lot of concern in France," French football expert Matt Spiro tells CodeSports from Paris.
"It's off the back of a really poor Euros last summer where Deschamps made a lot of surprising decisions, and not necessarily very coherent decisions.
"In the last year he's been chopping and changing quite a lot. Doesn't know if he wants to play with three at the back, or four at the back."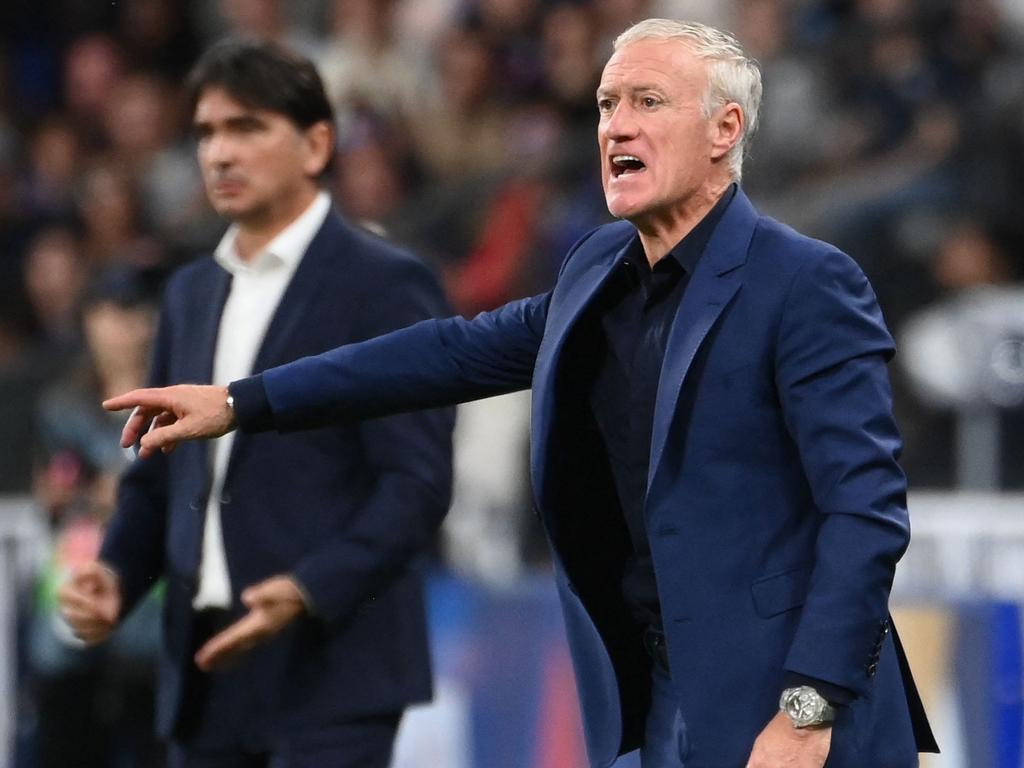 Pressure is growing on France coach Didier Deschamps. Picture: Franck Fife/AFP
Those concerns grew with the recent quartet of Nationals League games. France went winless in four matches. Granted, Deschamps made mass changes between each of the fixtures against Denmark, Austria and Croatia, but a lack of solutions in the attacking third plus defensive uncertainty was a feature.
"Deschamps doesn't seem to be any closer to working out how to evolve the team from what they did in the 2018 World Cup," Spiro says.
"(France won) with a very effective but very defensive style of play. He's said we are going to play differently, and expansively, but we're not seeing it."
Still, one would be a prized fool not to hand France ultimate respect.
Paul Pogba and defensive leader Raphael Varane missed the recent Nations League games and depth is not an issue. France is the primary producer of football talent in terms of exports to Europe's other big leagues. Last summer, more than $500 million worth of talent moved.
The summer will see something similar, kickstarted by Aurelien Tchouameni's AUD $120 million move from Monaco to Real Madrid. Eye watering numbers a nation like Australia and its domestic clubs can only dream about.
And then there's the two upfront for France.
Karim Benzema has returned to the national team after a five year-hiatus owing to a sex-tape scandal involving former teammate Mathieu Valbuena. Benzema's form was a prime reason why Real Madrid won a fifth Champions League in eight years.
He'll be paired with Kylian Mbappe, who accepted more money than the GDP of a small nation to repel Real Madrid's advances and stay with Paris Saint-Germain.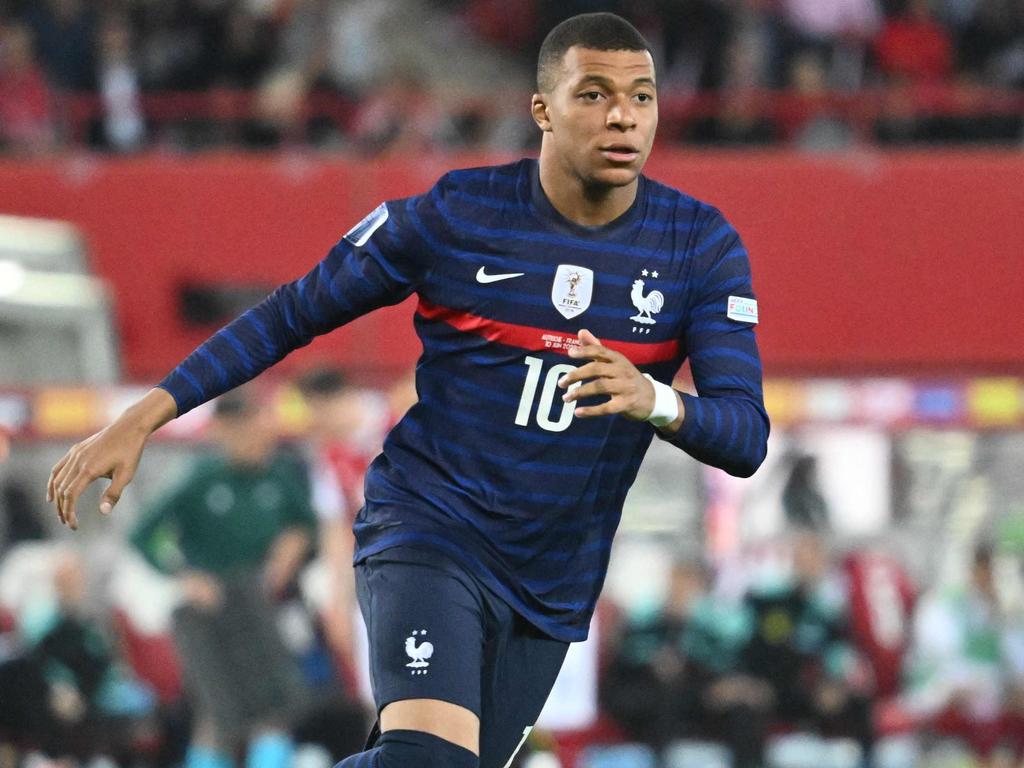 The world's most exciting player. Picture: Joe Klamar/AFP
"France's success or otherwise will hinge on Mbappe and Benzema," Spira says.
"The side is functional but lacks creativity, a fluid game plan. They are going to be relying on those two producing the magic."
Deschamps has seen it all, and knows pressure when it stares back at him from a terrific playing career and a decade in the French job. Critiques are never far away, especially with a legend waiting to take his job.
"The shadow of Zinedine Zidane is getting bigger. If things don't go brilliantly in November, I think Zidane will be in the hot seat pretty quickly."
Australia-France will take place on 22 November, 25 years to the day since the Socceroos played their first leg of the playoff against Iran to get to the 1998 World Cup.
The Azadi Stadium, full of 130,000 Iranian men, gave 11 Australian footballers a daunting experience they'll never forget.
Before it went horribly wrong in the second leg at the MCG, Australia silenced the crowd in Tehran with a 1-1 draw. A quarter of a century on, a similar result against France, as imposing on the pitch as Iran was off it, would shock the football world.
Tunisia
FIFA World Ranking – 35
Four days after their game against France, the Socceroos play Tunisia, the resolute North Africans who snuck past Mali 1-0 in a two-legged qualifier in March.
Tunisia have an almost identical World Cup record to Australia – five appearances, and only two wins to show for it, though the first one was famous, in 1978 when they became the first African side to win a World Cup match by beating Mexico.
These days, the Tunisians are a well-organised unit, with a sprinkling of creative magic through captain Youssef Msakni, who has spent a decade in the Middle East on big-money deals, but is regarded as someone certainly good enough to play at the top in Europe, and French-based attacking midfielder Wahbi Khazri.
Mop-haired 19-year-old midfielder Hannibal Mejbri is regarded as a star in the making, one of the few bright spots in Manchester United's empty season.
Tunisia's Hannibal Mejbri plies his trade for Manchester United. Picture: Charly Triballeau/AFP
Fahid Ben Khalfallah, capped 14 times by Tunisia before ending his career in Australia with Melbourne Victory and Brisbane Roar, is impressed by what Tunisia is building.
"They are going in the right direction," Ben Khalfallah tells CodeSports.
"New coach (Jalel Kadri) and ex-players are part of the staff now. They have a good generation, and definitely one of the best nations in Africa.
"They have less quality individually than say Algeria, who have stars like (Manchester City's) Riyad Mahrez. Algeria and probably Senegal have the best team in terms of talent in Africa. Tunisia doesn't have that. But they have a really good structure."
That solidity was on show earlier this week when Tunisia defeated Japan in Tokyo, 3-0, the manner of which was helped by a strong defensive spine. Japan dominated the first half, creating numerous opportunities in wide areas, but couldn't capitalise. By the second half, Tunisia turned the game, firstly with a penalty, then pouncing on two glaring Japanese defensive errors.
"If I look at Tunisia, it's a better team in terms of talent than Australia, in terms of organisation. Now in one game anything can happen."
This game promises to be defining for both teams, so don't expect a wonderful free-flowing open contest. It will be tight, with pressure in the realm of the respective final qualifiers both teams survived to be in Qatar.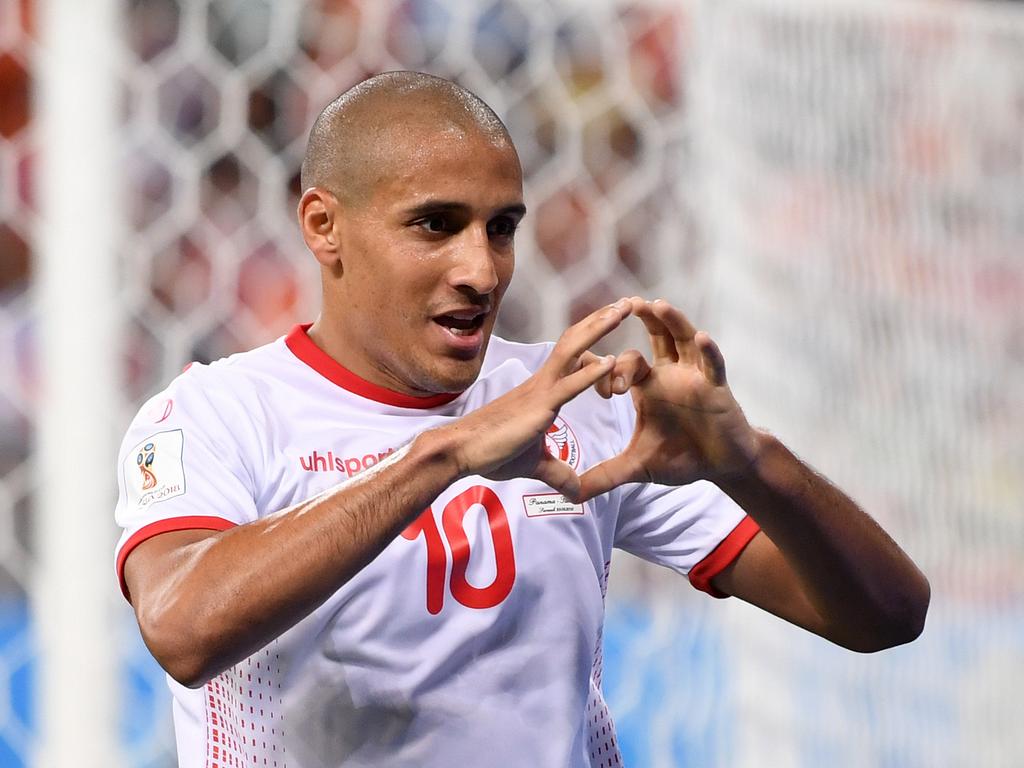 Look out for Wahbi Khazri. Picture: Laurence Griffiths/Getty Images
Denmark
FIFA World Ranking – 11
After another four day break, the Socceroos last group game will be against the improving Denmark, who are in a better spot than four years ago when the two sides played out a tense 1-1 draw in the baking sun of Samara.
At last year's European Championships only a lack of fortune prevented the Danes from upsetting England and making the final.
Danish legend Thomas Sorensen, who finished his long career in the A-League with Melbourne City and has settled in Australia post-career, is very happy at what his national football team has developed into.
"The excitement in Denmark hasn't been bigger since 1992," Sorensen says, in reference to Denmark's greatest football moment when they became European champions 30 years ago.
"They are playing really attacking football, smart football as well. They've got the players to back it up. For sure we are going in the right direction."
Christian Eriksen is the star. Not just with football, but also in a ripe-for-Hollywood-storyline sense.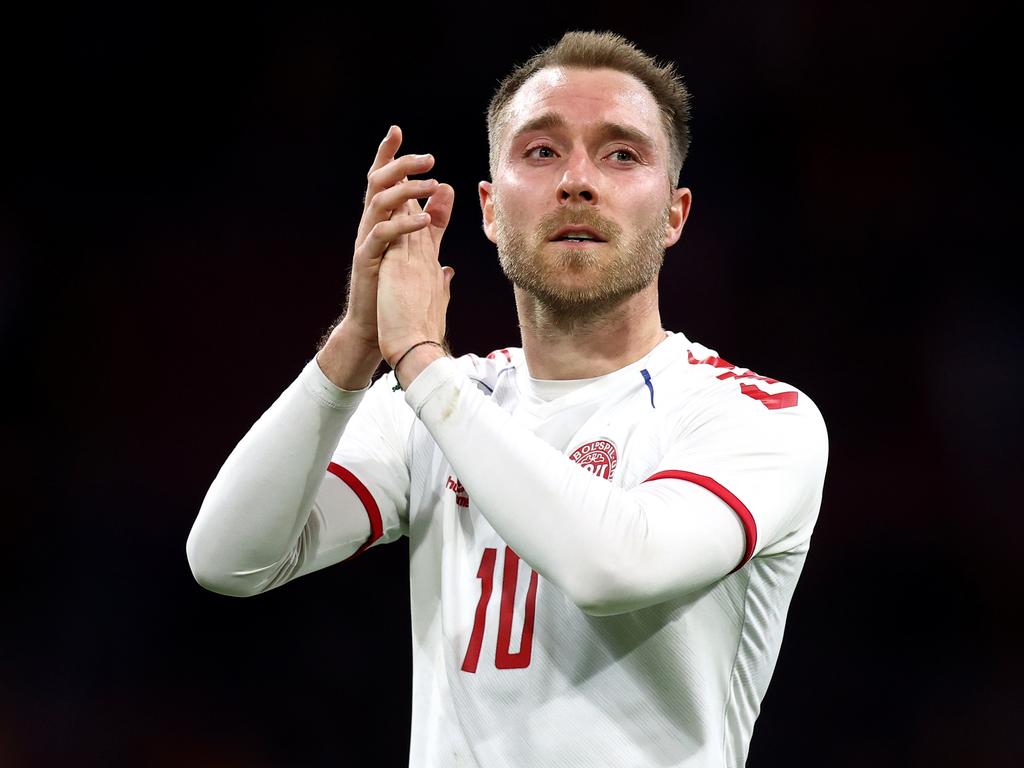 One of football's happier stories. Picture: Dean Mouhtaropoulos/Getty Images
Eriksen, one of Denmark's greatest ever players, nearly died 12 months ago when collapsing with cardiac arrest on the field in Denmark's opening European Championship game.
Eriksen returned to club football in February and helped lead Brentford away from trouble in the English Premier League. The Bee's won seven of their last 11 games after Eriksen returned, with his silky, calm nature on the ball easing fears the London club could suffer immediate relegation from England's top tier.
Erikson also returned for Denmark in March, scoring on his return at the same venue which his life nearly ended nine months prior.
"It's a fantastic feel-good story," Sorensen says.
"The whole country rallied during the Euros and he became this persona that everyone rallied around. People see him as an icon. Now that he's decided to play, everyone is super excited.
"He's grown into a leader too. From my time with the team he was very quiet … now he's taken that leadership role. Everyone from manager, to staff to players and obviously fans happy to have him back"
Denmark's love also extends to the national team manager, Kasper Hjulmand, whose football reputation is built around tactical awareness and flexibility – the Danes are more adventurous in possession than Age Hareide's 2018 World Cup version, who were quite careful.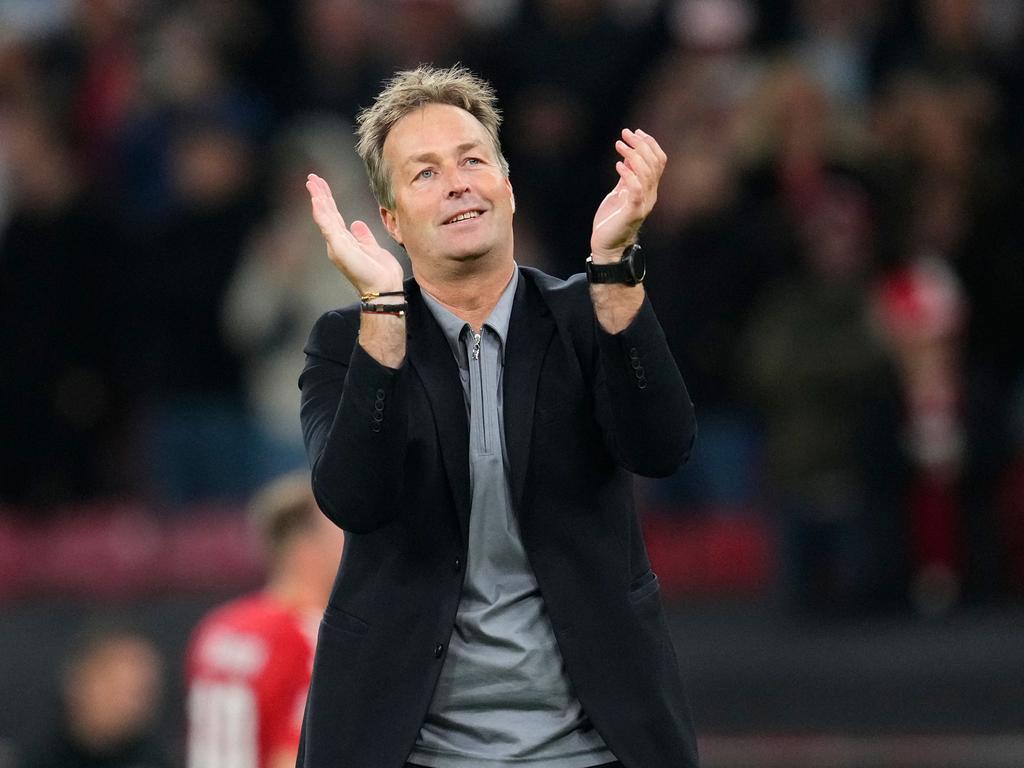 Kasper Hjulmand has got plenty of credit in the bank. Picture: Claus Bech/Ritzau Scanpix/AFP
Hjulmand is not just a football big brain. Even since winning the Danish championship with Nordsjaelland in 2012, he's had a demeanour that builds absolute trust with his players.
"Great man-manager. He's a calming, very laid back but on top of things character," Sorensen says.
"The team has taken to him and been able to get the best out of them."
Hjulmand, with a background in youth development, has blooded a number of young talents building depth so the Danes aren't totally reliant on established stars like Eriksen, and defensive pillars Simon Kjaer (Milan) and Andreas Christensen (soon to be Barcelona).
The only concern, Sorensen feels, is a man up top to put home chances consistently.
"The only thing they are missing is a proper striker. Bit like the Aussies, just someone who you know is going to score against the top teams.
"You need those players at the end of the tournament to produce."
*****
Without question, France and Denmark will be heavily favoured to escape from this group.
The Socceroos will go in underdogs in games against the European heavyweights, and slightly so against Tunisia.
All three games will take place at the 40,000 seater Al-Janoub Stadium just south of Doha.
Progress would verge on the miraculous, but many thought that before the Peru game and look what happened.