Australia and Peru's World Cup hopes hinge on tale of two coaches, Graham Arnold and Ricardo Gareca
The Socceroos' final World Cup playoff against Peru on Tuesday morning won't be for the romantics. ADAM PEACOCK previews a battle framed by the circumstances of its two leaders.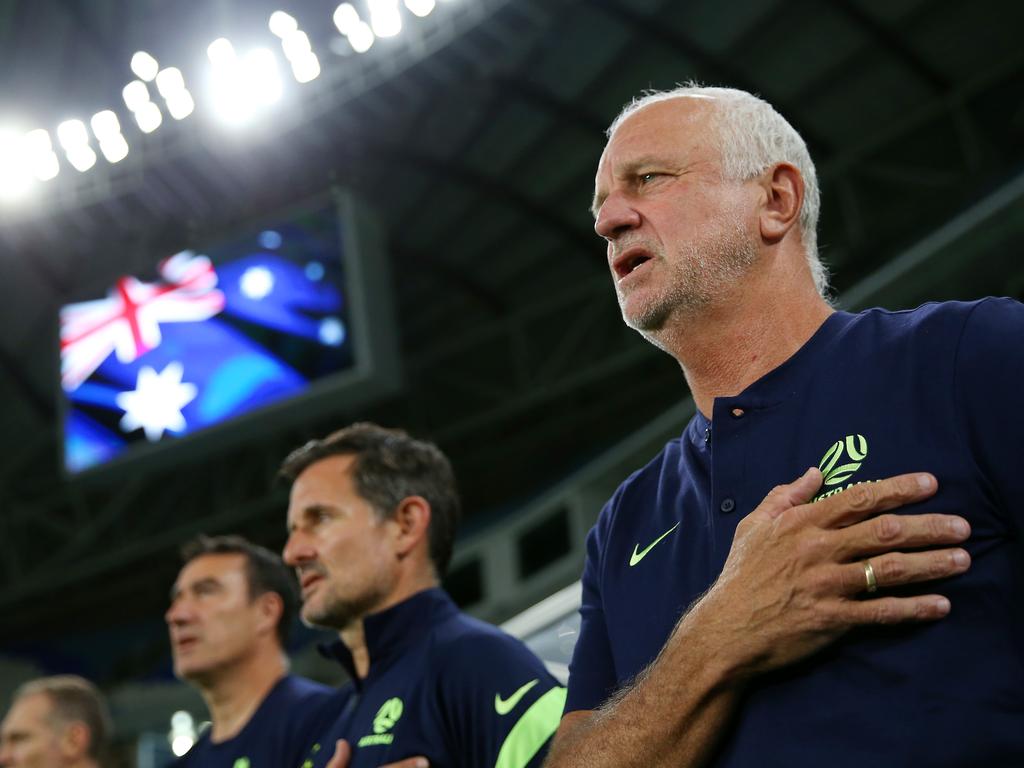 Socceroos coach Graham Arnold will do it his way as his team faces its World Cup reckoning against Peru. Picture: Mohamed Farag/Getty Images
A national football team is a reflection of the people it represents.
It's a romantic thought.
In truth, it's a lie. More fantasy than fact.
The person in charge – the manager, the boss, the autocrat – is the one who forges an identity about a group of eleven people who carry hopes of millions.
Tuesday morning's World Cup playoff between Australia and Peru will be no football fashion parade of contemporary style. It is a contest of substance, a consequence of the personalities of the two men in charge.
Graham Arnold, a 56-cap Socceroo, perennial winning manager in the A League, who has an uncanny ability to polarise opinion in a sport full of them in Australia.
Ricardo Gareca, Argentine by birth and passport, yet king of Peru. Even when it looked desperate recently, he was backed. And now, with the squad of Peruvians Gareca has moulded into a formidable unit, he can attain mythical status by giving his adopted state a second straight trip to a World Cup, after nearly 40 years of hurt.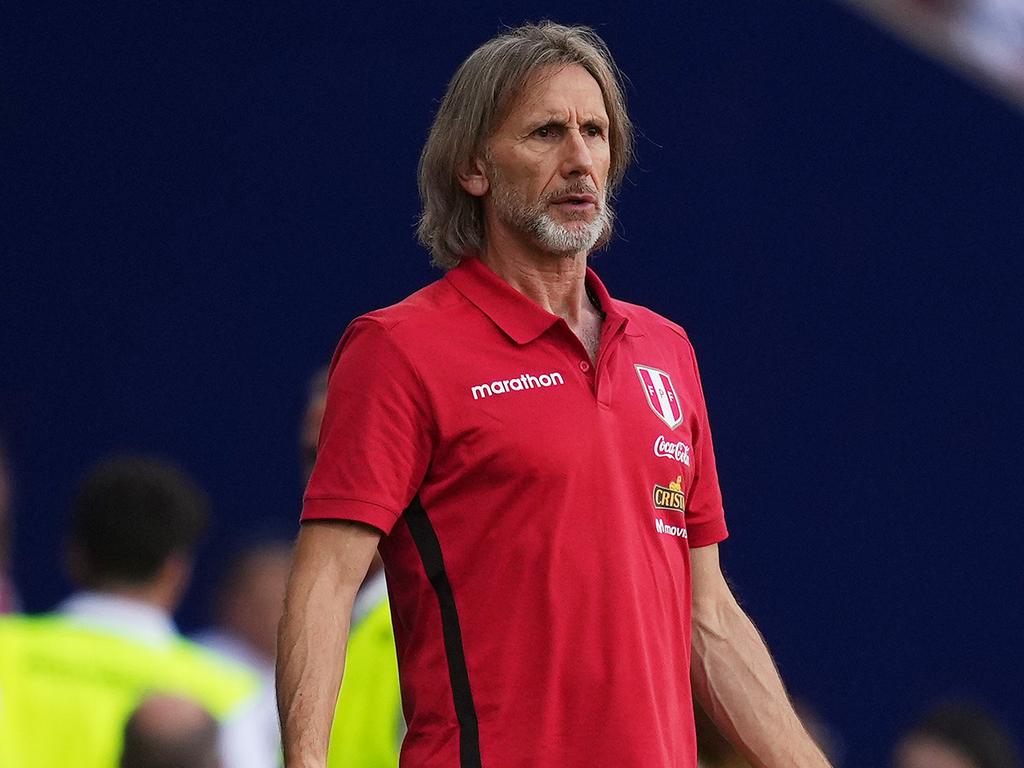 Ricardo Gareca looks on during the international friendly match between Peru and New Zealand. Picture: Alex Caparros/Getty Images
*****
"Our best chance is the Aussie DNA," Graham Arnold told Melbourne radio station SEN on Friday.
"We have to get in their faces and make this a war. If we do that we can rattle them."
Such words either readies one to take on Peru, or invade China.
Pushed into a corner, Arnold has stripped back the nuances of football management, and while he realises technique and quality in pressure moments will win a game, a lack of gumption in the brain will lose it. The theme out of this current camp has been one of making sure the Socceroos are difficult to break down.
It is not from the notebook of Pep Guardiola. It is a step sideways from the ways of Ange Postecoglou, who evangelised about Australian players being good enough to play a certain way – the 'go at teams, pass forward mentality' he's since stamped all over Yokohama F Marinos and Celtic.
The Arnold notion of going back to the basics of hunger and aggressive mentality turns some stomachs.
For Arnold, it's a clear passage forward with time now irrelevant.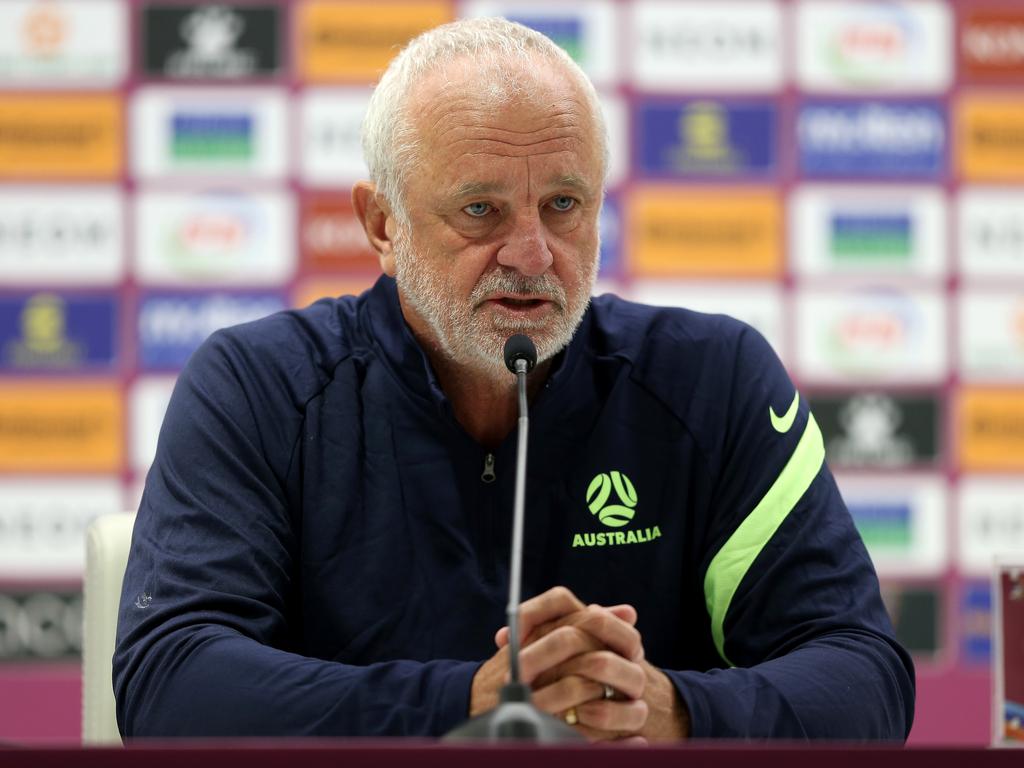 Graham Arnold attends a press conference ahead of the World Cup qualifier in Qatar. Picture: Mohamed Farag/Getty Images
Football Australia had the chance to sack Arnold after the March dates, which included losses to Japan and Saudi Arabia, which sent the Socceroos down the playoff path. At one point the silence was deafening, only rumours to be heard. Those rumours were pushing Tony Popovic into the role. Popovic, for his part, wanted nothing to do with the national team job as he looked toward winning a championship with Melbourne Victory.
It wasn't until Arnold met James Johnson in Jeddah the morning after the Saudi defeat in March was his Socceroos job safe. Football Australia put out a statement saying as much, but also saying plenty. There was no exultant tone, 'he's here, so he may as well crack on with it' vibe.
And this is where the Socceroos storyline loops back to the features of this camp.
It's almost as if Arnold knows he can play it any way he wants, without having to worry about saying the right things, and pleasing the right people with words.
Arnold is going anyway, be it by 6am our time Tuesday, or December after the World Cup ends.
He'll go his way.
*****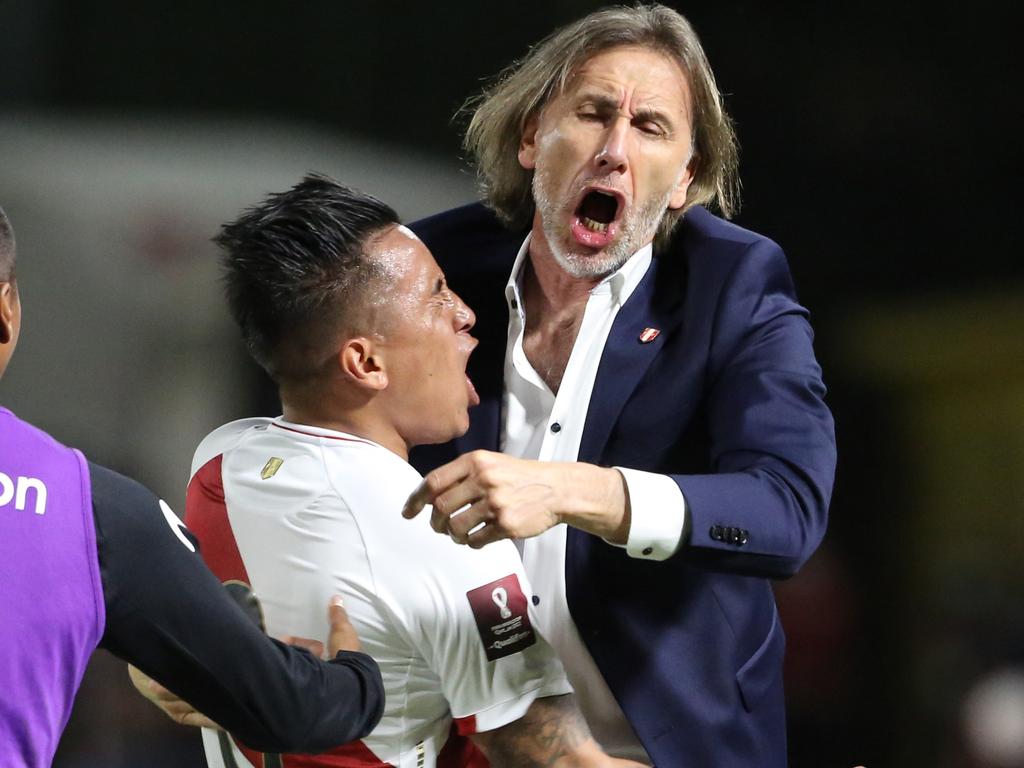 Christian Cueva and Ricardo Gareca celebrate after Cueva scored the second goal for Peru against Venezuela as part of FIFA World Cup Qatar 2022 Qualifiers. Picture: Edilzon Gamez/Getty Images
Peru's coach is the clear thinking Ricardo Gareca, an Argentine who once scored a goal to knock Peru out of contention to qualify for the 1986 World Cup.
Imagine if he didn't. Possibly no Maradona goal of the century, or Hand of God goal.
Gareca has since attained mythical status for himself in Peru. Their version of Guus Hiddink: a foreign coach who has satisfied their cravings beyond what was imaginable.
Peru's 2018 World Cup appearance was their first in 36 years. Gareca was the architect then, and also within a game of winning the 2019 Copa America, South America's continental championship.
"People here in Peru love Ricardo Gareca," says Horacio Zimmerman, a Lima-based journalist with Movistar Deportes.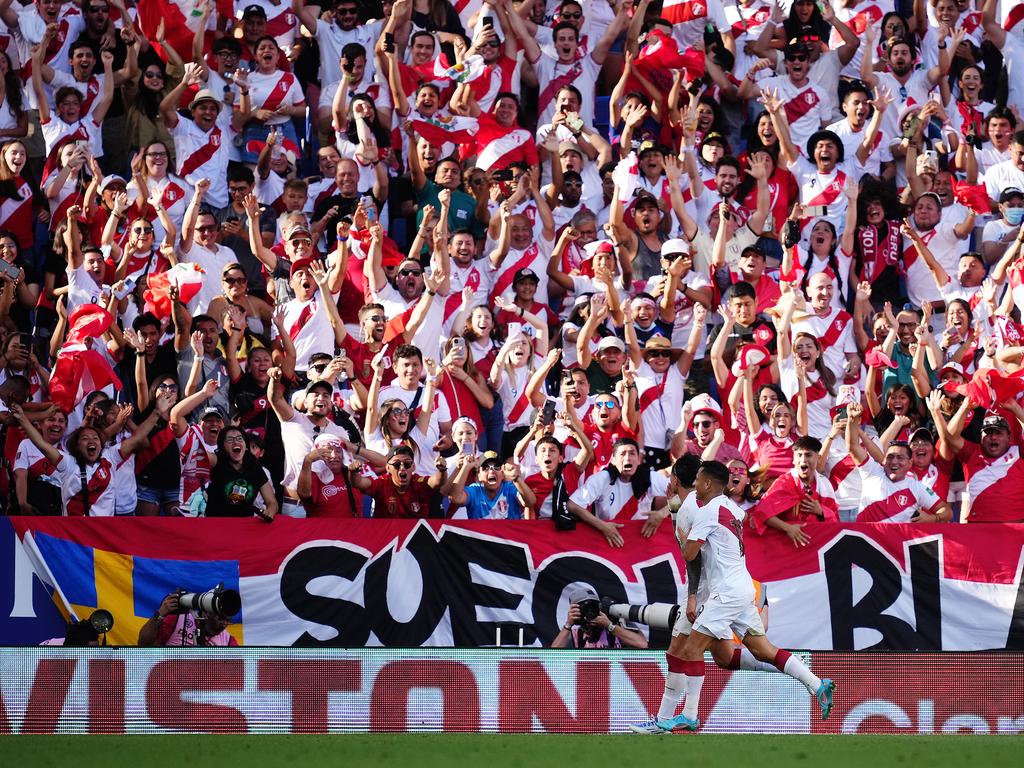 Peru fans after their team's first goal during the international friendly against New Zealand. Picture: Alex Caparros/Getty Images.
Faith was tested at the start of this World Cup qualifying campaign. Peru had one point from its first five games. In that fifth game they were pumped by Colombia at home, 3-0. Murmurs started. Was Gareca coming down the other side of a summit reached near Machu Picchu?
Peru's football federation stuck solid. Gareca's ways, which when Peru get it right is combination football, quick passing, mixed with cohesive, committed defending and an undeniable team spirit unity, shone through.
Gareca is nicknamed 'Le Tigre' – the Tiger. Not exactly the moniker of a man to tip-toe around problems in difficult moments.
Peru became devilishly hard to beat. Only Brazil in Brazil, Argentina in Argentina and Uruguay in Uruguay could manage it. Wins flowed otherwise, and a 2-0 success at home to Paraguay on the last match day of South American qualifying secured fifth place, and a shot at Australia.
Gareca, speaking on Argentine television recently, told of the support he got from higher powers even when the situation looked dire.
"I am very comfortable in Peru," Gareca told ESPN F360.
"The truth is I had support in the most screwed up moments. Very grateful to Peru in that regard. For a coaching staff, to support you like this is important."
Horcaio Zimmerman, the Peruvian journalist, couldn't quite comprehend any kind of dissent.
"In the beginning of this path to the World Cup, there were too many critics," Zimmerman says.
"Gareca always told us Peru were going to fight, they did, and he gave us the possibility to believe again. And here we are now, 99% of people with Ricardo Gareca"
The one percenters can go chase birds in the wind.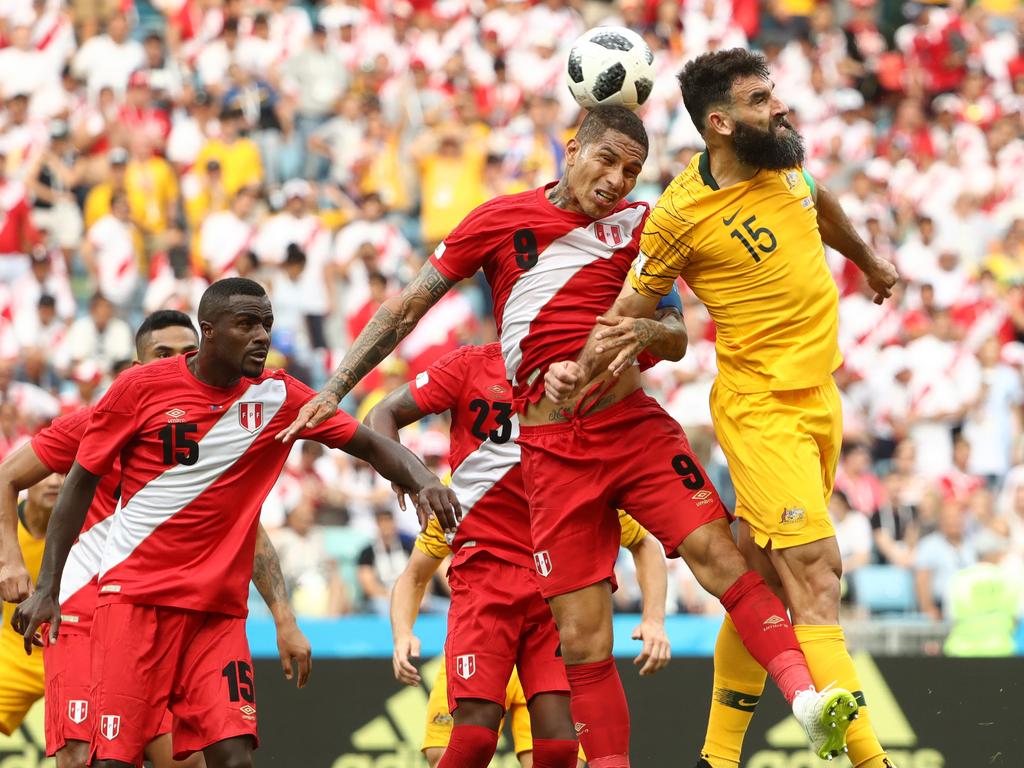 Peru defeated Australia at the 2018 FIFA World Cup Russia. Picture: Robert Cianflone/Getty Images
*****
Common sense dictates the fifth best South American side will be better than the seventh best Asian side.
Peru will be better than UAE. Over two games, the balance of probabilities tips more heavily in their favour, so FIFA have done Australia a favour with the pandemic-induced one off format.
A desire to stay calm on the ball and play through teams, instead of lumping it forward in a rush, is a pattern Peru will try to settle on against Australia.
The front four players are the keys, led by Christian Cueva, a pint-sized attacking midfielder now playing in Saudi Arabia.
"He is the brain for this team," Zimmerman says. "When the brain stops, everything stops."
There is danger too in Andre Carrillo, a direct winger who will look to run at isolated fullbacks one-on-one.
"He goes straight every time, when it comes running with the ball he has the best ability in our team," Zimmerman says.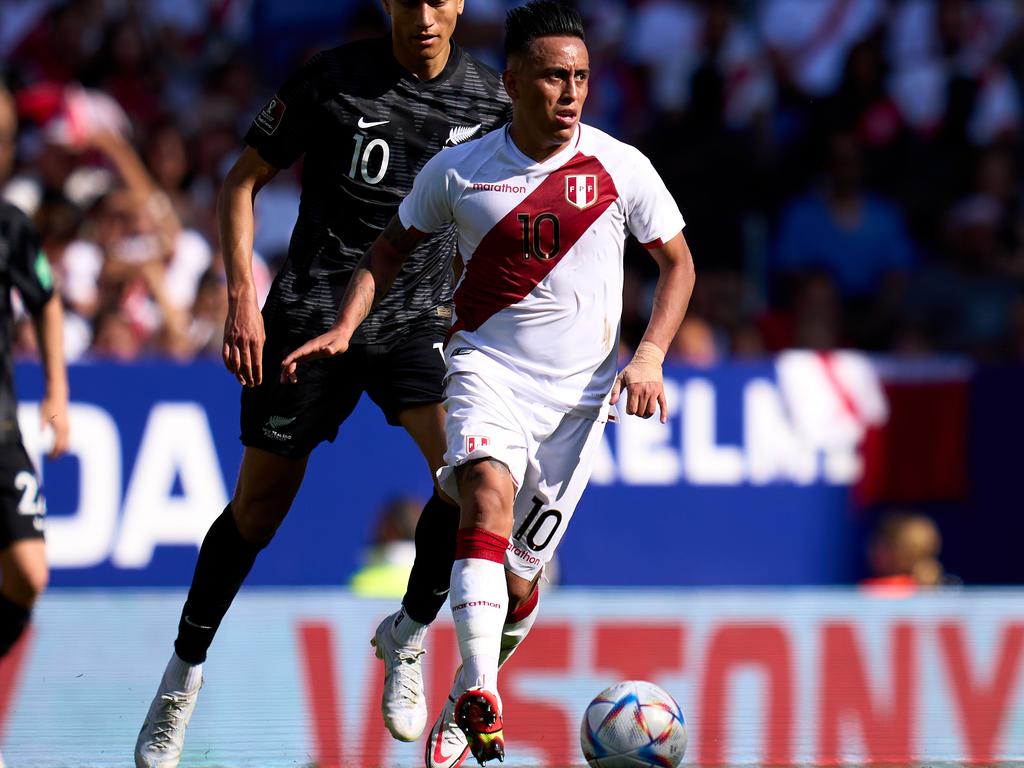 Christian Cueva of Peru passes the ball during the international friendly match between Peru and New Zealand. Picture: Alex Caparros/Getty Images
And then there's Italian-born striker Gianluca Lapadula, who once scored 30 goals in a season in Italy's Serie B, which triggered a rich move to AC Milan. Last year he defected to Peru on account of his mother's heritage, and was gladly accepted by Gareca, who was without veteran legend Paolo Guerrero due to injury.
In short, there is respect, but little fear of Australia from the Peruvians, who know their history.
"We know it's not the same team like against Uruguay in 2002 and 2006, even back to Argentina 1994," Zimmerman says.
"No Mark Viduka, Tim Cahill, Harry Kewell."
Still, Zimmerman and the rest of Peru knows the one match playoff, changed from the regular Home And Away ties due to pandemic-induced time restraints, brings the two sides closer together.
"We know that in one single game the difference (of quality) can be reduced to nothing.
"There is not only tactics, strategy in this kind of game. We know the team with the strong mind will be the best, and we know that Peru and Australia are the same.
*****
South American teams have a fantastic record in last stage playoffs to get to World Cups.
Bolivia fell in 1978 to Hungary, and since then, only one nation has beaten a South American team to get to a World Cup.
2005, the greatest moment in Australian football history.
Everyone remembers the ending of a shirtless hero, John Aloisi, running faster than the speed of sound down the eastern touchline of the Olympic stadium.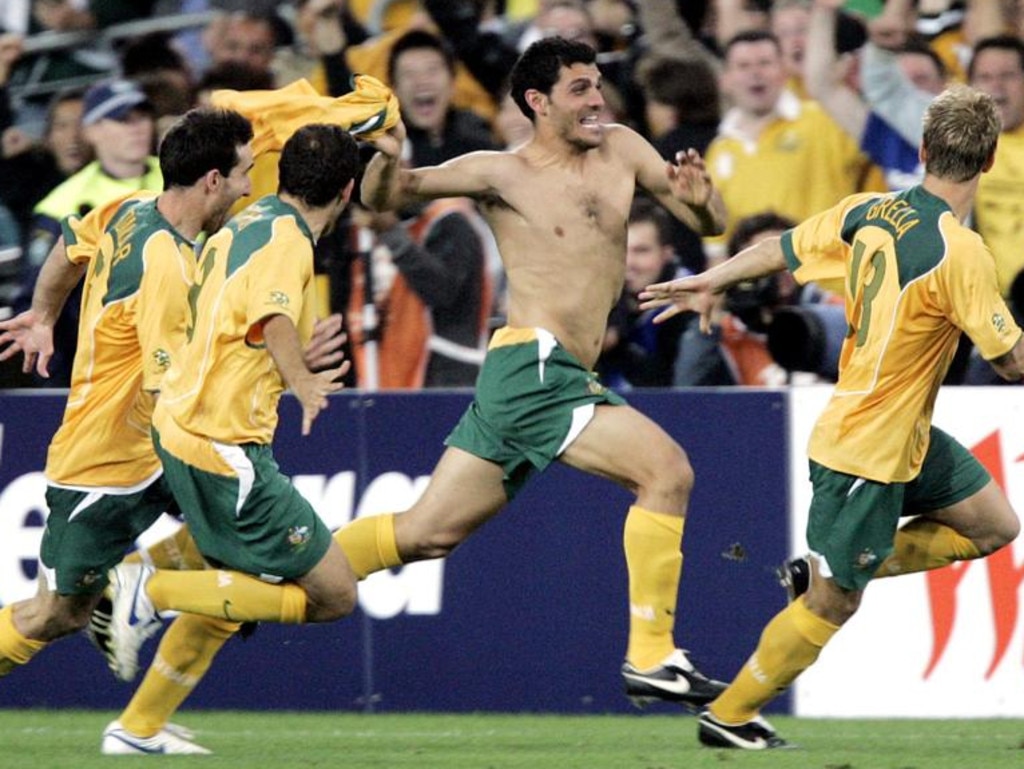 Tony Vidmar, Scott Chipperfield, John Aloisi and Vincent Grella celebrate after defeating Uruguay on penalties during the World Cup qualifier in 2005.
The two hours that preceded Aloisi's jubilant sprint are largely forgotten about, notwithstanding Mark Bresciano's goal. For the most part, the game was a stinker. An ugly, hot, nervous mess.
It started in the tunnel before the game when the Uruguayans tried to start a fight with Tony Popovic.
"F--k knows why, they must have been stupid," midfielder Vince Grella recalls.
The game took on that tone. It was a rumble. Intensity remained above the clouds, but there was no tempo, no subtle streak.
Does anyone care to remember?
Tuesday morning won't be a sight for the romantics.
And Ricardo Gareca and Graham Arnold won't care one bit.