'Be ready for anything': Graham Arnold on Tom Rogic, selection headaches and the Socceroos' World Cup run
It's been 12 years since Australia won a game at the World Cup. But the stability of Graham Arnold – even though a chaotic qualification run – might be exactly what the Socceroos need, writes ADAM PEACOCK.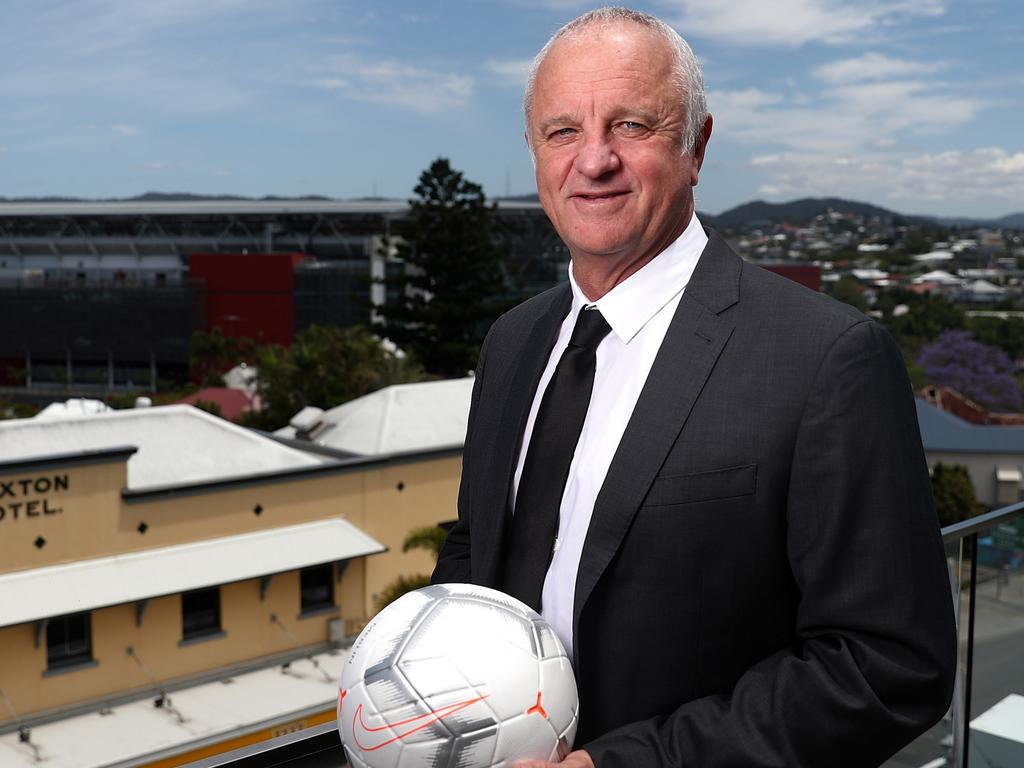 Graham Arnold looks set to be the man to lead Australia to the Qatar World Cup. Picture: Chris Hyde/Getty Images
"It's not easy coaching your own nation."
Recited by Graham Arnold, those are the words of Guus Hiddink, the legendary Dutch manager who helped break 32 years of hurt in Australian football to get the Socceroos to the 2006 World Cup.
Arnold was Hiddink's assistant, and to this day he carries the lessons passed on.
"Not saying he didn't like coaching Holland, but he preferred to coach Australia, Russia, Turkey, Korea because it's a job," Arnold tells Code Sports.
"When you coach your own nation, you carry the passion and it makes it more difficult.
"You don't want to let the country down. All you want is success for the nation and the players."
Which is why the last four years were so stressful.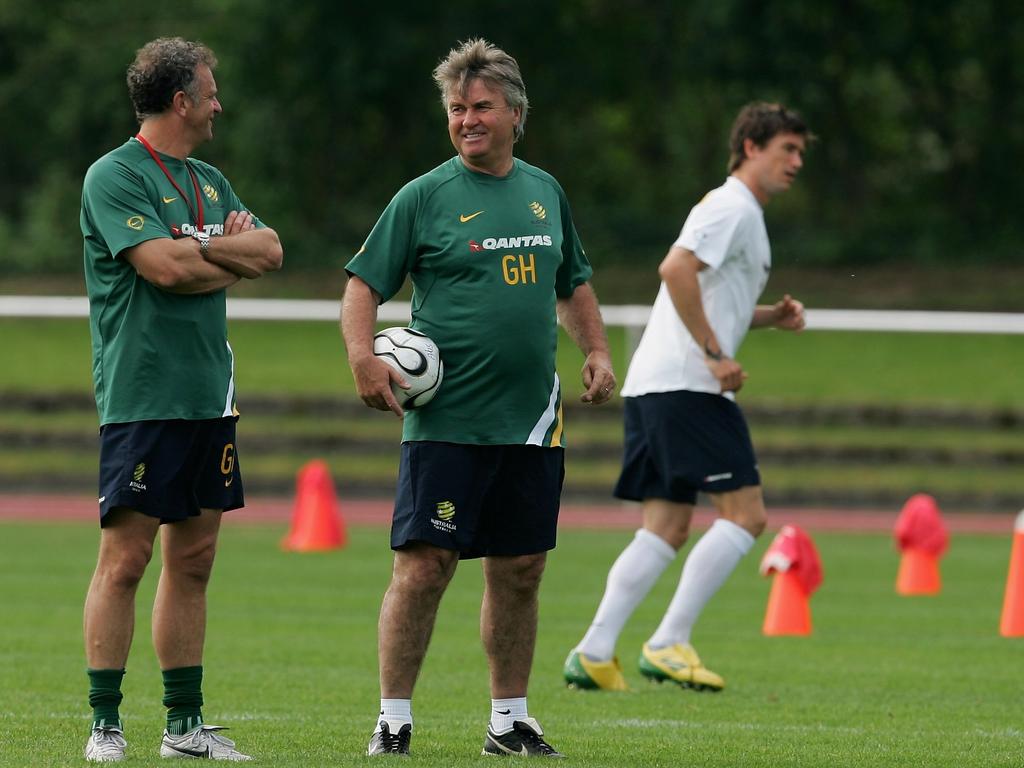 Graham Arnold learnt from the best, as an assistant coach to Guus Hiddink for the Socceroos' most successful World Cup in Germany, 2006. Picture: Robert Cianflone/Getty Images
Internally, the Hiddink maxim about patriotism made it hard enough. Then there was the external pressure.
All through his coaching career, even through successful spells at Sydney FC and Central Coast, Arnold has had an uncanny knack of attracting critics like bees to a flower in spring.
Does it sting?
"I've learnt enough over the years, the outside noise is uneducated," Arnold says.
"If Guus Hiddink criticised me tactically, I'd listen. If Tony Popovic criticised me tactically, I'd listen.
"I know I've been in the game a long time. Some don't go back to your good times. They don't say, 'What about the success with Sydney or the Mariners?'
"They'll say, 'What about the 2007 Asian Cup?'," Arnold says of when he was parachuted into the job at the last minute and oversaw a quarterfinal loss with a group of players who craved a proper holiday.
As the current Socceroos campaign saw a period of one win in seven divert the Socceroos to the sudden-death playoffs, the 2007 Asian Cup was relevant to some.
#arnoldout was trending again.
"I don't do social media," Arnold responds. When told that's probably a good thing, the coach replies, "It's a great thing!"
"I know I can't do anything right by some people, so it doesn't bother me."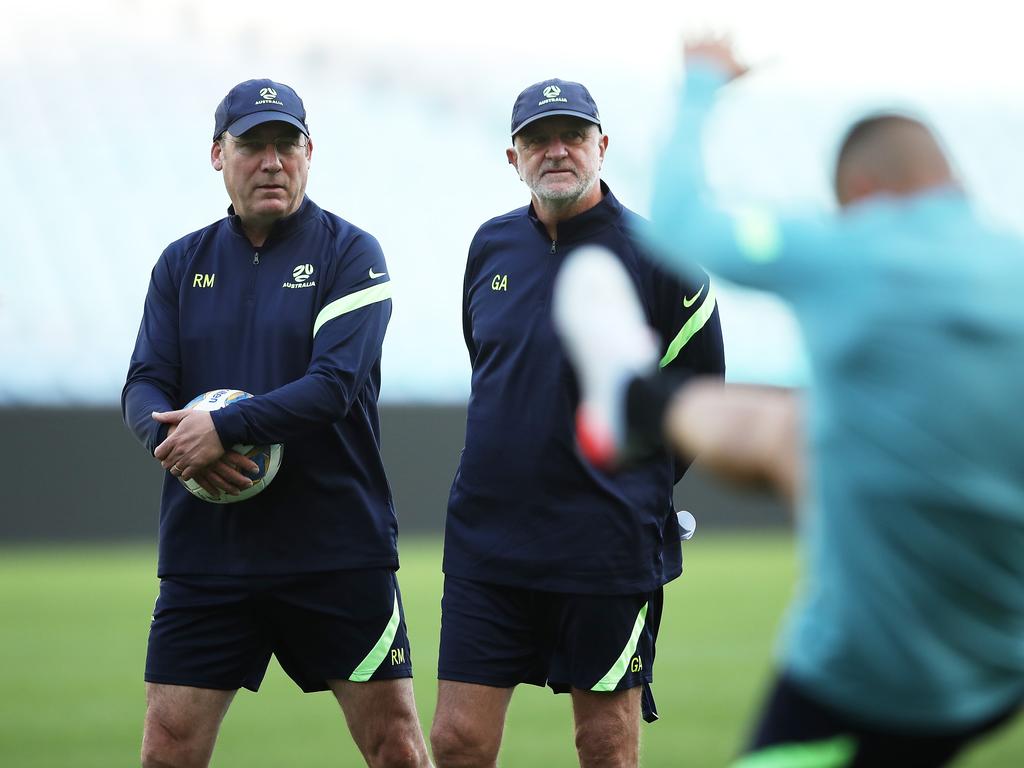 Arnold's learnt he can't please everyone in the top job. Picture: Matt King/Getty Images
*****
As good as getting the Socceroos to a World Cup is, Arnold is equally pleased with the role he's played in advancing the careers of the next generation of Socceroos.
When Covid shut football down, Arnold delved into a research project, uncovering the indisputable facts that if Australia makes, and plays well at youth international tournaments such as the Olympics, those players' careers immediately elevate. Moving overseas is possible. Australian football benefits with a bigger pool of Socceroos to choose from.
16 players have made their Socceroos debut in the last 12 months and 11 of them are under the age of 24.
Arnold believes his role in developing junior talent has been more important than his time on the sideline for the Socceroos. Picture: Alex Livesey – FIFA/Getty Images
Arnold is frustrated by the lack of progress on a domestic front to give young players more minutes. Covid certainly helped, with clubs forced into a fresh look with foreign players electing to return home.
However, limited opportunities for elite 16–20-year-olds to get high quality match minutes at a crucial period of their career remains a glaring problem.
"I don't want this qualification to paper over the cracks in our development," Arnold says.
Getting everyone on the same page in Australian football is a large task.
It drove Ange Postecoglou to the brink, ending in his tenure early, before the 2018 World Cup. He'll never be back, by the sounds of it.
Arnold has been driven to distraction too. That's why he took the under-23's job, desperate to get the Olyroos to Tokyo.
Caring too much can be a problem. But at least there's something to look forward to.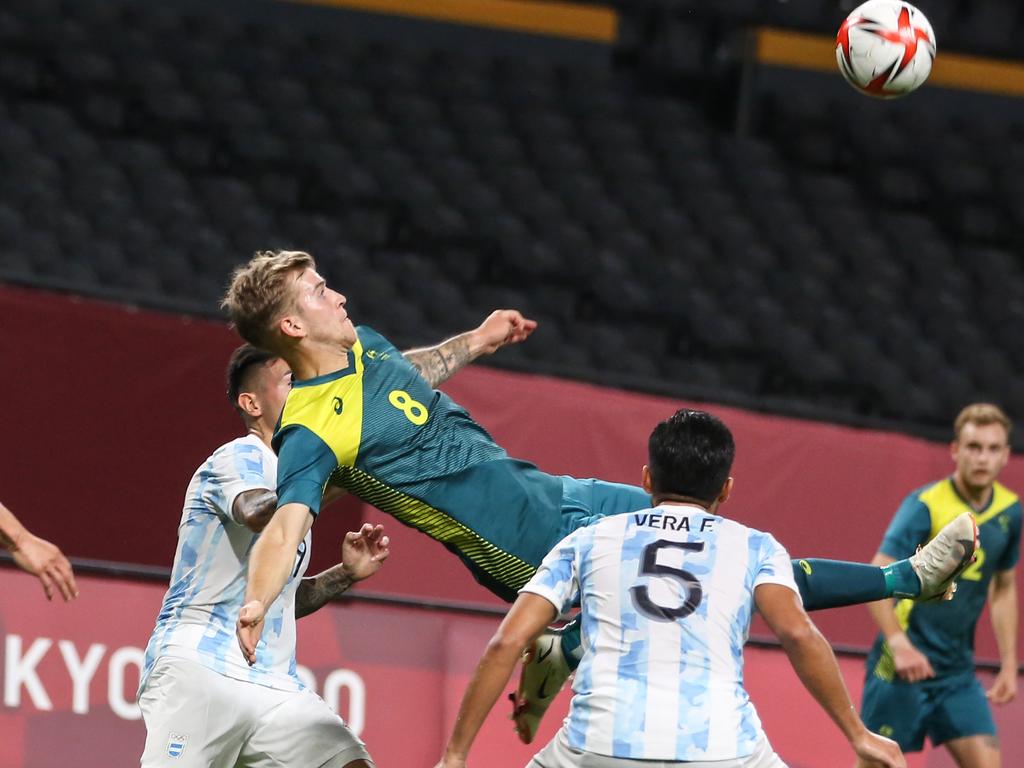 The Arnold-led Olyroos stunned Argentina with a 2-0 win their over the South Americans at the Tokyo 2020 Games. Picture: Ayman Aref/NurPhoto via Getty Images
*****
After a week to absorb the Peru playoff, plans for the World Cup are about to get into full swing.
Arnold will have with him another piece of Guus Hiddink advice he recalls vividly.
"Guus always said (Football) is like playing chess," Arnold says.
"Plan every move, every moment and be ready for everything."
Arnold had to deal with the 'be ready for everything' part before the playoffs.
As players assembled in Doha, Tom Rogic, the gifted attacking midfielder who was a key member in Ange Postecoglou's Celtic juggernaut, sent a text to Arnold to say he was out.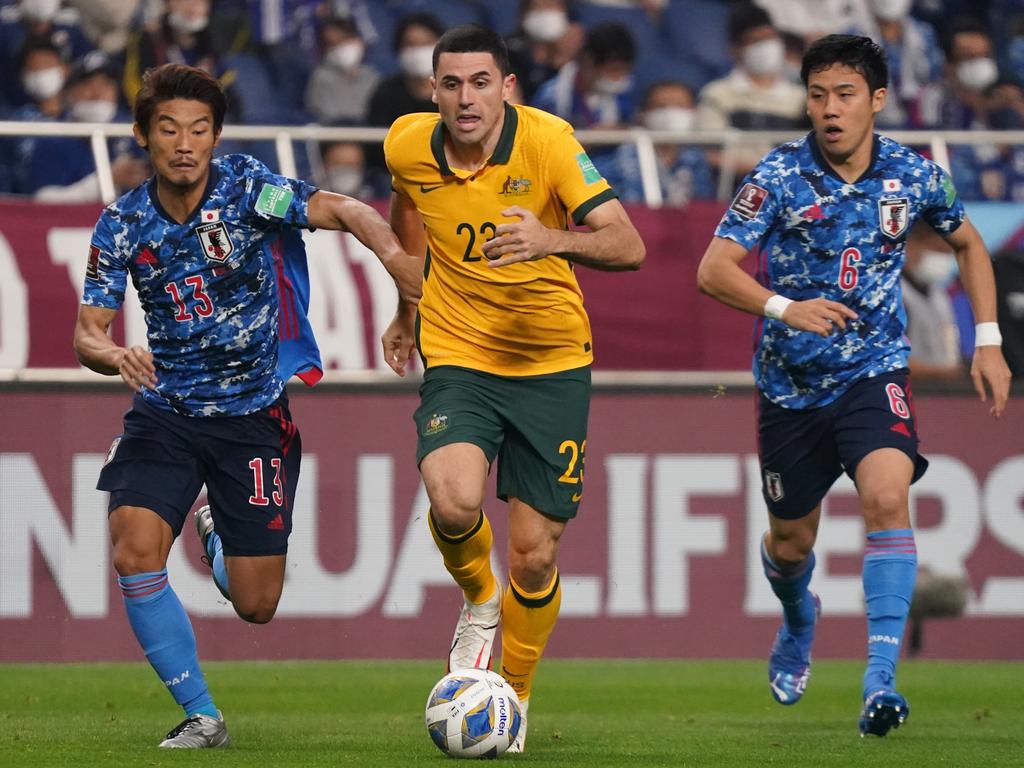 Rogic has yet to deliver the Socceroos and Arnold an explanation for his absence in the June playoff games. Picture: Etsuo Hara/Getty Images
"I've not had any conversations with Tom since the camp," Arnold says.
"I just hope everything is OK. Texted him to see where he's at, haven't had a reply."
Rogic has left Celtic and is yet to sign with a new club.
"Just waiting to see where he is at with his career," Arnold says.
"(With the Socceroos) the door is never shut. As long as he's OK, that's the main thing.
"We don't know, he's pulled out for personal reasons, sit here today and don't know what they are.
"He's a top player, can make a huge difference, just have to see where he's at."
Rogic has over 50 caps for the national team, after debuting in 2012. Picture: Matthew Ashton – AMA/Getty Images
*****
With or without Rogic, Arnold knows he's got a looming headache, notwithstanding FIFA's ratification of squad sizes of 26 players (up from 23) for the World Cup.
He will have to leave out some players who have given him everything during the last three years.
It happened for the players when Rhyan Grant, Arnold's former Sydney FC right back, was left out.
"Rhyan gave us everything. He was the only A-League player that came out of Australia during Covid, came away for six weeks of individual training in Scotland and sacrificed a lot," Arnold says.
"You have to make hard decisions, and when you do, you have to be honest."
Arnold says Grant's omission from the Socceroos squad was a difficult call. Picture: Mark Metcalfe/Getty Images
And as Arnold said in part one of his chat with Code Sports, the relationships with his players extend well beyond a tactics board.
"These days, I'm a firm believer you have to be open with them," Arnold says.
"I believe the only way to coach is to be honest. And if you bullshit or lie to one player, it will spread."
His way is arm around shoulder, instead of cold shoulder.
An example is Awer Mabil, the winger born in a Kenyan refugee camp before moving to Australia, handed his Socceroos debut by Arnold in 2018.
In 2019, after Australia were knocked out of the Asian Cup, Arnold was the one to knock on Mabil's door to tell him his sister had been killed in a car accident.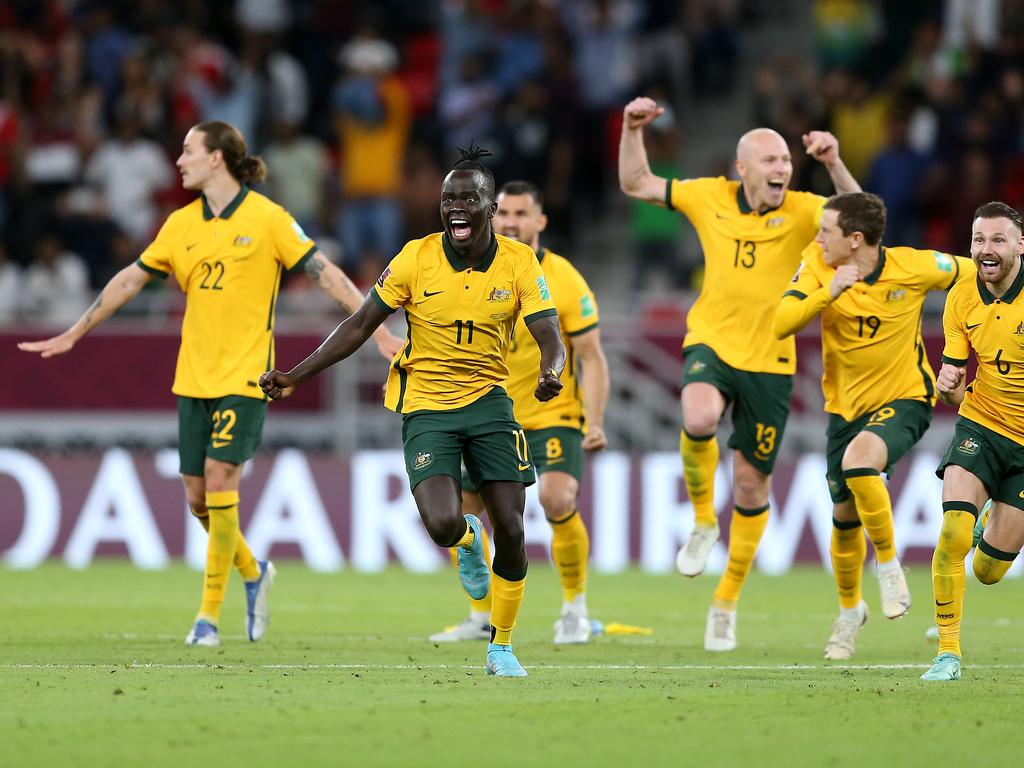 Mabil took Australia's final penalty against Peru, slotting the ball into the bottom right corner of the net. Picture: Mohamed Farag/Getty Images
Arnold was proud beyond words when Mabil calmly stepped up to take Australia's last penalty against Peru.
Arnold used 45 players in the pandemic-affected qualifying process, and while border restrictions and last minute Covid-positive cases were beyond frustrating at the time, the outcome is beneficial.
"Covid has made us stronger as a group and helped build the culture that I wanted," Arnold says.
"The players were locked on one floor, they had to get on with each other. Have fun, communicate. Really joined the boys tighter together.
"I'm going to have a tough job with the final squad."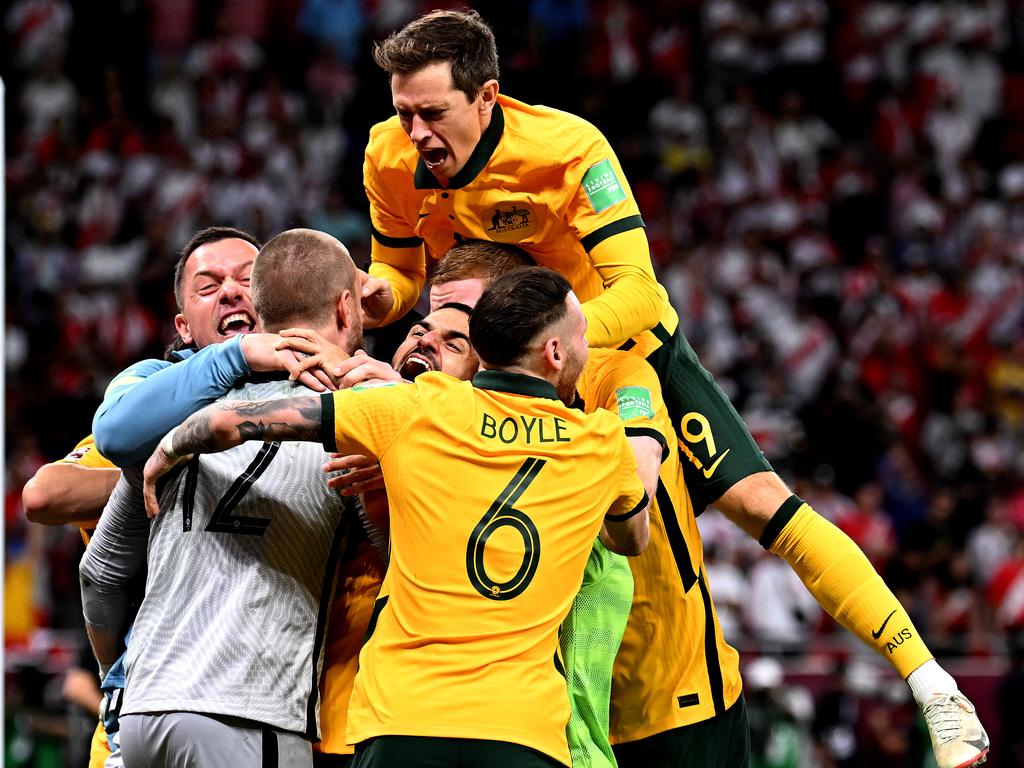 The Socceroos have been bought even closer together by their triumph over Peru. Picture: Joe Allison/Getty Images
*****
Three dates are circled in red pen for the Socceroos.
22 November, France. 26 November, Tunisia. 30 November, Denmark.
There will only be two warm up games against New Zealand.
European-based assistant Rene Meulensteen won't come back, instead attending a France-Denmark UEFA Nations League game in Copenhagen on 26 September.
Arnold will look to bring in a young A-League Men's coach as an assistant for the NZ games.
And then he'll keep across players in all parts of the world once leagues get underway in just over a month.
Tuesday's are video days. Highlights filter in from all parts of the world. There's a constant stream of GPS and injury data to stay across. And logistics to prepare for when the squad gathers in Qatar on 14 November.
Arnold will be closely assessing data and videos from his own squad and their November opponents. Picture: Mohamed Farag/Getty Images
"The biggest advantage is we know Qatar well," Arnold says, pointing out the Socceroos have won their last five games in what has become a home away from home.
"It's different. Little things, like the grass is really quick. Saw the Peruvians really struggled with that."
The Peruvians struggled with a lot of things. They got to Doha two days before the playoff after a camp in sunny, tempting Barcelona.
In Doha, Peru stayed 90 minutes from the ground. Didn't have a familiarisation session at the ground. Warmed up in singlets in an airconditioned stadium.
And didn't expect Australia to play the way they did.
"Plan every move, every moment and be ready for everything."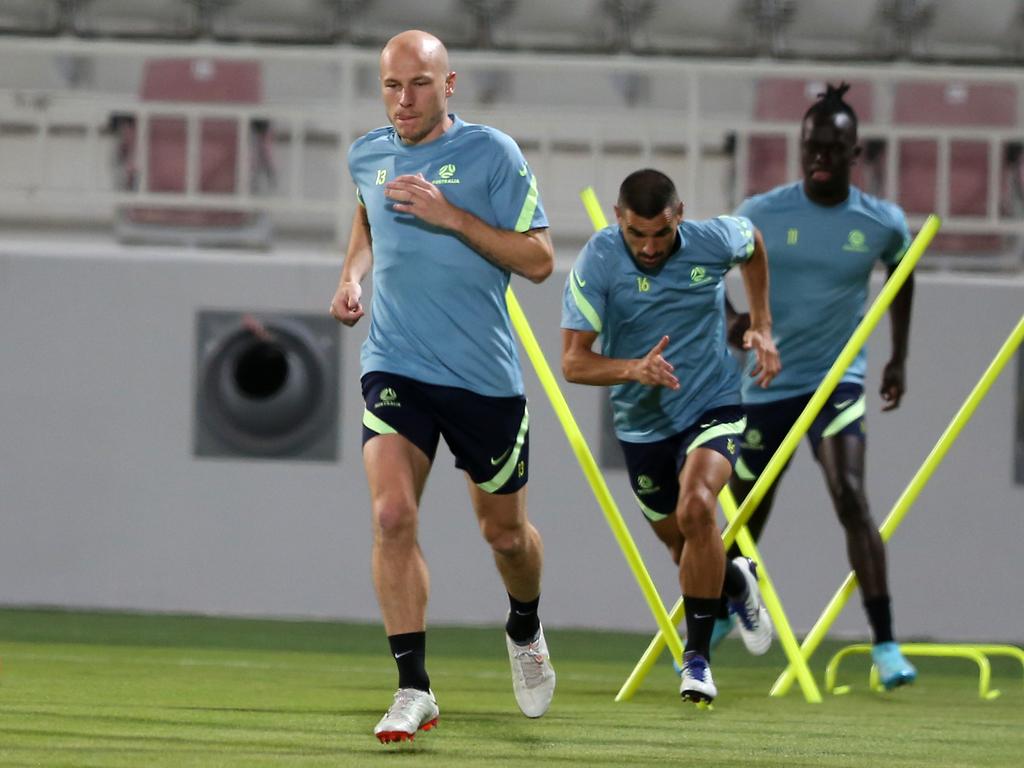 Australia created an advantage over Peru with their extended training camp leading up to their two qualifiers. Picture: Mohamed Farag/Getty Images
*****
Like 2018, first up at this World Cup will be France.
Arnold was in the crowd in Kazan four years ago. He noticed France was vulnerable.
"Watching the French warm up, they didn't warm up well," Arnold recalls.
"But I just felt we went out and tried not to lose. Didn't try to win.
"Every game I send a team out in – even though people may think differently – we go out to win the game. What better way to start against France?"
Australia will face two of the same three opponents from the 2018 World Cup Group in France and Denmark. Picture: Robert Cianflone/Getty Images
The scent of an inferiority complex very much lingers in the air in Australian football.
Arnold smelt it in 1993 as the nation fawned over Diego Maradona's Argentina.
It will be the same in the lead up to France, whose front two will be Karim Benzema, the Real Madrid striker coming off his best ever season, and Kylian Mbappe, worth more than the entire A League Men's ten times over.
"Before the Peru game, I said forget the names." Arnold says.
"It's a red shirt against a yellow shirt and I'm backing the yellows. One v one, eleven v eleven. Win your own battle, and we've got a great chance.
"Sometimes people here in Australia get overwhelmed with a name. 'France.'
"Mentally and physically, you have to prepare right. Technically there may be a bit of a difference, but if you mentally believe, you can do anything."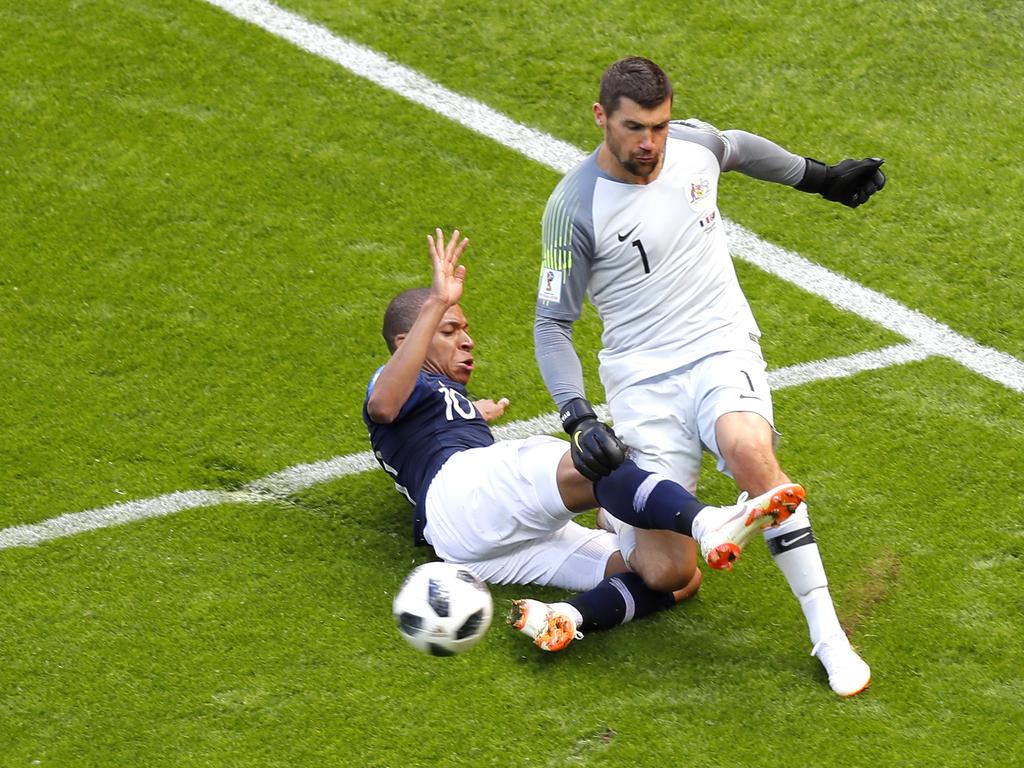 Mat Ryan will have his work cut out for him in goals, facing the might of France's attacking power. Picture: Kevin C. Cox/Getty Images
If the last four years have felt like a long time in Australian football, consider this: it has been twelve years since the Socceroos have won a game at a World Cup. Six Prime Ministers ago.
In both 2014 and 2018, the manager at the World Cup (Ange Postecoglou in 2014 and Bert van Marwijk in 2018) wasn't the man who qualified the team.
This time there is stability.
"Really believe we have a great opportunity to do something special," Arnold says, who doesn't miss a beat when asked what a satisfactory World Cup looks like.
"Second round, we're going for it."
"The Socceroos have only won two games in World Cup history – was there for both – 2006 Japan, 2010 dead rubber against Serbia. We want to change that."
"The last four years has really connected this strong Socceroo family. They'd die for each other. I've got so much belief in these boys."