Graham Arnold opens up on the family tragedy behind Socceroos' World Cup miracle
Socceroos coach Graham Arnold has revealed he looked to the heavens for help before Australia's heart-stopping World Cup qualification, opening up on family tragedy.
After the heart-stopping win, Arnold, 58, spoke emotionally about his mother Faye, father Barry and brother Colin – his "rock".
Stream Over 50 Sports Live & On-Demand with Kayo. New to Kayo? Try 14-Days Free Now >
But now he has opened up about how he drew inspiration from them, looking to the Qatar heavens for help while singing the national anthem and remembering her dying words from almost 40 years ago, words that still drive him today.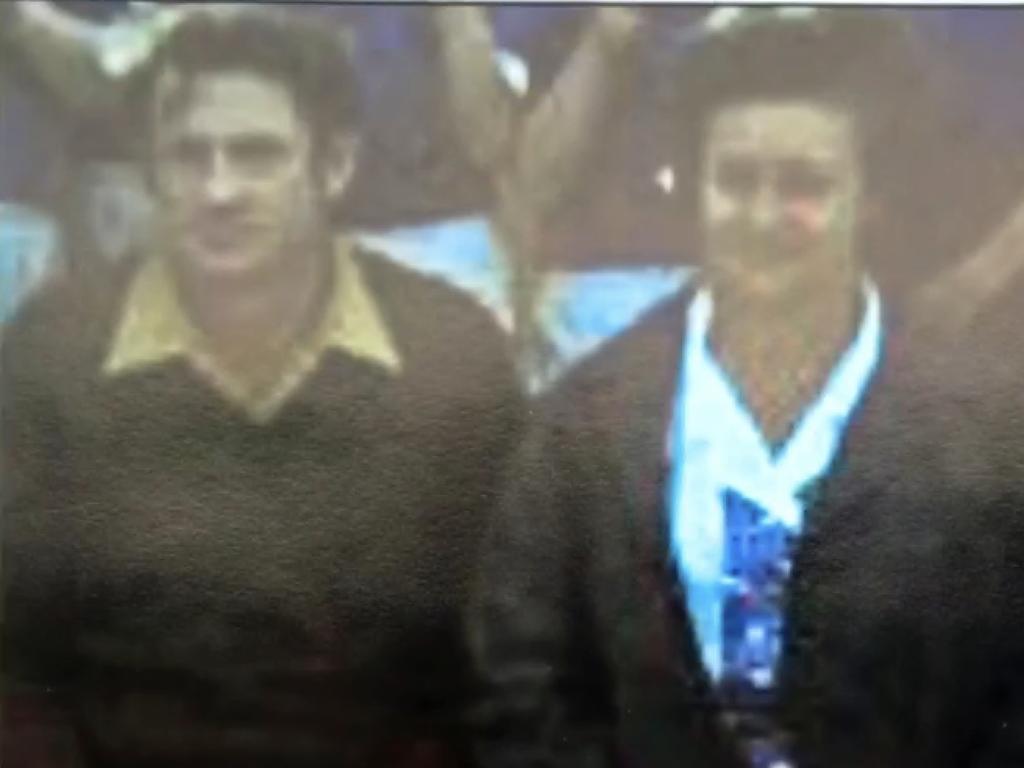 Graham Arnold's drew inspiration from his parents Faye and Barry. Picture: Supplied
It took him back to 1983 when Faye Arnold lay in Kogarah's Calvary Hospital, her long and brave fight with breast cancer coming to an inevitable end.
"It was about a day or two before she died. She was laying there and her eyes were completely shut. It was like it was going to happen at any moment," Arnold said.
"I then held her hand and she woke up. She just looked at me and said: 'Graham, you have a special talent in life, go make the most of it. Don't be a bum like your mates'.
"They were the last words she ever said to me. She knew I was going out and doing all this partying. She was like: 'You're better than that, you've got this talent, go and use it'.
"I will tell you the effect it had on me. It resonated that much with me that I debuted for the Socceroos just two years later. And I carried her words with me. I went from nothing to something very quickly.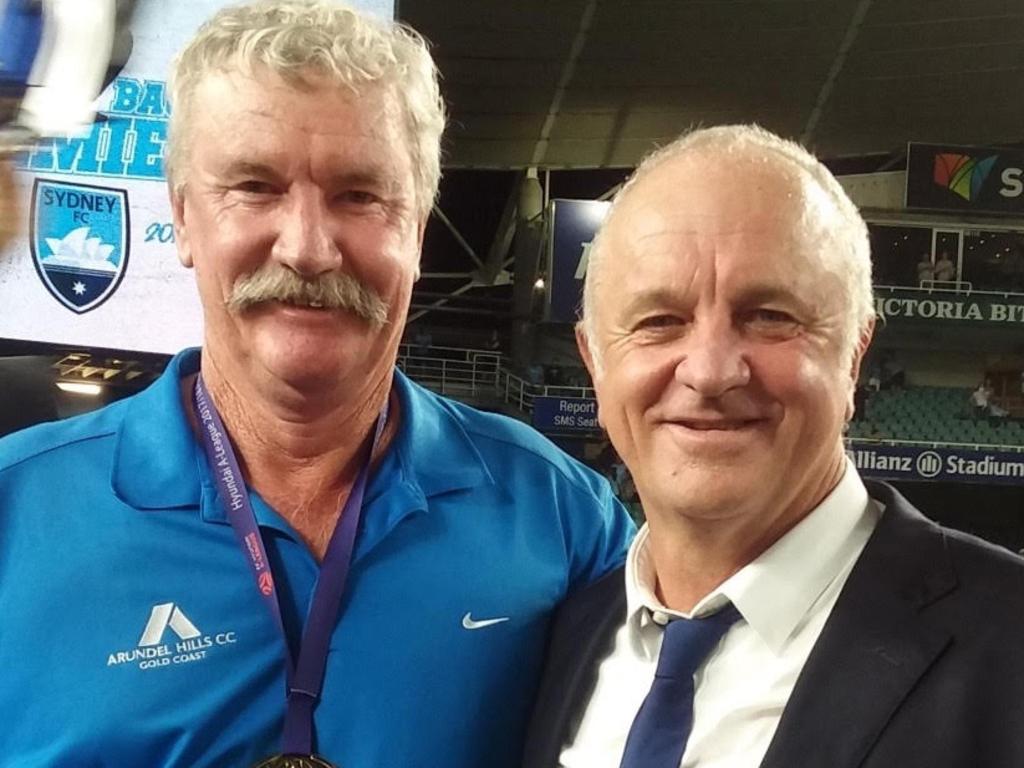 Graham Arnold with his brother Colin. Picture: Supplied
"Canterbury Marrickville third grade to Sydney Croatia and the year after I was a Socceroo.
"If you look at the national anthem (on Tuesday) I was looking up at the sky. I was saying: 'Mum and dad, you're looking down on me, please help tonight'.
"I knew they were there with me. Mum and dad were looking down on me. In the big moments they were there to help. When I looked up, I knew they were proud."
But that inspiration came from heartbreak.
"Mum had breast cancer. She was the strongest woman, mate," he said.
"The doctor called us and said she only had three months to live. The cancer had gone into her spine and back, she became handicapped and was in a wheelchair. She was a cripple.
"Mum came home, did her chemotherapy but lived for another two years in pain. It had gone right through her.
"She fought on for three years. Mum was that strong that after a year or so later my brother and I thought the doctor had made a mistake. Then she slipped on a crack on some concrete and then they found the cancer.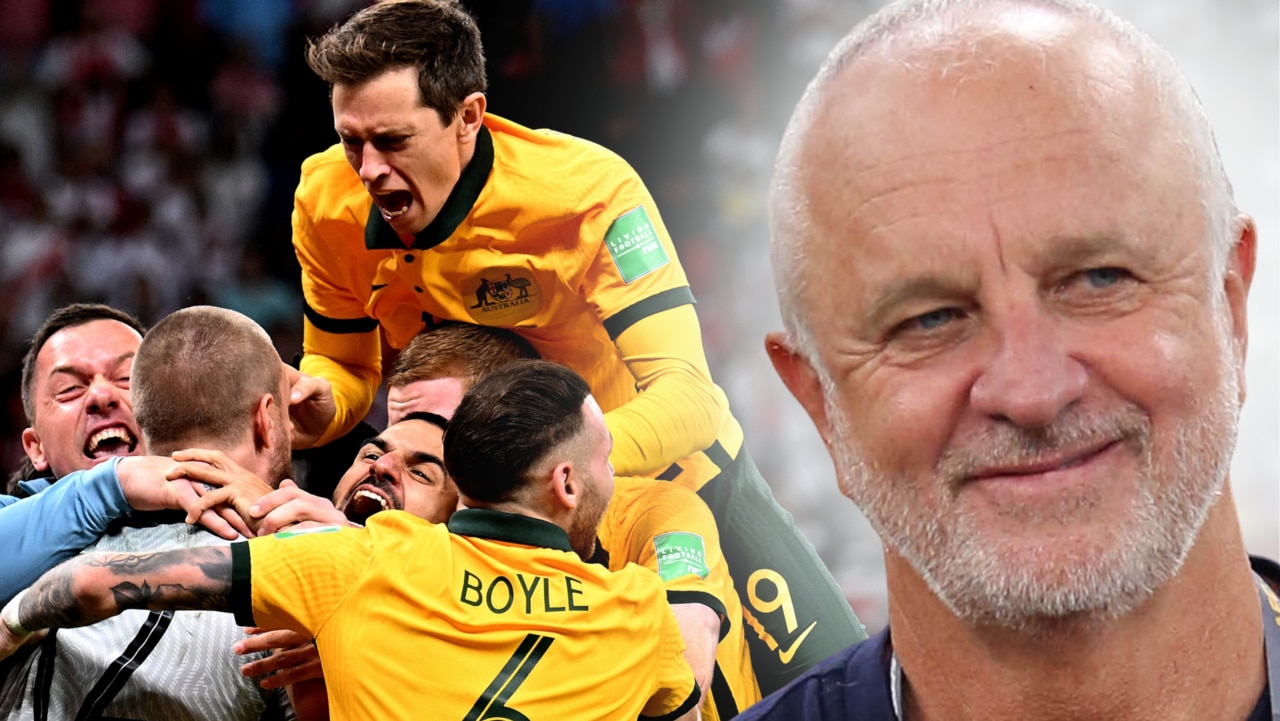 The road to World Cup qualification was a bumpy one that ended in glory for the Socceroos and coach Graham Arnold.
"She lived for one year in Calvary (Hospital, Kogarah). They said it was the longest ever.
"My dad was my coach all through my youth. It was hard as nails on me. I mean hard as hard could be. In those days, that's how it was.
"I look back at it now, the way he drove me … if I played shit as an eight-year old, he'd make me walk home. He wouldn't talk to me for two days."
Barry was a taxi driver, the family living in a converted garage beneath Arnold's grandmother's house in Sydney's south.
"Dad died when I was 25," Arnold said.
"We didn't have any money. We lived in my grandmother's (Anne Wymer) garage in Sylvania for 23 years.
"So we grew up downstairs in a double garage. There was only a little bathroom. There was one big room which was also the television room and lounge room. There was a kitchenette. There was a little room on the side that was dad's workshop, which mum turned into a bedroom. That was it."
Through the difficult times, Arnold leaned on Colin. Brothers who became best mates. The pair remain close and Colin still the person Arnolds still turns to during life's challenges.
"Colin is one of those people that cares about everyone else first and himself last. That's how he cares for me. I don't know a nicer person in life. And everyone who meets him says the same. He is very old style and was brought up in that old era. He is quite firm as well," Arnold said.
"He has always been in the background for me. Colin is such a good person. Whenever I get smashed or something happens and the result doesn't work, he is always there to support me. If I need to talk to someone, about frustration in the job, I pick up the phone and it's like he has the solutions.
"Colin is the type of guy who will go watch our games and doesn't even ask me for tickets. He goes and buys them and I say: 'What are you doing that for?' He's that type of guy.
"He is completely opposite to me. He is a really good bloke, he's quiet, placid. He's a guy who has lived in the same house for 40 years (in Menai), had the same job for 40 years (a freight company) and plays golf every weekend at the same course (Kareela).
"This isn't just about me because we won the game. It's also about the people around me who have been so supportive, especially given I have been away a lot of the time through all the Covid shit.
"He is always picking up the phone and checking I'm okay: 'Don't worry about that, you'll be right, keep that belief, you know you will get it across the line.' We talk once a week, once a fortnight and we catch up half a dozen times a year, given I'm away a lot."
Arnold knows he could have gone down another path.
"I was devastated when I lost my mother. It knocked me for six," Arnold said.
"It didn't make any sense to me. I went off the rails for probably a year. I gave away football completely, I gave away cricket as well. I was playing first grade for Sutherland. I gave up everything.
"I was just partying non-stop. I was out all the time. I was fortunate enough to get back into the game because of a guy named Max Groll.
"He knew me from Sutherland Shire and rang and asked what I was doing. I told him I'd given the game away for a year.
"Max was coaching Canterbury-Marrickville third grade. He said to me: 'I'll pick you up, I'll drop you home and if you don't enjoy it you can give it away again'. He told me I had too much talent to throw it away and that changed my life in a lot of ways.
"Colin was also my rock at that time. He would give me a kick up the arse if I was doing the wrong thing. We started hanging out together, playing golf."
Originally published as Graham Arnold opens up on the family tragedy behind Socceroos' World Cup miracle