Mark Bresciano was almost lost to Australian football, only for him to return in unlikely fashion
After scoring the goal that led Australia to that iconic shootout against Uruguay, Mark Bresciano is now changing the game behind the scenes, building on the legacy that his 'family' left behind.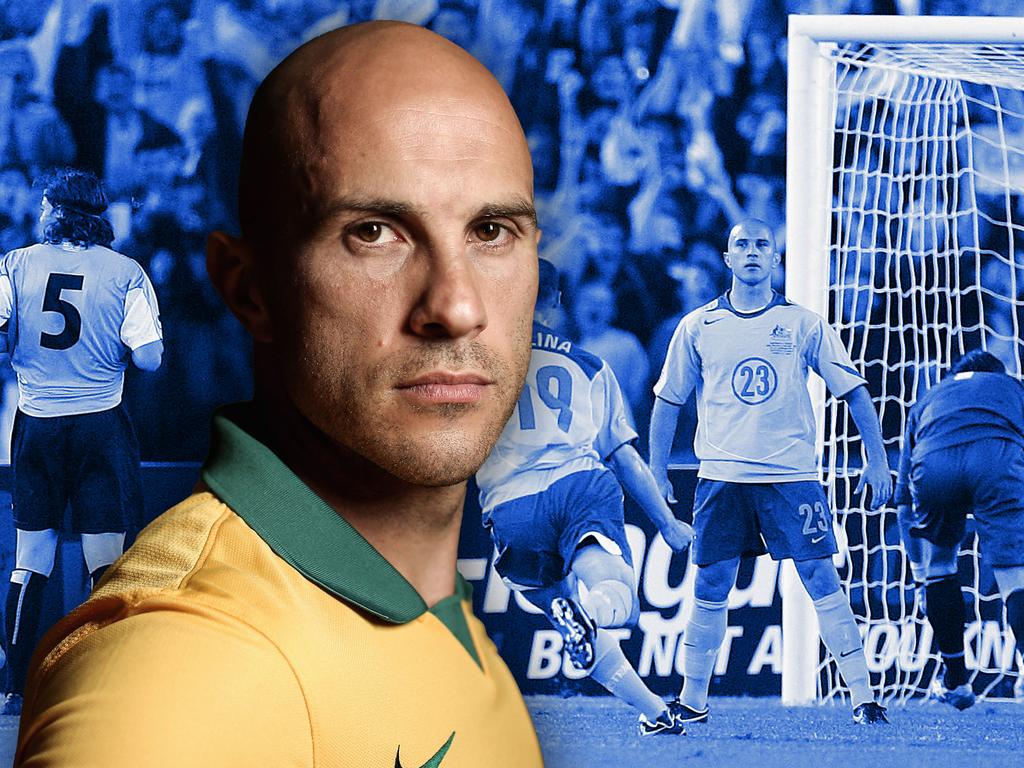 Socceroos hero Mark Bresciano is still changing the game
It took five years for Mark Bresciano to learn the most beautiful story from football's most memorable night.
The Uruguay game. November 16, 2005.
Thirty-two years of Socceroo hurt banished amid scenes of unprecedented delirium.
Schwarzer, Aloisi, penalties.
Here's a stone-cold fact, though.
No Bresciano, no penalties.
For it was Bresciano who scored in the 34th minute. A back heel from Mark Viduka, a scuff from Harry Kewell and a bullet from Bresciano put Australia ahead 1-0, and level 1-1 on aggregate. And there he stood, frozen, adrenaline searing through his body. In the stands, Alen Stajcic, the former Matildas coach was like everyone else at the stadium, completely swept away by the pandemonium of the occasion.
All, that is, except one.
An older man remained in his seat, in tears. Stajcic asked if he was OK.
"Yes," replied Prospero Bresciano. "My son just scored."
It wasn't until the 2010 World Cup in South Africa that a TV reporter asked Bresciano about the moment, and how it made him feel learning of his father's pride. "What moment?" replied a dumbfounded Bresciano.
He was told the story. He couldn't do the interview.
Dad's tears from five years ago had turned his son into a blubbering mess.
"I don't think you know my family, but we don't talk much," he said. "We're like that guy that you sit next to. Just know that he's there forever. We don't need to talk, you just know."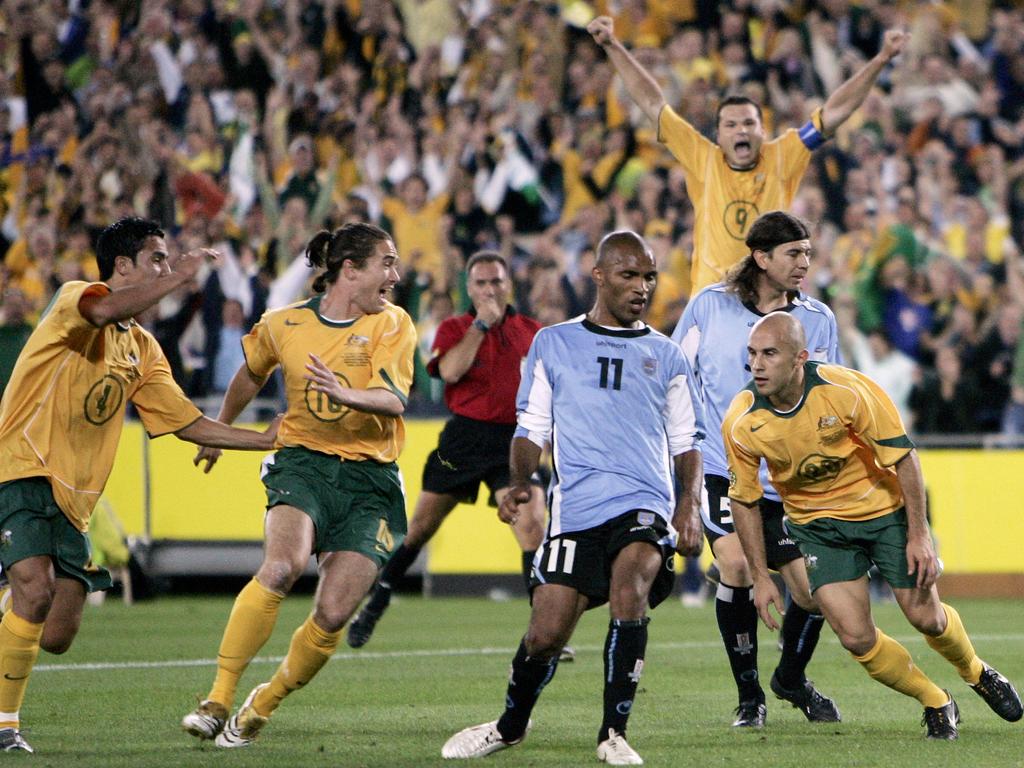 Socceroos players Tim Cahill, Harry Kewell and Mark Viduka (rear) celebrate teammate Mark Bresciano's goal against Uruguay in the fateful 2005 game that sent Australia to Germany 2006. Picture: News Limited
GOING, BUT NOT GONE
The 2005 Socceroos hold a special place in the hearts of every Australian football fan, and those who created that unforgettable night consider each other brothers. Save for the reclusive Lucas Neill, and Mark Viduka, who still loves talking about the game but enjoys running his coffee shop in Zagreb just as much, the core of the team remain involved in the game.
Mark Schwarzer is in the media, Tim Cahill is an ambassador for the 2022 World Cup. John Aloisi, Tony Popovic, Tony Vidmar, Harry Kewell have all plunged into coaching. Jason Culina, Scott Chipperfield and Brett Emerton have been involved at a local level, while Vinnie Grella is a player agent.
Bresciano these days is also involved in his capacity as a Football Australia board member - but, for a while there, it could have been a very different story.
In 2015, after nearly 20 years as a professional footballer, Bresciano was, in his succinct opinion, cooked.
Or, as he puts it, "mentally almost exploding".
The game had worn him down. He was done. "I never lost my passion, love it, mate. Give me a ball, play all day. [It was more] the bullshit that comes with the game. Travelling, spending time away, camps, dealing with other players, coaches, media, that kind of shit."
The temptation was to return to Italy and live the quiet life away from football.
A conversation with his daughters changed those plans.
"The kids were always asking, 'When are we going home?' [They were] not born in Australia, never lived in Australia. One day they asked at lunch, 'When are we going home?' I said, 'Where's home?' They go, 'Australia'. That's when it hit me."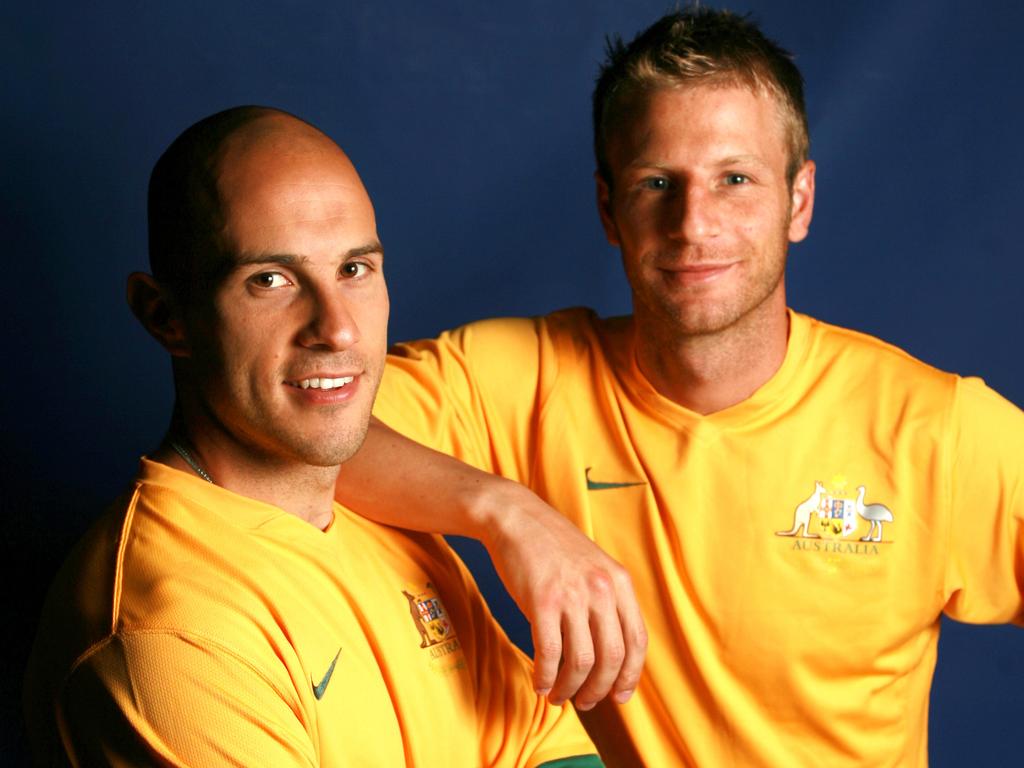 Mark Bresciano and Vince Grella before the 2006 FIFA World Cup, the Socceroos first in 32 years. Bresciano's goal in the qualifying game against Uruguay was one of the key moments that saw Australia back at the tournament. Picture: Gregg Porteous
It turned into quite an incredible career.
Twelve seasons in Italy, nine of them spent in Serie A, where only the strong and smart survive. Today, he'll watch a game from a famous stadium like the San Siro and say to himself, "Shit, I was playing there. How good is that! Still don't realise what I achieved."
After Italy, he moved to Qatar and never quite made it to Australia to finish in the A-League, though what he gave the national team was immeasurable – like the Uruguay goal in 2005 and other critical interventions like his assist for Josh Kennedy to break down a stubborn Iraq in 2013, a goal that sent Australia to a third straight World Cup.
It was pouring that night, the air saturated with a feeling of dread, qualification uncertain. That is until the coolest head in the stadium drifted into space in the 82nd minute, casually floating a pass of millimetre precision onto the head of Kennedy. Relief.
His reputation among football lovers in Australia, whose recognition of quality stretches beyond the Premier League, was as good, if not better, than anyone's. Still, once his playing career had ended, he was content to stay on the sidelines.
"I felt like I did my time," he says. "I didn't want to be a part of it at all.
"While I was still playing I thought I'd continue into some sort of a role at club level, national team level. But I came home and hit the ground running with other things."
He got into property development. He even got on the tools – he comes from a family of tilers – with good mate, fellow former Socceroo and handy carpenter Sasa Ognenovski, finishing off jobs. Sasa was the boss. "I'm a jack of all trades, master of none, basically," admits Bresciano.
A business opportunity presented itself with medicinal cannabis. For the uninitiated, no it doesn't mean one of our greatest ever Socceroos has a secret basement full of heat lamps and questionable pot plants. It's a rapidly emerging, and legal, industry in the medical world. Business was good.
The lone football fix came from having a kick with old mates for Bulleen over 35's.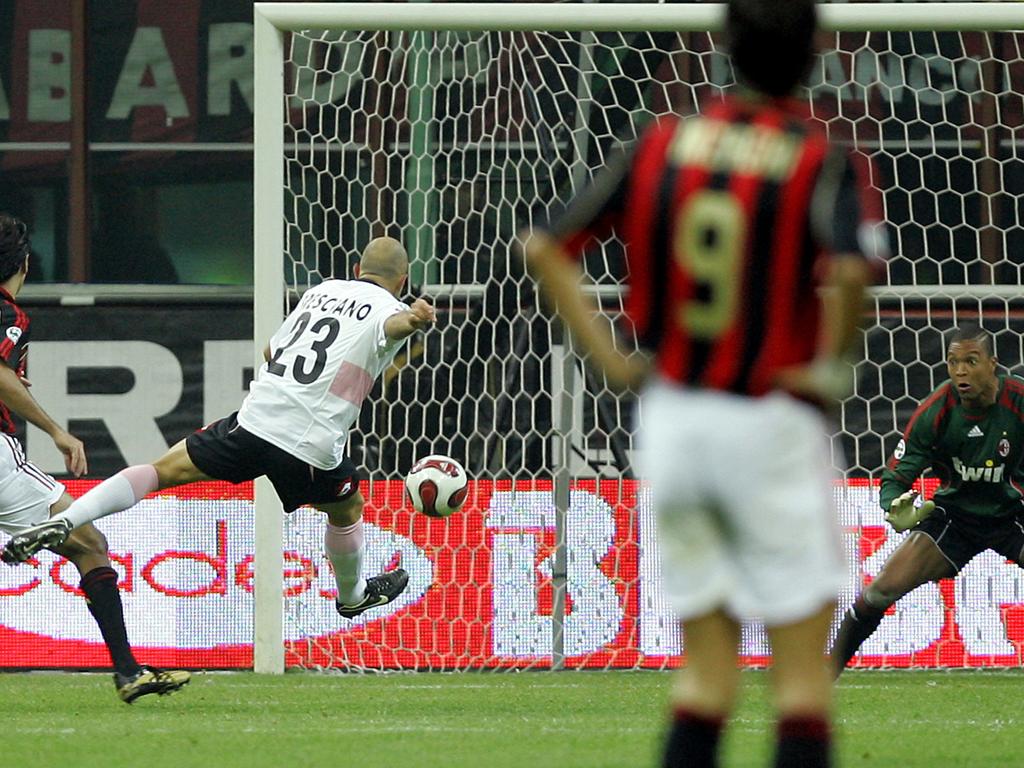 Mark Bresciano sends the ball past goalkeeper Dida to score for Palmero against AC Milan in the 2006-07 Serie A season. Throughout his seven year Serie A career, Bresciano played with Palmero and Parma, as well as Lazio in Serie B. Picture: AP
THE ROAD BACK
In 2019, Football Australia's board underwent mass upheaval. The Lowy family departed. Fresh faces came in, but one of the issues of the recent past had been a lack of international football nous at board level. Business acumen was never lacking, but a major criticism was the lack of representation from a former player, someone who had seen it all.
Incoming chairman Chris Nikou sensed an opportunity. He knew of a retired legend minding his own business in Melbourne, a legend who played over 350 games in Italy, got sold once for $13 million, and played 84 times for the Socceroos. Nikou lobbied hard. The idea slowly gnawed away at Bresciano who, after a period of deep thought, came to the same realisation as Michael Corleone in Godfather III.
"Just when I thought I was out, they pull me back in."
Bresciano's reason for becoming involved with football again was simple.
"Football gave me so much, I just want to give something back in return," he says.
"I think I was almost obliged to be a part of it."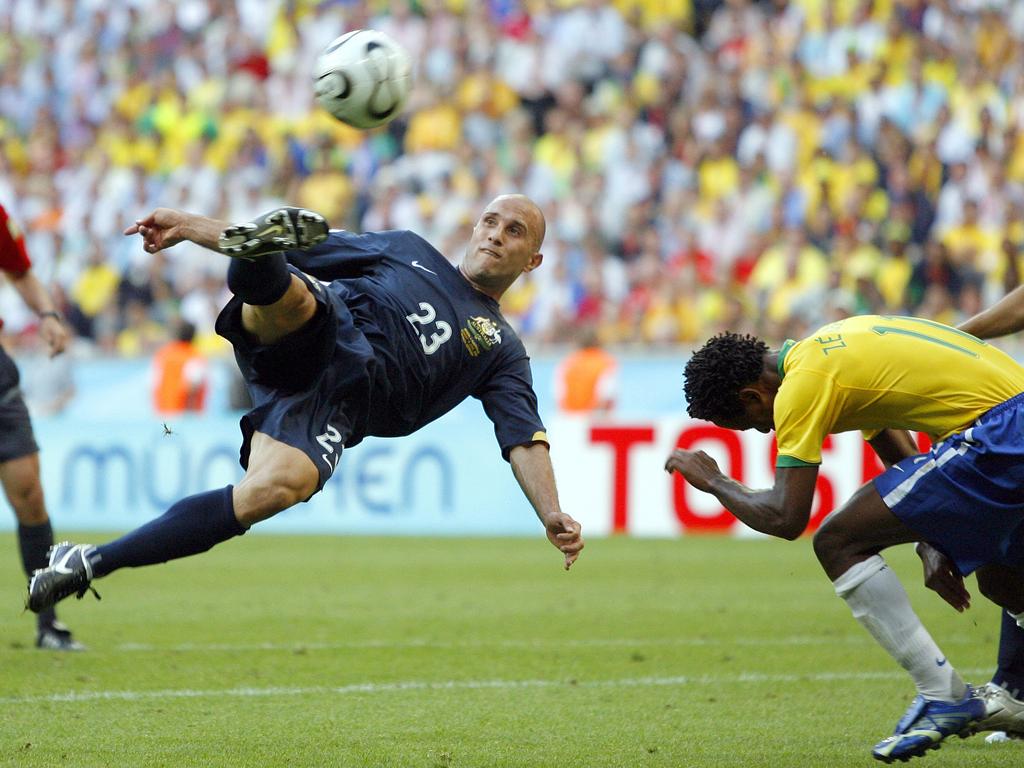 Mark Bresciano sends a ball over Ze Roberto's head in Australia's match-up with Brazil at the 2006 World Cup. Australia lost 2-0 but went on to qualify for the knockout rounds of the tournament. Picture: AP
Bresciano is two years into what will be a four-year tenure. Like American presidents, there's a fixed term. Unlike American Presidents, he's not about making noise for the sake of making noise. Political machinations of Australian football have long made Liberal Party leadership spills look like a tiddlywinks convention.
For the first time in years, what should happen behind the scenes remain there, headlines and social media chatter now devoid of boardroom battles for control. This normalised environment suits Bresciano, and his seldom wasted words, down to the ground.
"I didn't realise how much goes on behind the scenes," Bresciano admits. "From the outside, you think everything is a quick, easy fix, but there's a lot more involved."
All kinds of matters pass through his inbox. During his playing days, Bresciano thought board members came to the odd training session and devoured fancy canapes at games with a Socceroos scarf on. Now he has a deep respect for those who were on the board before him. Every decision impacts the game so many love, from the under 6s in the local park to the Socceroos and Matildas on the world stage.
Key areas Bresciano wants to help with include implementation of a national second division, talent ID in rural areas and an increasing focus on elite player development.
In 2005, most of the Socceroos were playing in Europe's big four leagues. Now there are just two: Mat Ryan (Spain) and Ajdin Hrustic (Germany). "This discussion [on why] could go on for hours," he says.
"We need to identify ourselves, to see what type of players we are. [Football in Australia became] very focused on the A-League years ago, focused on the top and lost focus on the bottom and developing players. In any football environment, it's always from the bottom up."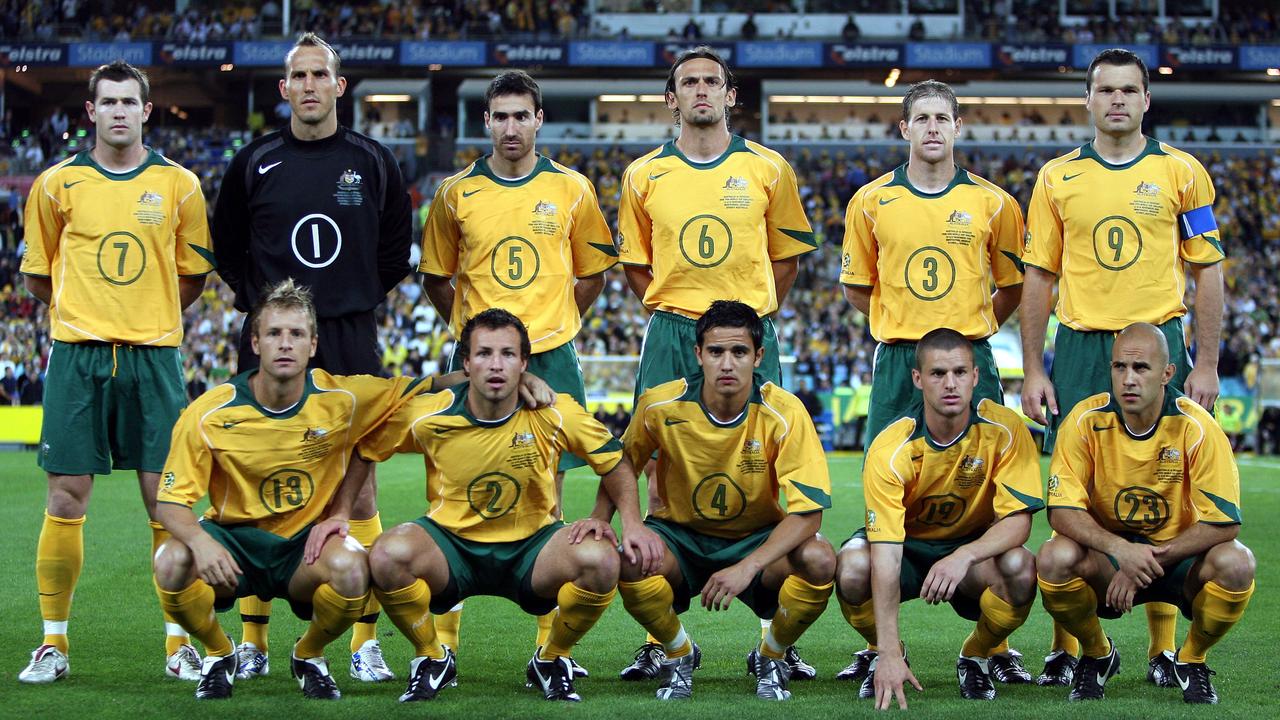 Mark Bresciano with his 'second family' lining up ahead of the Uruguay game in 2005. Most of the squad members from the time are still involved with the game in coaching, at a local level or in administration. Picture: George Salpigtidis/News Corp
Regardless of where the current Socceroos are playing, Bresciano notices a striking similarity to his own national team era, something he has picked up from his home office while presenting caps virtually via Zoom to debutants in recent camps. "They've got that bond. You can see when the group is united. All laughing together. Listening to each other. It's one group.
"That guy you are sitting next to, he's going to be your mate for life."
Some issues have made Bresciano's heart sing, like FIFA's decision to award Australia and New Zealand the 2023 Women's World Cup. Others, like the Matildas team culture allegations raised by Lisa de Vanna, are difficult in the extreme. Sport Integrity Australia is now investigating the matter.
Bresciano, for his part, is all in. Almost lost to the game a few years ago, he is now fully committed to it.
The man who made Socceroos fans lose their minds, and his own dad cry, in 2005 is back where he should be, entrenched in Australian football once again.