The 1070 days of pain that hardened Graham Arnold
For a moment, Socceroos coach Graham Arnold wondered whether one decision would send his 40 years in the game 'down the toilet'. But the journey there cemented his resolve, writes ADAM PEACOCK.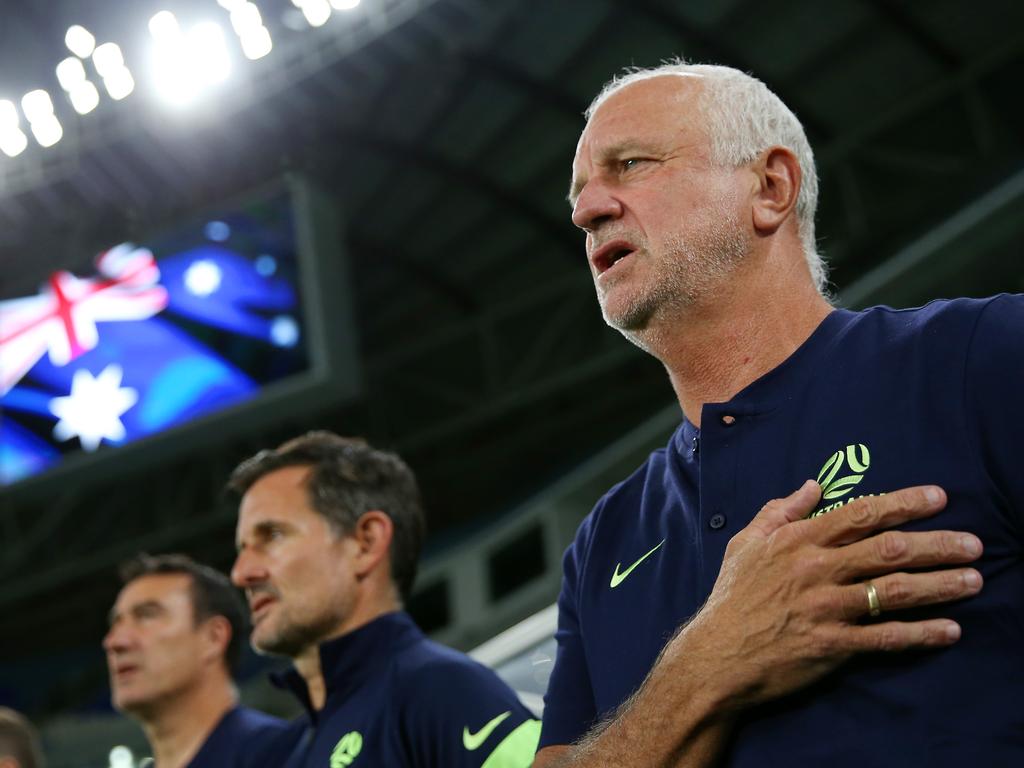 Graham Arnold led the Socceroos through Australia's most challenging World Cup qualification series, over the last four years. Picture: Mohamed Farag/Getty Images
Mid-morning, two cappuccinos in, Graham Arnold is walking down a busy suburban Sydney street and the reminder of qualifying for a World Cup isn't far away.
"Well done mate, fantastic!" smiles a stranger sitting outside a deli.
"Thanks mate!" Arnold smiles back, without breaking stride.
Wonder what the same stranger would have said had Andrew Redmayne not laid a glove on any of Peru's penalties.
Probably nothing, perhaps a glare. Or maybe he would have gone inside the deli to grab some fruit, along with insults, to throw at Arnold.
Bringing Redmayne on in the 119th minute in place of Maty Ryan was the ultimate all-or-nothing call.
"It was the biggest sliding door moment you could have," Arnold tells CodeSports.
"One kick away from everything I've done in Australian football over 40 years going down the toilet, getting smashed by everyone.
"But it worked."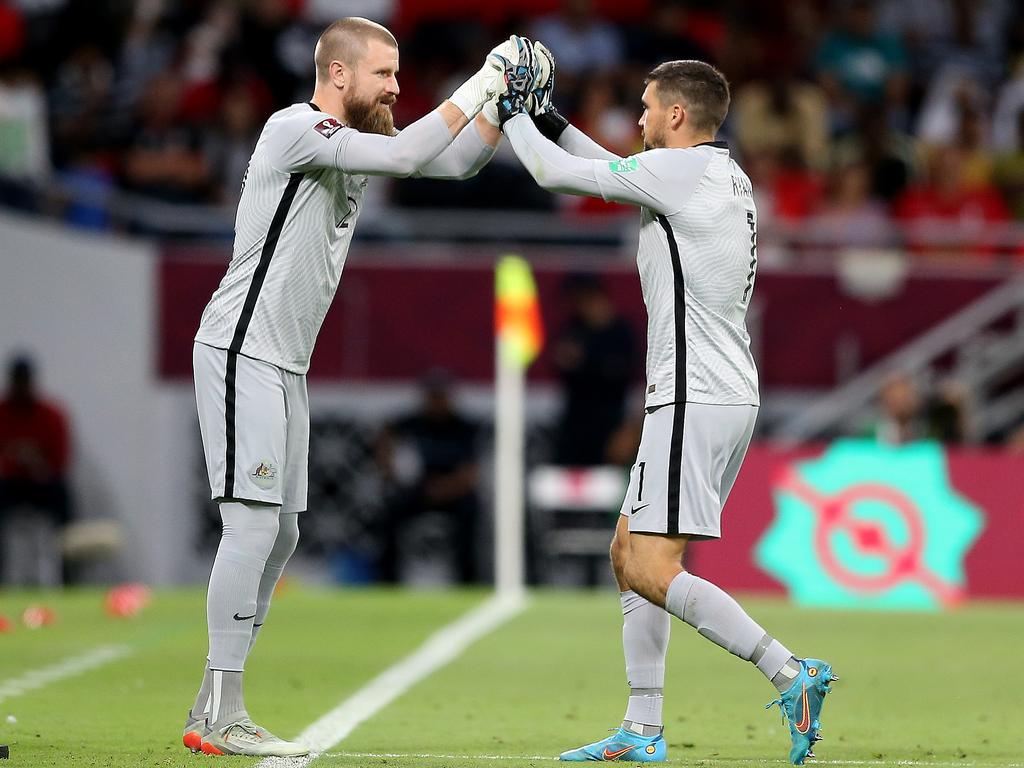 The Redmayne-Ryan switch may become one of Graham Arnold's biggest legacies with the Socceroos. Picture: Mohamed Farag/Getty Images
*****
Progress past Peru to the ultimate destination of a World Cup was at the end of a very long road.
"It's been a tough four years," Arnold says of the period where the Socceroos played 16 of 20 qualifiers away from home.
"Probably gone to bed 1000 times thinking, 'We have to win'. Then wake up. 'We have to win'. It's draining. 1070 days. It was horrendous.
"Looking back on the first four games (last September and October), we couldn't pick Australian players. Quarantine would have ruined their pre-season.
"Harry Souttar does his knee (in November), massive loss. Countries had protocols which meant we couldn't get players out. Players got Covid. Staff that got Covid in camp. I missed two camps with it."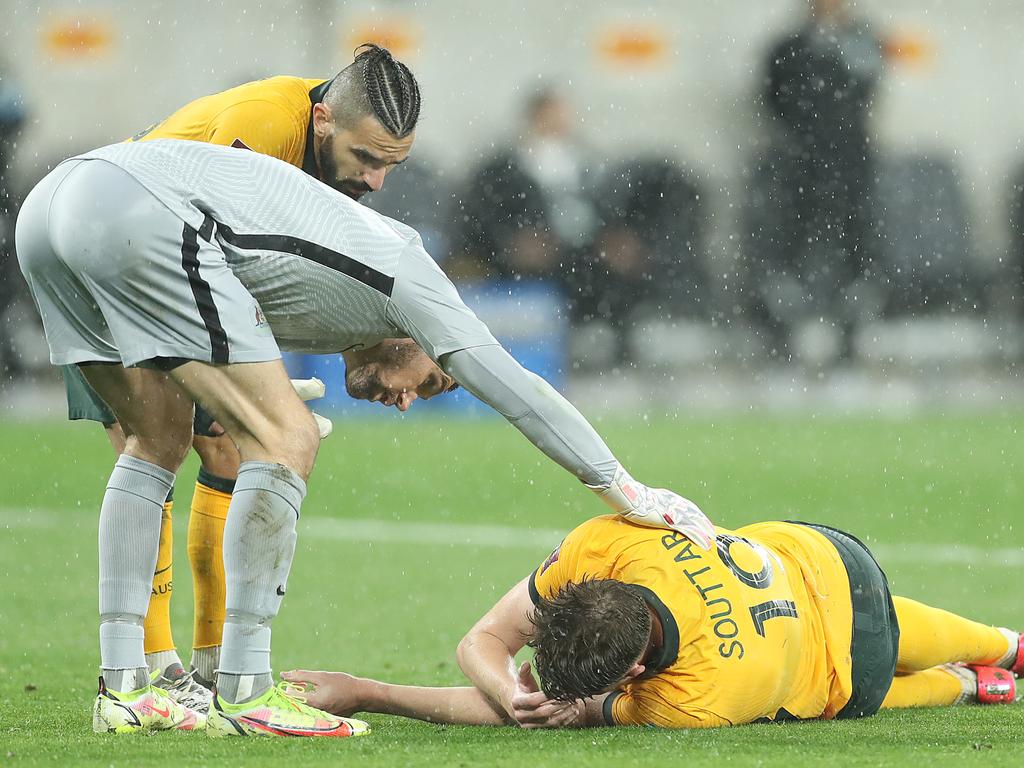 Souttar was devastated by an ACL injury in the Socceroos Qualifier against Saudi Arabia. Picture: Mark Metcalfe/Getty Images
The problems parlayed into poor results and led to a showdown, of sorts.
The morning after the Socceroos' final game in the qualifying group – away to Saudi Arabia – Arnold met with Football Australia CEO James Johnson. A part of him expected the sack.
Instead, Arnold survived on the basis of what Johnson saw around camp. Togetherness. The players were fully invested in what Arnold was preaching.
Arnold himself had chances to leave, too.
"I had an offer with FC Seoul at the start of the campaign," Arnold says.
"And there were times during it where I did think about leaving. It was tough. But I just couldn't because of the players and the staff.
"I don't mean that disrespectfully to the organisation and the game, but you build personal relationships.
"I got to the stage with the players where they became like my sons, my kids. You can have a laugh with them, and that's how I like to manage. Want the boys to be comfortable around me."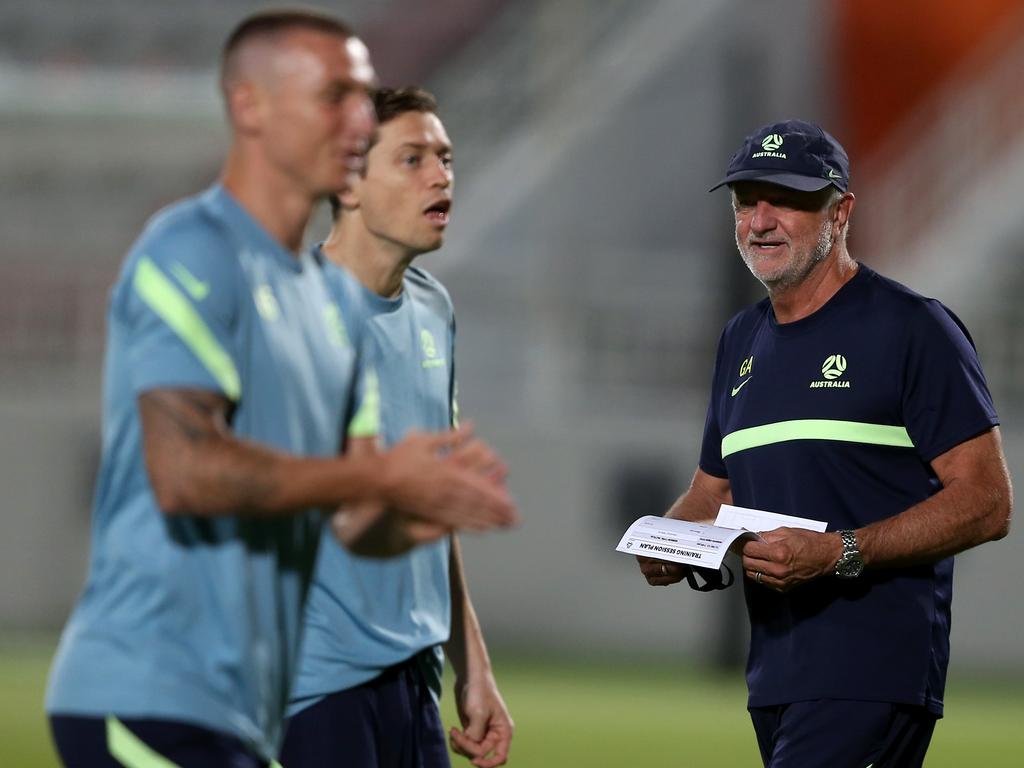 Arnold was buoyed by the togetherness of his playing group through the qualification window. Picture: Mohamed Farag/Getty Images
*****
When it comes to preparation, Arnold not only dots Is and crosses Ts but he tattoos them on his own frontal lobe and of those around him. Every little bit counts.
Preparation for the two sudden-death playoffs against UAE and Peru started well before the squad assembled in Doha at the start of June.
Arnold went on a seven-week reconnaissance mission through Europe to find the crucial pieces he needed in the squad. The team needed Aaron Mooy – not playing due to concerns in China – fit so Andrew Clark, the Head of Performance, was sent to Glasgow to work with him.
Arnold watched players closely, including in England's League One playoff final at Wembley, to watch Bailey Wright, who hadn't played for the Socceroos since 2019.
"We lacked leadership on the field in bad moments," Arnold says.
"If we conceded a penalty we fell apart. Someone made a mistake and we fell apart. That's not leadership. When I watched Bailey at Wembley, he was leading. Coaching on the field."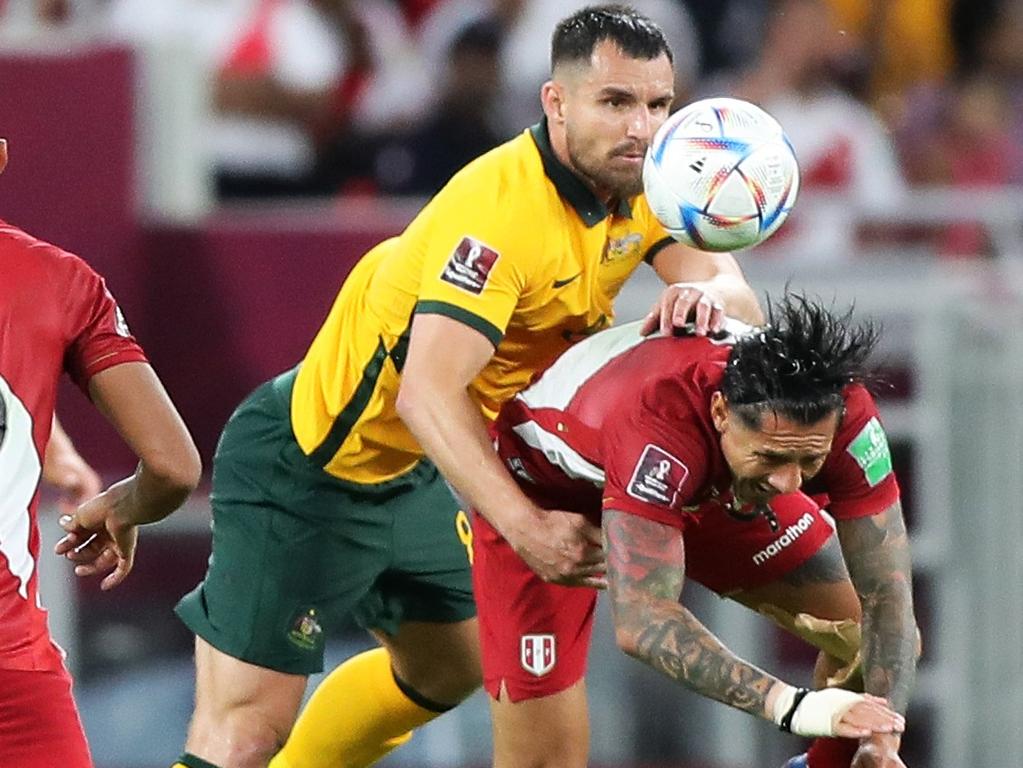 Arnold rediscovered Bailey Wright on a fact-finding mission through Europe. Picture: Wang Dongzhen/Xinhua via Getty Images
Once in Doha, Arnold was back in his natural habitat, on the pitch for his longest training block with the team since he took over in 2018.
There were setbacks. Adam Taggart, back scoring in Japan and probably Arnold's first-choice striker, hurt his groin at training, while Tom Rogic pulled out at the last minute.
"It knocked the boys for a good 24 hours," Arnold says.
"But we had to get over it quickly and move on. It was about telling them we have the players, we will do this."
Arnold still doesn't know the exact reasons for Rogic's withdrawal.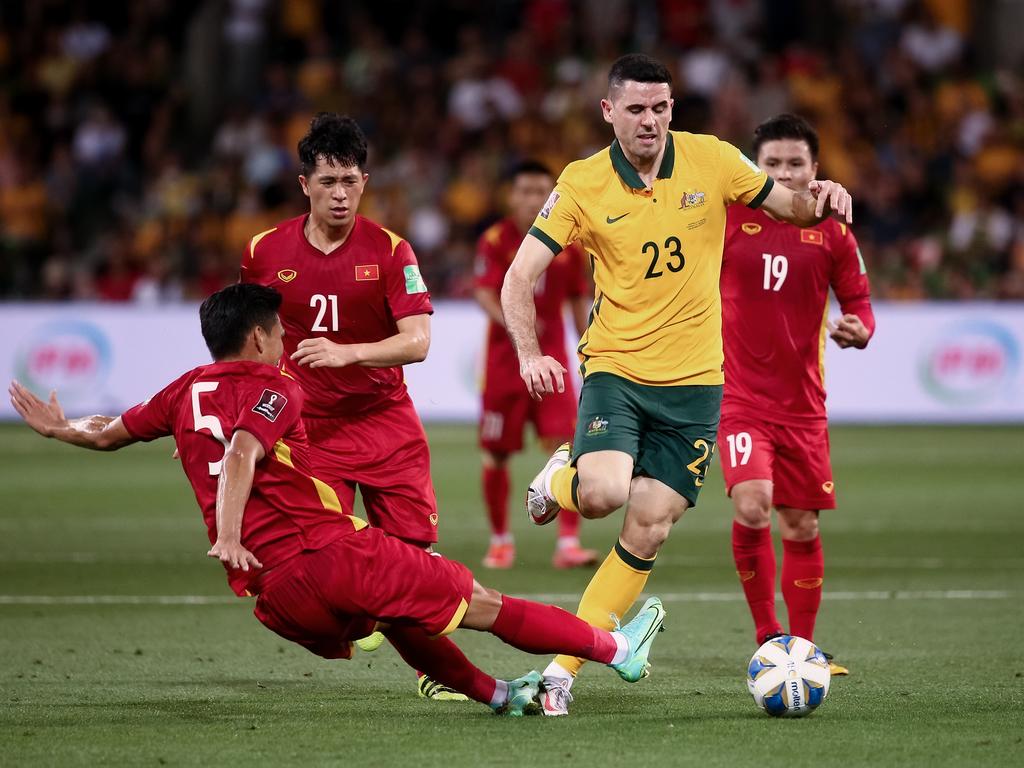 Tom Rogic's late withdrawal from the June squad left a significant hole in the Socceroos' midfield. Picture: Dave Hewison/Speed Media/Icon Sportswire via Getty Images
Regardless, it didn't twist the gut feeling Arnold had since day one of the camp in Doha. Spending that time embedding a disciplined defensive set up – impossible to pass on in the qualifying group camps when there's only one or two sessions – gave reason for growing confidence.
"The focus was great from the players," Arnold says. "Every training session was really sharp."
Arnold was as worried about UAE in the first playoff as the potential Peru game.
The UAE knew the conditions, had nothing to lose. A disciplined performance produced a 2-1 win, and the manner in which the Socceroos finished the game, creating chances, gave more hope going forward.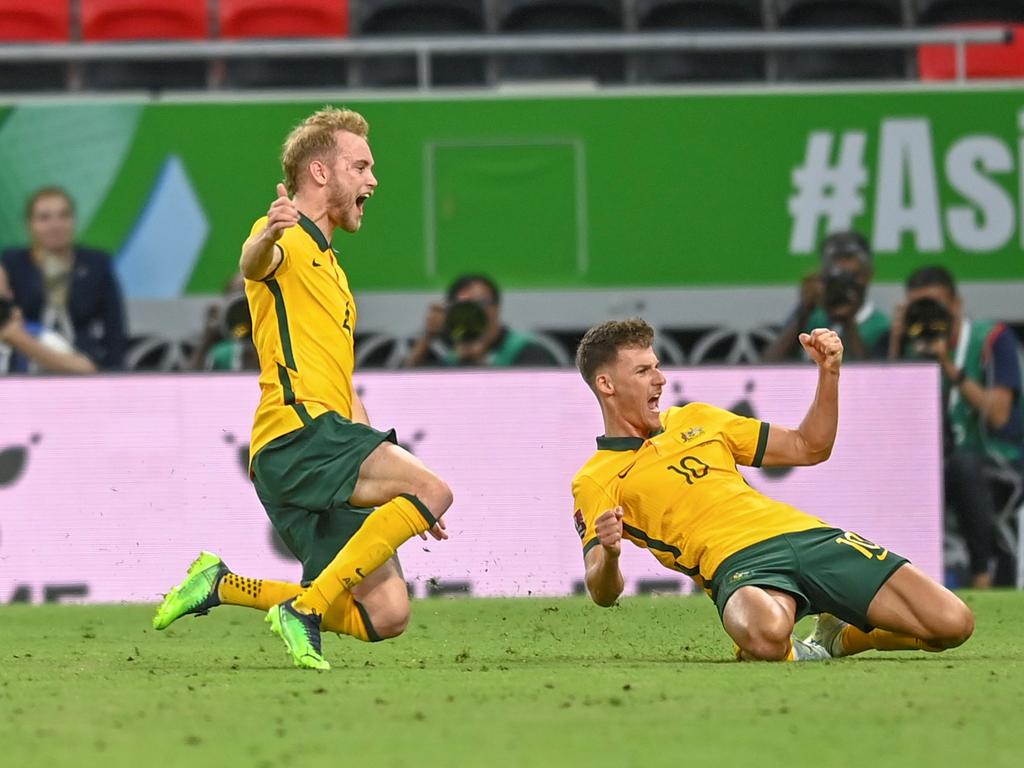 Arnold was immensely proud of his team's performance against their disciplined opponents UAE. Picture:Nikku/Xinhua via Getty Images
*****
Analysing Peru, Arnold and his staff identified from glaring areas the Socceroos could exploit, helped by the six-day gap after the UAE success.
"South American games are slow, they like that style," Arnold says.
"We had to put pressure on them, take away with strength which is their technique. Can't give them time on the ball."
Arnold devised a plan. That's why Mitch Duke, who doesn't know the meaning of lost cause, started. He made sure Peru's defensive midfielder, Renato Tapia, was starved of possession, as every attack started through him.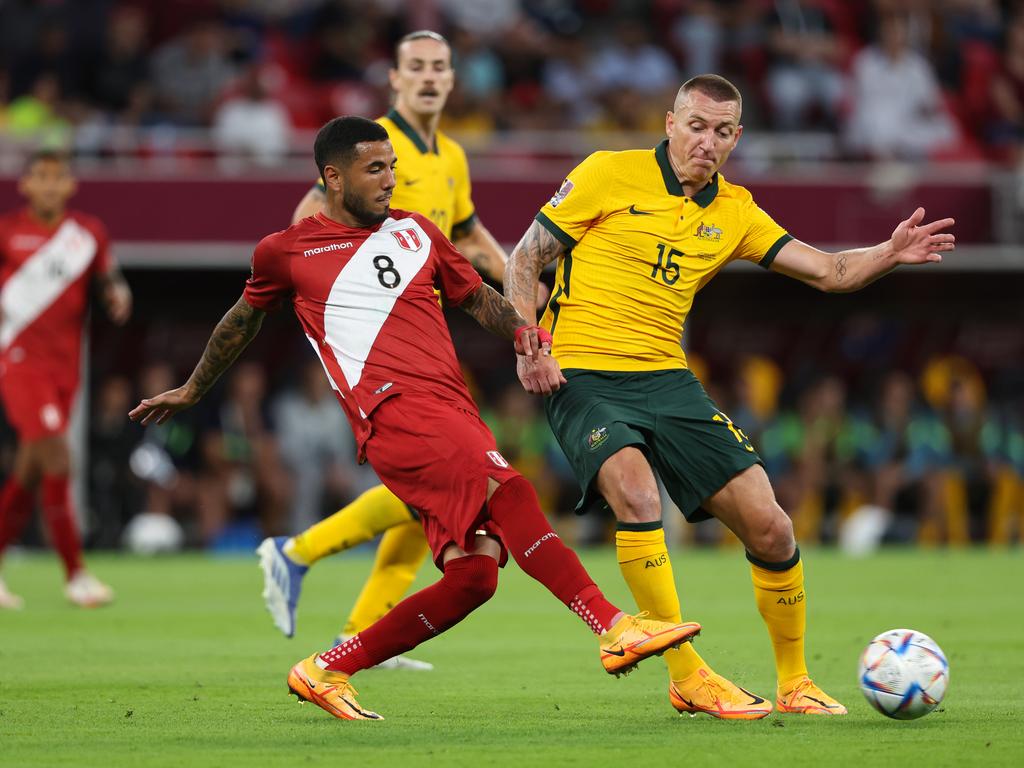 Previously used as an impact player, Mitchell Duke added an extra layer of pressure from kick-off against Peru. Picture: Matthew Ashton - AMA/Getty Images
The night before the game, Arnold had another trick to play.
Towering defender Harry Souttar ruptured his cruciate ligament against Saudi Arabia in November. Still recovering in the UK, Souttar was invited to join the squad as a surprise.
"I put a chair next to Riley McGree, because they are best mates and told them I'll come and have dinner with you blokes tonight and walked away," Arnold says.
"They start grumbling under their breath and then big Harry walks in."
"He added energy, straight away, hugging all the players.
"Harry's love for that badge is ridiculous. On match day he went with the kit man to help set up the dressing room, hung up the shirts for the boys.
"He's such a good leader. He will be a future Socceroo captain."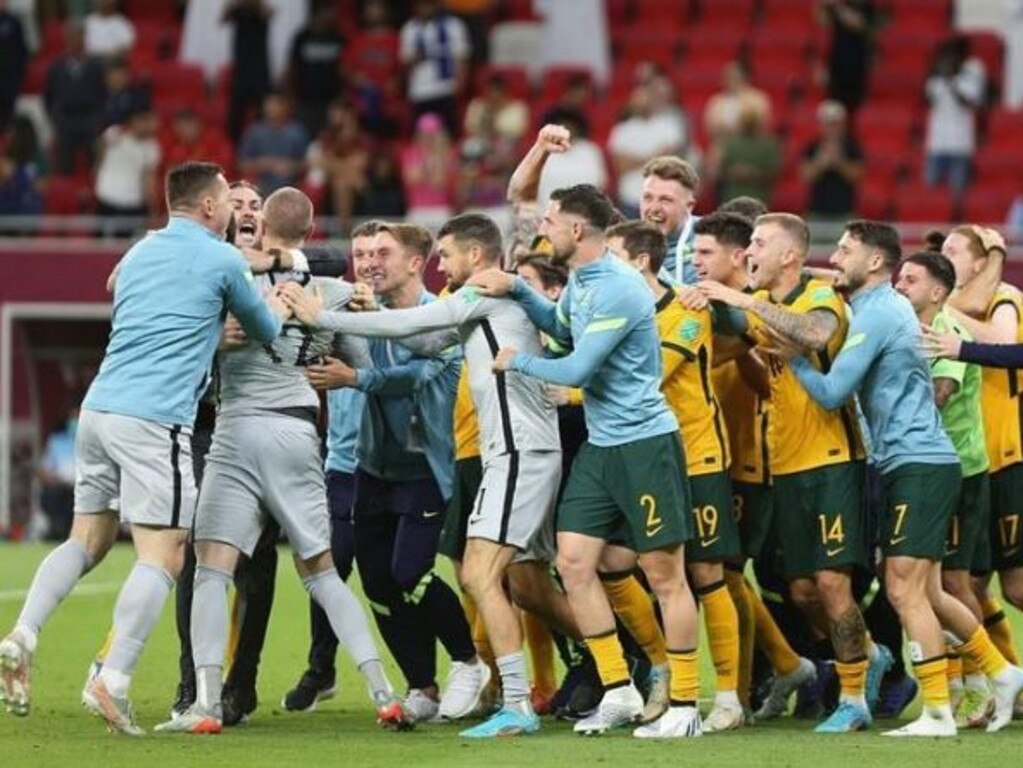 The injured Harry Souttar was still able to celebrate with his teammates in Qatar. Picture: Instagram
*****
The actual game remains a blur for Arnold, though one sentiment is clear.
"I just felt they underestimated us," Arnold says of Peru.
"From the 2018 World Cup, the 2-0 win, they had the same coach, the same players, they didn't think we were that good, losing Cahill, Jedinak and Milligan.
"It was just that they turned up and it was God's gift that they go to the World Cup."
The match plan unfurled itself almost to script. Peru barely troubled the Socceroos until late on, though the Socceroos themselves couldn't find the crucial breakthrough.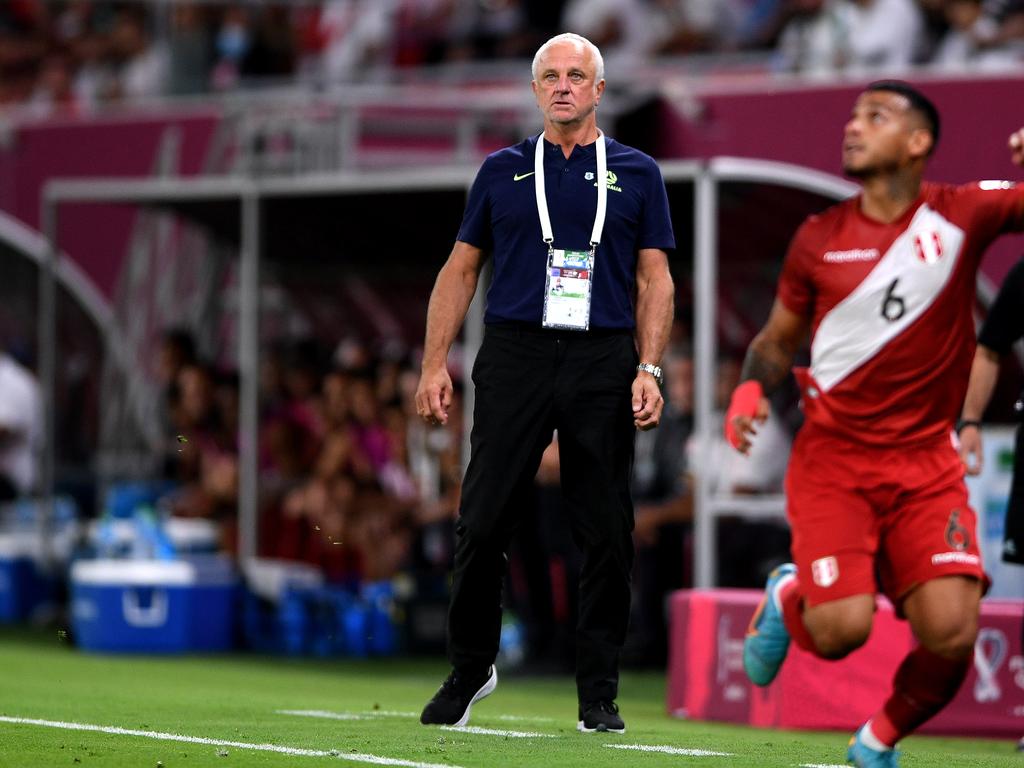 Arnold believes Peru's pride contributed to their downfall. Picture: Joe Allison/Getty Images
The final piece of the overall plan, the penalty plan, required enacting.
Socceroos keeper coach John Crawley was the man to help Andrew Redmayne prepare for his 119th minute introduction, though Arnold was the one who had ultimate say in substituting his captain, Maty Ryan, for Redmayne.
It would be his reputation torched for the rest of time if it didn't work.
"Ha! No, I had mentally I had prepared for that well before," Arnold says about if there were any last second jitters, like a nervous groom-to-be about to get down on bended knee.
"In part it was to throw some hesitancy at the Peruvians, make them think, 'Why would they do that?'"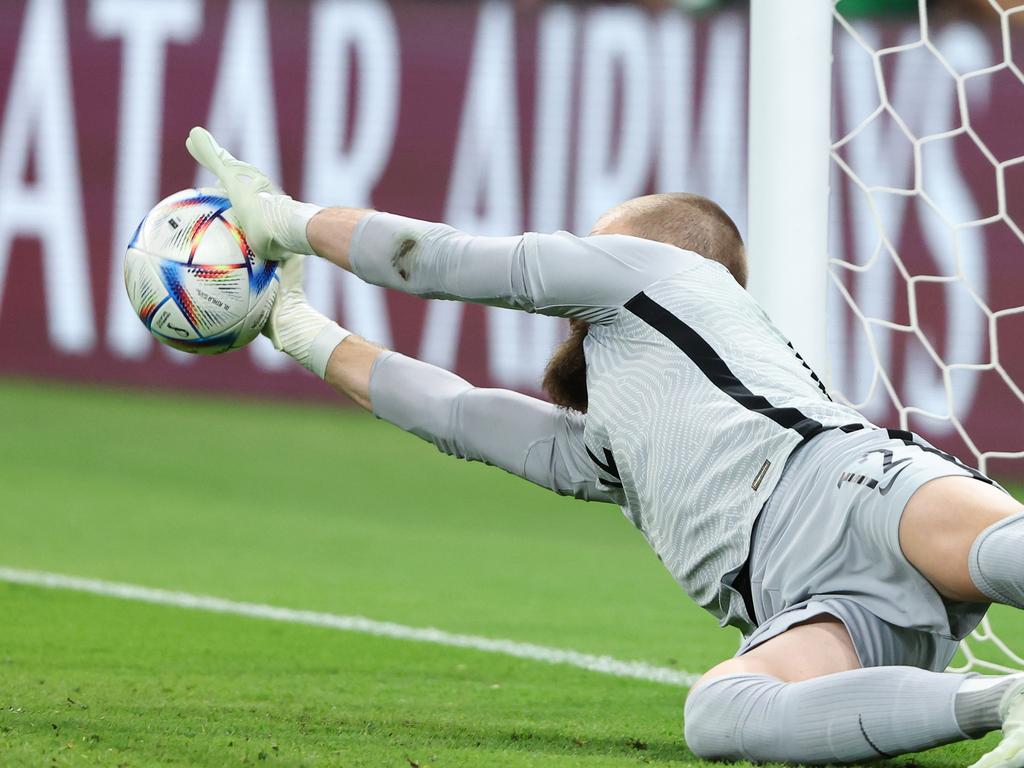 The Redmayne switch was designed to cause confusion on the Peruvian bench. Picture: Matthew Ashton - AMA/Getty Images
In 2005, the Socceroos famously got past Uruguay in a penalty shootout. On that occasion, as Guus Hiddink's assistant, it was Arnold's job to check if the scheduled penalty takers were still OK to take one.
This time, Arnold could delegate to his assistant, Rene Meulensteen.
"This one was, 'Rene it's all yours mate!'" Arnold laughs.
And like 2005, the Socceroos practised a shootout the night before the game, mimicking the walk from the centre circle, the lot. Meulensteen wised up the squad.
"One thing Rene said was if their keeper starts playing around, go and address the ball and start again. You saw Awer Mabil do that on the fifth penalty."
Every bit of prep became relevant but for the crescendo, Arnold couldn't watch.
Arnold had to delegate 'watching duty' to his assistant coach Rene Meulensteen as the Socceroos took their penalties. Picture: Adil Al Naimi/Getty Images
He had every intention of linking arms with his coaching staff in front of the bench, only for Martin Boyle's first-up miss to alter things.
"After Boyley missed, I said, 'F*** this' and sat on the bench," Arnold says.
"I was just watching the legs from our team in front of me. When they scored, legs were still. When we scored they'd jump.
And when 'Redders', Andrew Redmayne, the grey wiggle, now national hero, got his big mitts on Peru's fateful sixth penalty Arnold jumped up too.
One emotion was with him.
Relief.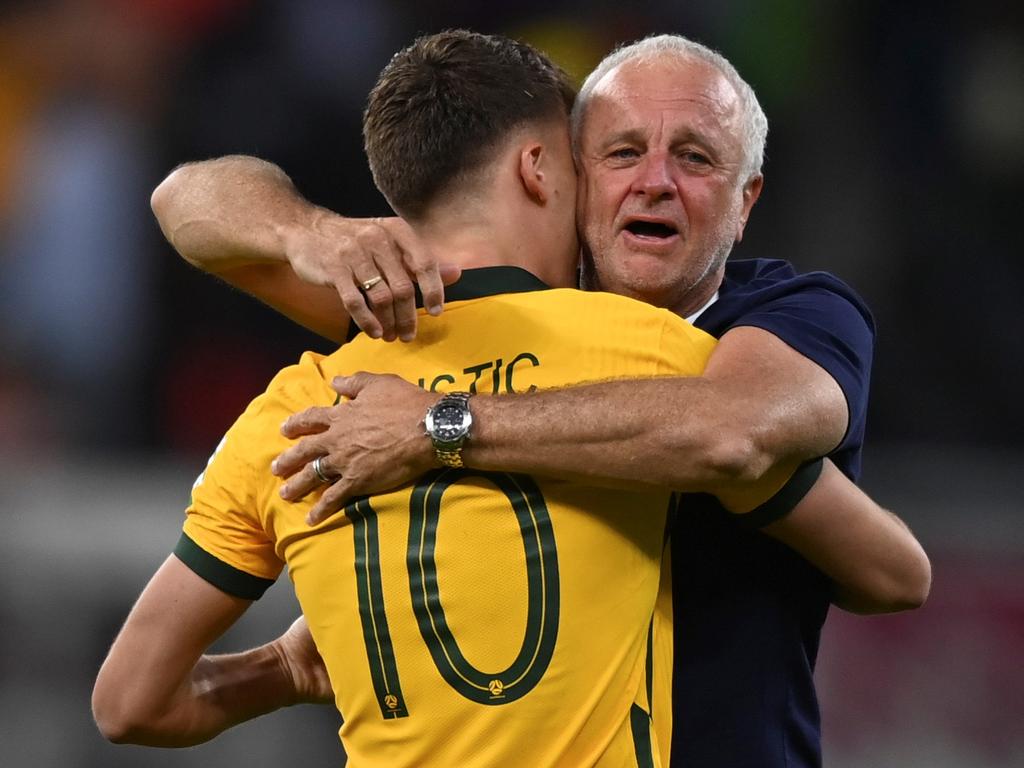 Arnold was awash with emotion at the Socceroos penalty shootout win. Picture: Nikku/Xinhua via Getty Images
*****
After a week to soak in qualifying in the most dramatic way, Arnold and his team are about to sit down and work out a path for the Socceroos fifth-straight World Cup appearance.
After CodeSports talks to Arnold, the first planning meeting will take place, charting a course from two matches in September against New Zealand to Group D of the World Cup in Qatar.
Waiting in that group is France, Denmark and Tunisia.
Australian football does an inferiority complex very well. As such, the group has been flippantly labelled by some as the group of death.
"No way!" Arnold shoots back at the mere mention of looming doom.
"Not a group of death!
"It's an opportunity to do something special."
*Tomorrow on CodeSports, Part II of the Graham Arnold feature focuses on what to expect from the Socceroos at the World Cup, his thoughts on critics and whether Tom Rogic is in his plans.