The Graham Arnold phone call that conquered Mat Ryan's early EPL issues
Socceroos skipper Maty Ryan can still pinpoint the moment, and the single phone call from the other side of the globe that turned his European career around.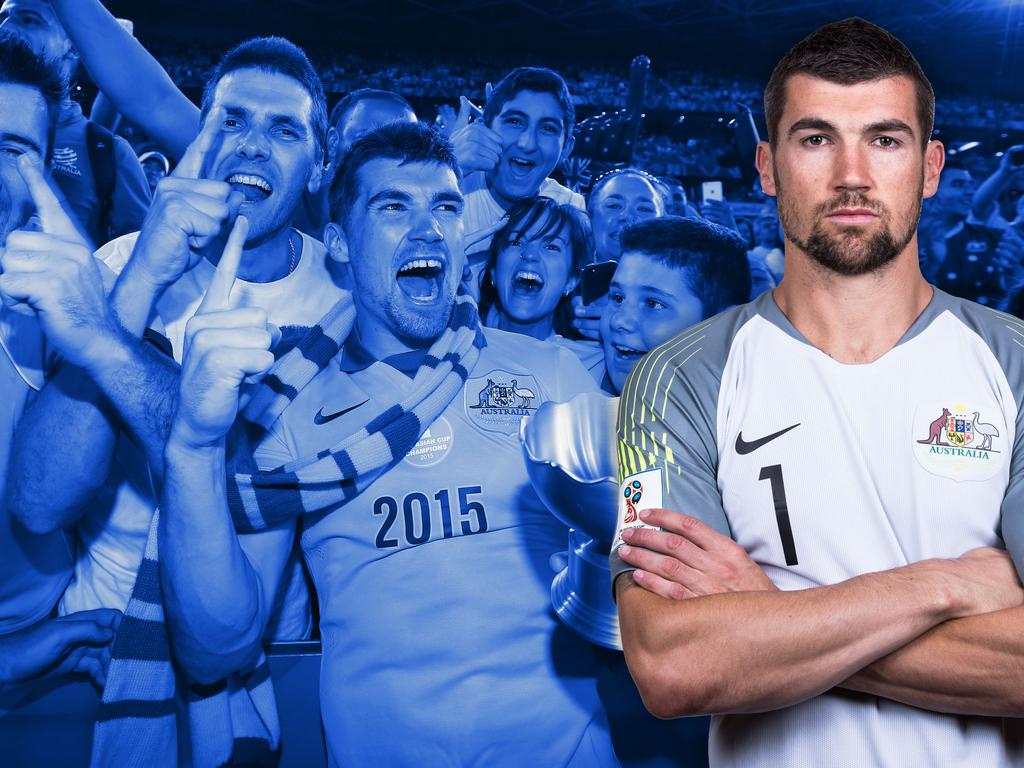 Maty Ryan is used to fighting for the No.1 spot but this time in La Liga, he is better prepared than ever. Once he has the jersey, he won't be letting go.
Maty Ryan can pinpoint the moment that turned around his club career in Europe.
The phone call, specifically, made by the man who handed him his professional debut way back at Central Coast Mariners: Socceroos coach Graham Arnold.
After his final season at Spanish giant Valencia saw them finish an unremarkable 12th and a short stint with Belgian club Racing Genk ended in Europa League heartbreak, Ryan found himself fighting for a spot in Brighton's Premier League starting line-up during 2017.
"I was battling self-doubt, a few mental issues. The enormity of the Premier League, it's almost comparable to a World Cup," the Socceroos captain says.
Brighton, in the club's first-ever Premier League season, was winless after three rounds. Tumult off the pitch had filtered into Ryan's play.
Disrupted by a national team call-up, unable to find rhythm in his game or routine in his life, Ryan was struggling with the scale of football in a league he'd dreamt of playing in his whole career.
Arnold saw right through Ryan's efforts to mask the difficulties. Having known the goalkeeper since he was a teenage A-League debutant, the wily coach was more alert to Ryan's disjointed headspace than the man himself.
"He gave me a phone call. He called me up and he just said, 'You know, I can tell by your mannerisms, your facial expressions that you're not yourself. You're not the Maty Ryan that I remember you to be. You're not enjoying football.'
"He could see that I was putting too much pressure on myself and he said 'I know you're very stressed, I can see it on the field.'
While not enjoying work is standard for many at one point or another, facing the fact that he had lost his love of the game was the pivot point for Ryan.
"I guess I wasn't really aware of how much of an impact the mind had on life and on football," he learned. A lesson that this year again, is crucial.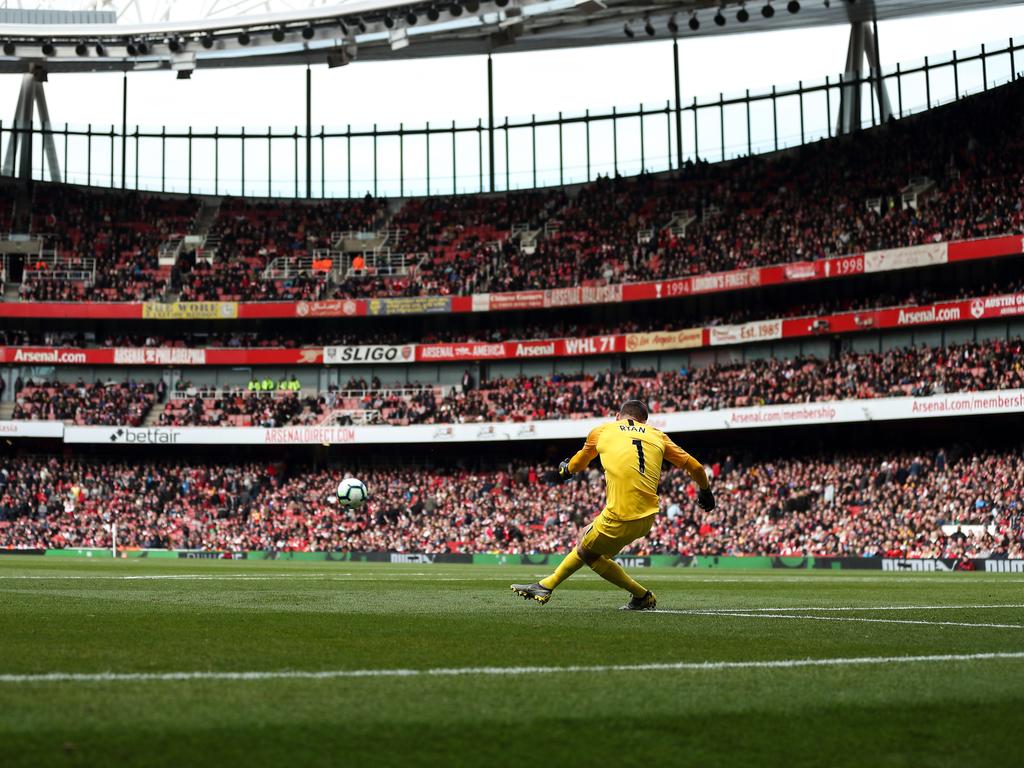 Maty Ryan started his Premier League career with Brighton in 2018, a year that changed his life both on and off the pitch. Picture: James Williamson/Getty Images
Football for Ryan has been a lifelong obsession.
Originally from Plumpton, western Sydney, his size, athleticism and origins had him well suited to a back-row position in either of the rugby codes; but mum Carol had other ideas. Instead, football "just managed to stick". The safety and surety of his role in goals has been his lot since first taking up keeping at age 10.
After NPL stints with Marconi and Blacktown City, Ryan landed himself at the Mariners and debuted at 18. Having won an A-League championship in 2013, he then got his first taste of European football with Club Brugge in Belgium's top flight, where he excelled.
While the difference in footballing prowess (and the salary gap) between the A-League and the European divisions is as evident on the pitch as it is on paper, mental preparedness for 'the big leagues' is something else altogether. And when you've gone from Gosford to the World Cup in a year, a sense of belonging can be hard to find.
"I think the biggest lesson I had with [readiness] was my first World Cup experience in Brazil," he says, admitting that he was starstruck.
"Obviously in hindsight, I realised it was perhaps the wrong approach, coming up against Holland, Spain, and Chile where you're playing against some of these players that are playing in the world's biggest and best clubs and therefore had this aura around them."
That 2014 World Cup saw Ryan and the Socceroos concede goals from big-money megastars Robin van Persie, David Villa and Arjen Robben. The battle was partly lost before Ryan stepped on to the pitch.
"It's quite easy to get brainwashed by the media or by the hype around them and you think that they're inhuman, that they're on another level," he says.
Australia's least successful campaign at the tournament – three losses from three games in Group B – was an eye-opener for Ryan; yet instilled the intent "to get to a level to test myself against the best and I knew, getting myself and exposing myself to that level would help me have the best career that I could possibly have".
For a western Sydney kid who grew up idolising van Persie's old club Arsenal, that had always meant the Premier League.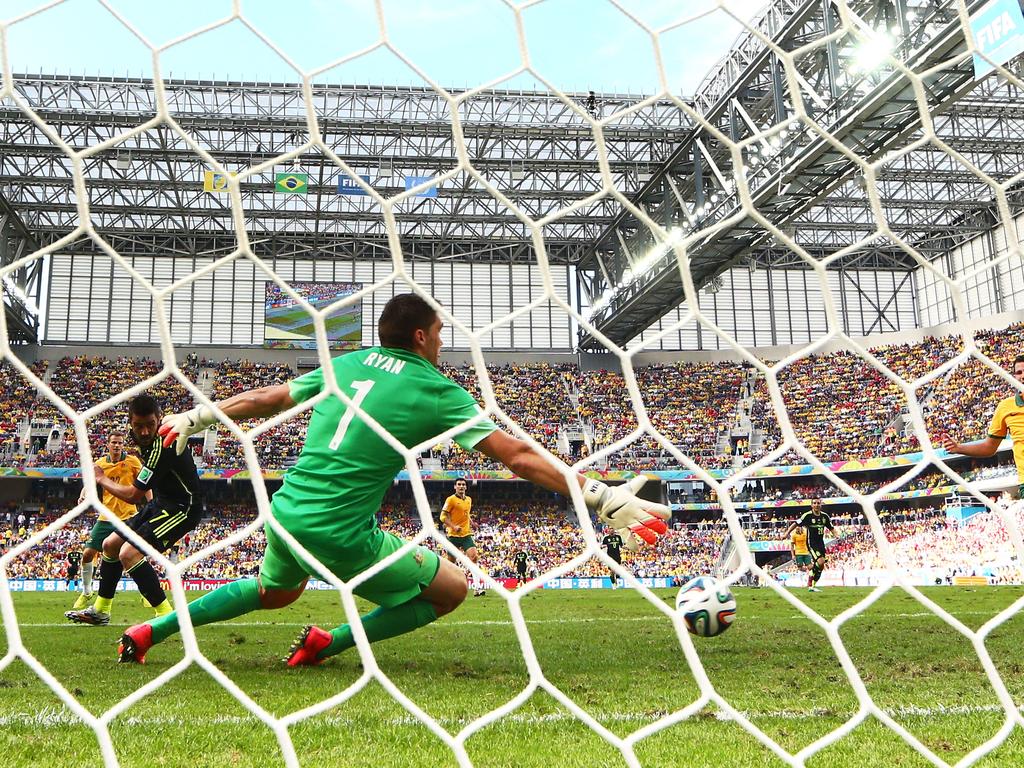 David Villa scores against Maty Ryan in Australia's bout against Spain at the 2014 FIFA World Cup. The tournament was an awakening for Ryan and his previously localised experience of football. Picture: Cameron Spencer/Getty Images
Before he made it to England, Ryan signed with Valencia on a six-year contract in 2015. Despite a strong start, injury and a competitive roster saw him struggle for regular game time.
"I didn't get enough football there at the level to say that I was up to speed with it. I've then gone on loan back to Belgium to get some rhythm again," says Ryan, who was put in the shop window thanks to Genk playing in the Europa League, where they lost 4-3 on aggregate to Spain's Celta Vigo in the 2016-17 quarter-finals.
The call from Brighton and Hove Albion was the most important one in Ryan's career. But a lack of consistent football at the top level made it difficult to find form, as did lingering self-doubt.
"I didn't get off to the greatest of starts. I had a couple of moments in games in which I felt I could have done better," he says.
"I was also probably battling a few mental issues and self-doubt, whether you're going to be good enough on the back of what had happened in the previous months at Valencia and then arriving into the enormity of the Premier League."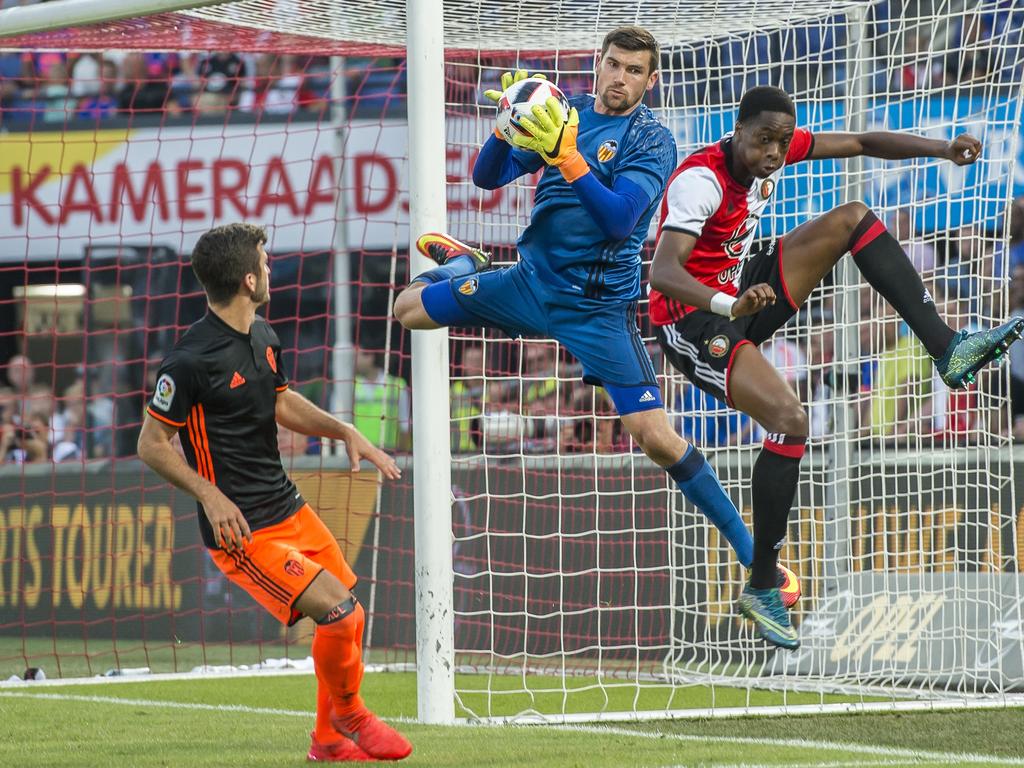 Maty Ryan stops a Terence Kongolo ball in, during a friendly ahead of the 2016 La Liga season. Picture: VI Images/Getty Images
The added disruption of a Socceroos call-up three matches into his Brighton stint didn't make things any easier on his mental state. It was in these two friendlies that Arnold noticed something was wrong with his starting keeper and a plan came to fruition. Ryan was put in touch with a friend of his, Mike Conway, a mental resilience coach.
Ryan and Conway (now a Socceroos staffer), started with just one conversation.
"He showed me a few techniques that could help me relax and enjoy my football a lot more and life in general as well," Ryan says.
"That was a big learning curve for me. I tried to obviously build resilience, and keep improving as a person and as a player from every experience. Anytime I feel doubt, I still use those techniques and skills today to make sure I'm in the right frame of mind. You never stop learning.
"Sure enough, my football started to turn around, my performances started to improve and I started to get luckier out on the pitch."
You could hardly call it luck.
On returning from those Russia 2018 World Cup qualifiers, Ryan and Brighton went from one win in their opening five games to three from their following six. He kept eight clean sheets through the rest of the season and finished second in the club's player of the year poll.
He has continued to build his mental toughness with Conway ever since. And given the Socceroos' current plight, he'll need it.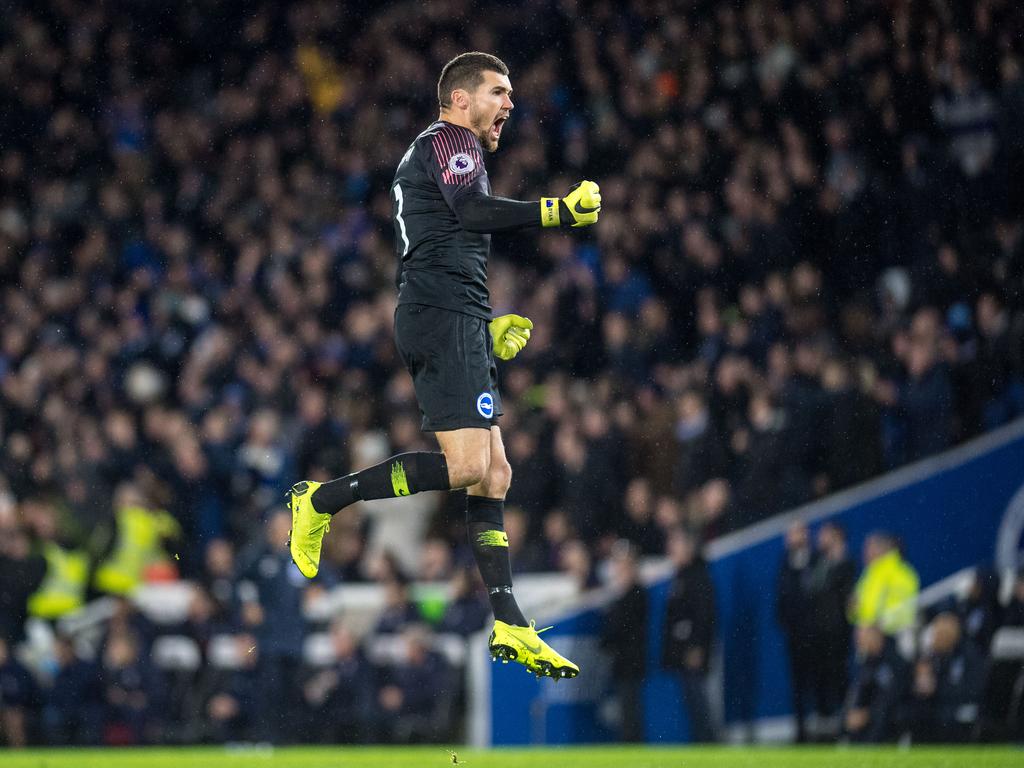 Maty Ryan's 2018 season with Brighton turned around after his first A-League coach Graham Arnold noticed his poor mindset. Picture: Sebastian Frej/Getty Images
Ryan's international career has proven far more linear than at club level. He has been the preferred Australian goalkeeper since his idol Mark Schwarzer's 2013 retirement from national team duty.
In the Socceroos' return to home soil last month, Ryan led his teammates both out of the tunnel and on the field against an impressive Saudi Arabia side. Three late saves amid pounding Parramatta rain kept Australia in the hunt for Qatar 2022 qualification.
But the World Cup is now less than a year away and there is no margin for error left.
Back-to-back draws against both Saudi Arabia and China PR leaves the third-placed Socceroos likely needing four wins from as many games to secure straight qualification.
The situation rings eerily familiar. 2018 saw the Socceroos also finish in third place in their group, requiring a win against Group A third-placers Syria, to seal a playoff against CONCACAF's Honduras. The Australian's won 3-1 on aggregate against the 65th ranked team.
This time, however, it won't be a Central American side that await. The juggernaut of South America's CONMEBOL looms ominous, where even fifth place finishers present a serious challenge.
The difference from four years ago though is Ryan's mindset, and skills developed to first cope, then thrive on such pressures.
"The key thing for me is the belief that it will happen. If you don't believe it, then you're already failing at the first hurdle," he says.
"You look at an individual, or a team. When they're out there and they're confident, that's when they're playing well and if you don't believe you can go and have success then it's definitely not gonna happen."
Japan remains an arch-enemy in Asian qualifying; one that not only beat Australia in October, but highlighted a glaring deficiency.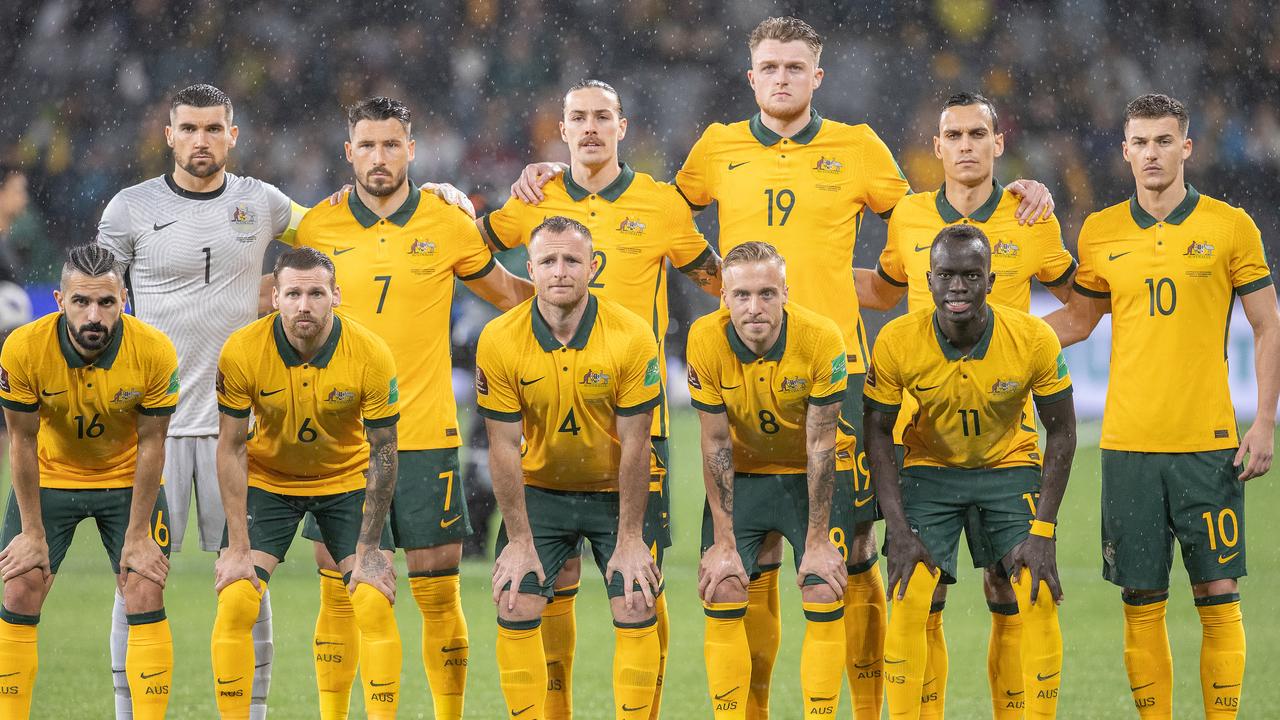 Maty Ryan is now captaining the Socceroos, and he believes the 'togetherness' of the side will be their key to qualification for the 2022 FIFA World Cup in Qatar. Picture: Steve Christo/Getty Images
"The Japanese opposition, that's what it's gonna be like at a World Cup, you know the majority of their players are playing in the biggest and best leagues around the world," Ryan says, speaking as one of only two current Socceroos playing in a big European league (alongside Bundesliga ace Ajdin Hrustic).
"[But] waving the white flag is not an option, whatever life throws our way and we've just got to roll up the sleeves and get on with it.
"Our identity as a team is togetherness. Ask any player and I'm pretty sure the majority of them will say, 'You know the best thing about playing football is going out on that pitch with your teammates, knowing that you're going into battle with them and they have your back and likewise you have theirs'."
With the captain's band now around his arm, Ryan can also return the favours Arnold has afforded to help his career so much.
And perhaps somewhere deep down, the heartbreaking fashion that Arnold's own playing career ended in – the gut-wrenching 1998 qualifying draw with Iran – adds just that little bit more motivation.
An ugly end to Ryan's own time with Brighton doing the same is a safe bet.
After three-and-a-half years as their No.1, Ryan was relegated to third-string keeper duties almost overnight.
It's a topic that's still uncomfortable and a blow that still smarts, but Ryan found a silver lining nonetheless through a loan spell with Arsenal, the club he idolised all those years ago.
"I just tried to have that positive take on it and, you know … and do that instead of focusing on negatives, like, 'I can't do this, I can't do that'," he says. "How about, you know, 'I can do this'."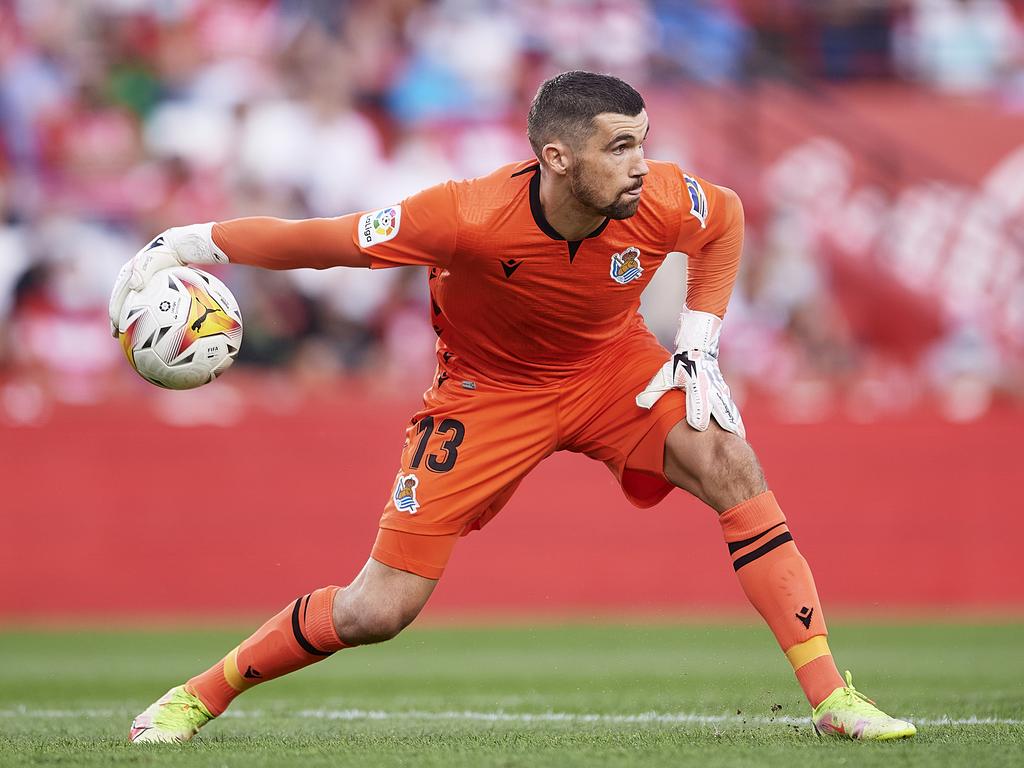 Despite his exceptional form in the international format, Maty Ryan is fighting for a starting place with his club Real Sociedad, where he has made two appearances so far this La Liga season. Picture: Aitor Alcalde Colomer/Getty Images
Ryan's start at Real Sociedad has been just as disrupted as that first season with Brighton. Nonetheless, his second coming in La Liga has a different feel to it.
In his second game for the Basque club, two outrageous double saves gave them a clean sheet against Celta Vigo, and calls for his promotion to the starting team are increasing.
Ryan is mostly stuck on the bench behind Alex Remiro for now, yet also feels that he's in career-best form. With his lessons learned on mental fitness, frustration with that unusual situation hasn't descended into self-doubt as it once may have.
"If my mind is in a good spot and it's in a well-balanced position, then I feel everything just sort of flows naturally and instinctively in my experience, in life and football," he says.
Thanks to Arnold's phone call and the work that followed it, football – again – is life.