The remarkable backstories of penalty shootout heroes who sent Socceroos to 2022 World Cup
Awer Mabil was born in a refugee camp in Kenya. Andrew Redmayne in Gosford, yet still walked a hard path to this day. ADAM PEACOCK tells the stories of the heroes who sent Australia to the World Cup.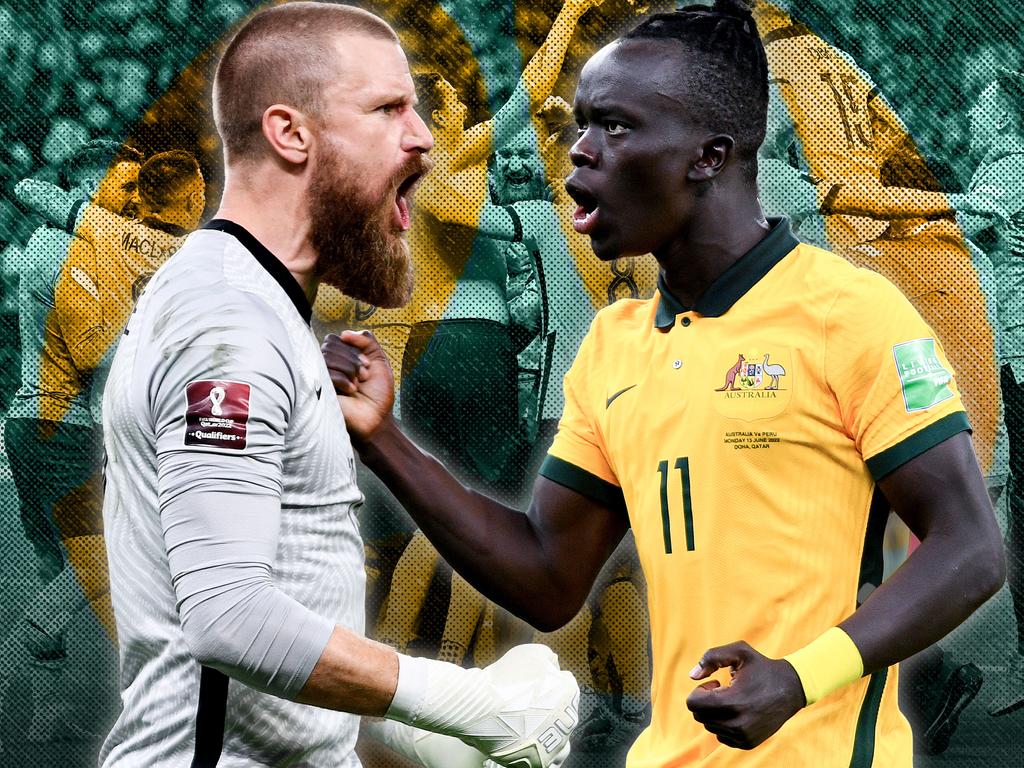 Australia's World Cup hopes fell to penalties again, this time, new heroes stood up to make history.
A coin toss is down to luck. Penalty shootouts are not.
Not when skill is required, and when a mind has to block out the consequences.
Those consequences are either an explosion of joy or complete despair. There is no in between.
Score, or save, and World Cup beckons.
Miss, or dive the wrong way, and heartache lives with you for the rest of time.
In 2005, John Aloisi became an instant icon, along with Mark Schwarzer, whose paws of steel gave Aloisi the chance to end a 32-year Australian absence from the World Cup.
Others played their part too. Mark Viduka missed, but at least he had the guts to take one. Harry Kewell, Lucas Neill and Tony Vidmar all scored, the latter, the mad bastard, with his weaker left foot.
Vidmar was on the bench this morning as an assistant and got to live his greatest moment all over again.
Gloriously, right when consequences were about to swing violently one way or the other, a few more names were added to Australia football folklore.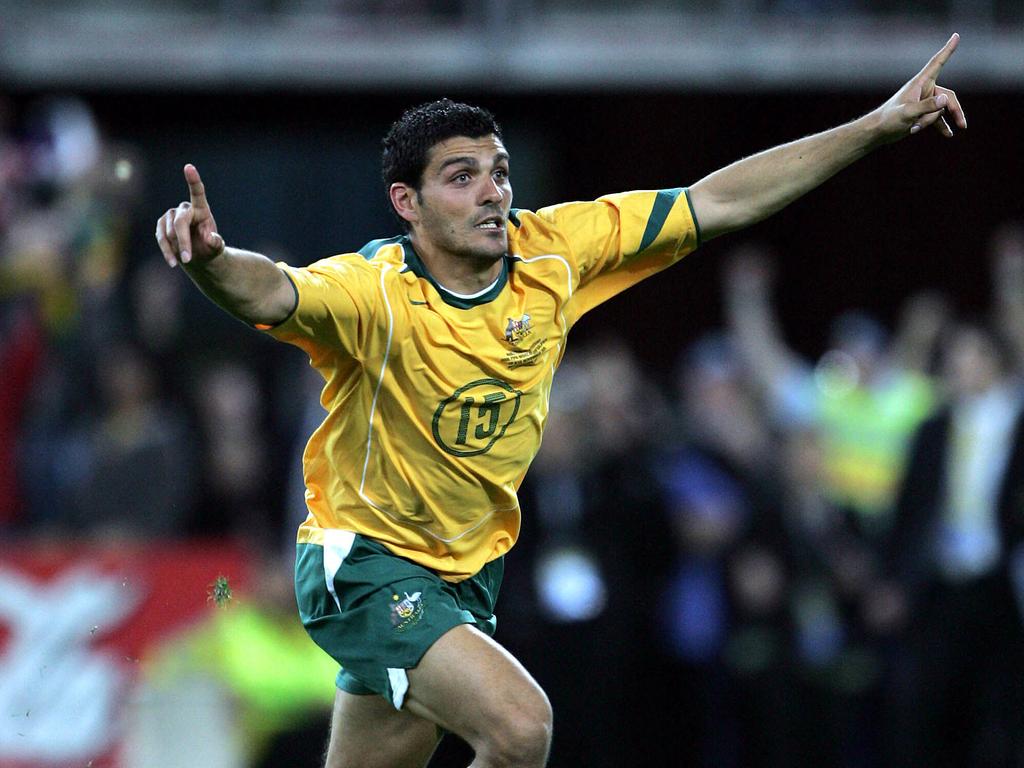 The Socceroos have a new moment to rival John Aloisi's 2005 heroics.
*****
Andrew Redmayne's story is inspiring, because he's had enough setbacks and doubt for two careers.
He started with his hometown club Central Coast, then moved to Brisbane, then Melbourne, with then paupers, Melbourne Heart. He couldn't get going. Talent remained hidden beneath that veil of uncertainty, brought about by the odd howler.
If a midfielder has an air-swing at a pass, others can clean up. If a keeper swats forlornly at a shot, he looks like the world's biggest idiot.
Redmayne moved to Western Sydney Wanderers. Again, the howlers wouldn't go away, rearing up amid good performances. Too costly. Redmayne was relegated to the bench at his fourth A-League club.
Then a lifeline. In 2017, was involved in a shock mid-season swap in 2017 to cross town rivals Sydney FC, with the Sky Blues keeper, Vedran Janjetovic going the other way.
Redmayne settled on the bench at Sydney too, but the coach whispering in his ear now was John Crawley.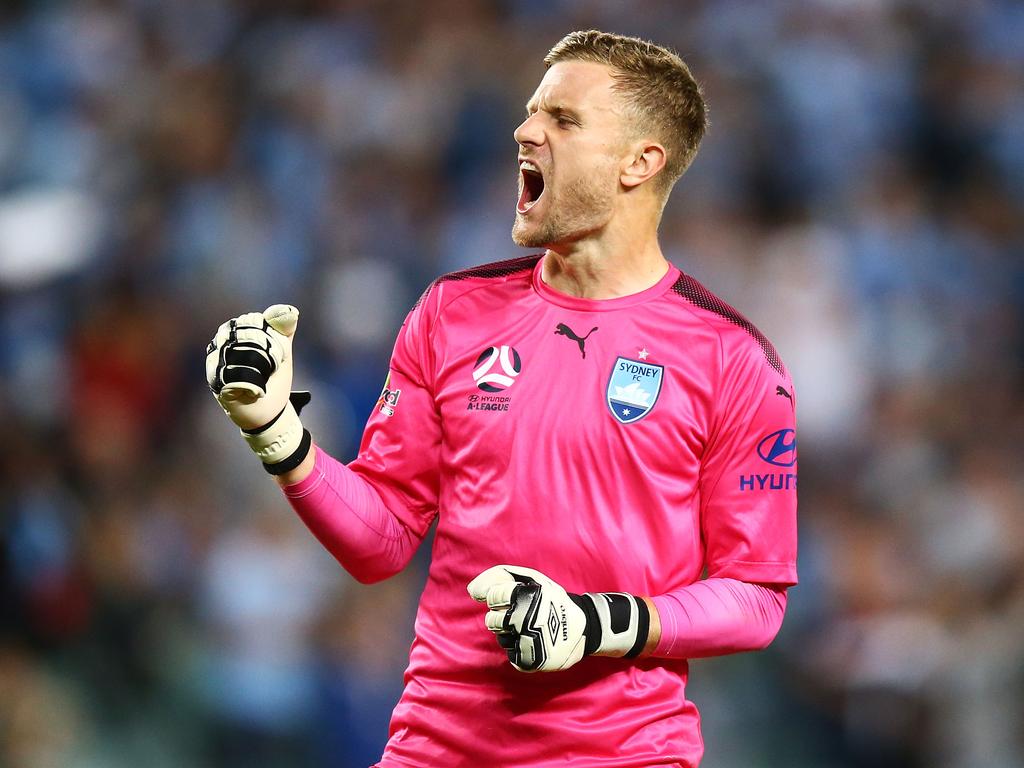 Andrew Redmayne's move to Sydney FC sparked a change in fortunes. Picture: Mark Nolan/Getty Images
Crawley had a different career to most Australians, spending five years in Chile. Shaped by that time in South America, Crawley's methods in keeper training helped Mat Ryan develop from Mariners debutant to Socceroo. Doors opened for Redmayne when Danny Vukovic, Sydney's number one keeper, departed at the end of 2017, and a similar acceleration occurred.
Redmayne was now the main man at a dominant Sydney FC. And by 2019, he was faced with a penalty shootout to win a grand final. Crawley had him prepared to a tee. Redmayne, clad in hot pink, danced on the goal line, the Wiggles routine the world saw this morning.
As Sydney swamped Redmayne in a celebratory pile-on, Crawley smiled from a distance. Scribbled in his little notebook was notes about all the Perth penalty takers. Next to Santalab's name was one word – 'dink'.
This season Redmayne's form wasn't what it had been with Sydney, but still he was considered third-best keeper behind Ryan and Vukovic for Australian duty.
After he returned from one camp, he was dropped to the bench by Sydney. He was mystified at training, unsure how he could be demoted after getting called up for the national team, but uncertainty was again swirling.
Redmayne's success against Peru brought back memories of his 2019 grand final heroics against Perth. Picture: Cameron Spencer/Getty Images
Not with Crawley. The now-Socceroos goalkeeper coach backed him, and despite Mariners keeper Mark Birighitti standing tall as clearly the best in the A-League Men's this season, Redmayne kept his spot.
In the hours after his save from the boot of Peru's most unfortunate man, Alex Valera, and still coming to terms with his life-changing moment, Redmayne spoke of where the idea of him making a 119th minute introduction to a sudden death World Cup playoff came from.
"The idea was floated at least a month ago," Redmayne told Code Sports in the aftermath.
"JC (Crawley) threw out the theory behind it and said get ready for that.
"It was planned between myself and the staff, none of the boys knew, a few clocked on at halftime when Vuka (Vukovic) put me through some drills."
Mat Ryan didn't know until his number went up on the substitutes board.
To his immense credit, Ryan left what little ego he has behind straight away, helping Redmayne prepare for the shootout.
"Maty was pumping me up and getting me ready asking me anything I need," Redmayne says.
"I'm under no illusion where I stand in the team, but just glad I got to play a small role."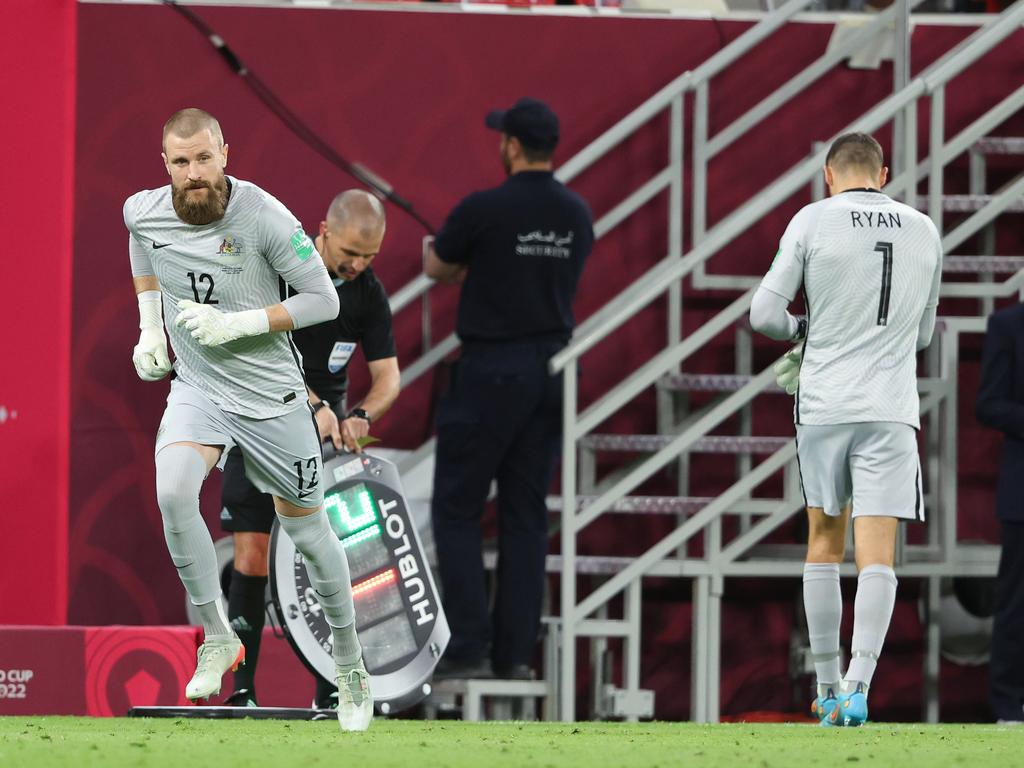 He was on the pitch for a matter of minutes, but Andrew Redmayne made it his moment. Picture: Matthew Ashton – AMA/Getty Images
*****
Of those who took the penalties, Martin Boyle is the one with as much relief as happiness.
The naturalised Scot, who started playing for Australia three years ago thanks to his father's lineage, was the Socceroos' main attacking threat with his ceaseless sprinting and willingness to try and make defenders look like they have concrete in their boots. He missed with the first-up in the shootout.
Everyone told him it would be OK as he got back to the centre circle. No-one really believed it, not least Boyle himself.
As Redmayne jumped around with his Wiggles routine and couldn't lay a hand on five-straight Peruvian attempts – fortunately one of them hit the post – five Socceroos stepped up with everything on the line.
Aaron Mooy, from western Sydney, has talent that saw him end up in the English Premier League, scoring against Manchester United. That form got him a life-changing deal in China, where Covid-19 has changed the picture.
His Chinese club Shanghai Port demanded he return. Mooy didn't listen, instead training for two months alone in preparation for these games. He's owed millions and perhaps will be without a club very soon.
He buried his penalty.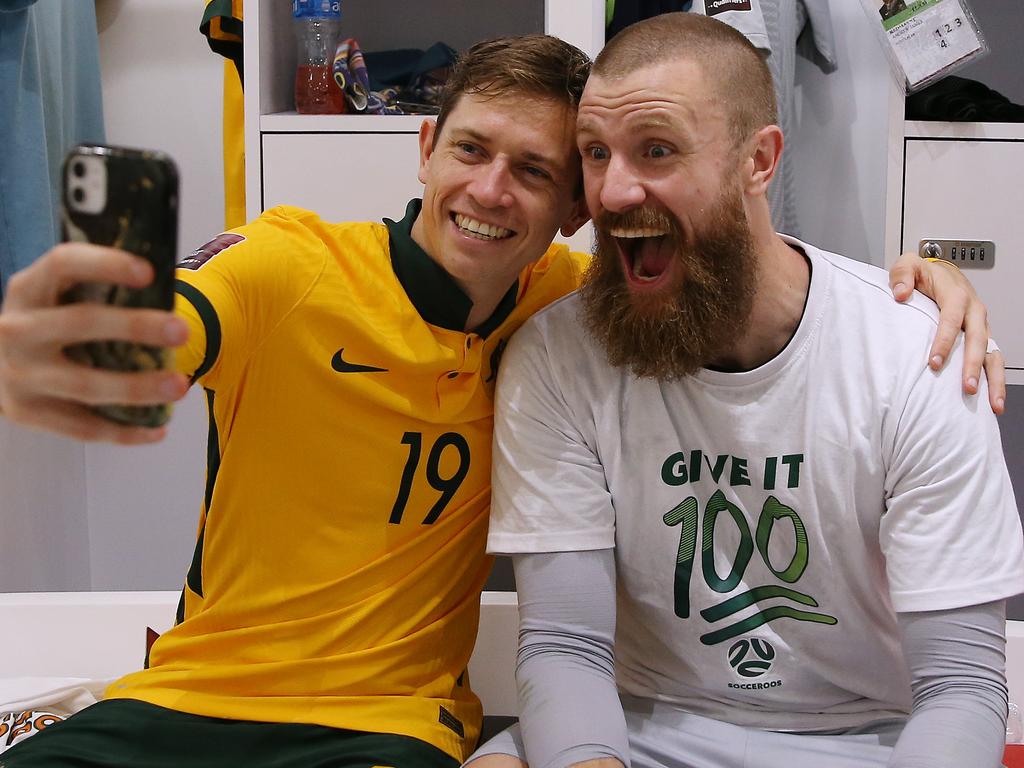 Goodwin and Redmayne both had important shootout contributions despite being last-minute substitutions. Picture: Mohamed Farag/Getty Images
Craig Goodwin, who as a youth player making next to nothing at Melbourne Heart had to search behind the couch for money to pay for petrol as he worked at KFC in between training. He got his chance, and went from Heart, to Newcastle, to Adelaide, Holland, to the big, fat contract in Saudi Arabia and back to Adelaide again.
He smashed his penalty in.
Ajdin Hrustic was in his mother's womb as his parents fled war-torn Bosnia, settling in Melbourne, where little Ajdin quickly fell in love with football. He'd refine his left foot-wand against any hard surface, and sometimes through windows, much to his father's annoyance. He rocked up at local club Heatherton United, once scoring 11 goals in a game (playing up two ages).
The family sold their house to fund his European adventure as a teenager. A month ago it was repaid when he was part of Eintracht Frankfurt's Europa League win.
Oozing confidence, he calmly passed his penalty in like it was a Tuesday training session at Heatherton.
Jamie Maclaren used to spend every spare moment of his childhood down the backyard of his home in Melbourne's northern suburbs, practising finishing with his brother and father, two others with the incurable disease of football. Day after day, left foot, right foot, headers. The eye for goal took him to Perth, to Brisbane, where his talent was honed by John Aloisi. Overseas to the nation of his father's birth, Scotland, who Jamie himself represented as a youth international.
But Australia was, is, and always will be home. Maclaren returned to Melbourne, and a million dollar deal with Melbourne City, for whom he's won three-straight Golden Boots as the A-League Men's top scorer. One strike counted for so much this morning. His former mentor Aloisi wanted the fifth spot kick in 2005.
Maclaren stepped up and placed his, and the Socceroos' fifth, neatly into the left corner, like he was in the backyard with dad and bro.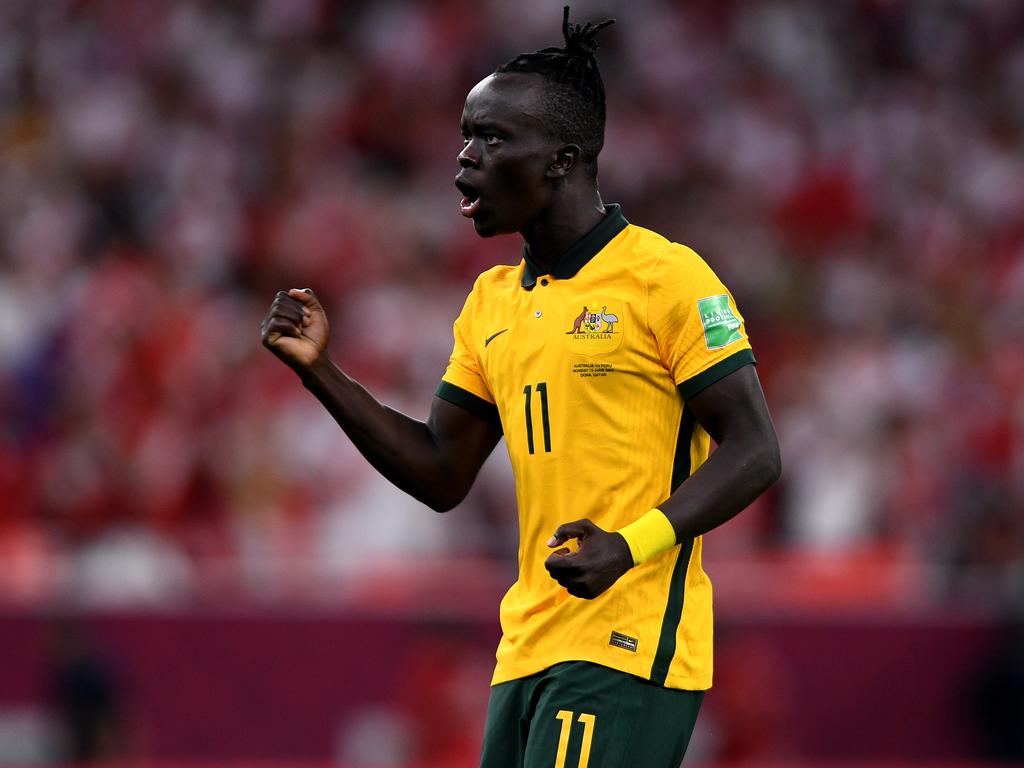 Awer Mabil calmly slotted Australia's final penalty of the shootout. Picture: Joe Allison/Getty Images
And then came Awer Mabil. Born in a hut in the Kakuma refugee camp in Kenya after his family escaped the Sudanese war. He learnt to play football there, because there wasn't much else on offer. His family wriggled free and secured an opportunity at a new life in Australia. They settled in Adelaide, which at times was unsettling, especially when commentary about young Sudanese men raised its political, stereotypical head.
Awer always kept his head. Adelaide United took him in and his career took off. To Denmark, and next season, he'll be in Spain's top division with Cadiz. This morning as Mabil walked calmly up to his spot kick, the sixth for Australia, he looked wide-eyed and happy.
"When I had that moment (before his penalty), I knew that was my moment to say thank you to Australia on behalf of my family," Mabil says.
"Australia gave (us) a chance at life."
Wide-eyed thankful Awer Mabil then belted his spot kick in. And once it was all done, he got back to the dressing room and went straight for his phone.
"After crying a little bit, I went inside and Facetimed my family," Mabil says.
"And they were all crying. I don't really know it now, but I know it's a moment that was going to be priceless. To do it for my country it's the biggest, biggest achievement of my career."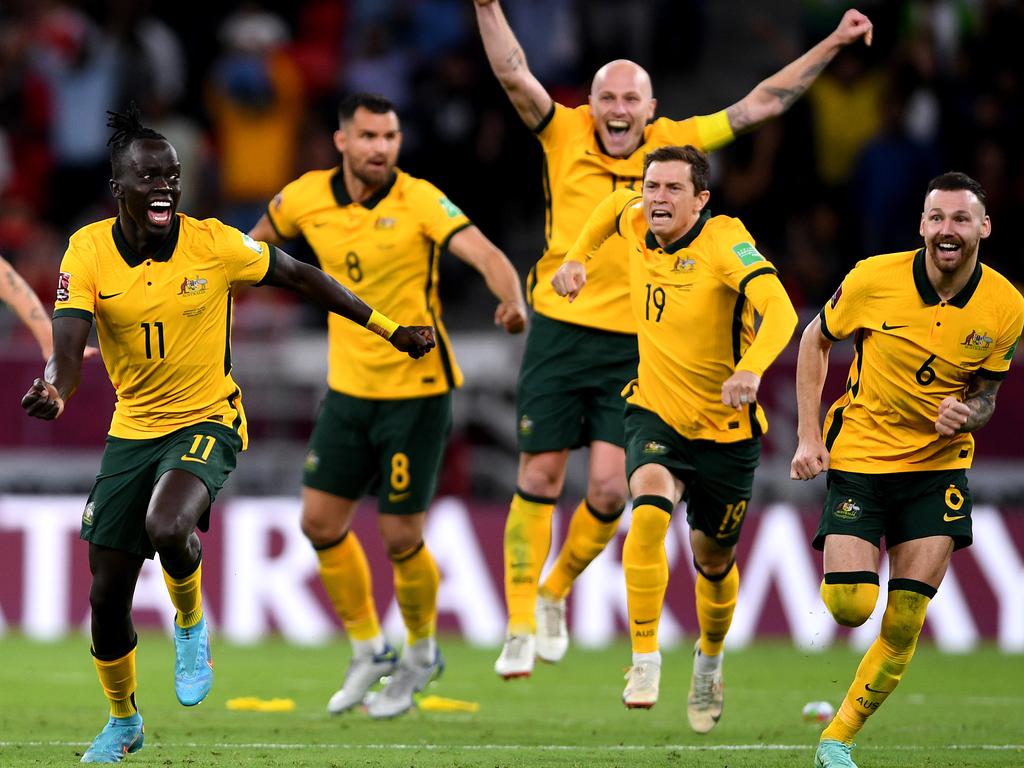 The Socceroos' celebrations are far from over. Picture: Joe Allison/Getty Images
*****
As soon as Redmayne repelled Valera and Peru, every Socceroo burned down the touchline to swamp him.
The penalty takers and penalty saviour are just a small sliver of a diverse, humble bunch of humans.
They all found football early, whether it be in a refugee camp, or in a foreign land with Australian parents, or in a new land such as Australia. They all had some kind of struggle.
They all got over the notion of a comfort zone early in their lives, moving away from home, some to parts they didn't know they existed when they first kicked a ball.
As a team, they are the sum total of everything Australia hopes to be.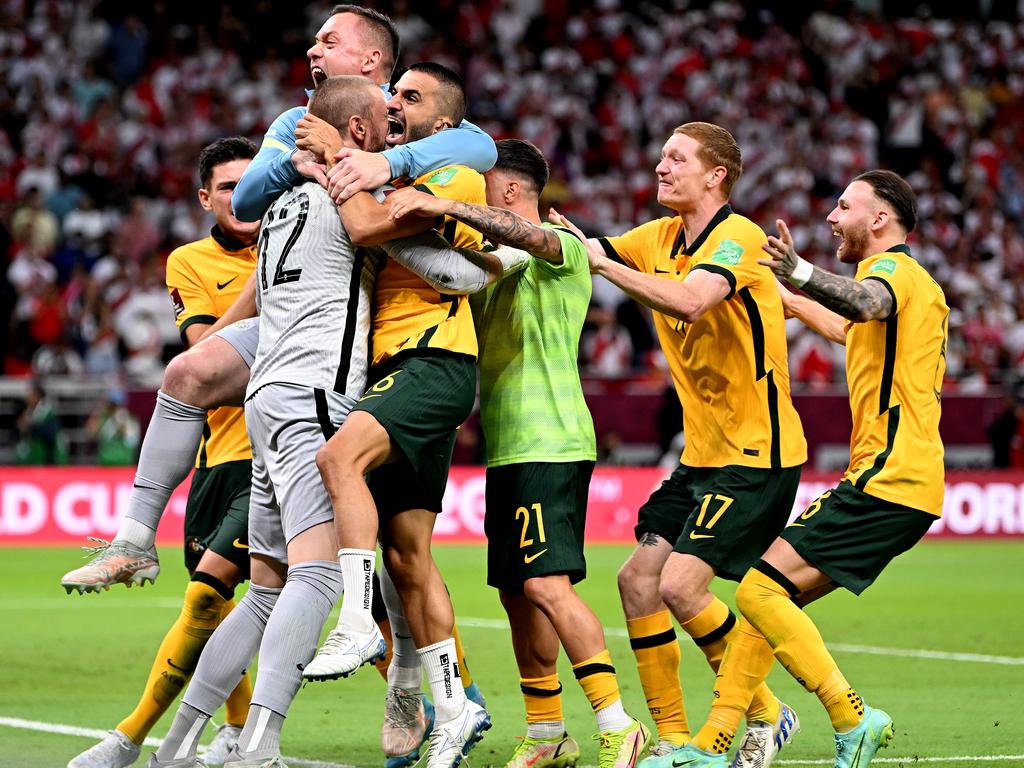 This Socceroos team has done their country proud. Picture: Joe Allison/Getty Images
Humble but with a burning desire to craft opportunities into something more significant.
Australia is regarded colloquially as a lucky country.
These footballers have made their own.