Star female athletes are fighting for more financial control – and winning
Soccer player Alex Morgan and others are leveraging their growing popularity to push for change; 'we've been undervalued as athletes our whole lives'.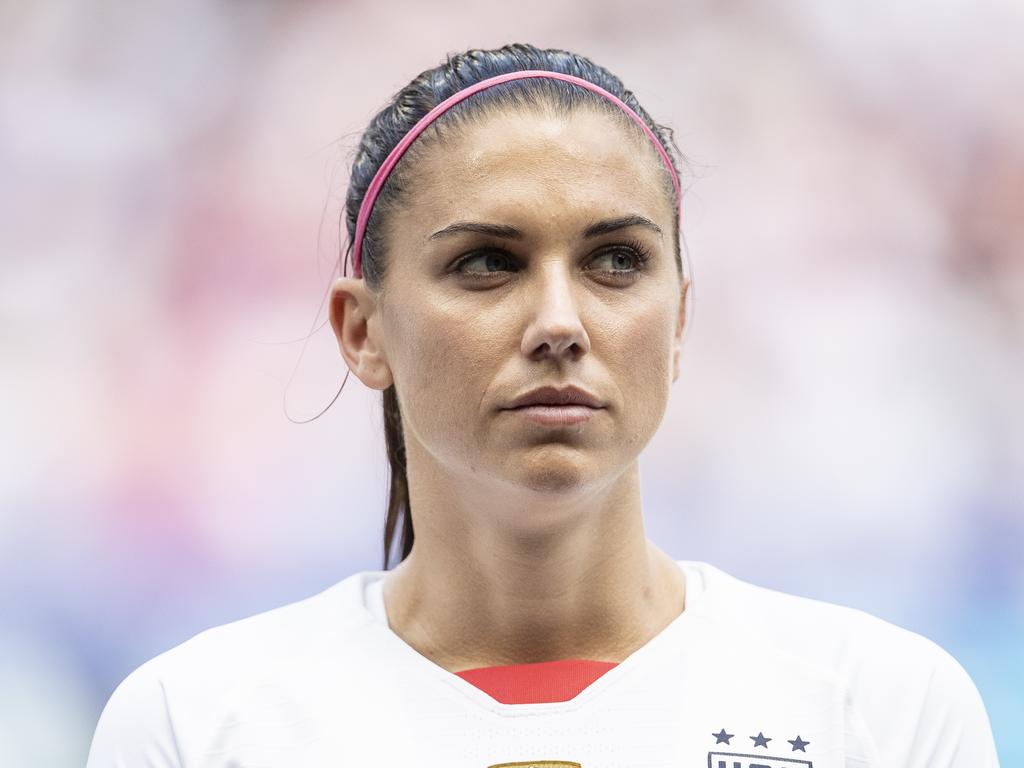 Alex Morgan is leading the fight for equality. Picture: Maja Hitij/Getty Images
When U.S. soccer star Alex Morgan played in the 2015 Women's World Cup, merchandise for the victorious U.S. team was in such short supply that her family couldn't find any. So her father printed a flag and his daughter's name on a few dozen T-shirts for family and friends.
Four years later, gear was still scarce for the 2019 Women's World Cup, despite the success of the previous tournament. This time, Ms. Morgan and teammates Allie Long and Kelley O'Hara created shirts that said "USA vs Everybody" and offered them online. They rang up more $1 million in sales in less than 30 days, Ms. Morgan said.
"That's one example of so many situations where there was so much value left on the table because companies and brands and people didn't believe in women's sports," Ms. Morgan said.
Ms Morgan's entrepreneurial move was an early sign of a big shift now under way in women's sports: Female stars are leveraging their growing popularity to take more control of their financial destinies.
Female athletes, like Hollywood stars, are using social media to communicate directly with consumers. Ms Morgan has about 20 million followers across all of her accounts, according to Blinkfire Analytics, which tracks sponsorship value.
Athletes like her are using their growing influence to improve the prospects of their teams and leagues, and seeking control of the use of their own images in merchandising and other areas. Some also are being vocal about problems that have loomed large in women's sports, including poor training conditions, lower pay and abusive coaches.
Last week, the U.S. women's team reached a landmark deal with the U.S. Soccer Federation that gave the women equal pay with the U.S. men's team. The deal will help end a discrimination lawsuit against U.S. Soccer by dozens of women's players in which Ms. Morgan served as lead plaintiff.
"I'll be the first to admit that the federation has made mistakes in the past," U.S. Soccer President Cindy Parlow Cone said earlier this year. The lawsuit settlement deal, she said, "is just one step toward rebuilding our relationship with the women's team."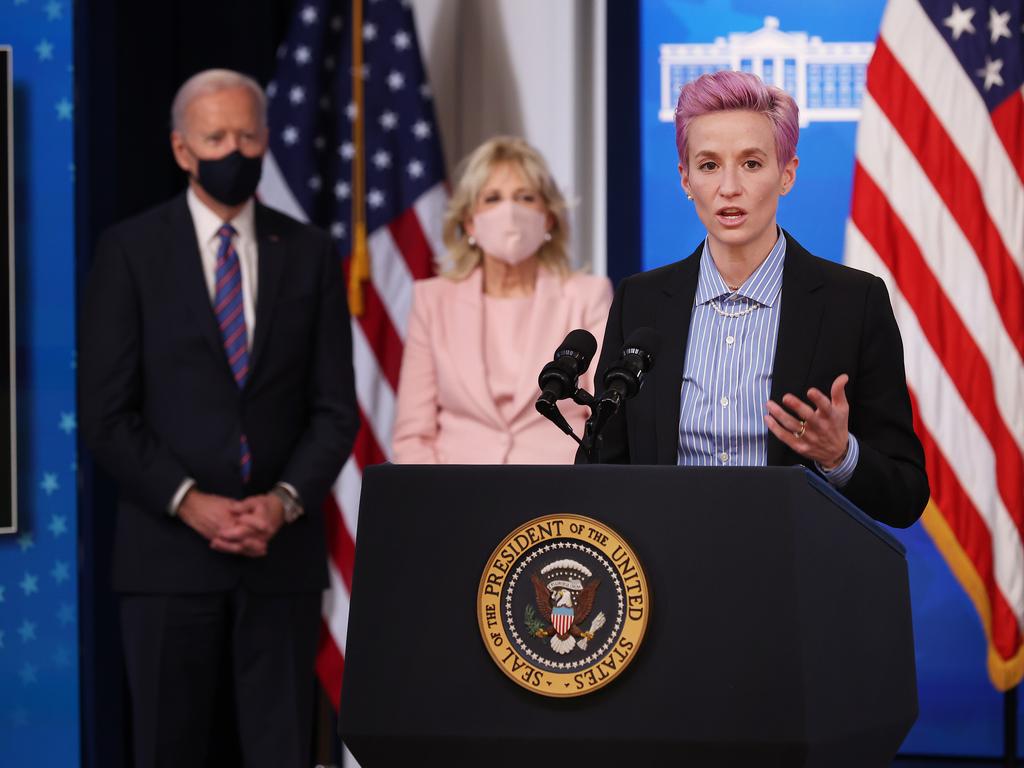 U.S. women's footballer Megan Rapinoe spoke in March 2021 at a White House event to mark Equal Pay Day. Picture: Chip Somodevilla/Getty Images
The sweeping changes have occurred almost entirely during the professional career of Ms. Morgan, 32 years old, a prolific scorer who played on two World Cup title teams and won gold and bronze Olympic medals.
For years, many players on the U.S. women's team have lobbied for better pay and working conditions. Ms Morgan and several other stars got especially involved as the team's fame and earning potential grew.
In 2016, she and four teammates filed a federal wage-discrimination complaint against U.S. Soccer, a precursor to the players' lawsuit. In 2017, while serving on the collective-bargaining committee of the U.S. women's team, Ms. Morgan combed through documents about a proposed labour deal with a red pen and made detailed comments, said Becca Roux, executive director of the U.S. Women's National Team Players Association.
Ms Morgan also is a union representative for her team in the National Women's Soccer League. She plays for San Diego Wave FC, one of two new franchises in the 12-team league.
She began her pro career in the sport's lower-budget era. In college, she had had easy access to footwear and quality gym and field facilities — almost none of which were available to players early in her pro career. "It was a huge step down, going to a professional team," she said.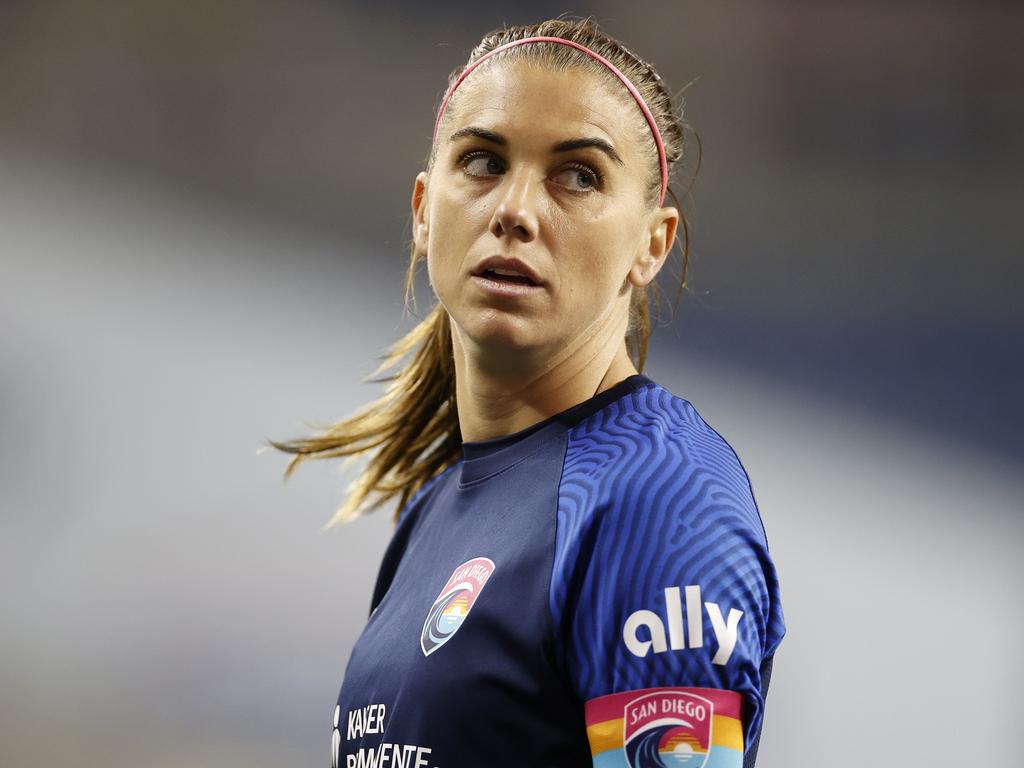 32-year-old Morgan has been at the forefront of the fight for equality throughout her career. Picture: Steph Chambers/Getty Images
A decade later, Ms. Morgan is reaping financial benefits from her stardom and is sought after by sponsors, including inspiring her own soccer uniform clad Barbie. She founded a company, Togethxr, with other top female athletes to produce original content focused on women and girls.
In the league she plays in, the NWSL, owners are investing in team brands and building some of the world's first facilities intended primarily for women's professional teams.
"We've been undervalued as athletes our whole lives," said Ms. Morgan. "So it's exciting to see the times change so quickly."
The momentum extends across other women's sports. The 2022 NCAA women's basketball tournament expanded, with increased funding, after a video went viral last year contrasting the tiny training area at the women's tournament with the huge men's facility.
In February, the WNBA raised $75 million from investors in what it said is the largest-ever capital investment for a women's sports property. The league will use the money to boost marketing and to try to generate new revenue. Increasing corporate sponsorship has boosted prize money on the Ladies Professional Golf Association tour by 31% in three years, to more than $92 million this season.
For the first time, FIFA, soccer's international governing body, is selling broadcast and sponsorship rights to the Women's World Cup alone rather than bundling them with the men's World Cup rights. The women's event is projected to generate broadcasting, sponsorship and ticket revenue of more than $525 million next year and $740 million in 2027, according to estimates by Nielsen. In years past, it was impossible for FIFA to calculate the value of the women's event because rights to it weren't sold separately.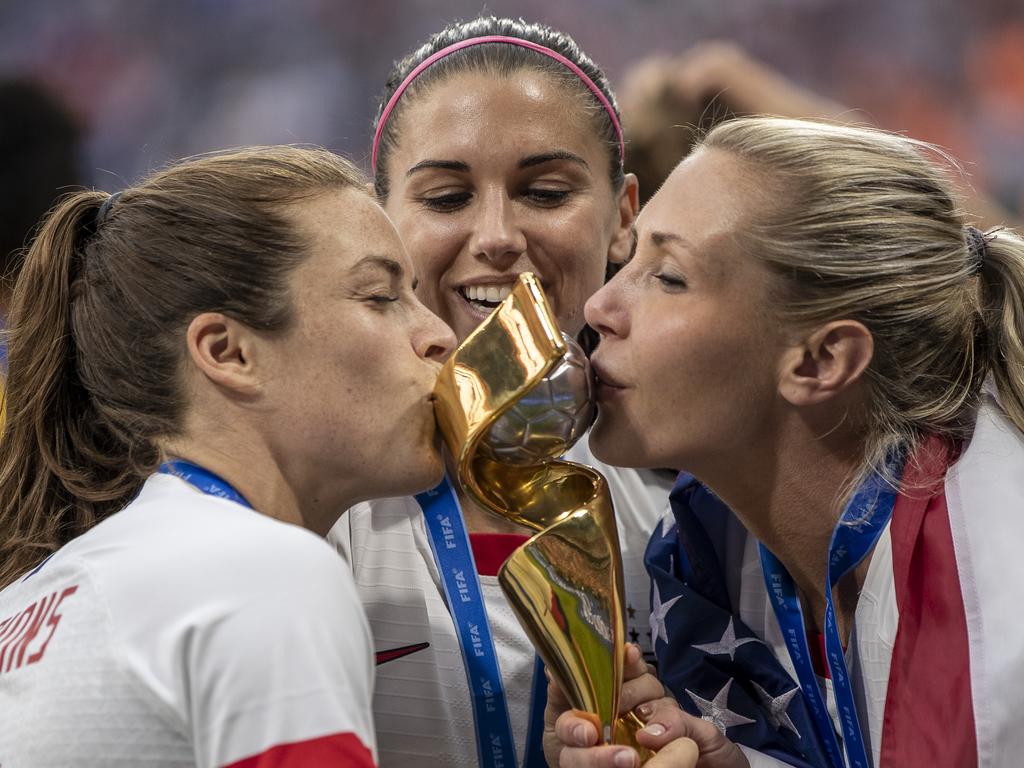 The popularity of the FIFA Women's World Cup has increased the competition's value. Picture: Maja Hitij/Getty Images
Nonetheless, a sizeable gap remains between the prize money available to men's and women's teams in their respective World Cups. Asked about the disparity, a FIFA spokesman said in an email: "We must be careful to balance our optimistic outlook for the future of the sport with the current reality of today's women's football landscape." He said women's prize amounts would be determined closer to the next Women's World Cup, which kicks off in July 2023.
Indeed, amid the advances, most women's sports lag far behind men's sports in attendance and TV ratings. Men's leagues such as Major League Baseball and the National Football League, which have built their fan bases over many generations, have broadcast deals worth billions of dollars.
For decades, women's teams received less support from universities and sports federations than their men's counterparts. In professional sports, spending on fledgling teams has been viewed as an investment in men's sports but a subsidy in women's, said Ginny Gilder, co-owner of the WNBA's Seattle Storm. "But I think that's changing," she said.
For some women's events that have been around as long as their men's counterparts, and share promotions and broadcast platforms, such as the Olympics and the tennis majors, public interest in the women can match or exceed that in the men.
Converting the longtime success of the U.S. women's soccer team into a viable professional league has been a long and difficult slog. The first effort, the Women's United Soccer Association, was launched in the afterglow of the 1999 Women's World Cup final at the Rose Bowl, in which the U.S. women beat China.
The WUSA "spent money like a Major League Baseball team, but we still had the revenues of a minor-league baseball team," said Vicky Lynch, then an executive for the WUSA's San Diego Spirit. The league failed after three years.
The second attempt, Women's Professional Soccer, started in 2009, in the shadow of the financial crisis. Ms Morgan, who had been a college star at the University of California, Berkeley, was drafted No. 1 overall in 2011 by a team called the Western New York Flash.
Morgan (R) playing for the US in 2011. Picture: Jamie Sabau/Getty Images
Top players received decent salaries and bonuses, she said, but there was no players' union. Few clubs had designated workout or weight facilities or support staff or provided much outside of coaching. "We were given hot dogs for lunch, if anything," she said. That league also lasted three years and ended operations in 2012.
The NWSL launched a year later with something the two previous leagues lacked: support from the U.S. Soccer Federation, the sport's domestic governing body. The federation says it spent more than $20 million to ensure the league's long-term stability. The star power of the U.S. women helped drive fan interest.
The players themselves, having won World Cup titles in 2015 and 2019, became more assertive about their financial value.
Ms Morgan and her two teammates sold shirts during the 2019 Cup even though the team's official apparel provider is Nike Inc., which also sponsors Ms. Morgan personally.
A Nike spokeswoman said the company planned for a "significant number of jerseys" in 2019 and continued to restock based on demand. The U.S. women's home jersey, she said, became the top-selling soccer jersey, men's or women's, sold on nike.com in a single season, and sales of Nike's Women's World Cup-related apparel jumped more than 150% in 2019 from four years earlier. She said the company had long supported the U.S. women's soccer team and the NWSL.
During negotiations in 2017 for the U.S. women's collective-bargaining agreement, Ms. Roux, the union head, proposed that players take control of their name, image and likeness rights for consumer products, including apparel, trading cards and video games. U.S. Soccer and its marketing arm had controlled those rights. The federation agreed that the players' association would take control of those rights.
According to Ms. Roux, U.S. Soccer's legal representatives were sceptical they would generate much revenue. "What makes you think you're going to be able to monetise these when nobody else has?" she recalled Russ Sauer, U.S. Soccer's now-former outside counsel, saying.
Mr. Sauer, now retired, denied saying that, and that he or other negotiators were sceptical that the women's commercial rights would generate much revenue. "We always believed the USWNT players' [name, image and likeness] rights would become more valuable over time due to their continued success and U.S. Soccer's commitment to growing women's soccer," he said.
Female athletes such as Alex Morgan are seeking control of the use of their own images in merchandising and other areas. Picture: Bruce Bennett/Getty Images
Between 2019 and 2021, those rights generated $2 million. In the World Cup year of 2019, Ms. Morgan alone made $100,000 from them — equivalent to her base salary from U.S. Soccer for playing on the national team.
Ms Morgan was the lead plaintiff when dozens of U.S. women's national team players sued the U.S. Soccer Federation for gender discrimination in 2019. The lawsuit alleged that the women's team had been paid less than the men's team and received inferior travel and training conditions, despite having a better on-field record.
In a 2020 court filing, U.S. Soccer denied discriminating, arguing that male players carried "more responsibility" and had a "higher level of skill" than female players. A backlash ensued, with several U.S. Soccer sponsors publicly criticising the filing. The federation's then-president Carlos Cordeiro resigned, and the filing was withdrawn.
The players and U.S. Soccer reached a $24 million settlement agreement in February that was contingent on the U.S. women's team completing a collective-bargaining deal. On May 18, U.S. Soccer announced that and more. In separate labour agreements with the federation, the U.S. men's and women's teams agreed to be paid equally.
As part of those deals, they agreed to share all prize money from their respective World Cups, an arrangement that U.S. Soccer said is unique in the world. Those prize amounts, determined by FIFA, are far higher in the men's tournament than in the women's. The U.S. won $4 million for winning the 2019 Women's World Cup out of a total prize pool of $30 million, while France got $38 million for winning the 2018 men's World Cup out of a prize pool of $400 million.
The NWSL has lasted three times as long as each of the two prior women's professional leagues. The reigning league champion Washington (D.C.) Spirit recently sold for $35 million, 10 times the Seattle-area OL Reign's valuation when a majority stake was sold three years ago. Angel City FC, an expansion team in Los Angeles led mostly by women, launched with backing from actress Natalie Portman and Reddit co-founder Alexis Ohanian, and has sold nearly 16,000 season tickets.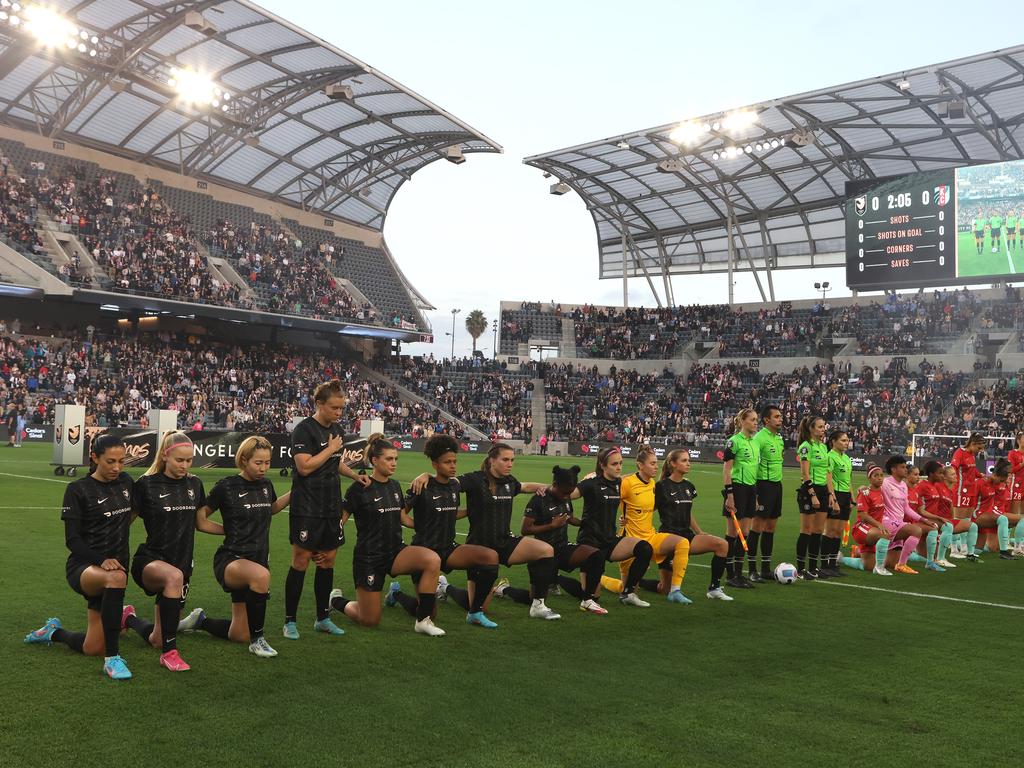 The popularity of Angel City FC has been monumental. Picture: Katharine Lotze/Getty Images for Angel City FC
A few years ago, the league had only a few sponsors, including the National Mango Board. Now, it has deals with Budweiser, Nationwide and Verizon, among others.
Other markers of success are modest. The average NWSL game drew about 7,000 fans in 2019, before the pandemic. The league's broadcast contract is tiny in comparison to the most successful pro sports — a three-year, roughly $5 million deal that runs through 2023. Most games stream on Paramount+, with a handful broadcast on CBS Sports Network or CBS.
Last October, the Athletic reported allegations that the coach of the NWSL's North Carolina Courage had sexually coerced players years earlier while coaching the Portland Thorns. The coach, who was fired, couldn't be reached for comment. Last year, he denied to The Athletic making sexual advances toward players.
Ms Morgan, who had played in Portland, posted on social media what she characterised as evidence that the league had failed to address the alleged misconduct. The NWSL commissioner resigned. Reports of alleged misconduct surfaced at other teams. The NWSL league office, U.S. Soccer and FIFA have launched investigations.
Sports sponsors often recoil from scandal. Online financial-services firm Ally Financial Inc. was in the first year of a three-year, seven-figure NWSL sponsorship when an executive saw Ms. Morgan's tweets. Its chief marketing and public-relations officer, Andrea Brimmer, had played soccer for Michigan State University.
"My whole team, we just wanted to send a message to the players that, you did the right thing," Ms. Brimmer said. "And we didn't want them to be afraid that they were going to lose a bunch of sponsors."
Like in the US, the growth of women's sports in Australia is rapid, on the back of marketable athletes like Sam Kerr. Picture: Matt King/Getty Images
Ally added to its league sponsorship by supporting the players' association, helping fund one new full-time and two part-time employees. Another league sponsor, MasterCard, also stepped in to help fund the union.
In January, the union and NWSL reached the league's first-ever collective-bargaining agreement, which increased minimum pay and average total compensation. The NWSL is standing largely on its own financially, with U.S. Soccer no longer funding some players' salaries. It still provides some support in staffing.
The San Diego Wave, owned by billionaire investor Ron Burkle, isn't a hot-dogs-for-lunch operation. Its president is Jill Ellis, who coached the U.S. women's team to two World Cup titles. Coach Casey Stoney previously led the women's team of English Premier League's Manchester United. The staff includes sports scientists, analysts and a mental performance and wellbeing coach. Plans are in the works to build a 6,000-square-foot training centre.
Ms Morgan said she has received calls from female soccer players around the world seeking advice on topics such as negotiating contracts and forming a union.
– Wall Street Journal