Tearful Sergio Agüero closes book on storied career in which he redefined art of the centre forward
Just months after joining Barcelona, Argentinian hero Sergio Agüero has been forced to retire from football due to heart issues.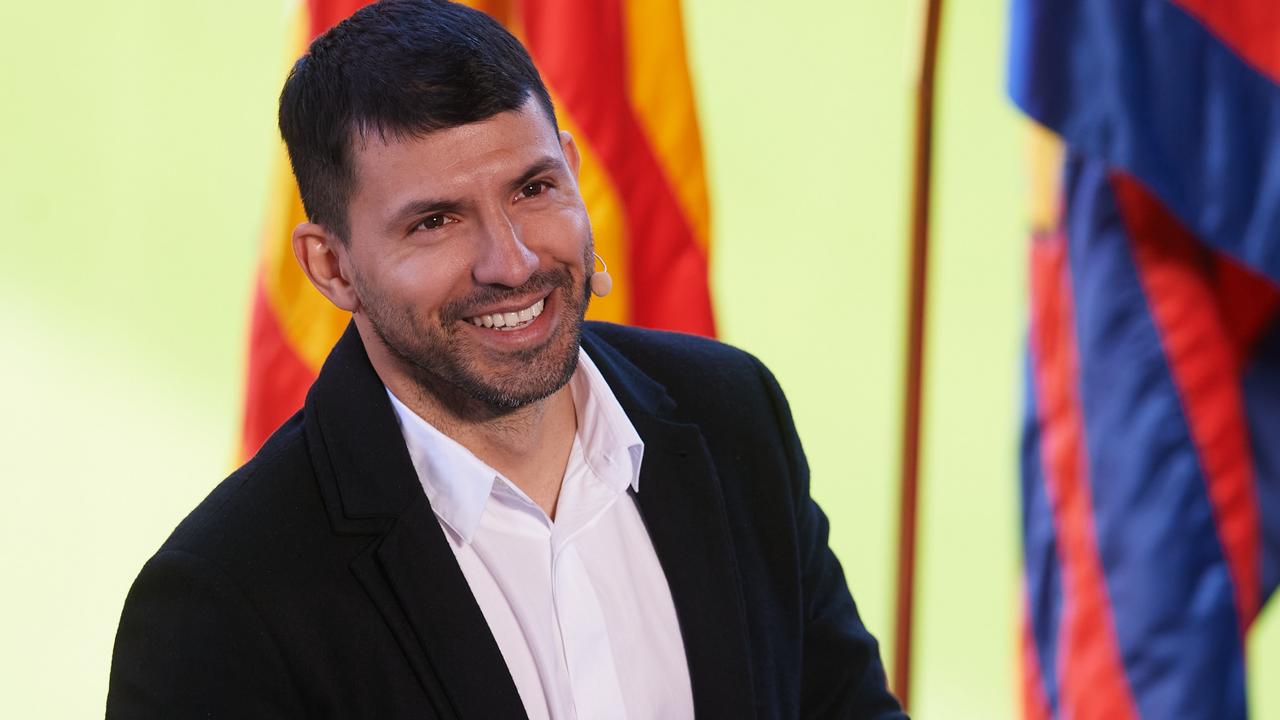 Agüero was diagnosed with a cardiac arrhythmia after experiencing chest pains and breathing difficulties during a game in October. Picture: Alex Caparros/Getty Images
A tearful Sergio Agüero has announced his retirement from professional football, at 33 years old and less than four months after embarking on what he had hoped would be a fulfilling last chapter at an elite club, Barcelona.
Agüero was advised by doctors last month that an irregular heartbeat, known as cardiac arrhythmia, posed a severe risk to his future health were he to continue with his career. The irregularity was detected after he left the field, short of breath, during a match against Alavés, only his second start since joining Barça from Manchester City in the summer.
"It has been tough," he told a press conference at the Nou Camp. "I did everything possible to keep hope but there wasn't much. When I did the first clinical tests, the doctors told me there was a high chance I wouldn't be able to carry on, so I have been getting my mind around it. But you keep hoping. It wasn't easy."
Agüero took some time to compose himself at the beginning of his statement, broadcast live on Catalan television, delivered from a platform in the grandstand at Barcelona's stadium and attended by well-wishers from each compass point of his distinguished career. Pep Guardiola, his manager for half his record-breaking decade at City, had travelled to Barcelona for the event, alongside City's director of football, Txiki Begiristain.
Representatives from Independiente, where "Kun" Agüero emerged as a precocious goalscorer, from Atletico Madrid, whom he joined at 18, and the Argentine embassy, honouring his century of caps, were present. So were Barcelona's first-team squad, many of whom had arrived back in Catalonia at 4am from a friendly in Saudi Arabia in honour of the late Diego Maradona, Agüero's former father-in-law.
As Agüero choked back tears, those assembled broke into spontaneous applause, led by the Barcelona president, Joan Laporta. By the end of the ceremony Agüero was smiling, making a jocular reference to what turns out to have been the final goal of a career packed with more than 400 of them.
"Well, my last goal was against Real Madrid. Not bad for a send-off, eh?" Agüero remarked of his stoppage-time volley in el Clasico in October, a consolation goal in a Barça defeat but a finish trademarked with some of Agüero's best qualities: the deftly timed near-post run, the careful placing of the shot. It had been viewed by barcelonistas as a signpost to the decisive role a fit Agüero might play in guiding a fragile Barcelona towards better times.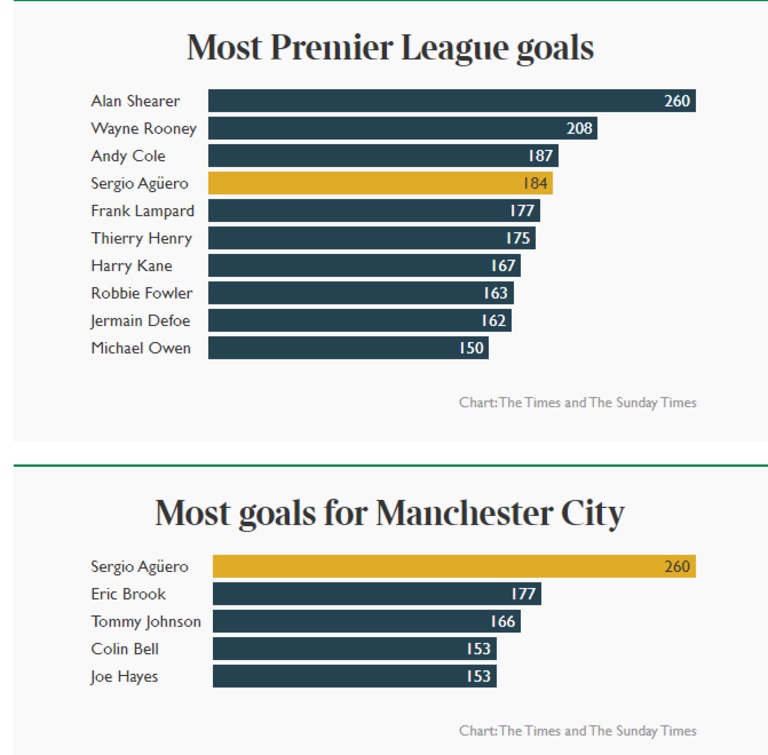 Most Premier League goals.
The club had banked on that, recruiting him once his last contract with City expired. For Agüero, Barcelona promised the chance of building, in club football, on his long partnership with close friend and compatriot Lionel Messi. Messi then abruptly left for Paris Saint-Germain, hopeful that a pairing that has combined for more goals during Messi's international career than any other alliance would flourish at the 2022 World Cup.
"Argentina is the team I have loved most," Agüero said, while thanking "all the clubs and the fans" of "a career I can feel proud of". He picked out a condensed medley of highlights: a "beautiful" goal he scored as a 17-year-old for Independiente against Racing Club; the 2010 Europa League triumph with Atletico. Naturally he cited the 94th-minute winner for City against Queens Park Rangers that settled the closest Premier League title race of this century, in 2012. Those at the Nou Camp were shown it on a big screen, Martin Tyler's "Agüeroooo!" echoing across a sun-kissed stadium.
"The people at City know what I feel for them," Agüero said, "and that goal against QPR meant my first Premier League title and the first for City in years." Forty-four years, in fact, after City won the old First Division.
Agüero would claim four more Premier League winners' medals, finish as the club's leading scorer eight times in the ten seasons he was there, and break various records on his way to 260 City goals. He was, in his understated way, as transformational an import to English football as Eric Cantona or Thierry Henry had been in previous decades, even if his profile remained lower than theirs: He could seem shy in expressing himself in English with the same charm and humour as Spanish-speaking Kun's many social media followers would recognise.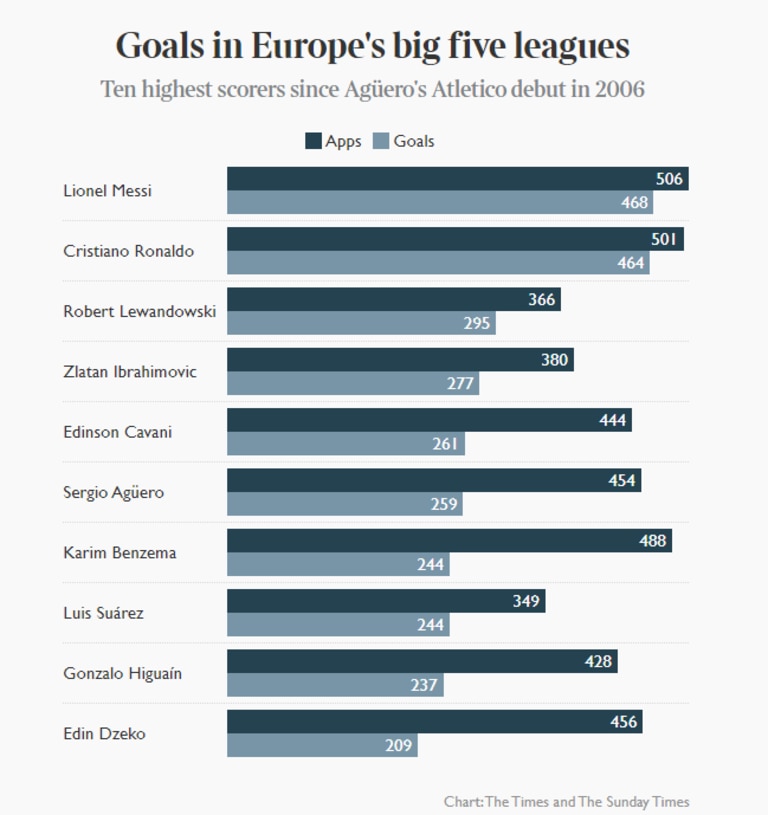 Goals in Europe's big five leagues.
He was transformational at Atletico too, after they paid a then club-record sum to bring a teenager from Argentina to a club that had started the new millennium in Spain's second division. Agüero scored 100 goals for Atletico in five seasons and commanded that watershed 2010 Europa League final against Fulham. It relaunched the club as heavyweights, the first of their five major European finals in nine years.
"We'd have liked you to come here when you were at Atletico," Laporta admitted before Agüero posed for photographs with Guardiola and Begiristain, whose City, signing him from Atlético in 2011, benefited from his peak years, and, as Guardiola would later acknowledge, discovered in Agüero, the deluxe goal-poacher, a capacity to adapt to new interpretations of the role of centre forward.
Injuries curtailed his impact at City in his last two English seasons, delayed his debut for Barcelona, and limited his contribution to Argentina's long-awaited success at a Copa America, achieved for the first time in Agüero's 15-year international career in July. "I didn't play that much there but I was alongside the lads, and it was something we had been chasing for many years."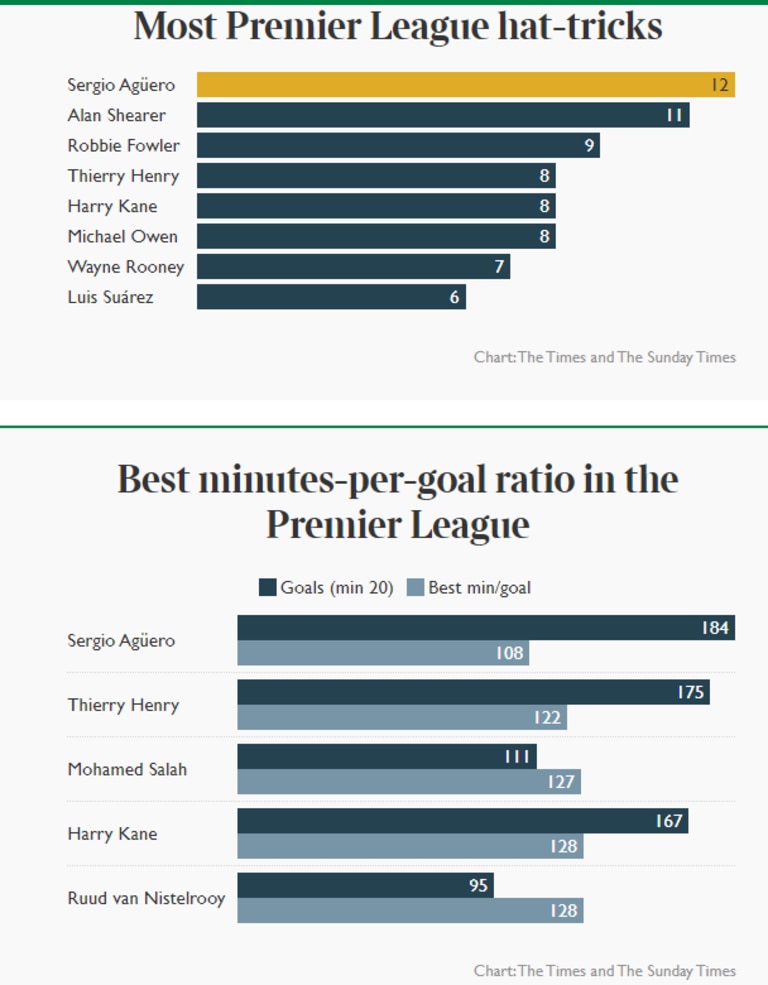 Most Premier League hat-tricks.
That Copa America was trophy No 33 of his career. As he reflected on half a lifetime at the top of his sport, Agüero savoured the positives. "I go out with my head held high. I dreamt of being a professional from when I was five years old, but did not imagine I would make it to Europe. For that I want to say how grateful I am to everyone.
"This has happened to me when I'm 33 — better than if it had happened earlier," he said of the career-ending diagnosis. "It's a positive that I am here today talking about it. It's positive that this problem was identified.
"I will try to be happy away from football and enjoy those moments that, as every footballer knows, you miss out on. It's not always easy being a player, training every day, playing and travelling. I'll stay connected to football, and I'll be able to enjoy life."
-The Times