This is the age of football veterans but with their 40s looming, 2022 will test stamina like never before
When the good outweighs the bad, is it time to let go? The latest in Sergio Ramos's torrent of send offs suggests so, but the question on retirement is a loaded one.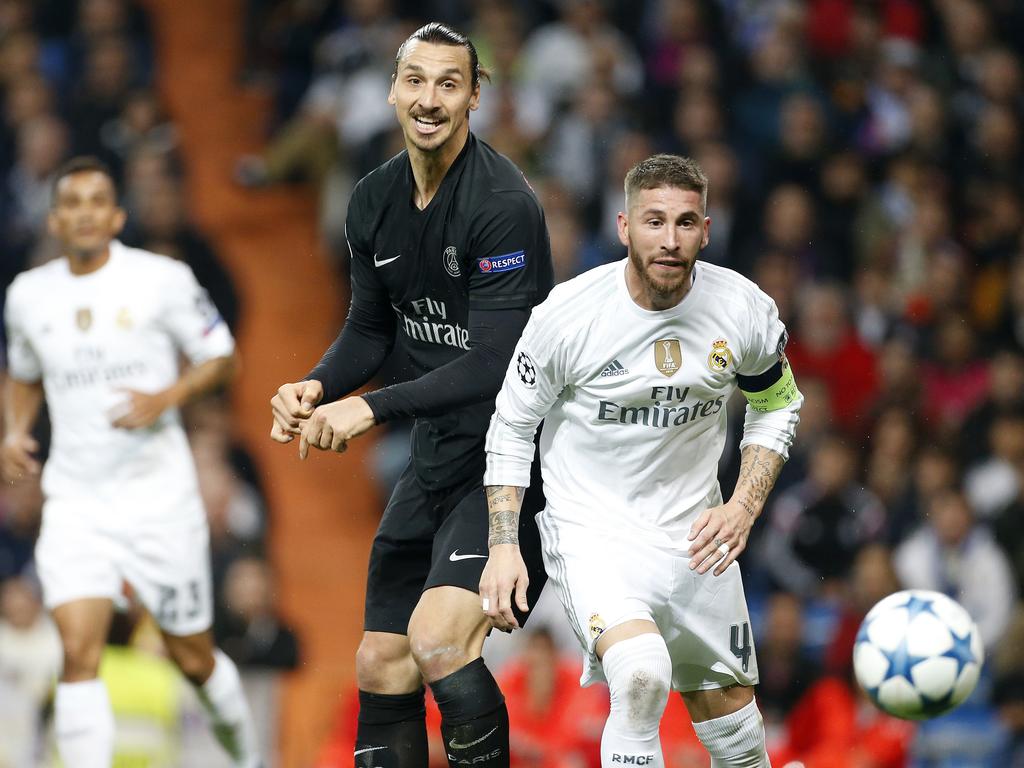 Recently retired Zlatan Ibrahimovic has proven the value of ageing players on the football pitch, but as Sergio Ramos is learning, knowing when's enough is no easy feat. Picture: Jean Catuffe/Getty Images
Any seasoned watcher of Sergio Ramos saw it coming. He saw it coming too, and imagined old tricks could mask newer flaws and that he could stroll away from the imminent collision to congratulations from colleagues for his sly savvy. But the old warrior stuck out his backside too clumsily in obstructing the rapid momentum of a faster, nimbler striker. He gave away more than just a foul. Ramos collected the 27th red card of a career of towering statistical feats, especially that stat for the number of sending-offs.
Thus did elite football's favourite pantomime villain complete 2021: two bookings in a five-minute period towards the end of a 1-1 draw for the year's most ostentatious recruiters, Paris Saint-Germain, away to Lorient, a low-budget club in Brittany. Ramos had come on only at halftime. He has started one Ligue 1 match since joining PSG in the summer after 16 seasons at Real Madrid. He has seen red quickly even by his standards: a mere 130 minutes of action in France's top division and one dismissal.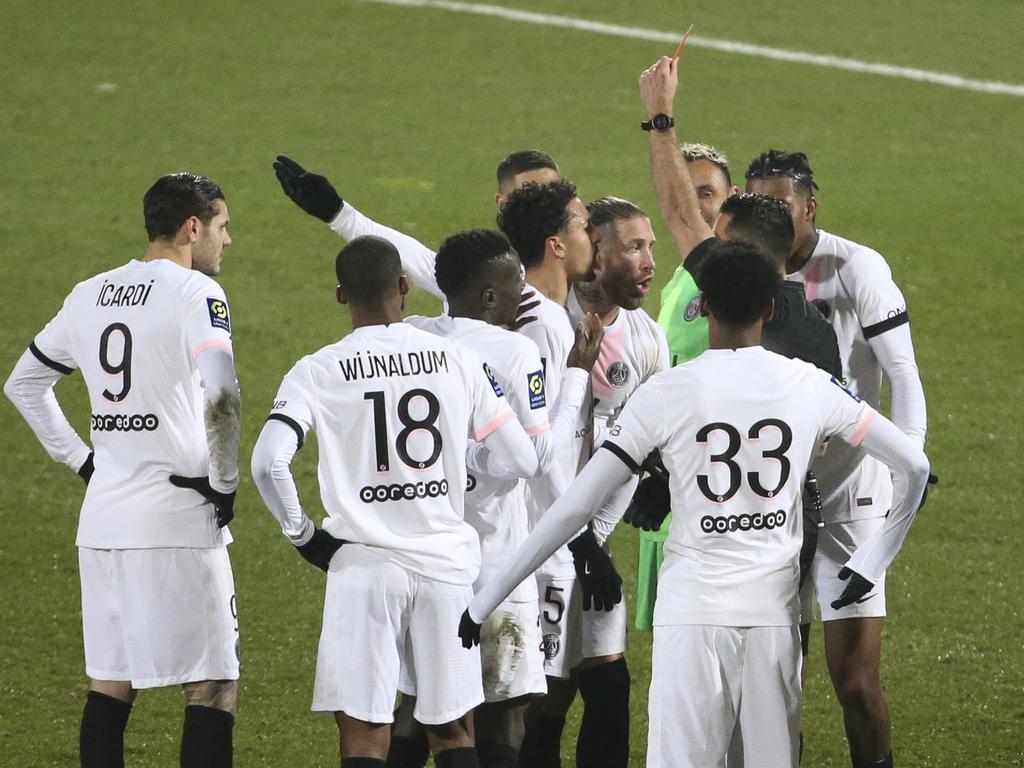 PSG's Sergio Ramos after is shown a red card against Lorient. Picture: John Berry/Getty Images
Not so long ago, Ramos assessed this year's packed schedule of events would lead to his coronation as the modern game's all-round superman: its best goalscoring defender, its most heroically chest-beating captain, its least satiable accumulator of every medal. In his mind's eye, he would have added yet more trophies to his ample Madrid collection and skippered Spain, for whom he has won two European Championships and a World Cup, to triumph at Euro 2020. He encouraged lobbying to have him chosen as the senior over-age player in his country's Olympic Games team. It was even mooted he could carry the Spanish flag at the opening ceremony in Tokyo, at least until too many people wondered out loud how being a record-holder for red cards tallied with what "the Olympic spirit" is supposed to represent.
This gleaming vision of Super Sergio's Ultimate Year was in place before the pandemic. Then all the big showpieces of 2020 were shunted into 2021. Ramos has been injured most of the past 12 months, has won no major trophies, was not offered the contract extension he thought he merited at Madrid, and did not go to the Euros or the Olympics. He has now regained fitness, but PSG's big idea that capturing him on a free transfer would mean him launching precise long passes to Kylian Mbappé and scaring the wits out of any opponent who goes in hard on Lionel Messi is still to shift from theory to practice.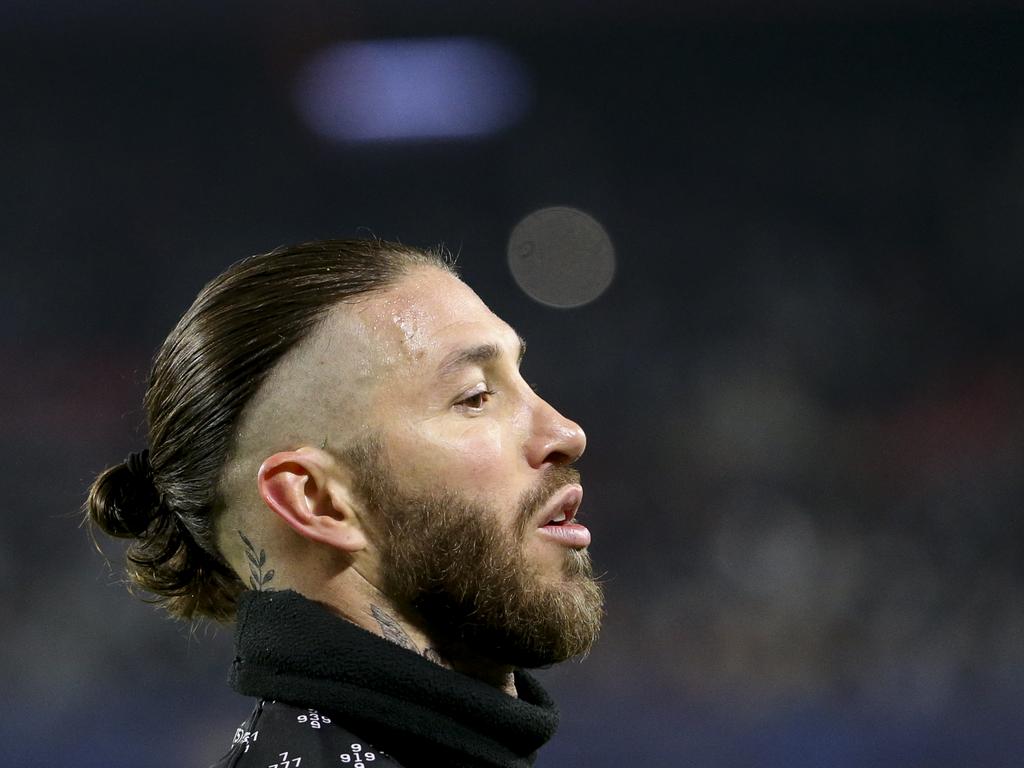 Sergio Ramos has become a record holder for red cards received across La Liga and Ligue 1. Picture: John Berry/Getty Images
But Ramos can be encouraged he has plenty of time yet, that he lives in the age of the ageless athlete, and that turning 36, as he will in March, need be no barrier to many more medals, stoppage-time goals or unpunished shirt tugs.
He can glance at Dani Alves, a Seville teammate half a lifetime ago, who, as of next week, will be lining up for Barcelona again, after five years globetrotting, at the age of 38. Alves gives every impression he is the same "Duracell Dani" who used to play right back, central midfield, No 10 and right wing with equal distinction — and with such energy he seemed to be in all those positions within the same move.
The re-signing of Alves, who is out of contract and will be registered as a Barça player on January 3, is a symptom both of nostalgia at a club who have fallen hard and deep from the heights he helped them to from 2008 to 2016, and of the financial challenges at many so-called superclubs, particularly in southern Europe, in the time of Covid. To squeeze another year or six months out of a well-preserved veteran willing to take a lower salary than he did at his peak, is to soothe a strained treasury. "Better to go out with good memories than yachts or private jets," Alves said of his latest, reduced wage.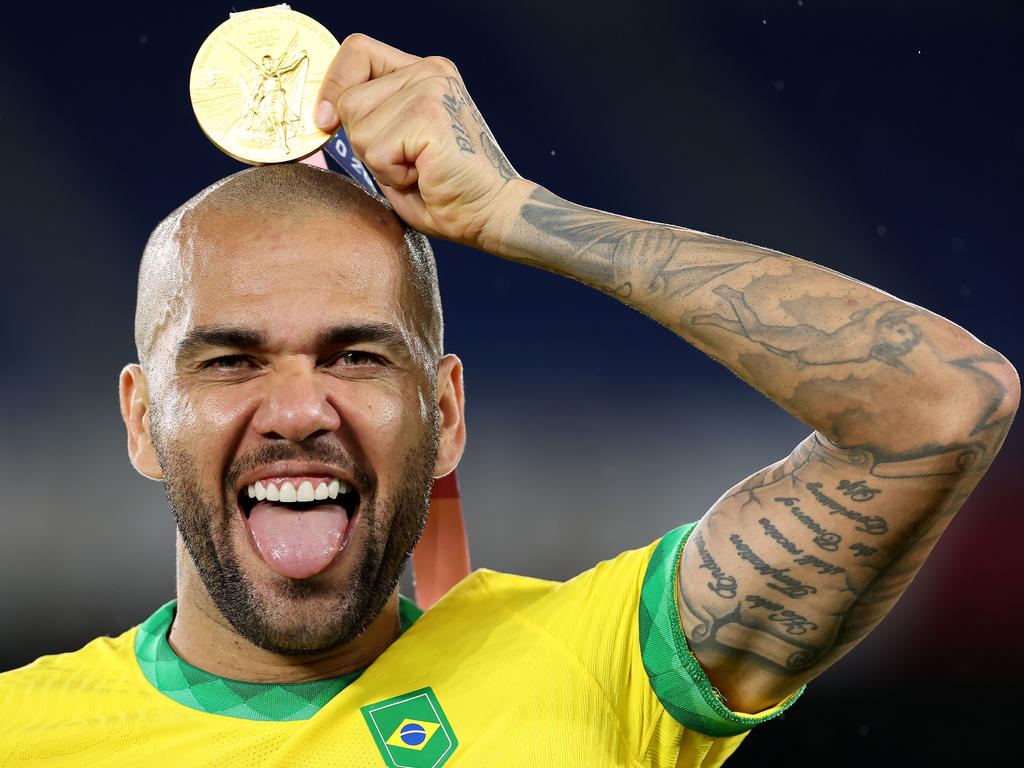 Alves, pictured with Olympic gold in August, is expected to make his second debut for Barcelona next week aged 38 and could also go to the World Cup with Brazil later in 2022. Picture: Alexander Hassenstein/Getty Images
Alves will be hard pushed, though, to add a sixth Liga title to his vast trove of medals — the most recent of his 43 is the Olympic gold medal, as Brazil's captain in Tokyo — because Barcelona have ended a turbulent year at seventh in Spain's top division. They sit 18 points behind runaway leaders Real Madrid, whose performances remain reliably elevated by their own Peter Pan, the 36-year-old Luka Modric.
Italy's most abruptly cash-strapped giants, Internazionale, meanwhile, are defying gloomy forecasts. They lead Serie A, which they won in May for the first time in over a decade. After that title and with urgent debts to settle, they sold a totemic centre forward, Romelu Lukaku, and replaced him with a free-transfer 35-year-old, Edin Dzeko. Dzeko's eight goals and four assists in Inter's league campaign have contributed significantly to putting them on course for a title defence, just ahead of AC Milan, who are eking almost a goal every 90 minutes from Zlatan Ibrahimovic when he's been involved.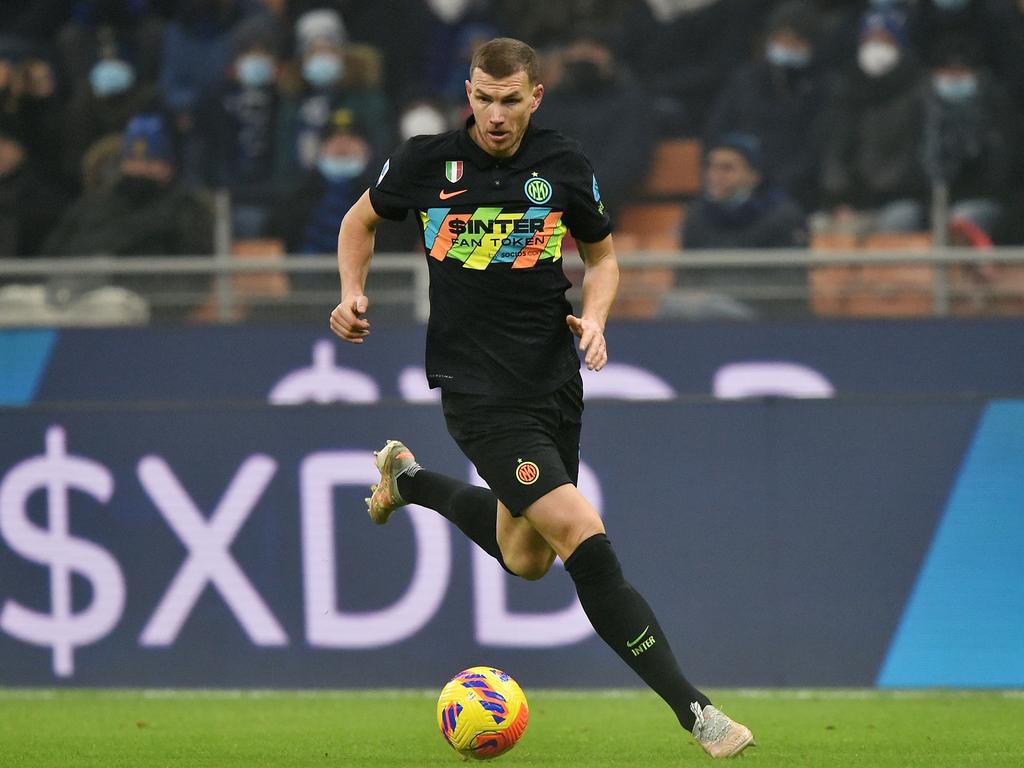 Edin Dzeko's goals for Inter have put the champions on course to successfully defend the Serie A title. Picture: Giuseppe Bellini/Getty Images
Ibrahimovic turned 40 in October, a few months after he brought his five-year international retirement with Sweden to an end. Injury meant he, like Ramos, missed the European Championship, but the event would still honour veterans. Its winning captain, Italy's Giorgio Chiellini, lifted the trophy a month before his 37th birthday. Its joint-top goalscorer was Cristiano Ronaldo, 36.
And this was the year that began with Thomas Müller estranged from international football because he had been deemed past his sell-by date by Germany's then head coach, Joachim Löw. It ended with Müller reaffirming himself as one half of the most enduringly successful marriage of forwards in the club game. He and Robert Lewandowski — combined age: 65 — have just taken their tally of shared involvement in Bayern Munich goals to 75.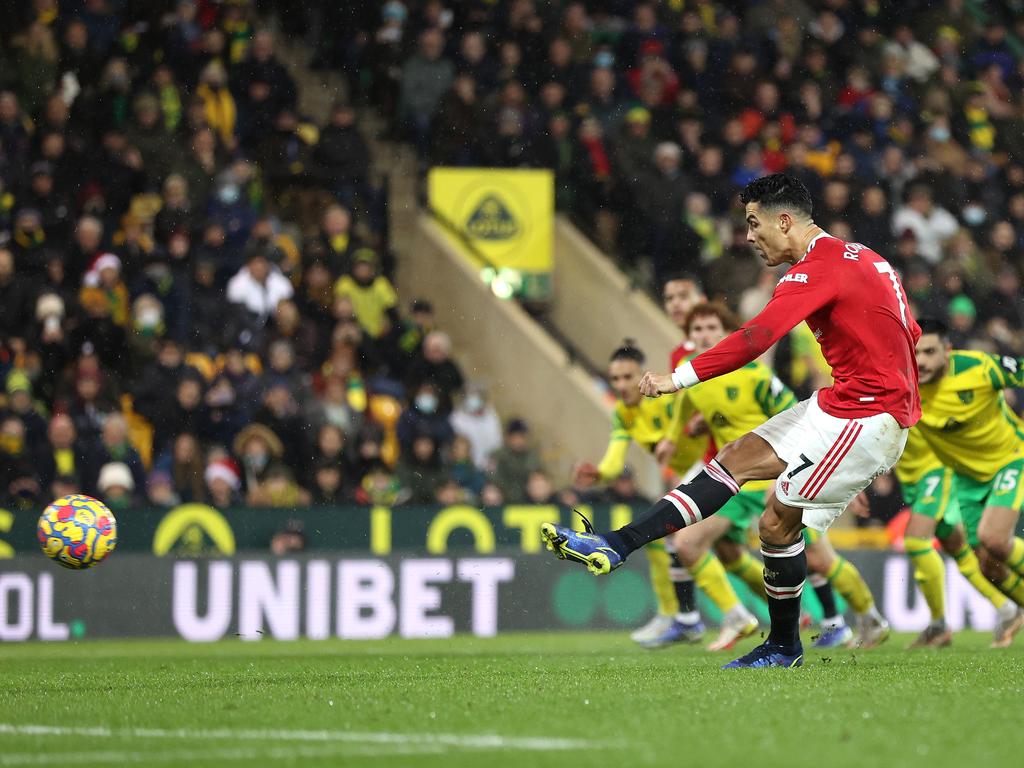 Cristiano Ronaldo is still a weapon in front of goals for of Manchester United at 36. Picture: Alex Pantling/Getty Images
Bayern appear to be en route to the club's 11th successive Bundesliga title and present the strongest argument against the Champions League being won by an English club in 2022. It's a year that will begin with a fixture backlog and finish with a World Cup compacted into the domestic season and held under a beating sun. It's a year that should probably find a special award for any veteran with the stamina to come out of it smiling.
-The Times