Trinity Rodman: a famous name, and emerging star of US women's football
Daughter of NBA legend Dennis has already secured a million-dollar contract and could be the world champions' next great player, writes REBECCA MYERS.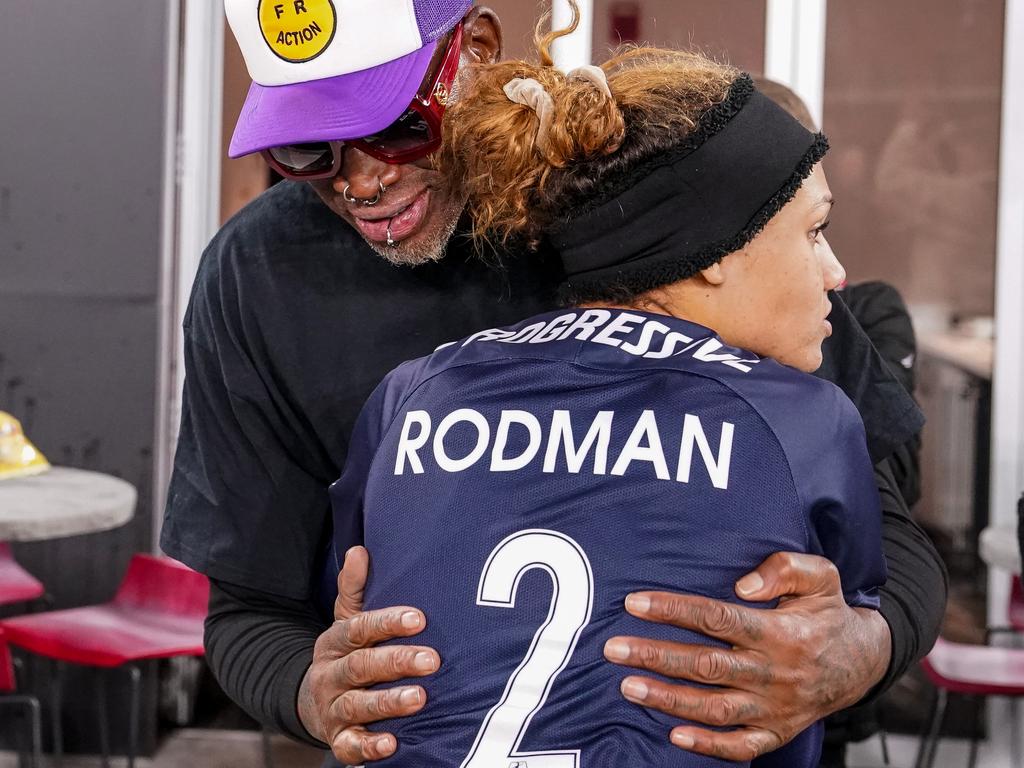 Trinity and Dennis Rodman 'don't have the best relationship,' according to the daughter. Picture: Tony Quinn/ISI Photos/Getty Images
Nothing about Trinity Rodman's rise to the top of women's football in the USA has been normal. Last year the 19-year-old became the youngest player in history to be drafted into the American league, the NWSL, and last month she became the richest, signing a contract with Washington Spirit worth a reported $1.1 million (about £800,000).
On Friday, she completed a hat-trick of landmark moments, making her debut for the US women's national team in their She Believes Cup match against the Czech Republic. She is only the fourth teenager to earn a cap in more than a decade.
If these achievements have brought her to national attention, her famous surname has intensified it. Trinity is the daughter of basketball legend Dennis Rodman, known as one of the best rebounding forwards in the history of the NBA, but also for his off-court antics including relationships with singer Madonna, model Carmen Electra, and an unlikely friendship with the North Korean leader Kim Jong-un.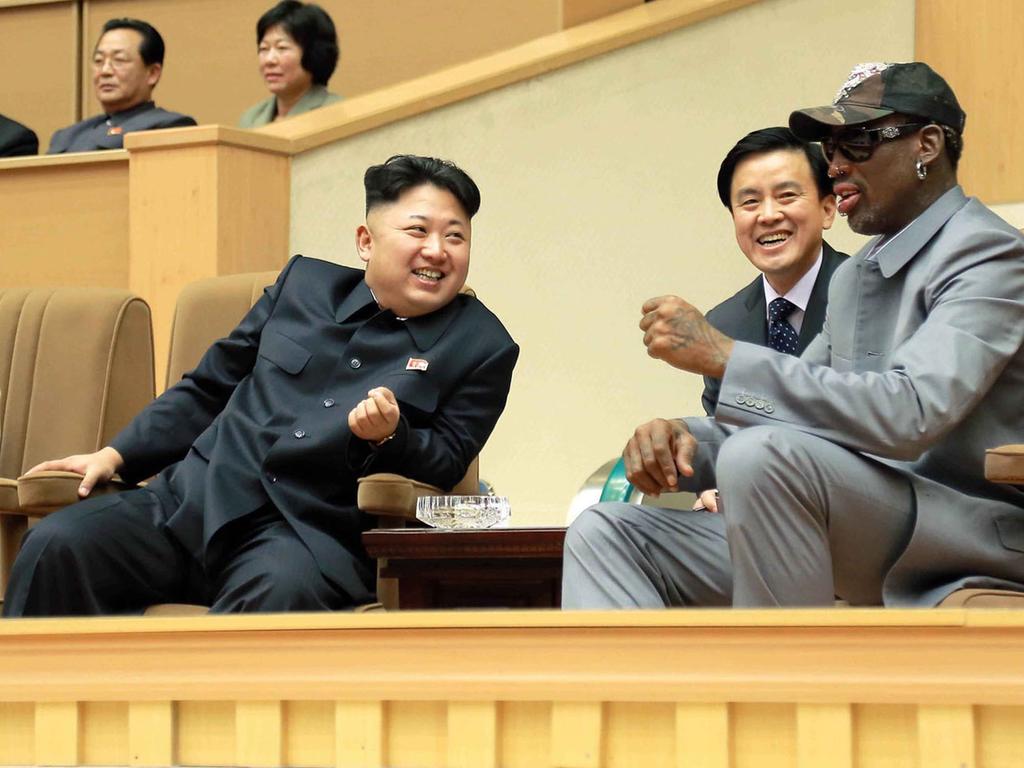 Dennis Rodman formed an unlikely friendship with the leader of North Korea. Picture: Korean Central News Agency/AP
Rodman senior came to watch the young football star at one of her Washington Spirit games in November. "Yes Dennis Rodman showed up to an NWSL game," his daughter wrote on her Instagram, underneath a photo of the pair embracing. "My dad, after YEARS surprised me at a big game … I was shocked, overwhelmed, happy, sad, everything."
She went on to explain to her followers that her father doesn't play a big role in her life: "We don't see eye-to-eye on many things. I go months if not years without his presence or communication. Being in spotlights has been hard for us, him and me. We don't have the best relationship, but at the end of the day … he's my dad, and I'm his little girl."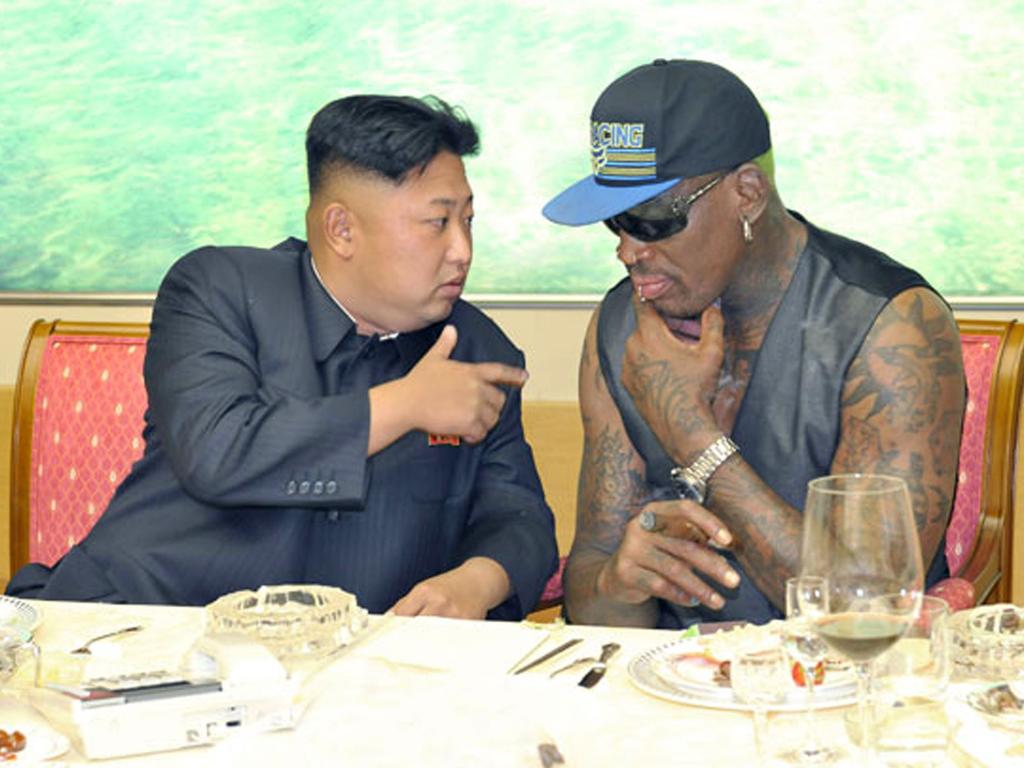 Dennis Rodman holds a cult-like status owing to his eccentric on and off-court behaviour, including his friendliness with the North Korean leader. Picture: Rodong Sinmun/Korea News Service via AP
Trinity Rodman was raised in Southern California by her mother, Michelle Moyer, who filed for divorce from Dennis two years after her daughter was born. Trinity has described her mother as her role model, saying: "She shaped me into the woman I've become."
At the time, her father was as famous for his off-court antics as he was for his prowess on it — which earned him two NBA Defensive Player of the Year awards as he formed part of the Chicago Bulls franchise that won three NBA titles from 1995-98. He also tried his hand at professional wrestling, was the subject of more than one lawsuit for sexual assault (all settled) and suffered recurrent problems with alcohol.
Even his politics were unconventional. From 2013, he made trips to North Korea to meet Kim Jong-un and establish warmer relations between the country and America, through sport. In 2015, he endorsed the presidential candidacy of Donald Trump, whom he had met on the TV show Celebrity Apprentice.
While her father's personal life was engulfed in controversy, Trinity quietly began playing football at the age of four, joining the SoCal Blues club at the age of ten, widely regarded as one of the best girls' teams in the country. When she was eight years old, Kobe Bryant, who had come to watch his daughter play football on the same team, complimented her performance.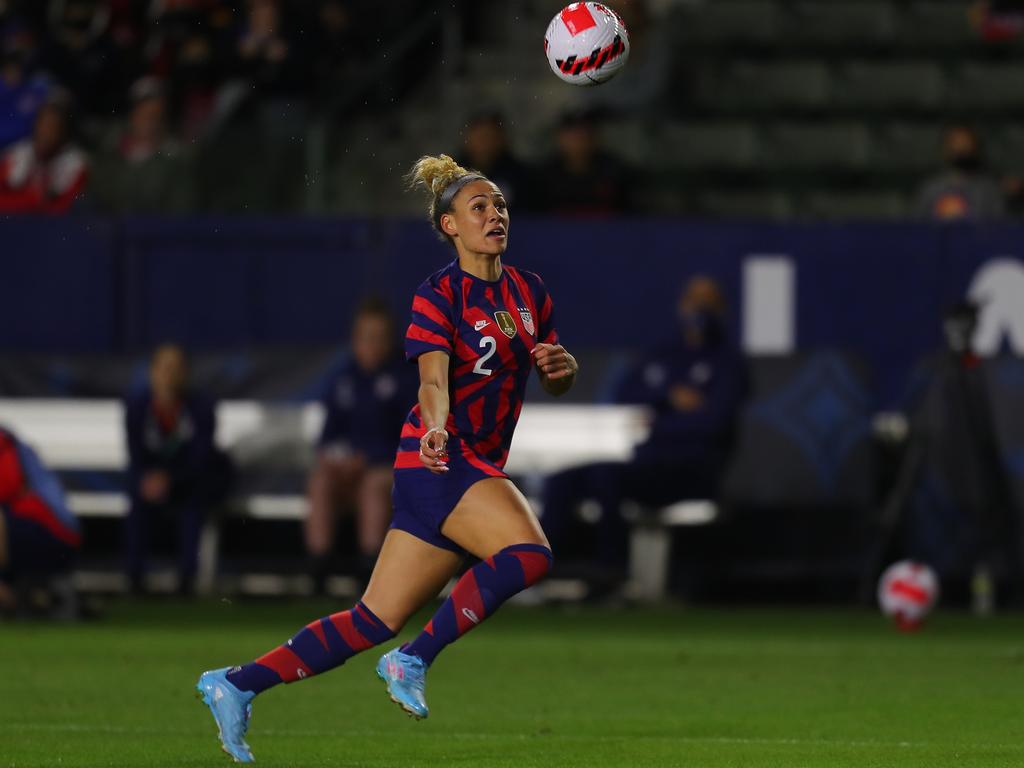 Trinity Rodman is currently a part of the USWNT playing in the SheBelieves Cup in California. Picture: Omar Vega/Getty Images
In 2020, she decided to go to Washington State University and play for the team there, joining her brother, DJ, who plays for the college's basketball team. But, after the pandemic threw the season into disarray, she made an unusual decision in women's football in America: she skipped college altogether.
"That's very rare," says Misha Sher, global head of sport, entertainment and culture at MediaCom and an expert on the women's game. Only a few female players in America have bypassed college. "College is four years of physical and emotional development to go through to reach the professional game. That's a really big jump."
Briana Scurry, a former World Cup winner with the US national team, was asked to mentor Rodman by Washington Spirit, who were keen to ensure the young player had help to navigate that jump. The environment at Washington last year was tumultuous: they fired their coach, Richie Burke, after players made allegations of emotional and verbal abuse. Rodman wrote on her social media that "no one could even begin to put into words how hard this year was for our team".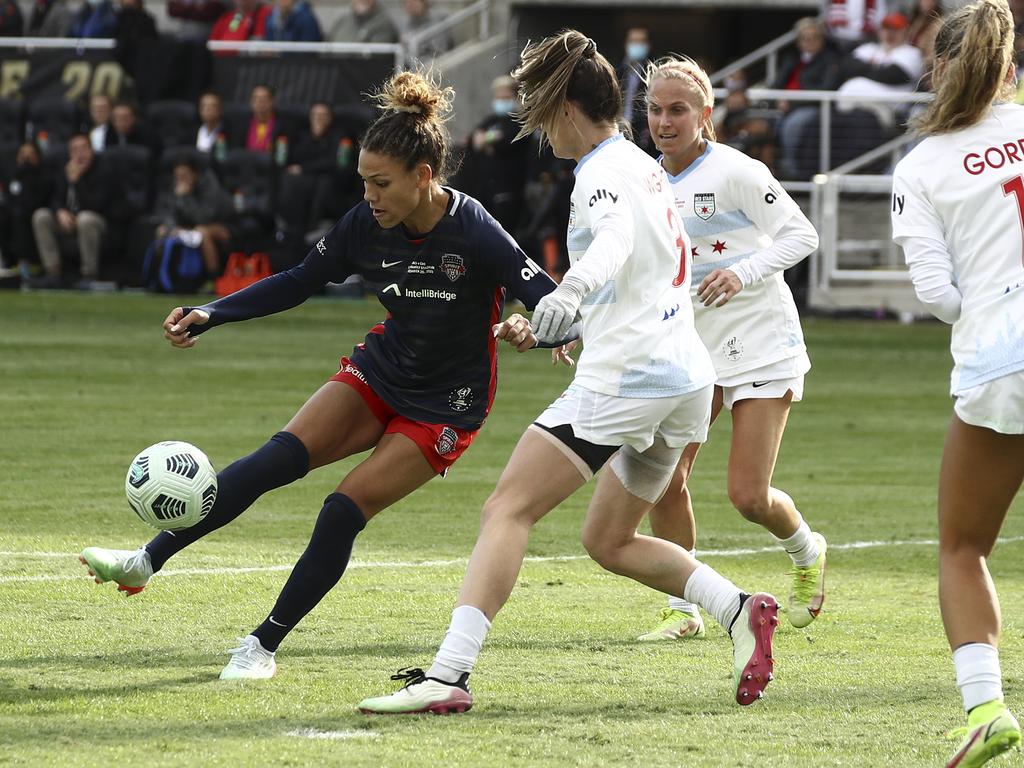 Rodman secured a contract with Washington Spirit in a deal that secured her $1.1M over four years, a significant figure for the WNSL. Picture: Tim Nwachukwu/Getty Images
The extraordinary circumstances, though, appear to have forged extraordinary bonds, and Rodman cited the "supportive" atmosphere as a contributing factor in agreeing her new deal, which will keep her with the club for the next three or four years.
The money, of course, will have helped to cement that decision. Jonathan Tannenwald, a reporter for the Philadelphia Inquirer and expert on women's football in the US, says it was a surprise to see that kind of price tag. Although it is $1.1 million over four years, it is still substantially higher than the upper limit for the league, which is about $75,000 per player per year, and eclipses her first deal, which was about $42,000. Clubs are allowed to use pots of so-called allocation money to increase individual salaries.
Sher says the contract should be understood alongside wider progress in women's football, which has grown its audience in the USA to unprecedented levels in recent years through deals with broadcasters CBS and Twitch, and with big-name sponsors such as P&G and Google. "There is huge growth in this space," he says. "It's important that we see this contract in the context of that. It's another step in the right direction; it's a reflection of the health of the women's game."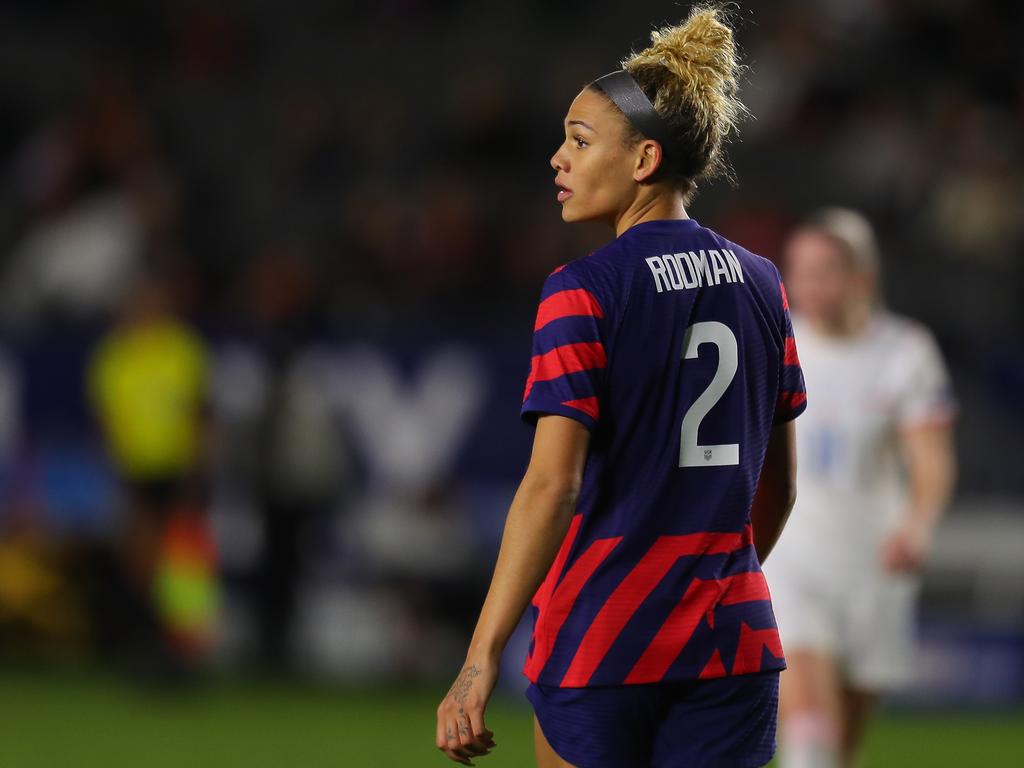 Rodman's deal, as well as the popularity of the hugely successful USWNT show the growth of the women's game through the US over the last decade. Picture: Omar Vega/Getty Images
In fact, this landmark deal could have a knock-on effect throughout the league. "In the not-too-distant future, these kind of contracts will become the norm," Sher says. "I don't expect it to happen overnight but everyone who is involved in the women's game should look at this as a signal that this is a prosperous league." Jess Fishlock, the Wales midfielder who has played in the NWSL for OL Reign for almost a decade, tweeted that it was great to see Rodman getting paid so highly: "It has been a long time coming to see that … It's a win for us all and a win that we will keep pushing and pushing."
Rodman's agent said her performance in her first season, in which she scored seven goals, added seven assists, helped her team win the championship and won rookie and young player of the year awards, enabled them to push for a new deal.
Washington's largesse was not just a reflection of these performances; it was an attempt to get ahead of potential future interest from Europe, where clubs including those in the English Women's Super League could be looking to entice her over. "It will keep her in the US, probably," Tannenwald says. "Lyons, Manchester City or Chelsea would potentially be able to throw that kind of money at her, so now that incentive to go to Europe is diminished. And they want to make her one of the stars of the Washington team."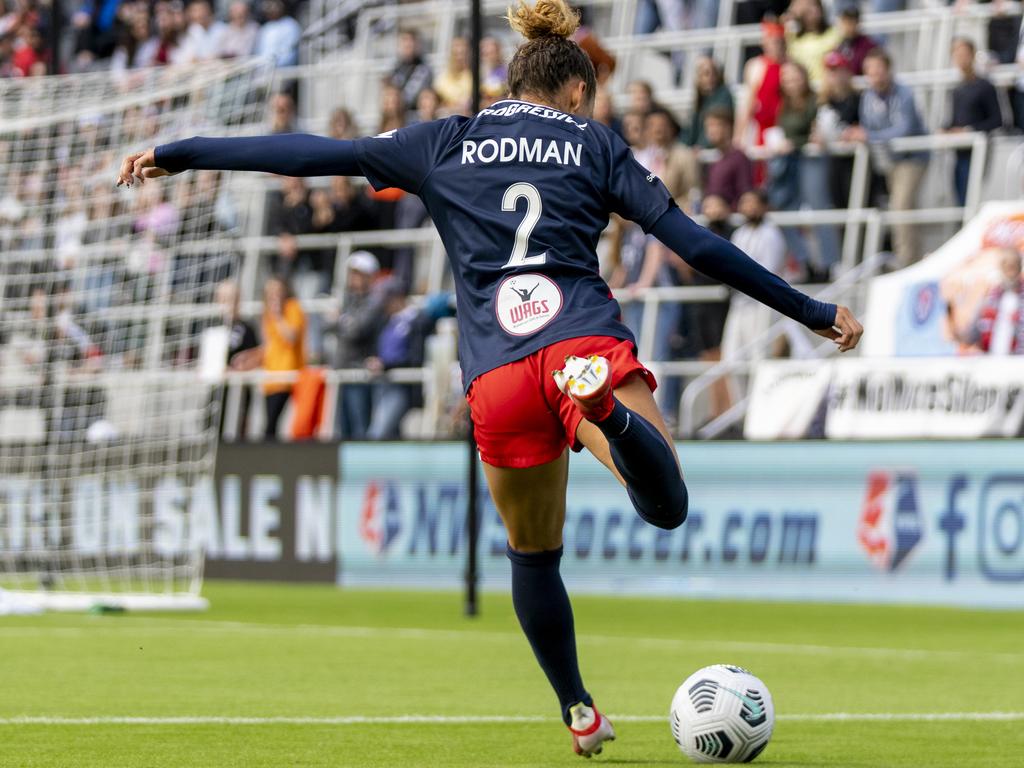 Rodman was named the WNSL's Rookie of the Year, and now has an appearance for the senior national team under her belt. Picture: Brad Smith/ISI Photos/Getty Images
It is good news for the US national team, too, who are staring down the barrel of potential high-profile retirements and are equally in need of an exciting new talent. Carli Lloyd retired in November as s double World Cup winner, while other leading stars such as Megan Rapinoe, Christen Press, and Alex Morgan are in their thirties. Vlatko Andonovski, the head coach, has focused the team for this She Believes Cup, which continues this week, on giving up-and-coming players a chance to shine in the absence of team stalwarts.
Andonovski has been cautious not to pile more pressure on to Rodman. "We don't want to rush anything, obviously," he said last week. "We have to be patient. She's still a young player, but we do want to expose her to the environment where she can get her feet wet a little bit."
Meanwhile, the young star must keep her head above water as the interest in her increases. "She's a special player, anyone's eyeballs can see that," Becky Sauerbrunn, the veteran national team player, said on Friday. "Her ability to take players on and her ability in the air to create chances is truly a gift. She's got a long, bright career in front of her."
-The Sunday Times