'Who will want you now?': Perth Glory's Brad Jones still out to prove doubters wrong
Not long after Brad Jones left Liverpool, he was out the door at his next club with a brutal barb ringing in his ears. Then the goalkeeper took a punt and sparked a wonderful career revival.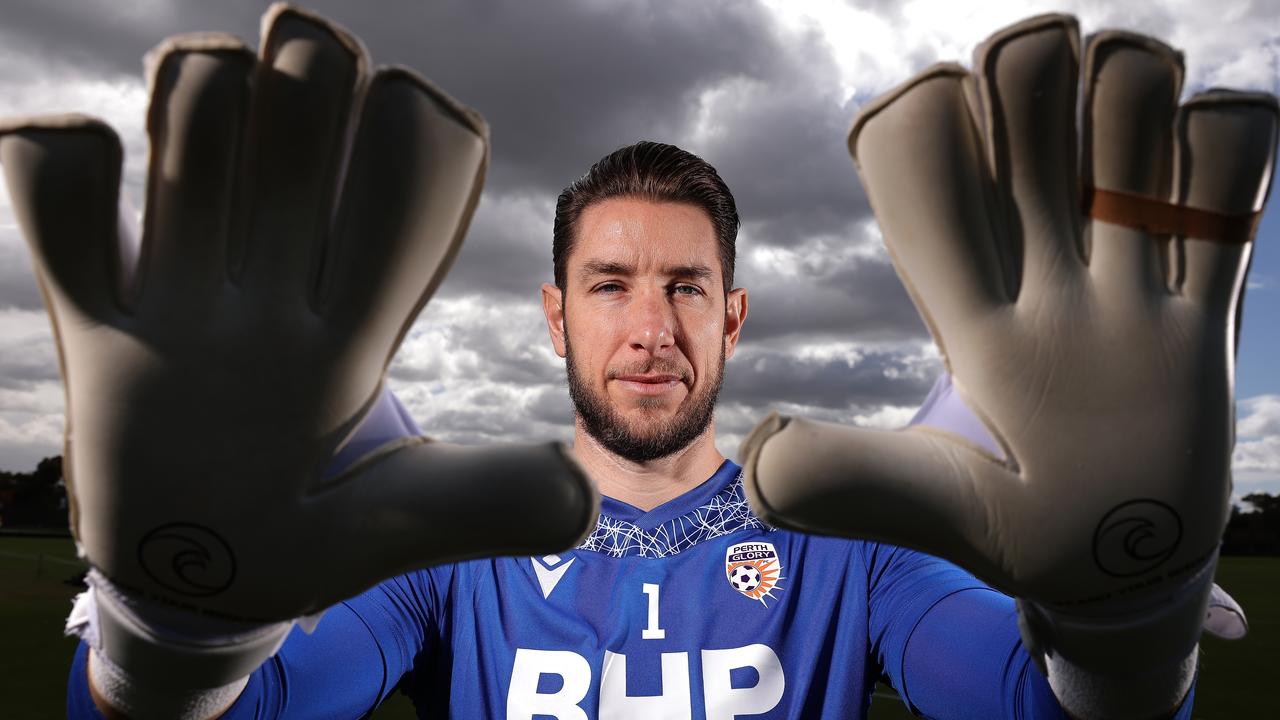 Brad Jones' return to Australia is gifting him with a chance to 'show what he can do.' Picture: Paul Kane/Getty Images
The barb from Phil Parkinson, then-manager of Bradford, didn't miss as Brad Jones walked just two "miserable" months after signing midway through 2015.
"That stuck with me massively and I thought, 'OK, we'll see where you end up and where I end up'," Jones recalls.
But after five years as back-up keeper with English giants Liverpool and then the ill-fated Bradford stint, Jones simply ended up without a club.
Not until he was training one-on-one with a Dutch friend in a five-a-side centre in Manchester, far removed from the Premier League glamour, did the phone ring and his fortunes change.
An agent from the Netherlands called his mate while they were packing up and asked if he knew of any goalkeepers looking for a gig.
NEC Breda were desperate.
'Yeah, I'm with one now actually, funnily enough. Brad Jones from Liverpool, remember him?'
'Yeah, he'll do. But tell him we can't afford to pay him. There's literally no money in the budget, we'll cover the expense, that's it.'
Not a cent in wages. To play in the Eredivisie – the Netherlands' premier competition.
Right then and there on the spot, young family and all, Jones was in.
"I signed for six months with NEC for literally nothing. Just bills – hotel and car – and it's the best thing I ever did. I loved it. I was on fire. I did exactly what I wanted, which is show people what I could do and it ended up in a move to Feyenoord," Jones says.
A season later, he had recorded a club record 17 clean sheets for the Dutch giants and was a title winner.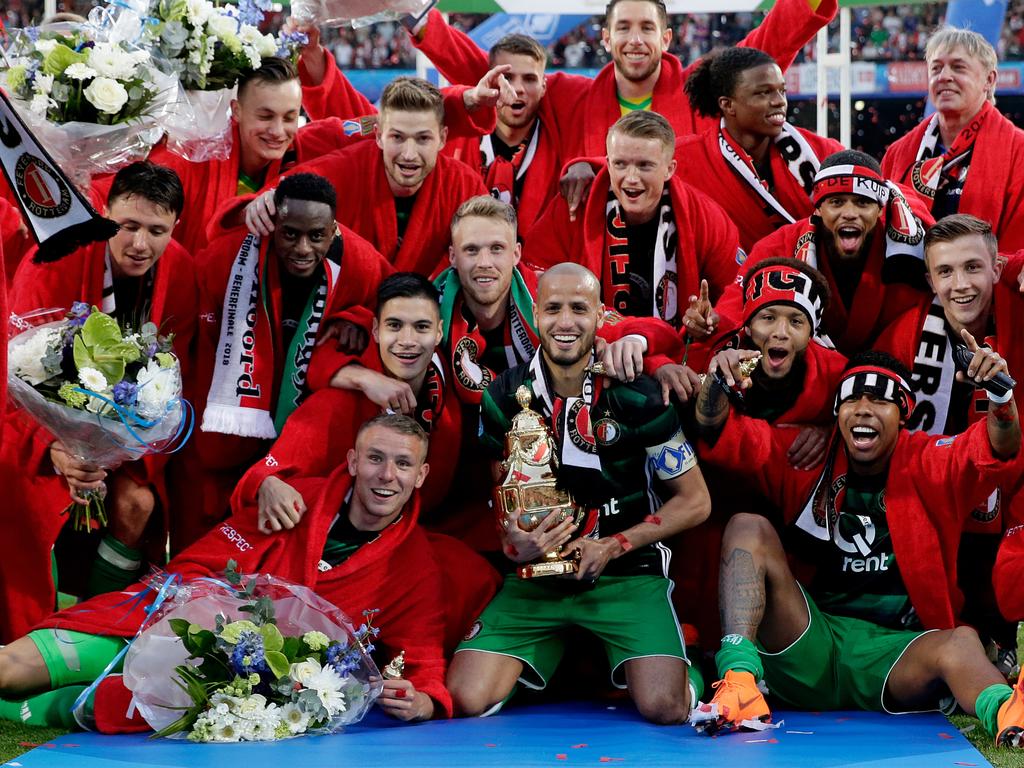 Brad Jones celebrating victory with Feyenoord in 2018. Picture: Eric Verhoeven/Getty Images
Five years on a juicy wage at Anfield allowed Jones to take that gamble of course, when others may not have been in a financial position to do so.
But once again, Brad Jones had overcome the odds. Once more he had overcome perceptions that he wasn't quite up to it.
It's been a similar theme for the now 39-year-old, throughout his 20-year professional career, that traversed the globe and now has him back in the place where it all began.
In his hometown of Perth, with his wife and three children, and between the sticks for the Glory.
Along the way he enjoyed the highs of breaking through from the youth system at Middlesbrough, a long spell at Liverpool that included an FA Cup semi-final at Wembley, league and cup triumphs in the Netherlands, three trophies in Saudi Arabia and a World Cup squad berth in 2018.
But there were also the emotions that come with always being on reserve at Anfield and with the Socceroos.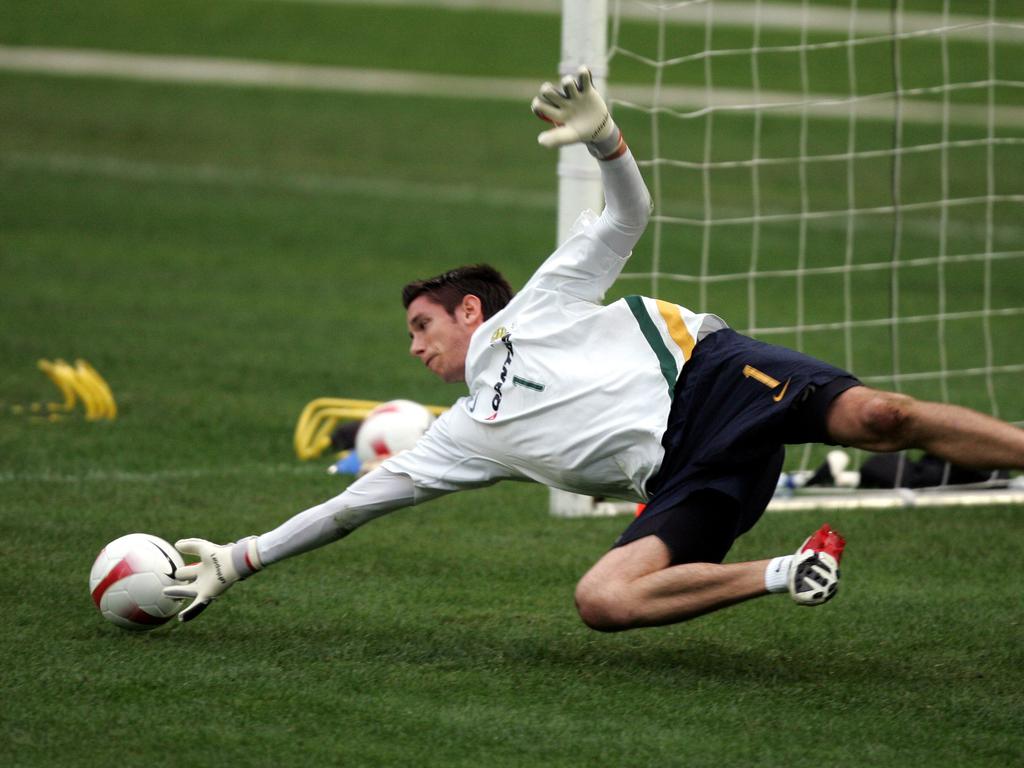 Jones during Socceroos training in 2007. Picture: NCA
And the battle that put football firmly in perspective, the passing of his six-year-old son Luca (who he had with his previous partner) in 2011 following a battle with leukaemia.
A catastrophic moment like that will inevitably shape the course of anyone's life.
And it certainly did for Jones, who decided he was sick of sitting on the bench and waiting for moments to come to him.
So he simply created them for himself.
"A situation like that, it always stays with you and there's always a knock-on effect and how you go about things in the future," he says.
"Mentally it gives you a drive to really make the most of what you've got. I got to a point at Liverpool where I had to get out. That could have been a reasoning for it, I just knew I had to get on with it and do what I was meant to do."
The personal battles from Luca's passing will never completely cease.
"The dark days come but you do have to move on and fortunately the kids helped a lot with that. We had our eldest not long after Luca passed and that helped a lot. Life continues and you have to make the most of it for everyone else."
It was in the darkest of those days that his most memorable moment at Liverpool came.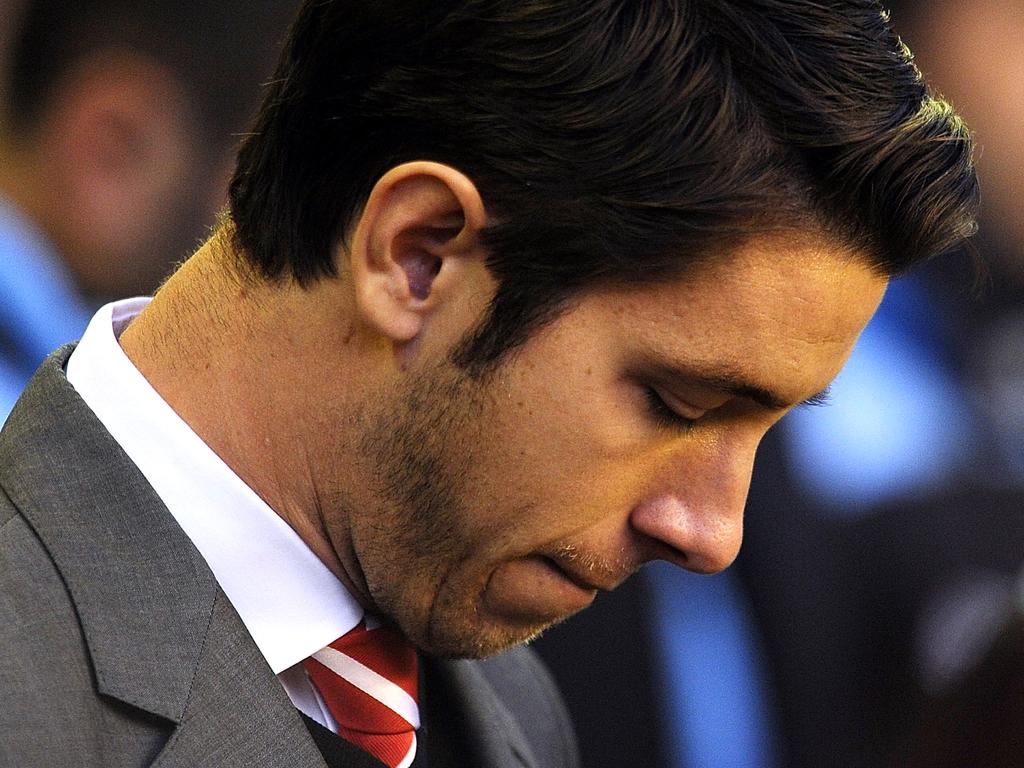 Brad Jones and his teammates at Liverpool observed a minute silence for the passing of his son, Luca, in 2011. Picture: Andrew Powell/Getty Images
Five months after his son's passing, Jones made his Reds league debut off the bench, away to Blackburn, after starting keeper Doni was sent off.
Jones's first Premier League touch for Liverpool was saving a Yakubu penalty and then, with the ball clutched in his arms, pointing to the sky in tribute to his boy.
"If you take a snippet of my five years at Liverpool that's the one thing everyone remembers," he says.
"That week was insane. I'd gone from thinking about stopping football, I wasn't really training, took time off and then I was thrust into a game. It was huge."
A week later, with Doni and Pepe Reina both suspended, Jones was propelled into Kenny Dalglish's starting line-up for what would be a triumphant FA Cup semi-final win over Merseyside rivals Everton at Wembley.
"After playing that semi-final I was just so drained, mentally and physically. My wife had just had our eldest that week as well. It was a crazy period where everything happened in the space of a couple weeks. I was gone, but it was amazing to play in those games and have those memories."
While Reina would return for the final against Chelsea, Jones's semi-final performance in England's grandest arena on that day was without fault.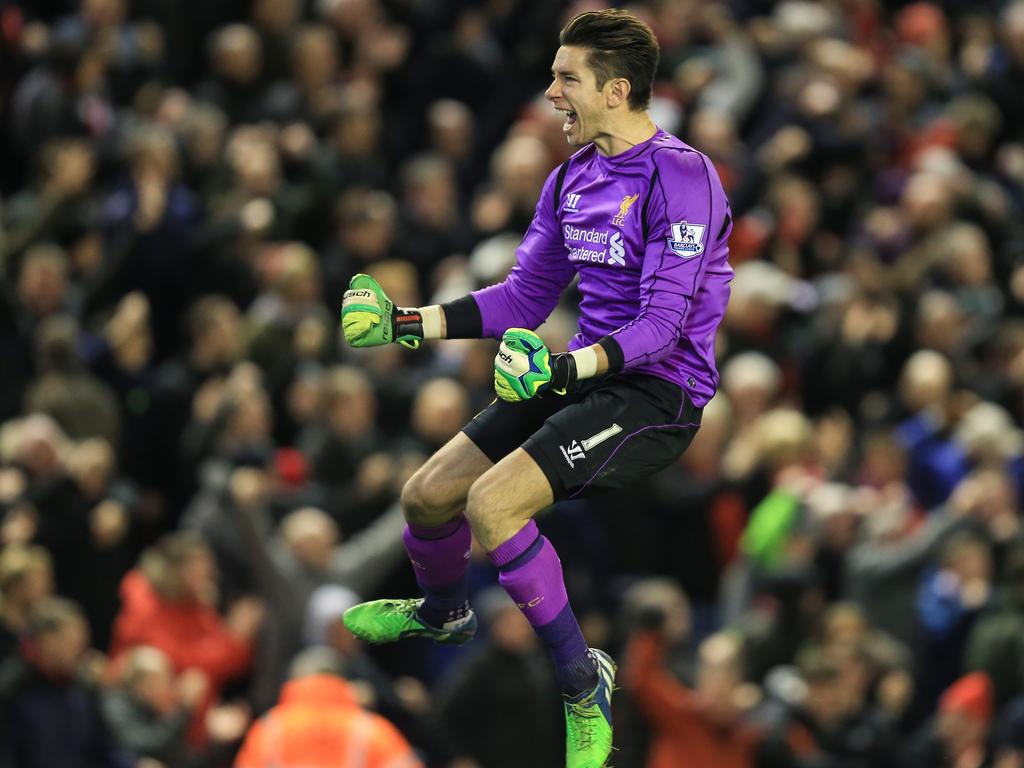 Brad Jones made 27 appearances for Liverpool, the club he supported as a child. Picture: Marc Atkins/Mark Leech/Getty Images
And there would be several more in the same vein across 27 appearances for Liverpool.
The perception that Jones had won the footballing lottery largely prevailed though given he was earning big money sitting on the bench far more often than not, free from pressure, at the club that he followed as a kid.
"A part of it is true," he concedes. "It was amazing to go to the club I supported. But the crazy thing was, even though I knew I was the back-up, I'd still be disappointed when the other bloke's name was called.
"And it sounds crazy, because I knew my job and signed on those terms 'to go and challenge' but I worked my arse off every day, so on game day I still had that disappointment."
When those cherished appearances between the sticks for Liverpool came, they came with another set of frustrations too for Jones, and one that many a 'number two' has experienced.
"It's the hardest thing. You don't have any consistency. If you're a number two it's hard not to be defensive in your mentality. You're just hoping that you get through the game because you know if you don't play well, you're out the team for a while and that's all anyone remembers."
Life with the Socceroos would pose a similar challenge.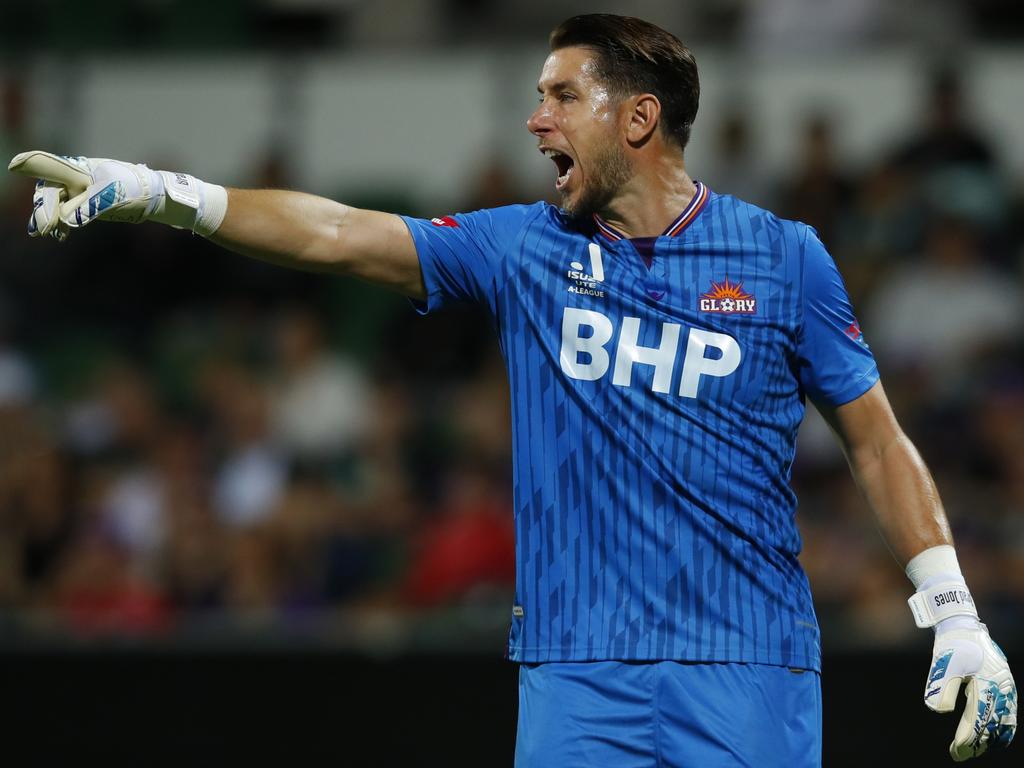 Brad Jones wants to show what he can do in Australia for Perth Glory. Picture: James Worsfold/Getty Images
Battling away in the background behind Mark Schwarzer and then Mat Ryan, Jones would never truly show what he could do in green and gold, feeling at times like a passenger within his own national team set-up.
"I definitely had moments. The time I was involved I had probably experienced five or six different coaches. There were certain moments where I got the feeling that maybe the 'face didn't fit' and that perhaps people weren't too bothered if you were there or not."
His sensational run of form with Feyenoord led to a World Cup squad spot under Bert Van Marwjik in Russia, but his time riding the pine with Australia would end soon after, Jones in turn left jaded from trekking all over the globe yet rarely featuring.
"I see it now with Mitch Langerak retiring," he says.
"I know 100 per cent where he's coming from. It affects morale and confidence coming back to your club and you feel you need to concentrate where you're 100 per cent needed."
That place for Jones now is in the A-League and in the purple for Perth.
Having reached unimaginable heights on the other side of the globe, Jones is still driven by the football lovers in his own backyard, and showing them what he's capable of.
"Maybe a little bit," he says when this is put to him.
"When I came into the Socceroos, it was Schwarzer's peak years. When the change over from him happened, I wasn't playing as much. So, I missed out through bad timing or being behind one of the greats. I never got the exposure over here and a little bit of me probably wants to do that to show what I can do."