Paying millions for a shirt seems doolally but memories these sporting treasures evoke are priceless
Maradona's 'Hand of God' shirt just sold at a Sotheby's auction for more than £7 million. But can you put a price on greatness? On history?
Diego Maradona changed strip before scoring his two goals, including the 'Hand of God' goal against England at the 1986 World Cu. Picture: Bob Thomas/Getty Images
Hanging up in my home is a Boca Juniors jersey. Diego Maradona never wore it, but he did hold it and sign it — not just "Diego" but "con cariño" (with love), which was touching given that we had only just met. And it can be yours for only £7,142,500. Well, that is the going rate.
How to put a true value on a piece of memorabilia? That is probably a question many of us were asking after someone paid a doolally sum for the Argentina shirt worn by Maradona in the epic 1986 World Cup quarter-final against England.
More than £7 million is an absurd amount for a football shirt, even this iconic one worn to score two of the most famous goals in history. But is it any more crackers than $450 million (about £342 million at the time of the sale in 2017) for a Leonardo da Vinci, or $13 million at auction for a 16th-century prayer book?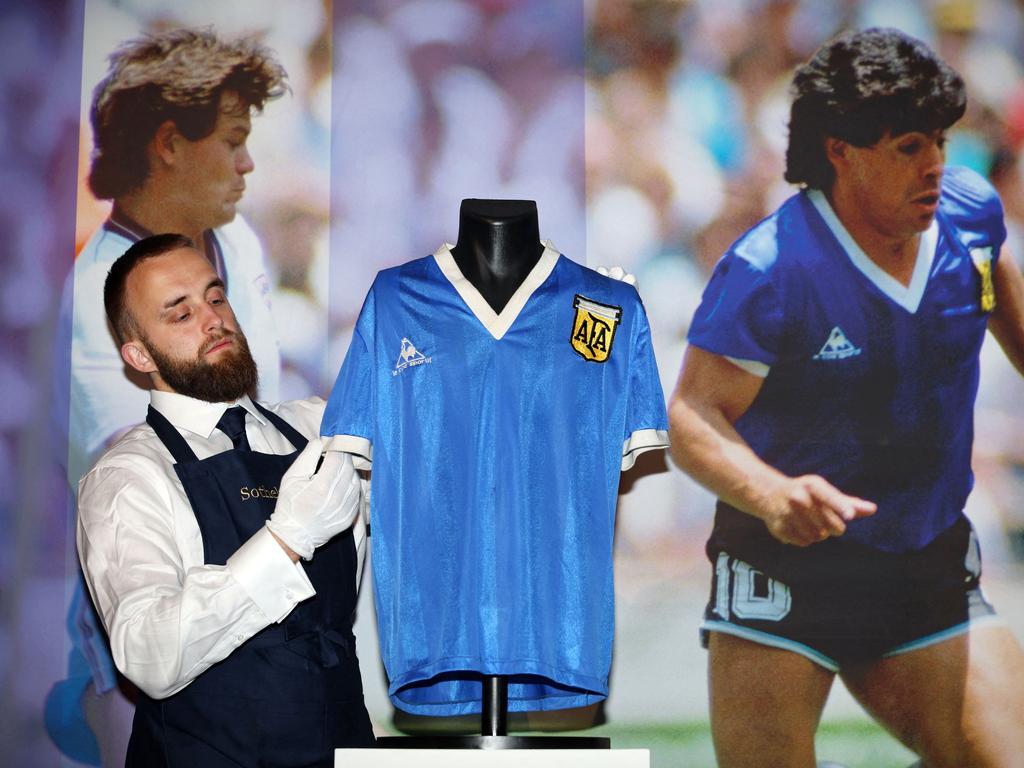 The Maradona shirt was put on display in London before the auction, where it was sold for more than £7 million. Picture: Adrian Dennis/AFP
To those with sport in their souls, the shirts, boots and balls — or autographs, for those of us who once chased them in a world before mobile phones and selfies — can have a special hold on us which may be hard to measure in pounds and pence but can have us in a strange grip of nostalgia and fascination.
Fans fight to the point of fisticuffs when a player tosses a shirt into the crowd. They can spend fortunes on signed items from heroes they have never met.
They can walk around the Design Museum in London — at present featuring Pelé's shirt from the 1958 World Cup — or the National Football Museum in Manchester — which displays the World Cup final ball from 1966 — and stare at objects in glass cases.
To be close to greatness and a sense of history — or, perhaps increasingly, to celebrity? — can evoke moments and memories. But there can be something deeply acquisitive about the impulse too.
Maradona's performance in Mexico City World Cup quarter-final is by many as the one of the greatest individual performances of all-time. Picture: AFP
I remember a day at the Masters walking through the majestic pines of Augusta National and seeing Tiger Woods chuck something to his caddie. When Steve Williams threw whatever it was into a nearby bin, there was a bizarre stampede, middle-aged men barging into each other, to retrieve whatever had once belonged to the world's greatest golfer.
Turned out it was a banana skin. Perhaps now "Skin of banana eaten by Eldrick Woods" sits in a glass box on a mantelpiece or in a museum. Maybe it has been put up for sale.
Sport collectibles are said by one study to comprise up to 20 per cent of an estimated 50 million items available on eBay. In the United States alone, the sports memorabilia market is thought to amount to $5.4 billion annually.
Baseball cards go for millions of dollars — the most expensive on record was bought for$6.6 million last year. A pair of Nike Airship trainers worn by Michael Jordan in 1984 broke sneaker records when they were sold for $1,472,000 last year.
Before Maradona's shirt was auctioned by Steve Hodge, whose swapping of jerseys post-match in Mexico has become by far the most celebrated and lucrative thing he ever did, the previous record for a game-worn shirt was Babe Ruth's Yankees jersey, sold for $5.64 million in 2019. The market rises.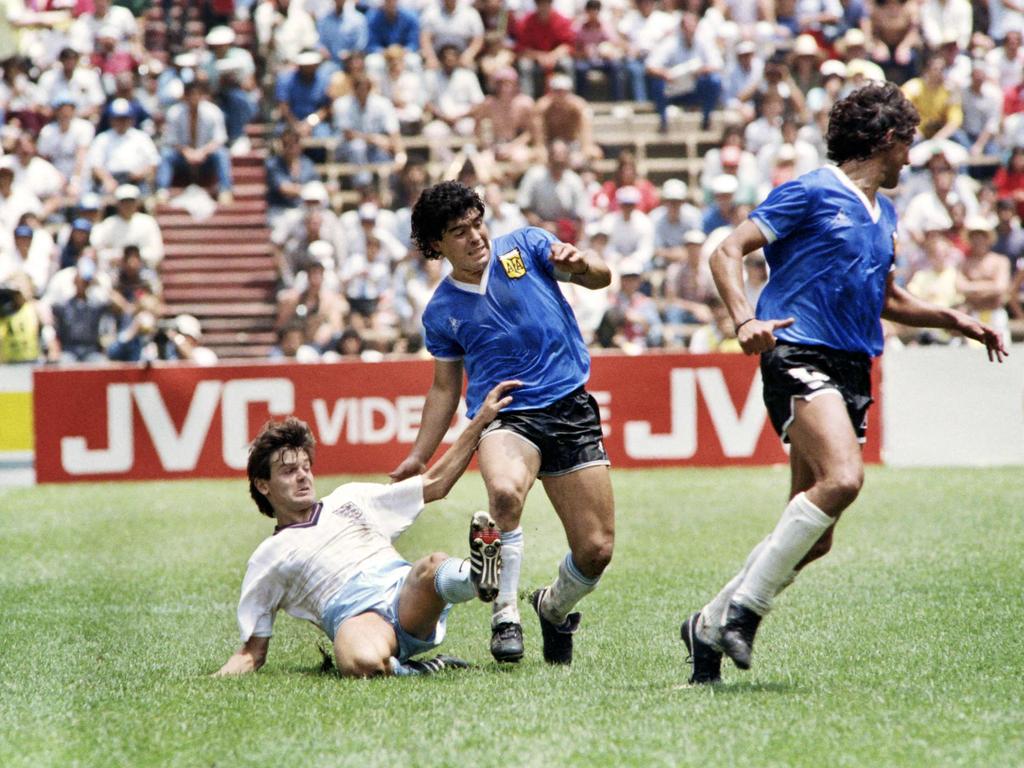 Hodge, the former England midfielder, got Maradona's shirt after facing him in the 1986 World Cup quarter-final. Picture: AFP/Getty Images
The auction record for sports memorabilia had been the original autograph manuscript of the Olympic Manifesto from 1892, which sold at Sotheby's for $8.8 million in December 2019, but Maradona, typically, was not about to come second best.
Much of this business will involve hard-nosed investors, seeing growth and profits, rather than sports fans. It may be rich men with egos who want a prize to show off to their mates.
I would say that I never understand why signed replica jerseys go for such silly prices, even if auctioned for charity, but then I am lucky enough to have a pair of Steven Gerrard's boots on my shelf — long story — bearing his initials stitched into the tongue, which I keep with possessive pride.
Humans will always love to collect and to hoard. There will always be those who value sporting items above fine wines, stamps, first editions or paintings.
The most historic items will always draw crowds, paying homage, as many did when Maradona's shirt was put on pre-sale display in London. Evidently, the power of relics has not faded long after the heyday of medieval Christianity when countless churches would lay claim to holy items, from a piece of the cross to a saint's toenail.
Now we have a modern-day sporting equivalent of walking down a small shopping street in Naples, where you can find a shrine with, supposedly, one of Maradona's hairs.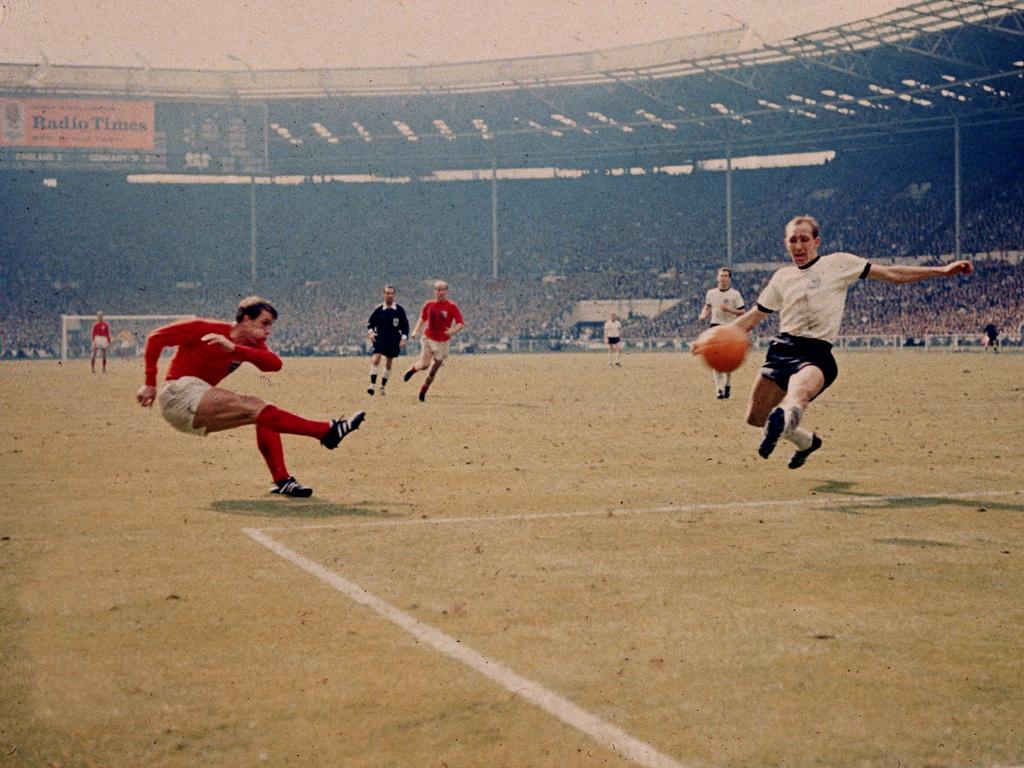 Hurst's 1966 World Cup final hat-trick ball is among the most treasured pieces of English sporting memorabilia. Picture: Hulton Archive/Getty Images
What is the holy grail of sporting relics? The English may say it is that 1966 World Cup ball, with which Geoff Hurst scored his famous hat-trick (though perhaps not when they see that the only signature on it is that of Uri Geller, from a publicity stunt).
The original Ashes urn is beyond sale, or value, but what price the spikes in which Usain Bolt ran faster than any human in history? What could break Maradona's record?
Perhaps the coolest memorabilia I have seen was when Arrigo Sacchi showed me the gym in his house in Italy and pointed to a glass case containing two full-sized Champions League trophies, won as AC Milan's brilliant coach, which he could stare at from his treadmill.
It was a moment to treasure because it was so personal. And I guess that is true of any of us: that any object or relic can have inestimable value if the memory it evokes and holds belongs to us rather than someone else.
An autograph is not only a scribble but also a memory captured, like the one from Kevin Keegan I still have after waiting an age in Cambridge United's car park for a boyhood hero.
There is a trading value and then there is the personal worth, which is why that Maradona shirt, a wonderful reminder of meeting one of the most compelling figures in the history of sport, is not for sale. At least, not cheaply after this week.
-The Times