Where's Tom Rogic? Burning issues facing Graham Arnold's Socceroos
In 150 days, Graham Arnold's Socceroos will run out for their first World Cup match against France. But there are plenty of storylines left to unfold in the squad before the first ball is kicked, writes ADAM PEACOCK.
Tom Rogic. Wherefore art thou, Tom Rogic?
The performance against Peru, capped by Andrew Redmayne's heroics, dulled the shock of Rogic's stunning late withdrawal from the Socceroos playoffs squad.
Now the buzz from getting through has quelled somewhat, the Rogic question is relevant again.
Public opinion will be divided on whether Rogic deserves a place in the 23-man squad which will be named on November 10.
"We need him!"
"Stuff him!" Or worse.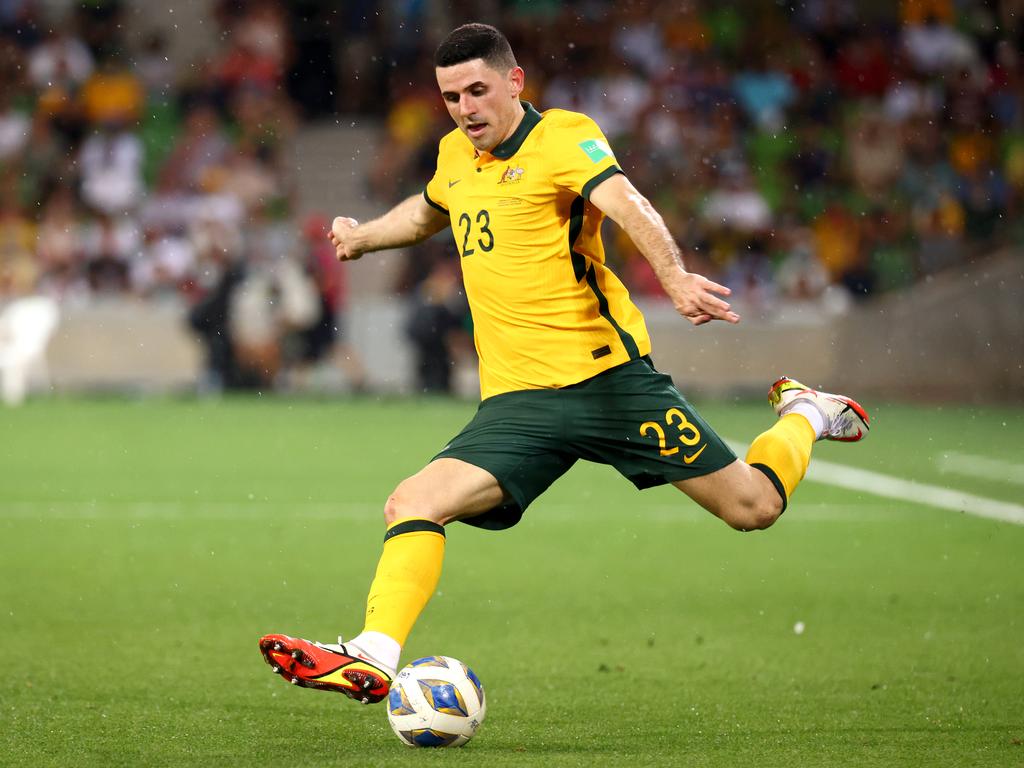 Socceroos' key midfielder Tom Rogic's absence from the June qualifiers was baffling to both Australian fans and his teammates. Picture: Jonathan DiMaggio/Getty Images
Those inside camp Socceroo are still none the wiser as to why Rogic withdrew.
One moment he was coming, even going as far to produce a negative PCR test to allow him to travel to Doha. Hours later, he was out. No reason given.
His welfare and that of his family was of immediate concern, but Rogic denied any ill-fate. He was just out, leaving those close to him in the national team set-up, and back in Australia, at a total loss as to why.
The most valid theory was Rogic had reached the point of exhaustion after a taxing season with Ange Postecoglou's Celtic and the heavy emotional toll of farewelling the club he's spent nine years at and on the spot, he made a snap decision to pull out.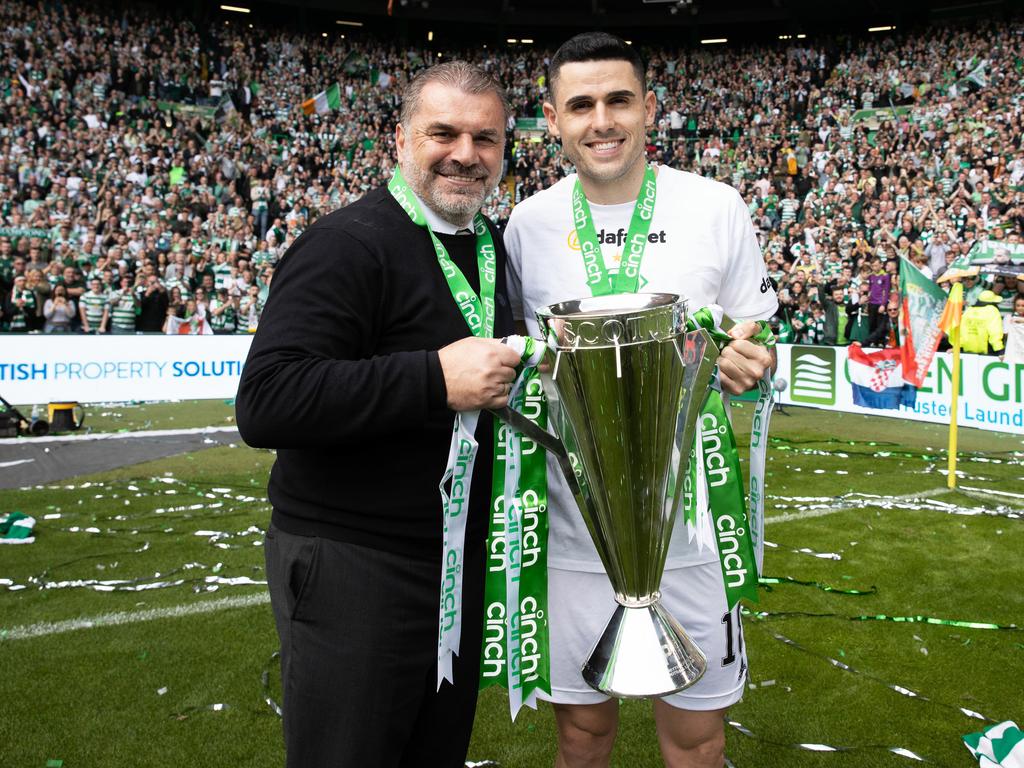 Rogic shocked Celtic fans with the decision to leave the club, the announcement coming just days after the team cinched their Premiership win. Picture: Craig Williamson/SNS Group via Getty Images
Other theories included his next, as yet unknown club, demanding he not play. Last week he was linked to an Indonesian club which would render that theory obsolete.
Where Rogic lands next will be known within weeks, and beyond that, if he does want to go to the World Cup, a honesty session with Graham Arnold awaits.
The Socceroos do need him.
France, the first opponent, has the enviable situation of working which ones, playing at the very top, they should leave out. In every position. Les Bleus have more depth than a Jacques Cousteau adventure.
A player of Rogic's quality increases the chances of Graham Arnold's side unlocking the French, Tunisia and Denmark games, sure to be full of tension and limited chances.
Never mind the stereotypical view Rogic and Aaron Mooy struggle to coexist. It's a problem worth having.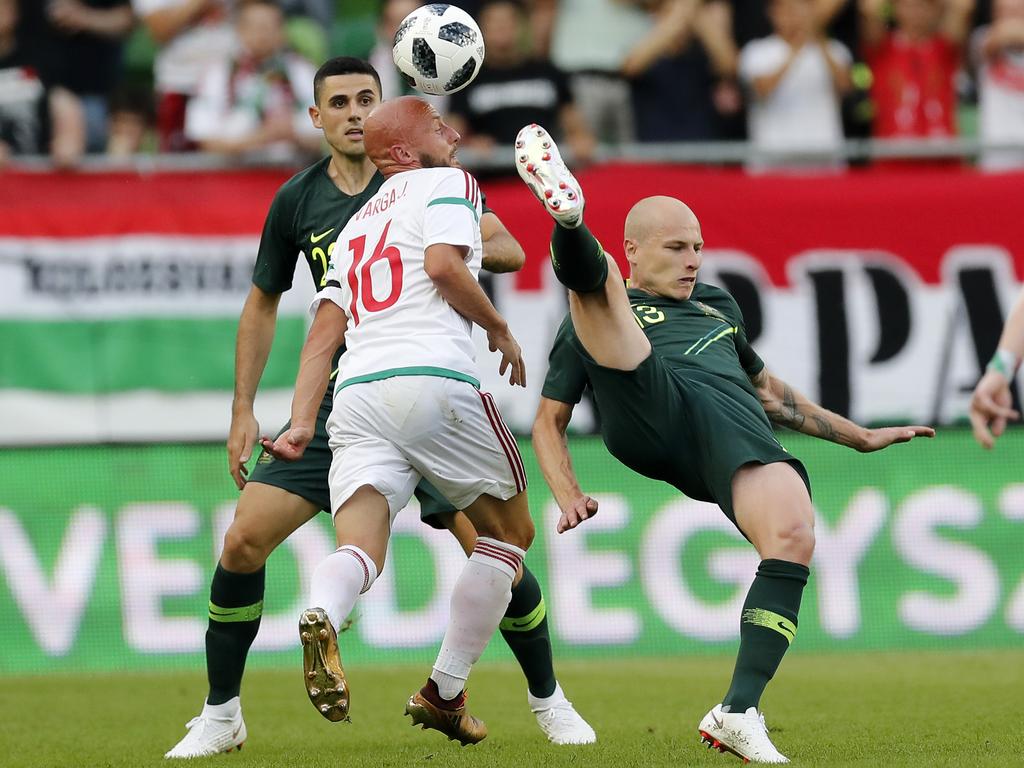 The combined World Cup experience of Aaron Mooy and Tom Rogic may prove vital for Australia's Qatar campaign. Picture: Laszlo Szirtesi/Getty Images
As for Mooy, it remains to be seen whether he'll play club football at all before the World Cup.
There is every chance he will go into the World Cup with just two more competitive games under his belt; games against New Zealand in September.
Mooy is in dispute with his Chinese club, Shanghai Port, who want him back for their season, which belatedly started in early June.
He's a quarantine veteran and is reluctant to head back and face another spell in isolation. China is one of the few nations in the world still intent on quelling Covid-19 through harsh quarantine procedures. Mooy's family is settled in Scotland, and he looks happy if his welcome home BBQ on Wednesday, while dressed in full Socceroos kit, was anything to go by.
Shanghai, though, can ensure he doesn't play anywhere else until his $6-million-a-year contract ends at the end of 2022.
Mooy's performances against UAE and Peru suggest he might be able to go into a World Cup without match minutes, thanks to the preparation he was given by Socceroos' high performance guru Andrew Clark.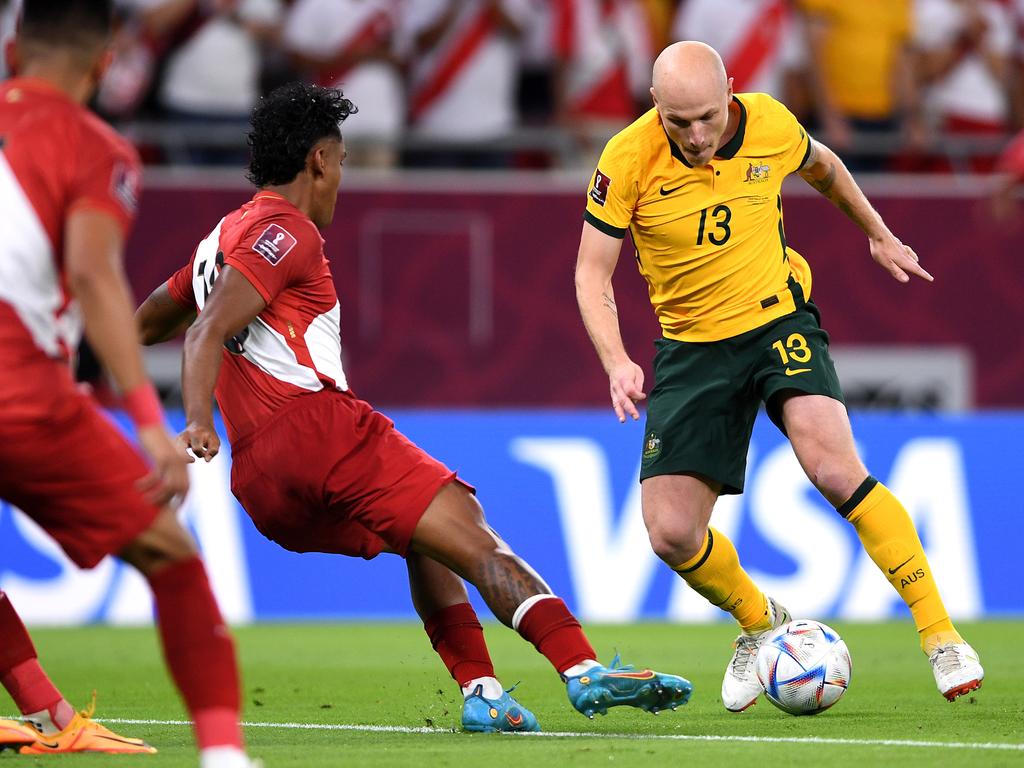 Mooy played a crucial role in Australia's narrow win over Peru. Picture: Joe Allison/Getty Images
*****
Those inside the playoffs camp in Doha speak of how together the group was. Those not playing were as invested as those relied upon. And the tactical instruction given to players with the longer-than-usual time spent on the training pitch served Australia well, as evidenced by the improvement shown from the Jordan friendly, to the UAE game and finally Peru.
With the short turnaround from playoffs to main event, it's difficult to see too many from outside that squad being able to force their way into the final 23 in November.
Like the other 31 nations, squads will only come together a week before this World Cup – as opposed to the usual two or three – thanks to the November-December dates, which fall in the middle of European seasons.
Of immediate concern is getting two players who were in Doha back to full fitness. Adam Taggart was due to start against UAE and Peru but he pinged his groin in the opening session after arriving from Japan.
Adam Taggart didn't feature against Peru or the UAE after injuring his groin in camp. Picture: Koji Watanabe/Getty Images
Nursing Taggart through the second half of the Japanese season before the World Cup will be one Socceroos medical staff will be keeping a close eye on.
And Trent Sainsbury missed out with a knee issue, and is on the move to a new (unknown) club. Sainsbury's absence, though, was made up for by the emergence of Kye Rowles, who would be considered unlucky – provided the move to new club Hearts in Scotland starts well.
The A-League Men's is slated to start at the beginning of October, which will give local-based players a little over a month to impress.
Seven of the most recent squad is locally based. The Socceroos will need Mat Leckie, in particular, up to speed straight away.
Players on the periphery include Curtis Good, Chris Ikonomidis, Bruno Fornaroli and the pin-up boy of the social media brigade (#sokkahtwitter) Jason Cummings. There was outcry when Cummings was left out of Arnold's squad for the UAE and Peru games, and while Arnold admitted the lively Central Coast Mariners striker was in contention, Jamie Maclaren and Nick D'Agostino were ahead in the pecking order. Cummings will need a hatful of goals to start the new season to even be in consideration.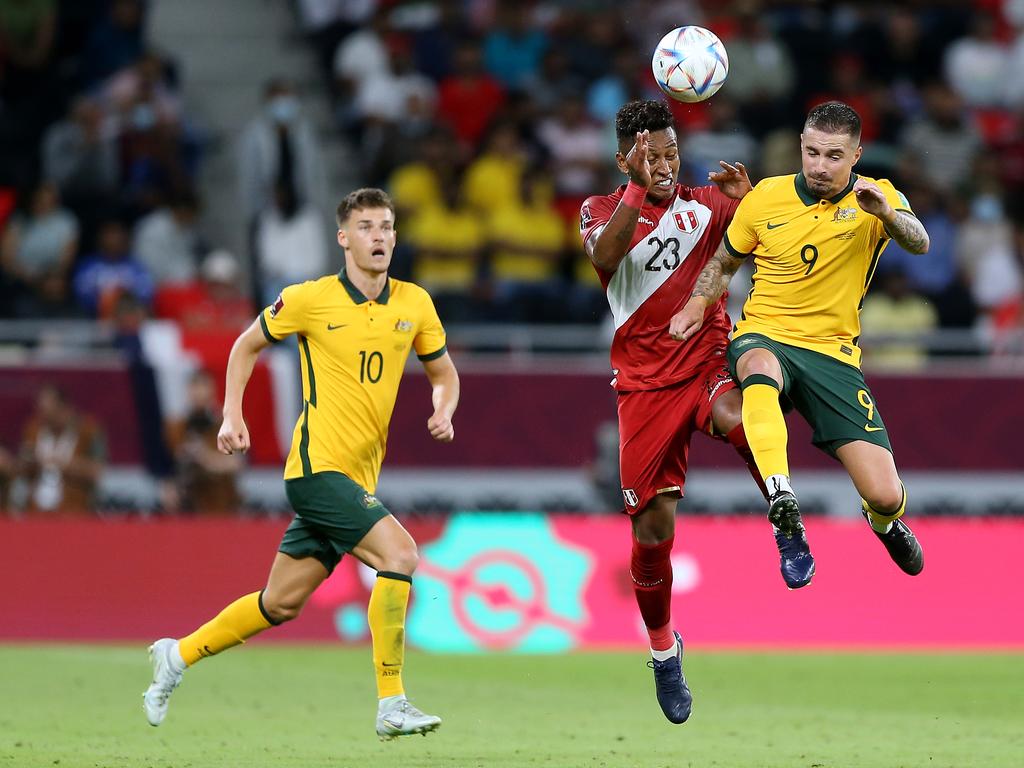 Jamie Maclaren was used as a late substitute in Australia's win over Peru. Picture: Mohamed Farag/Getty Images
Marco Tilio is an intriguing prospect. The diminutive attacking midfielder didn't get a minute against UAE or Peru, but he can make things happen late in games with his unique skill set.
Tilio is currently with Melbourne City, where he didn't quite back up his season debut two years ago last campaign, so whether he looks at an overseas option now remains to be seen. Tilio has talent similar to Daniel Arzani, who burst onto the world stage at the 2018 World Cup with impressive cameos off the bench.
Since then, Arzani's career has stalled, injuries grinding his progress to a halt.
Last seen hobbling off with injury for Belgian second division side Lommel, Arzani isn't in the frame for Qatar, which is disheartening given his attacking talent, like Rogic, is a rare commodity in Australian men's football which seems to have an issue when it comes to producing unpredictable excitement machines who can bust open a game with technical quality.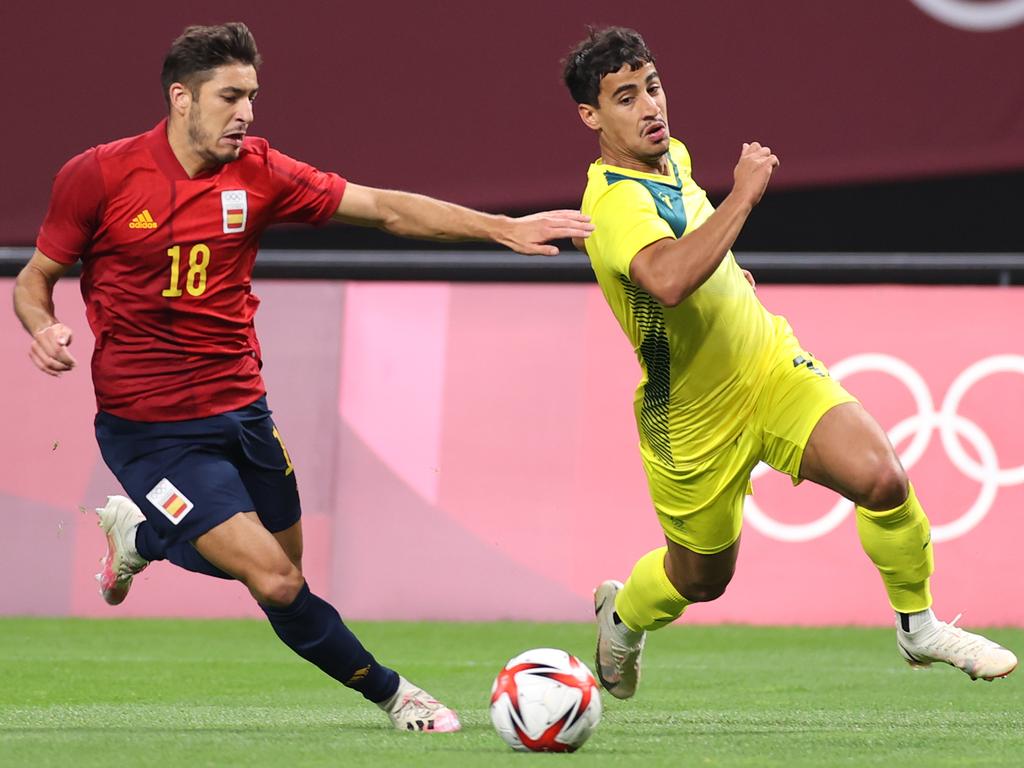 Daniel Arzani will likely be ineligible for the Qatar squad, after sustaining an injury playing for his club in Belgium. Picture: Masashi Hara/Getty Images
And there's Cristian Volpato, the Sydneysider who was cast aside by local clubs before journeying to Italy, where he made a name for himself with Jose Mourinho's Roma, becoming a Serie A goalscorer in February.
Volpato was then selected for Italy's under-20 side, and appears reluctant to make a final decision on his international allegiance while still developing. Italy won't be in Qatar. Australia, of course, will be.
From the Olyroos squad that this week fell in semi-finals of the under-23s Asian Championship, Alou Kuol would be the most likely bolter, just for his uncanny knack of producing the outrageous such as the ridiculous overhead backheel goal scored against Iraq. One day, Alou and younger brother Garang might be leading the line for the Socceroos at a World Cup.
In all probability, it won't be this one.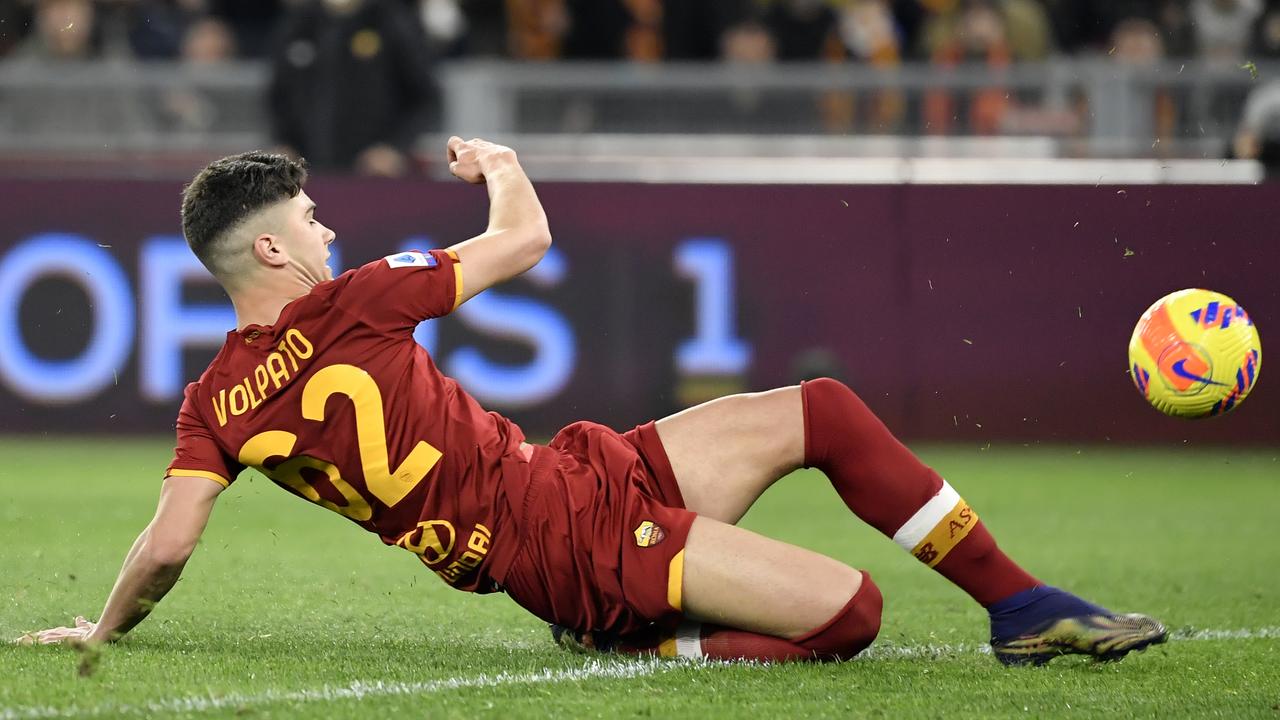 Cristian Volpato is yet to indicate if he is eager for inclusion, with the teenager eligible to represent both Australia and Italy. Picture: Antonietta Baldassarre/Insidefoto/LightRocket via Getty Images
*****
As for the manager, it will be interesting to see what becomes of Arnold's career after the World Cup.
His stock is at an all-time high. Arnold has indicated he'd like to try an overseas adventure, having done what he needs to do in the A-League with Central Coast and Sydney.
Offers will come in the next few months, though the timing of the World Cup makes it difficult for European clubs, who will be mid-season once Arnold becomes available, to engage. Asian leagues, which run the calendar year, would be a more likely proposition.
It's not usual for national team bosses to make clear their intentions post-World Cup, before the event. Guus Hiddink announced he was taking up a mega-deal with Russia two months before taking Australia to the 2006 World Cup.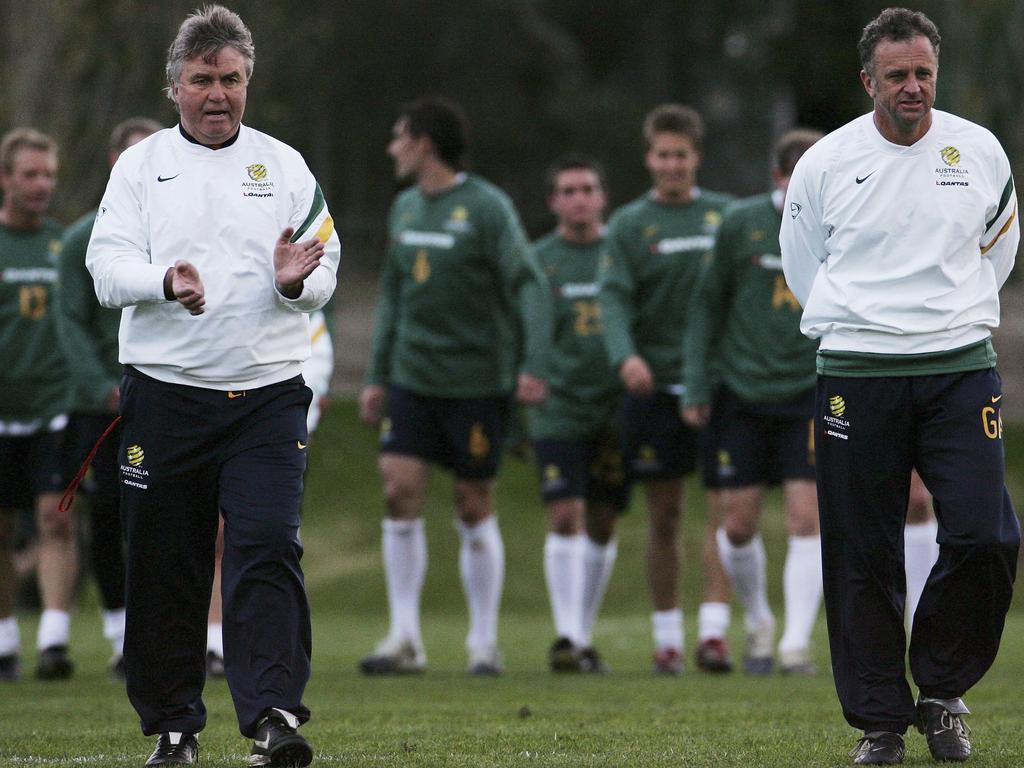 Graham Arnold will be hoping to replicate, or better, the Guus Hiddink-led 2006 campaign in Germany, where he served as an assistant coach to the Dutchman. Picture: Robert Cianflone/Getty Images
Arnold's focus, of course, will be November and doing a Guus; getting Australia out of the group stages, planning for which will be well under way.
There are just two games to be played before the World Cup, against New Zealand in September, which will celebrate Australia's centenary of international football participation.
A fair bit has happened in those 100 years.
A bit more is set to unfold in the next 150 days for the Socceroos before the opening game with France just south of Doha.
A lot feels settled apart from one big question. Will Tom Rogic return? Only he knows the answer to that.