World Cup 2022: Football cannot be an inclusive environment for gay men when Qatar hosts its biggest tournament
The 2022 World Cup in Qatar brings LGBTQ issues in football firmly to the fore given the country's stance on homosexuality, writes MATT DICKINSON.
How can football be an inclusive environment for gay men when the World Cup is in Qatar? Picture: Alexander Hassenstein/Bongarts/Getty Images.
And so to 2022, the year of Qatar. A desert state that needs lots of vast gleaming football stadiums, like Boris Johnson needs another extravagant Downing Street refurbishment.
A winter World Cup that Qatar claims to have won entirely fairly and squarely, so it must just be an unfortunate coincidence that 16 of 22 Fifa executives involved in the voting have either been banned or accused of or indicted in corruption inquiries.
They voted for darts on the moon. They voted for hosts who have grotesquely exploited cheap, migrant labour. "Personally, I will not watch it," Eric Cantona said this week.
I am sure I will, and probably you will too, but that does not mean we should stop thinking about all the reasons why it seemed so absurd in the first place. This will be the sporting event, story and venue of the year, which also means that LGBTQ issues in football cannot be ignored.
Tom Daley certainly brought them into focus in his Alternative Christmas Message on Channel 4 in which our favourite knitter, and diver, spoke out against the tournament. How can sport proclaim it is for everyone, Daley asked, when the world's most popular game takes its most prized asset to Qatar?
As Daley put it: "In 2022 the World Cup is being held in the second-most dangerous country on earth for queer people. Why are we allowing places that aren't safe for all fans and all players to host our most prestigious sporting events? Hosting a World Cup is an honour. Why are we honouring them?"
Tom Daley raises the right questions around Qatar hosting the 2022 FIFA World Cup. Picture: Chen Jianli/Xinhua via Getty Images.
Good question. Qatar will put itself on best behaviour for a month but only the most gullible will think that this will do any good for the gay community, who, in that emirate, live in fear of arrest simply for online activity. Rainbow flags will be permitted in stadiums (a concession we are supposed to celebrate, hurrah for liberties!) but we wait with trepidation to see how a Pride march or protest is received, if anyone dares.
We need to think about this but, while we do so, we should address another important thing that Daley said which brought the issue much closer to home. In that speech, Daley set out his wish for 2022: "That one impossibly brave Premier League player steps forward and says, 'I am gay.' "
Daley had done some sums that if nearly 7 per cent of people in the UK identify as gay or bisexual and there are about 500 Premier League players, there must be "at least one gay man at every single club in the Premier League, living a lie".
His words were well intentioned. His sums were intended to prove a point — but perhaps there is a more important point to be made in saying that he almost certainly got his sums wrong.
How likely is it that elite football is proportionate in LGBTQ representation to the rest of society? As Jon Holmes, who heads up the Sports Media LGBT+ group, asks, how many kids have been put off "a sport not for me" because of a deeply entrenched culture of homophobia?
How many fall away as promising teenagers because they do not feel welcome, or able to be themselves? How many sense that a weekend of rainbow laces is just lip service when those, like Jürgen Klopp, who actively join the discussion are notable exceptions? How seriously is any of this taken by a Premier League that embraces owners from Saudi Arabia?
How far is this situation advancing when, as one gay journalist friend in football points out, this subject is "a lot less sexy" to the mainstream media than tackling racism? When we discuss and campaign about racism in football, we understand the direct discrimination. We know the victims. We call out the abhorrence.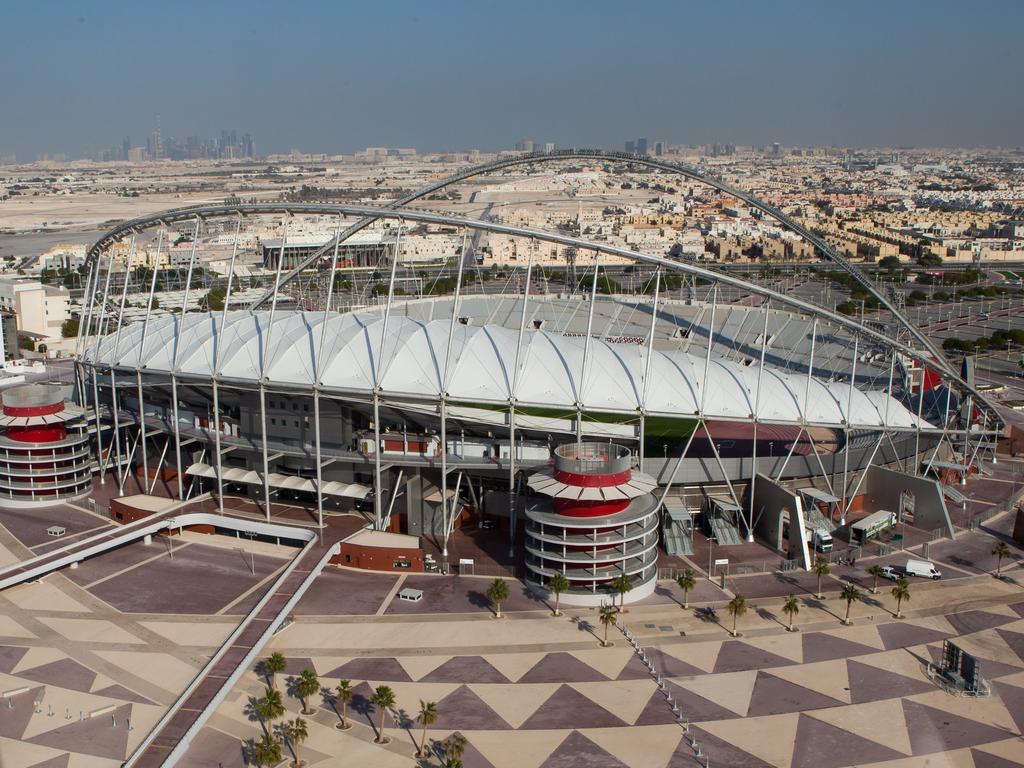 Qatar is set to host this year's World Cup despite homosexuality being illegal in the country. Picture: Nadine Rupp/Getty Images
Homophobia is much harder to pin down. Who is being discriminated against when there is not a gay footballer out on the pitch? The player who has endured the worst homophobic abuse was Graeme Le Saux, who was not actually gay.
As my friend wisely points out, this makes the story not so much about discrimination but inclusion, which is a much harder sell. Hello?! Still reading? I hope you are because we all have a long way to travel if, as Daley says, the most popular sport in the world is not going to continue to be threatening, intimidating and perhaps even terrifying for a community.
At the risk of questioning a national treasure, even Daley may have fallen into a familiar trap. In focusing on the gay player — come out gay footballer, wherever you are! — it places an intolerable burden on one man rather than the environment that has made his situation so impossible.
I have never quite shaken off what a gay colleague said, that nowhere in his life was he more likely to be mindful — sometimes to the point of being scared — of being seen to be gay than in a football stadium. That intrinsic unease is worth dwelling on.
Another married gay friend is already preoccupied with the idea of taking his young sons to football. You may question the basis for those fears. What matters is that they are felt.
Just when the world was daring to celebrate Josh Cavallo for being the world's only out gay professional male player, this week he was abused playing for Adelaide United against Melbourne Victory. "There are no words to tell you how disappointed I was," Cavallo said on social media. "This shouldn't be acceptable and we need to do more to hold people accountable."
Could he expect any better on this side of the world? This week the Crown Prosecution Service confirmed that "rent boy" chants could amount to a hate crime and lead to prosecution. This clarification could count as progress or a sad acknowledgment that, in 2022, it is still deemed hilarious by thousands to chant "rent boy" at any player associated with Chelsea, including Conor Gallagher, on loan at Crystal Palace, Billy Gilmour at Norwich City and Tino Livramento, who left the London club for Southampton.
Banter? Most Brighton & Hove Albion fans no doubt brush off and ignore chants of "Does your boyfriend know you are here?", but what does this say to any gay fan, or player?
"Homophobia is woven into the fabric of the game," Holmes explains. It is why his work is concentrated on promoting LGBTQ fan groups and driving grassroots representation rather than wondering if one gay elite male player will step forward as some kind of saviour.
Sadly, we can never quite rid ourselves of this salacious fascination. Patrice Evra made headlines this week for telling Le Parisien that there are at least two gay players at every team, and he knows some of them.
No doubt he thought he was helping, but it turns up the glare on a searchlight culture. It makes us think about one gay player at the risk of ignoring the wider challenges and concerns for thousands of gay fans.
And they do not have to go all the way to Qatar to encounter a sport that is meant to be the game for everyone — but, well, is it, really?
– The Times