Australian golfer Hannah Green makes history against men at The Players Series Murray River
Hannah Green has made golfing history in a tournament she wasn't going to enter in, producing a clutch final round to dominate her male rivals at The Players Series.
Western Australia's hardline border stance has helped create golfing history, with Hannah Green becoming the first woman to win a 72-hole mixed event on any major golf tour in the world.
Green, who won the Vic Open last week, hopes the pair of victories can kickstart a push into the world's top 10 this year and few would bet against her after her history-making efforts this week.
The 25-year-old had hoped to return home to Western Australia but that state's hard border led to her entering The Players Series Murry River tournament and dominating the mixed event.
The world no.30-ranked woman and winner of the 2019 women's PGA, Green streaked away from her rivals on the back nine, with an eagle-birdie start to the run home paving the way to a four-shot win.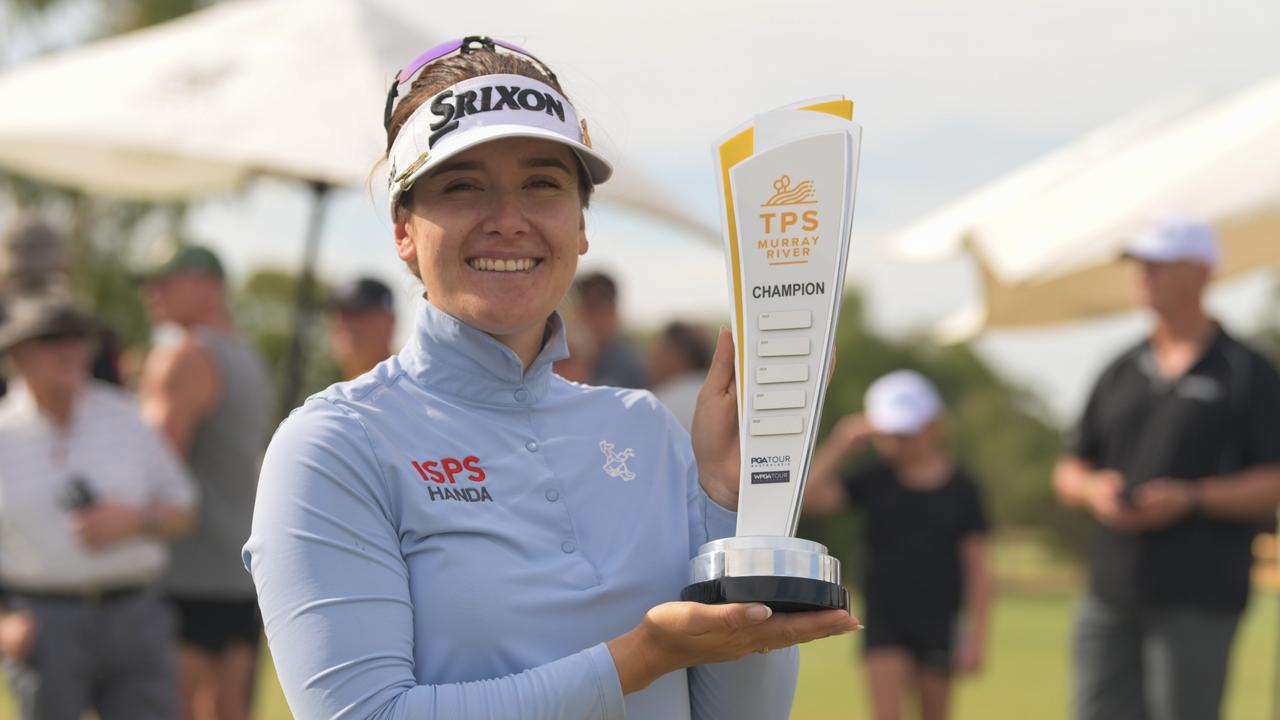 Hannah Green at the mixed-gender TPS Murray River event, Picture: Golf Australia
Green shot a five-under par 66 in the final round at Cobram Barooga Golf Club to finish the tournament at 20-under 264 and win by four strokes from fellow West Australian, amateur Hayden Hopewell and overnight joint leader Andrew Evans.
"It actually wasn't my plan to play, I was hoping to go back to Perth," Green said.
"Things happen for a reason. So I'm really glad that I made it."
Green headed into the final round in a four-way tie for the lead with Evans, Blake Collyer and Matthew Millar but stood tall as the others fell away.
Out in two-under par 33 - her only blemish a bogey on the par-four seventh - Green chipped in for an eagle on the 10th as she sprinted to the finish line.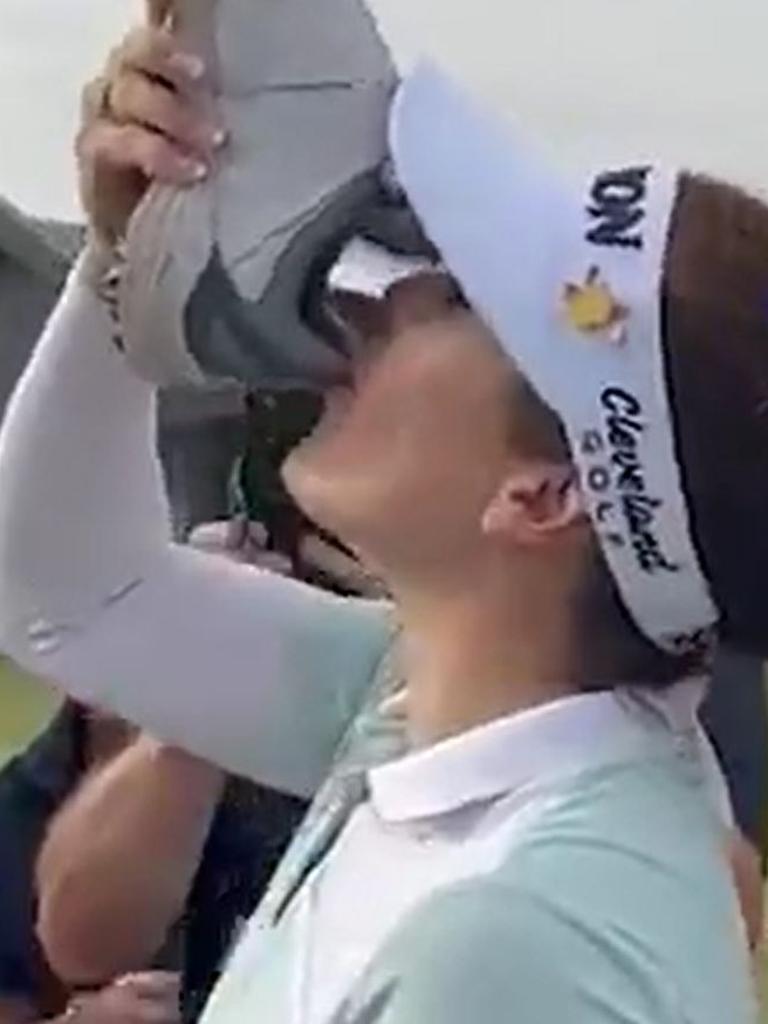 Hannah Green doing a shoey.
"I think the eagle on 10 was definitely where the momentum switched and kind of went my way," she said.
"I did miss a few greens today but left it in the right areas, I guess.
"Playing the course for the first time I was banking on experience that I've had throughout the week."
Evans finished with a round of 70 to tie for second, while Millar had a one-over 72 to finish at -14 in a tie for sixth.
Collyer had a horror round of 75 following Saturday's 63, to finish in a tie for 13th.
Green was not the only woman to make her mark on Sunday, with NSW golfer Grace Kim (68) and New Zealand's Momoka Kobori (69) finishing in a tie for fourth on 269.
But the day belonged to Green, who had predicted it would take a score of 20-under or better to win and was a woman on a mission on Sunday as she powered to victory in the $200,000 event.
"I wanted to win these two events (TPS Murray River and Vic Open) as soon as I said that I entered them and I didn't think it was a ridiculous goal to try and get my name on these trophies," she said.
"Now that that's done, hopefully I can continue this momentum.
"I want to be in the top 10 in the world. I think I can achieve it if I keep playing the golf I am now and hopefully I can get there.
"So long as I'm enjoying myself while I'm out there - that's also another goal of mine.
"Hopefully with borders opening up in WA, that can better my chance for a good season."
HOW GREEN STAYED IN THE HUNT
Green set herself up for chance at nailing the historic victory against the men, entering the final round of tournament at Cobram Barooga golf club in a four-way share of the lead.
Green had her toughest day of the tournament in the third round, firing off six birdies but only carding a two-under par 69 as she was joined at the top of the leaderboard by Andrew Evans, Blake Collyer and Matthew Millar.
Green had been one shot clear after a superb approach on the 17th set up a birdie, but the 25-year-old then three-putted on the 18th for bogey to end the day birdie-bogey-birdie-bogey and tied for the lead at 15-under in the $200,000 tournament.
It sets the scene for Green to become the first woman in Australian golf history to claim a victory against the men in the mixed gender TPS event.
Hannah Green in action during the third round of TPS Murray River on Saturday. Picture: Golf Australia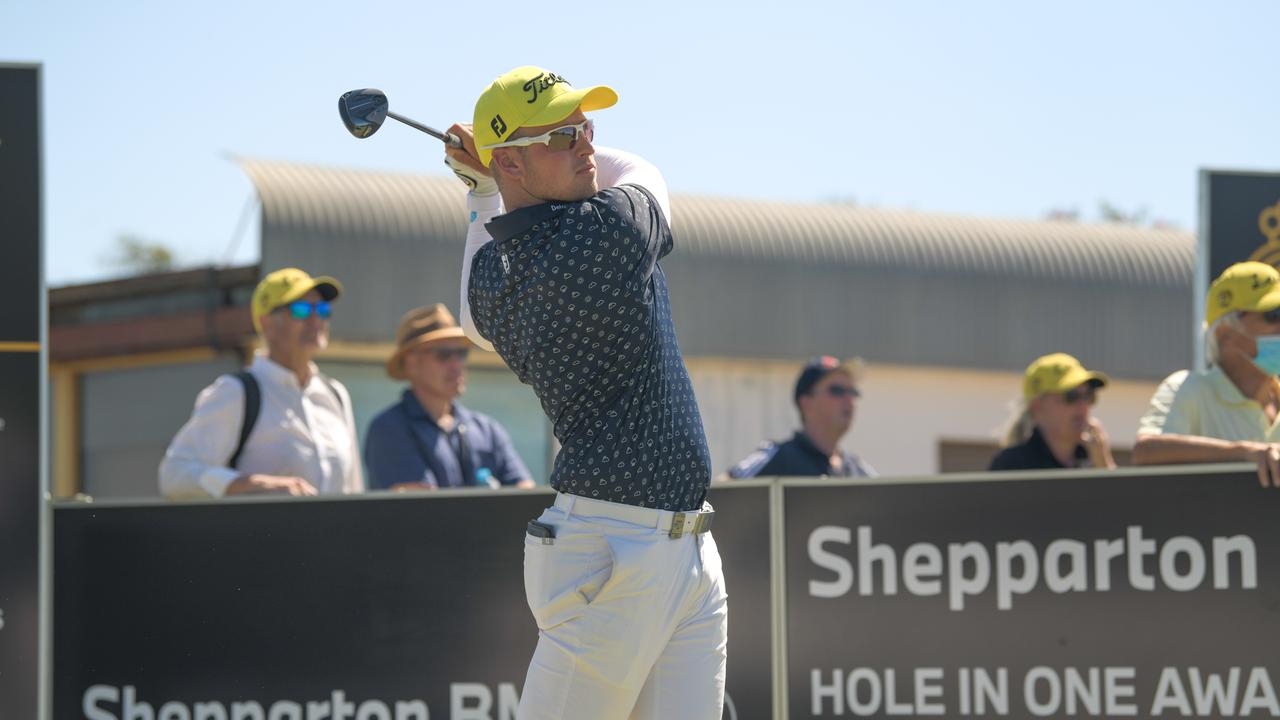 Blake Collyer shot a course record equalling eight-under par 63 to move into a share of the lead. Picture: Golf Australia
But as much as Sunday's final round poses a moment of potential history, the men at the top of the leaderboard are just as thrilled to play against someone of Green's calibre who has competed at the highest level and won on golf's biggest stage.
Green had entered the tournament with many predicting she would be among the contenders and she hasn't disappointed, sitting atop the leaderboard from the opening day and giving the men something to chase as she predicted a sub 20-under par score would lift the trophy.
The big threat on Sunday will come from Collyer whose eight-under 63 equal course record that quite possibly could've been much better having shot out to stunning 29 front nine after opening with an eagle and four birdies in his first six holes.
"I got off to a pretty solid start and knew I would stay patient," Collyer said.
"I think it was quite a good score in the end after my start.
"I think I can (win the tournament), I have been playing well the last two or three weeks or longer and giving myself chances. I know it will come at some point.
"I'm putting myself in good positions and hopefully it (a win) will come soon."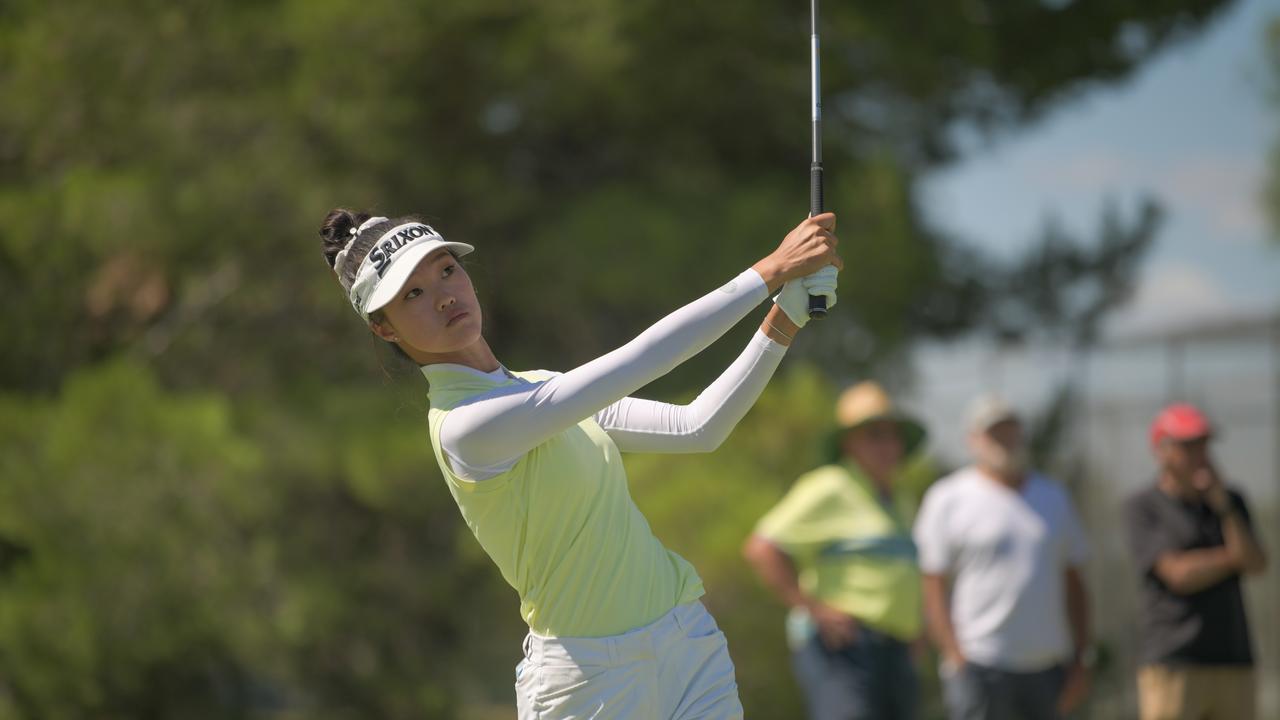 Grace Kim is one of five women pushing for a top 10 finish. Picture: Golf Australia
Emerging women's talent Grace Kim was unlucky not to join Collyer in equalling the course record, she signed off on a 7-under 64 after a bogey on the last ruined her flawless round.
Kim, who is in a tie for seventh at 12-under, is one of five women fighting for a top 10 finish with New Zealand's Momoko Kobori sixth at 13-under while Cassie Porter and Whitney Hillier are both tied for ninth at 11-under.
GOLFER EXPLAINS SECRET 'SHOEY' CELEBRATION DARE
If Hannah Green's 2022 season goes according to plan you might see a few more prosecco shoeys on the 18th green of golf courses around the world as Australia's emerging star shoots for a spot in the women's world top 10.
Green became Australia's latest viral star last week when vision of her downing a "shoey" after her win in the Victorian Open went wild online and while it left an awful taste in the 25-year-old's mouth, prosecco and old sweaty golf shoes aren't the greatest mix, she just might adopt the epic celebration more often in 2022 if she can live out her dreams on the cutthroat LPGA tour.
"It wasn't near as bad as I imagined it would be, but it wasn't great that's for sure," Green said.
"Hopefully next time I do it I will be wearing a fresher pair of shoes than what I was."
Watch LIVE coverage from The USPGA Tour with Fox Sports on Kayo. New to Kayo? Start Your Free Trial >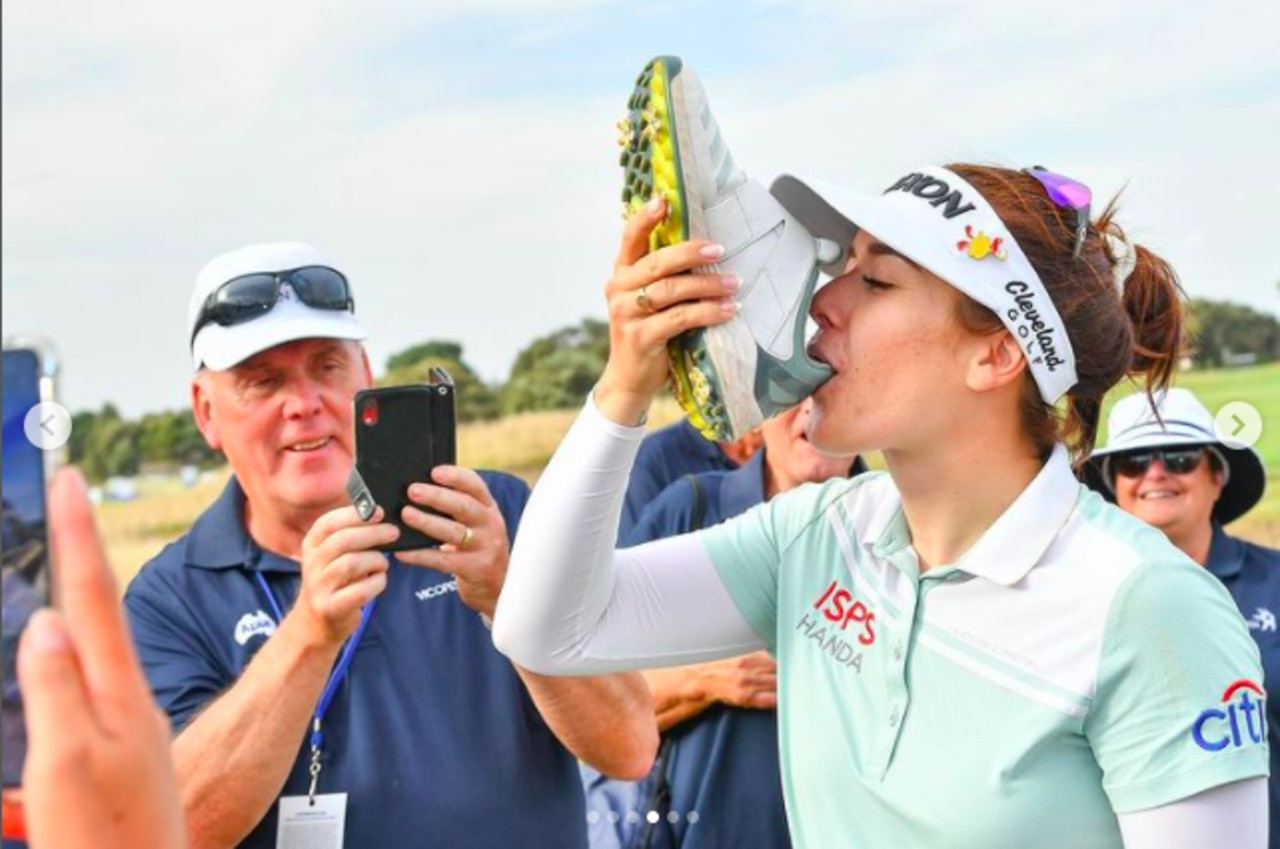 Hannah Green downs a "shoey" after her win in the Victorian Open. Picture: Instagram
The truth is Green's shoey almost didn't happen — you tend to forget about dares made with friends while you're walking down the 18th fairway hoping to close out victory.
But ever since the world No.30 and her best mate, fellow Aussie tour pro Su Oh, became hooked on the F1 Netflix Drive to Survive series they'd agreed with each other they'd celebrate Daniel Ricciardo style the next time they lifted a trophy.
"We said whoever wins we have to do one," Green said.
"I was actually put on the spot a little bit, I had forgotten about it. Obviously there are a lot of things running through my mind when I was coming down the last and once I actually made the putt to win one of the commentators mentioned it to me.
"The tournament staff asked we what I would like and I went with some prosecco instead of some beer and it wasn't the best tasting prosecco because of the shoe but at least I can say I have done it."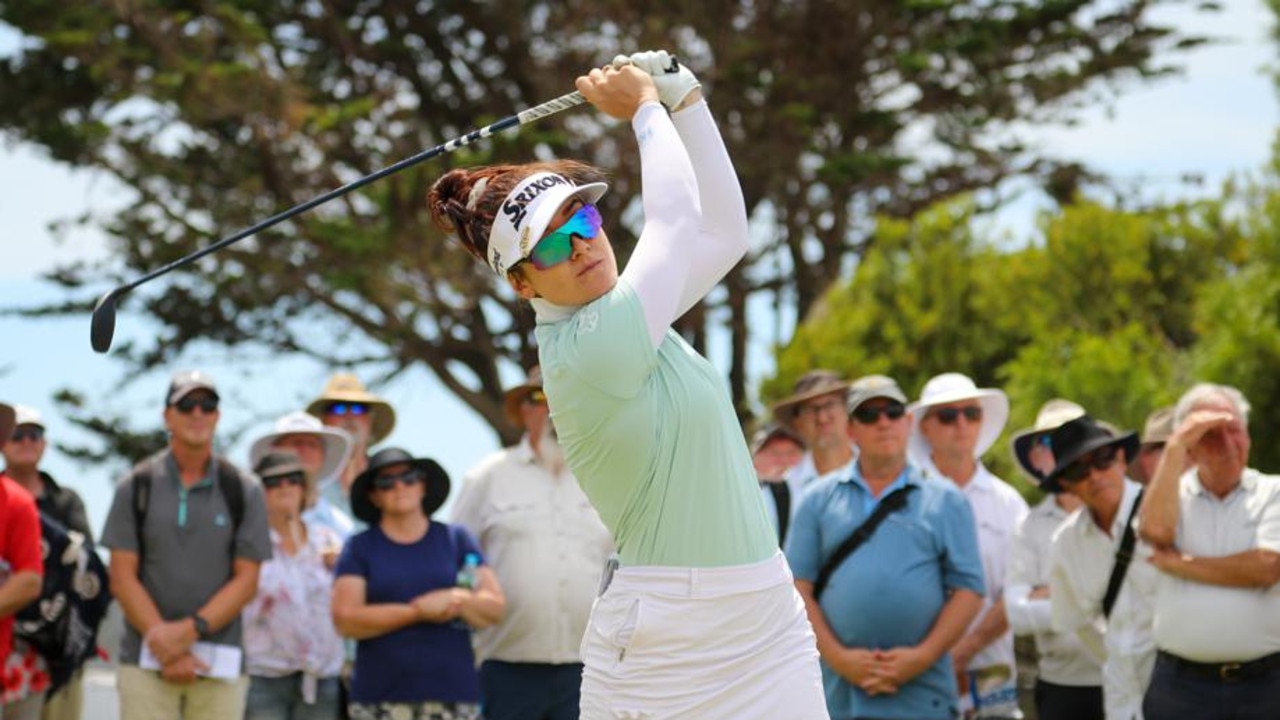 Hannah Green on the tee in her final round at the Vic Open at Thirteenth Beach. Picture: Golf Australia
Last week's win is just the start for Green. She's set herself some lofty ambitions for 2022 and isn't afraid to put the pressure on herself by articulating a goal that she feels is both challenging and attainable.
"I would love to have two more wins on the LPGA," Green said.
"It is hard to win out there because there is so many talented players coming through but if everything works well in my game I don't see why I can't be at the top at the end of the week.
"That is a little bit of a goal of mine. If I can achieve those then I can get myself back closer to the top 10 in the world.
"I know it's high expectations for the year but I feel like I've got to push myself a little bit more now that we're kind of exiting Covid."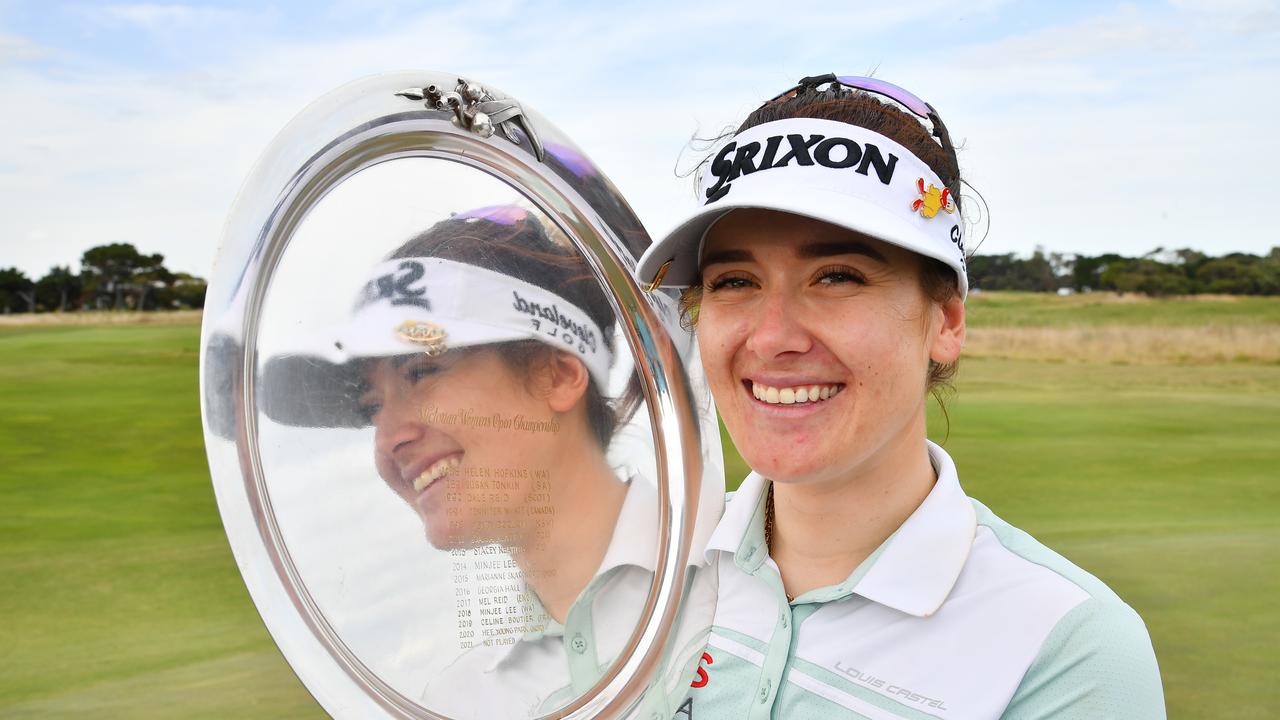 Hannah Green with the Vic Open plate at Thirteenth Beach. Picture: Golf Australia
But before her world tour begins Green is considered one of the contenders in this weekend's $200,000 The Players Series Murray River in honour of Jarrod Lyle event at Cobram-Barooga Golf Club, where men and women battle each other for the prize.
Green was the equal first round leader on Thursday after sending a warning shot to the men by opening her tournament with an eagle and four birdies on the first six holes.
Her boyfriend Jarryd Felton is also among the field, raising the quirky prospect of partners duelling for the trophy on the final day of play.
"This is my first Players Series event … I'm excited to see how my game shapes up against the guys," she said.
"Hopefully we both play well and who knows what can happen on the weekend, maybe we'll get paired together.
"It could be interesting, we will see what happens.
"Hopefully it (we are both fighting for the win) does come to that, that's what we're both here for, we both want to get our name on the trophy."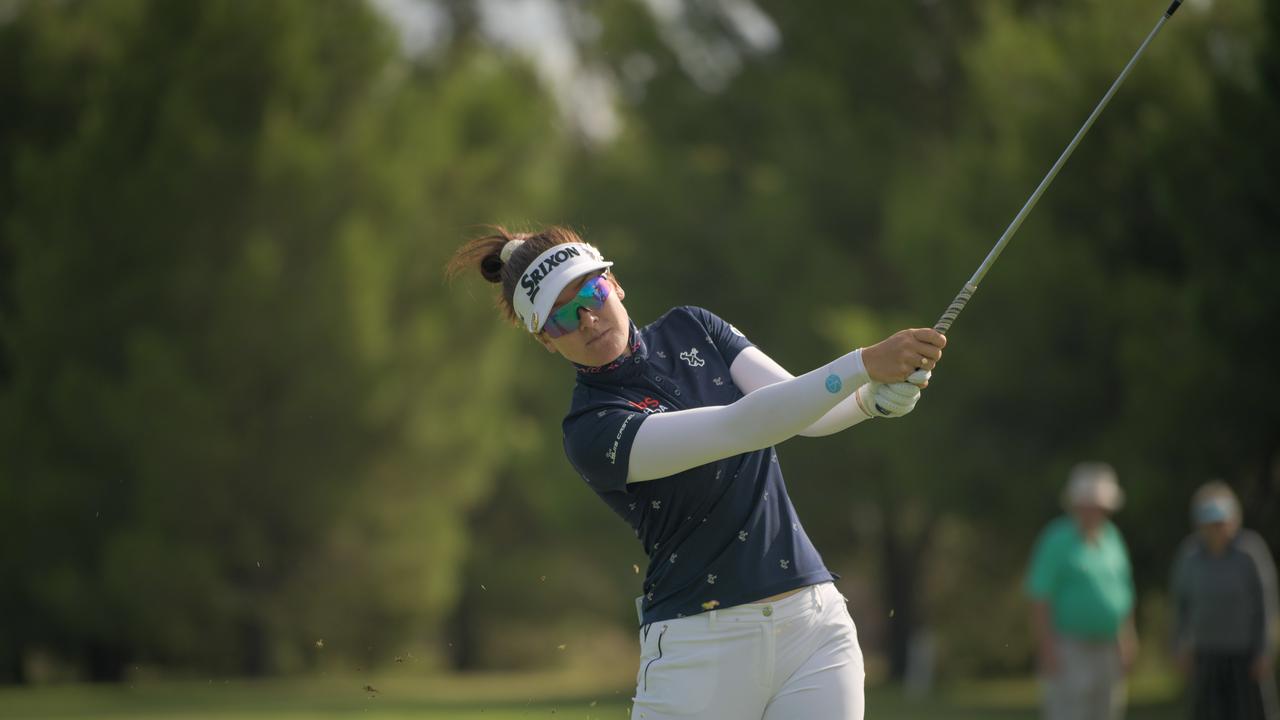 Hannah Green during the first round of The Players Series event this week. Picture: Golf Australia
It's been a wildly successful yet frustrating few months for Green. She pocketed a "life-changing" $1 million bonus last year for the LPGA's season-long AON Risk Reward Challenge (lowest score on designated holes at select events) but on a personal front she's struggled like all West Australians with the difficulty of being able to return home due to Covid border issues.
While she got to spend 10 weeks at home over the summer after serving quarantine, it wasn't nearly enough time to find her dream home and in a fortnight she departs for a three-month tournament run that includes stops in Singapore and Thailand before a six-week stretch down the west coast of the US.
She hopes to get back to Perth in May, but she knows 2022 could be another nomadic experience.
Part of her coping mechanism of not just surviving but winning on the road has been finding new ways to escape and unwind.
Life on the tour can be frenetic, four days on the course for tournament play can be mentally draining and like most people, a quick scroll of social media on the phone can often lead you down rabbit holes and before you know it you've wasted hours of your day.
This is where jigsaw puzzles have been her saviour.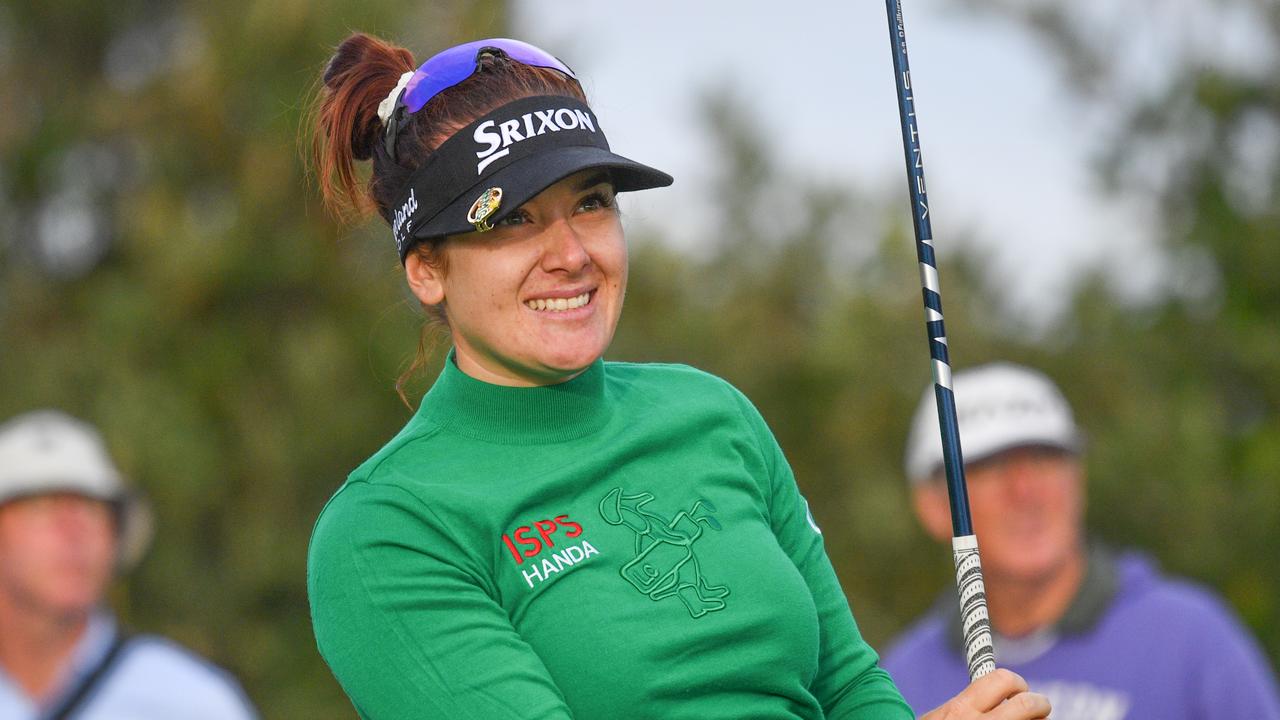 Hannah Green has had a wildly successful yet frustrating few months.
A chance moment in 2019 led Green to discover a passion that helped calm her mind and she now takes puzzles everywhere she travels — and often leaves each one behind for the next travelling guest to attempt.
"It's a nice way to get away from looking at your phone or taking golf back home," she said.
"Jigsaw puzzles is something I started doing in 2019, I've always enjoyed them but never really thought about doing them on the road until I went to a host family's house who had all these puzzles to choose from.
"It was really nice and puzzles take quite a long time and it's nice you can just do it bit by bit and don't need to do it all at the one time.
"So I started doing that and realised how much less time I was spending on my phone and social media so I've just continued to do it nearly every week I've been out on tour since.
"Usually it's one or two (puzzles) a week. It depends on where I'm staying, if the hotel has a big enough table or a lot of things going on I might not have time to do a hard one, but usually one a week would be standard for me.
"I leave them out as long as possible. I will just leave them at the hotel or Air bnb, maybe someone else will reuse them and someone else can do them again.
"I haven't kept too many, I've been pretty fortunate I have a really good friend who does digital art and she has made me a few puzzles dedicated to a few of my wins, I've definitely kept those ones but not any others."
Maybe the next personalised puzzle she'll get given will be her prosecco shoey.
Originally published as Australian golfer Hannah Green makes history against men at The Players Series Murray River