Golf news: Tournament Director Trevor Herden survives heart attack on course
Best known to most golf fans for his infamous run-in with Greg Norman more than 30 years ago, legendary tournament director Trevor Herden tells how he survived a heart attack on course.
Nick Faldo and John Daly too in a colourful career that has taken him around the globe and allowed him to rub shoulders and butt heads with some of the biggest names in world golf.
Herden is one of the most well-known figures in Australian golf in his guise as the tournament director for Golf Australia.
More than 30 years ago, he presided over Norman's disqualification on the Gold Coast after the two-time major winner made an incorrect drop.
A few years later he disqualified Faldo at a tournament in Bali after the Englishman removed some coral from a bunker.
Daly's crime was to lose the plot at the Australian Open a decade ago when he hit seven balls in the water and promptly stormed off the course.
Herden was left to pick up the pieces and calm the frothing media.
He has seen and adjudicated them all – he has been a rules official at the Masters, US Open and Open Championship – but it was in the humble surrounds of an amateur tournament at Sorrento Golf Club on Victoria's Mornington Peninsula a few weeks ago when he almost had a permanent line put through him.
Watch every round of The 150th Open Championship 15th – 18th July EXCLUSIVELY LIVE on FOX SPORTS available on Kayo. New to Kayo? Try 14-Days Free Now >
Trevor Herden is already back at work.
Herden is lucky to be alive after suffering a cardiac arrest that left him fighting for his life in intensive care. His heart had suddenly and violently stopped when he was found hanging out of the side of a motorised buggy by Golf Australia board member Peter Castrisos and Golf Queensland chair David Brett.
"Where it happened, if it had happened five minutes earlier he would have been in an isolated part of the golf course and no-one would have found him," Catrisos said.
"I was there with the chairman of Golf Queensland – a bloke called David Brett. It was bitterly cold for a Queenslander and there was only one match left on the golf course, so I said to Bretty, 'bugger this, let's go in and have a coffee'.
"There is a track that leads from behind the 15th tee back to the clubhouse. As I was driving along on this track a woman called out to us and said does anyone know that guy in the buggy.
"David turned around and said, 'that is Trevor Herden'. I turned around and saw him half hanging out the buggy with his arms flailing around.
"I got on the two-way radio and got them to call an ambulance straight away. Cut a long story short, we got to him – Bretty pulled his feet out of the buggy and got him lying on the ground.
"I said this bloke is in big trouble. I commenced CPR immediately and kept doing that and doing that until someone came down from the clubhouse with the phone to emergency services.
"They started giving me instructions. He started groaning a little bit and bubbles started coming out of his mouth.
"We put him the recovery position. Then I noticed he had stopped breathing again. I told the person on the phone and they said to recommence CPR.
"By this time I am exhausted because it is quite strenuous doing CPR. I ran out of puff – I am in my 70s, not exactly Superman."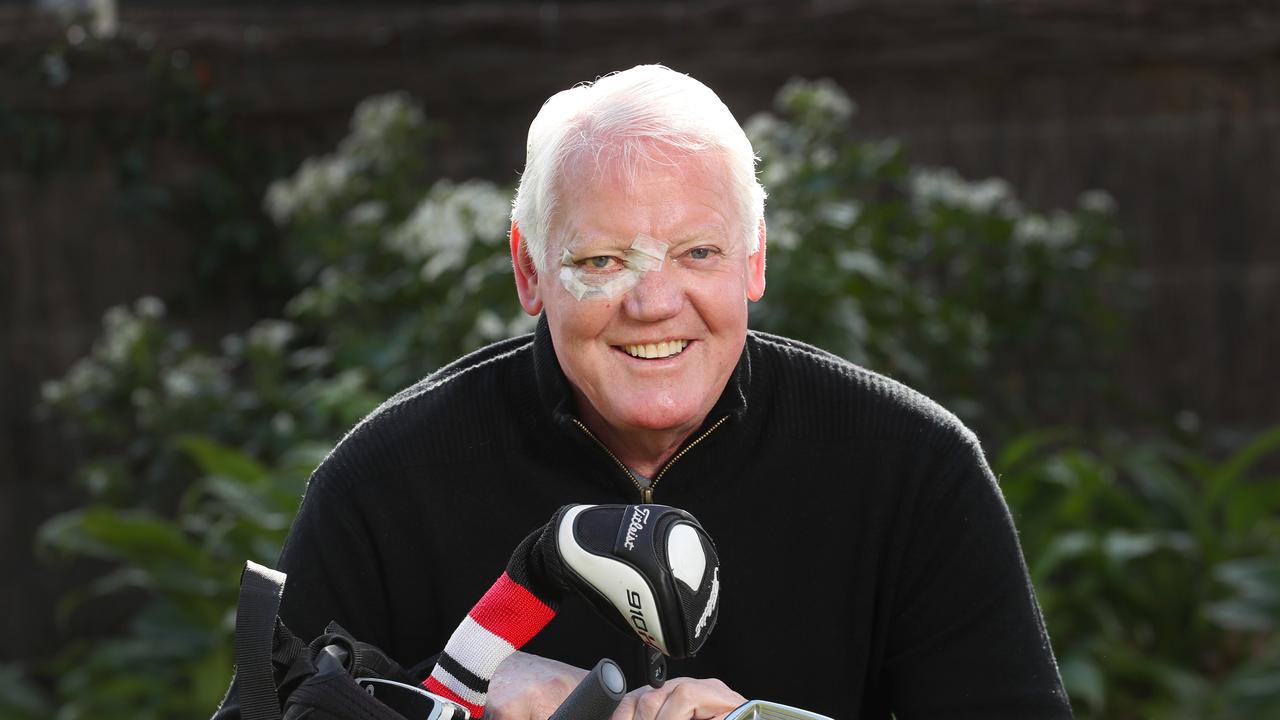 Golf Tournament Director Trevor Herden.
At that point, another Golf Australia staff member – Michelle Hui – took over.
"We got a defibrillator onto him," Castrisos said.
"It indicated there was some sign of life in him. It kept giving us instructions – the defibrillator starts talking to you once you hook it up to his chest.
"By then, the ambulance arrived. The first came within eight minutes. They were sensational. They worked on him and got him back for the second time.
"Then another ambulance came and there were four people working on him. Then another ambulance came. They lost him again. Got him back again.
"The incident occurred at 4.45pm and the last time they got him back was about 6.30pm. The air ambulance came and took him away at 7.15pm.
"The rest is history as they say."
When Herden was flown from Sorrento Golf Course, paramedics declared he had a 15 per cent chance of survival. His children – Belinda and Luke – rushed back from England and New Zealand to say their goodbyes.
The 67-year-old spent two days in intensive care – where he flatlined again – and 12 days in hospital. Miraculously, he survived.
"They said you better get his family down – I have a daughter in London and a son in New Zealand who flew over," Herden said.
"That's what their thoughts were. My partner Celia was unbelievably supportive and communicated with everybody.
"I was dead until they got me going again. I am so lucky, my man. So lucky. My electrical system broke down.
"I have to go back to the cardiologist next week and find out a bit more. They put a defibrillator under my skin in my chest.
"That will override any issue that happens again. Dead luckily to be here – excuse the pun. If I was anywhere else on that golf course other than where I collapsed, I wouldn't have been found for two or three hours.
"That would have been it. The golf course was empty behind that last group. No-one else was playing the tournament. I was very lucky it happened where it did."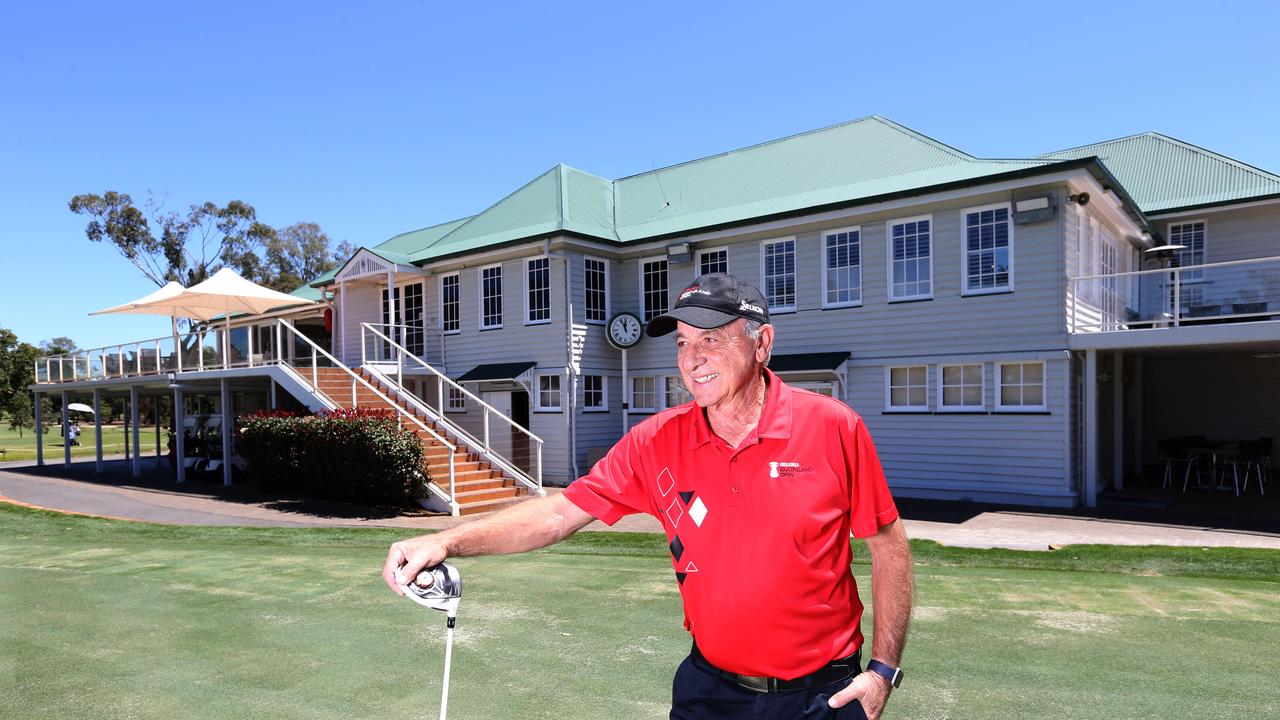 Golf Australia board member Peter Castrisos helped revive Hearden.
Herden and Castrisos caught up for breakfast on Thursday morning. Herden has also thanked Hui and plans to catch up with Catherine McCarthy, a member of Sorrento Golf Club who also helped keep him alive.
Herden has no recollection of the moment his heart stopped. He didn't see a light. He wasn't greeted at the Pearly Gates. The only remnants of his dice with death are some broken ribs from the CPR and a fractured cheekbone, which he suspects he suffered when he fell out of his buggy.
"I don't recall seeing anything," he said.
"I don't recall anything from driving the golf cart down a bit of a hill to follow the last group until I woke up in the cardiac care ward.
"I have been healthy as. I have never smoked. I don't mind a couple of wines or a beer every now and then.
"I went to my cardiologist two weeks before and got the all clear. The electrophysiologist says you can't pick when this will happen."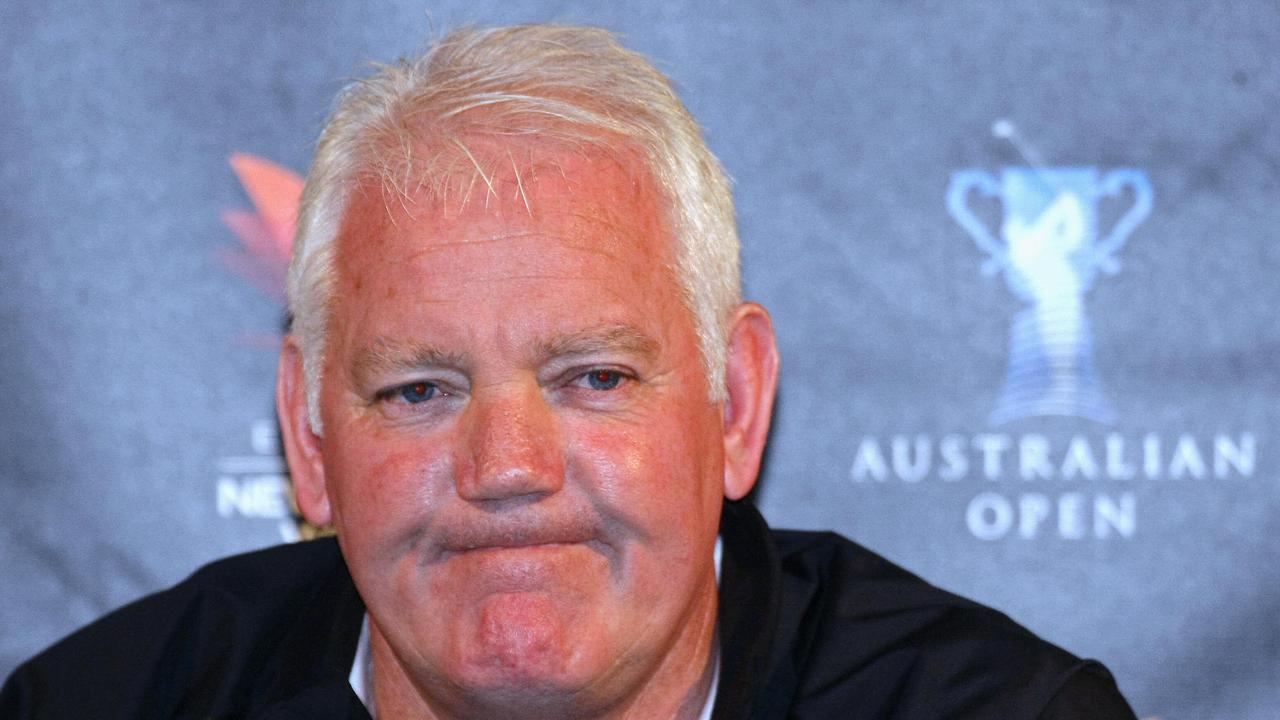 Herden faces the media in 2008 after John Daly's meltdown at the Australian Open.
Herden has been bombarded by messages from around the globe. Remarkably, only weeks after he escaped with his life, he is back at work and putting together plans for the Australian Open and PGA later this year.
Those plans are taking place amid a backdrop of uncertainty in the sport. The US PGA Tour is under siege from Norman's cashed-up Saudi tour.
The Australasian Tour has managed to maintain its distance thus far but the time is coming when they will be forced to make a stand on the LIV Tour given a handful of Australians, including former Open winner Matt Jones, are involved.
Herden has seen it all over the course of his career but his recent confrontation with his own mortality has given him fresh perspective. While the golfing world ties itself in knots, Herden's only concern is for the sport that he has loved for a lifetime.
"I am not involved," Herden said.
"I am interested in it only for the good of the game but I am not that interested in the money side of things. That is pretty ordinary I think."
Originally published as Golf news: Tournament Director Trevor Herden survives heart attack on course