Greg Norman's comments about murdered Saudi journalist criticised by fiancee
The fiancee of murdered Saudi journalist Jamal Khashoggi has slammed Greg Norman's dismissal of his murder as a 'mistake', stating the 'wealth and lies' of the Saudi regime must not be accepted
Jamal Khashoggi's fiancee was furious with Greg Norman over his recent comments about Saudi Arabia.
The New York Post reports Norman, who is the head of the Saudi-funded LIV Golf series looking to rival the PGA Tour, weighed in yesterday on Khashoggi, the Washington Post reporter brutally murdered at the Saudi consulate in Istanbul, Turkey in 2018.
Last year the United States government released a classified intelligence report which concluded Saudi Arabia's Crown Prince, Mohammed bin Salman, was responsible for the murder.
"This whole thing about Saudi Arabia and Khashoggi and human rights, talk about it, but also talk about the good that the country is doing in changing its culture," Norman said of the murder.
"Look, we've all made mistakes and you just want to learn by those mistakes and how you can correct them going forward."
Norman was slammed for his comments and Khashoggi's Turkish fiancee, Hatice Cengiz, also lambasted the golf legend, telling the Telegraph in the UK the remarks were "so hurtful."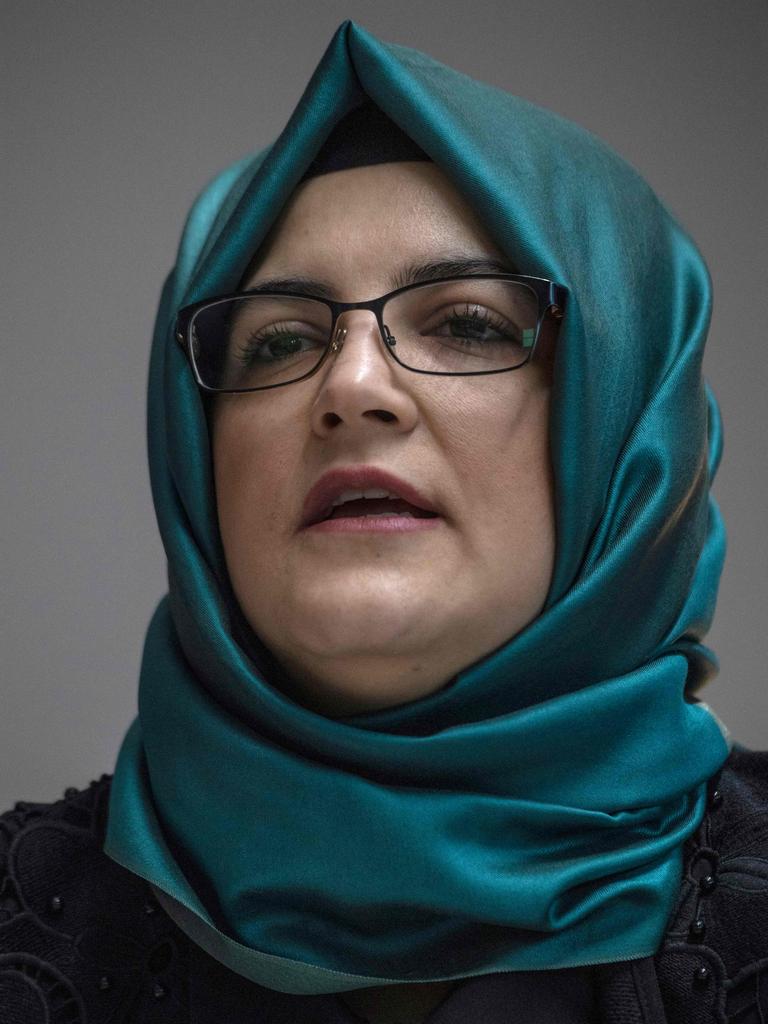 Hatice Cengiz, fiancee of murdered Saudi journalist Jamal Khashoggi Picture: AFP
"Would you say that if it was your loved one? How can we go forward when those who ordered the murder are still unpunished, and continue to try to buy back their legitimacy?" she said.
"We should not fall for their wealth and lies, and lose our morals and common humanity. We should all be insisting on the truth and justice; only then can we look forward with hope and dignity."
Amnesty International also criticised Norman over his "wrong and seriously misguided" remarks about Saudi Arabia's human rights record and Khashoggi's murder, as the organisations's UK head of campaigns Felix Jakens said the rebel golf tour was another example of "sportswashing".
"Greg Norman's remarks that the Saudi government's brutal murder of Jamal Khashoggi and its attempted cover-up were a 'mistake' are wrong and seriously misguided," Jakens said.
"Far from trying to 'move on', the Saudi authorities have attempted to sweep their crimes under the carpet, avoiding justice and accountability at every turn.
"The regime's human rights record is an abomination — from its murder of Khashoggi to recent mass executions and the situation for LGBTI+ people, which continues to be dire.
"The LIV Golf Invitational Series is yet one more event in a series of sportswashing exercises that the Saudi authorities are using to clean its blood-soaked image."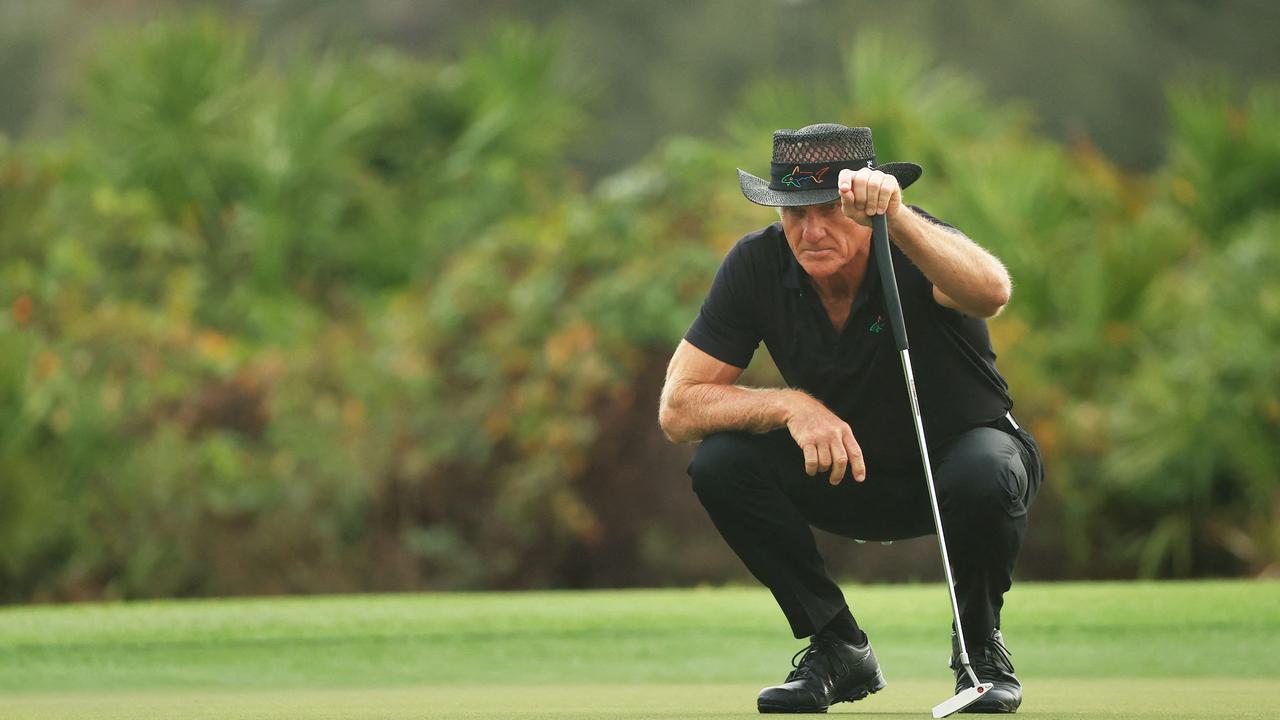 Greg Norman slammed the PGA Tour for perpetuating an illegal monopoly Picture: Getty Images
Norman's comments about Khashoggi's murder came after he slammed the PGA Tour on Wednesday for "perpetuating its illegal monopoly" when it emerged officials won't grant releases for players to take part in the opening event of his Saudi-backed tour in London in June.Just hours after Norman, the chief executive and commissioner of LIV Golf, declared he'd been given an extra $2.9b to fund events in 2023 and 2024 for the new tour, it emerged the PGA Tour had told players they would not be released to play in the first $25m event.
Greg Norman's 'murder' gaffe sparks global outrage
Greg Norman attempted to brush off questions about the murder of the dissident Saudi Arabian journalist Jamal Khashoggi by saying "we've all made mistakes".
The Australian former golfer, 67, was speaking as he laid out plans for the $255 million Saudi-backed LIV Golf Invitational Series, which is bankrolled by the country's sovereign wealth fund, the PIF.
However, many of the questions during a media day at Centurion Club near St Albans, where the first event of the series will take place, centred on sportswashing and human rights, including the 2018 murder and dismemberment of Khashoggi at the Saudi consulate in Istanbul.
Norman, the frontman for the series, said: "Everybody has owned up to it, right? It has been spoken about, from what I've read. Take ownership, no matter what it is. Look, we've all made mistakes and you want to learn from those and how you can correct them."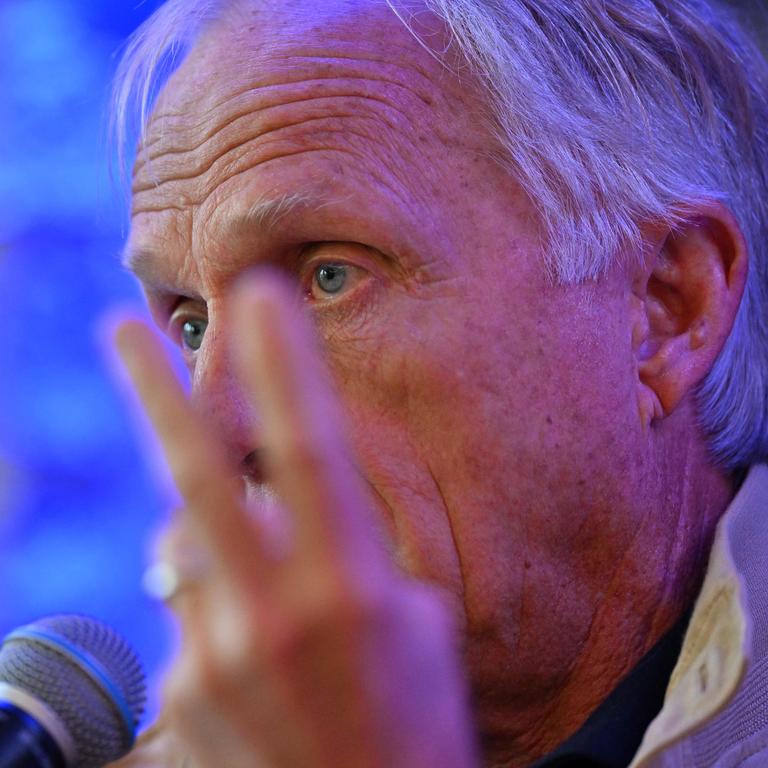 Greg Norman has downplayed the atrocious human rights record of Saudi Arabia. Picture: Glyn Kirk/AFP
A UN special rapporteur and the CIA have claimed that Mohammed bin Salman, the Saudi crown prince and PIF chairman, sanctioned the killing. Bin Salman has denied the allegation but accepted "full responsibility" as the leader of his country.
Norman, who said he had never met Bin Salman, was also asked how he felt when he heard about the execution of 81 men in Saudi Arabia on March 12. "I got a lot of messages but, quite honestly, I look forward," he said. "I don't look into the politics of things. I'm not going to get into the quagmire of whatever else happens in someone else's world."
Amnesty International issued a statement last week after Lee Westwood, one of those to seek a release for the first Saudi event next month, said golf was his job and he did it for money.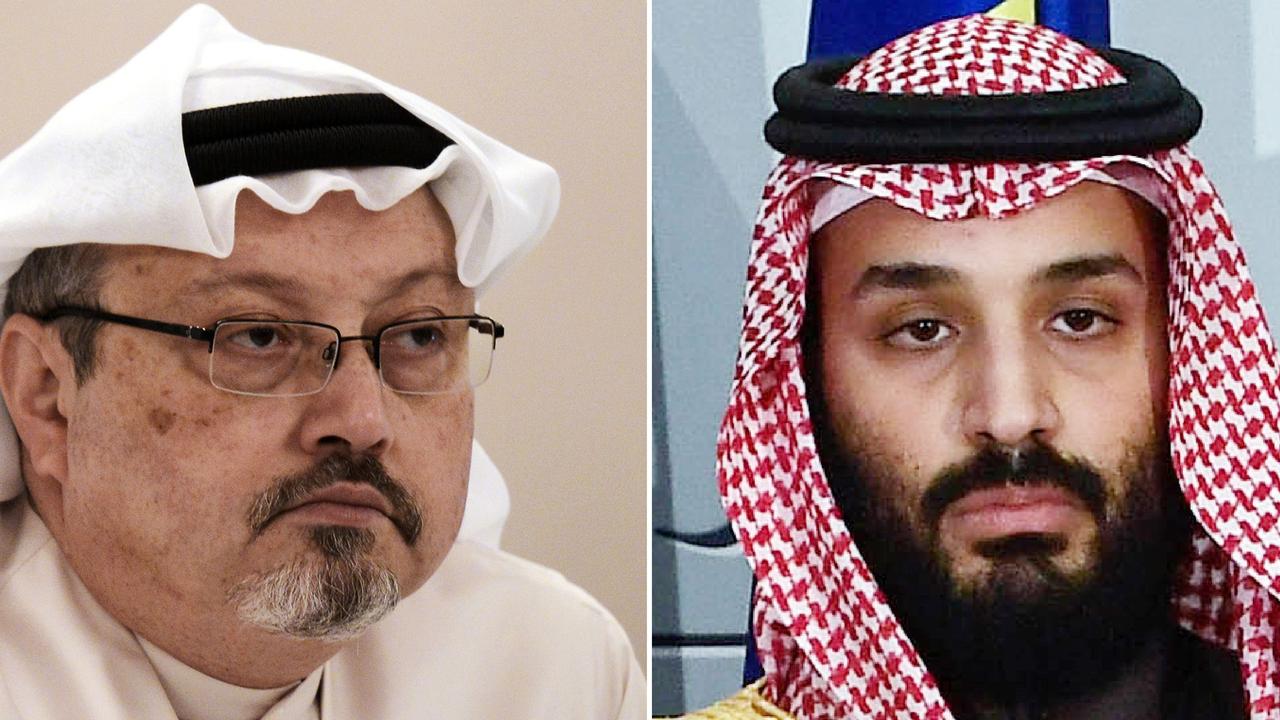 Saudi journalist Jamal Khashoggi (left) and Saudi Arabia's crown prince Mohammed bin Salman (right).
"We would urge all golfers tempted to play in Saudi-bankrolled tournaments to consider how sportswashing works and how they might break its spell," a spokesman said.
Norman said LIV Golf had injunctions "ready to go" if the PGA and DP World Tours tried to ban players after denying them releases. He claimed he would have no problem if players who joined his series spoke out about human rights issues.
🗣️ "I do not answer to Saudi Arabia, I do not answer to MBS."

Chief Executive of LIV Golf Greg Norman says that LIV Golf Investments is independent and will not answer to the Saudi government or Mohammed bin Salman Al Saud. pic.twitter.com/H7fKGBTuT4

— Sky Sports News (@SkySportsNews) May 10, 2022
"Every player is entitled to their opinion and their voice," the two-times Open champion said. "This whole thing about Saudi Arabia and Khashoggi and human rights – talk about it, but also talk about the good the country is doing to change its culture."
The main tours are refusing to release players for the first $25 million Saudi-based tournament, from June 9 to June 11. Westwood, Sergio Garcia, Phil Mickelson and another 16 of the top 100 players have applied to play. The tours' stance against the eight-event series is not based on human rights concerns but power and money.
Norman outlined his strategy. "If you were a European Tour member and came here without a release, the Tour has a couple of options. They can fine you, they can ban you for life or they can suspend you. If you decide to come here, we've got your back. We'll defend you, reimburse you and represent you if you want to go down the legal route."
Norman also said that the series did not need stars such as Rory McIlroy, who has said there is a "morality" to not taking the Saudi money, or Tiger Woods, who has shown no interest.
Norman revealed that he had had no contact with the R&A, the USGA or the PGA of America, which stage three of the year's majors – only Fred Ridley, the Augusta National chairman, had returned his call. If any of those bodies try to stop LIV Golf sign-ups from playing, Norman said his legal team would be ready. "We don't want to go, but we are ready to go," he said.
The Times
Originally published as Greg Norman's comments about murdered Saudi journalist criticised by fiancee