Matt Fitzpatrick wins US Open to announce his arrival at golf's top table
Matt Fitzpatrick has made notes on every shot he has played for more than a decade. Forensic but unfussy, his scribblings from the US Open will form both a love letter from America and testimony of his arrival at golf's top table.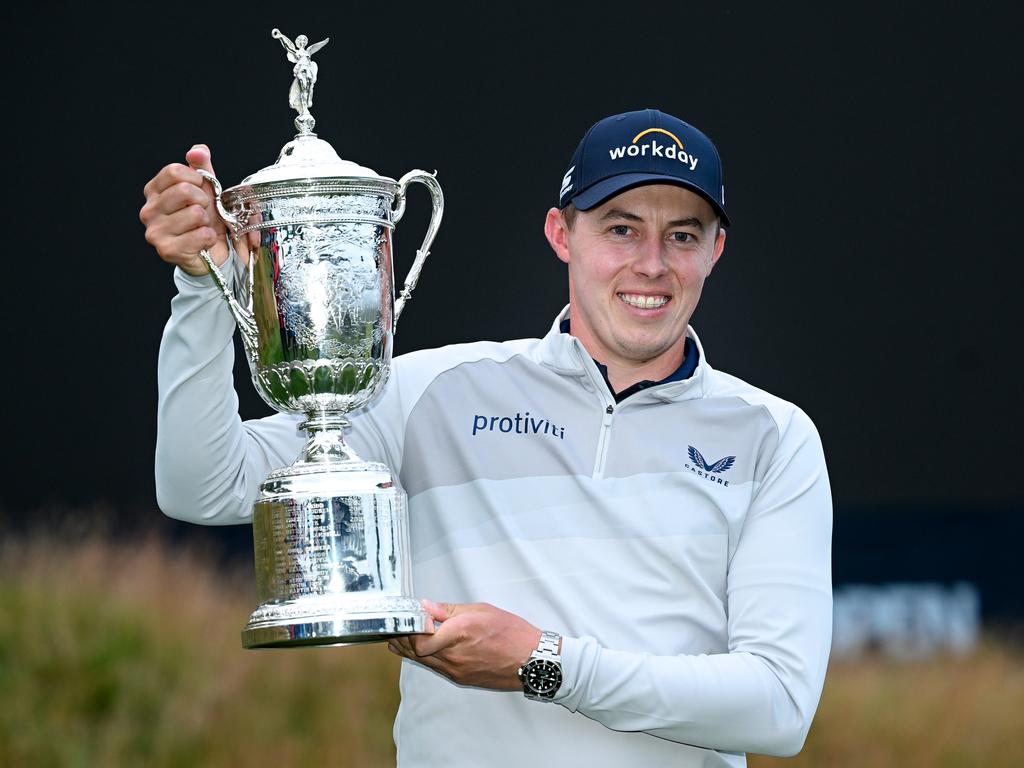 Matt Fitzpatrick won the U.S. Open on Monday. Picture: Ross Kinnaird/Getty Images
Matt Fitzpatrick has made notes on every shot he has played for more than a decade. Forensic but unfussy, his scribblings from the US Open will form both a love letter from America and testimony of his arrival at golf's top table.
With one to play the Sheffield man had a one-shot lead from world No 1, Scottie Scheffler (safely in the clubhouse) and playing partner Will Zalatoris. In keeping with the drama of a wonderful tournament, Fitzpatrick made a hash of the tee shot that mattered. It came down to what he could do from the bunker. If not quite the shot heard round the world it was the one causing panic in South Yorkshire. He nailed it.
He parred the last but Zalatoris still had a birdie chance to force a playoff. He missed by inches, a marathon reduced to a tiny margin, and Fitzpatrick had his first major. He finished at six under par, with Zalatoris and Scheffler one behind.
The relief was palpable. Nine years after he won the US Amateur here at Brookline, with his brother Alex on his bag, he became the first English major winner since Danny Willett, also of Sheffield, in 2016. Alex hugged him. And what a day for Billy Foster, a veteran caddie who has worked for Seve Ballesteros, Lee Westwood and Thomas Bjorn, once driving home from a near-miss at the Open in tears.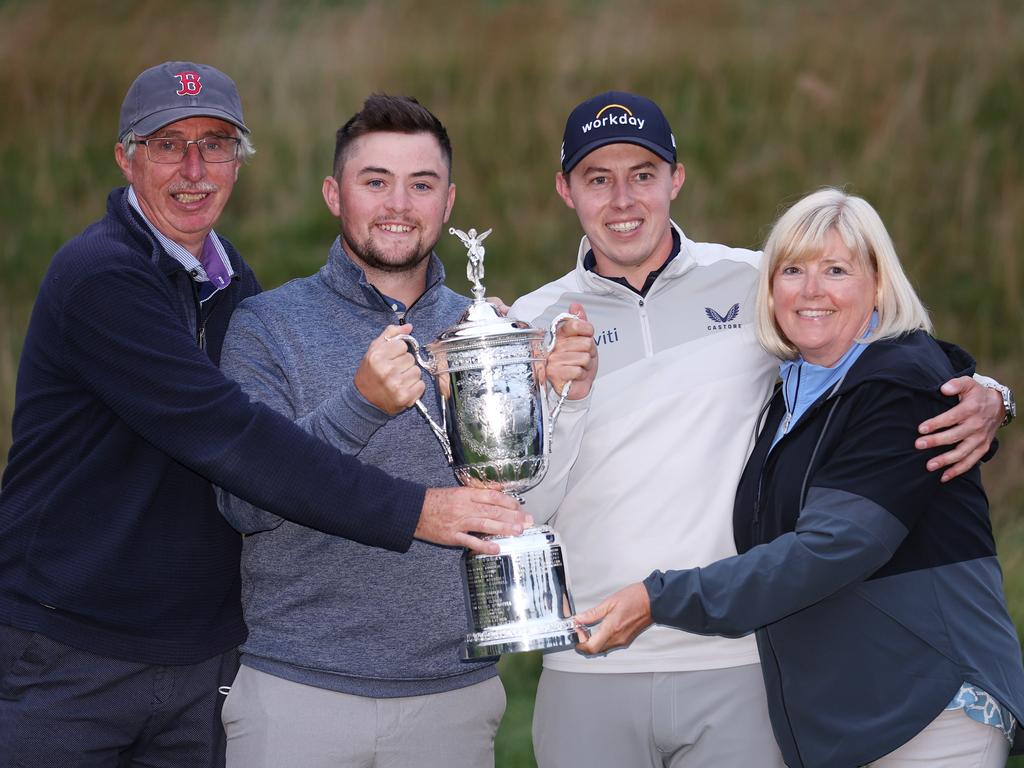 Matt Fitzpatrick and his family with the US Open Championship trophy. Picture: Warren Little/Getty Images
In the space of a month Fitzpatrick has blown his cover as a highly promising golfer with a modest profile. Making the last pairing on the Sunday at the US PGA Championship on a course he said was "not my cup of tea" was progress. Doing that again in the white heat of a US Open has cemented his place in the top tier.
The swings down this stretch were savage. One came on the 13th as Fitzpatrick gave way to a rare show of bubbling emotion as he made a 50-foot birdie putt. Over to playing partner, Zalatoris, who duly produced a brilliant par save. Up ahead of them, seconds later, Scheffler missed the sort of birdie opportunity that can become a gremlin. That meant Fitzpatrick and Zalatoris, two men without a PGA Tour win between them, were level with five to play, while Scheffler licked his wounds and reloaded, one stroke behind. It was wonderful entertainment. Golf with meaning, history, tension and desire.
On the 15th Fitzpatrick's drive went right and you wondered whether this would be the pivotal moment. Not a chance, he played a tremendous shot out of trouble.
You also had to feel for Zalatoris who has been trending in the right direction since he was runner-up at last year's Masters. Adam Sandler, the star of the golf-based comedy Happy Gilmore was so taken by that display that he told him to play well as he riffed on the likeness to his on-film caddie.
Matt Fitzpatrick (left) pipped Will Zalatoris (right) to the post. Picture: Warren Little/Getty Images/AFP
"I'm always available for you, Mr Gilmore," the San Franciscan tweeted after getting out of the Augusta National clubhouse that Sunday night. It is now three runner-up spots at the majors for the young American.
Fitzpatrick, watched by his family, had the lead as he started the back nine but made a rare error with a short putt on the 10th. Scheffler dropped a couple around the same time. Zalatoris was arcing in the other direction. Fitzpatrick's notes from the 11th will form a short horror story, barely 100 yards but a two-shot swing and, suddenly, Zalatoris was two strokes clear.
The potential plots included romances, thrillers, underdog tales and sequels, with the world numbers one, two and three were in the mix. Every potential foible, weakness and mental meander was tested.
Zalatoris' much-debated ability to make short putts got another airing as he dropped an early and Jon Rahm was missing fairways, but Scheffler was unflustered. Three birdies in his first five holes took him into the lead, but they all knew Brookline had enough mysteries to force manifold plot twists.
Fitzpatrick, though, is not easily ruffled. He lends credence to Yorkshire stereotypes. No nonsense, straight-hitting, Sheffield steeliness. He rolled in a birdie on the 3rd and then really showed the advances in his game by driving to the heart of the par-four 5th. He missed the eagle but took the birdie. All square again. It was rhythmic.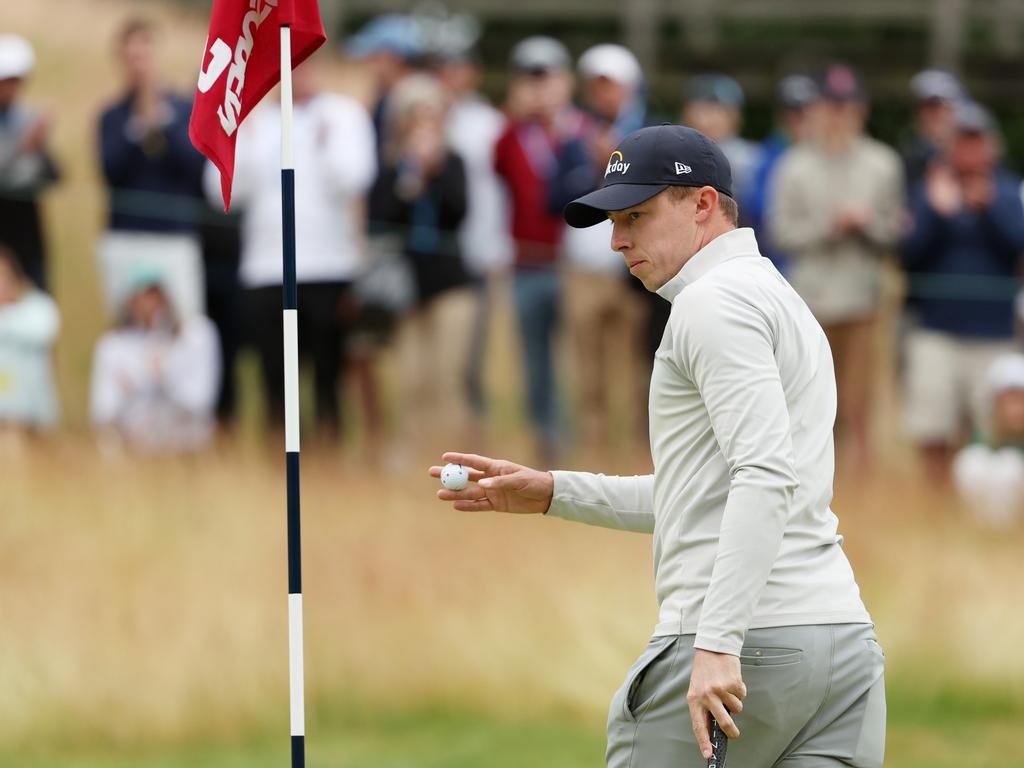 Matt Fitzpatrick kept his calm the whole way through. Picture: Patrick Smith/Getty Images
There is much to like about Fitzpatrick. For a start it is not often a golfer apologises during an interview for giving boring answers, but Fitzpatrick tends to do things differently. His quiet calm, small frame and preference for putting with the flag in set him apart, along with his use of a baseball bat-fitter for the LA Dodgers and a part-time coder from the European tour.
Part of his improvement has come from working with Dr Sasho MacKenzie, a biomechanist who helped devise an app system called The Stack which adds weighted rings to a custom-engineered club. The aim is to dissect the swing and make it faster and, as a consequence, add distance. It has worked. Fitzpatrick has added 30 yards and was 12th in driving distance at Brookline.
The other secret weapon is Edoardo Molinari, brother of 2018 Open champion Francesco. The Italian has an engineering degree and devised StatisticGolf, a platform that uses data to devise training programs and produces a profile of a player's tendencies, including subjects such as wind direction, pin positions, green speeds and many more. "It's been awesome to find a guy who nerds out as much on numbers as I do," Fitzpatrick said.
Rory McIlroy's US Open had been something of an escapology act. His putting assuaged the waywardness to leave him only three behind overnight leaders, Fitzpatrick and Zalatoris, but if he had been dangling from a flaming rope above Brookline, it finally snapped. He had to make do with another top five finish but British, European and world golf has a new star.
– The Times
Originally published as Matt Fitzpatrick wins US Open to announce his arrival at golf's top table