Tacky, contrived, sparsely attended and rolling in cash: LIV Golf Invitational Series' opening day
Yes, it's really happening. That was the sense of astonishment that you could feel around the Centurion as the Saudi-backed rebel golf league teed off, writes OWEN SLOT.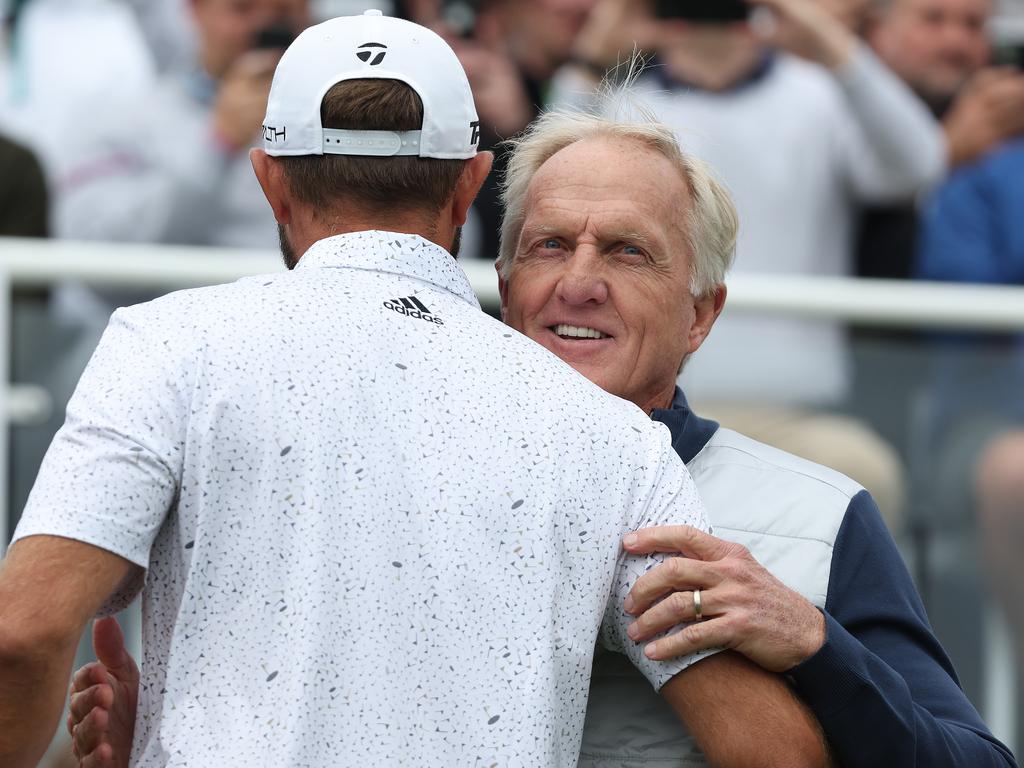 Greg Norman's LIV Golf Invitational Series is finally under way. Picture: Matthew Lewis/Getty Images
As Dustin Johnson stood around, all fidgety, on the first tee of the Centurion Golf Club early on Thursday afternoon, he turned round for some company to find himself face to face with four veteran military redcoats in their big bearskin hats. Johnson was never the greatest conversationalist, but you'd have paid good money to hear their exchange.
Johnson, of course, is being paid pretty decently whatever he says. But if they'd asked him what on earth he was doing in this verdant corner of St Albans, he would have said that he was looking after his family's future. For that is the stock answer these golfers have been coached to give. If he'd asked them what on earth they were doing on the first tee, they would have told him that they were there to announce his first drive with a short trumpet fanfare.
How the organisers of this event got away with the hanging of their hilariously tacky LIV Golf branding below these traditional military trumpets is anyone's guess. Yet that is minor detail, there is still wonderment aplenty at how LIV Golf have got away with starting a battle in the sport they profess to love. Johnson's first drive was golf's Archduke Franz Ferdinand moment. By the time Johnson had reached the second green, dispatches had been sent and war officially declared.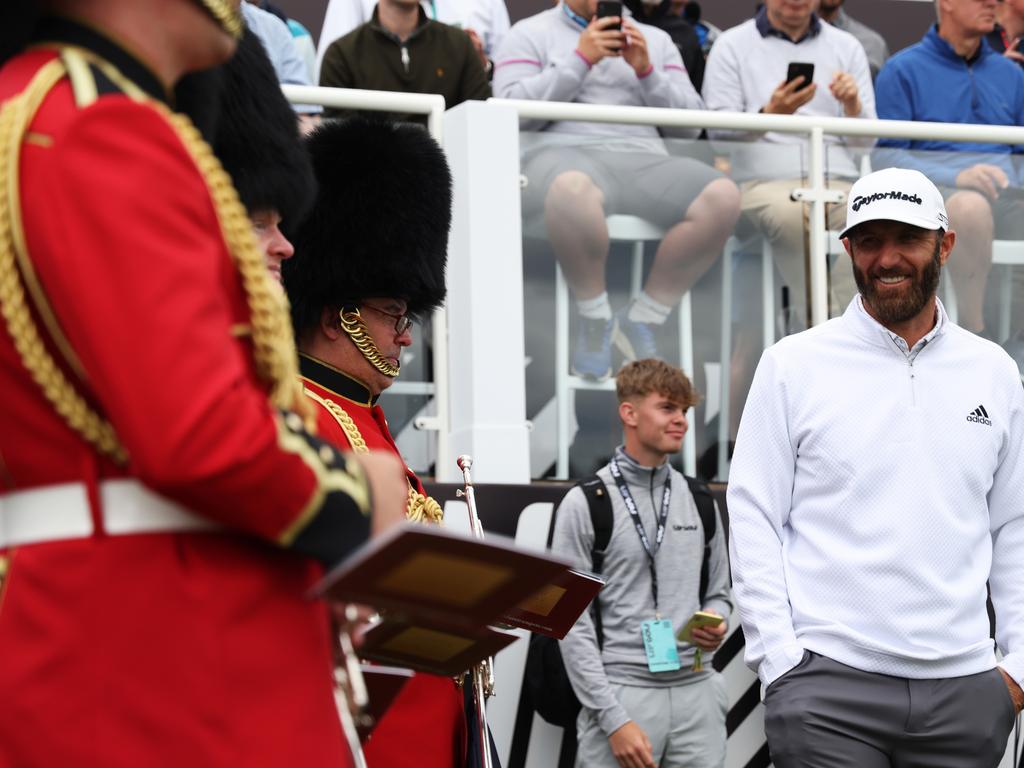 Dustin Johnson and the redcoats. Picture: Matthew Lewis/Getty Images
Yes, it's really happening. That was the sense of astonishment that you could feel around the Centurion. After Johnson had hit his drive — yes, long and straight, but who cares when you could shank it into the redcoats and still make £150 million — and disappeared down the fairway, the tee was occupied by Greg Norman, the impresario at the heart of all this, and Majed al Sorour, the LIV managing director (also a director of Newcastle United), locked in a hug the duration of which told the story, as did Norman's fist which was clenched in triumph.
We should record, here, that the team Johnson was playing for yesterday were the Four Aces. Phil Mickelson was with the Hy Flyers. Phachara Khongwatmai, the Thai who led for most of the day, was with the Crushers. These are early days, of course, but was there ever a more contrived concept in world sport? But again, what competitor is going to care about the bigger picture when the prize is £800,000 simply for being on the winning team.
If you happened to be a fan of the Majesticks — who have both Ian Poulter and Lee Westwood — then there were few scoreboards around the course to tell you that your team had been doing well. You could, though, buy a Majesticks T-shirt in the merchandise store for £25 or a cap for £30. Apparently Majesticks merch was selling well.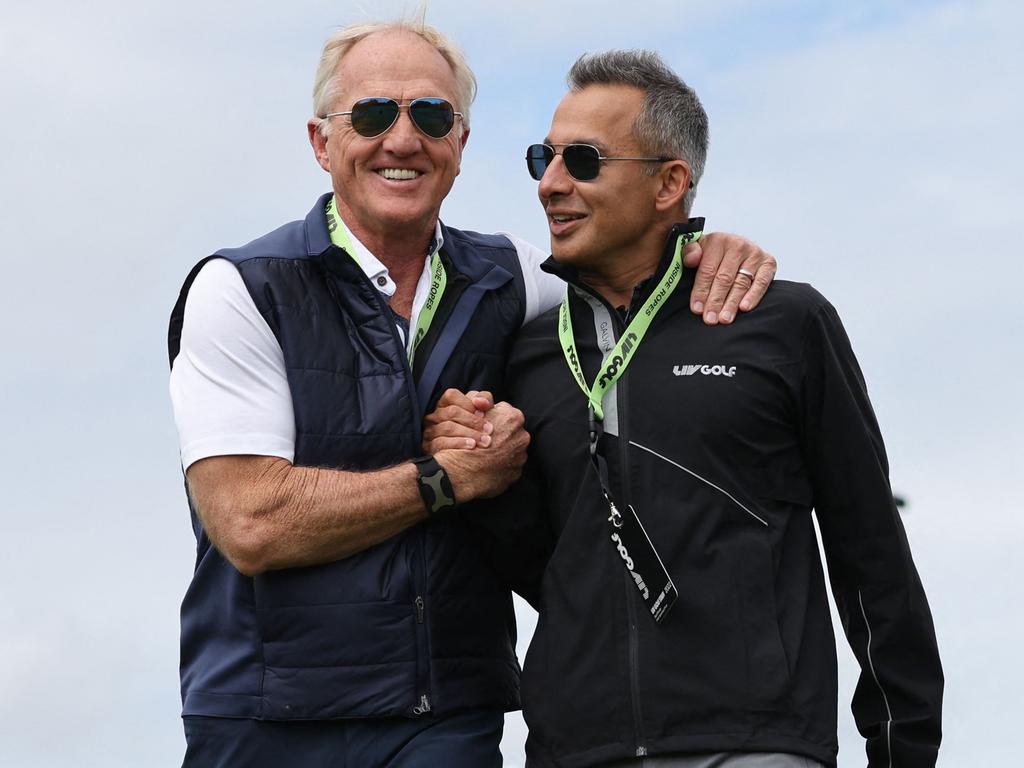 Greg Norman and LIV managing director Majed Al Sorour both cut happy figures. Picture: Adrian Dennis/AFP
Who were these punters? There were enough of them to avoid embarrassment for the organisers and not enough to have to queue for a beer. Once spread out, with the golf under way, you would find 21 people, for instance, at the first green to welcome Branden Grace. No, there were not exactly greenside roars ringing around Hertfordshire.
Almost everyone I spoke to was local and had come for free. They were all golf fans. Some had thought about the geopolitics and the sportswashing aspect; some said they had friends who had declined to come because of it.
"We were in two minds and wanted to come and see for ourselves," was one viewpoint. "We did think about it but we're shallow enough to block it out," was another. "Golf needs a kick up the arse," was another. Nevertheless, they all seemed to enjoy it. Not that there were many of them, of course.
I wondered what it would feel like to be watching an event where a strange eclectic field with an average world ranking of above No 100 was playing less for the glory of victory, the name on the trophy or in the history books, but completely for the money. A purely transactional exercise, in other words, rather than age-old competition. Maybe it's old-fashioned to say it won't wash.
Yet no one really seemed to mind particularly. For the St Albans freebie fans, you get to see Phil doing flop-shots and that's just a nice day out.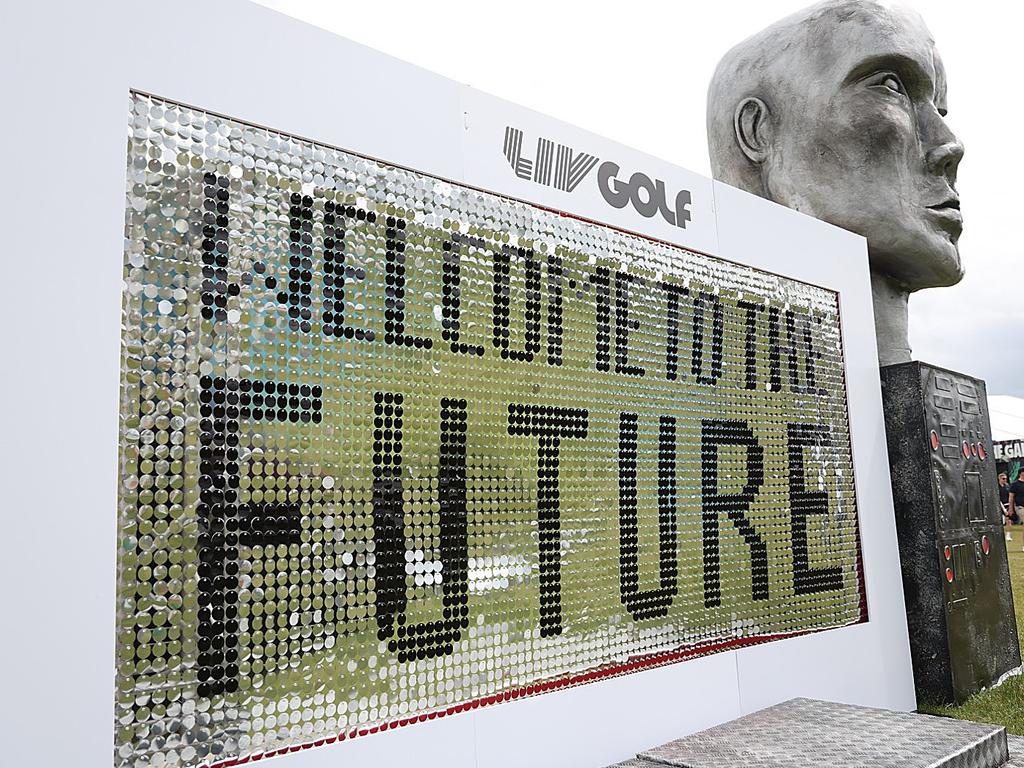 Golf is entering a delicate phase. Picture: Matthew Lewis/Getty Images
For the players, it looked and sounded like golf, even if it was, effectively, on Saudi soil and they had just triggered a civil war. For Richard Bland, for instance — who plays for the Crushers — you wonder at his great fortune (literally) to be here. He so nearly dropped out of the professional game; he is 49 and seven times has dropped out of the European Tour (now the DP World Tour) and down to the Challenge Tour. His last stint in the second division was in 2019. Now, this year, he gets an invitation to the LIV event and, as the stock explanation goes, he can look after his family.
The golfing fraternity left behind may view it differently. If LIV continues to suck up the world's best, then the DP World Tour becomes second division, the Challenge Tour becomes third and their income streams — primarily TV and sponsorship — will dry up. At that point, there may no longer be that infrastructure for players like Bland to cling on to their profession.
How other strugglers or up-and-comers, now or in the future, come to make their living is one of the many questions that remain.
So if you want a team event that really sells, then those redcoat trumpeters could introduce this one: the old school who are staying put, who believe in the collective and have shunned the vast Saudi inducements versus those at the Centurion who are quite clear about their priorities, their own personal cash rewards and, yes, of course, looking after their families.