The Masters: Cameron Smith has one eye on the lead, the other on Tiger Woods at Augusta
Chasing a first major, Cameron Smith played beautifully for the bulk of his round to finish the day one shot off the lead. Even he couldn't resist watching Tiger Woods in action.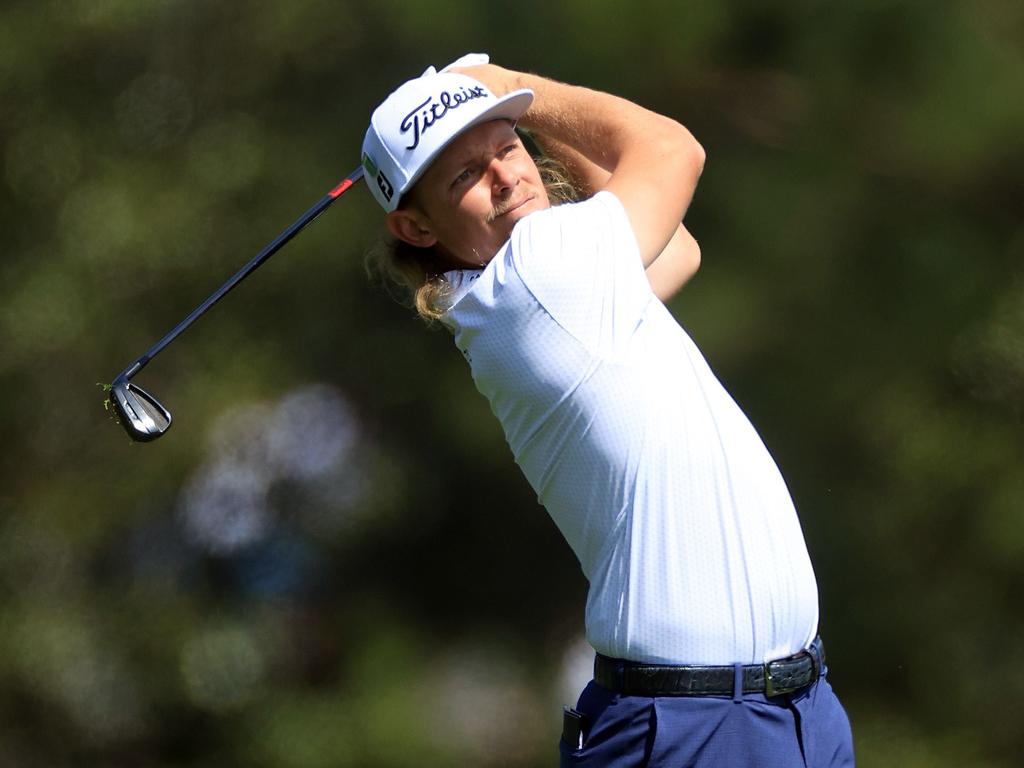 Cameron Smith is one shot off the lead at Augusta. Picture: David Cannon/Getty Images
With Tiger Woods wearing a retina-burning fuchsia top while fans formed a bloated conga line down every fairway, you could have forgiven Cameron Smith for being distracted. Add double-bogey bookends to an otherwise sumptuous round and you wondered if the man with the mullet might have taken a mallet to his locker. Not a chance. The Australian was a picture of calm after setting the pace and credited the star turn for inspiring him.
Chasing a first major, Smith played beautifully for the bulk of his round in the group ahead of Woods. In the mid-morning murk, Smith walked on to the practice green and rolled in ten consecutive eight-foot putts. He then made eight birdies, despite not playing since the Players Championship when he made ten in his final round. After that win he took time off to be with his mother and sister after 2½ years apart because of Covid. There was no rust, though, and if this was not a perfect ten, he was not about to dwell on his start and finish. "The stuff in between was pretty good," he said.
That was an understatement. Smith, 28, set the clubhouse lead with his four- under-par round of 68, and, although he was overhauled by Sunjae Im, he was content and looking forward to cooking his tea.
As for Woods, whose scrambling, defiant round of 71 was a totem for his resilience and means he is right in the mix just 14 months on from almost losing his right leg, Smith said: "I actually found myself just watching him. You can't not watch him. He's unreal. It's an inspiration that he's coming back."
Just as happy was Danny Willett. If Woods' ability to ignore pain shows a rare, competitive mania, he is not alone in knowing this can be a hurting business.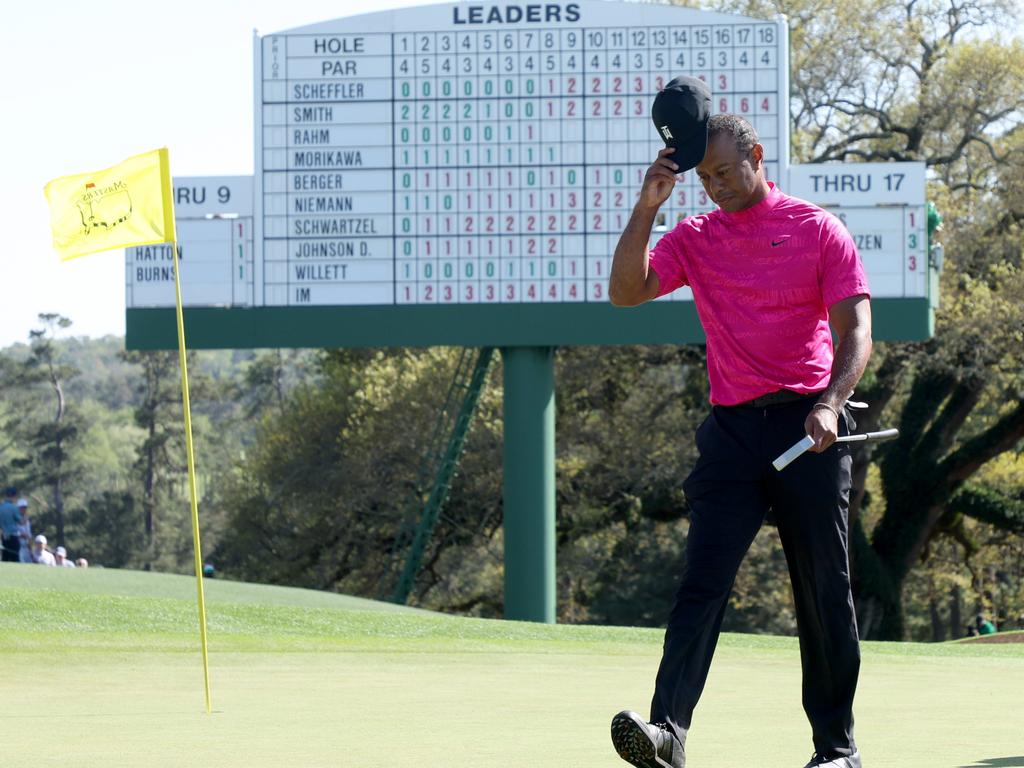 Cameron Smith on Tiger Woods: "You can't not watch him. He's unreal." Picture: Jamie Squire/Getty Images
Six years ago, Danny Willett laughed and joked his way around the back nine to win the green jacket as Jordan Spieth imploded at Golden Bell. After the Yorkshire puddings that Willett chose for the Champions Dinner had risen, he started to sink, all the way down to world No 462 status. Back, shoulder, knee and neck problems made him doubt his ability, and the range of his problems included a tender aside about playing post-vasectomy golf.
Even Woods, with his plethora of physical ailments, has not gone there. Willett has missed four of five Masters cuts since his greatest day and his assessment of the 2016 Ryder Cup might have been used for other arenas in the interim. "Shit," he had said at Hazeltine. Could he elaborate? "Really shit."
It was, then, a joy to see him set the clubhouse lead at three under par. "Relatively stress-free," was his summary despite the blustery conditions and what he called Sunday pins. Now the world No 158, he said: "The memories are really nice. You can't come to this place and not wake up every morning with a smile on your face. I think it's impossible."
It grew increasingly congested at the top towards the end of the opening skirmishes. Dustin Johnson, the 2020 winner, was in one of his deceptively lugubrious moods, oblivious to the obstacles that had undone others. He joined Smith at four under, while members of the new generation, including the new world No 1 Scottie Scheffler and Chile's 23-year-old Joaquin Niemann were among those another shot adrift.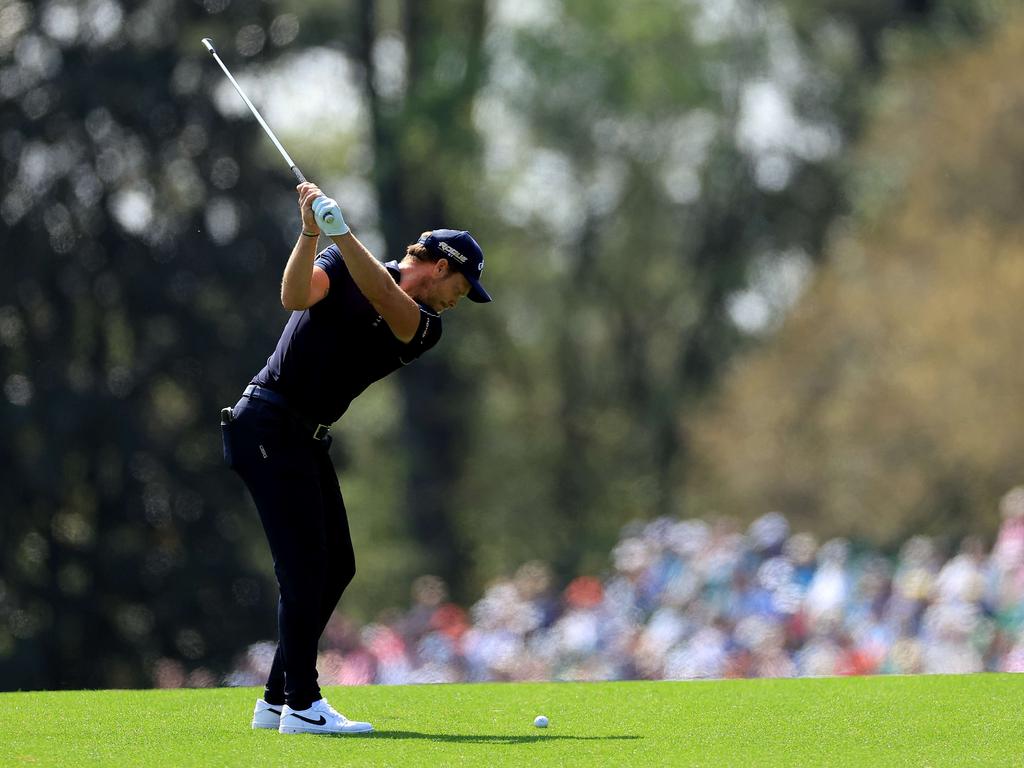 Danny Willett shot three under in the first round. Picture: David Cannon/Getty Images
Smith, 28, is one of those new faces that say the old, gnarled one got them into golf. Woods made golf "cool", he said, and inspired him to be creative. Those unfamiliar with Smith will warm to him if he keeps this pursuit of a first major on track.
He shaved AUS into the side of his hair during the Olympics, saying his country deserved "a shoutout on the side of the old melon", and having reneged on a deal with his girlfriend to shave off his mullet if he won on the PGA Tour, he says his style is now his lucky charm.
"Yeah baby," he shouted after a shot on the 15th. The birdie followed. His tee shot at the 16th finished five feet from the hole. He was rolling but Augusta is never short of late twists.
The fans following Woods and trying to find crevices in the human wall to watch, missed treats elsewhere, but they got to squint at Niemann, playing in the same group, make an eagle from 105 yards at the 9th.
Cameron Smith was the clubhouse leader when he finished his round. Picture: Andrew Redington/Getty Images
Thunder and lightning overnight gave way to a rain delay, dampening the course but whetting appetites for Woods' comeback. The course was softer as a result but the tests were as hard as ever. Five hours after Jack Nicklaus, Gary Player and Tom Watson had done their ceremonial duties, nobody had got beyond two under par.
Padraig Harrington is now 50 and Rory McIlroy admitted this week that he had been surprised to see him here as he had no idea he had qualified. He opened with two near-misses for birdies. Then he made two. He was leading. Nobody noticed.
Woods' longevity and Smith's consummate progress highlighted other people's woes. Back in 2019 it was Francesco Molinari duelling with Woods for the green jacket on that mesmerising Sunday. Molinari has since fallen from seventh in the world to 178th. He ended with a round of 78. Late starters, McIlroy and Matt Fitzpatrick, were hanging in.
There was disappointment, too, for Paul Casey who pulled out before the start with a recurrence of his back injury, leaving Smith to play his round with just Bryson DeChambeau. That meant lots of time waiting, watching the group behind and talking about rugby league. Contrary to that infamous remark of a couple of years ago, DeChambeau again showed that Augusta National is not a par 67 and finished with a 76.
The leaderboard has a nice look, though. Johnson may be hard to stop if he stays in his groove, but the ease with which Smith got over his two horror holes hints that he has the right temperament to stay involved. "I've moved on already," he said. "I'm done with it."
– The Times