The Open: Hostility binds LIV rebels together as they mount a charge up the leaderboard
Dustin Johnson pleaded ignorant to any LIV controversy through the crowd as the mutineers shot to the top of the leaderboard early on Day Two.
As dawn turned to midday yesterday, as the sun burnt through the clouds and the cream rose to the top of the leaderboard, the new reality that fell upon the 150th Open was that the cream was actually the players of the breakaway LIV Golf tour.
One by one, they mounted a charge. Well, everyone apart from Phil Mickelson. For a while Dustin Johnson led the field. Paul Casey made a charge. Sergio Garcia almost sustained one. In this most individual of competitions, it seemed that a team had formed. "Everybody, it feels like, is against us," Talor Gooch, the American who was just two behind Johnson, said, "and that's OK. It's kind of banded us together".
There were similar sentiments from Garcia as he surveyed the leaderboard. "I hope we do really, really well. If we do well, it helps all of us," he said. Note here, not "I" but "we".
Dustin Johnson was able to block out the chatter to end the day five under, sitting outright fifth after two days. Picture:. Picture: Harry How/Getty Images
"It's a really cool camaraderie between us," Abraham Ancer, the Mexican, said. He had just gone four under for the day.
"It's obviously cool to see other guys that are out there playing well," Gooch said. "We've caught a lot of flack for what we've done here recently."
We should perhaps beware Gooch and his take on team events. It was Gooch whose LIV team - the 4 Aces - were victorious in Portland two weeks ago, after which he said that he had never before played a Ryder Cup or a Presidents Cup but "can't imagine there's a whole lot of difference".
This observation was followed gleefully by Justin Thomas, who is very much not in the LIV brigade but who has had two experiences of the Ryder Cup. "I'm just blown away," he said of the pro-am at Adare Manor he was playing in. "I mean, it feels pretty close to a Ryder Cup."
Well, who is laughing now? Thomas was hovering around the cut yesterday (Friday) afternoon while team LIV were flying.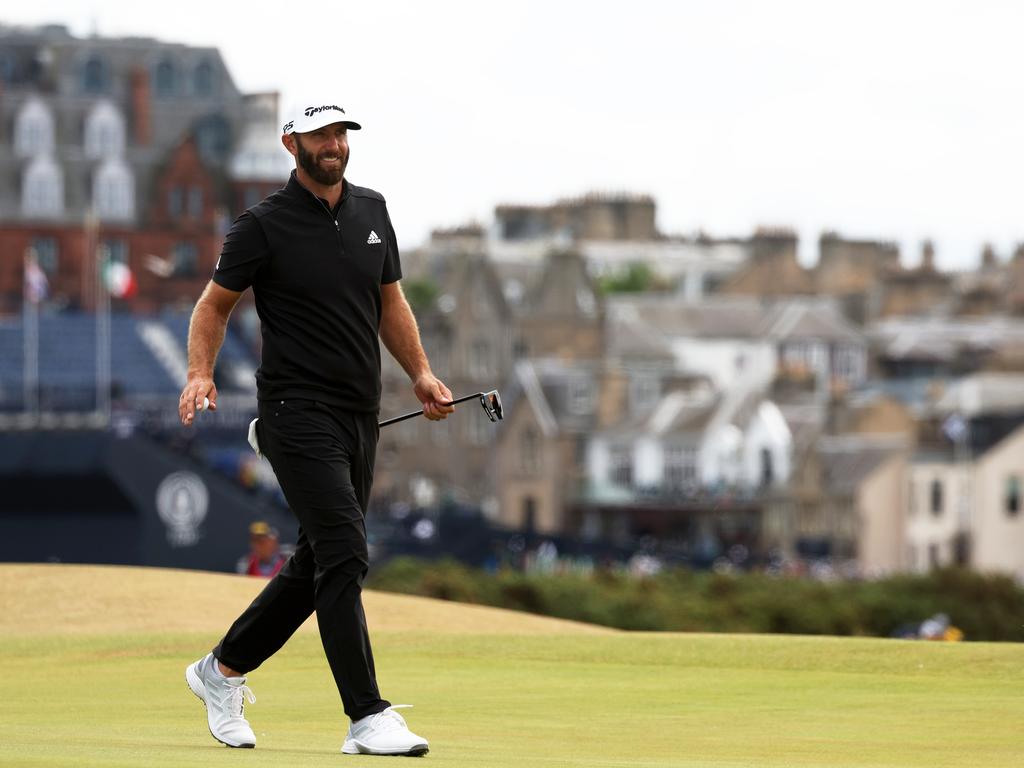 Johnson claimed not to know about the LIV controversy. Picture: Harry How/Getty Images
LIV's social media department has been working the team thing too. On Thursday night, it published its own LIV Golf 150th Open leaderboard, a new concept which translated St Andrews into an event where only the LIV-ers were competing. Lee Westwood was top, equal with Gooch and Johnson.
Only Johnson, it seems, hadn't read the memo. Asked if the LIV players had been galvanised by the breakaway controversy, he replied that: "I don't really know what you're talking about."
You can never be completely sure if Johnson is bluffing. Tiger Woods could have fallen off the Swilcan Bridge yesterday and he'd tell you that he hadn't noticed the splash. "All I try to do is focus on myself," he said. And he does.
The one memo that he had read was the one about not reading. No LIV golfers are reading anything. At least that, it seems, has been the briefing note. They don't know they are in the heart of a controversy because they aren't reading anything. Ian Poulter said repeatedly, on Thursday, that he wasn't reading. Garcia said that he had taken his no-reading principle to such an extreme that, "I don't know how to read any more."
How do you shut-out the noise, Dustin? You know the answer. "I don't read."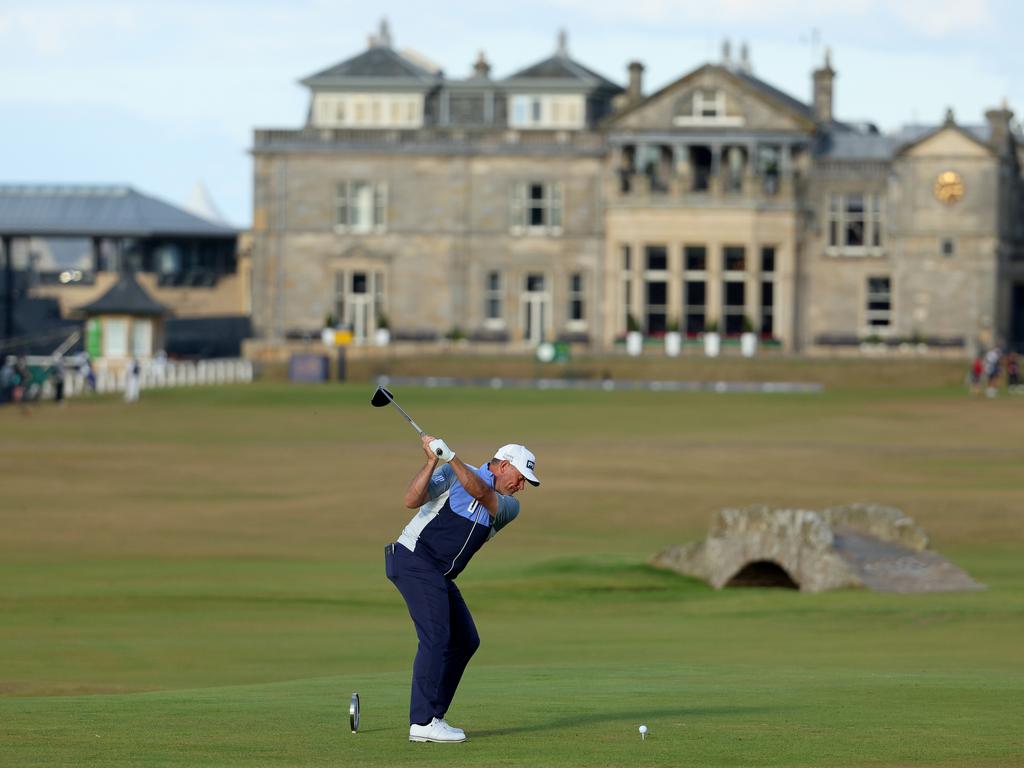 LIV golfer Lee Westwood finished Day Two at one under, for 18th overall. Picture: Andrew Redington/Getty Images
As Garcia went on his run yesterday (Friday), making seven shots in ten holes, Johnson made five in ten to take the lead (briefly) and Casey was making three birdies in five holes, it felt that this is everything that the Open had hoped would not happen. Golf has been riven into bitter divisions; the happy take on this most special of weeks was that wounds would heal for a week and the split would come together.
Yet no one quite had this day two charge of team LIV in mind. The R&A didn't even invite two-times champion Greg Norman, the LIV chief executive, to its champions' dinner. It is no exaggeration, then, to say that it would rather not have a LIV-affiliated winner. And that is an attitude that appears to have served as motivation.
It has certainly disproved any assumption that the LIV circuit had quickly become some kind of preposterously remunerated retirement party. These players have not had their competitive instincts dulled by the good life. Here at St Andrews they appeared to have been sharpened. It remains a possibility that events will conspire against the LIV breakaway players to keep them, or some of them, out of future majors. "I'd like to think," Gooch said, "that the majors would like to have the best players in the world playing in their event. Hopefully this won't be my last one."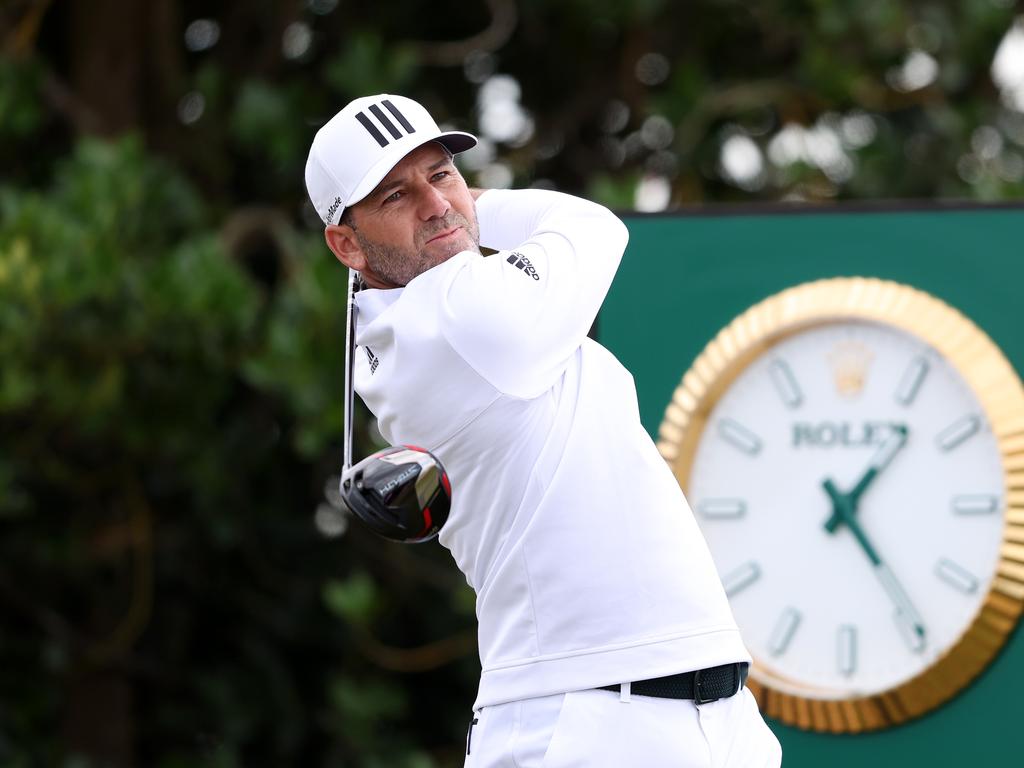 Sergio Garcia started strong to go six under through the first 12 holes, ending the day down in 36th. Picture: Warren Little/Getty Images
While that remains a possibility, though, he and the breakaway rebels are digging in and, it seems, playing for more than a Claret Jug. They feel bruised and belligerent and they are enjoying the safety of numbers.
Since you signed up with LIV, Garcia was asked, how's your life been? "Great, much better," he said. And it will be better still if a LIV teammate wins this Open.
-The Times
Originally published as The Open: Hostility binds LIV rebels together as they mount a charge up the leaderboard