The Open: Tearful Tiger Woods misses cut and admits: 'I may not be back at St Andrews'
Woods cut an emotional figure on Friday as he bid farewell to the 150th British Open, and perhaps, St Andrews altogether.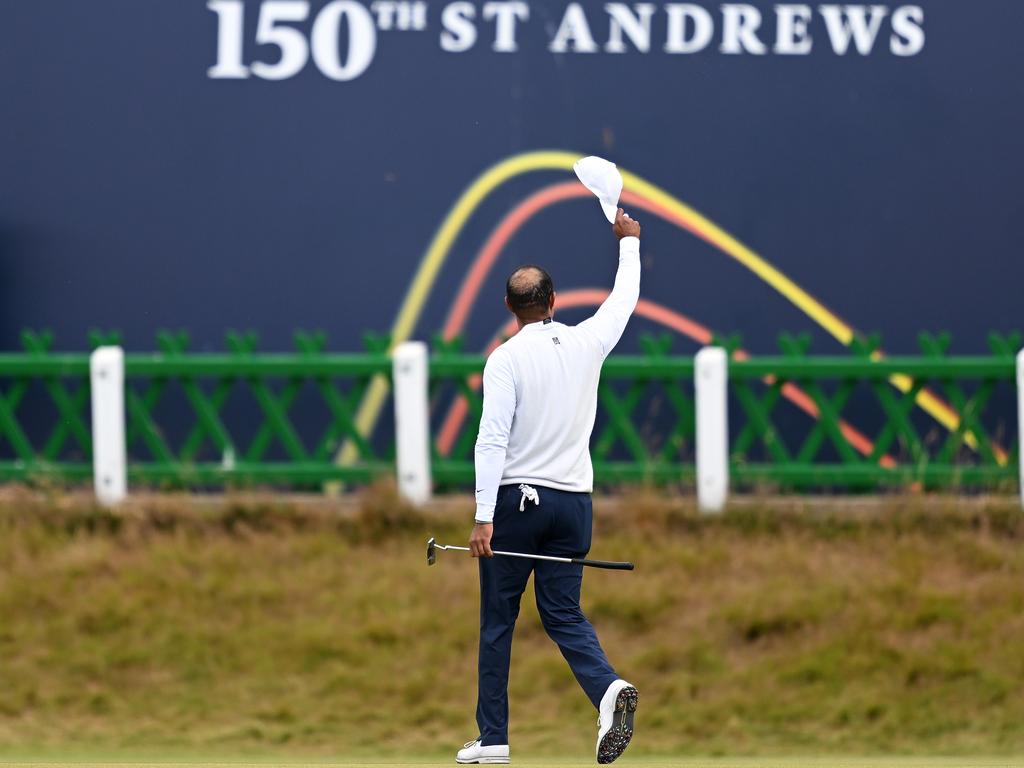 Woods acknowledges his fans as he farewells St Andrews, missing the cut in the 150th Open. Picture: Ross Kinnaird/Getty Images
Tiger Woods broke down in tears on the 18th hole at the 150th Open Championship before admitting that this is likely to be his farewell to St Andrews.
The 15-times major champion, 46, went round in 75 to finish on nine over par and miss the cut. As he crossed the famous Swilcan Bridge he took off his hat to acknowledge the rapturous reception from the packed galleries and could be seen wiping tears from his eyes as he walked up the fairway. It was reminiscent of the scenes that greeted the goodbyes of Arnold Palmer in 1995 and Jack Nicklaus in 2005.
Woods insisted afterwards that he was "not retiring from the game" but acknowledged that this could be the last time he contested an Open at the oldest golf course in the world. It is suspected that the championship will not return here until 2030, by which time Woods will be 54 years old.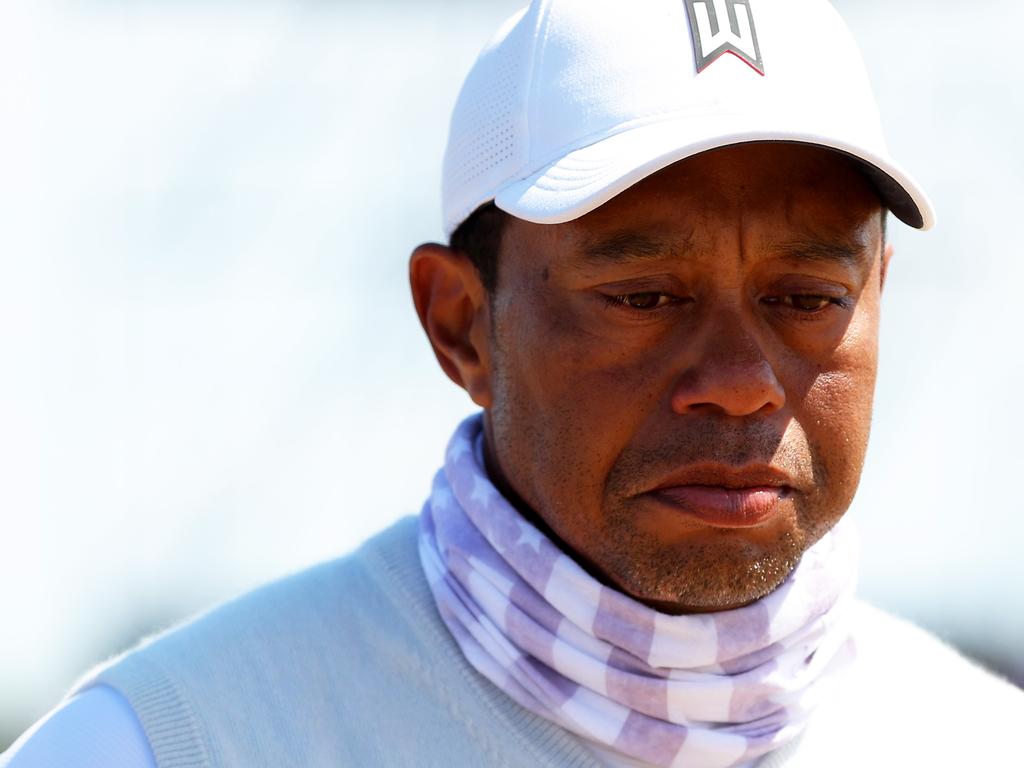 Woods was visibly emotional as things continued to go wrong on Day Two. Picture: Kevin C. Cox/Getty Images
"It's very emotional for me," Woods, who won the Open at the Old Course in 2000 and 2005, said. "I've been coming here since 1995. I think the next one comes around in 2030 and I don't know if I will be physically able to play by then. So to me, it felt like this might have been my last Open at St Andrews.
"The fans, the ovation and the warmth — it was an unbelievable feeling. I understand what Jack and Arnold had gone through in the past. I was kind of feeling that way there at the end. They [the fans] understand what golf's all about and what it takes to be an Open champion.
"I've been lucky enough and fortunate enough to have won this twice here. It felt very emotional because I just don't know what my health is going to be like. I feel like I will be able to play future Opens, but I don't know if I'll be able to play long enough that, when it comes back here, I will still be playing."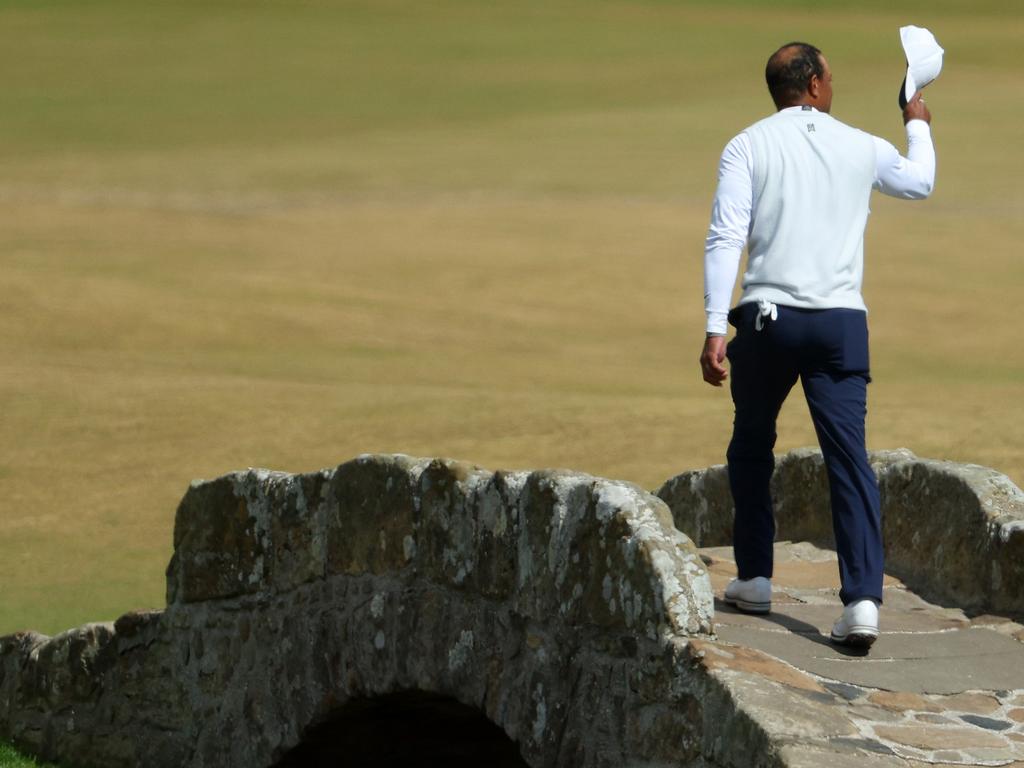 Woods crosses the famous Swilcan Bridge, possibly for the final time at an Open. Picture: Andrew Redington/Getty Images
After recovering from a serious car crash in February last year, in which he almost lost his right leg, Woods counts it as a triumph that he has been able to play at three major tournaments this year, making the cut at the Masters and US PGA Championship (from which he withdrew after feeling pain during the third round). He may not be seen again in competition until next year now.
"I have nothing planned," Woods said. "Maybe something next year, but nothing in the near future. It's a struggle just playing the three events I played this year. That was something I'm proud of, considering what transpired.
"Hopefully we do more hard work and give myself some more chances next year to play a few more events."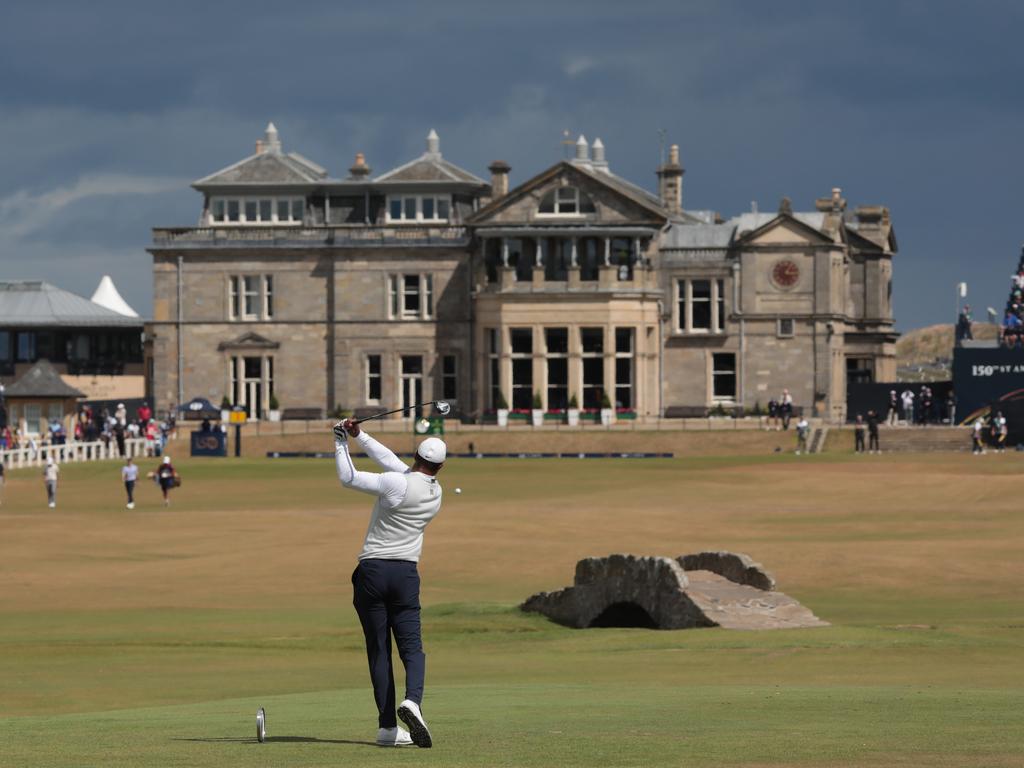 Fans still flocked to watch the embattled Woods take on Day Two at St Andrews. Picture: MB Media/Getty Images
As Woods departed, Cameron Smith strode into the spotlight with a flawless 64 to take the lead and set a record halfway total for the Open.
The 28-year-old Australian, who won the Players' Championship in March, carded six birdies and an eagle to move to 13 under par, beating the previous best two-round total — held by Nick Faldo, Greg Norman and Louis Oosthuizen — by a shot.
Smith leads by two from his namesake, Cameron Young, the first-round leader from the United States. Both are seeking their first major victory but behind them are some stellar names. Rory McIlroy had a 68 to go into the final two rounds three shots off the lead and is tied for third with Viktor Hovland, of Norway, on ten under par.
One shot behind them and flying the flag for the LIV Golf rebel alliance is Dustin Johnson.