Wimbledon champion Ash Barty admits nerves ahead of global golf debut in Icons Series
Ash Barty is meant to be at Wimbledon defending her crown, instead it's a global golf debut that will get her competitive juices flowing for the first time since her tennis retirement.
Even though golf remains Ash Barty's passion not profession, the former world No.1 tennis star admits nerves will be overwhelming as she prepares to make a competitive debut in front of a worldwide audience.
Barty is one of the headline sporting stars for the Icons Series event being staged at Liberty National golf club, starting Thursday, joining an international team captained by Ernie Els and featuring former Test cricket champions Ricky Ponting and Brian Lara.
The three-time grand slam champion shocked world sport when she suddenly quit tennis a few months ago, sparking rumours of a code switch to either tennis or golf.
To get your Golf fix, watch this weekend's Icons Series or next month's British Open LIVE & EXCLUSIVE on FOX SPORTS and available on Kayo. New to Kayo? Try 14-Days Free Now >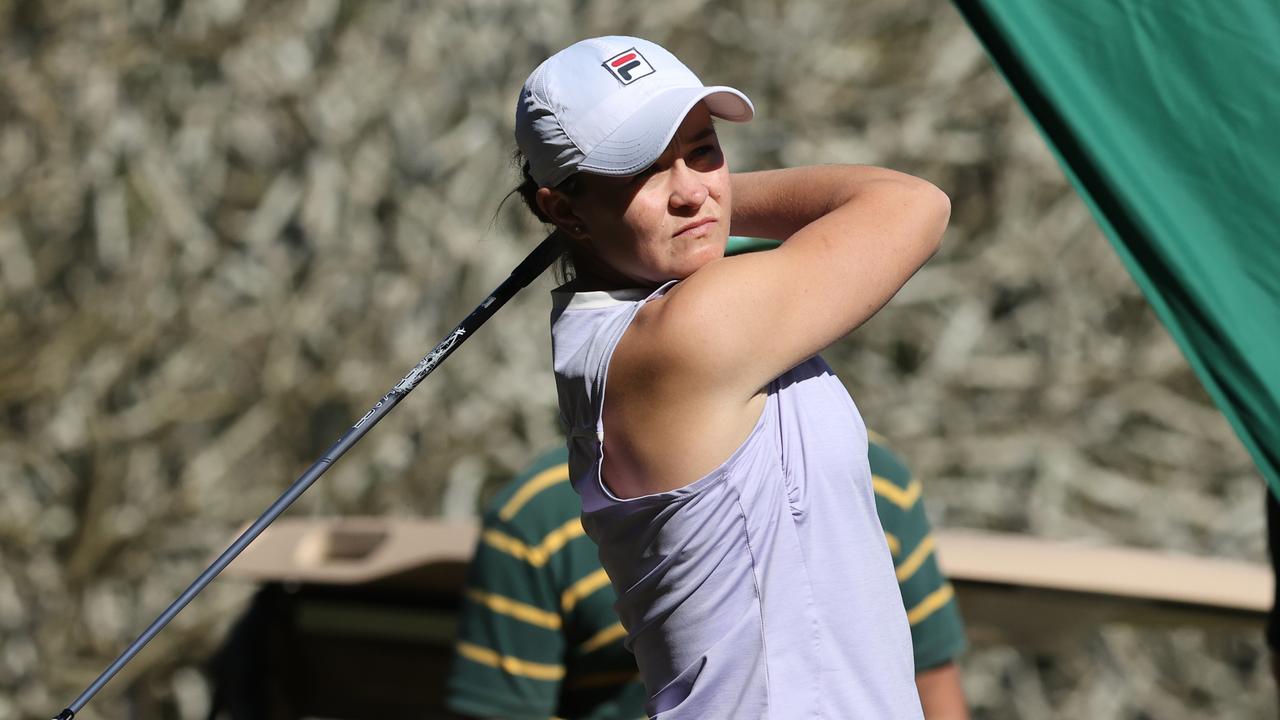 Ash Barty will join a shot of global sporting stars in the Icons Series golf event in the US this weekend. Picture: Nigel Hallett
But it's a coincidence, rather than sign of future plans, that instead of being in London to defend her Wimbledon crown this week Barty is on the other side of the world preparing to make a televised golf debut.
Boasting a handicap of four, despite only buying her first set of golf clubs six years ago, Barty is excited to get her competitive juices flowing again in a new sport but aware she is far from a polished product on the course.
"I'm going to absolutely be struggling," Barty told Fox Sports' golf expert Paul Gow in an interview to air on Fox Sports and Kayo.
"My heart was beating so fast playing the club championships in our final with nothing on the line, so this is going to be a lot of fun.
"I will just soak it all in, if it (my first tee shot) goes badly it's all right, it is what it is, just go out and enjoy it with a smile."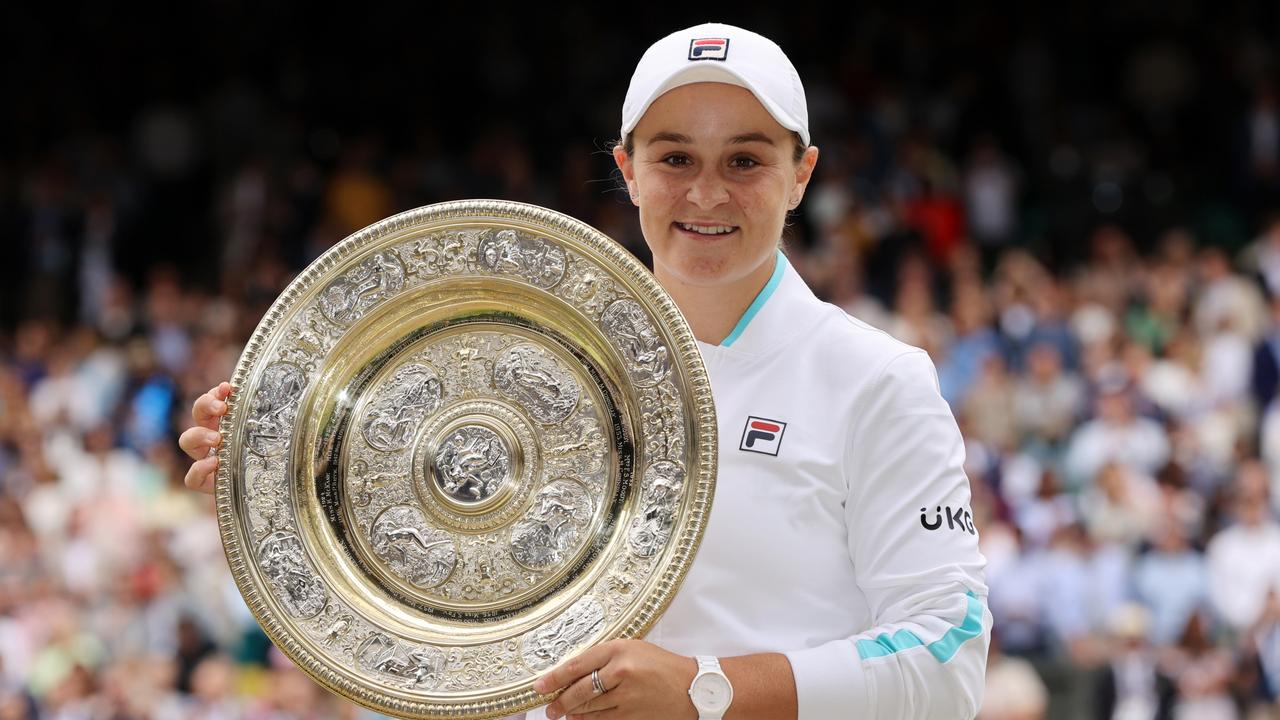 This time last year Ash Barty was dominating at Wimbledon. Picture: Clive Brunskill/Getty Images
Barty has had more time on the greens since quitting tennis after her Australian Open triumph in January, but is still finding it hard to not think like a tennis player.
"I often found when I was playing a lot of tennis I struggled with my golf swing, I couldn't quite get the contact right," she said.
"When I wasn't playing tennis I would play better golf, so there's no excuses now, the tennis isn't an issue.
"There are some similarities (in the sports) but I still think a little bit like a tennis player, in a sense of when something is being explained to me I relate it back to tennis ... that's my comfort zone."
Barty's fiance Garry Kissick will caddie for her in the 10-hole match play tournament, a format that appeals to her history of head-to-head battles on the court and local golf course play at Brookwater, where she would wager $1 a hole with buddies.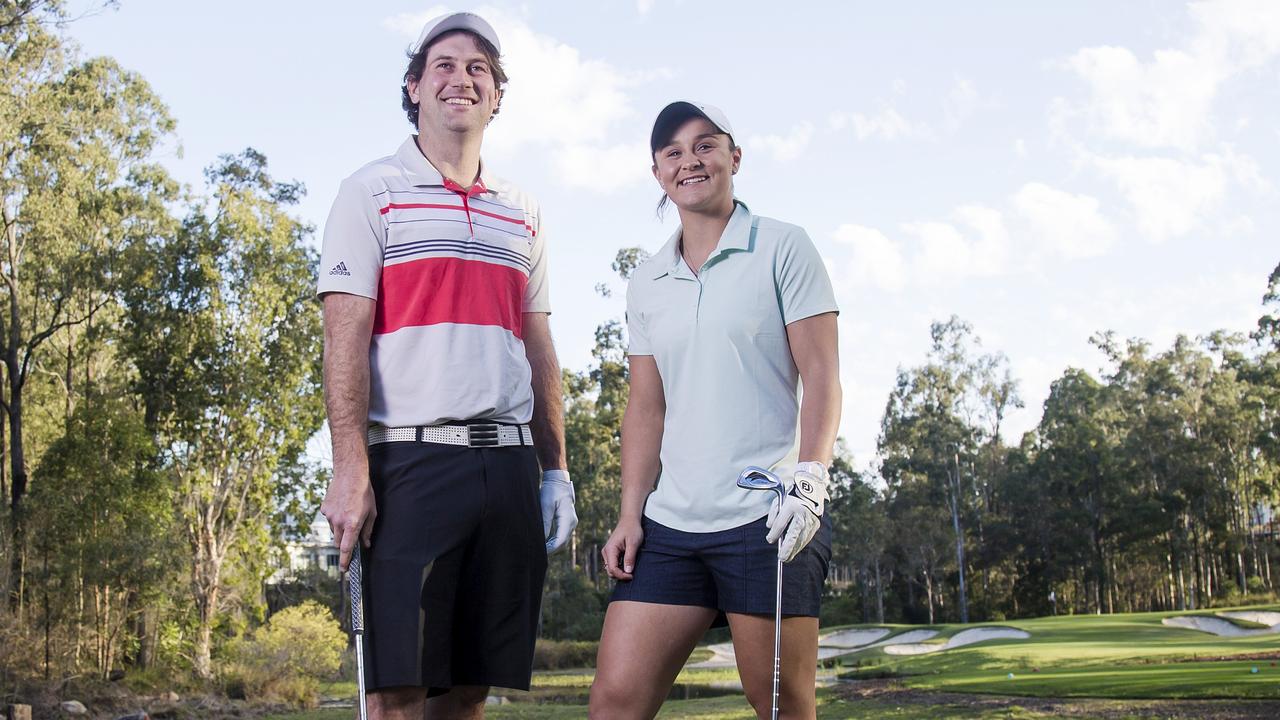 Ash Barty and fiance Garry Kissick are regulars at Brookwater golf course in Queensland.
"I'm sure I will put Garry in some positions he has never seen before on the golf course," she joked.
"I think match play for me is great, that's what I've always loved and it's kind of the one-on-one competition I have always done in tennis.
"It's my kind of golf, you have a bad hole you can wash away pretty quickly and not stress too much about it. I love match play, I love getting out there and competing against the person not just the golf course."
Originally published as Wimbledon champion Ash Barty admits nerves ahead of global golf debut in Icons Series