Australia's first NHL draftee Nathan Walker now 'belongs' in ice hockey's land of giants
With a play as "simple as treading water while delivering stiff-arms to anyone in range", Nathan Walker – Australia's first NHL draftee – now truly belongs at ice hockey's highest level.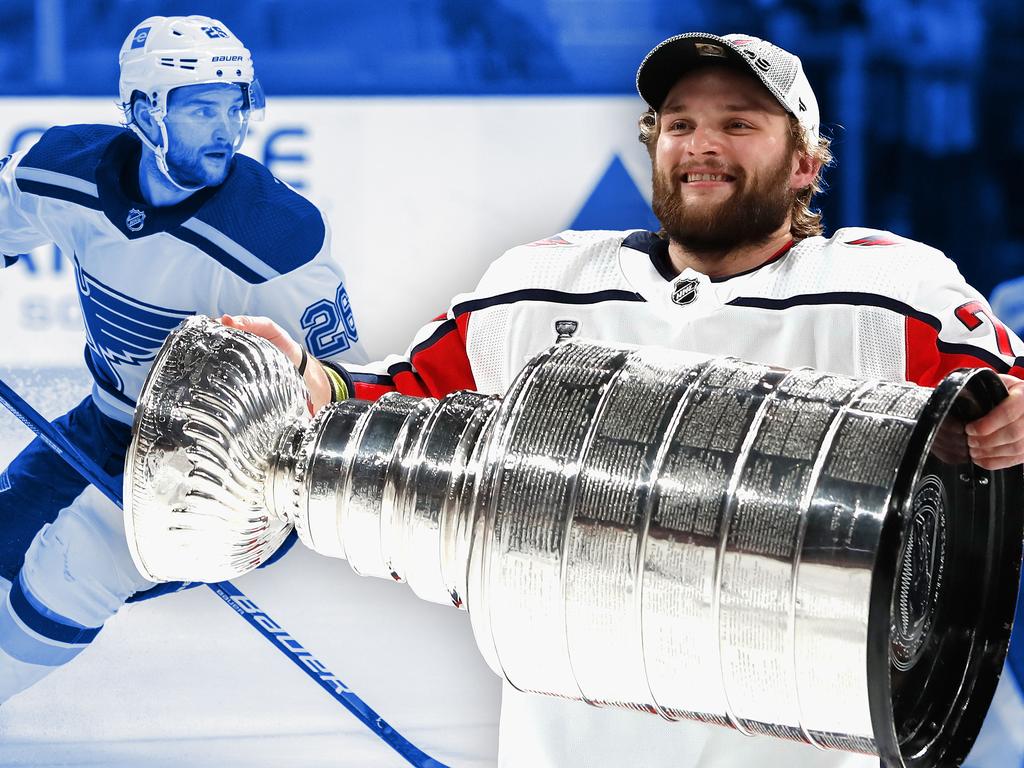 Nathan Walker has broken through a series of firsts for Australian's in the NHL.
What's wrong with this picture?
The countries of origin in any given St Louis Blues line-up that turns out: United States, Sweden, Russia, Finland, Canada.
And Australia.
The players themselves, in a high-speed collision sport that celebrates physicality and skill in almost equal measure: 212cm/103kg (the team captain), 185/104, 190/96, 190/94, 185/104.
And 175/87.
The piece of this puzzle that shouldn't fit, but somehow does, goes by the handle of Nate the Great to his agent, and Stormy to the many teammates he has acquired throughout ice hockey, from the occasionally slushy rink in Canterbury, right through to the bright lights of the Enterprise Centre, St Louis.
Even that achievement would have remained obscure until the night of December 9, when Nathan Walker told the world what his friends and teammates had long believed: he belonged.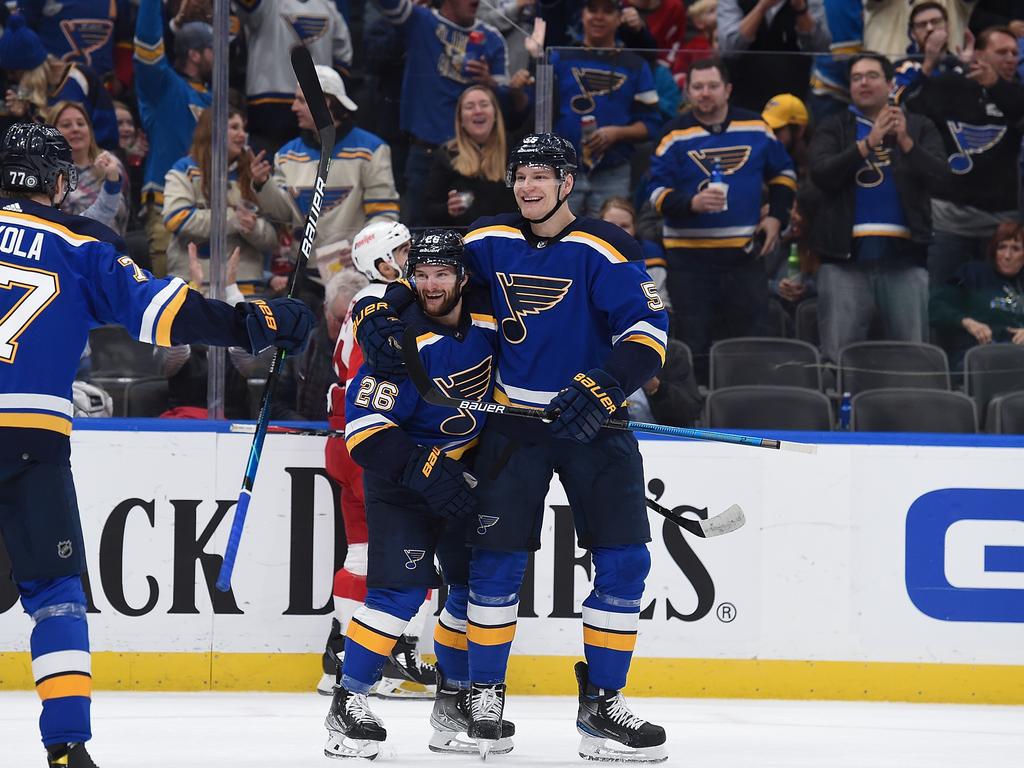 Nathan Walker, (No. 26) is congratulated by his St Louis Blues teammates after scoring a goal in his team's thrashing of the Detroit Red Wings. Picture: Joe Puetz/Getty Images
That message was delivered with a hat-trick in a 6-2 drubbing of the Detroit Red Wings. It came the day after he was promoted to what the NHL transactions board routinely calls 'the big team', from the Blues' minor league team in Springfield, Massachusetts.
Three nights later he scored again, and laid on the Blues other goal – guiding teammate Oskar Sundqvist to the doorstep of an open goal in a 3-2 overtime loss.
This is what an overnight success looks like, until you track Walker's career and understand that this is much more; a belated pay-off for a commitment that has consumed more than half his life. This is a guy who dropped everything – home, family, adolescence, anything resembling a normal life – to follow the rainbow.
Nathan Walker has become one of the more unlikely stars of the NHL, growing up far closer to the beach than an ice rink. Picture: Keith Gillett/Getty Images
From Cronulla to the Czech Republic
Two contact sports dominated Walker's early life in Cronulla, where his parents Wayne, a former rugby player, and Cieri, moved from Cardiff in 1996 when he was two years old. One was rugby league, where he played in the second-row and occasionally at five-eighth. The other was ice hockey, a bug transmitted by his brother Ryan, but made real by two movies. The Mighty Ducks (one of those peculiarly American situations where life imitates art; first came the movie, then came the team, no longer owned by Disney, but still based in Anaheim, home of Disneyland) and Mystery, Alaska, starring Russell Crowe as a sheriff and captain-coach of Mystery's hockey team.
The Mystery games are played outdoors on a frozen pond. It's like Field of Dreams at -35 degrees. In the movie, the team is the town. The story and images held Walker in their thrall.
"When I first watched it, I liked that it was so quick," Walker said in a 2011 interview of his adopted sport. "And it's rough. I like to play rough sport."
First came the decision to drop rugby league, not an easy one, as a 15-year-old member of Cronulla's development team. By then he had already made the decision that would be remarkable in any sport and any context, but particularly so in this one.
Nathan Walker, 13 years of age, decided to move to the Czech Republic to further his hockey career.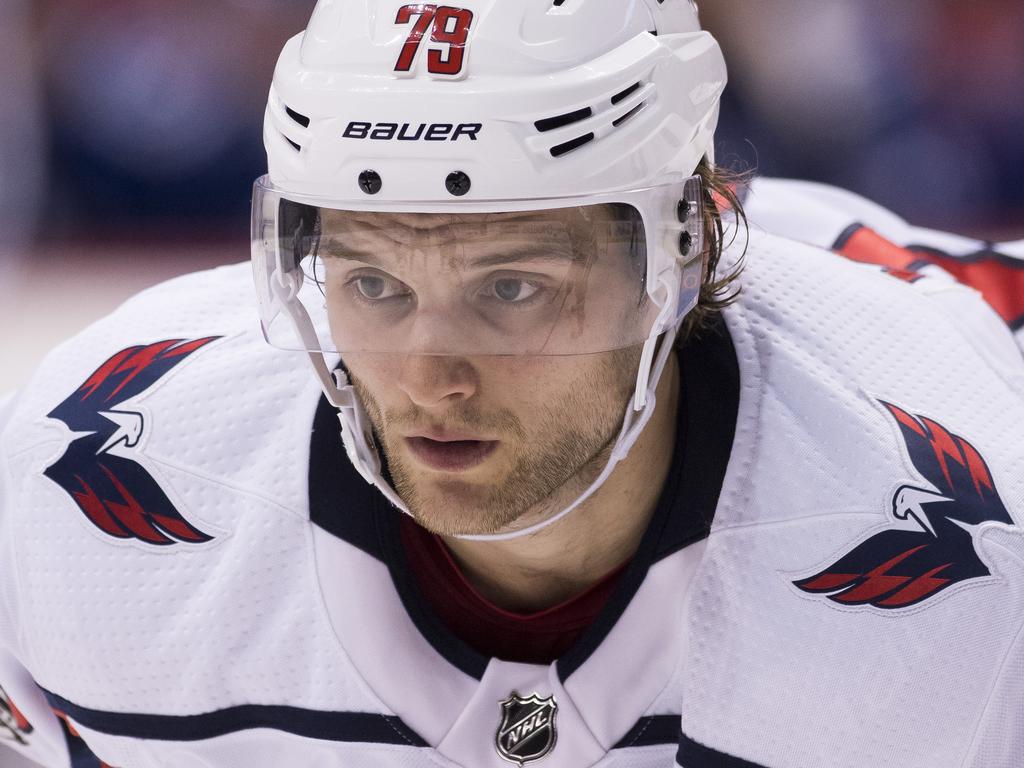 Nathan Walker has a 'no beating around the bush' approach to his career, which led him to leave Australia, and his family at such a young age. Picture: Rich Lam/Getty Images
Everything about the way Walker tells his story is matter-of-fact and unemotional. "I like to think I'm pretty black and white," he says. "No beating around the bush, that's for sure."
That includes his account of how he arrived at such a decision. He was already playing ice hockey with and against men in Sydney, still at just 13. One of his coaches, Ivan Manco, a Slovakian, had contacts in the Czech Republic, while other teammates had also moved back there. He knew no one in North America who could help him.
"It wasn't the easiest option, but it was the most viable at the time," Walker says.
His ex-teammates arranged introductions, tryouts and accommodation. Two years later, Walker was living by himself.
"I won't say it wasn't hard," he says. "I just had to learn how to do things which I would be learning in a couple of years anyway. I was just ahead of the ball that way. Whether it was learning how to cook or to clean, all the kinds of life skills that you learn as you go through life, I had to learn that a little bit earlier than most people. If I didn't do those things, no one else was going to do them for me. I had to figure it out pretty quickly and I'm glad that I did."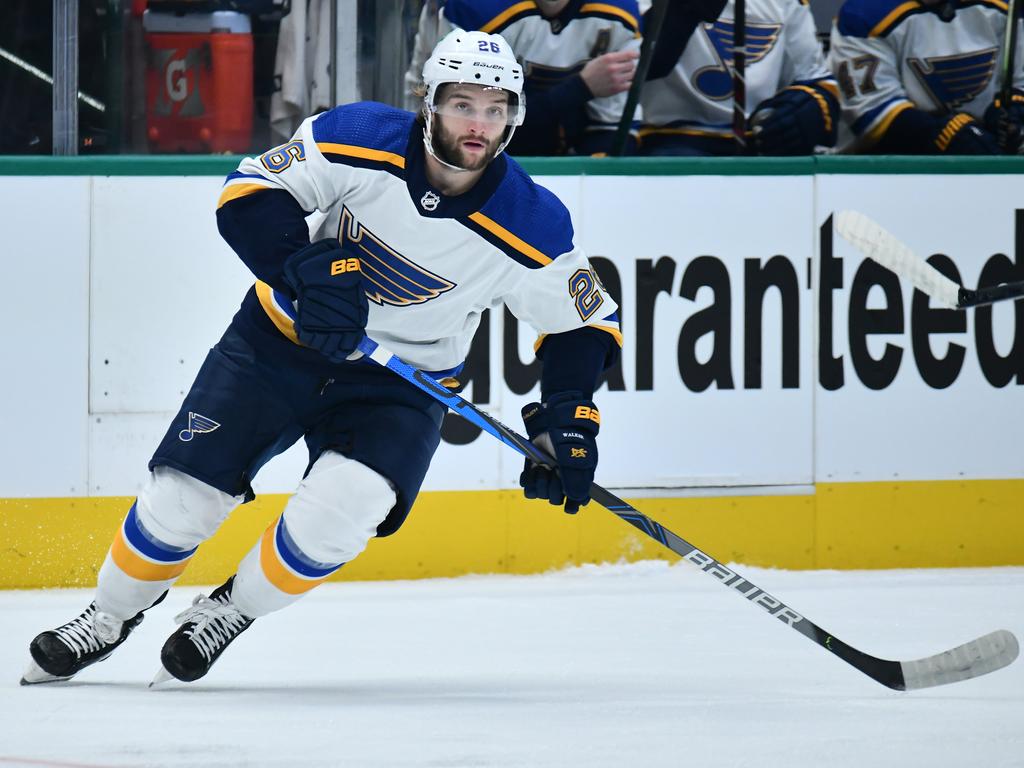 Nathan Walker's accelerated life learnings helped him to build the crucial resilience needed to succeed in the NHL. Picture: Glenn James/Getty Images
Winters away: Traded, dropped and picked up in 20 days

The participants in a contact sport become familiar with pain. In a 2017 first-person piece for Athletes Voice, Walker provided a glimpse: fractured C7 vertebrae in his neck, 40-odd facial stitches, a splintered femur and assorted other broken bones.
The loneliness of the road, be it in the Czech Republic or the United States, was part of his life as well.
Which made the decision Walker and his wife Taylor faced almost exactly 12 months ago difficult, but not unfamiliar. The Covid-delayed start to the 2020-21 NHL season was scheduled for January 1. They were back in Sydney with their daughter Winter, waiting out the virus.
Stay with his young family, or head back to the frustrations and possibilities of the US? Walker chose the latter. His wife and daughter stayed home. Walker had been saying these goodbyes for half his life, but this one hurt more than most.
Maybe, he said, all those farewells and the difficult experiences he dealt with alone made him mentally tougher. But those were decisions and departures affecting one person only.
"Leaving your family at 13, and leaving my daughter and wife behind to play hockey, they're two different ages, two different things," he says. "They were both hard, but obviously leaving my daughter who wasn't one yet, and my wife behind, that was definitely really tough."
Winter Walker turns two in February. The family celebrated a northern hemisphere Christmas together this time while the NHL season remains in/recovers from a state of suspended animation. Most teams have missed at least three games over 8-11 days due to Covid-related postponements and remain sidelined as 2022 begins.
The unscheduled break gave the Blues' best forwards, absent through injury, time to recover. What to do with them, and former part-timers like Walker who sparkled when placed under the spotlight is why managing a sports team is as much as art as science. The players are parts to be kept, dropped or traded, as circumstances demand, but also individuals who, unexpectedly, rise to occasions, bond with teammates, and breathe life into dressing rooms.
"They respect him and they relate to him," agent Allan Walsh says of Walker's relations with his multitude of teammates.
"Always has a smile, always comes with a great sense of humour, but when he plays the game, he's the first guy to stick up for a teammate."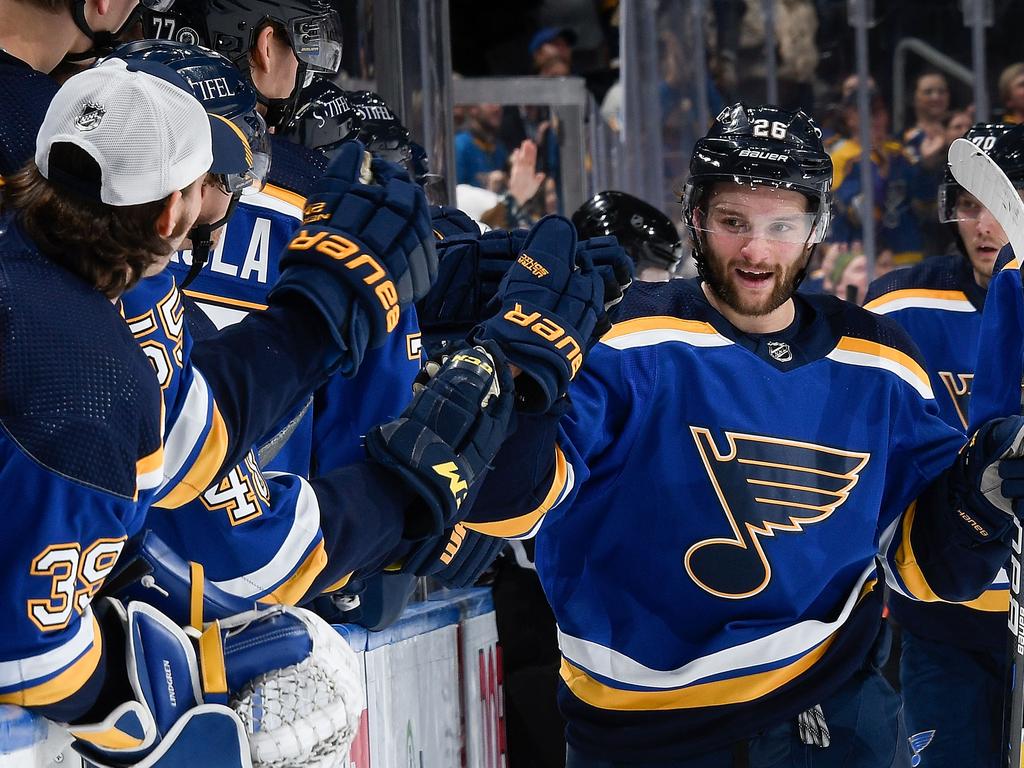 Nathan Walker has developed a solid reputation as a team first player. Picture: Scott Rovak/NHLI via Getty Images
Put another way, and for reasons that should be obvious by now, Walker, who speaks Czech and understands some Russian, sides with the outsiders.
"I've seen a bit more, being over in the Czech Republic than maybe some of the players in North America (the United States and Canada)," he says. "They've just been here and they see people coming over to their country, instead of going over and spending time in theirs.
"I can relate a bit more and know what it's like to be in a foreign country and not have your language as the first language … I've always got along with anyone that's not North American."
The other thing they have in common is patience and persistence. Walker played his first US hockey game in Youngstown, Ohio, aged 19. He made his NHL debut for the Washington Capitals in October, 2017, scoring a goal. He was 23.
The Capitals were loaded, and on their way to winning the Stanley Cup nine months later.
"The Caps were a very strong team and every year they were contending for the Stanley Cup," Walsh says. "It's made it more difficult to break into a team with really good young players. There just wasn't enough room. It comes down to being in the right place at the right time. With Washington, the right place, right time wasn't there at the NHL level because they were such a strong team."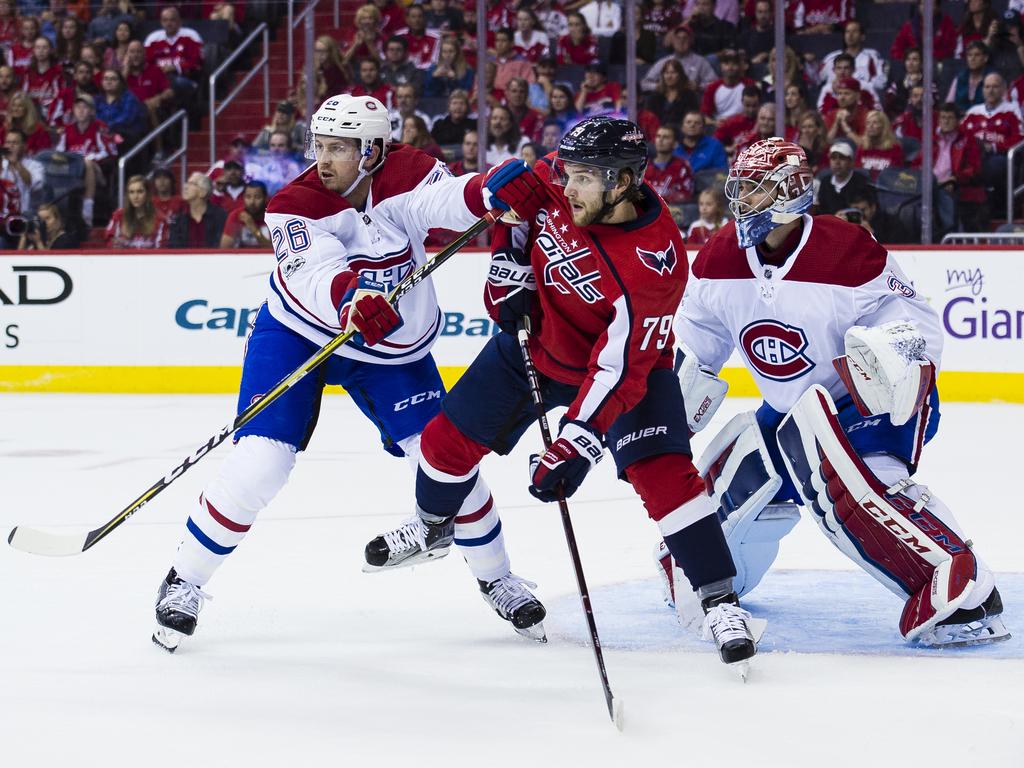 Nathan Walker in his NHL debut for the Washington Capitals. Walker went on to become the first Australian to win the Stanley Cup with the Capitals. Picture: Patrick McDermott/NHLI via Getty Images
The teams and towns Walker has played for include San Antonio, Hershey, Charleston, Springfield, and Youngstown. In the space of 20 days in December, 2017, he was traded from the Capitals to the Edmonton Oilers, dropped by the Oilers and picked up again by the Caps. After signing with St Louis as a free agent in 2019, for $US1.5 million over two years, according to the sports salary site Spotrac, he continued to pinball between teams and towns.
"That comes with playing professional sports," Walker says. "At the end of the day, you play for someone and that someone wants to win, and if they think that you being there or not being there gives them a better chance to win, then that's part of what happens, and there's nothing you can really do about it. It's part of the game and you signed up for it, you knew exactly what you were getting into.
"If you get moved somewhere that you're not a fan of, it's a tough luck situation. That's kind of the way it is. You have to suck it up when sometimes it doesn't go your way and keep working and try to work your way out of it and make the most out of the opportunities."
It's a hard-nosed, pragmatic attitude to his sporting life and the physical and emotional challenges along the way. To put it in another context, it's reminiscent of the unsentimental observation Hyman Roth makes to Michael Corleone as he recalls executions past and friends and associates lost in The Godfather Part II - "This is the business we have chosen".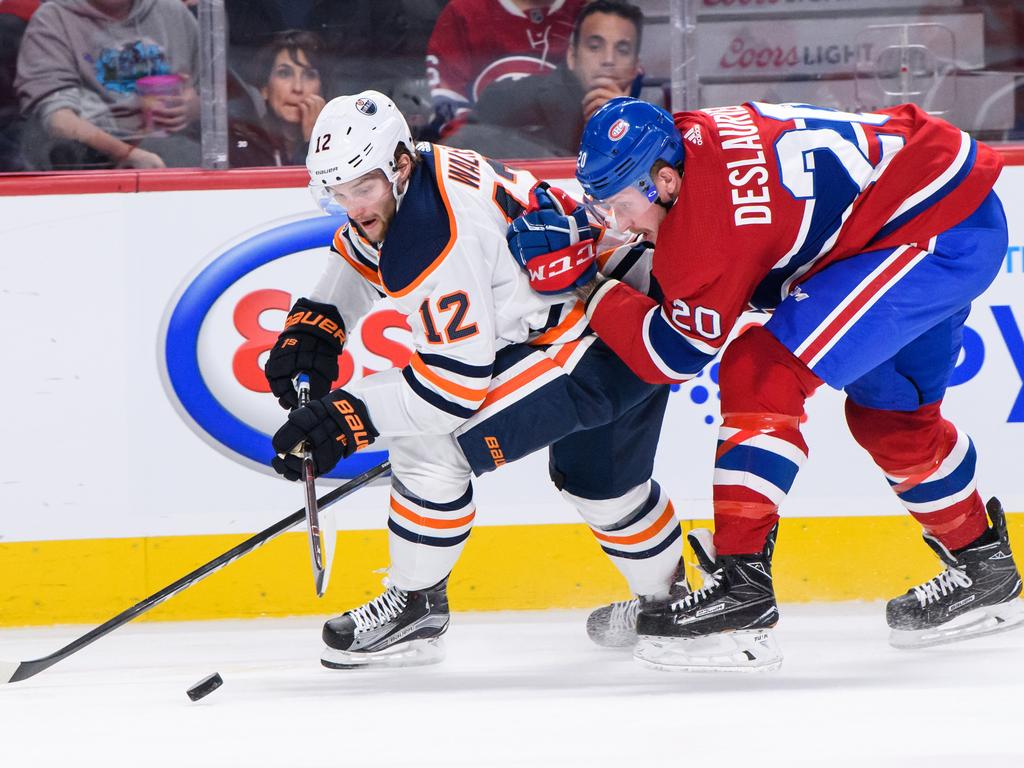 Nathan Walker's NHL career included a brief stint with the Edmonton Oilers. Edmonton temperatures frequently plummet below -20C, a far cry from the temperate beaches of southern Sydney where Walker grew up. Picture: Vincent Ethier/Getty Images
Treading water and stiff arms
After six years, in the Czech Republic, Walker caught the eye of the Washington Capitals. He was invited to a training camp and, as Walsh describes it, had no trouble fitting in after overcoming initial scepticism about size and origins. "No one knows who this kid is, or where he came from."
Walker was eventually taken as 89th pick in the third round of the 2014 draft, the first time any Australian player had been drafted by an NHL team. Whatever else he achieves at the outset of this new year, and those that follow, Walker will always be proclaimed as a literal and figurative ice-breaker: first Australian drafted, first to play for an NHL team, first to score a goal, first to score a hat-trick.
To the uninitiated, ice hockey can seem like a game revolving around a now-you-see-it, now-you-don't, sleight-of-hand-and-stick with the puck, played on fast-forward, and punctuated by brakeless, high-speed collisions involving two or more players and the semi-flexible walls surrounding the ice, all of it performed by a constantly revolving cast of five players, three forwards, two defenders, who take the ice for 45-60 second stints known as shifts. Slow-mo and repeated replays are the viewer's friend.
For the third goal of Walker's hat-trick against Detroit, those replays showed him momentarily stationed in front of the net, screening the goalie from a pending shot. Hockey aficionados call this 'net presence', and it's about as simple as treading water while delivering stiff-arms to anyone in range.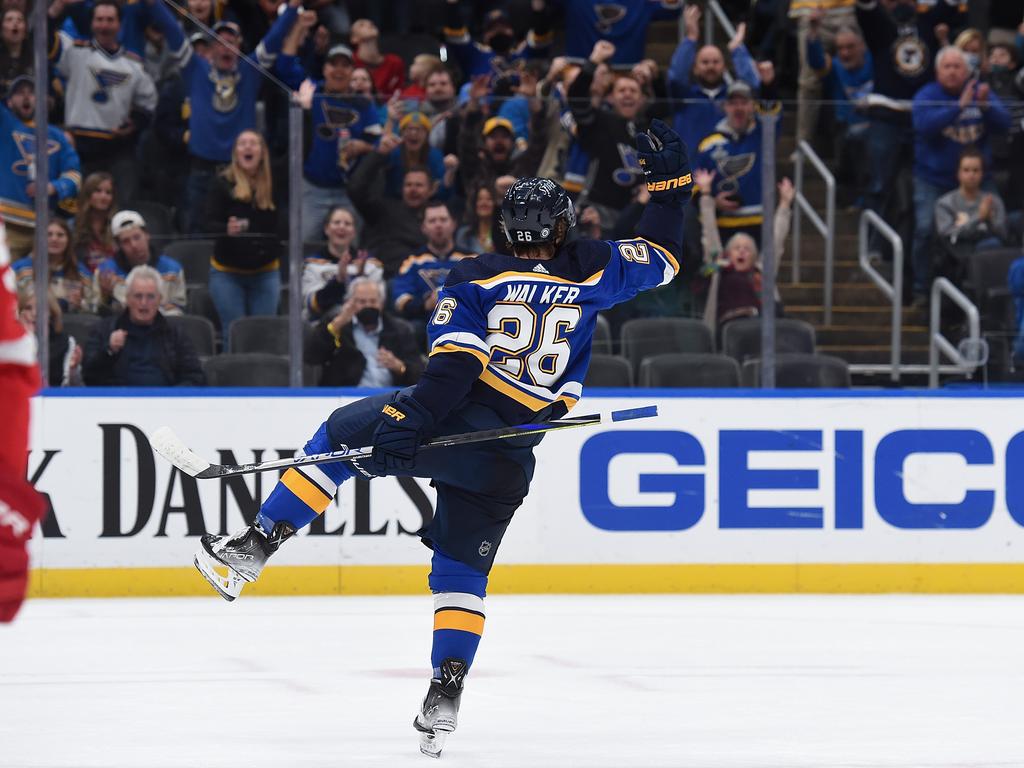 Nathan Walker celebrates his second goal against the Detroit Red Wings, before he added to his tally of 'first Australian to' tropes by scoring a hat-trick. Picture: Joe Puetz/NHLI via Getty Images
The shot was fired. For Walker, who plays left-handed (as the majority of players do), the puck came in at speed and chest height, just to his left. Like a particularly gifted and crafty cricket coach conducting slips practice, he raised and angled his stick at the instant the puck was about to pass him. The hardened black rubber disc kissed the edge, undergoing an immediate and subtle course deviation.
In catching practice the chance would have been directed between first and second slip. In this game it evaded the left glove of Red Wings goalie Alex Nedeljkovic and found the miniscule gap between glove and net post. In hockey parlance, a redirect.
As with a card trick, it was the result of endless practice, usually after the team's formal workout had finished. A coach or teammate would stand between three and 18 metres from Walker and fire shots at him. His job was to get the stick up in time and work the puck through the eye of the needle behind him.
"It's a skill you need to work at and hone," Walker says. "They just shoot at you and you try to redirect it, the best you can."
The result and everything that led up to it is a summation of Walker's philosophy.
"My mindset, from the day I could figure things out, is if you want something, you have to work for it," he says. "Nothing is ever going to be handed to you on a silver platter, and if it is, it probably isn't going to last very long.
"I've always had that mindset that you've gotta work for what you want and that's the rules I'm gonna teach my family and my kids … live by those rules and, yeah, live and die by those rules."
In the same 2011 interview where Walker shared his liking for hockey as a rough sport, his Australian senior team coach raved about his 15-year-old star.
"He's definitely got the skills," Vladimir Rubes, part of the Czech connection with the sport in Australia, said at the time. "He's a good skater, so fast. He's got a man's body for his age. He has vision; he can see the ice very well, see players open for passing. He's got a really good shot for a kid. He's very strong. His style is pretty aggressive. He hits players. He's not scared of physical play.''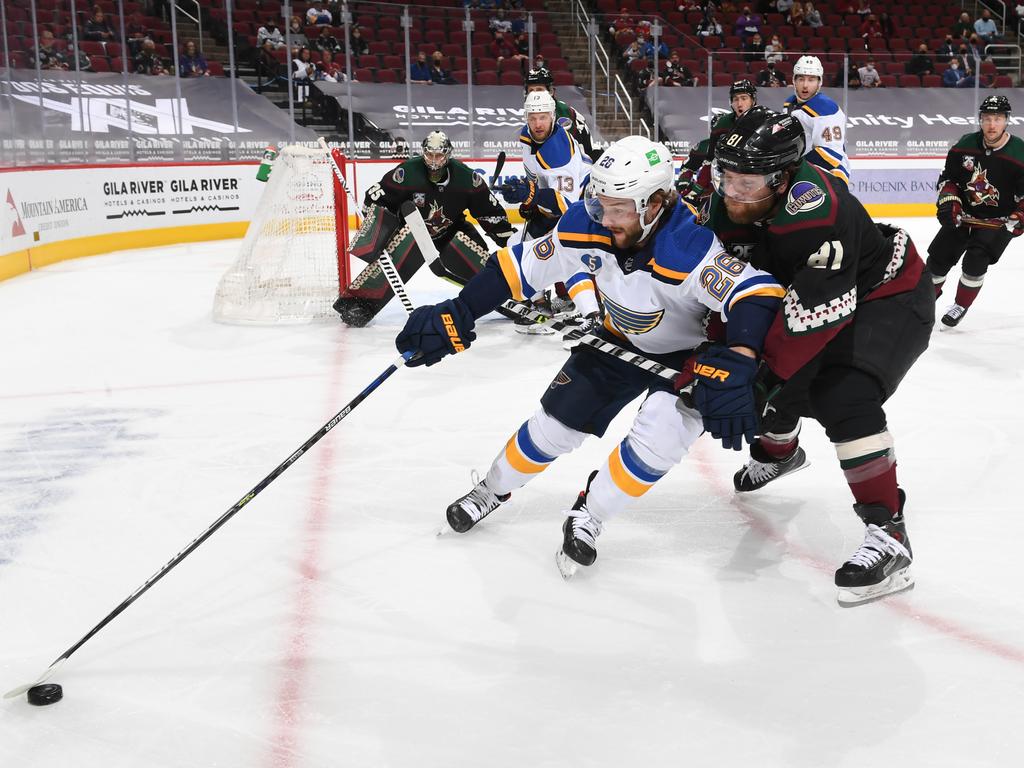 Nathan Walker's physicality has become a defining feature of his game. Picture: Norm Hall/NHLI via Getty Images
Then Rubes added the qualifier, which must have been part of every professional assessment of Walker since then. "The only thing that could mark him down is his height."
"The thing about Nathan is he might not be physically imposing, but he plays a physically imposing game because he hits everything that moves," Walsh says.
"I've had players who played against him comment to me on how hard he hits. They didn't expect it from him. He doesn't just bump you off the puck, but gives you a jolt if you aren't prepared for it."
The question comes as no surprise to Walker. The answer returns in similar fashion, with the same practiced skill and determination that has taken him this far already.
"It's obviously a lot harder," he says. "I shouldn't say a lot harder, it's just kind of the way it is.
"… My goal was to play in the NHL, and be an NHLer. I'm gonna keep playing hockey until I stop believing that. I want to do this, and I love doing it – the great people that you meet, the places you get to go are unreal.
"I want to play hockey until I can't anymore."