Blistering headwinds have created a chaotic start in the Sydney to Hobart, with 18 yachts already retired
Black Jack, LawConnect and Scallywag are in Bass Strait as the carnage continues behind them with a former winner sending out a Pan Pan call and more retirements.
Scallywag ahead of the race. The Super Maxi struggled to challenge on the first day due to mechanical issues with the boat. Picture: Mark Evans/Getty Images
As the fleet frontrunners race across Bass Strait, the carnage continues further back in the race with five retirements on Monday afternoon and a former winner still making its way back to port with hull damage.
Around 1pm the Sydney yacht Wax Lyrical (equipment failure) joined the growing list of retirements along with Crystal Cutter III (mainsail damage) and Kialoa II (rig damage).
By 3pm the two-handed boats Hells Bells and Inukshuk had also called it quits bringing to 30 the number of retirements.
This has left just 58 boats racing just 26 hours after the start.
The former overall winner of the Sydney to Hobart Alive is heading back to Sydney after advising race officials she was taking on water from hull damage but did not need assistance.
The Tasmanian boat retired from the fleet earlier this morning.
Race officials said the Alive crew issued a Pan Pan call which indicates the boat has an urgent situation aboard but it is not life threatening.
The yacht reportedly was taking on water slowly from hull damage sustained in big seas off the NSW coast.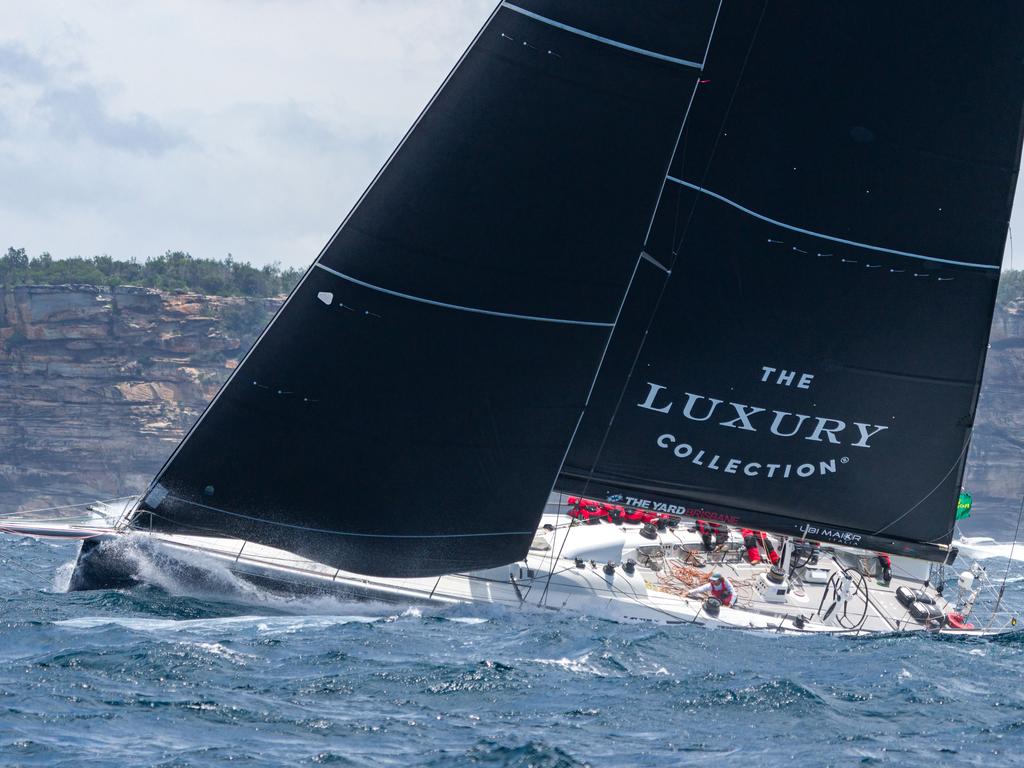 Former Sydney to Hobart winner Alive has been forced to retire with hull damage. Picture: Andy Cheung/Getty Images
7-11AM: At daybreak on December 27, a total of 22 yachts had retired from the 628nm race to Hobart courtesy of rough seas and wild winds overnight.
By 8.30am that number had risen to 24 with the loss of the former overall winner Alive from Tasmania with hull damage and Kayami with engine and electrical issues.
At 9.30 there were 25 retired with 63 still racing south after Chancellor pulled out with sail damage.
The 2017 race record of the supermaxi Comanche which stands at one day, nine hours, 15 minutes and 24 seconds, will not be broken in the 2021 event.
Other retirements this morning included Extasea with engine issues, Oz Design, Patrice Six with engine issues, Philosopher with internal damage and Huntress.
At 9am Black Jack, closer to the coast, is closest to Hobart with LawConnect and Scallywag, further out to sea, right in the race for line honours.
The three are followed by Stefan Racing and Whisper.
Tasmanian Rob Gough's Sidewinder was leading the double-handed class from Victorian Anthony Hammond's Maverick and NSW sailor Shane Connelly's Rum Rebellion.
Only two boats from the two-handed fleet retired in Rupert Henry's Eora and Jean-Pierre Ravanat's Hip-Nautic.
Earlier -
Wild winds and big seas turned the opening stanza of the Sydney to Hobart into fright night with widespread damage across the fleet and multiple yachts heading back to Sydney or to their closest port with their campaigns in tatters.
By 9.30am the first morning of the race, 25 yachts had been forced out for various reasons, including engines and hull issues and sail damage.
The majority of boats - 18 - were sent to the sidelines by 11pm on Boxing Day after hours of upwind pounding.
This morning, the best known casualty was the former overall winner of the Sydney to Hobart Alive from Tasmania which was heading to port with hull damage..
The first night another overall handicap contender, URM from Sydney, was one of the first yachts to retire.
The 72-footer was being skippered by Marcus Ashley-Jones and a boatload of skiff sailors with dreams of winning big in the race before their first night exit.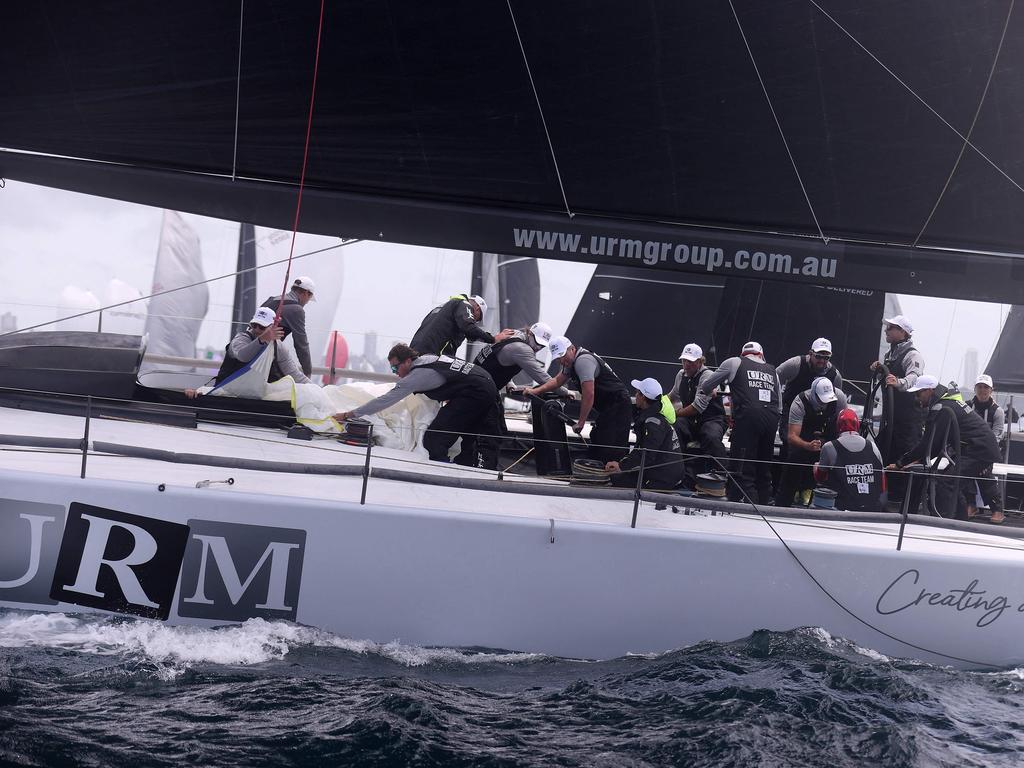 URM on the start line, before the boat was retired due to issues with the mainsail. Picture: David Gray/AFP
"It's just heartbreaking,'' Ashley-Jones said off the boat.
"We had a 30 knot squall come through. We were putting the reef in and the mainsail failed.
"After all the hard work and anxiety over Covid this just breaks out hearts.
"But we will regroup and go again. The boat was electric before it happened.''
LIST OF SYDNEY TO HOBART RETIRED YACHTS
Dec 27 at 9.30am
Alive - Retired - hull damage
Ariel - Retired - Mainsail damage
Blink - Retired - torn main sail
Chancellor - Retired - sail damage
Denali - Retired - damage to hull
Enchantress - Retired - broken forestay
Extasea - Retired - engine issues
Gweilo - Retired - Forestay damage
Huntress - Retired - heading to Sydney
Mako - retired - damaged mainsail
Mille Sabords - retired - torn mainsail
Minerva - retired - mainsail damage
Moneypenny - Retired - Broken Headstay
Nautical Circle - retired - rigging issues
No Limit - retired - heading to Sydney
Oskana - Retired - broken forestay
Oz Design Patrice Six - Retired - engine issues
Philosopher - Retired - heading to Sydney
TSA Management - retired - mainsail damage
URM - retired - damaged mainsail
White Noise - retired - window damage
TWO-HANDED
Eora (TH) - Retired - broken backstay
Hip-Nautic (TH) - retired - damaged mainsail
Kayimai (TH) - Retired - engine issues
It is anticipated more yachts will be limping back to Sydney or into a port with damage over the next 12-24 or so hours due to the torrid conditions.
Upwind sailing is harsh on both boats and bodies with sail and gear damage prevalent in these conditions.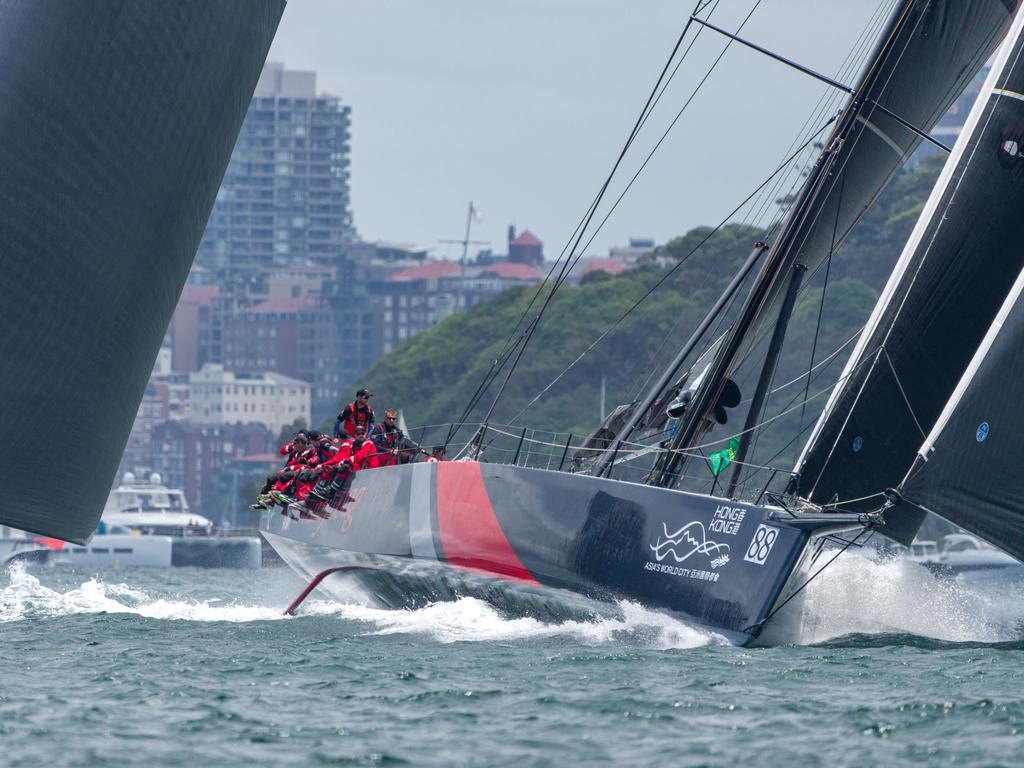 Scallywag before her gear dramas. Picture: Andy Cheung/Getty Images
EARLY DRAMA IN THE SYDNEY TO HOBART
Sydney to Hobart sailors on Sunday night weren't sure if they were feeling sick from the rugged upwind conditions, the thought of receiving a positive Covid result at sea or, in Scallywag skipper David Witt's case, an ill-timed and potentially race-finishing bit of gear damage in the first hour of the race.
"This race is trying to kill me,'' Witt said from his supermaxi.
Scallywag's brilliant start at 1pm was spoiled by a drama at sea when a fitting connecting a sail came off the deck of the 100-footer.
"But we are not going to give up. We are sailing on," Witt said.
"We are going to keep giving this a go.''
It was this same can-do attitude from race officials which saw the 76th race start on Sydney Harbour with a burst of colour and huge sighs of relief across the fleet.
After the race was cancelled a year ago for the first time in history, race officials forged ahead with their planning despite having to vault numerous hurdles regarding Covid.
One emerged late on Christmas night when it was discovered around half the fleet had not had their results back from mandatory Covid tests within 72 hours of the start.
Officials then rushed to secure permission for those still waiting for their results to actually start the race at 1pm.
By then two yachts - Protagonist and Vamp - were race day retirees due to Covid, reducing the fleet to 88 starters, with 17 two-handed boats making their debut in the race.
"It really is a miracle this has gone ahead,' said Ichi Ban skipper Matt Allen.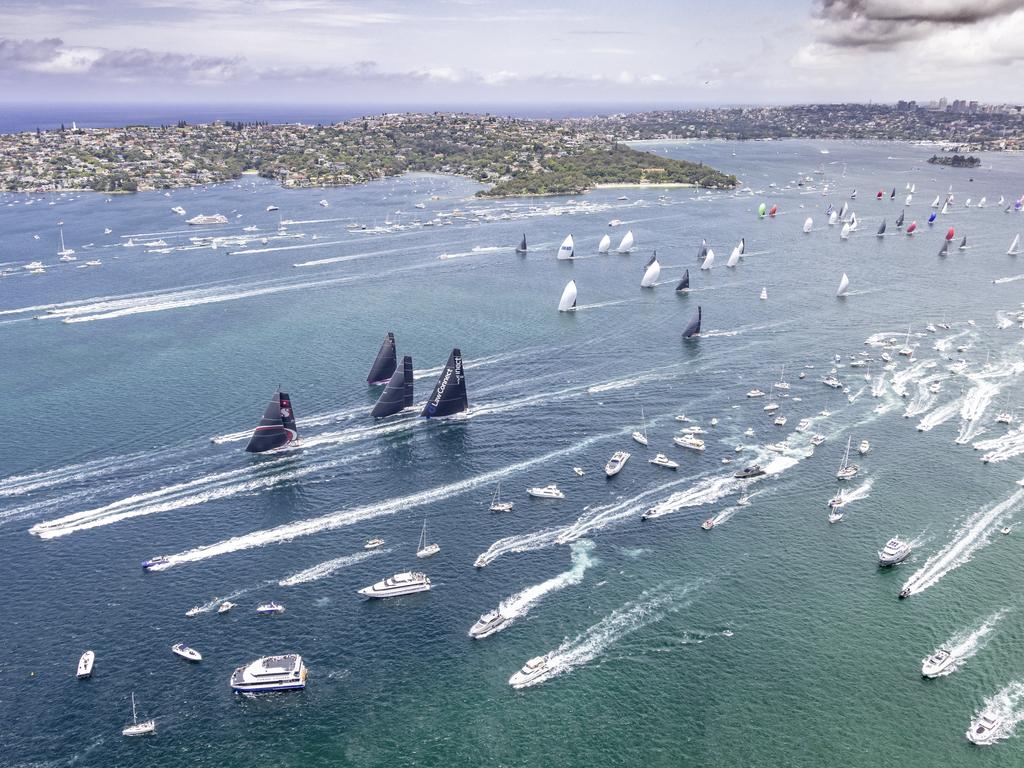 The 2021 Rolex Sydney to Hobart gets underway in Sydney Harbour. This is the first race in two years, after the 2020 event was cancelled after a Covid-19 outbreak. Picture: Andrea Francolini/Rolex
Many boats were missing regular crews, with sailors either contracting the virus or ruled out by being a close contact.
It is not known if the incident where 400 people wrongly received negative Covid test results from St Vincient's Hospital will have impact in the fleet but it seems likely.
If a sailor returns a positive test at sea their boat must retire. However it is unlikely they will be mobile phone coverage for most of the race so sailors are unlikely to know their result until they arrive in Tasmania.
But the race went on with the smallest spectator fleet in recent memory witnessing a colourful spinnaker start to the famous race which started back in 1945.
They also witnessed Witt, a former 18-foot skiff sailor now based in Asia, leave fellow supermaxis LawConnect and Black Jack in his wake at the start before his luck ended off Sydney heads.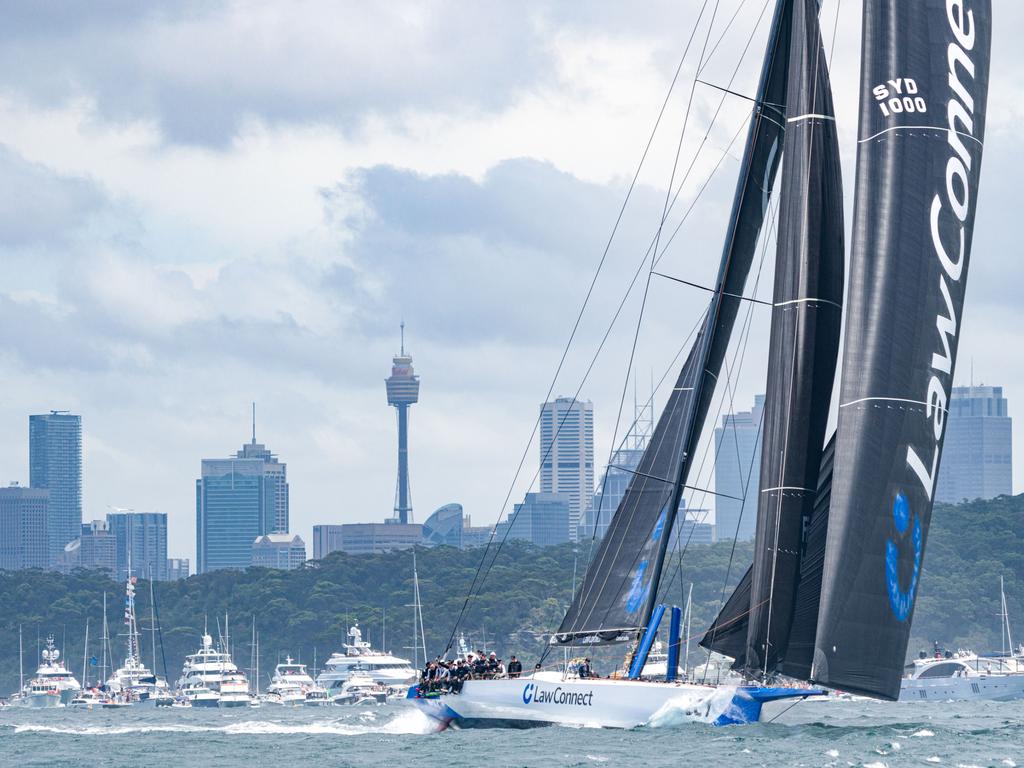 Super Maxi LawConnect led the fleet south on Sunday. Picture: Andy Cheung/Getty Images
When the gear damage happened, Witt was forced to change course briefly, stop altogether and then hoist a tiny storm jib so he could continue racing.
"We are hoping we can fix it sometime during the first night. I'm not giving up,'' he said.
Christian Beck and his LawConnect crew took over the lead with Peter Harburg's Black Jack in pursuit and Scallywag doggedly racing behind.
These three were late yesterday leading the fleet down the NSW coast.
It is expected it will take the fleet frontrunners more than two days to cover the 628 mile course - and the smaller yachts in the fleet more than twice this amount of time.