Climbing Everest not Gerrard Gosens' biggest challenge
Gerrard Gosens was already a Paralympian when he sat with Edmund Hillary. It cemented his plan to be one of few vision-impaired people to climb the world's highest peak, writes TILLY WERNER.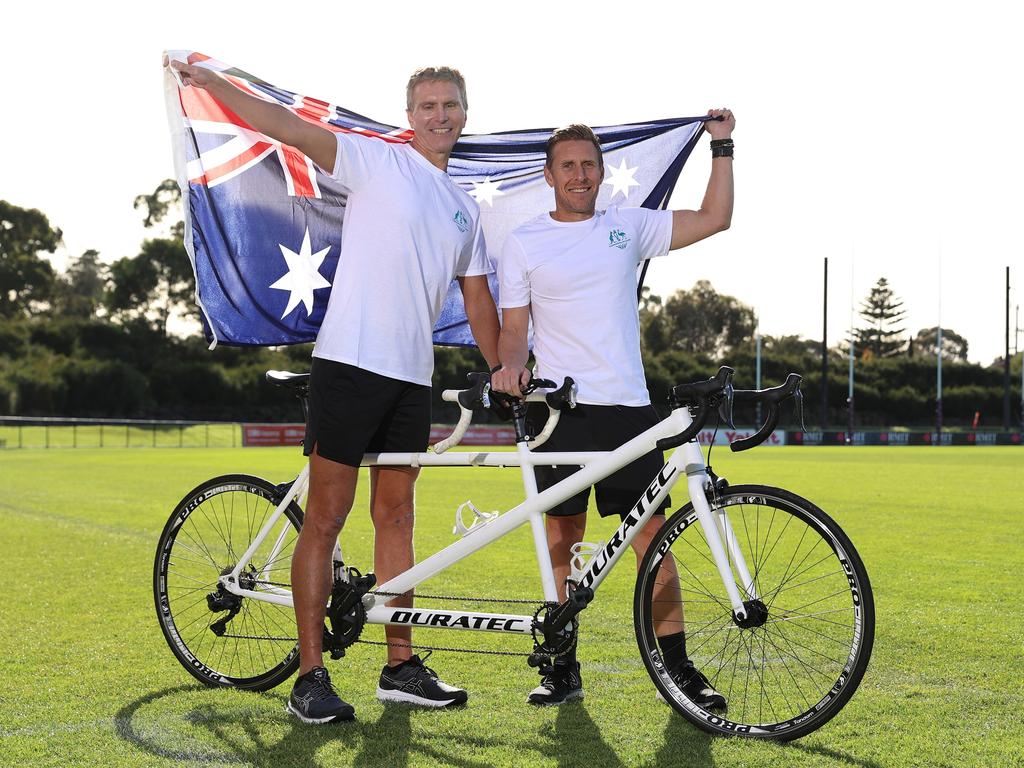 Blind athlete Gerrard Gosens (L) 'doesn't need to see the flag to know what it feels like to represent Australia.' Picture: Robert Cianflone/Getty Images
In 2003, Gerrard Gosens, a blind, Paralympic pacemaker, sat down to dinner with Edmund Hillary.
Between the two of them, there was a bit to talk about.
The distance champion Gosens, who was due to take on the world's highest peak, was hoping to gather wisdom from the mountain's original conqueror.
But Gosens walked away with an even more complicated idea of how much it takes to climb Mount Everest.
"When Hillary climbed Everest in 1953 his team wasn't 20 people," Gosens says. "He told me, 'It wasn't 100 people, it wasn't even 500 people'.
"The entire team that got Hillary to the top of Everest was 2000-strong. Two thousand people on Everest base camp who supported Hillary to get to the top."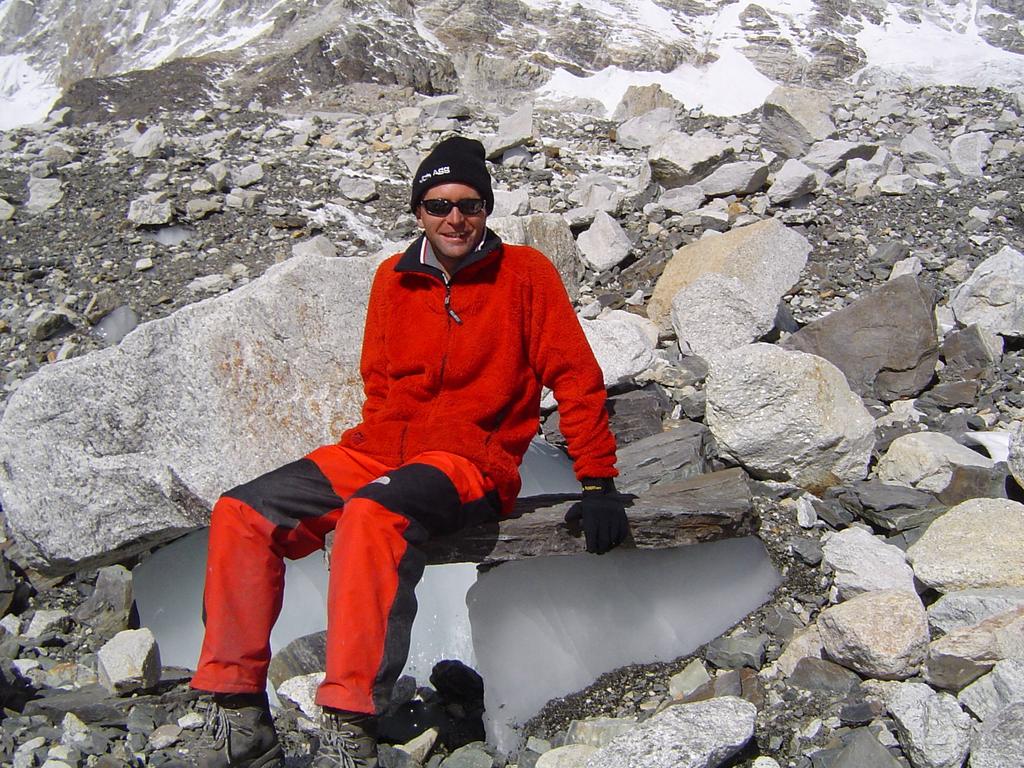 Gosens during his climb to the 6000 metre mark in November 2003. Picture: Supplied
It takes a village to raise a pioneer.
It's a lesson Gosens has learned time again throughout his career, both on the track and in following Hillary into a lifetime adventuring.
The OAM recipient has co-piloted light aircraft across Queensland. He's run the 2000km journey between Brisbane and Cairns five times and perhaps more awe-inducingly, he was the first blind contestant – and a semi-finalist – on Dancing with The Stars.
Yet, for all of his experiences, Gosens' tale isn't one of unending success and silverware as much as it's one about fearlessness, trust and how to get back up when you can't see the hand extended to you.
Blind adventurer Gerard Gosens in Nov 2003, his first attempt up the world's highest peak. Picture: Patrick Hamilton/Supplied
*****
Being blind means continuously solving problems. Problems sighted people wouldn't even register.
Gosens learned that early on. "It was primary school," he says.
His first ever day of primary school, where in an attempt to burn off the nervous energy of her pupils, Gosens' teacher took her class out to the school oval to run laps.
"It was really the first time I fully understood how different I was to the other kids, because on the very first lap, I ran first, but I ran to the goalposts," Gosens recalls.
"From then on I realised I would have to figure out for myself the best ways to navigate both the school classroom and a sporting arena."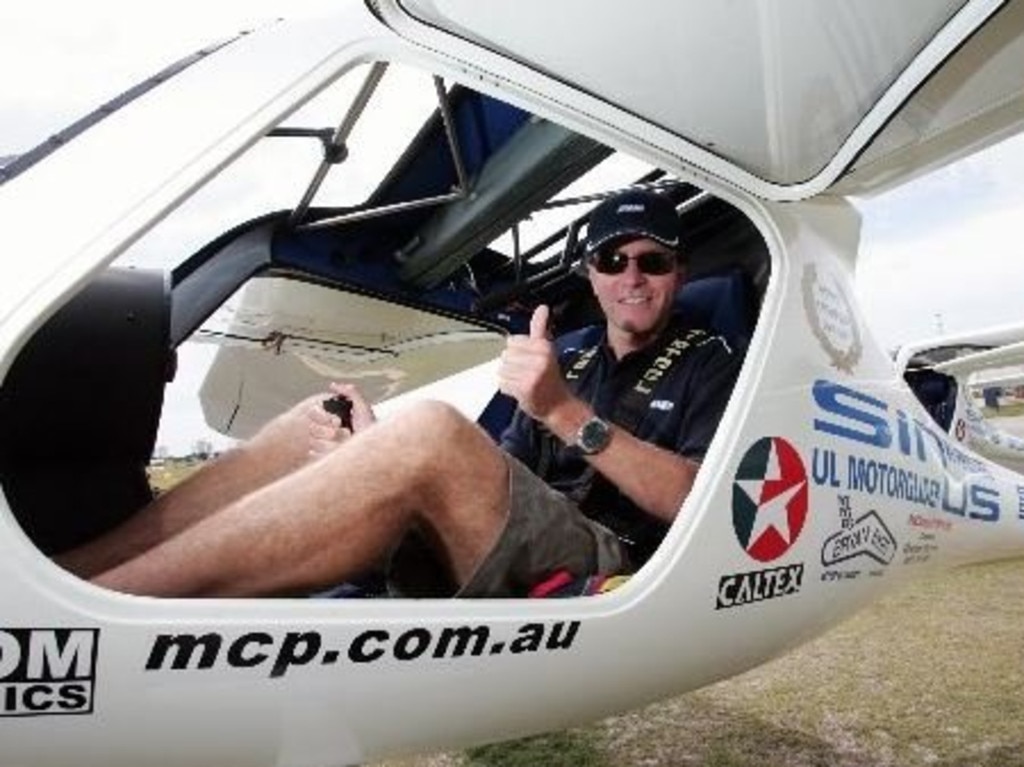 Gosens co-piloted a light aircraft across Queensland. Picture: News Corp Australia
Navigating the classroom meant lugging a five kilo typewriter back and forth each day to school, and making friends who were patient enough to sit beside him and spell out what the chalkboard had in store for the day.
Communication and resilience were cornerstones of how to survive in his sightless world, but they aren't lessons learned without hurdles.
"I remember once being set the task of writing a short story for homework by our teacher. I went home and I wrote this story that just flowed," Gosens says.
"I thought it was incredible. So the next day I was really looking forward to the teacher calling me up to deliver it and so I got up and handed it to her and she said, 'Where is it?'
"I could feel the writing on the paper so I didn't understand what had happened but it turned out, I'd written this whole story on correction ribbon, which is white ink."
Those were the first of many times Gosens fell victim to Murphy's Law.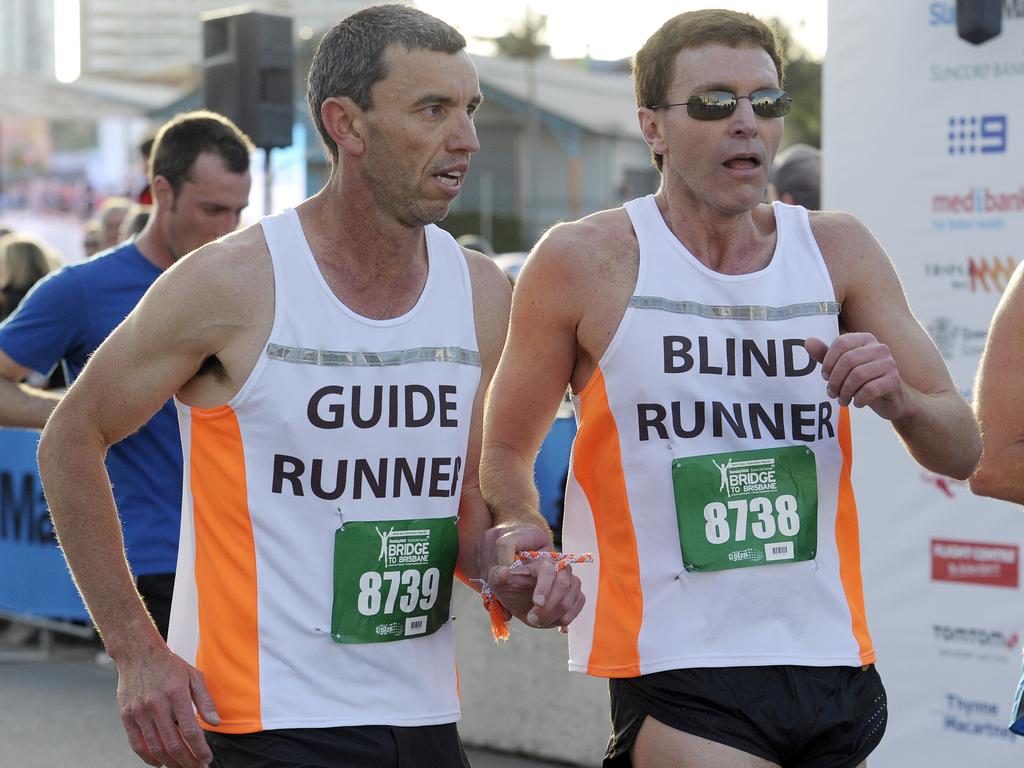 Gerrard Gosens and his guide finishes the 10km Bridge to Brisbane in 2014. Picture: Claudia Baxter/NCA
"Despite your best planning and preparation, things can, and will go wrong when they're outside of your control.
"And when you're not sighted, that's quite a significant area that's outside of your control."
So, Gosens did what he could to control what he could – he began the Paralympic Committee in Queensland.
"In 1992, the Paralympic Committee took out a loan, just to get the team to Barcelona, and I was pretty upset by that. These people are national representatives," he says.
"So I began the Queensland Paralympic Committee in my bedroom at home with a printer and a computer and grew it from there so that kind of thing would never happen again."
Gosens made his Paralympic debut competing in Goalball at the Atlanta 1996 Games, but it was his otherworldly experience in Sydney that left a lasting impression.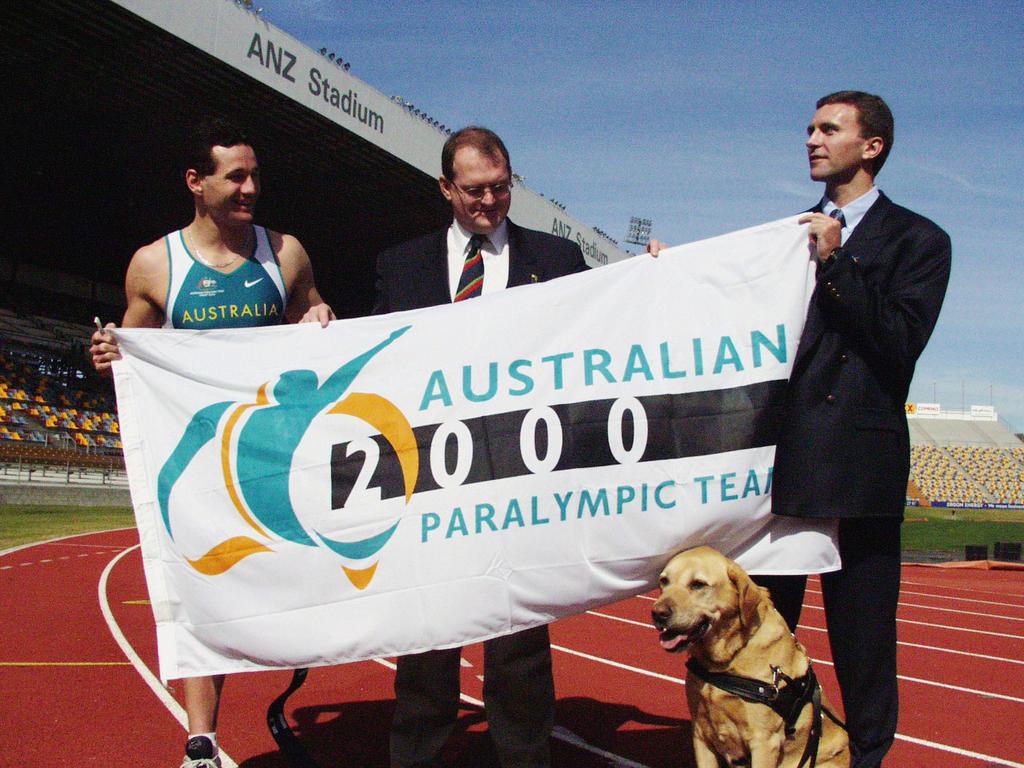 As the Queensland Paralympic Committee executive officer Gosens (with guide dog Anchor) played a key role in organising Sydney 2000. Picture: AAP Image/Vera Devai
"I walked into the Sydney 2000 village, and I was running the 5000m, the 10000m and the marathon and was an administrator so had done a lot of work behind the scenes pulling everything together so it was incredible to actually see it come together.
"I was ranked No. 2 coming into the 5000m and that was the first event and the gun went off and my body just shut down. I had no battery left to operate on because I gave everything behind the scenes."
His every effort into ensuring a smooth-running Games meant the end of his own chance at glory.
While medals may not have filled Gosens' trophy cabinets at home, habitually falling just outside the top three placings, his legwork in creating a sustainable, economically-sound committee helped to cement Australia's standing in the world of para-athletics.
It also gave him a taste for the possible. A blind man taking on Mount Everest.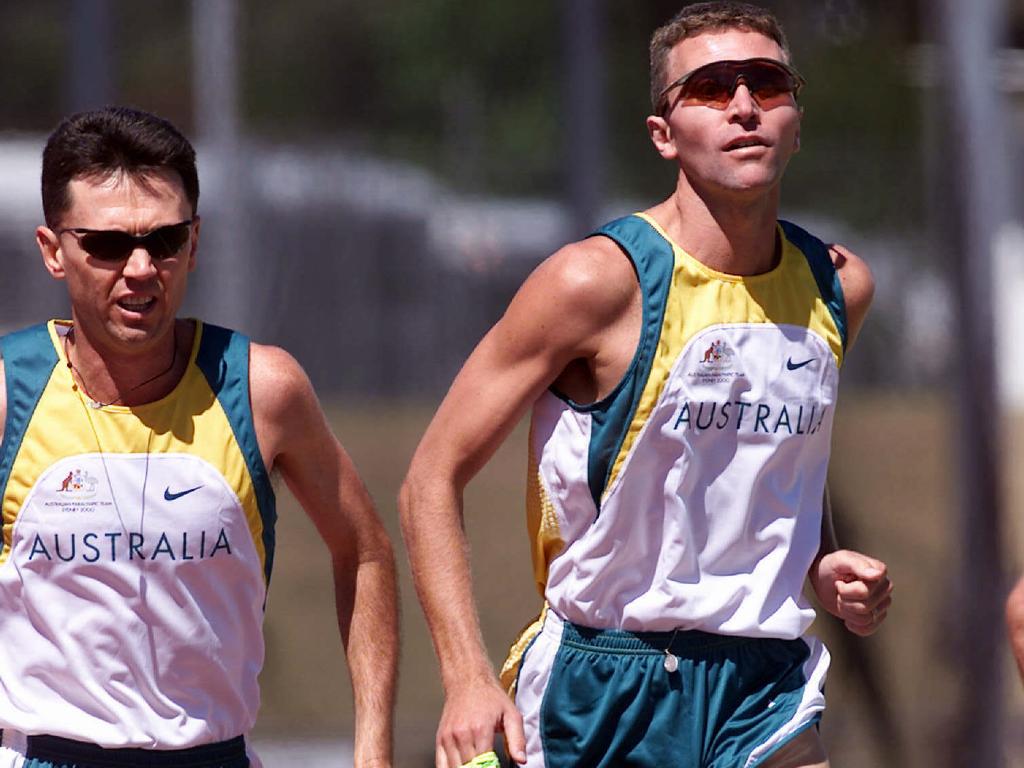 Despite his standing start, Gosens managed a fifth place finish at the Sydney 2000 Games. Picture: Phil Hillyard/NCA
*****
While the importance of a support network may have been drilled into him by mentor Hillary, Gosens – as a blind athlete – knew well the need to surround himself with the right people.
The relationship between a vision-impaired athlete and their guide is unlike anything else. One where 'blind trust' takes on new meaning.
For many athletes, it's a mutual respect, and understanding that builds over time. Training and working together towards a common goal. One of reliance and assurance.
For Gosens, the slow build model is a dangerous one.
"I think the danger is having to build trust. I walk into the relationship trusting them totally, and that is solidified over time," Gosens says.
"If the relationship has any doubts, you're going to create problems, both mentally and physically.
"Accidents are going to happen. Guide runners or triathlon guides are going to have lapses in concentration or they might be distracted thinking about their family and it's a tiny moment that can coincide with an overhanging branch or a speed bump.
"That comes with the trials and tribulations of being a blind athlete. It's a risk every day."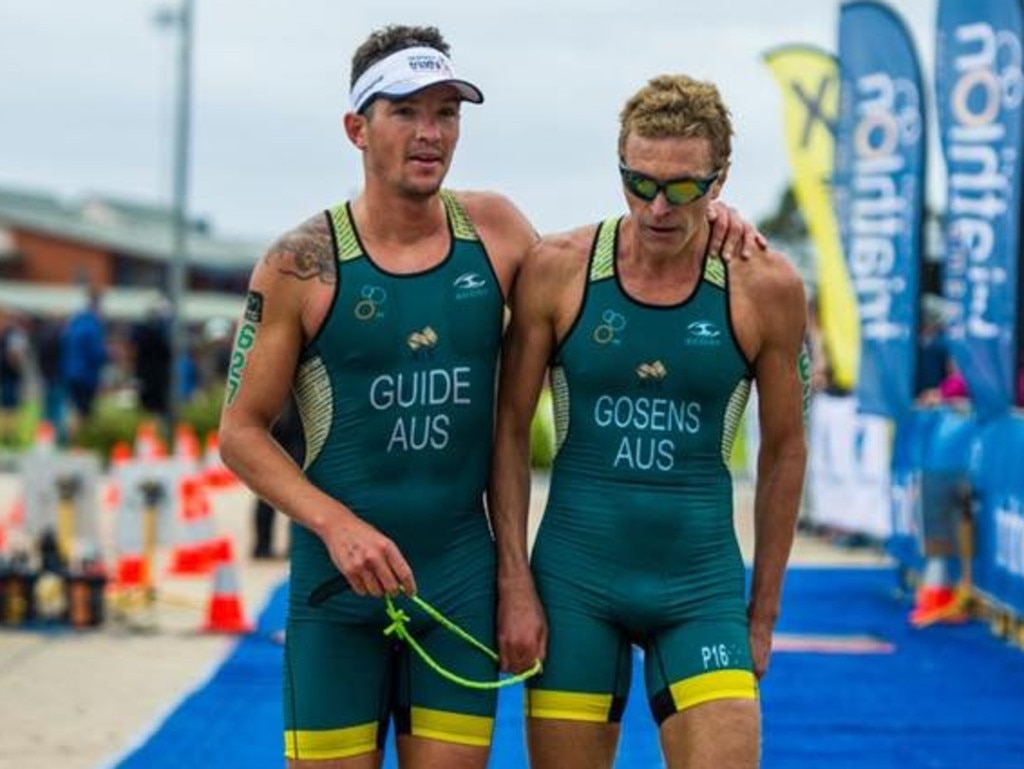 Gosens and his guide Stephen Thompson raced in the Australian Elite Paratriathlon team for the 2018 ITU World Triathlon Grand Final. Picture: News Corp Australia
It's a risk that led him down that Everest crevasse, when his new, and unknown sherpa had a moment's forgetfulness that could have easily ended in more despair.
With hindsight now, and the fear of the moment behind him, he's realised the hardest part of the climb for him wasn't trusting his crampon was hitting the right place, or that the pick was embedded far enough into the ice to hold him, it was his "aim… toilet wise".
"I don't know how blind people in Nepal, or other countries that use squat toilets do it because you could get yourself into a lot of trouble, and embarrassment if you missed the hole you dug," Gosens says.
In reality, the icy fall on that deadly mountain was nightmarish. Yet a pothole along a training path did more damage to Gosens' Paralympic dreams.
Gosens' 2016 Rio campaign ended before it began as a pothole-induced knee injury dashed his marathon hopes.
"I guess most people can't understand or can't appreciate the unique challenges for blind athletes. That can be anything from a guide calling and saying, 'I can't run today' meaning I have to find a way around it to yeah, being run into an obstacle."
Obstacles, like heavy typewriters or seeing the airspace ahead of the plane you're flying, are hardly something Gosens shies away from. And this one led him to the latest challenge. Para-triathlon.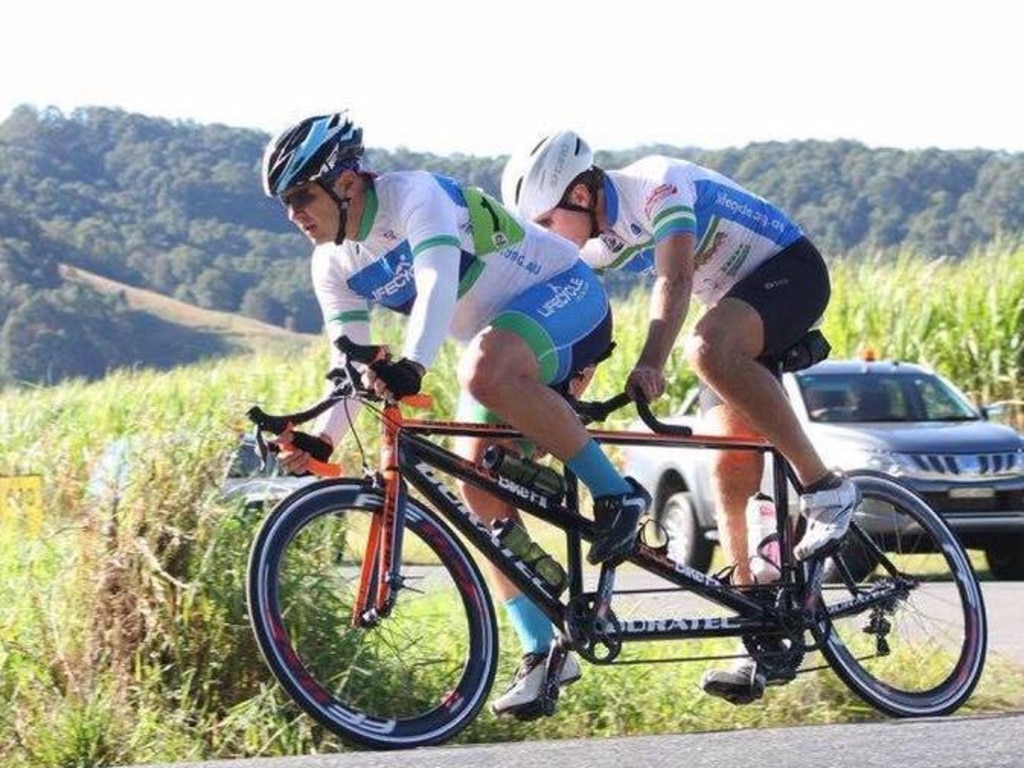 Gosens found triathlon after a running injury led him to swimming for rehabilitation. Picture: News Corp Australia
*****
Three times the discipline, three times the guides, three times the trust. Three times the opportunity for something to go horribly wrong.
And on a bicycle, things can go wrong at speed.
"On the fifth of March I was training with a guide at Runaway Bay, the cycling track," Gosens says.
"Our tire blew. A complete failure of the tire. And I was catapulted off at 55kmph, knocked unconscious."
A terrifying occurrence even for someone who can see the ground coming towards them.
"When I got to the hospital, they were told that I was going to the Commonwealth Games and that as soon as my feet hit the ground I'd be at training again.
"This wasn't a case of putting me in a sling and letting the collarbone repair itself, it was a 'fix this' situation.
"So they did. I now have a titanium clavicle and eight titanium ribs."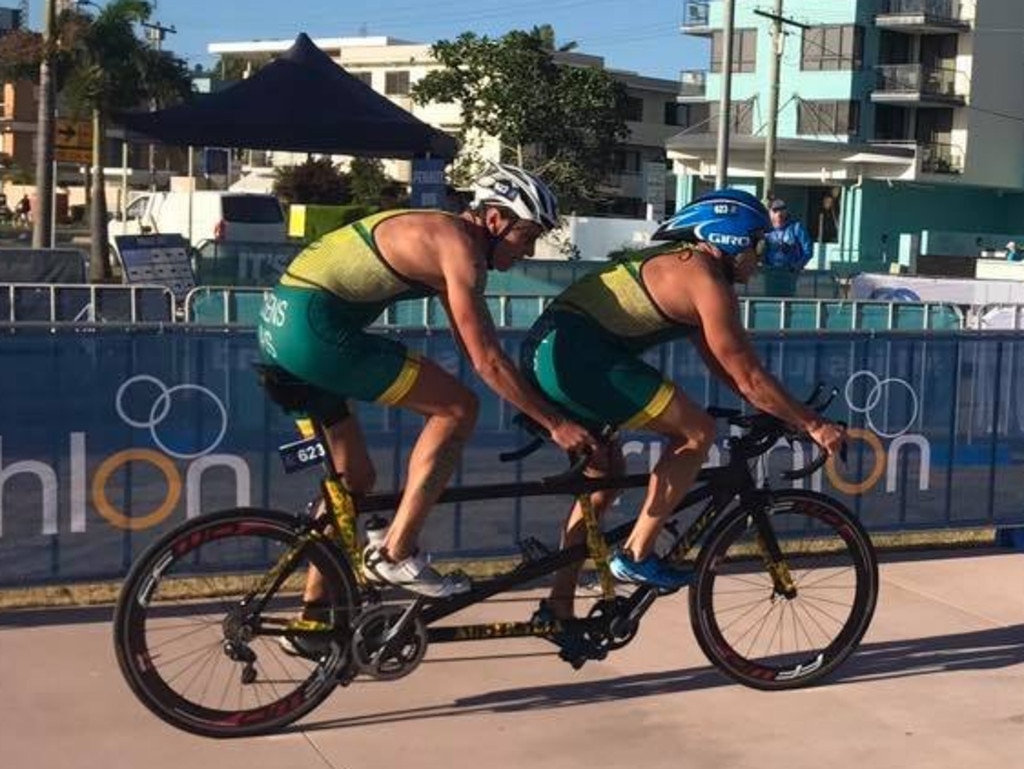 Gosens is in charge of anchoring and powering the bike in the cycling leg of para-triathlon. Picture: News Corp Australia
It's as if his body has almost caught up with his courageous mind. But Gosens' body wasn't done protesting his relentless pursuits.
"At about two in the morning prior to the operation, I experienced this change from the pain I was already in with the broken ribs and clavicle to feeling like I was minus 35 degrees and I was convulsing and couldn't breathe.
"Luckily a nurse heard a call for help because I just stopped breathing."
Septic shock.
Crevasses, potholes, septic shock. Luck has had very little to do with Gosens life but for all the setbacks, but there's still far too much for him to do to stop getting up again.
First? Competing in the inaugural Para-triathlon vision-impaired event at a Commonwealth Games next month in Birmingham.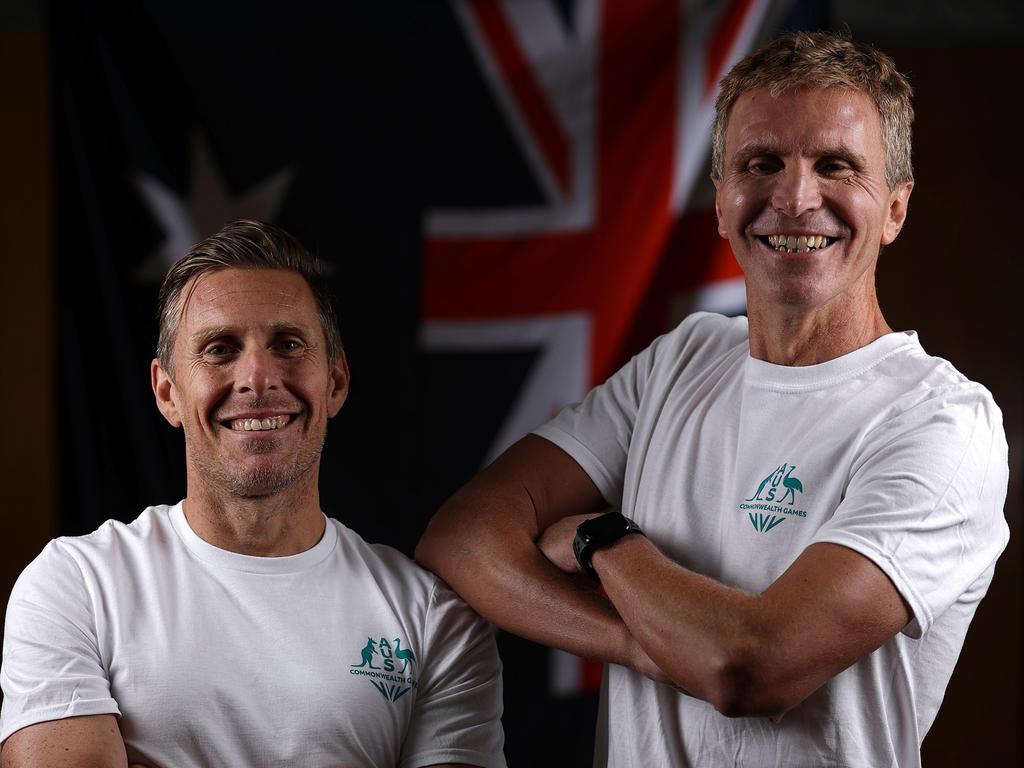 Gosens (R), with Birmingham teammate Hayden Armstrong, will compete for Australia in the Para-Triathlon at the 2022 Commonwealth Games. Picture: Robert Cianflone/Getty Images
"It's been 12 weeks since the accident and I'm back up to 75 per cent. Should be well past 100 by the day my race is up. Couldn't have timed it better," he says.
With the support network he's built around him, his indulgent wife Heather and his two children, Gosens is champing at the bit for his chance in England. Beyond that? Another stab at Everest – who knows?
For this titanium 'yes man,' all it would take is someone extending the offer.