How Joe Kayes' Olympic journey converted New Zealand rugby zealots to water polo devotees
He's played in Hungary, Italy and Australia but Joe Kayes' career as one of the best-ever water polo centre forwards has been most impactful in his hometown of Mount Maunganui, New Zealand, writes TILLY WERNER.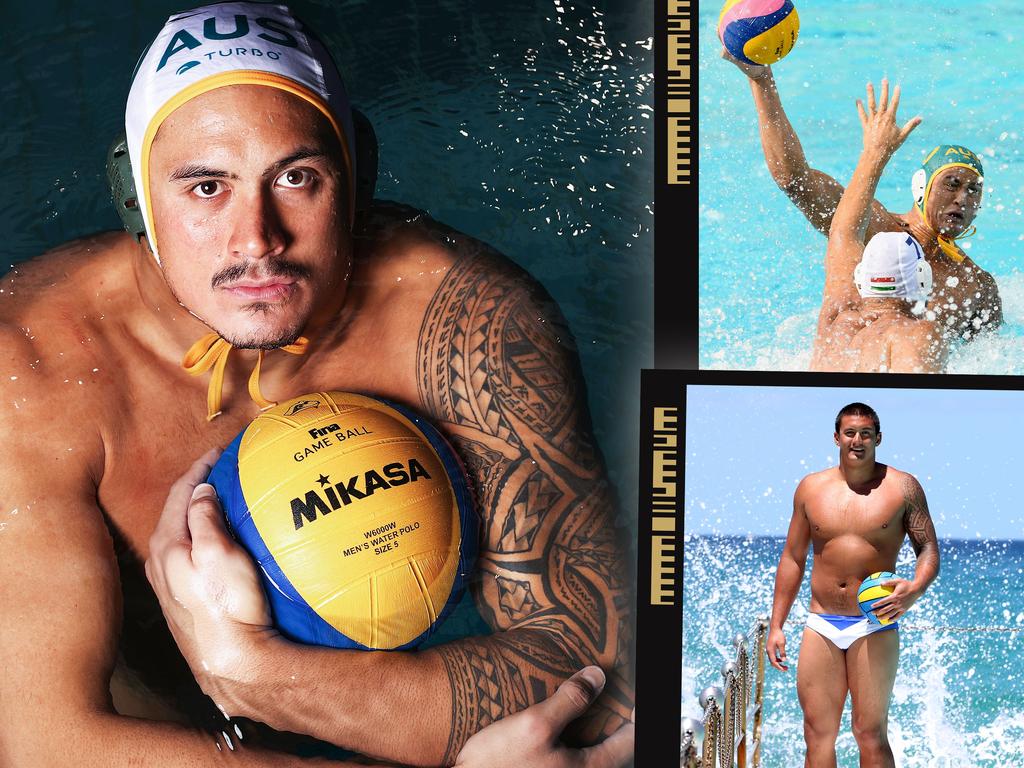 Joe Kayes is back where it all began.
Two decades ago, in a little populated surf town in New Zealand, Paul Kayes started a water polo club.
A professor in Mount Maunganui, a town where all hearts beat All Black, Kayes roped in local surf club members, his students and family in an attempt to convert the minds of rugby zealots to take to scrimmaging in water.
While a few converts have kept the club afloat and competitive for 20-odd years now, Paul's more important legacy was set in motion the first game that the Tauranga Water Polo Club played and the career of one of New Zealand's, and this century's, best centre forwards.
His son, Joe.
Off the back of his dad's eagerness to try something new, Joe Kayes grew from his dad's star player to an Olympian.
He just wouldn't do it in a black jersey embroidered with a white fern.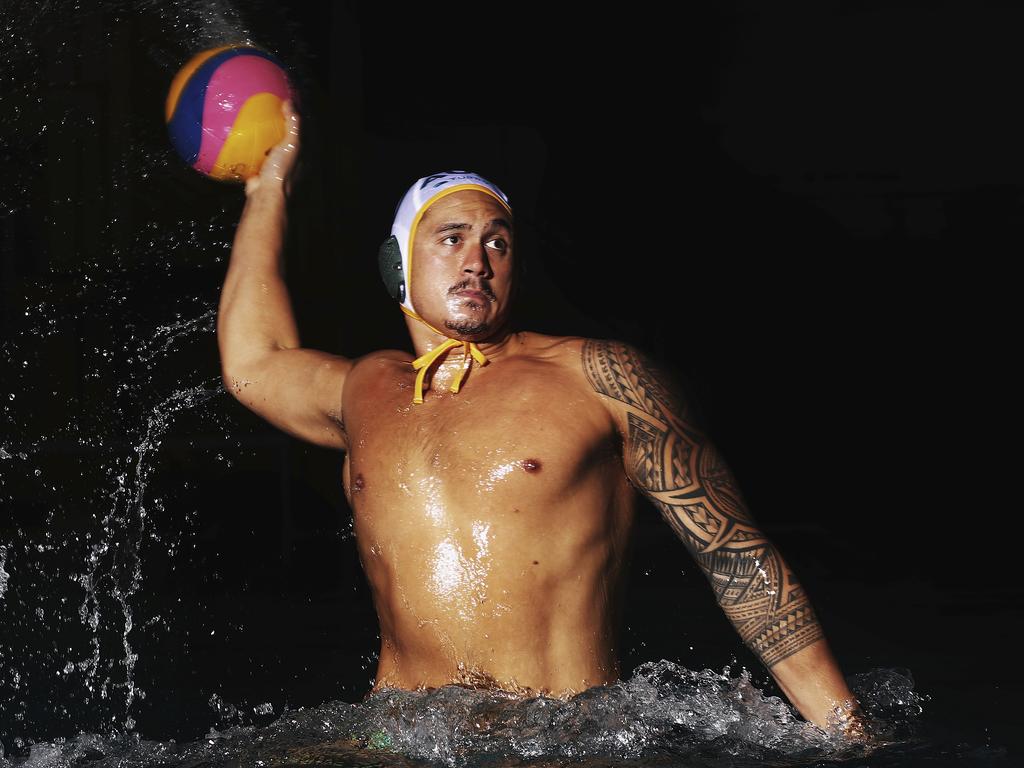 After starting out at the club his dad founded, Joe Kayes became one of the best centre forwards water polo has seen this century. Picture: Ryan Pierse/Getty Images
Had his father not so ardently fought for the assembly of the club, Kayes could have easily ended up down the rugby path. At 198cm tall and weighing more than 120kg, he would have been an asset too, but from the moment Kayes picked up the yellow ball, his mind was set.
Kayes' brother Daniel couldn't be saved for water polo, despite his comparable successes as a young player. Daniel stayed the route and went on to represent Samoa in rugby. Sister Julia, equally as talented in the water, went the netball route.
"Rugby is such a written script for a lot of people in New Zealand," Kayes says.
"Water polo felt exotic, it was a different option, and it didn't hurt that I'm pretty big and strong."
In the early years, Kayes was focused on honing skills and bringing attention to the young club as it challenged for a spot in New Zealand's National Water Polo League.
But as Kayes grew up, his skills grew more plentiful, yet as a very big fish in a very small North Island pond, it was hard to know just what those skills meant on a world stage.
It took a visiting tour from a powerhouse water polo nation for the Tauranga family to realise he wasn't just special to them.
"When I was 17, the Hungarian team came over to New Zealand. We played a game against them and I can't remember what it was, 10-5, 12-5 or something but I scored all five of those goals," Kayes says.
"After the game finished, this guy came over. They called him the 'Father of water polo.' He came over and said, 'Where's your Dad?' in very broken English."
That 'guy' had earned the moniker for being 'Dad' to Denes Kemeny, a three-time Olympic coach (who took Hungary to three Olympic golds).
"He spoke to us and he asked, 'Do you want to play water polo, do you want it to be your career?'"
Kayes and his father weren't convinced that it was a genuine offer, let alone a possibility.
"We laughed it off but we gave him an email address and didn't think much of it but a few months later this email came through. It was the most broken English email you've ever seen but attached to it was a contract to play at Szeged, one of the most decorated water polo clubs in Europe."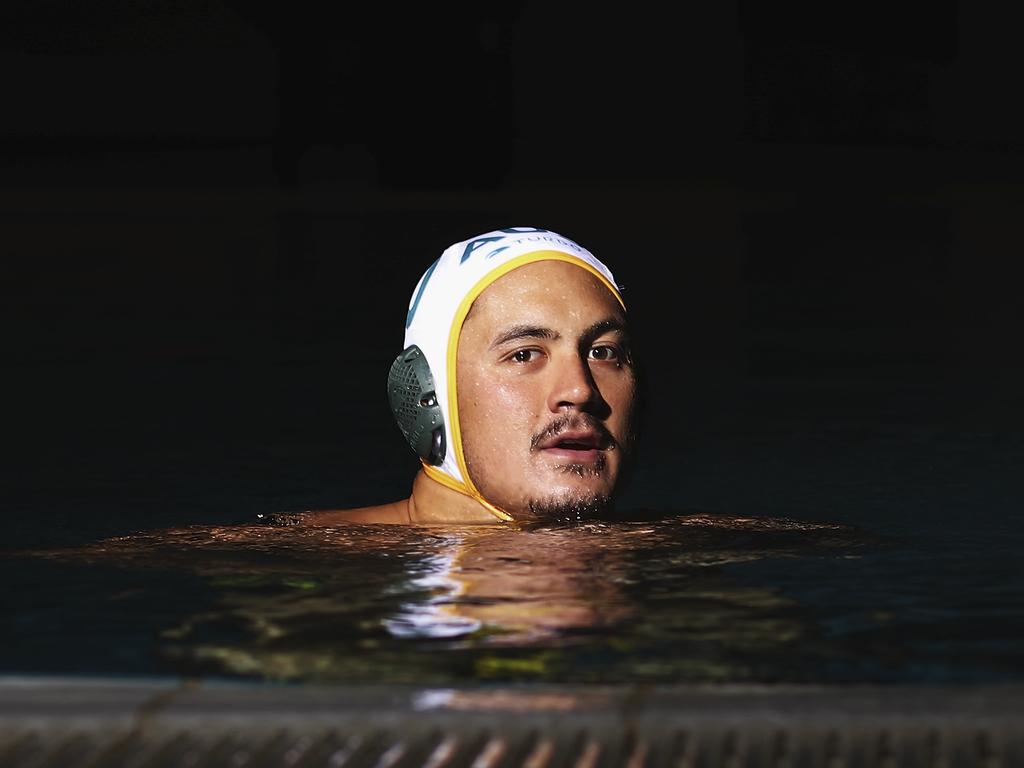 Kayes was first spotted as a teenager when a Hungarian team toured New Zealand. Picture: Ryan Pierse/Getty Images
Kayes hardly knew what to make of it. He still had high school to finish before considering a move to Europe to play in a sport the Kiwis have never competed at the Olympics in.
"It was completely bizarre but really exciting at the same time," Kayes says.
The first step was a brief stint in the AWL, Australia's top flight for water polo. While the competition there seemed like Everest compared to New Zealand's leagues, Kayes was unperturbed.
His size and strength in front of goal helped the Fremantle Mariners to a national title, and he left the competition for Europe emerging as one of the best players in the world.
Hungary, however, was an otherworldly challenge.
"I didn't have any idea of the scale of it," Kayes says.
In European water polo – where salaries can start at €30,000 and swell closer to half a million for the sport's elite, Kayes walked into the unknown.
"I was playing in a league against the top players in the world but I didn't realise there's a second, third, fourth league as well. It was my first exposure to being in a professional environment. And it was incredible," Kayes says.
"For the bigger games and arenas there were thousands of people around the pool. It's the rugby of Hungary."
The pools themselves were one of the strangest points of adjustment.
"We have swimming pools for swimming. For a game here we take the lane ropes out and put the goals in. There it's the other way around," Kayes says.
"There was one advantage: A lot of them aren't great at swimming. Their style is all off because they learnt to swim playing water polo, where anyone from down here, we don't put the ball in the pool until we know how to swim.
"(Australian water poloist) Aaron Younger and I used to have a good laugh at that. But it shows why that international dominance is there. They're not thrown in as kids to learn to swim … they're thrown in with a ball."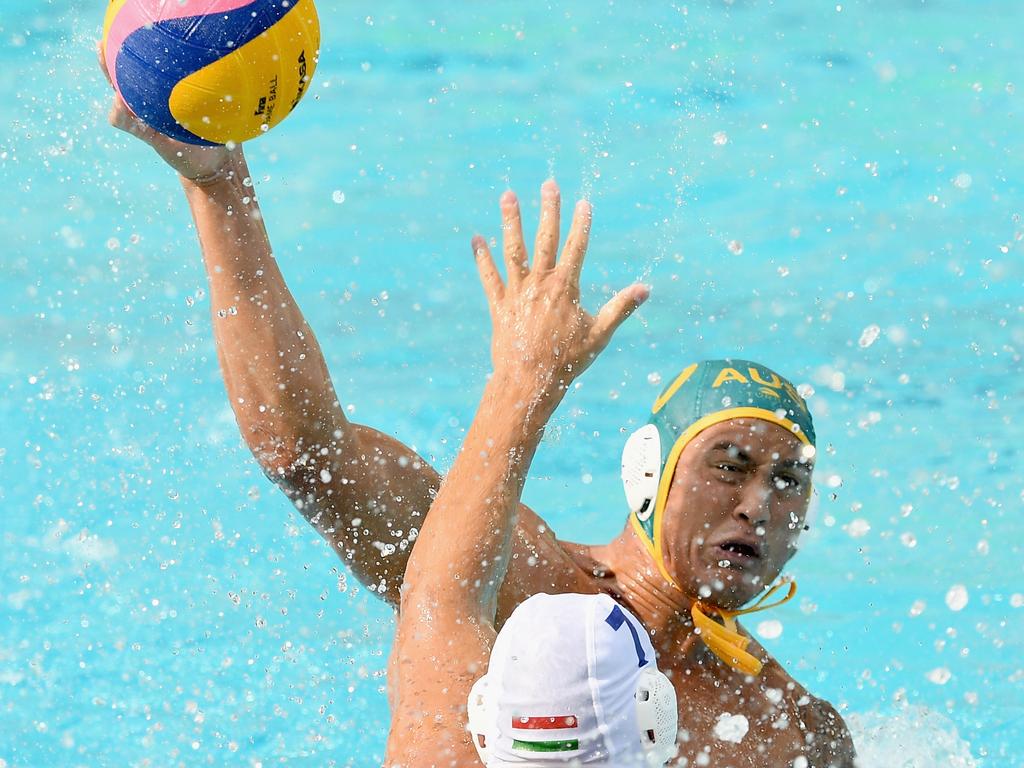 Playing at the highest level in Hungary was an eye-opening experience. Picture:

Quinn Rooney/Getty Images
Kayes quickly rose to become one of the league's most dominant scorers, and stayed on with the team for four seasons, helping them to a bronze in 2013 when he scored five of the team's nine goals in a narrow victory over rivals Vasas.
Kayes earned himself a reputation. He became a nightmare for defenders.
Raising his (then 128kg) frame waist-deep out of the water, Kayes was almost impossible to stop in front of goal and playing in Europe had positioned him right in the eyeline of international selectors in the lead-up to the 2016 Rio Olympic Games.
Hungary wanted him. Italy and Serbia, the game's greatest champions had all kept an eye on Kayes' highlight reels. Unfortunately, for all Paul's dreams of diversifying New Zealand's sporting landscape, New Zealand was never an option.
It was back in Australia where Kayes landed, the closest he could come to representing his home country at the Olympics.
The Sharks, the Australian men's water polo team, secured Kayes through a dual citizenship offered in 2015 and as the key forward he became central to the team's Olympic strategy.
"A centre forward in water polo is just like a striker in soccer. They're at the middle of the goal, they're the big bodies that create momentum and get the team moving," Kayes says.
Australia had secured themselves the ultimate striker.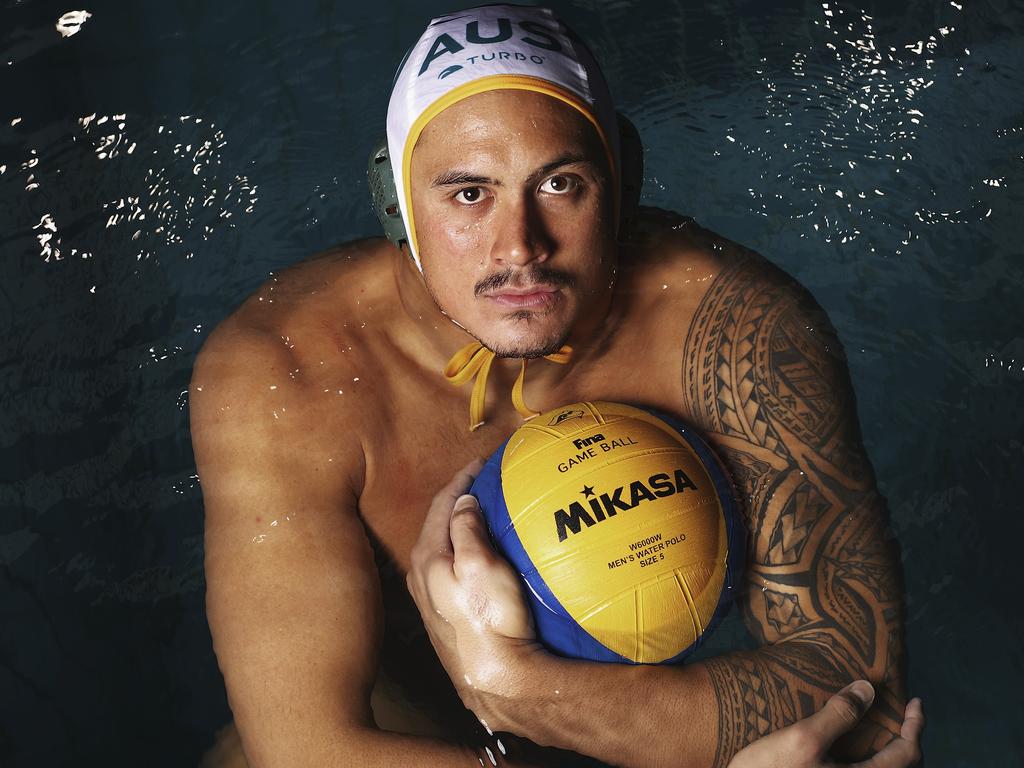 Kayes was in high demand, but ultimately chose to represent Australia. Picture: Ryan Pierse/Getty Images
The Rio 2016 campaign was a difficult one. A first game loss to Brazil meant an uphill battle to the elimination rounds but the team still made a splash.
The team managed a draw against Hungary and wins against both Greece and Japan, but the early setback meant a medal was out of contention. Kayes proved his worth: he scored eight goals across the five matches.
Designs were drawn for 2020.
Australia has a nasty habit of falling agonisingly short in men's water polo. But the lead up to the Tokyo games heralded high confidence.
"We were really on track in that period between 2017 and 2019," Kayes says.
The Sharks picked up a silver at the FINA Intercontinental Cup in 2018 and backed up their performance with a second at the FINA World Cup later the same year. They capped off the era with a bronze in the 2019 World League Super Final.
"It really felt like we had some momentum then, it was a good period for the team," Kayes says.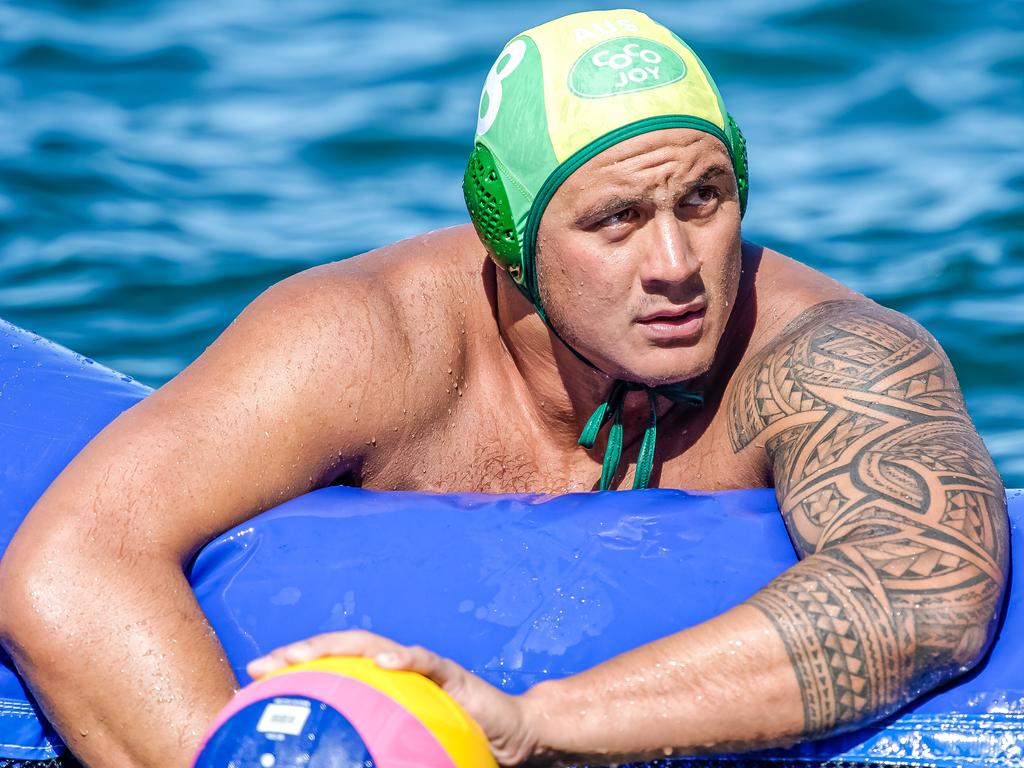 Kayes says the Sharks were building some nice momentum before the pandemic hit. Picture: Hugh Peterswald/Icon Sportswire/Corbis/Getty Images
In early 2019, Kayes was playing at Pro Recco in Italy. One of the world's best players contracted to the world's best water polo team. He'd also just welcomed his first child with partner Jordyn.
The silver medal linings that had rewarded Kayes and the Sharks' performances over the previous two years couldn't contain the rolling thunderstorm of a global pandemic that was moving in to rain on Kayes' parade.
"After that result in 2018 and through 2019, club-wise everything was just clicking. Had we gone straight from the league result in Belgrade into an Olympics I have no doubt we would have had a really solid result," Kayes says.
But fate, as it so often does, had other plans.
"Covid halted everything."
By the time Pro Recco and the Italian league had paused competition, Joe and Jordyn were expecting a second child, and Joe had spent a decade away from home.
Amid the chaos of border closures and uncertainty of lockdowns in Italy, Pro Recco decided not to renew the Kiwi's contract.
"When Covid hit they tightened their budget a bit. Instead of carrying the players like me who only played in the champions league they shaved it down primarily to local players," Kayes says.
They came home. Back to the beaches. Back to the Tauranga Water Polo Club.
"I had a year off and priorities changed. Going to the Olympics meant leaving two small kids at home for probably eight to 12 weeks plus quarantine. The logistics of having that time away and risking Covid, it just became too difficult."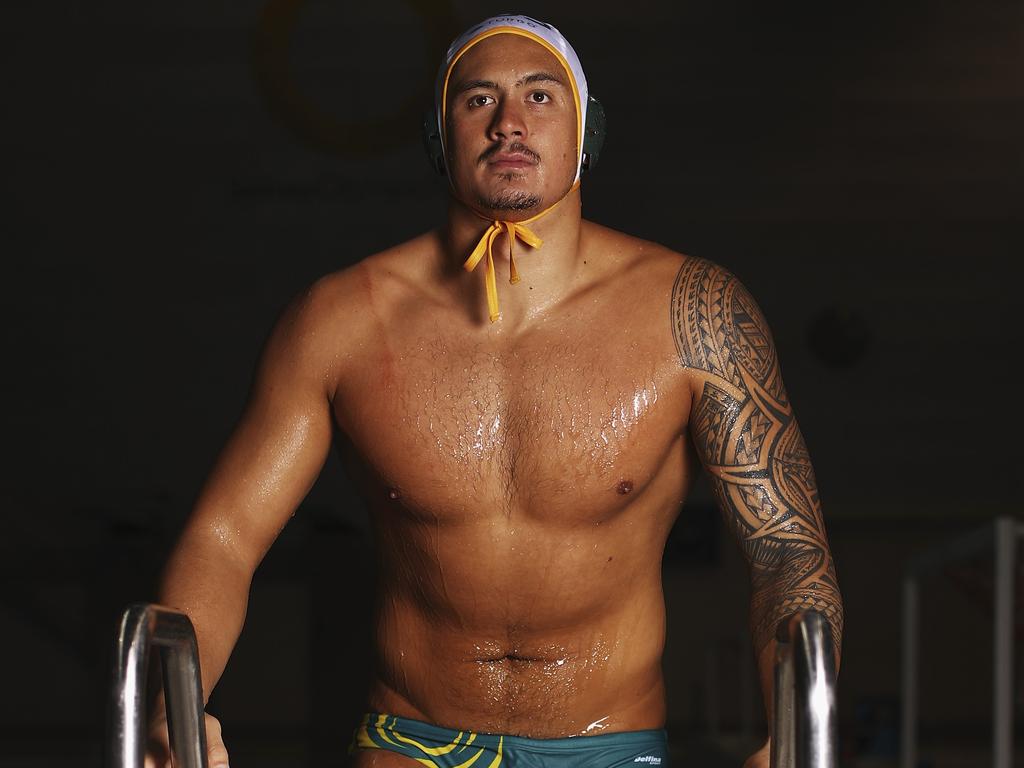 Everything changed for Kayes when Covid hit. Picture: Ryan Pierse/Getty Images
Ultimately, Kayes sat out Tokyo.
For all the certitude of the final decision, it wasn't an easy one.
"I had a flight booked. I was so close to it and then it got so close to it and I just ended up saying to Elvis (the Sharks' head coach), it just doesn't feel like it's working for me," Kayes says.
"It was probably unfair in some ways, on my part, but I just didn't feel set, I couldn't commit everything that the team needed from me. It was nobody's fault."
"When I didn't renew in Europe, it was really hard, the shift from being a professional player and from that being my livelihood to it no longer being the case.
"To really be driven to do that same kind of training solely for the love of it. I'd been paid for 10 years and at that point, I was trying to make everything else in life click."
When the love of the game dwindled, family stepped in. Kayes, his now-fiancee Jordyn and their family of four focused on each other, back where it all started, in Mount Maunganui.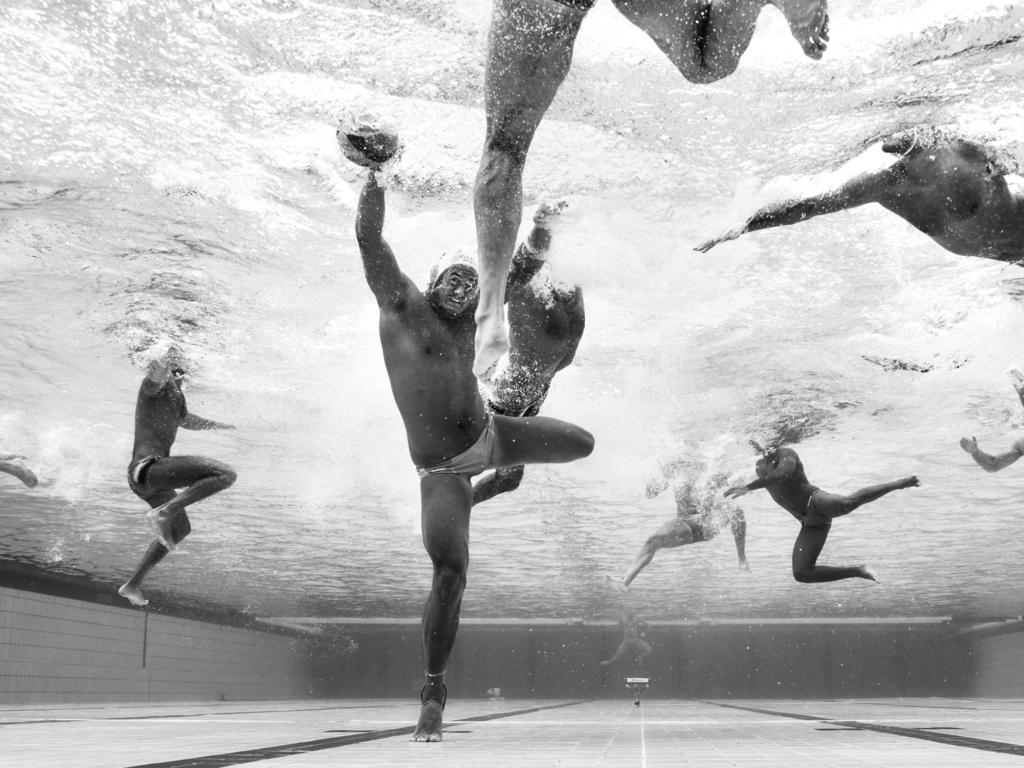 When Covid threw everything into disarray, Kayes returned to the place where it all began – the Tauranga Water Polo Club. Picture: Adam Pretty/Getty Images
With all the time to reprioritise, water polo is still never far from his mind.
"I started coaching and playing my back with my old club where it all started," Kayes says.
"Funnily enough, over all those years, they had won a New Zealand National League.
"I suppose my coming back was a bit of a drive for those boys, and we actually won it again in 2020."
They wouldn't have expected a lesser result for the prodigal son's return.
It's strange for Kayes now to be in a mindset where it's not the be-all-end-all to win or lose a game.
"It's the first time in a long time I've really enjoyed the game. It's probably, if anything, helped me to get a bit more focused on thinking about if I should go back and play the top level again.
"I hope that I'll represent Australia again, it's definitely not the end of my playing days at the top. I got so much out of playing for Australia, and being able to represent them as an Australian, it's incredible."

For now, however, it's teaching, coaching, loving and, after all his efforts overseas, it's finally giving back to New Zealand. To the sport, and the club, which gave him everything.