IOC recommends banning Russian athletes from international competition as FIFA bars football team
The dramatic move gives cover to any global federation to take action. FIFA's move effectively throws Russia out of World Cup qualification.
After nearly a week of hemming and hawing, Monday was the day that the world of sports turned on Russia.
The International Olympic Committee began by recommending that all Russian and Belarusian athletes be banned from international competition following Russia's invasion of Ukraine last week, in one of the sports world's most drastic responses to the crisis.
And within hours, soccer's world governing body suspended Russian clubs and the country's national team from all competition until further notice, effectively throwing it out of qualification for the 2022 World Cup.
By the end of the day, even the World Curling Federation had updated its bylaws to remove Russia from the World Championships.
Though the IOC's announcement doesn't in itself suspend the athletes, it gives cover to any global sports federation to take action. It represents an escalation of the IOC's own stance of recent years, in which it allowed Russian athletes to compete in the Olympics under the name "Russian Olympic Committee" — despite the country's ban from international competition for doping offences.
"In order to protect the integrity of global sports competitions and for the safety of all the participants, the IOC [executive board] recommends that International Sports Federations and sports event organisers not invite or allow the participation of Russian and Belarusian athletes and officials in international competitions," the IOC said.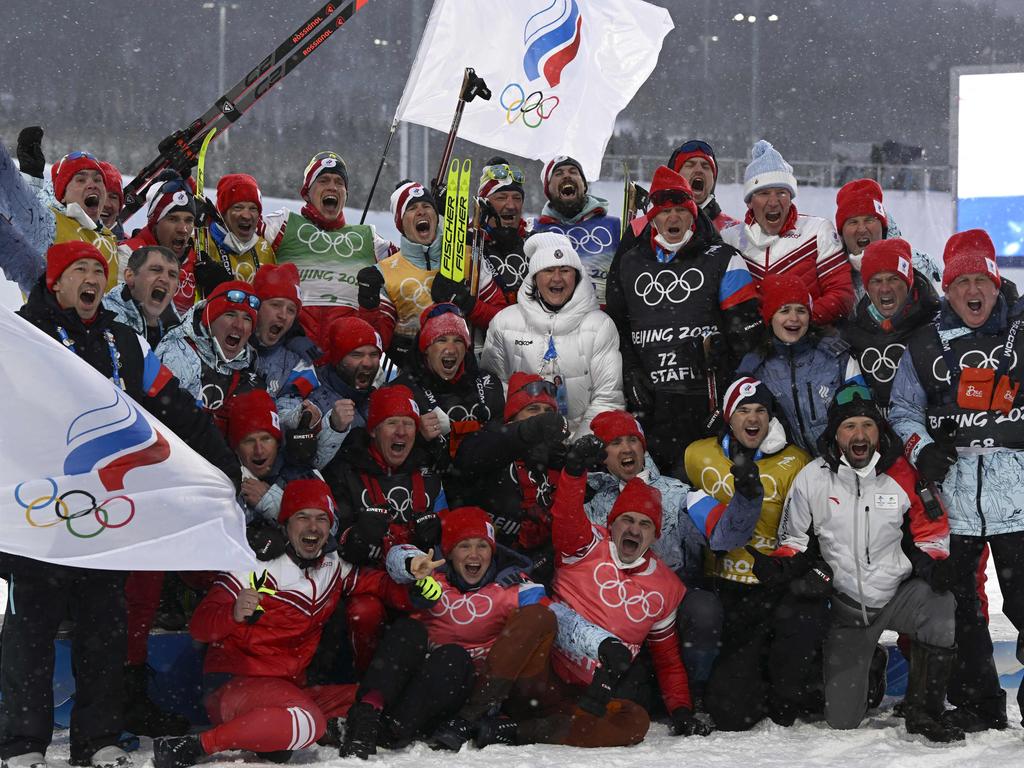 Less joyful times may await Russian athletes, as the IOC gave the green light for sport federations under it's cover to bar their participation. Picture: Pierre-Philippe Marcou/AFP
The organisation noted that it preferred not to punish athletes for the actions of their governments, but that these were exceptional circumstances. Unless it acted, the IOC said, athletes from Russia and Belarus would continue participating in events even while "many athletes from Ukraine are prevented from doing so because of the attack on their country."
It's not clear how the IOC's move will affect the upcoming Paralympic Games, which begin in Beijing on March 4. But the statement allows for some participation in situations where it might not be possible for athletes to be removed for logistical reasons or due to short notice. Even so, the IOC said, Russians and Belarusians would have to compete as "neutral athletes" without the insignia, flags, or anthems of their countries.
FIFA had originally been prepared to settle for a similar solution, with Russia competing under the name "Russian Football Union," in a make-or-break World Cup qualifying playoff against Poland in March. But on Sunday evening, the Polish soccer federation said that it would refuse to play Russia in any form in any location. Poland's stance was backed by the soccer federations of Sweden and the Czech Republic, which would have also been potential opponents of Russia's for a berth in the Qatar World Cup.
"There is a real tragedy taking place in Ukraine, people are dying, including sportspersons," Polish soccer federation president Cezary Kulesza said on Sunday. "And they expect us to pretend that Russia is not Russia because it plays under a different name? It was an outrageous proposal, I didn't hesitate for one second."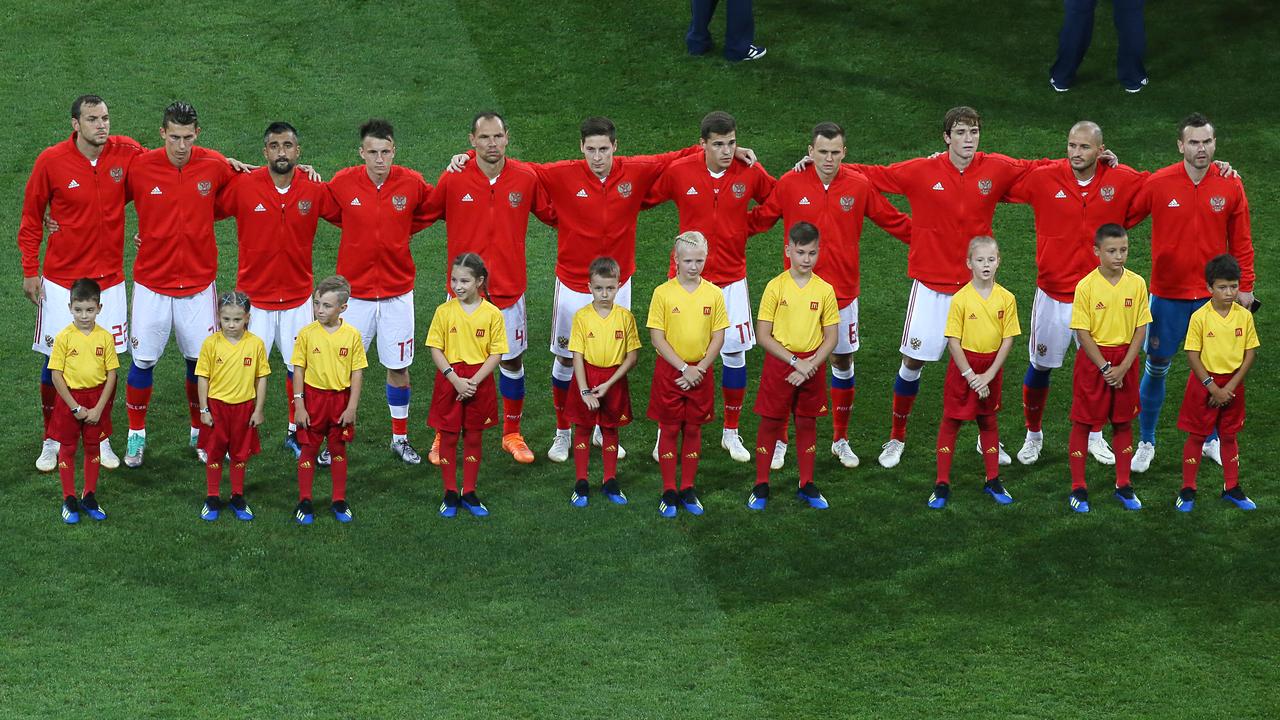 Russia reached the quarterfinals of their home World Cup in 2018, but may be barred from competing in this year's tournament. Picture: Sergei Fadeichev\TASS via Getty Images
Beyond suspending Russian clubs, European soccer's governing body, UEFA, also terminated a multimillion-dollar sponsorship agreement with the state-backed energy giant Gazprom, which had been a partner since 2012. UEFA had already moved club soccer's most prestigious match, the Champions League final, away from Saint Petersburg to Paris last week.
The IOC's move, meanwhile, could affect several big upcoming events that were already set to operate in a cloud of tension over Russia such as the world figure skating championships, scheduled for late March in Montpellier, France.
Russian skaters were already set to compete at the championships without their flag or anthem as part of a long-running sanction over a state-sponsored doping scheme. Calls to ban them entirely had intensified over a fresh doping scandal that erupted at the Winter Olympic Games in Beijing two weeks ago involving Russia's latest teenage superstar, Kamila Valieva.
There were also emerging logistical challenges around Russian participation involving flights to France, which has cut off direct flights to and from Russia, as well as the presence of teenage competitors who have not been vaccinated against the coronavirus.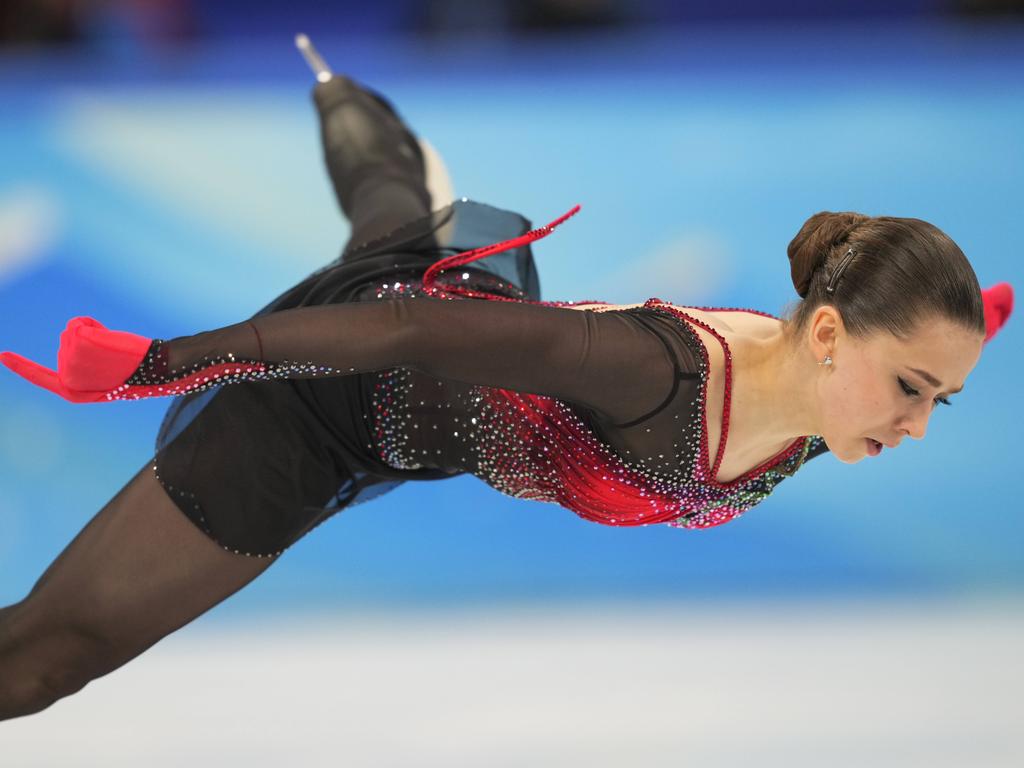 Russian figure skater Kamila Valieva was the talking point of the Beijing Winter Olympics, following the doping scandal that debilitated her medal chances. Picture: Ulrik Pedersen/NurPhoto via Getty Images
But Russian skating is such a powerhouse that its absence from the event would radically alter the competition, and shake up the sport's governing body, the International Skating Union. The ISU, which organises the world championships, did not immediately respond to inquiries about whether it would heed the IOC request.
There are fewer Belarusian skaters, but Belarusian participation in international events has also been in the spotlight following the Summer Olympic Games in Tokyo last year when a Belarusian sprinter said she was being sent home against her will for criticising her coaches, and was subsequently offered asylum in Poland. The IOC had also earlier said that the leadership of the Belarus Olympic Committee hadn't appropriately protected the Belarusian athletes from political discrimination.
The IOC added that no international events should be held in Russia or Belarus in the near future. It also called out Russian President Vladimir Putin by name for violating what it called the Olympic Truce, an international agreement to maintain peace during the period of the Games. (Russia also violated the Truce in February 2014 with its annexation of Crimea.)
Putin had in the past been a key ally of IOC President Thomas Bach in staging the Winter Olympics in the Russian Black Sea resort city of Sochi in 2014. But relations between the Olympic governing body and the country that sends one of the largest delegations of athletes to every Games have been more tense in recent years due to the revelation of a wide-ranging Russian doping scheme and Russia's subsequent failure to comply with investigations. Under IOC sanctions, the Russian flag and anthem have been banned from the Olympics and many other major international sporting events since the 2016 Games in Rio.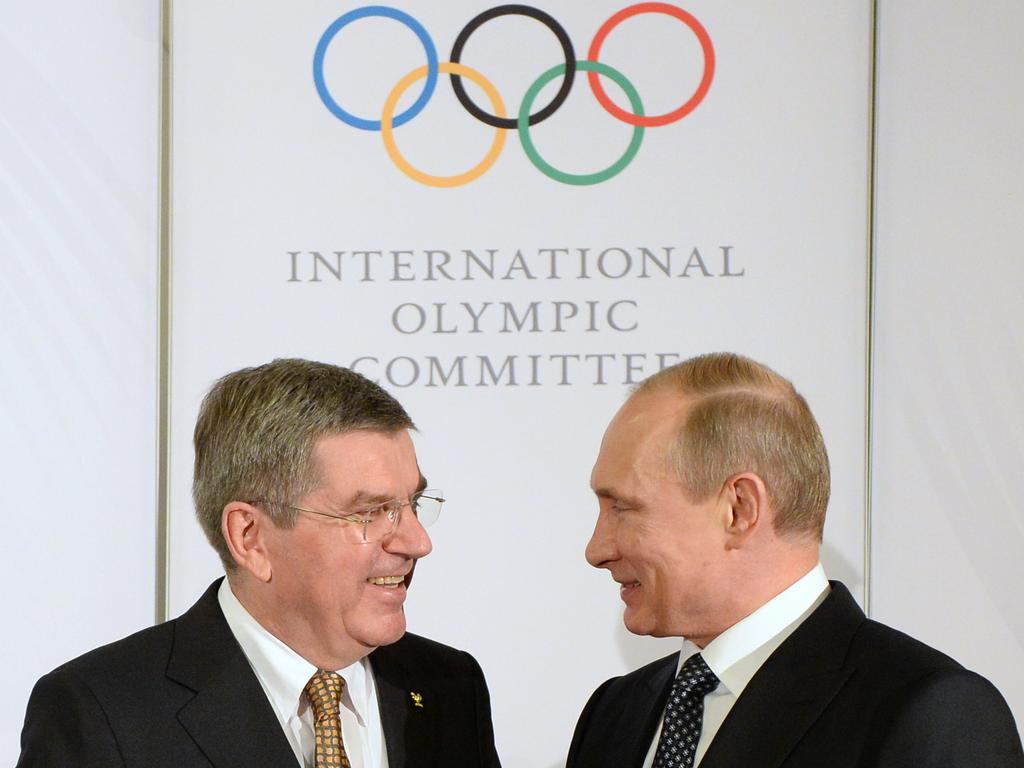 Despite the previously close relationship between IOC President Thomas Bach and Vladimir Putin, Russia has been banned from competing under its national flag since 2016. Picture: Andrej Isakovic - Pool/Getty Images
The IOC's firm statement on Monday comes in the wake of a less forceful move from soccer's world governing body, FIFA, which had initially stopped short of suspending the team — even as Russia's scheduled opponents for crucial World Cup qualifiers next month insisted that they would refuse to play.
But even before the decision, many Russian Olympians were speaking out for peace, from No. 6-ranked men's tennis player Andrey Rublev to national soccer team star Fedor Smolov.
"The IOC [board] welcomes and appreciates the many calls for peace by athletes, sports officials and members of the worldwide Olympic Community," the organisation said. "The IOC admires and supports in particular the calls for peace by Russian athletes."
—Louise Radnofsky contributed to this article.
—The Wall Street Journal