Kaylee McKeown discovered months after the Tokyo Olympics that she had competed with a torn labrum
The true extent of Kaylee McKeown's Tokyo Olympics heroics is only now becoming clear, writes LACHLAN McKIRDY.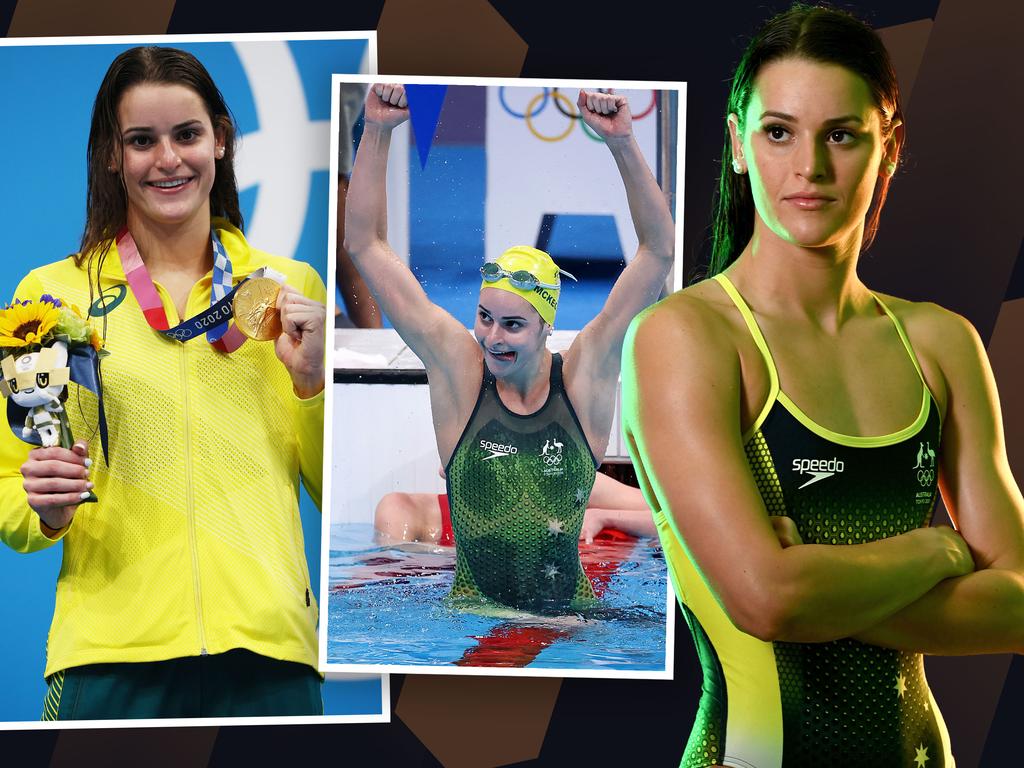 Kaylee McKeown's Olympic miracle: three gold medals on one good shoulder.
Kaylee McKeown's three gold medals and a bronze were already rated among the all-time great Olympic hauls, but the true extent of her Tokyo heroics was not realised until months later.
McKeown experienced shoulder pain during the meet yet still somehow conjured the focus and resolve to win the 100m and 200m backstroke as well as the 4 x 100m medley. Upon returning home, she underwent scans to determine the source of the discomfort.
She had torn her labrum.
"She knew it was a little bit sore but she wasn't aware of the extent," said Michael Bohl, McKeown's new coach. "It wasn't until she got a scan around October after the Games had finished that she realised what damage had been done.
"It was sore coming into the last two or three days of the competition … she told me that it was hurting her before the 200m backstroke and the relay."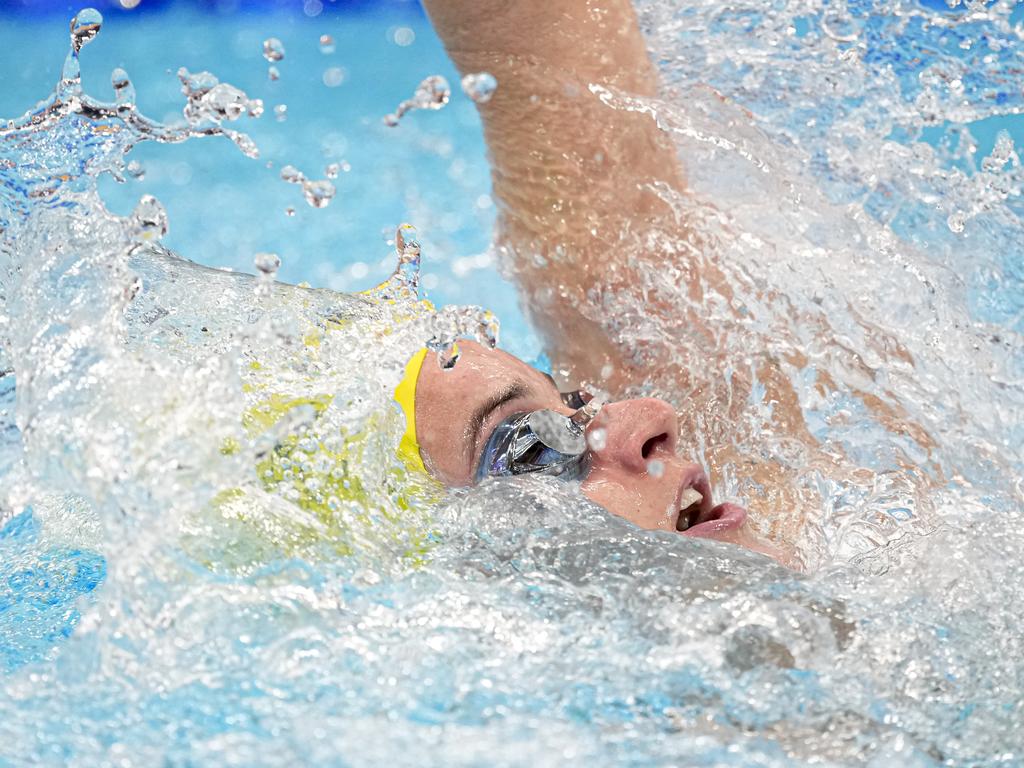 Kaylee McKeown competed through immense discomfort on her way to three Olympic golds in Tokyo. Picture: Fred Lee/Getty Images
Surgery was an option post-Olympics but McKeown's team decided against it.
The risk was too significant for a joint so crucial to her success.
"We opted out of the surgery just because of the fact we wouldn't be able to necessarily keep my backstroke technique as it was before," McKeown told CodeSports.
"With the labrum, once it's torn it reattaches but it never reattaches back to its natural state. It's a little bit like a golf tee and it holds the shoulder in the socket.
"My team said if we keep the gym and physio up to date, there's no reason why I can't opt out of the surgery and get my shoulder back."
For Bohl, McKeown's diagnosis led him to a stunning conclusion.
Despite a medal haul for the ages, McKeown was not at her best in Tokyo. Not when she set an Olympic record in the 100m backstroke. Not in the other three races in which she medalled.
"When you reflect and look back on her results, it's remarkable to see what she was able to achieve with the problem she had," he said.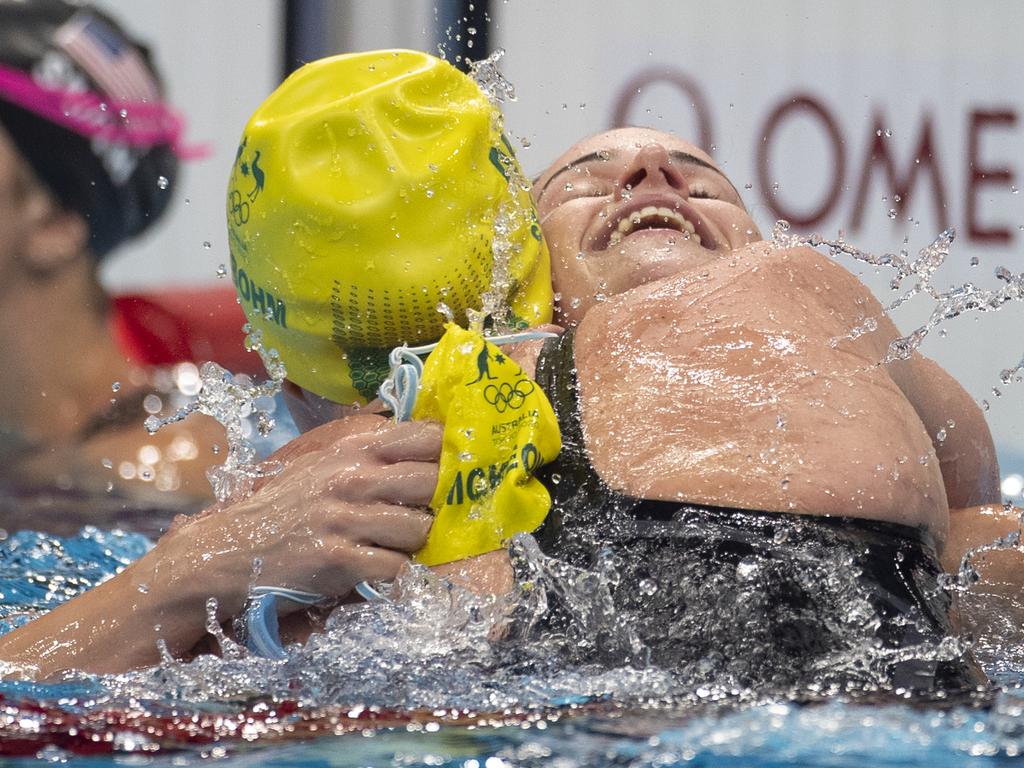 McKeown was ecstatic after her record-breaking 100m backstroke performance. Picture: Tim Clayton/Corbis via Getty Images
*****
McKeown experienced more than just physical pain in Tokyo.
Her father, Sholto, passed away from brain cancer in August, 2020 and his words - "I'll always be with you" - were tattooed on her foot. McKeown looked at the tattoo at the start of each race and describes her father's memory as a "superpower" that helped carry her to gold.
Through the months of grieving that followed Sholto's passing, the pool remained McKeown's sanctuary.
"I really tried to use swimming as an outlet," she said. "Whenever I was at the pool, I tried to switch off from what was going on at home and it was a place where I could let go of everything and do something that I love.
"I found a new appreciation for the sport. Using that going into the 2021 trials was the reason I found my purpose and why I do what I do."
McKeown speaks so openly about her dad's passing in the hope that it helps others to appreciate that life goes on.
"I'm such a family-oriented person and to lose one of those family members is never going to be easy and it's something you're never going to forget," McKeown said.
"So sharing my story in the hopes of letting people know that because something bad has happened, it doesn't mean the rest of your life is going to be some sad story. I wanted to show people that no matter what happened you've still got the mental and physical capacity to pick your body up and get ready to go."
As McKeown stepped up to the blocks for the first of her finals - the 100m backstroke - Australia watched on, desperate for her to win the gold medal she and her family had longed for.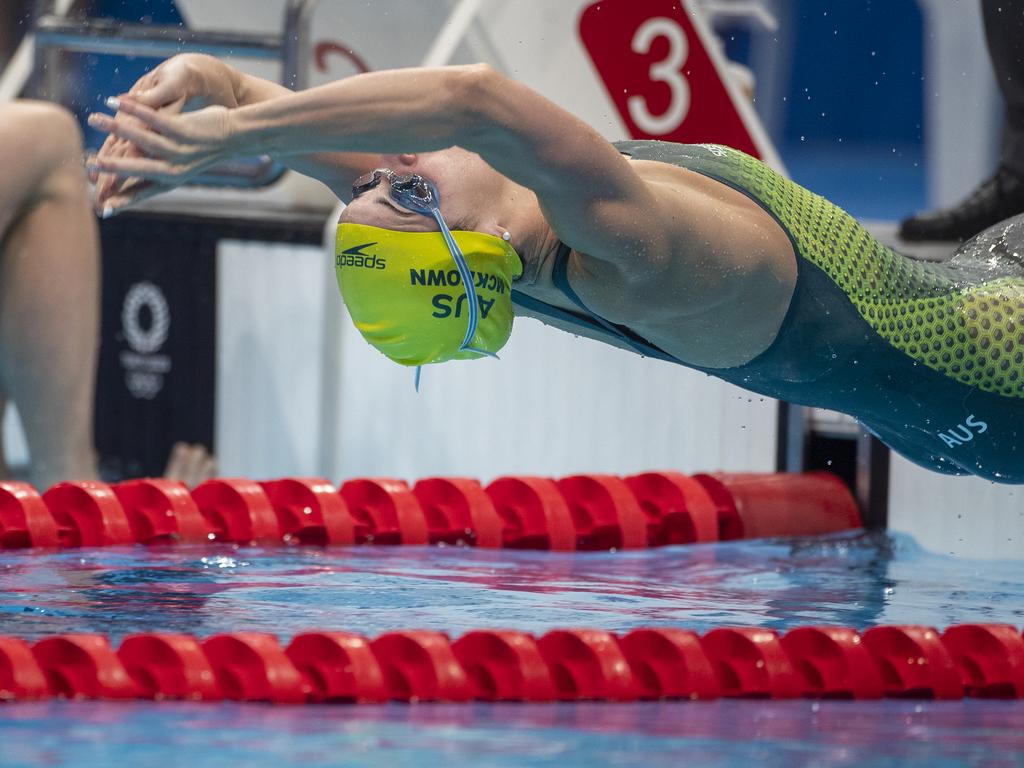 McKeown felt 'relieved' at being able to make her family proud in her first Olympic campaign. Picture: Tim Clayton/Corbis via Getty Images
In that same, surreal moment, McKeown felt her nerves rise.
"I stood and looked back at my own footsteps, at how far I've come and how far I've got to go," she said. "If I got nervous about it, I embraced it. I used that as an opportunity to tell myself that I'm nervous because I care and because I want to swim well and cross the line."
In lane three, it wasn't until the last 25 metres that she hit the front. The world record holder forced to come from behind in her first Olympics - she went within two-hundredth of a seconds of breaking her own mark.
The first feeling she had after seeing the No.1 next to her name?
"Relief," she said.
"A relief that I knew all my hard work had paid off and I could make my family proud after everything we'd been through."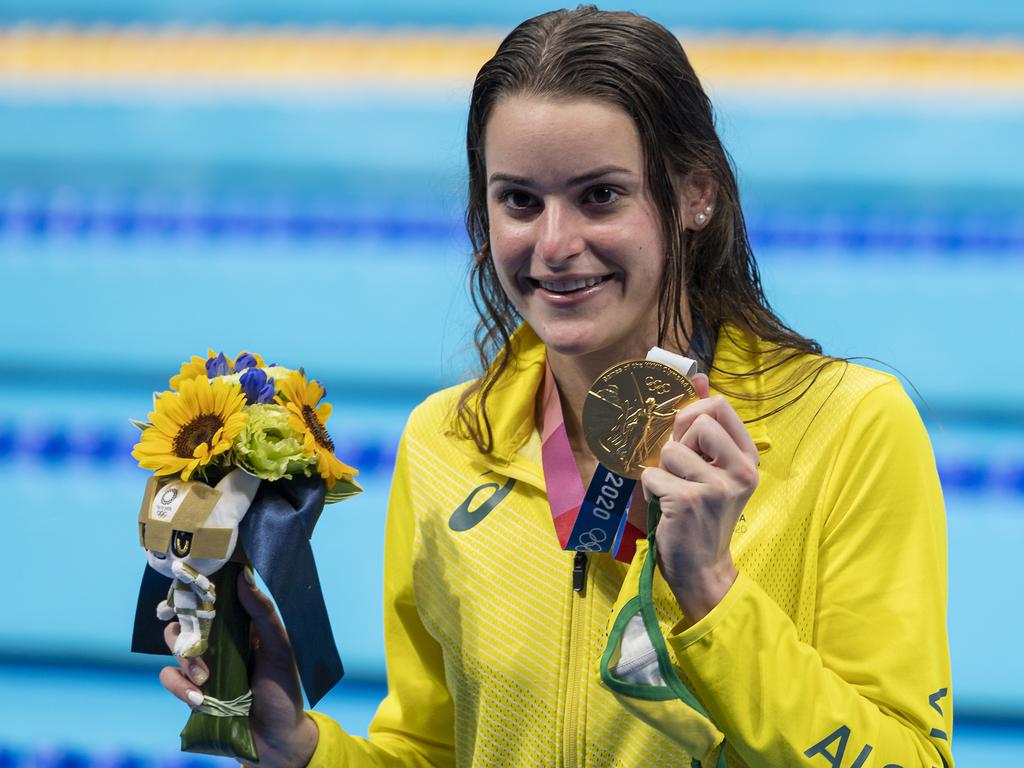 McKeown's late surge in the 100m final was left to the last moment, only taking the lead in the final 25 minutes. Picture: Giorgio Scala/BSR Agency/Getty Images
*****
"F--k yeah! Oh shit!"
With just four words, McKeown endeared herself to Australia even further during her post-race interview. But that reaction wasn't about the race or the medal about to be draped around her neck. It was in response to a small monitor she could see in her peripheral vision.
It showed her family and friends celebrating back home in Queensland.
"People don't know that I was able to see the reaction from my family just below," she recalled. "That emotion that I shared was just natural. There was no filter, it wasn't fake it was just the first thing that came to my mind.
"No one swears on live television on purpose!"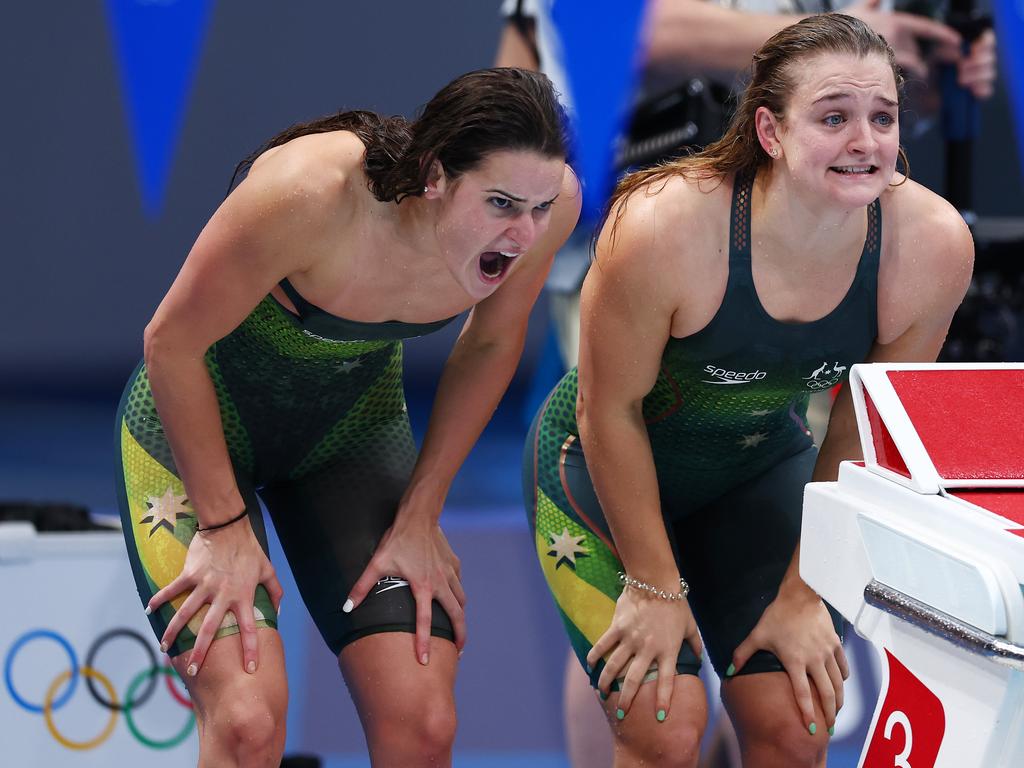 McKeown candid and honest responses endeared her to the Australian public. Picture: Maddie Meyer/Getty Images
With four medals in her carry-on luggage, McKeown returned to Australia in the unusual position of having achieved a lifelong dream at only 20.
Cameras captured her emotional homecoming at Brisbane Airport. Kaylee with her mum Sharon, sister Tayla and dog Ottis embracing for the first time in months.
But they didn't show the most poignant moment of all.
Sitting in silence at home, Kaylee and Sharon's eyes welled with tears looking at the medals; the significance of the achievement not lost on either of them.
"We had a mutual understanding of just how much it took for us to get there," Kaylee said.
"They weren't only mine. They were theirs' as well."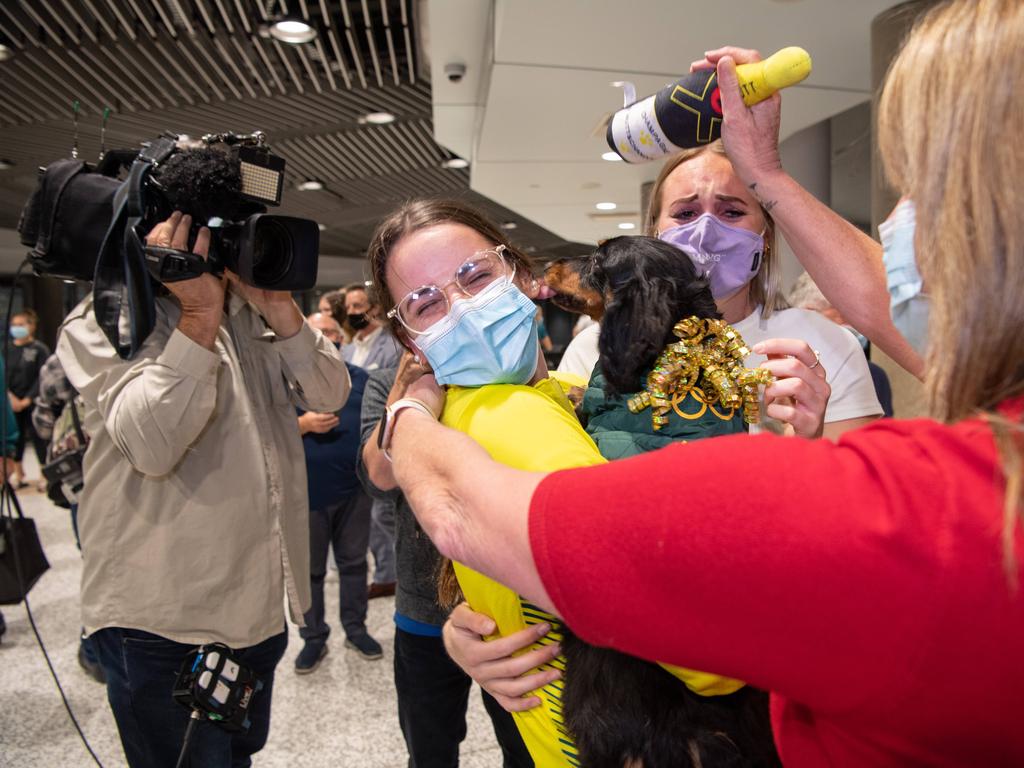 McKeown's family, including her dog, Ottis, were on hand to greet the champion at Brisbane airport. Picture: Brad Fleet/News Corp Australia
*****
Bohl initially warned McKeown against joining him.
Working with Chris Mooney on the Sunshine Coast had been a dream partnership and McKeown could easily have followed him when he moved to Bond University.
Still, she made the decision to look around.
"I really do believe that to move forward and grow you really do need to step out of your comfort zone sometimes," McKeown said.
She ended up at Griffith University on the Gold Coast with Bohl - one of Australia's greatest swim coaches who was the mastermind behind Emma McKeon's record-breaking feats in Tokyo.
"She didn't have any intention of coming and training with us, it just happened," Bohl said.
"She wanted to be around other people that were on the Australian team. I tried to encourage her actually to stay on the Sunshine Coast and stay with the new coach that was coming in there.
"But as it turned out her mother made the decision that she wanted to uproot from the Sunshine Coast. I think that was probably the driver for her to come back down to the Gold Coast and move in with our group."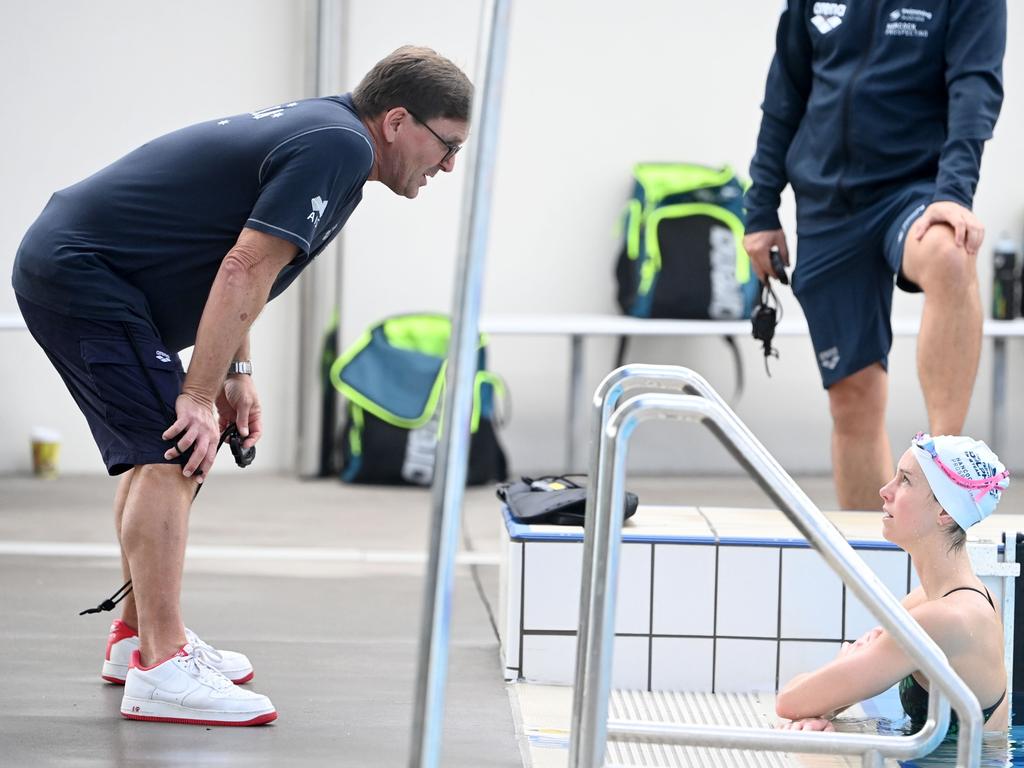 Michael Bohl coached Australia's other Tokyo golden girl, Emma McKeon, through her incredible campaign. Picture: Delly Carr/News Corp Australia
The move is already paying off.
A new environment surrounded by Olympic medallists has proven the ideal place to rehab her shoulder and improve as an athlete.
In her first meet since the Olympics, the Victorian Open Championships in February, McKeown comfortably won the 100m and 200m backstroke.
Her time of 2:04.64 in the 200m was the seventh fastest of all time.
"I get behind the blocks and I have that competitive streak in me and you never really lose that," McKeown recalled. "To touch the wall and see a 2:04, I wasn't expecting it at all. It gave me confidence in myself that I made the right move coming down to the Gold Coast and I have full faith in the program I'm in."
McKeown won't be resting on her Tokyo performance, and is already looking ahead to the Paris Olympics in 2024. Picture: Clive Rose/Getty Images
It will take more than just a competitive streak to defend her Olympic titles in 2024.
Bohl has planned a massive schedule for the 20-year-old this season - World Championships into Commonwealth Games before the returning Duel in the Pool in late August. If her body allows it, there will then be scope for McKeown to compete in World Cups and the World Short Course Championships to be held in Sydney at the end of the year.
"She's 20 years of age, she hasn't raced a lot," Bohl said. "Kaylee needs a lot more exposure to international racing and that level of excitement, she still needs to gain a lot of that experience.
"She was keen to race as much as she could through this year, provided her shoulder was okay."
It's all designed to give McKeown the platform to improve for the Paris Olympics. Bohl has seen first hand how difficult it is to defend a swimming gold medal.
He believes she has what it takes to buck the trend.
"We haven't got a good history of having swimmers backup from one Olympics to the next," he continued. "If she swims at the same level she did in Tokyo, I don't think she's going to be on top of the podium come Paris. You can't get complacent. You've got to keep striving to get better."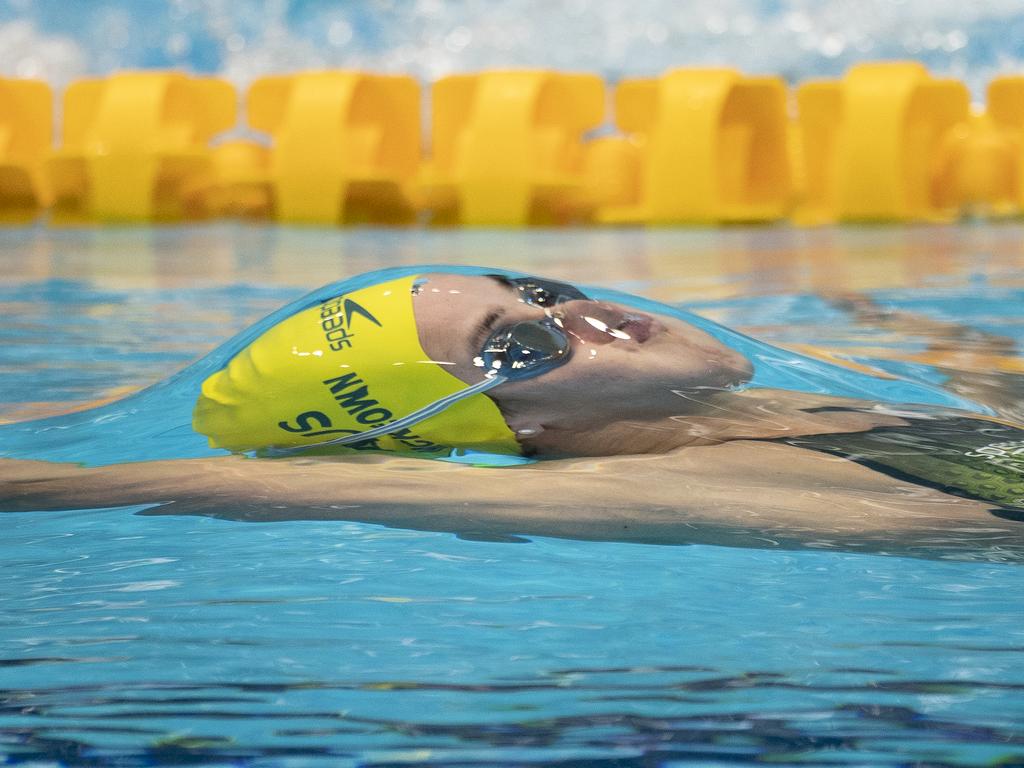 McKeown has a huge program of swimming, with the World Championships and Commonwealth Games both before August this year. Picture: Tim Clayton/Corbis via Getty Images
McKeown is up for the challenge.
She refuses to dwell on her Tokyo achievements.
Her new journey starts at the Australian Swimming Championships in Adelaide on Wednesday.
"People keep saying to me, 'Has it sunk in [that] you're an Olympic medallist?' and I say that it hasn't because I know I have more to give," she said.
"Moving forward, I want to maintain being one of the best athletes in Australia and the world. I want to look back at history and think I was a part of that.
"I was that person chasing number one and I know what it takes to get there. Now I've got to figure out what it takes to stay there."