Olympic hockey player Rosie Malone relives horror finger injury
An Olympic hockey star has detailed the moment a teammate held her finger together and revealed she still plans to feature in the Commonwealth Games. WARNING: GRAPHIC CONTENT
Olympian Rosie Malone says she is unsure what the immediate future holds after she almost severed a finger playing hockey.
Despite almost severing her finger in a horror hockey incident a week ago, tips from a leading sports mindfulness coach have Olympian Rosie Malone optimistic she will take the field at the upcoming World Championships and Commonwealth Games.
Malone, 24, was playing in the trans-Tasman series in New Zealand when the horrific injury happened. The Tokyo Olympian said it unfolded so quickly she didn't even have time to move out of the way of the flying hockey ball.
"When I saw the New Zealand player line up for a tomahawk I didn't have much time to get out of the way, by instinct I raised my stick to protect my face and the ball struck my fingers," Malone said.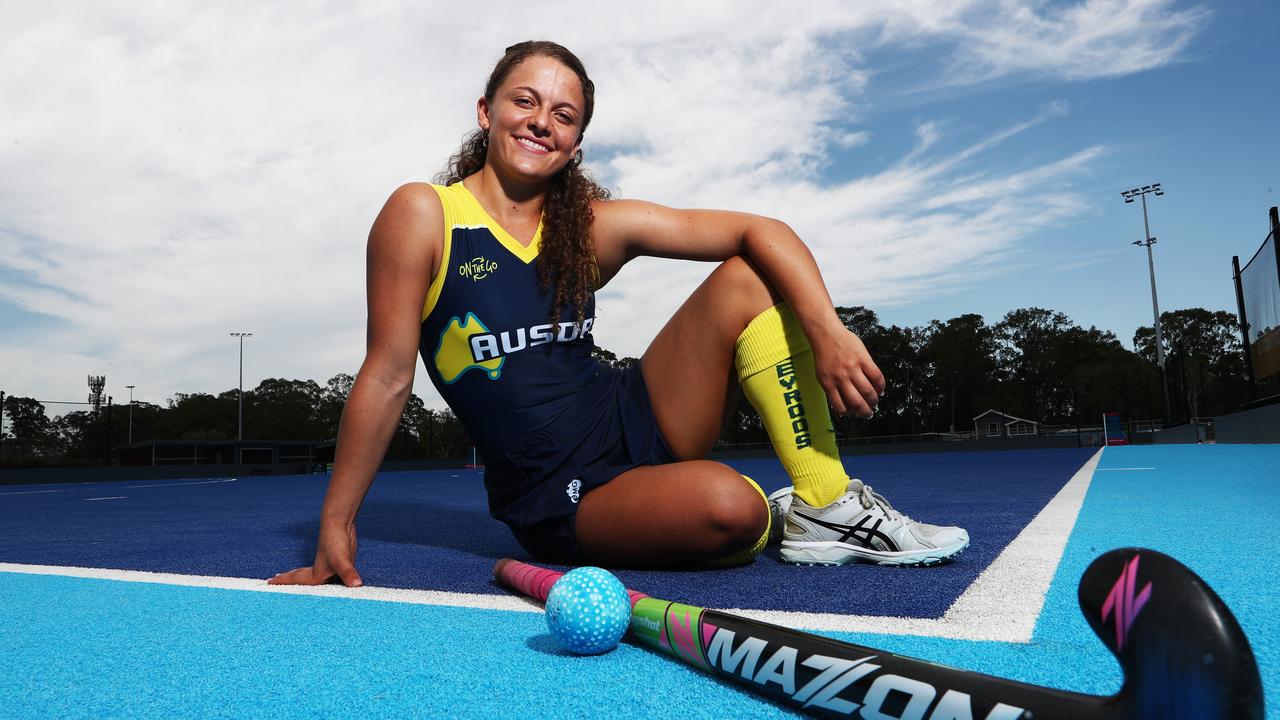 Olympian Rosie Malone at the Gold Coast Hockey Centre Photograph: Jason O'Brien
"I freaked out, I dropped to the floor crying, rolling around, I was lucky a teammate came to hold my finger together."
Malone was taken to hospital, given pain medication, lots of needles and more than 20 stitches to put her finger back together.
It is the second time in 10 years Malone has sustained a similar injury to the same finger
Before the injury Malone had spent the day working with renowned mindfulness coach Emma Murray.
Malone said it was Murray's tips, techniques and story that helped her put her injury into perspective and find a silver lining.
"I was in the change room, Emma was helping get me dressed for the trip to the hospital. I was crying, thinking how bad it was, wondering when I'd use my hand again, if I'd play hockey again when it clicked who was in the room with me," Malone said.
Murray's teenage son was left a quadriplegic after jumping from a pier in 2016.
"It was the reality check I needed," Malone said. "
"I said to myself, 'her son is a quadriplegic and you are crying about a finger'. It put things into perspective."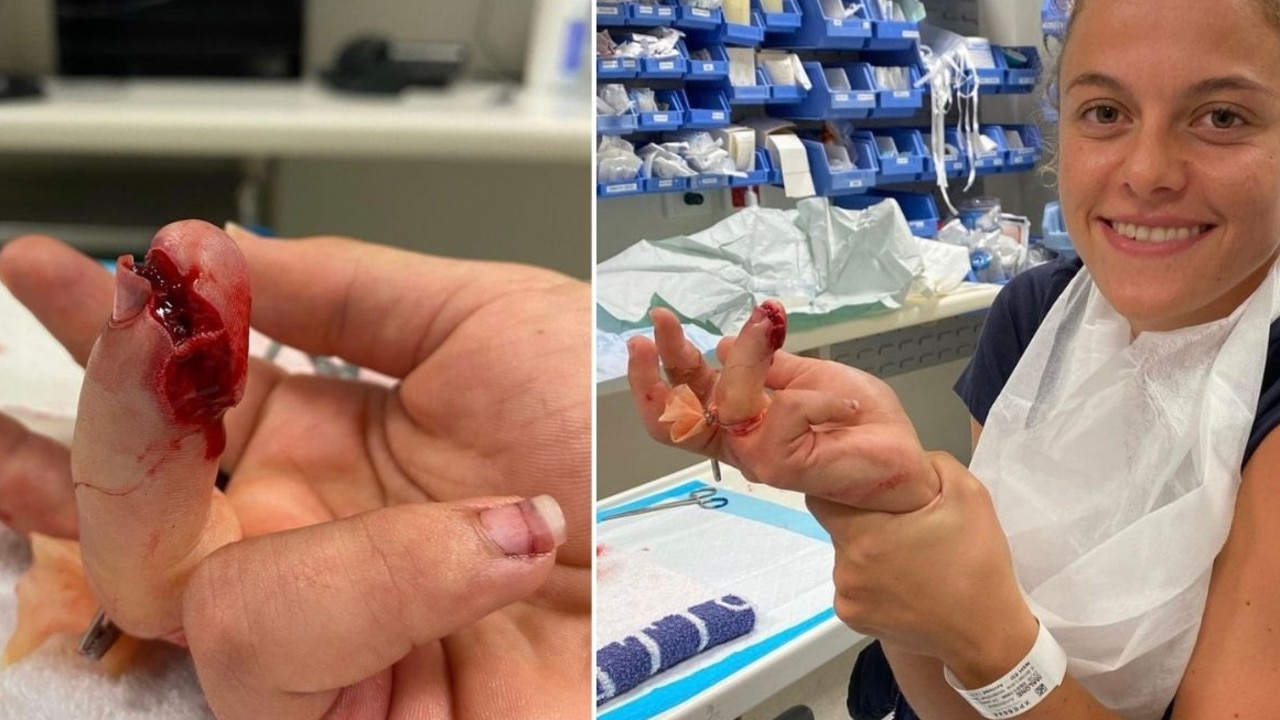 Rosie Malone in a New Zealand hospital after sustaining a horror injury to her finger during a game. Photo: Instagram
The incident has given the talented forward a new outlook on life and appreciation for how lucky she is to be healthy and able-bodied.
She will never take the ability to do even the most simple tasks like brushing her teeth or washing her hair for granted again.
"I am feeling better now than what I was initially. When I first looked at my finger I was in shock. Once I got over the shock, the pain and the tears I began to think about when I'd be able to play hockey next," Malone said.
Now back home in Perth Malone has had her first check up with the local doctor, plastic surgeon and hand specialist.
They say she will be right to pick up a hockey stick again in two to three weeks and back to training a few weeks after that.
The plane for Worlds and the Commonwealth Games leaves on June 17 and Malone is determined to be on it.
"I don't care what it looks like or how painful it is, I'm not missing these opportunities if I'm selected," she said.
Malone has been putting Murray's mindfulness meditation tips to use every day and night, telling her body to heal as quickly as possible.
She said she was very grateful for the support she received from her teammates and Hockey Australia.
OLYMPIAN SHARES HORRIFIC SEVERED FINGER PHOTOS
Tom Boswell and Erin Smith
Olympian Rosie Malone says she is unsure what the immediate future holds after she almost severed a finger playing hockey.
Malone was playing for Australia against New Zealand in Auckland as part of a Trans Tasman Series last night when she was struck on the finger by the ball in the second quarter.
"Last nights match started so well as I was feeling so much freedom and enjoyment playing out there with the girls, but sport is unpredictable and things can change quickly," Malone said in a social media post.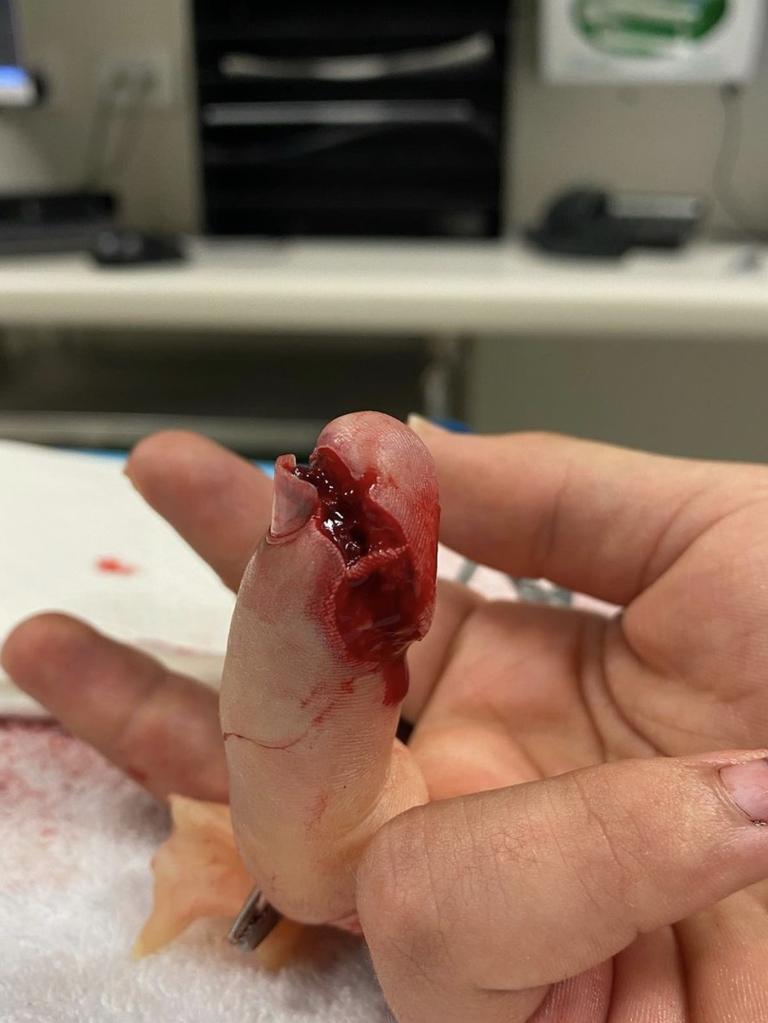 Image of Malone's hockey injury
Image of Malone's hockey injury
"So when a ball connected with my finger, that great night quickly turned into an emotional roller coaster when I had to try comprehend an almost fully severed finger.
"Then followed a long wait in hospital, a tetanus shot, 20+ stitches, lots of blood, happy gas x100, some painful as needles, too many tears, antibiotics and some amazing people who were there for me.
"Not sure what's next, but for now, my hand modelling career is definitely on pause."
The Hockeyroos went on to win the second clash of the series against the Black Sticks 2-1.
Captain Brooke Peris, who scored the side's two goals, said the win was bittersweet considering Malone's injury.
"Sadly Rosie got injured and you never want to see anyone you care about go down. But she will bounce back in no time," Peris said.
Image of Malone's hockey injury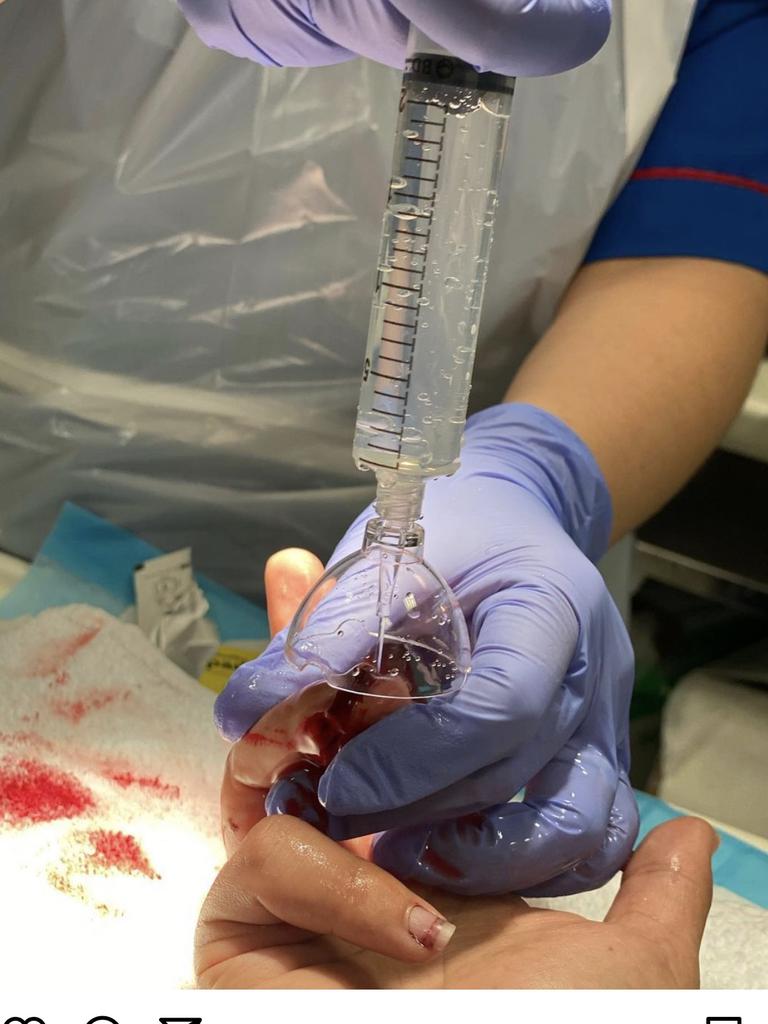 Image of Malone's hockey injury
Hockey Australia High Performance Director Bernard Savage said he was hopeful Malone would be fit in time for the World Cup and Commonwealth Games.
"Rosie is in good spirits this morning. Positively there is no fracture or major structural damage to her finger. Unfortunately Rosie will now sit out the last two games of the series," Bernard said.
"We expect Rosie will have the stitches in for 10-14 days, with her return to training managed by our medical staff led by Doctor Peter Steele. We are confident Rosie will make a full recovery and be in contention for World Cup and Commonwealth Games selection."
Originally published as Olympic hockey player Rosie Malone relives horror finger injury