Smiling assassin Mackenzie Little's quest for a perfect start to her javelin throws
Mackenzie Little's javelin opponents are often puzzled by how happy she looks during competition – but there is a method behind the cheerfulness, writes TILLY WERNER.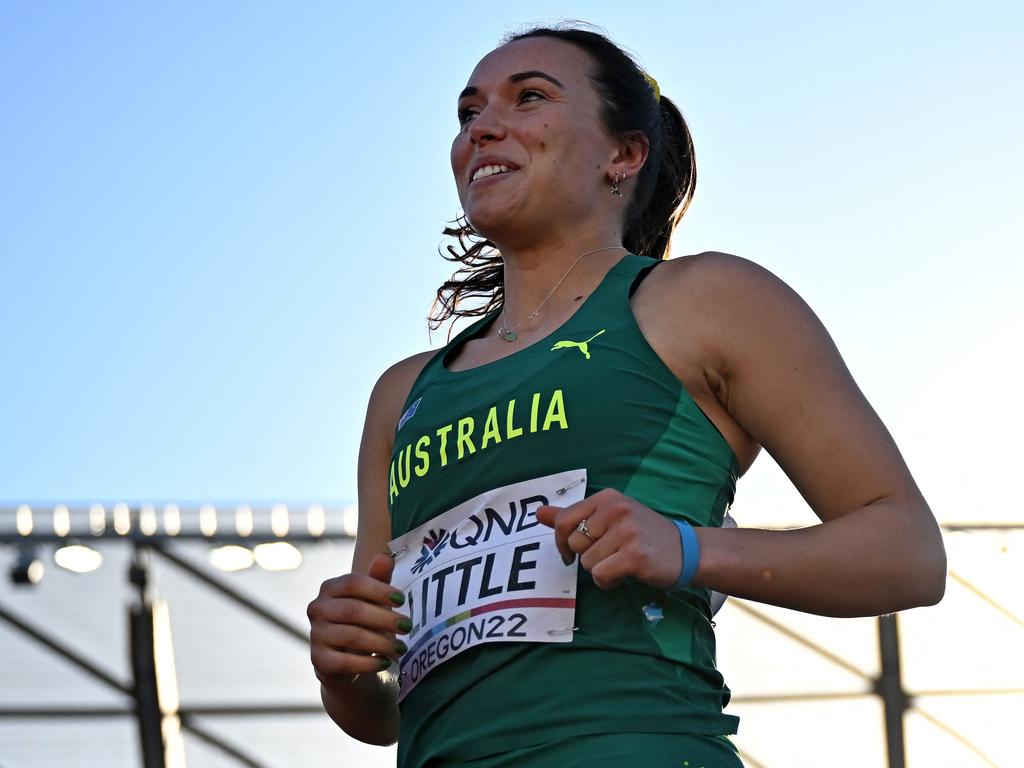 Mackenzie Little's smile sends a stern warning to her javelin competition when she steps into the arena. Picture: Ben Stansall/AFP
Mackenzie Little's smile enters an athletic arena before she does.
You could be forgiven for thinking it's a threat she's sending to her javelin rivals, so confident she appears in her ability, how genuinely happy she is to be on such a stage.
While the competition around her is filled with furrowed brows and narrowed eyes, focused on the 36 metre length of track in between them and glory, Little's smile glows in stark contrast.
The truth is far less menacing. In fact, knowing her different smiles is the quickest route her competition could take to figure her out.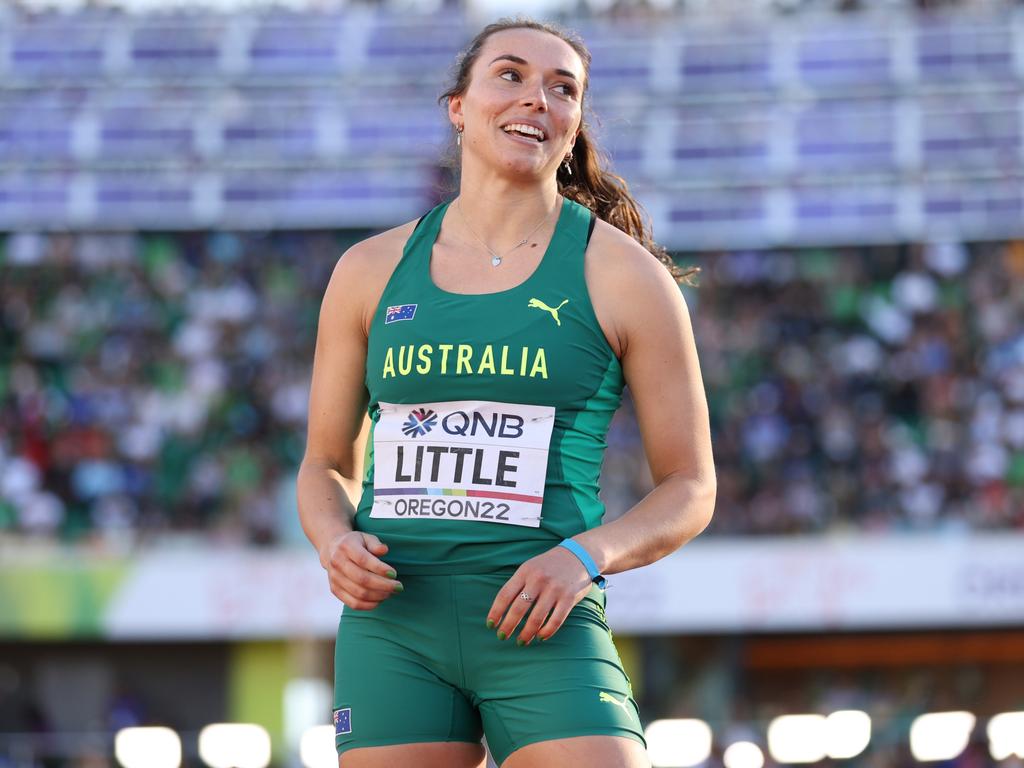 Mackenzie Little has plenty to smile about as she climbs the world ranks of women's javelin. Picture: Ezra Shaw/Getty Images
The 25-year-old, who will have her best chance yet of a major event podium finish this Sunday in Birmingham, laughs off the misconception that her painted-on grin is a mark of self-assurance.
It's actually a nervous tic.
"The shy, waiting for the score to come up smile, that's the ideal smile you'll see in competition," Little says.
She's not a thrower who can tell when the spear has left her hand if it is a season's best release. While the difference between Little's good and great is significant, great and perfect is almost indiscernible to her.
"Some people are really good at knowing how far it's going, I'm just not one of them," she laughs.
"You can tell the difference in my smile when I do a good throw, it's a, 'Keep it calm, you'll see the result in a moment, don't freak out' nervous smile."
That's the smile to watch out for. It's the one that crept across her face after the opening throw at the World Championships last month in Oregon.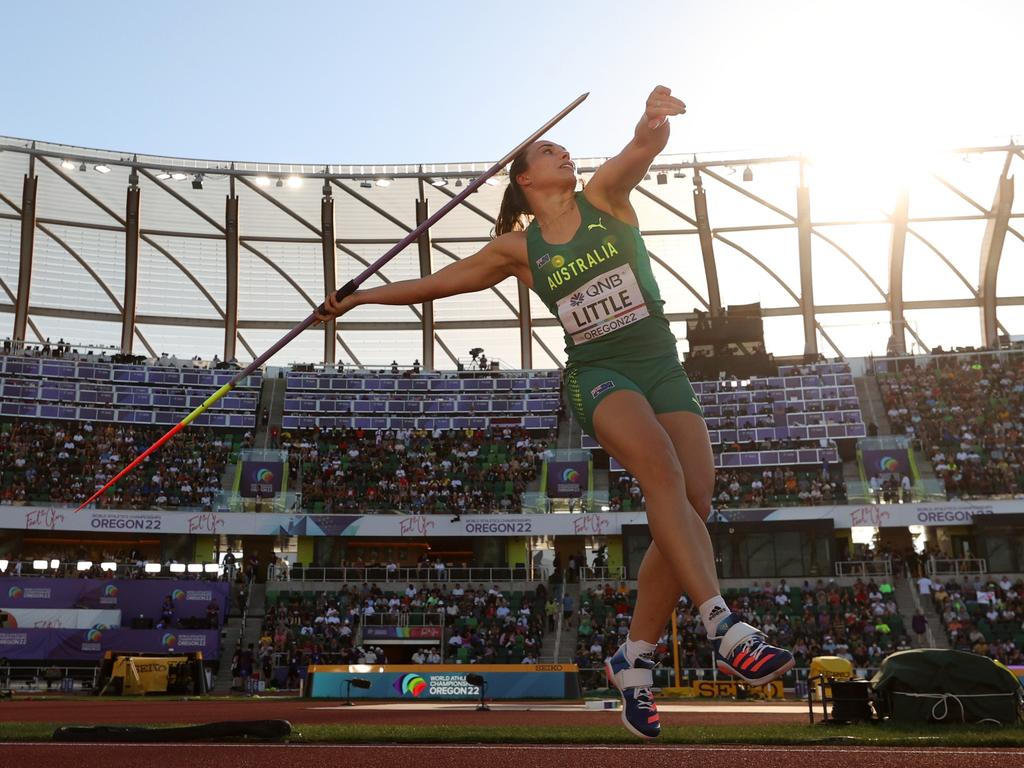 Little stunned with an opening round throw of 63.22m, over four metres further than she threw in the qualifying round at the World Athletics Championships. Picture: Ezra Shaw/Getty Images
After scraping through the qualifying round at the final non-automatic qualifier, Little and her coach Angus McEntyre felt she needed to put down a marker to stamp some authority over the competition.
"That was 100 per cent Angus' plan. He said, 'You have to make a statement on the first throw, that's the only option here'.
"In the first round I didn't feel energetic, I was sapped. But luckily I got another chance and I just immediately felt much better that morning."
It's rare for throwers to have two sessions in such quick succession, and knowing that she was going to have to turn things around to challenge the leaders, Little focused on recovery, putting performance out of her mind.
"You wouldn't usually throw 48 hours after a competition so that was challenging in itself but we made use of the ice bath and the pool," she says.
"I'd tried to get a good rest and to switch it on and feel excited but the final, it was just a better day.
"Angus could tell we were in for something good the morning of the final. He was like, 'Ahh yes, back to normal'."
Everything appeared to fall into place for Little in Oregon. Picture: Ezra Shaw/Getty Images
An opening round throw, and new personal best of 63.22 saw the smile go from nervous to joyous.
"I like to throw my best on throw one. With the first throw, I can think of the most basic of cues that I need to be focused on.
"You don't have to think about putting more effort in or being more or less technical, just get that one thing right."
It's been a key point of focus in training since her Olympic debut in Tokyo. Fast and hard early, set down the marker for the competition and keep the fingers crossed no one can catch up.
"The last couple of years I've gotten better at that, throwing big first. This season we tried to actively work on building through the competition and having a good 4, 5, 6. I'm still working on it."
In Oregon, Little was unable to better her opener, but she finished the competition – her first World Championships – in fifth place, and 5cm off a medal. There was little to be disappointed with.
"You could definitely tell that at the World Champs, I made it a more spicy competition. It took them a couple of rounds to respond but they came hard at that target. It was an incredible experience all-in-all."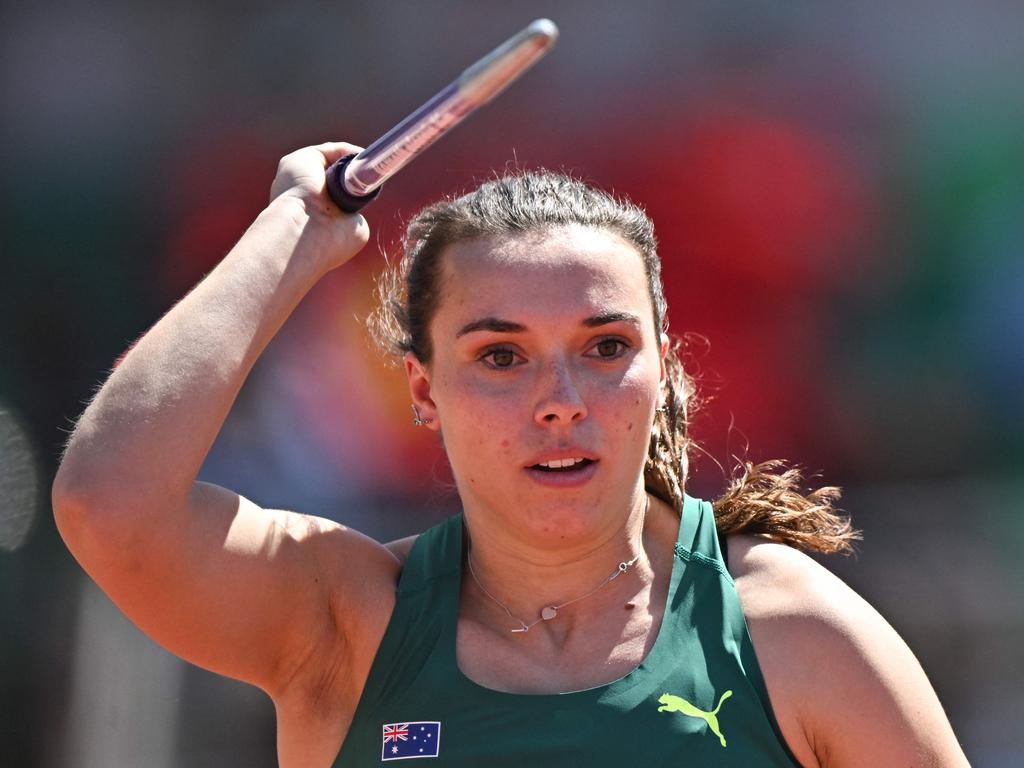 Little will be hoping to continue her strong form in the women's javelin final at Birmingham 2022 this Sunday. Picture: Andrej Isakovic/AFP
Little will be looking for a few more nervous smiles in Birmingham, while her competition should be hoping for wider ones.
"It's a bit of a misunderstanding, people often say it to me, that I look like I'm smiling or laughing all the time but that's really only after poor throws," she explains.
"When you release a bad throw, like I know it's bad. There's really nothing else you can do other than to laugh it off. If I immediately react to a throw it's usually because it's a bad one!
"You would have seen that smile in my second throw at the world champs – it went completely vertical.
"With javelin, you can't try harder to make it go farther. It doesn't work. You just have to have the technique down pat."
She knows that her debut Commonwealth Games are an incredible opportunity. Fellow compatriot Kelsey-Lee Barber, who defended her 2019 world title in Oregon, will be the only competitor in Sunday's final who finished above her two weeks ago.
Barber's bout (though asymptomatic) of Covid on arrival in the UK leaves the door open for Little to close the gap towards a medal.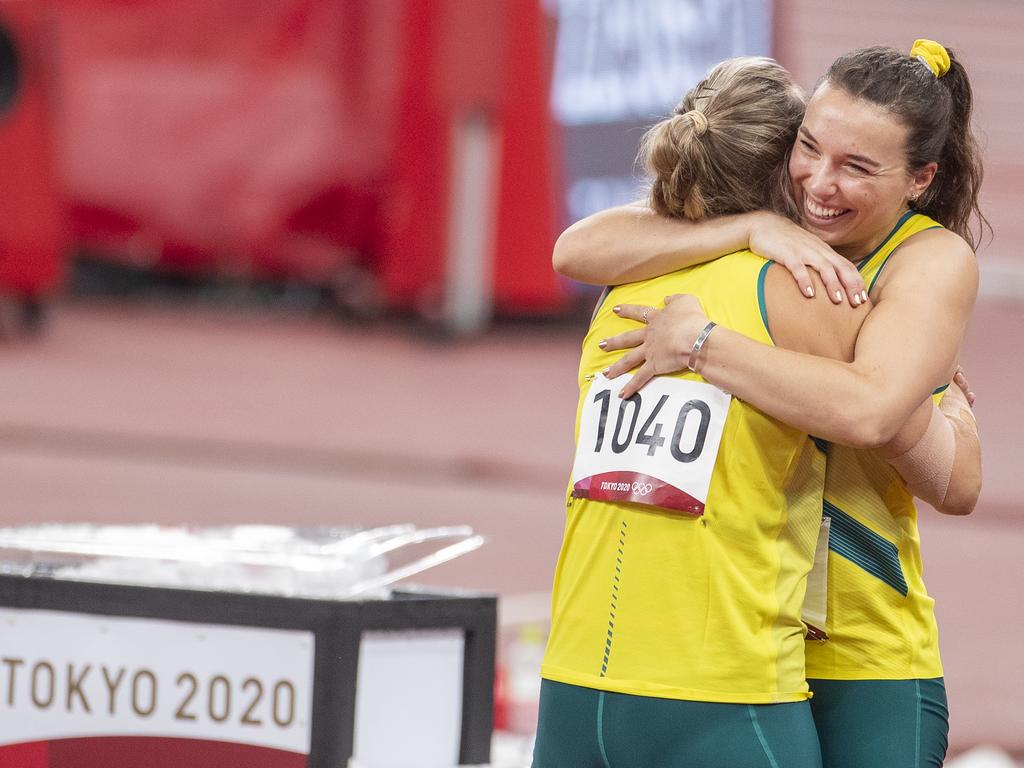 Little was on hand to congratulate fellow Australian Kelsey-Lee Barber when Barber won bronze at the Tokyo 2020 Olympics. Picture: Tim Clayton/Corbis via Getty Images
"I'm pretty confident that I can perform relatively consistently. I'm confident that I will have the extra competition energy that I need. I just hope I'll be able to channel the nervous jitters into some more explosive movements."
She takes the same approach going into this competition, throwing hard early, challenging her competitors to play catch up.
"For Comm Games I'm hoping that I'll be able to produce the same, hard early and make the competition more spicy," she says.
"I'm trying not to think about too much other than executing a good throw and having a good time. The two things I can control."
That's the one, consistent smile you can count on Little to bear, a look of genuine enjoyment.
"No matter what happens in competition, if I can look back and say I've had a wonderful time and am grateful for being here then that makes it a lot less stressful," she says.
"That's a much healthier competition mindset for me, enjoyment. Usually, if I'm happy with how I have thrown, I am smiling at the end."
Regardless of Sunday's results, there's plenty for Little to look forward to.
With a shortened cycle between next year's World Championships in Hungary and Paris in 2024, Little is coming into career-best form at the perfect age for a thrower.
"Paris will be at a really good time for me. Next year there will be another world champs and if I can keep this trajectory, that's perfect.
"I got to compete in Paris at the Diamond League meet there earlier this season and it was really fun, I would love to be there in a couple of years. I'll be 27 so that's a near perfect spot for a thrower."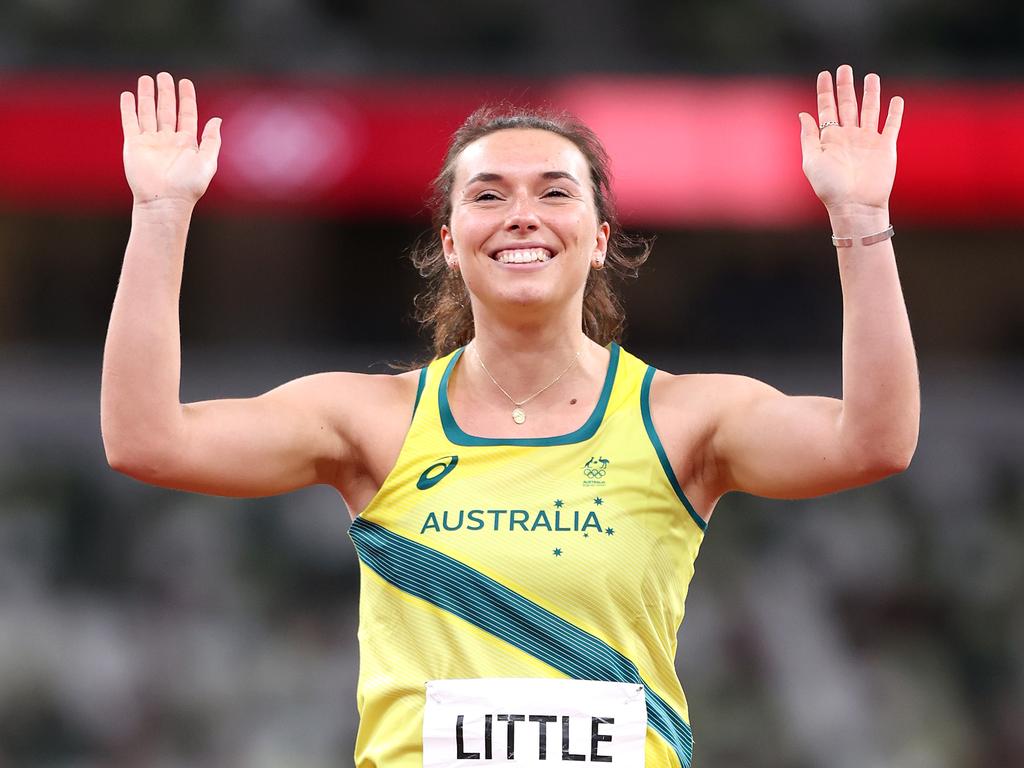 After her Olympic debut in Tokyo, Little is already looking ahead to the 2024 Olympics in Paris. Picture: Michael Steele/Getty Images
While the year's world leading distances have been down since the astronomic lengths of the 1980s, before specifications shortened and closer attention was paid to an athlete's testosterone levels, Little is confident that there's no ceiling to how far she, or any woman currently competing at the top level can throw.
"It's impossible to say what women in general are capable of but I'd like to think in javelin that it's a lot," Little says.
"There's no reason why the girls can't be throwing really far. For me, I know now that I can throw 63 and a bit so there's no reason that can't be 64 and a bit, or 67 and a bit. There are plenty of points for improvement.
"We're nowhere near the stage of running out of ideas on how to get better, which excites me."
That's the most important smile we can see from Little, the excitement in being where she's worked so hard to get to, and in knowing how much further she can still go.