Super Bowl LVI: David Hill applied lessons from Australian sport to revolutionise coverage of NFL, EPL
David Hill learned from Rupert Murdoch, Kerry Packer and Ron Casey to transform US and UK sport coverage, writes GERARD WRIGHT.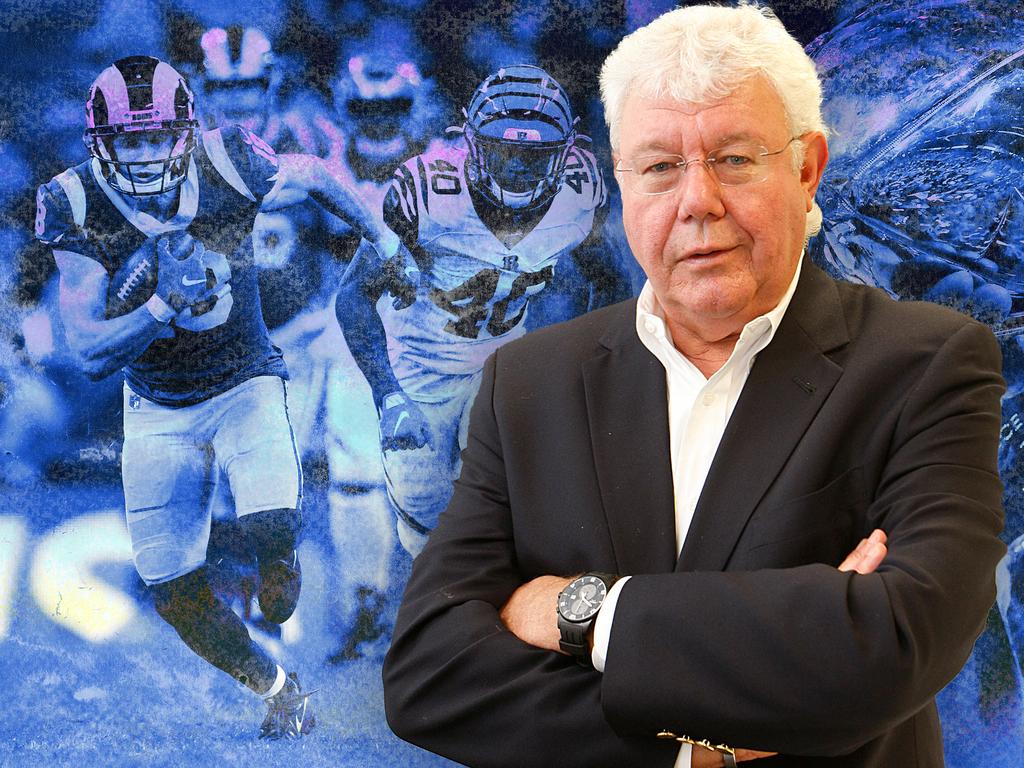 Aussie David Hill permanently changed the way we watch the NFL.
New Orleans, Sunday, February 3, 2002: There were the four living ex-presidents and Nancy Reagan, the sainted wife of the fifth - they provided the pre-game narration for the immortal piece performed by the Boston Pops Orchestra, on the playing field of the Superdome. It was Aaron Copland's Lincoln Portrait, written in 1942 to soothe and inspire a nation under attack.
Understand the history, David Hill was told, back in Melbourne, all those years ago, and you have the story.
There was Mardi Gras, the sacred New Orleans bacchanal, negotiated forward by two weeks to align with the even larger event, the National Football League's championship game, known in the league's argot as Super Bowl XXXVI.
There was Paul McCartney, at rehearsal. And here is David Hill, meeting him at the 50-yard line on the playing surface of the SuperDome, which, in due course, would provide shelter from an apocalyptic storm, walking him to the place where the stage will be: step out straight, make a left turn here, then a right here; as you climb the steps to the stage, hold your guitar aloft in your right hand, like you did at Shea Stadium in 1965.
"Why am I doing this shot?" McCartney wondered aloud. Then he turned and looked at his guide. "Hey! You're Australian! What's an Australian doing running the most American of shows?"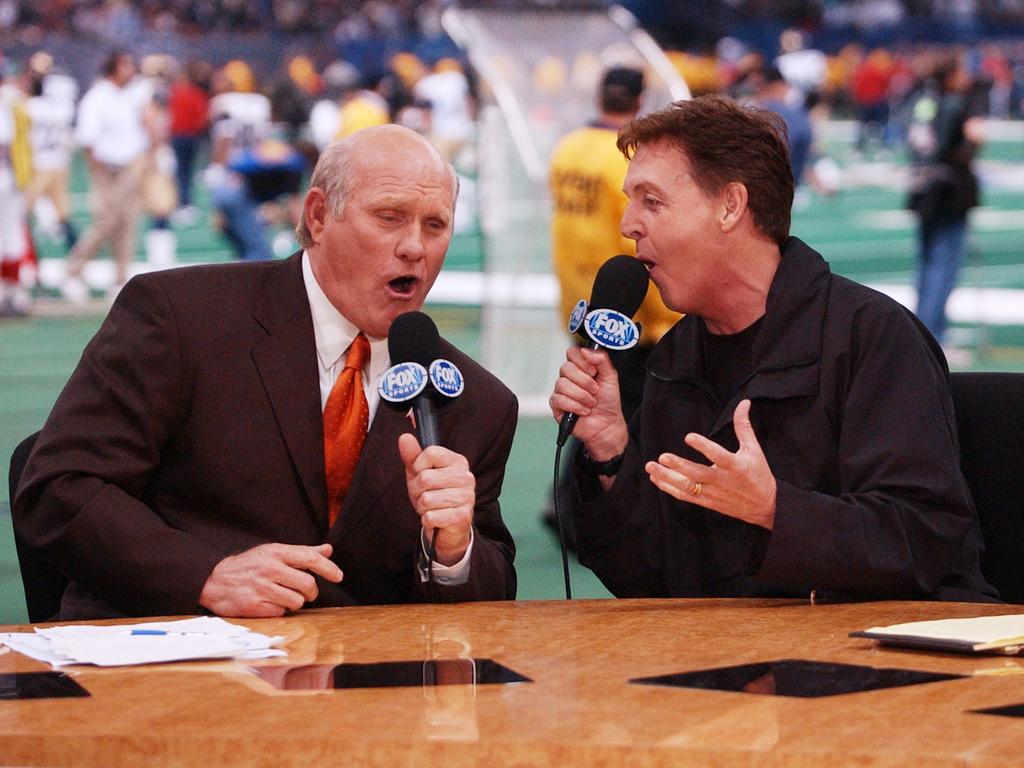 Paul McCartney delivered the 2002 Super Bowl halftime show, including a spontaneous rendition of 'A Hard Day's Night' from the commentary desk. Picture: KMazur/WireImage
Much more a show than a mere sports event, but a game of footy, nevertheless. That Super Bowl was also a national gathering, a chance to mourn and honour and celebrate. There had been memorial services and congressional hearings, bombs launched into parts of Afghanistan no one had ever heard of, and funerals, hundreds and hundreds and hundreds of funerals. David Hill had attended one of them, for his friend Woody Woodward, working that Tuesday morning of September 11, 2001 in one of the twin towers that were targeted and destroyed by terrorists aboard two hijacked passenger planes.
All of this was shown on the Fox network in the lead-up to the game, with the presidents and Nancy Regan reading lines from the speeches of Abraham Lincoln - "As I would not be a slave, so I would not be a master. This expresses my idea of democracy." With the Boston Pops squeezing hearts and tear ducts. It felt like an ecumenical service.
Ten years earlier the Fox network barely existed, its signal available on a handful of small stations reaching maybe half the country, its owner barely surviving a corporate near-death experience, then pivoting and charging into the fray again, buying the broadcast rights to the fledgling English Premier League for $750 million, and then the behemoth NFL for an unheard of $2.2 billion, and so allowing David Hill a multi-dimensional canvas to show his adopted country.
And so, in answer to your question about what an antipodean was doing, conceiving, directing and choreographing all this?
Well that, my good knight, is a long story.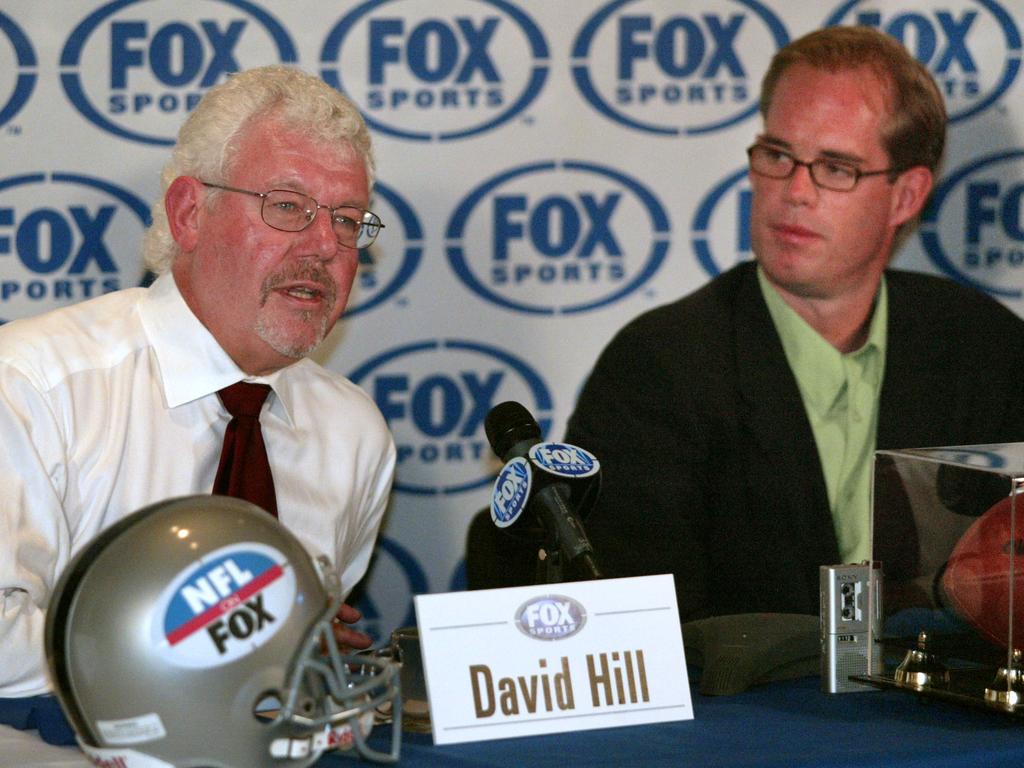 Then chairman and CEO of Fox Sports Television, David Hill, in the week before Fox Sports broadcast the Super Bowl XXXVI. Picture: Scott Gries/ImageDirect
The lessons of Ron Casey
Its centrepiece is Hill, still bluff and boisterous and fully employed at 75, the Dionysian curls of his heyday now subdued into unruly waves of white. His complexion speaks of the price his liver paid in wooing all of those chairmen of all of those English first division clubs over to the Murdochian vision of a Premier League 30-plus years ago, a single domino that would start all the others toppling, so that News begat Sky begat Fox, multiplying the fortune and influence of Rupert Murdoch many times over. It put a distinctive, occasionally flawed, but unmistakable Fox tone to sports as diverse as gridiron football, ice hockey, motor racing and baseball. All of them bearing the invisible signature of Hill, the non-university educated, mathematically dyslexic, ADHD-coping son of a Newcastle coal miner.
Before all that, before even the conception and midwifing of World Series Cricket, which would upend every notion of how and when cricket would be played and viewed, transforming Kerry Packer from heir to mogul in the process, there was the lesson Hill learned from the occupant of the office of the general manager of HSV-7, at Dorcas Street, South Melbourne.
"Ronald Patrick Casey". Hill pronounces the name of the Seven boss, who doubled as the host of World of Sport, a Melbourne institution so fixed that the city's churches learned to curtail their 11am services in order that the faithful could be home in time for the program's midday start, like an MC beginning a toast. With the other boldface names of his career, it will be "Kerry", or "Rupert" (and, with some disdain "Alan Bond"), but for this man, and the lifelong lessons he imparted, it's "Ronald Patrick Casey".
Ron Casey (L) enjoying a meal with champion marathon runner Robert de Castella and Australia's 22nd Prime Minister Malcolm Fraser. Picture: NCA
In the World of Sport chair, Casey seemed like a benign, vaguely authoritative figure around whom something approaching anarchy revolved.
It being Melbourne, World of Sport focused on footy, footy highlights, footy interviews, footy skills, racing, the woodchop, the tug-o-war, usually pitting two teams from country pubs at either end of a stout rope, lawn bowls, some cricket and the trots. Hill was the newly-installed producer with an uncommon background: a former political reporter, and Daily Telegraph cadet whose last formal schooling was his leaving year at Normanhurst Boys High School, headhunted from an ABC sporting current affairs program, when Casey summoned him to his office on a Monday morning.
This was the mid-70s, a different era. Casey had a cigarette and a glass of brandy and dry keeping each other company on his desk. It was time for his charge to receive a status report, and a primer.
All was well. The crew liked him, the staff liked him, the present-day and ex-footballers enjoyed working with him, as he loved listening to their stories when they repaired to the green room and its stash of Victoria Bitter cans, after each show.
But there was a lesson Casey felt it necessary to impart.
It was rhetorical, even fanciful, but it stuck.
"Do you realise that when every male is born they believe that God presses his finger to their forehead and puts into their mind everything you can know about sport," Casey said.
"If one bloke is talking to another bloke and doesn't know what's going on in sport, his balls drop off. So the reason they watch this (World of Sport) is to gain nuggets.
"Tomorrow morning, the nuggets that they pick up from watching World of Sport, whether it's at a boardroom, a mine, the factory or the university, they trot them out as their very own. And that's what we're giving them, we're giving them nuggets of knowledge about sports that they create as their own narrative."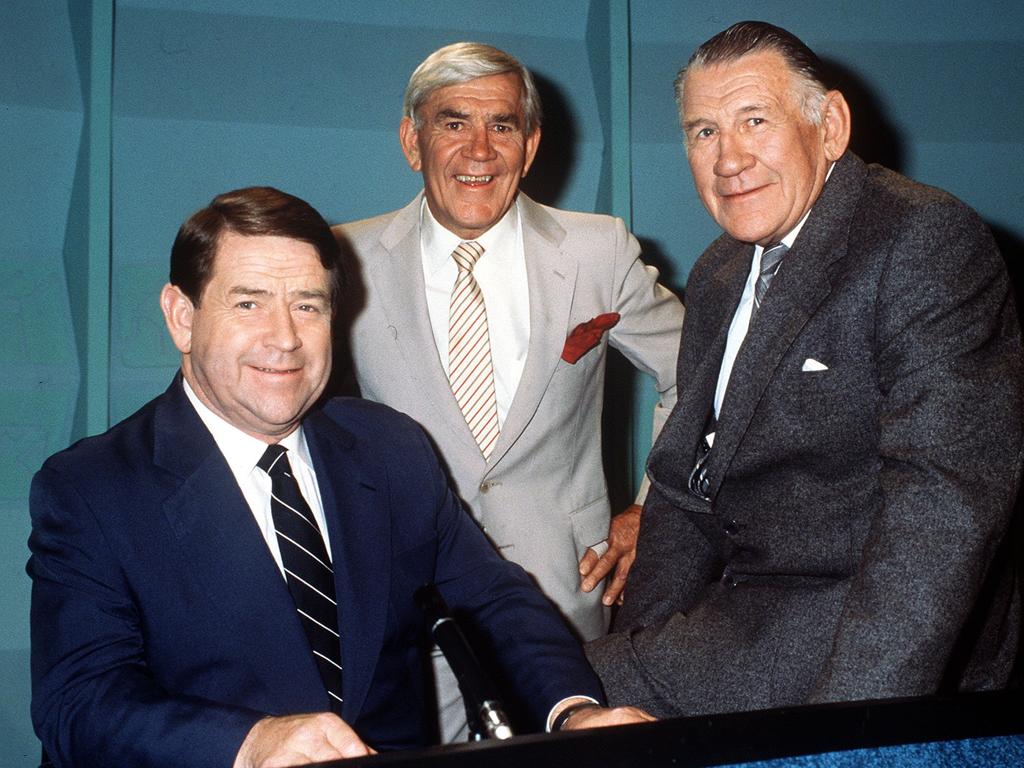 Ron Casey, with World of Sport's Lou Richards and Jack Dyer in 1978. Picture: Robert Cianflone/ALLSPORT
Hill took up the lesson: "And that understanding, of why guys watch sports television, has stood true in Australia, in Britain, in France and the United States of America, and it all came from Case."
Something else Casey, who died in 2000, aged 72, passed on, which Hill also used as a touchstone.
"He taught me to look at a sport, and understand where it came from," Hill said. "Unless you know your history, you don't know why it's happening. If you don't know why, how can you make it better?"
With that, he rose from the couch and walked towards a built-in floor-to-ceiling trophy case. It was laden, top to bottom, side to side with gleaming acknowledgements of five decades of sports coverage accolades - 26 of them on five shelves.
Hill bent slightly and rummaged, one trophy and then another, moved aside like so many oversized chess pieces, and then presented his find, the 2017 Radio-Television Award from the Pro Football Hall of Fame, drawn out from behind a NASCAR broadcasting trophy.
"Every job that I've done, I've always thought about Ronald Patrick Casey in terms of going back into the history of the sport," he said. "It was finding out how American football started, and finding out it was a cross between soccer and rugby union, and as soon as I understood that, I knew how to cover it, and that was thanks to Ron. And so, in a way, I owe that award to Ronald Patrick Casey."
Packer vs Murdoch
Hill lives in a comfortable, sprawling home in a coastal suburb of Los Angeles, its exterior guarded by three massive eucalypts, its location an acknowledgement of the ancient LA commuting dictum that it's always preferable to live west of where you work.
Work was in Century City on the film, production and TV administration lot of 21st Century Fox. It sits next to Fox Plaza, AKA Nakatomi Tower from the first movie in the Die Hard franchise. The online arm of Fox Sports briefly dwelled on an upper floor. The troops would occasionally be assembled for the reading of a hero-gram from Hill, "typed as fast as my fat little fingers can manage".
A belatedly-diagnosed case of Attention-Deficit/Hyperactivity Disorder (ADHD) helps explain Hill's answer to a question about schooling and the lack of a university education in his CV during a 2009 interview with the Institute of Electrical and Electronics Engineers.
Normanhurst, in Sydney's northern suburbs, was a selective high school. "It was - it was very tough," Hill said. He believes he was and is mathematically dyslexic, an unwelcome revelation to his father Ernie, who worked in what was known as the Open Hearth, the furnace which made the pig iron feeding BHP's steel plant in Newcastle, and then put himself through an accountancy course at night.
The transformation from 4F for remedial English students, to 5A, for the bright kids, he traces to an English teacher who summoned a love for words and reading, which continues to this day. During that 5A year, his Sunday afternoon habit was to write job applications to the four Sydney dailies, the Sydney Morning Herald, its afternoon stablemate, The Sun, the Daily Telegraph and its PM housemate, the Daily Mirror.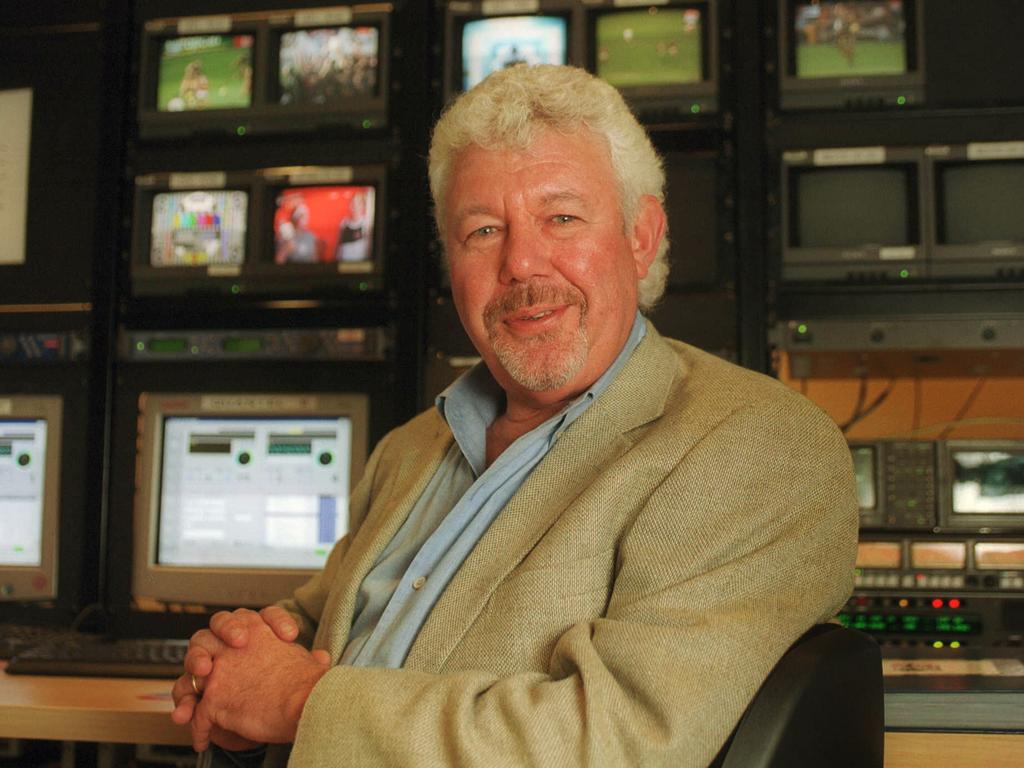 David Hill kicked off his media career with a cadetship at The Daily Telegraph. Picture: NCA
The Tele responded the day that Hill completed his leaving economics exam, offering a cadetship with an immediate start. A cadetship was the newspaper equivalent of an apprenticeship, albeit with lower pay, worse prospects, but an arguably more interesting worklife. Hill fetched cups of tea and sandwiches for his betters, ferried bits of stories from one part of the Consolidated Press building on Castlereagh St. to another, and ran bets to the local SP bookmaker for senior members of staff.
He considered the work he had done in newspapers, ABC radio and TV, commercial TV political reporting, then sports producing as an extended tertiary education unto itself. One day in April, 1989, he said as much to the-then 21 year-old James Packer, as they drove back to London from the offices of Eurosport, Rupert Murdoch's fledgling satellite network that ran alongside his local property, Sky Television.
Kerry Packer, wallet recently fortified by Alan Bond's $1.2 billion purchase of the Nine Network, was in London to gamble and show his son around. The visit included an inspection of the Eurosport operation.
Packer and Murdoch had been fighting, Hill remembers, but Murdoch recognised an opportunity when it presented itself. So what follows is Hill's recollection of "the most amazing night of my life".
"Rupert says to me, 'Right, I'm gonna drive him (Packer) back to London. You take the kid. We'll do dinner tonight in St. James, in that pub just around the corner from my place.'
"I said to James, 'Oi, you're with me.'
"We get in the car and he says, 'So, what are we gonna talk about tonight?'
Hill - "You and I say f--kin' nothin', because with your Dad and Rupert in the room, this is like we're doin' six PhDs in the media business."
Dinner proceeded. Hill watched, listened and remembered.
At one point, he recalled, "Kerry pulled a handkerchief out of his pocket and a crumpled piece of paper just fell on the floor. And Rupert bent over to pick it up. Being Rupert, inquisitive bugger, old journo, he opened it up. It was a check for 500,000 pounds from John Aspinall (owner of one of London's legal casinos).
"He's given it to Kerry - five hundred thousand pounds, half a million quid! It's 1989, we're not talking about a bus ticket to Clapham. Kerry put it back in his pocket.
"'Oh yeah, I dropped in to see Mr Aspinall's gambling establishment this morning before I came out to look at your shitbox of a television channel'."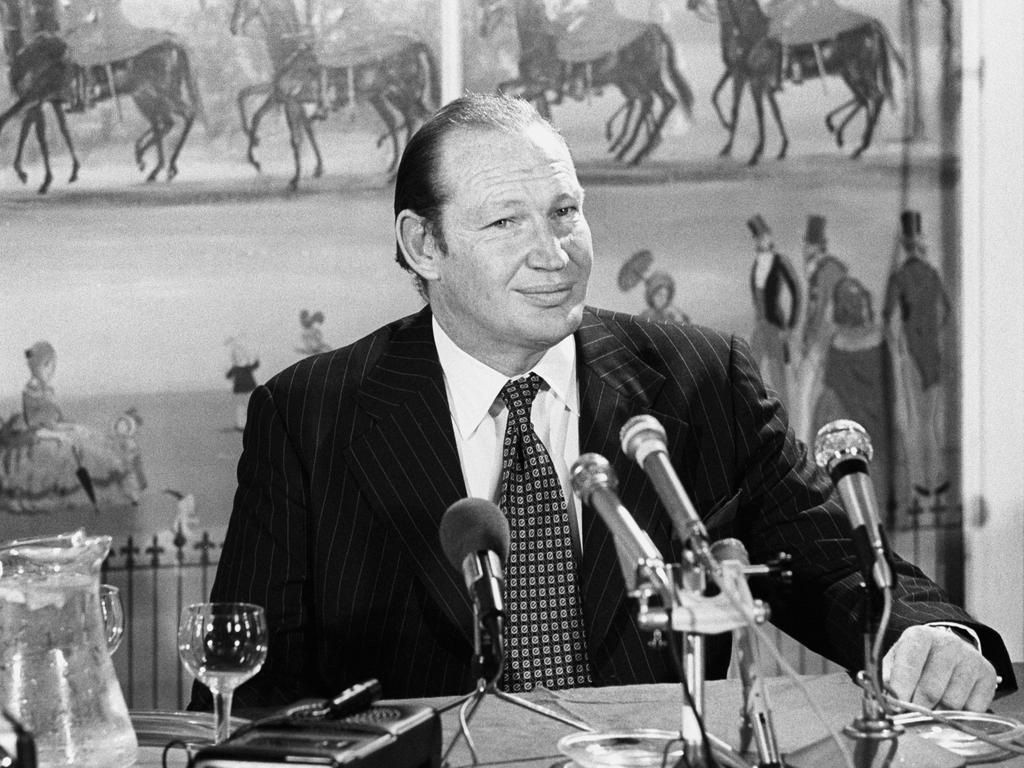 David Hill remembers witnessing a meeting between Australian media tycoons Kerry Packer and Rupert Murdoch back in 1989.

Picture: PA Images via Getty Images
Hill remembers Packer interviewing Murdoch during the dinner, and a certain wistfulness in his tone.
Between them, the pair represented one of the great paradoxes of Australian, probably international business and public life. Hill, who was the architect, builder, landscaper and maintenance guy for the sporting visions of Packer and Murdoch, knew and understood them in a way that only someone who had seen them exposed and responding to the highest levels of personal and financial pressure could.
In his recollection, Packer risked "everything, everything" on World Series Cricket. But that was the exception, and part of the paradox. A Packer business deal would be sweated over and attended by a circle of advisers, with discussions starting in the office at 9am, continuing in a Chinatown restaurant past 11pm, and further examined, day after day.
"Kerry interviewed Rupert about why he left Australia, about why he kept risking everything. Because every time Rupert moved something, he took all the chips and pushed them into the middle of the table." And this was Packer, on the other side of the mirror, a man who once reportedly merited a name check in the annual report of MGM Resorts, after a big weekend in Las Vegas.
Hill continued: "You had this incredible gambler, Kerry Packer who (was) once in the MGM Grand's annual report: 'We had a bad year, Kerry Packer won $28 million dollars one weekend. He was playing baccarat and rolled 22 games straight with $750,000 on each hand.'
"So you had Kerry, the greatest gambler in his own time, but yet when it came to business, he was very traditional in the way he saw things. And you had Rupert, who in his own life, is traditional, but yet in business, kept pushing the chips to the middle of the table. It was amazing."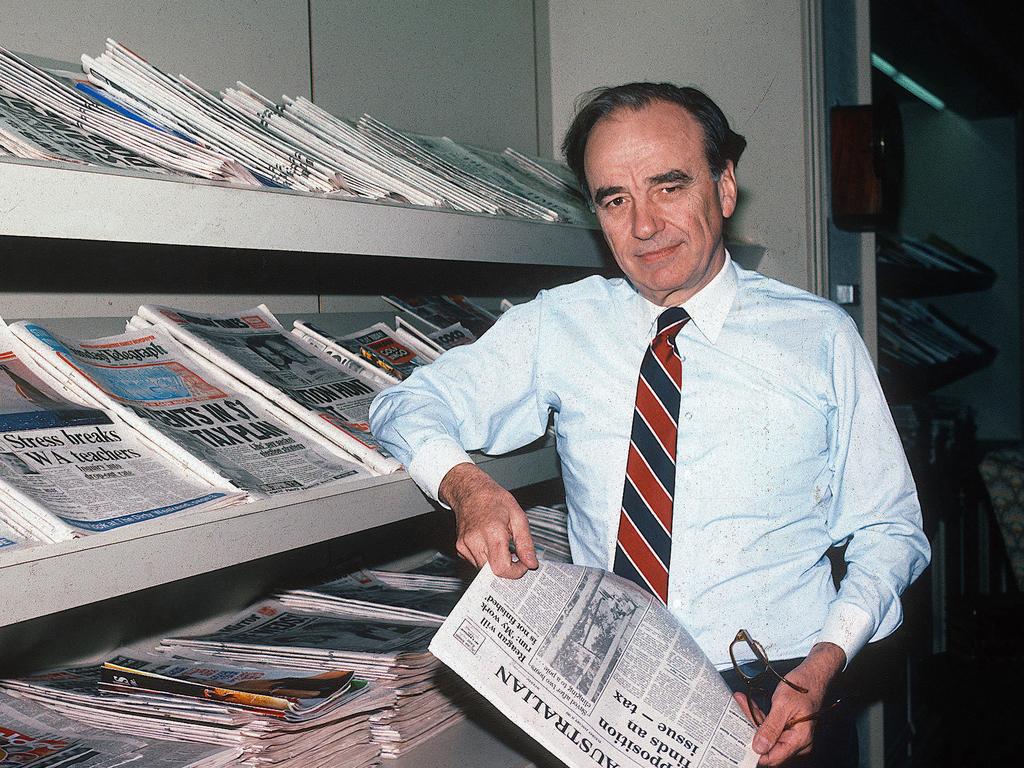 David Hill believes that Rupert Murdoch learnt from Kerry Packer's approach to sports broadcasting, business and media. Picture: Yvonne Hemsey/Getty Images
Hill saw Murdoch absorb lessons from Packer's business life and apply them to his own. Part of it was the success of World Series Cricket, but also that sport could produce an off-hours, gushing revenue stream of its own, through Wide World of Sports on Sunday afternoons, and then live broadcast of overseas sports events such as tennis (Wimbledon) and golf (The Masters, the British Open).
"He (Packer) made a fortune out of sports," Hill said. "Rupert had seen what Kerry had done and understood the business that was underpinning what Kerry was doing. Rupert never forgot that."
The quote often attributed to Murdoch at the time of the 1992 formation of the Premier League, and Sky's extravagant purchase of its broadcast rights was that soccer coverage was "a battering ram" to develop and control pay TV.
Hill agreed. The wooing of the 14 smaller, then-First Division clubs to the Premier League concept was a gruelling social process to test the strongest constitution.
"I went to all the little ones," he said, "Nottingham, Ipswich, Norwich, Portsmouth. They were the ones that carried the vote.
"I went to see the (club) chairmen. It would start with three gin and tonics, and a couple of bottles of red, then we'd have a glass of port, then we'd have a beer and I'd get on the train and go to sleep, get a cab at Paddington, come home and try and put the key in the door."
Hill brought some favourable history with him to these exchanges. "I was fortunate because they had all known me from World Series Cricket and had seen what could happen with cricket, taking it from the dark ages to just what we did under Kerry. And I said, we're gonna do exactly the same thing with football."
At a meeting before the start of the new Premier League, it was revealed that Sky had lured 950,000 subscribers with its new soccer package. "All of a sudden, Sky became proper," Hill said.
"It was with what happened with that, that Rupert realised sports was the way into the American market."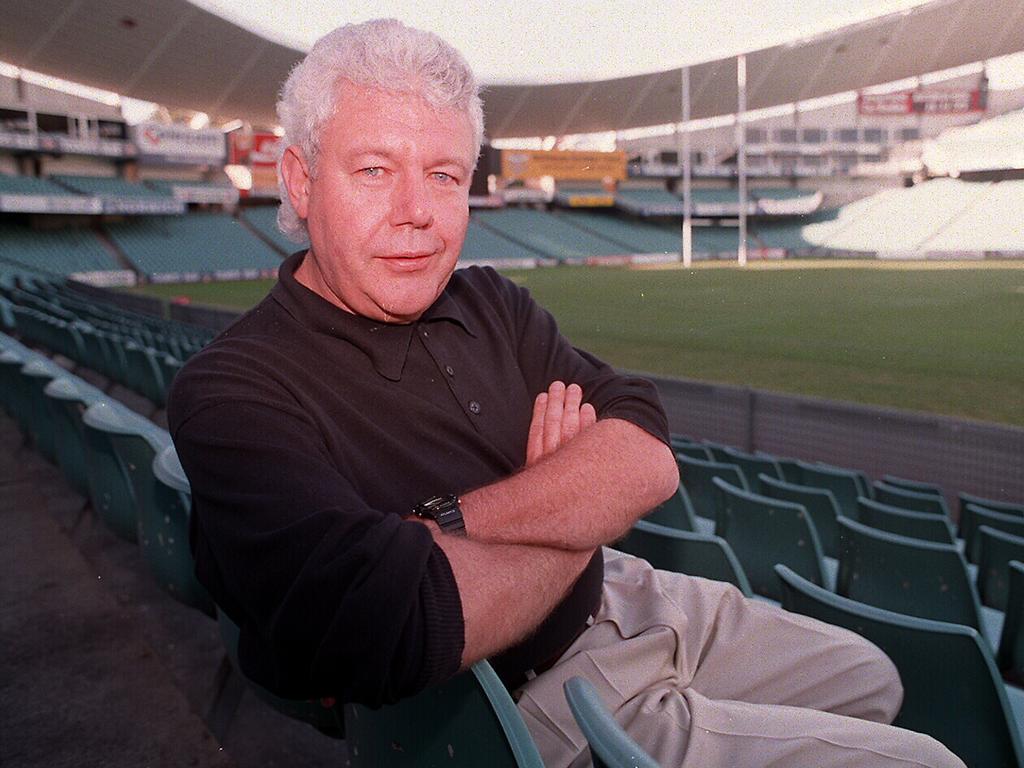 David Hill at Sydney Football Stadium when he was USA Fox Television chief. Picture: NCA
Future of Sports TV
Time and distance helped Hill see Australia in a different way. What was charming and unique about Melbourne - a city he still loves, referring to it affectionately as "Brigadoon" - can become insular and self-referencing when viewed in a particular light.
As executive producer of Eurosport and then Sky for four years until 1993, Hill was among those in charge of feeding the beast, a medium with a bottomless appetite for content. That content included Australian Football League matches.
It took him time, during the 70s, to understand the game - the cultural and sporting gap between Sydney and Melbourne then being immense. Understanding became love, and he still watches the games whenever he can, and still cringes at the blokey, jargonised calls of the game.
ESPN, the American sports network, was also fed unadulterated feeds during the 80s and 90s when it, too, was starving for content. Young male sports fans were drawn to this athletic and exotic foreign code, but it was like watching a foreign movie without subtitles - no one explaining rules, concepts, skills, or even calling the stars by their given names.
"... it was a Melbourne commentary, geared to a Melbourne audience who knew the nicknames, knew the games, knew the standings, knew the strengths and weaknesses," Hill said.
He remembered calling Melbourne, asking for the Eurosport feed to include commentary in Italian, Greek, German, French, Dutch.
"'What?' Laughter down the phone line from Melbourne. 'That'll never happen.'
"It should have been a sport that swept the earth," he said, "but it was killed by the people running it."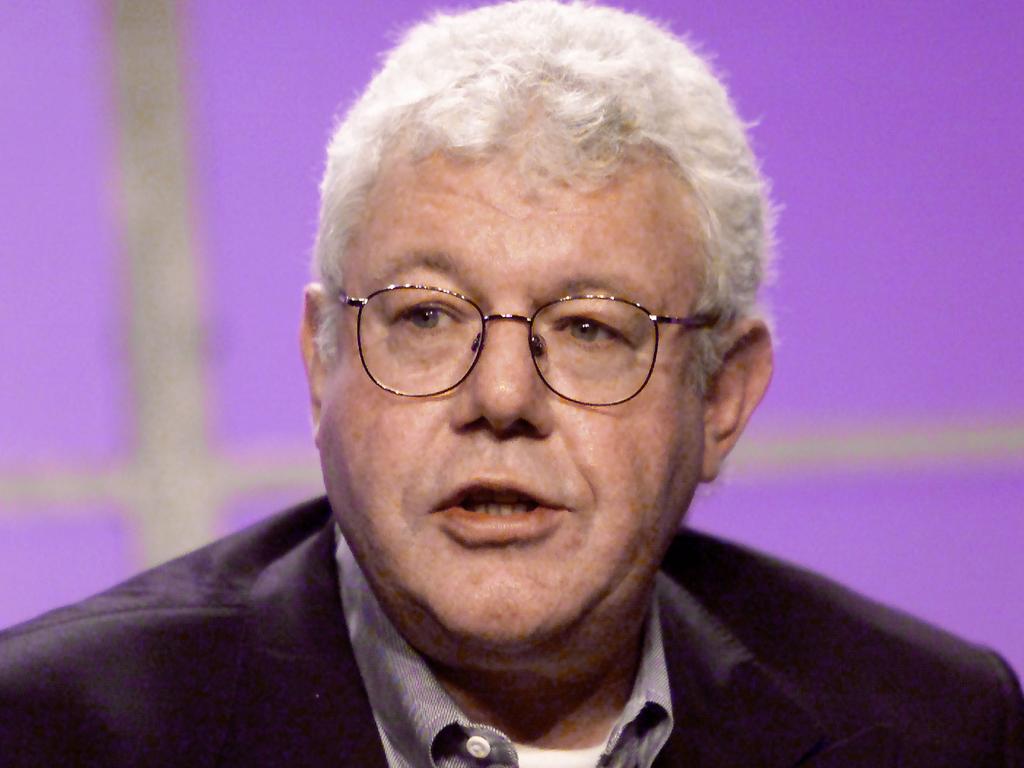 David Hill believes that the AFL could have developed into a popular international sport. Picture: Gabe Palacio/Getty Images
Footy and Fox Sports are no longer Hill's chief concerns. He resigned as president of Fox Sports and became a broadcasting gun for hire. There followed stints with Formula One, American Idol, National Geographic, and the 2016 Oscars.
Also ESL Gaming, the globe's largest video games company. The experience was revelatory, and ironic. The very leisure-time activities - the playing and watching of professional sports - that propelled Hill around the world, were under serious threat from the new audience he was working with.
Those fans of tomorrow were not following their parents' team or sports allegiance, or even seeking their own. Rather "they're watching video games because they can. Disembowelling an Orc in your bedroom is probably more fun than watching a game of golf."
Absent a sudden conversion from one screen to another, the demographic trends make a compelling argument: average sports viewer age over the past four decades was 42. In the past ten years that age grew to 52. For golf and tennis the average viewing age is 65.
An aged-out audience will have sponsors thinking twice about sports like tennis, golf and ice hockey, possibly baseball "maybe even cricket," Hill said. "I think it's going to become a serious problem in 20 years' time."
Depending on your viewpoint, this could be disconcerting, or merely remarkable - that David Hill, present at the creation of television sports as we now know them, would also be among the first to witness the beginning of its demise.