Swimming 2022: The incredible marks Ariarne Titmus lowered on way to women's 400m free WR
When Ariarne Titmus broke Katie Ledecky's legendary 400m freestyle world record at the Australian trials she also took with it some stunning marks from years gone by.
Despite the startled look on her face when she turned and looked at the scoreboard to see WR next to her time, Ariarne Titmus really wasn't all that surprised that she broke Katie Ledecky's legendary 400m freestyle world record at the Australian trials.
Titmus had been close to breaking the American's mark of 3min56.46sec twice within the last 12 months and was hiding a secret — she and her coach Dean Boxall had hatched an elaborate plan to bring it down when no-one was expecting.
The Australian trials presented the perfect opportunity because Titmus, a victim of her own success, had nothing else to race for because she'd already been gifted a place in the Commonwealth Games team and wasn't going to the world championships.
Watch every blockbuster AFL match this weekend Live & Ad-Break Free In-Play on Kayo. New to Kayo? Try 14-Days Free Now >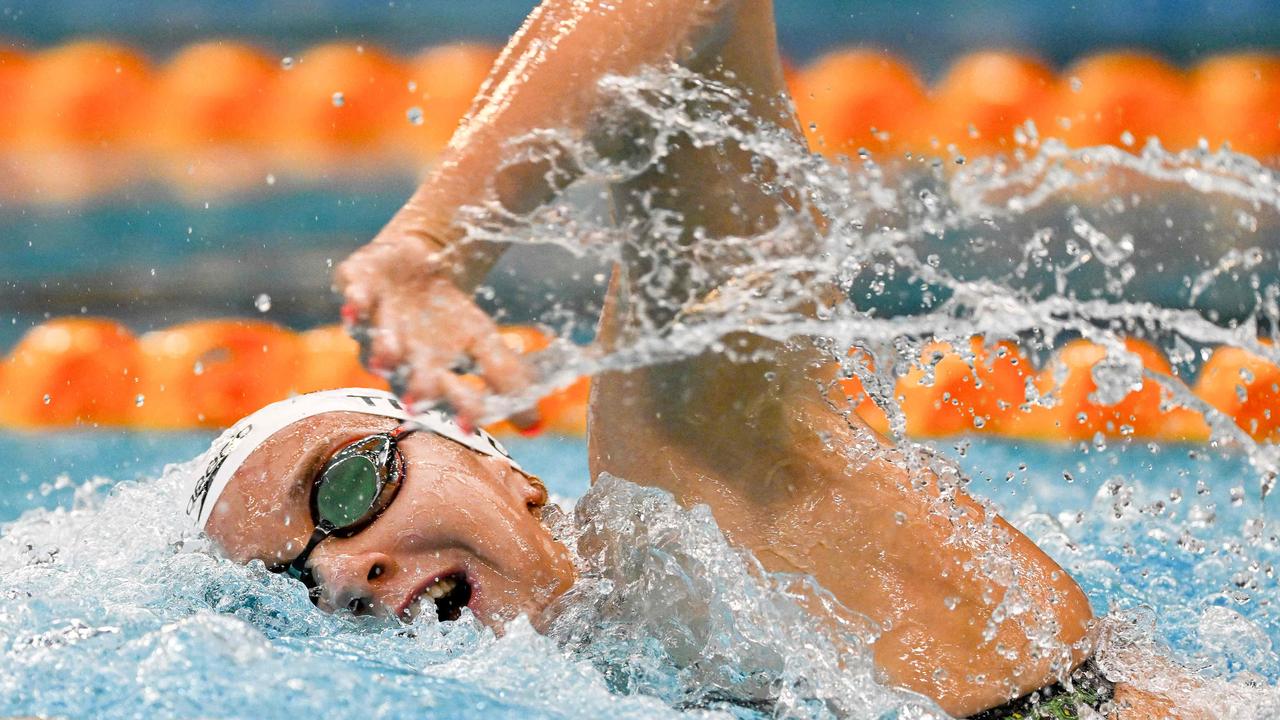 Ariarne Titmus competes in the women's 400 metre freestyle final in Adelaide. Picture: AFP
"That presented a problem," her coach Dean Boxall told News Corp.
"To really get the best out of herself, she needs something to aim for to really keep her motivated so about nine weeks ago we decided this was the time to go for it."
To break Ledecky's record, Titmus needed to execute everything with perfect precision — and on her own — because there was no one else in the race capable of sticking with her.
The challenge of the 400m is that it's such an exhausting and tactical race that requires stamina, speed and patience so that none of eight laps is fractionally too fast or too slow. The GOAT, Ledecky was the best at getting everything right.
Titmus covered her first 100m in 57.13 seconds — just 0.05 outside Ledecky's pace when she set the record in 2016 — but it was still quick, faster than the best times Dawn Fraser and Shane Gould ever managed for the 100m sprint.
They climbed out of the pool after 100m but Titmus still had 300m to go so was only warming up.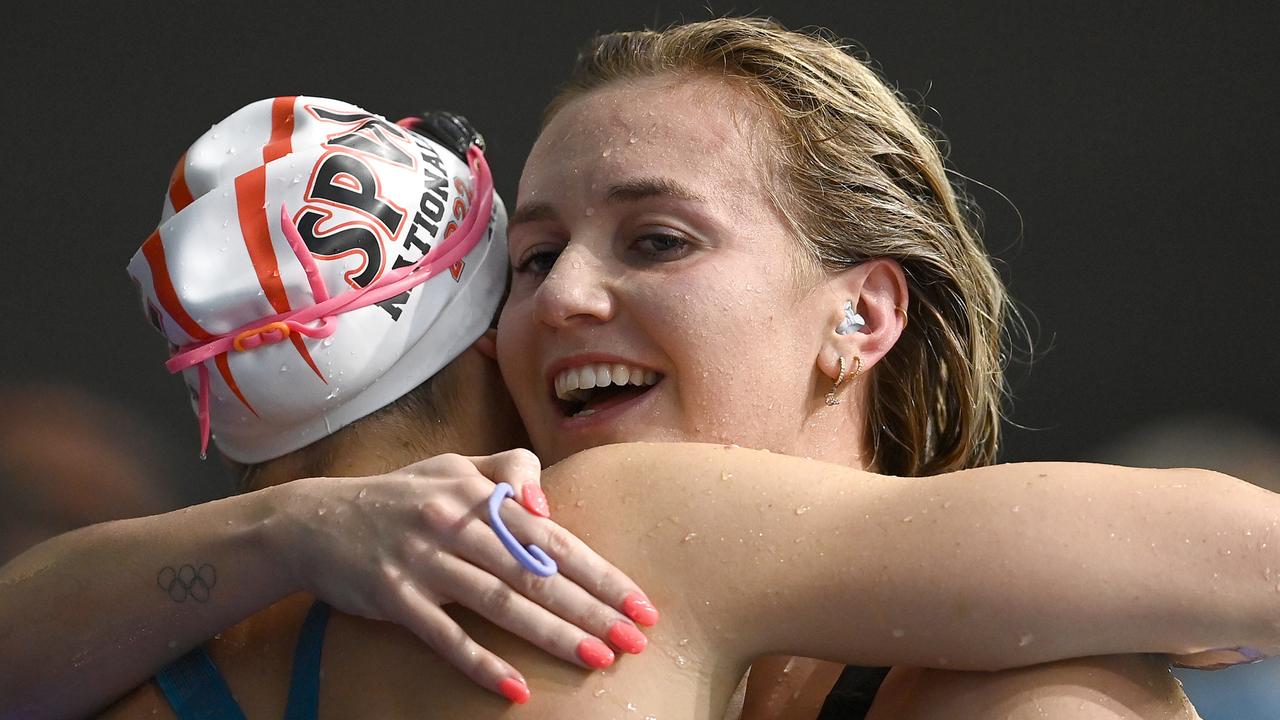 Titmus is congratulated by Jamie Perkins after breaking the world record. Picture: Quinn Rooney/Getty Images
Her time at 200m was 1min56.99sec, which put her just 0.12 in front of Ledecky. She never fell behind her again.
Had Titmus stopped then, her time would have won her the 200m gold medal at the 2000 Sydney Olympics, in front of Susie O'Neill.
But she was only halfway and the last four laps are the hardest because that's when the lungs start to sting and the legs begin to burn.
Unsurprisingly, both Titmus and Ledecky swam their slowest laps of the race between 200m and 300m to preserve energy for the finish.
The reason so few people have been able to get close to Ledecky's record is because she finished so powerfully. Her last lap was timed at 28.92, her fastest other than the opening when she had the advantage of diving in off the blocks.
Titmus (29.28) couldn't match her closing speed but had built up enough of a cushion to hang on and get her hands on the wall in the nick of time — 3min56.40sec — shaving 0.06 off the American's record.
Ledecky should not feel bad because Titmus sunk a few other big name champions as well.
She would easily have beaten the best time from Mark Spitz, who won seven gold medals at the 1972 Munich Olympics, and would have almost lapped Australian middle distance legend Murray Rose.
Just 21, Titmus' 400m resume is already overflowing; she's the reigning Olympic champion, world champion and Commonwealth Games champion and holds the world record for both long-course (50m) and short-course (25m).
Titmus reacts after setting the new world record at the Australian Swimming Championships. Picture: AFP
Her biggest challenge may be finding new challenges, including lowering her own world record in the near future.
"The way I'm feeling at the moment, the world record was definitely within my reach but I try not to think about it," she said.
"If you think about it, your race plan becomes undone … and I don't think people understand how hard a 400m freestyle is to put together.
"It's about that fine balance between your endurance and your speed.
"Trying to nail that is something I'm still trying to get as perfect as possible. I don't think I'll ever get there but I think at the moment it's the best I could be."
The master motivator, Boxall already has his next big goal in, but this one is no secret.
"It's got to be the Paris Olympics," he said.
Boxall goes bananas as Titmus breaks world record
She beat her at the last world championships.
She beat her at the Olympics.
And now Ariarne Titmus has beaten Katie Ledecky's world record for 400m freestyle.
It took another astonishing performance from the Australian, but anyone who has followed her career knows that's how she rolls.
Ledecky might be revered as the GOAT by America's gushing media but here in Australia, 'Arnie' has it all over her as the best middle distance freestyler on the planet.
On Sunday at the Australian championships in Adelaide, Titmus broke Ledecky's 400m world record of 3:56.46 when she won the national title in 3:56.40.
"It's kind of nice now that everyone's not going to be asking when I'm going to break the world record," Titmus said.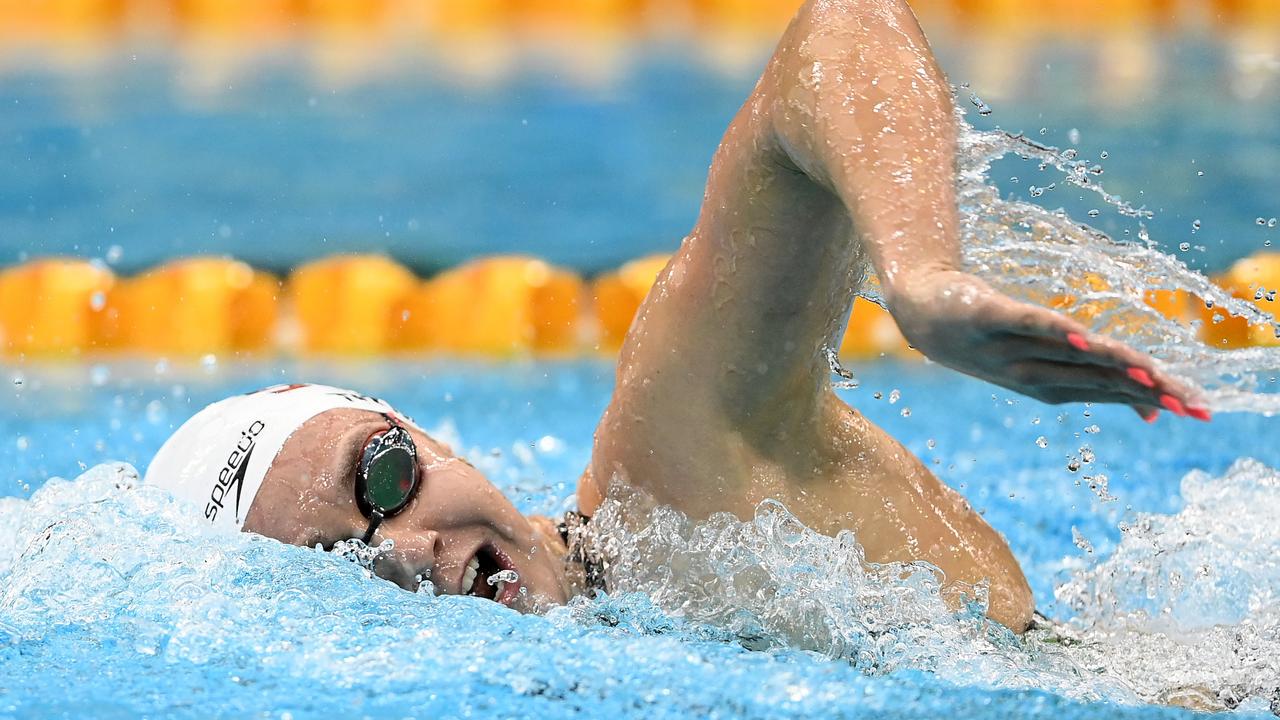 Ariarne Titmus powers to the world record. Picture: Quinn Rooney/Getty Images
"I'm just really happy. I'm the happiest I've ever been in my life. Outside of swimming, I'm the happiest I've ever been in my life and in swimming and I think it's definitely showing in the pool.
"I'm definitely not putting the pressure on myself that I used to, but it's still like a healthy amount. I think that this has been the trick to me swimming well, just going out there, being completely fearless, kind of swimming what I used to feel like when I was 16, when I first cracked onto the national team. And I'm just going out there surprising myself."
It's taken Titmus a while to get it, but it was no fluke and the Terminator now holds three of the four fastest times in history, though she insists Ledecky really is the Greatest of All Time.
"I believe that Katie is the greatest female swimmer of all time. I can't put myself up next to her, what she has done for female swimming has been insane," Titmus said.
"She's been at this level for ten years and so to be in the conversation with her, I feel completely honoured and hope now this is going to keep the battle going, give us some drive.
"Hopefully we can see how much faster we can keep going.
"I know there's Summer McIntosh from Canada who's very young and she's probably got the same hunger and desire that we had at that age, and she's swimming incredibly fast. So I think that in Paris, I'm expecting a very fast race."
Despite being in great form – Titmus almost broke Federica Pellegrin's super-suit aided 200m world record earlier in the week – the 20-year-old has decided not to go to next month's world championships in Budapest.
She will be heading to the Commonwealth Games in Birmingham, but her next head to head race against Ledecky could be in Australia later this year – either at the Duel in the Pool in Sydney or the shortcourse world championships in Melbourne.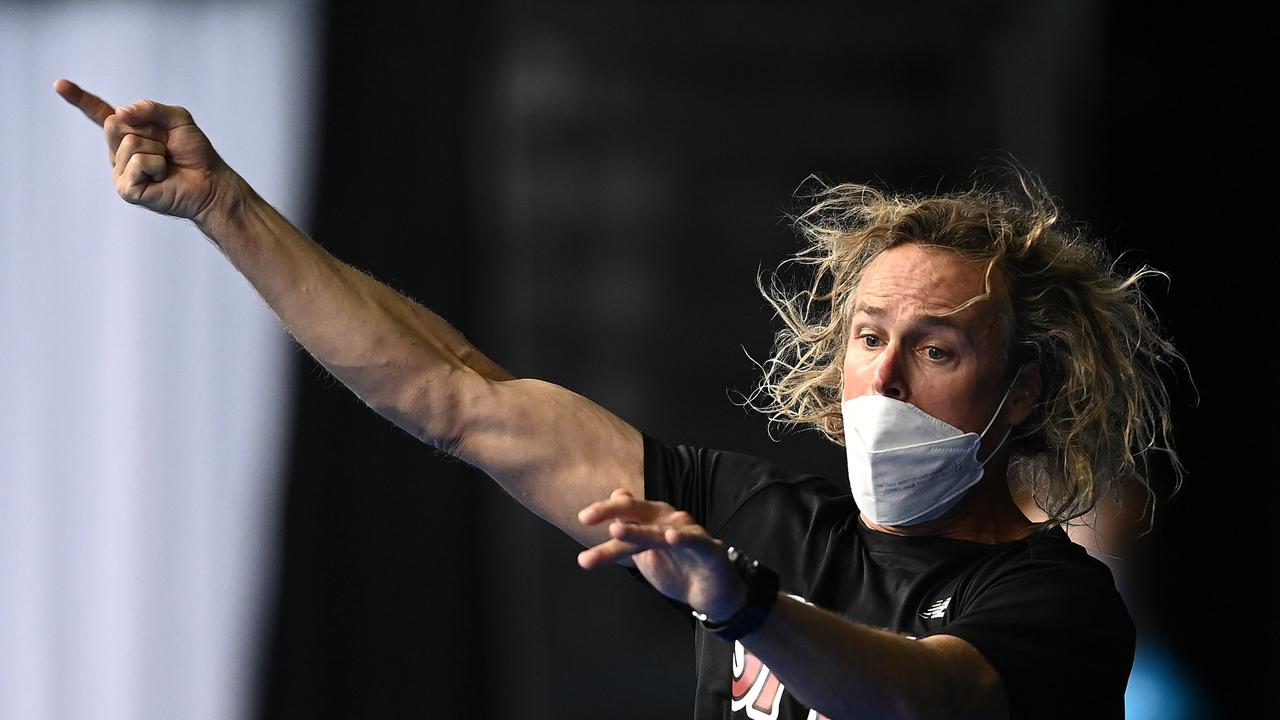 Ariarne Titmus' coach Dean Boxall was back at it again with his animated celebrations, riding her home to the finish. Picture: Getty Images.
"The way I'm feeling at the moment, the world record was definitely within my reach. I try not to think about it," she said.
"I think if you think about it, your race plan becomes undone, I really have to think about the process.
"I think people don't understand a 400m freestyle is very hard to put together like the 200m, it's just getting faster and faster. So you've got to have more speed so it's about that fine balance."
Swim coach Dean Boxall cheered Titmus and followed her along the pool as she approached the finish, with his trademark animated celebrations.
Boxall famously went viral for his over-the-top reaction at the Tokyo Olympics when Titmus won the gold medal in the 400 metre freestyle event.
Originally published as Swimming 2022: The incredible marks Ariarne Titmus lowered on way to women's 400m free WR