World Swimming Championships: Shayna Jack's return from drug ban starts with gold
They have been together during the dark times, so it was no wonder Shayna Jack's coach was determined to make her anchoring role for gold an experience to never to forget.
Making up for lost time after her career was stalled by a lengthy fight to clear her name, Jack showed just what a talent she is with a devastating final leg sprint to clinch gold for Australia in the women's 4x100m freestyle relay at the world titles in Budapest.
Stream Over 50 Sports Live & On-Demand with Kayo. New to Kayo? Try 14-Days Free Now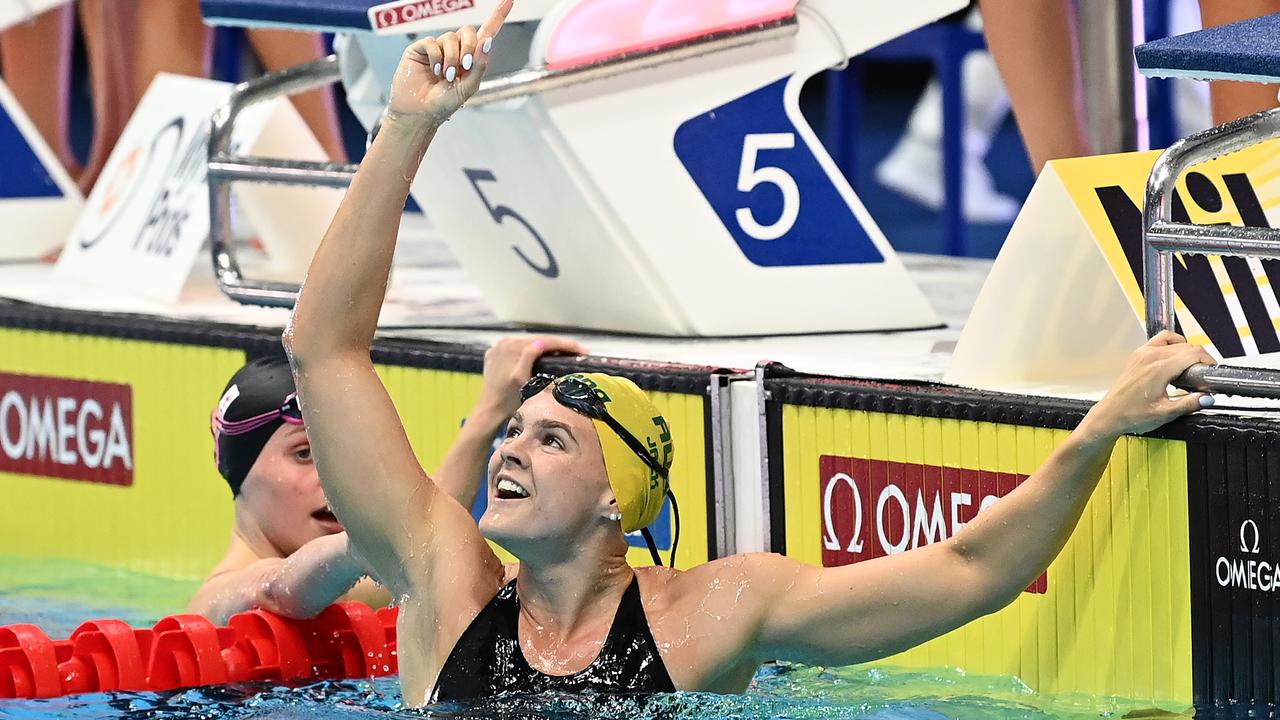 Shayna Jack is all smiles in the pool after the epic victory.
On a night of stunning performance Australia clinched two gold and one silver medal as another redemption story Elijah Winnington claimed the 400m freestyle world title 12 months after a disappointing Tokyo Olympics and Kyle Chalmers anchored the men's 4x100m freestyle relay team to silver.
Given the role of swimming the all important anchor leg in the absence of the team's senior members, Cate and Bronte Campbell and Emma McKeon, Jack left her opponents dead in the water as she surged away to win the gold with her teammates Mollie O'Callaghan, Madi Wilson and Meg Harris.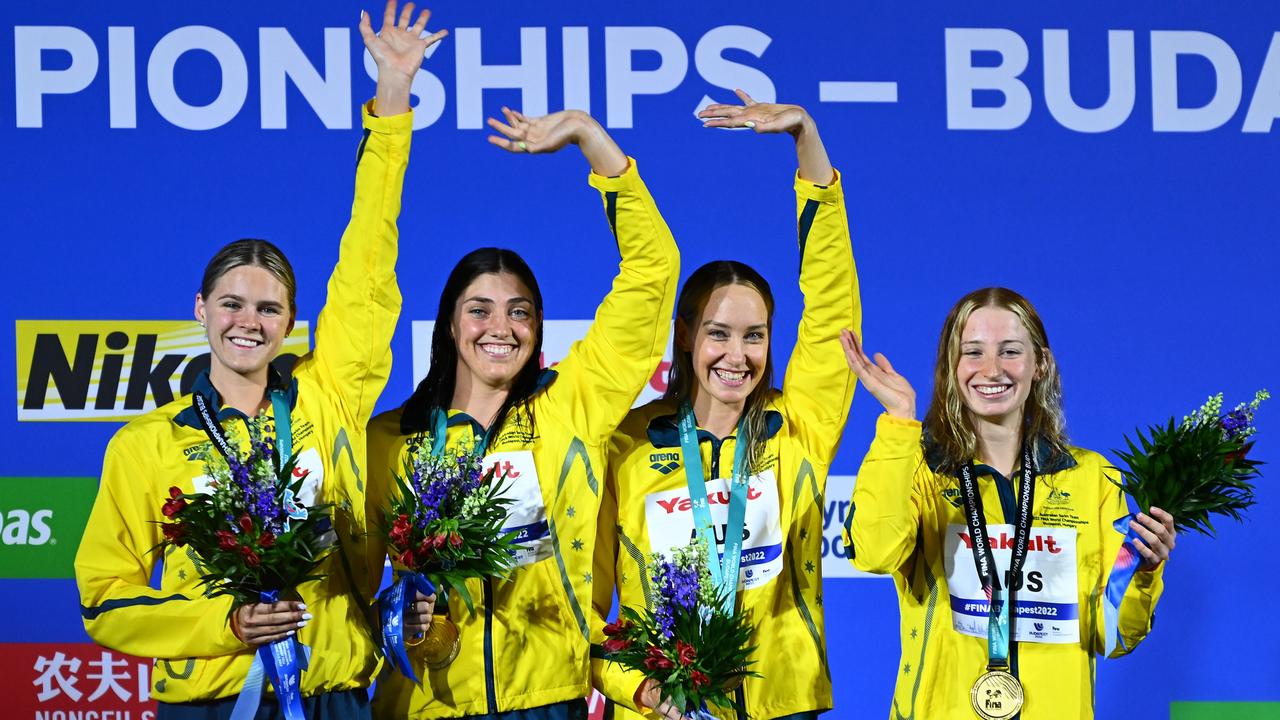 Shayna Jack, Meg Harris, Madison Wilson and Mollie O'Callaghan celebrate World Championship gold.
"I felt a bit of pressure because obviously it's my first race but having these girls on my side just took that away," Jack told News Corp.
"And for me, knowing that the girls that have anchored in the past, like Cate and Emma and those amazing role models for us, it's nice to be in that position and bring home the gold for these girls as well."
It was a touching moment but no coincidence that Jack was picked to swim the final leg by her coach Dean Boxall.
He was by her side three years ago when she received the news she had tested positive to a banned substance on the eve of the world championships.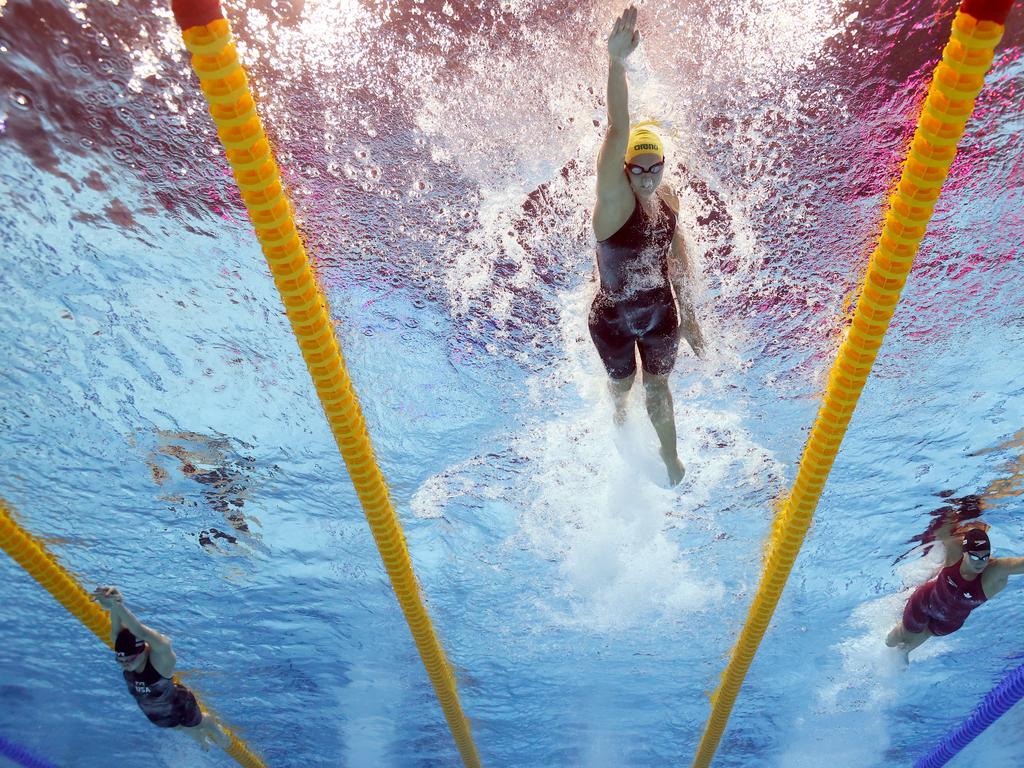 Jack streaks ahead of the pack. Picture: Getty Images
Jack succeeded in getting the four year ban halved to two years, allowing her to make her return at these world championships in Budapest, but the long fight took a toll on her and it wasn't until she dived into the Duna Arena that she finally felt back at home.
"Dean said before the race the decision to put me as anchor was for that moment that I could touch the wall and look up at these girls and just feel proud to be part of the Australian team again," she said.
"For me, I've lost my swimming career before so coming here, I had nothing to lose. I'm here to race, I'm here to have fun, I'm here to embrace the experience with everyone on the Australian team and other teams as well.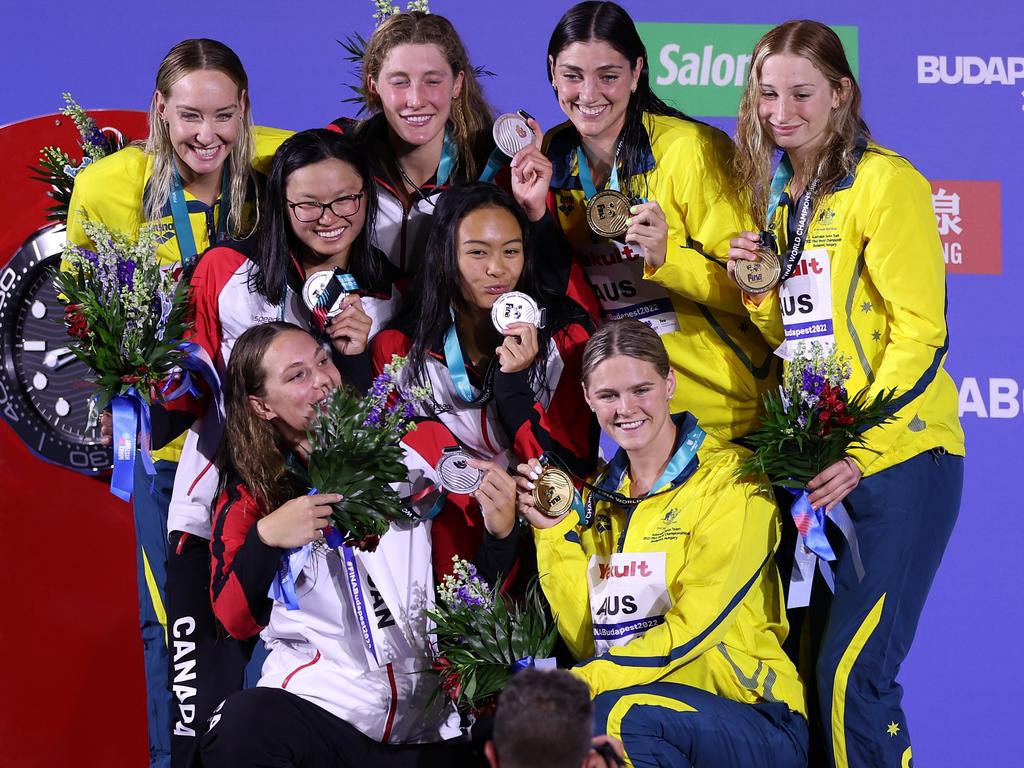 A sweet moment between the gold and silver medallists. Picture: Getty Images
"Everyone's been very supportive, not just the Aussies. I've definitely been welcomed back with open arms and that's been such an amazing, uplifting feeling. Winning with these girls just makes it even better. It's a great way to start the week for ourselves and the Australian team."
Wilson has been an integral part of Australia's relays for years, winning two Olympic and now four world championship gold medals.
At 28, she was the oldest member but said she was honoured to team up with the gun new swimmers leading the next generation.
"It's amazing. The depth that we have in Australia is unbelievable," Wilson said.
"It's not just us four, there's another four that were in the final in trials and this is also for everyone, Cate, Bronte, Emma, everyone back home.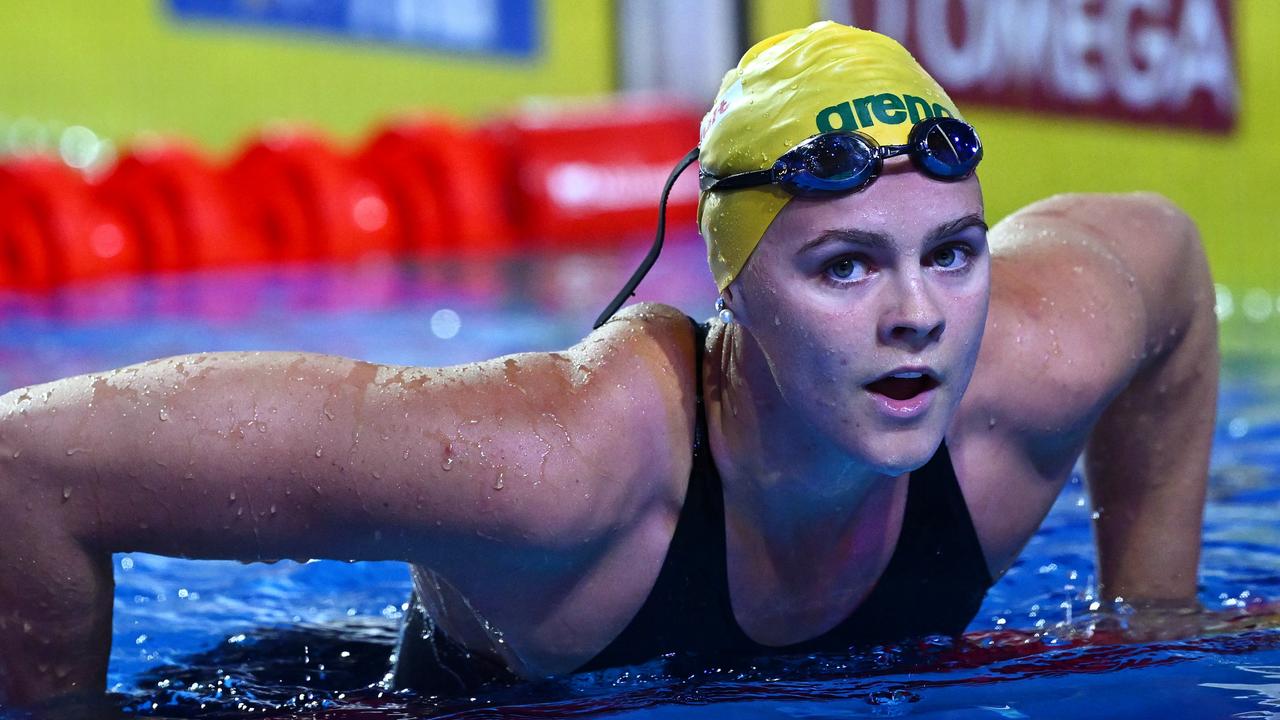 Shayna Jack prepares to exit the pool after the win.
"This is a team effort, this isn't just us. We're pushed every day in the water in our training sessions because we know this depth is unbelievable."
O'Callaghan, the teenage sensation tipped to be the next big thing in female swimming, got the Australians off to a flying start when she posted the fastest time in the lead off leg.
She is chasing a record seven medals in Budapest and is off to the perfect beginning.
"I was very nervous at the start because I didn't do a heat swim but I knew the girls were just there and that gave me a lot of confidence to get up and race," she said.
Harris was in the Australian team with McKeon and the Campbell sisters that broke the world record at last year's Tokyo Olympics but said winning in Hungary felt just as good.
"This team is just as amazing as the team last year and you can see that from the results," she said.
Originally published as World Swimming Championships: Shayna Jack's return from drug ban starts with gold