Braking News column: Formula One star Daniel Ricciardo has a future back in Australia as a V8 Supercar driver
Should Daniel Ricciardo choose to walk away from Formula One, a rival competition will roll out the red carpet for his signature. Read this week's Braking News column.
Supercars will roll out the red carpet for Daniel Ricciardo should he choose to walk away from Formula One with the Australian based sport offering the McLaren driver a future as a V8 star.
With Ricciardo facing an uncertain future in F1 after another top-ten fail at the Spanish GP, Supercars CEO Shane Howard issued an open-ended invite for the Perth raised star to return to Australia and become a V8 driver.
While no team could match the $15m he reportedly earns a year in Formula One, Ricciardo could still earn in excess of $2m a season as a Supercars driver.
"If the opportunity presented itself to have Daniel on the grid as a wildcard or otherwise, we would absolutely want it to happen," Howard said.
"He is one of the best drivers and most recognised athletes in the world, it would be fantastic to have him race a Supercar at some point.
"We haven't spoken to Daniel or his management and it would be in the hands of teams to align any opportunities that may present themselves in the future, but for sure it is something we would support."
Ricciardo's future as an F1 driver has become clouded with the Aussie ace scoring just one top 10 finish this season.
Watch Every Practice, Qualifying & Race of The 2022 MotoGP World Championship Live & Ad-Break Free During Racing on Kayo. New to Kayo? Try 14-Days Free Now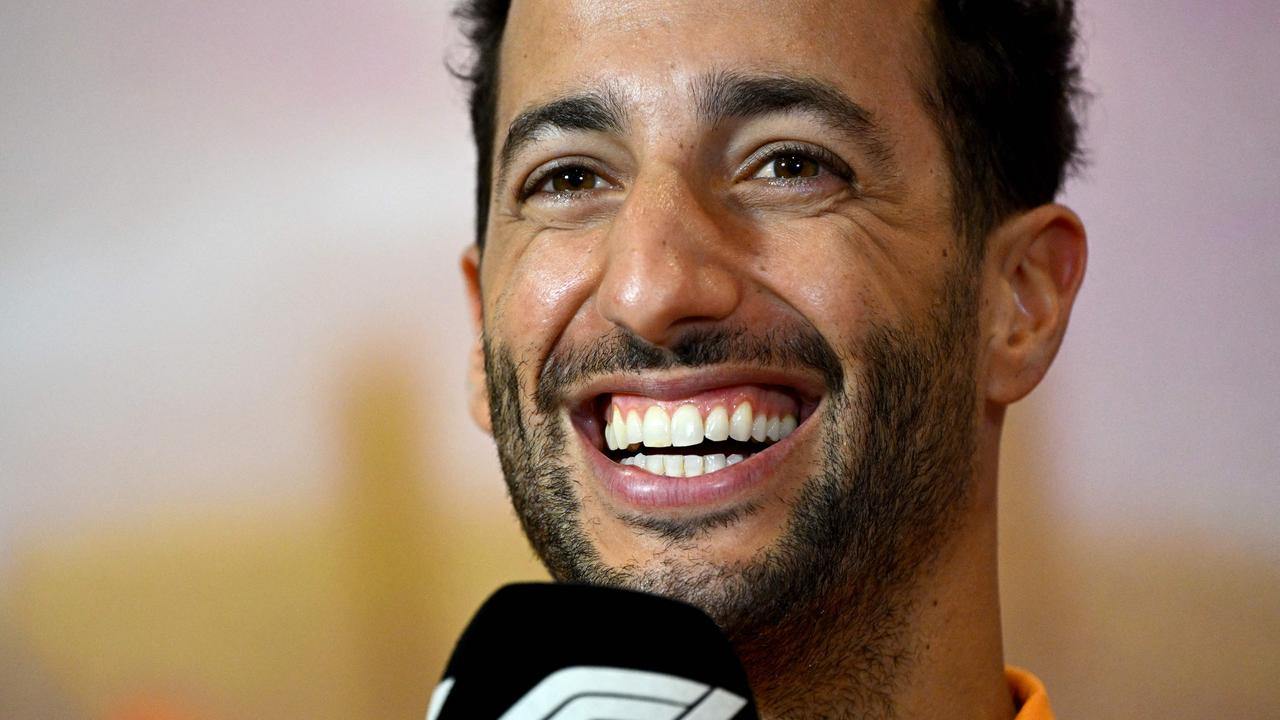 McLaren's Australian driver Daniel Ricciardo didn't have much to smile about after finishing outside the top 10 in 12th spot at the Spanish Grand Prix in Barcelona. Photo: AFP
CONFIDENT CAM
Tickford Racing team boss Tim Edwards has declared series leader Shane van Gisbergen can't get "in the head" of Cameron Waters after the Ford star repelled his Triple Eight rival's fierce attacks at Winton.
A master intimidator on the track, van Gisbergen hunted down Waters in the opening and closing sprint races of the round.
But Waters defied the aggressive chase from the defending Supercars champion, holding his nerve to win two of the round's three races to move up to third place in the championship.
Edwards said van Gisbergen can mentally wear down drivers when he's right on their bumper, but Waters was not intimidated by the New Zealand ace.
"He can get in most driver's heads, but not Cam's," Edwards said.
"And I think that's why he respects Cam as well because he knows Cam is mentally tough.
"He (Waters) can live with the pressure and can also be thinking about other things that are going on, not just trying to drive the car as fast as you can.
"Because you do need to do a lot more than just have the raw speed. You actually do have to think about a lot of other things.
"We didn't have the fastest car, the fastest car was Shane's car but we still managed to win two of the races through strategy, through race craft by Cam."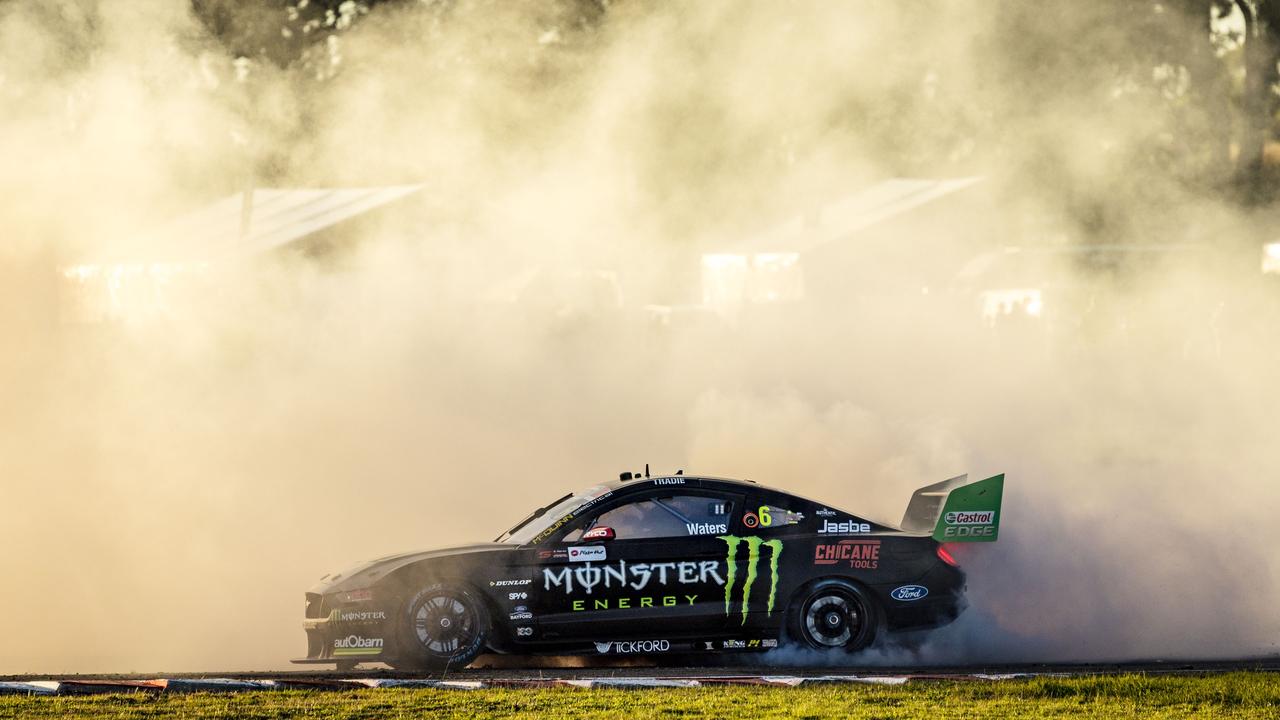 Cam Waters celebrating his win at the Winton SuperSprint.
Edwards said Waters' dominant weekend - in which he also claimed two poles - delivered redemption for the win he was denied in Perth.
Waters crossed the line first but was hit with a time penalty for going outside the track limits, which relegated him to fourth position.
"The biggest thing is it's a bit of redemption. In Perth we felt we should have won - and we didn't," Edwards said.
"But we also had great car speed at the Grand Prix. But unfortunately Cam ran into someone else and someone else ran into him.
"So, we have had the car speed there, it's just nice to convert.
"There is still a bit of work for us to do to try and give Cam a better weapon … we managed to get pole on a couple of occasions but we didn't have the race pace of Gizzy."
FEED THE MAN MEAT
David Reynolds has revealed the radical new diet fuelling his impressive on-track form.
As he snagged a pair of podiums at Winton, Reynolds opened up on the carnivore diet he has been on since the start of the year on which he has shed seven kilograms.
The Grove Racing driver has been eating only meat and animal products, including eggs, offal and marrow, and said he was "feeling amazing" with more energy and clarity.
"I train all the time and I have never really moved the needle at all, I have every year always just put on a little bit more weight, it doesn't come off unless you go really strict on yourself but then you are hungry and you hate your life and food tastes sh*t," Reynolds, who has scored six podiums for the year, said.
"Then I heard of this diet, friends of mine have done really well on just eating meat.
"So I started it and thought, 'What have I got to lose?' and I just straight away (lost weight) very quickly, like a bullsh*t amount of weight quickly.
"I have lost seven kilos, most of that in the first month.
"I feel good because I always struggle with energy levels during the day and get to lunchtime and feel sh*t but now I have got stable energy the whole day, I feel amazing."
Dave Reynolds has thrived after starting a meat-based diet.
The 2017 Bathurst 1000 winner, who has previously followed a paleo diet, starts the day with steak and eggs and also favours liver early in the day, which then keeps him full until dinner.
Reynolds said his body had adjusted to the lack of other foods in his diet.
"I probably didn't sh*t for about two days and then I had the runs for a day and then it just went back to normal so eventually your body does adjust to what you eat," Reynolds said.
The V8 larrikin suggested others in pit lane had become curious about his meat switch.
"Waters started it on Monday and he's lost a couple of kilos already and he's winning races, so I'm not helping him again," Reynolds joked.
"He did the (Bathurst) 12 Hour with me last weekend and he was laughing at me then I sort of half talked him into it and he started it on Monday and he said he feels really good."
"I'll keep it going for as long as something happens ….I'll get my bloods taken and monitor myself but if you feel better I don't understand how it isn't better for you."
SVG LE MANS
Championship leader Shane van Gisbergen is excited to test his racing talents in one of the world's most iconic endurance events, the 24 Hours of Le Mans, early next month.
The defending Supercars champion is set to fulfil a long-held ambition when he makes his debut at the French classic on June 11-12.
"It's definitely something I wanted to tick off and experience … I don't even care how I go, I just want to go and be there," van Gisbergen said.
"I've got a good opportunity. It's not often you can go there and not be a factory driver, but be in a pro-line up in a Ferrari as well, brand new car, it's an awesome opportunity and something I'm pretty thankful for.
"I just want to go there and experience the race. I've got two good teammates Sam Bird and Felipe Fraga and I can't wait to experience it.
"I've never driven a GTE car, never driven a Ferrari, never been to Le Mans so it's going to be an awesome challenge but I'm looking forward to it."
Van Gisbergen's Supercars title defence will continue the following week in Darwin.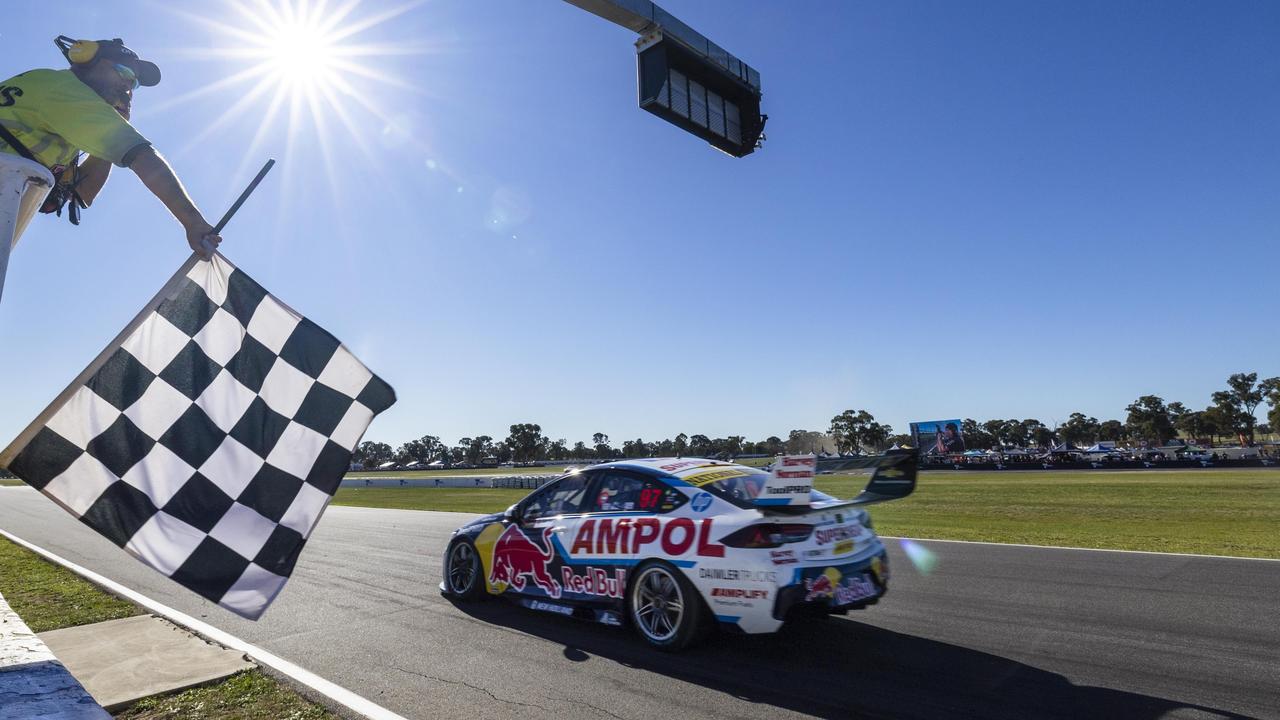 Shane van Gisbergen secures a win in race two of the Winton SuperSprint.
RED v BLUE TO LIVE ON
Walkinshaw Andretti United team owner Ryan Walkinshaw is confident Supercars' famous red versus blue rivalry can live on in Gen3 but has warned it will be a "delicate transition".
Walkinshaw's long-time Holden squad - and former factory Holden Racing Team - announced a shock switch to a Ford Mustang when the sport's new Gen3 era starts next year.
While the sport has been built on the foundations of Holden v Ford rivalry, Gen3 will see the Commodore replaced by a General Motors Chevrolet Camaro.
Although the Holden won't exist anymore, Walkinshaw said the GM product should ensure "synergy" for the die-hard red Holden fans.
"It is a delicate transition that needs to be managed really well because I think it's important that we don't pretend that Holden still exists," Walkinshaw said.
"The important part of us making this change now and not having done it previously - it wasn't just Gen3 - it's that even after having the Holden Racing Team deal taken off of us, we still stayed loyal to Holden.
"We will still stay loyal to Holden right until the last ever race that Holden will ever race in a professional category in the world, which will be the Adelaide 500 at the end of this season.
"So our loyalty has (been) and will always have remained to Holden. The next product coming in is a Chevrolet Camaro and whilst it is a GM brand, it is different.
"But the fact that it is a GM brand means that there is obviously some synergy in what we have had previously and what we will have going forward and I think that is important to the sport because the foundation has been the battle between red and blue.
"I think that can continue, but I think it's also important to be honest that it will continue in a slightly different way and that Holden is going to be put to rest."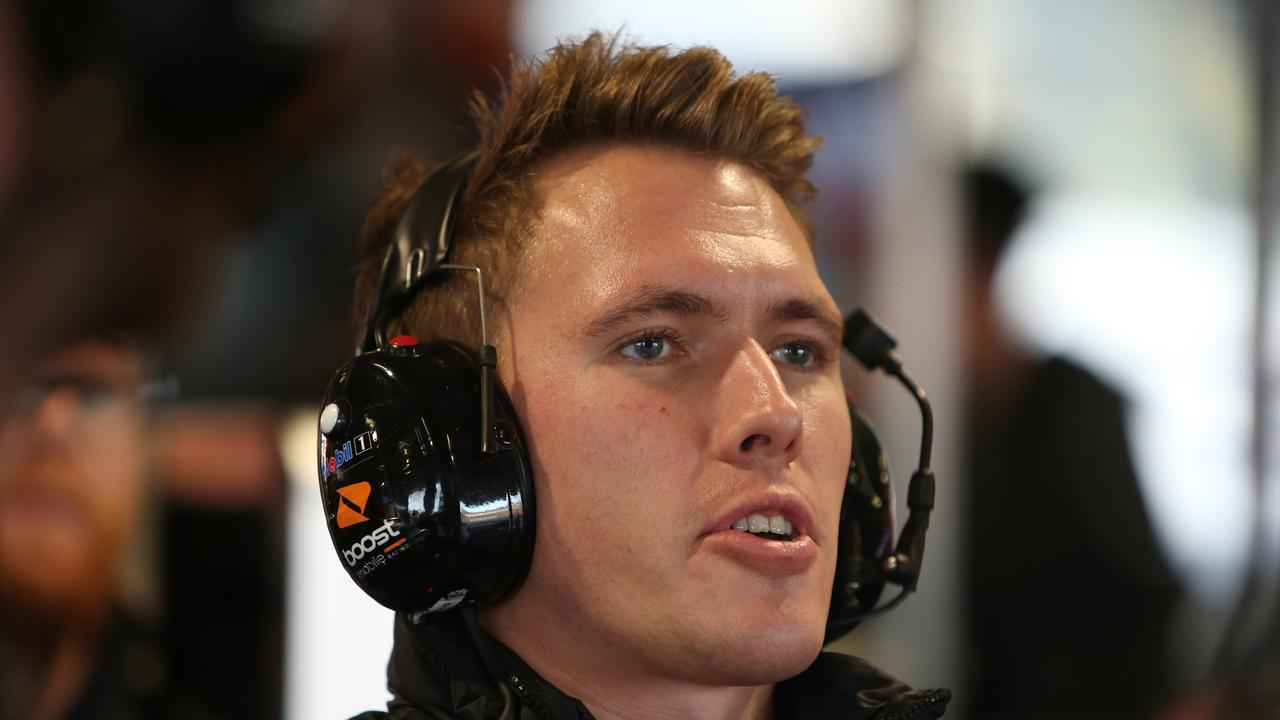 Walkinshaw Andretti United Racing team co-owner Ryan Walkinshaw. Picture: Tim Hunter
MCLAUGHLIN 'PRETTY BUMMED' AFTER FAILED GAMBLE
Scott McLaughlin has declared himself "pretty bummed" after a failed qualifying gamble turned his Indianapolis dream into a nightmare.
In a big blow that may have ruined his chance of winning the jewel in the crown Indy event which is the Indy 500, McLaughlin will start the race back in 26th place after rain stopped him from posting a competitive time in qualifying.
McLaughlin was set for a top 15 time until his team gambled by withdrawing his lap in the hope that he could go back out and improve.
But the weather ruined his chance and his second attempt was only good enough to qualify in 26th place.
"We start 26th for the 500," McLaughoin wrote on social media.
"We took a punt at the end to get into the fast 12. Didn't work. So much belief in this team and this race car to get it done on race day. Eyes forward."
But it was all smooth sailing for fellow Kiwi Scott Dixon who earned his fifth Indianapolis 500 pole position by clocking the second-fastest four-lap qualifying run ever at Indianapolis Motor Speedway.
Dixon topped the final Fast Six section of qualifying with a four-lap run that averaged 234.046 (376.66 Km/h) featuring two laps of the 2.5-mile oval at more than 234 mph.
Dixon put his Honda-powered Chip Ganassi team car on pole for the second straight year, but with just one victory, in 2008, to show for his prior four pole positions the Kiwi veteran was already looking ahead to next Sunday's 106th running of the fabled race.
"Obviously, it doesn't mean a thing next Sunday," he said. "So we're starting in the right spot. We haven't' had a good record keeping it in the right spot but we'll definitely be trying come next Sunday."
MAN OF THE MATCH
WHILE both Dave Reynolds and Lee Holdsworth deserve praise for emerging as a genuine force as Grove Racing joined the heavyweights with a giant killing display of speed, we can't go past Cameron Waters after the Ford man downed Shane van Gisbergen.
In what might prove to be a coming of age weekend for the Tickford star, Waters beat van Gisbergen not once but twice to suggest we could be in for a championship fight.
Originally published as Braking News column: Formula One star Daniel Ricciardo has a future back in Australia as a V8 Supercar driver