Daniel Ricciardo McLaren contract: Three F1 drivers in line to replace Aussie star
Daniel Ricciardo's future with McLaren received a massive vote of no confidence from the Formula One team's boss.
While Brown insists "there is no rush" when it comes to making a decision on Ricciardo's future with McLaren, he confirmed the team plan to assess the situation at the end of this year with the Australian contracted until the end of 2023 and still not fully comfortable with the race car.
Ricciardo has struggled for pace in the four events so far this season, with a sixth place result at his home Grand Prix in Melbourne his best performance to date.
But of far more concern is the distance he remains behind teammate Lando Norris, with News Corp revealing he's almost half a second slower in qualifying and getting beaten in sessions at least 75 per cent of the time over the duration of his McLaren career.
Watch Every Practice, Qualifying & Race of the 2022 FIA Formula One World Championship™ Live on Kayo. New to Kayo? Try 14-Days Free Now >
The young British driver has a long term deal but the Australian's future is very much the talk of pitlane as he remains unsettled in the car and yet to realise his full potential at McLaren.
Brown told the F1 Nation podcast that Ricciardo had revealed in team discussions he was beginning to feel more comfortable in the McLaren, but there was still more to be done.
"Yeah, I think for sure (he feels more comfortable). His race days have been very strong, much better in qualifying," Brown said.
"Listening to him earlier this week with the team, I think he still doesn't feel he's 10 out of 10 on top of the car, but he has got a great relationship with Lando, he knows the team well.
"It was great he was able to go back to Australia for the first time in a couple of years and recharge the batteries and see the family, so we're really happy to see Daniel on top of his game."
A first lap incident with Carlos Sainz ruined Ricciardo's chances at the Imola Grand Prix, but he will be hopeful of pushing back towards the podium at the Miami Grand Prix this weekend.
It has been F1's return to the US which prompted speculation about Ricciardo's future with McLaren having IndyCar duo Pato O'Ward and Colton Herta already on their books for test runs while 15-year-old American Ugo Ugochukwu has created enough interest whilst competing in the British Formula 4 series this year.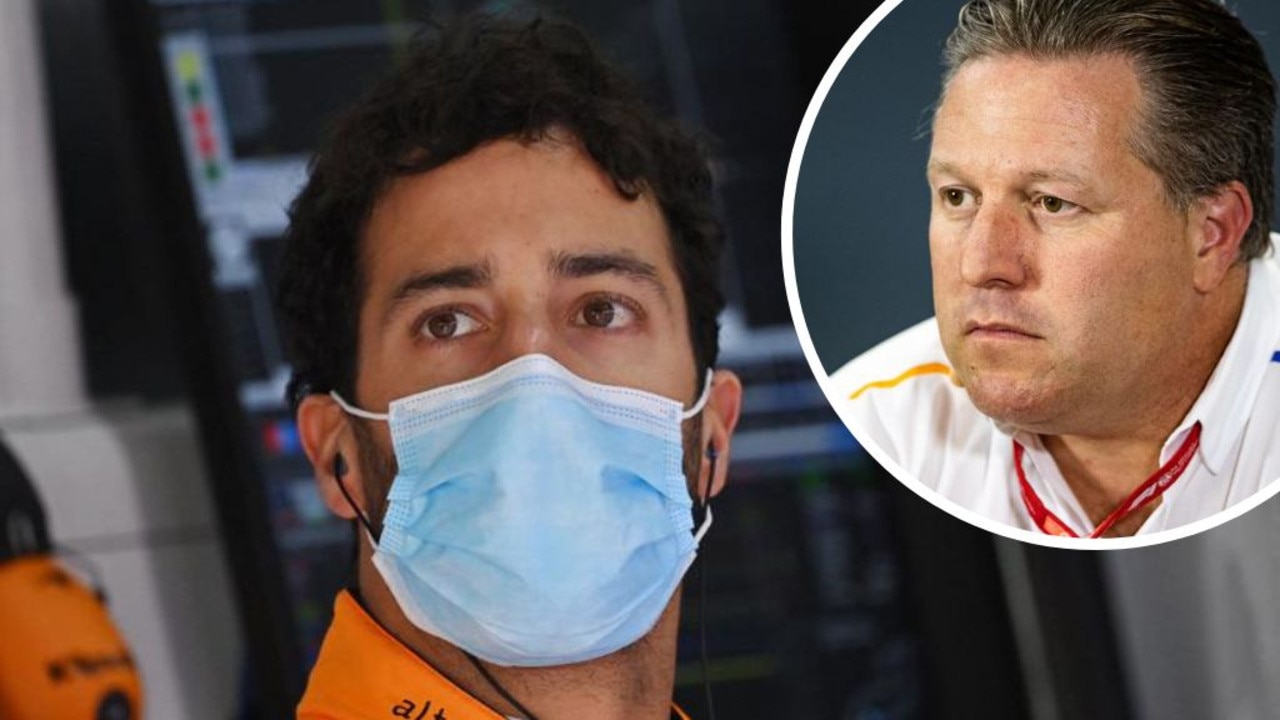 McLaren boss Zak Brown will meet with Daniel Ricciardo to discuss the Aussie's future.
Brown acknowledged the trio were under consideration for McLaren's long term plans and that they would need to talk about Ricciardo's future sooner rather than later.
"Probably later this year," he said.
"We have another year together, we do like to think long out, hence doing some testing with Pato, we're going to do some testing with Colton, we've got Ugo in Formula 4, who put it on pole at his first race.
"So, I don't think you can ever plan too early, but there's no rush."
Damning stats expose Aussie F1 star
- Todd Balym and Julian Linden
In a sport obsessed by data, Daniel Ricciardo's numbers really are scary.
But not in a good way for the only Australian currently with a drive in Formula One.
The fun-loving Honey Badger might be everyone's best mate, but in a cutthroat sport where being popular counts for zilch and excuses even less, Ricciardo is being left behind at a rate of knots.
Every weekend - barring a few exceptions - Ricciardo is being convincingly and repeatedly beaten by his McLaren teammate Lando Norris.
And it's not even close, as New Corp's data experts can reveal.
It has now reached the stage where the once quiet whispers about much longer he'll be around for, have turned into roars with the F1 circus heading to Miami this weekend.
The latest to point to the elephant in the room is the young American gunning for Ricciardo's seat - Colton Herta - who said out loud what everyone else in the paddock is thinking.
With so many fearless and talented emerging drivers already making their mark in F1 right now - and a queue of others waiting for their shot at the big time - Ricciardo's unflattering performances will only face more scrutiny if he doesn't turn things around in a hurry.
Because even his biggest supporters are scratching their heads and showing signs of losing faith.
"Why is he struggling so much? He is a lot better than that," Ricciardo's former Red Bull boss Christian Horner said on Netflix's latest season of Drive to Survive.
"Lando is young, good looking, driving the wheels off the car. He'd hate that, it couldn't be worse."
F1 PODCAST: CAN MIAMI LIVE UP TO THE HYPE?
Lando Norris and Daniel Ricciardo are into their second season as teammates
Even the normally effervescent Ricciardo has admitted he's flustered by constantly losing to his teammate, hitting rock bottom last year when he was lapped by Norris at Monaco.
"This sport definitely still has the ability to rip your heart out from one day to the next," Ricciardo said.
"It hasn't been an electrifying start for me. It's like I'm learning a new technique. It's still not 100 per cent natural for me. It's embarrassing."
The reason Ricciardo is so downtrodden about losing to Norris is because he knows that's the only true way to measure the ability of drivers.
Because the speed and reliability of F1 cars varies so much from team to team, only drivers with the same equipment are on a level playing field so their head to head results become very personal.
And that's why Ricciardo's raw numbers sting so much.
DATA PAINTS AN ALARMING PICTURE
Although it's no secret the West Australian is struggling to keep up with his younger British teammate, the breakdown of the figures paints an alarming picture.
In the 26 races they have been together at McLaren for, Norris has finished ahead of Ricciardo 18 times. And in qualifying, Norris leads 19-7, including 4-0 in 2022.
But that's just the tip of the iceberg. As News Corp's data revealed, it's one-way traffic and the 32-year-old Australian is falling further and further behind
Not only is he getting beaten in roughly three out of each four races, but he's now getting taught a lesson at every corner and long straight, as well as practice, qualifying, fastest laps and getting to the chequered flag.
As the more experienced driver with eight career race wins (Norris has none yet), Ricciardo should have a distinct advantage over his teammate - or at least parity - but a comparison of each of the 154 sessions has the Brit miles ahead: 136-18.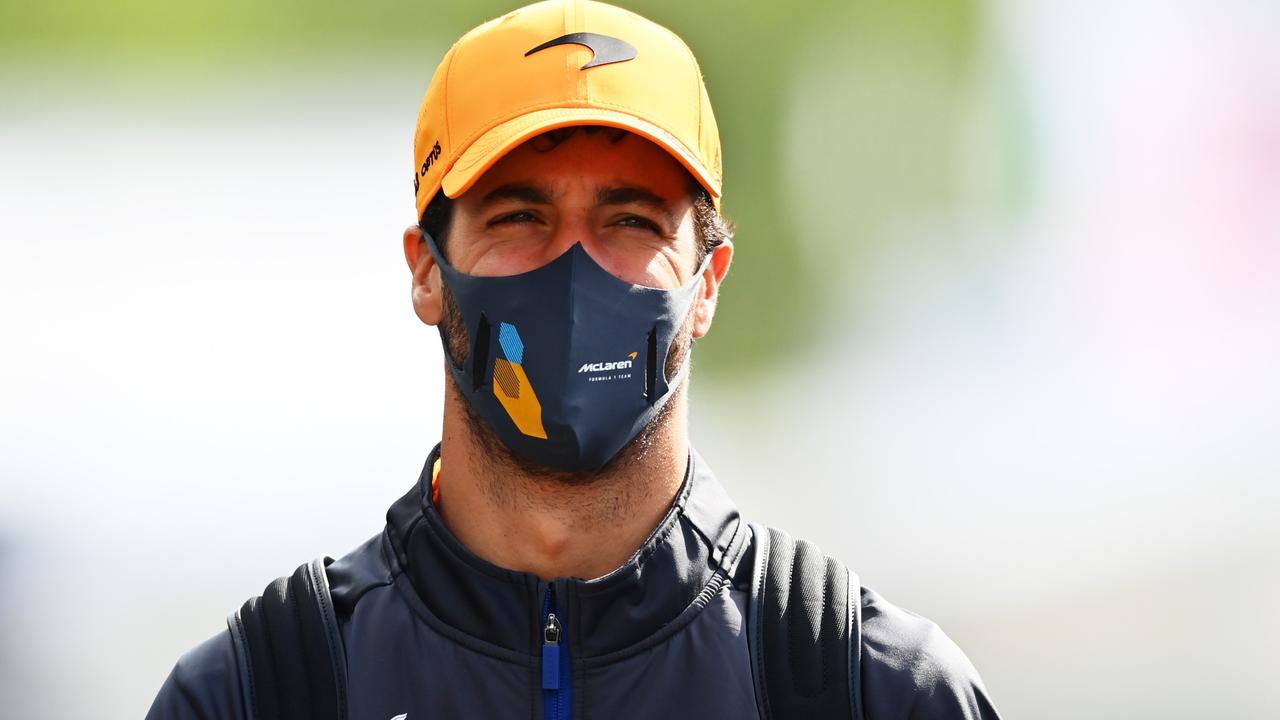 Daniel Ricciardo will be hungry for a podium spot at the Miami Grand Prix
Lando's qualifying times this season on average are half a second faster than Ricciardo - a huge margin - and during races, where Ricciardo is normally very strong, Norris has posted the fastest lap 22 times.
One of the rare exceptions was last year's Italian Grand Prix, which Ricciardo won in brilliant fashion to give McLaren its first race victory since 2012, but there were some mitigating circumstances.
Both Lewis Hamilton and Max Verstappen exited the race after a collision and Norris, who finished a close runner-up, was told by his team not to challenge Ricciardo over the closing laps to risk crashing.
At least that's one statistic, where the two are close. Because the McLaren crash less than any other car on the grid.
Originally published as Daniel Ricciardo McLaren contract: Three F1 drivers in line to replace Aussie star