F1 results Emilia Romagna Grand Prix: Daniel Ricciardo apologises for Ferrari crash
Daniel Ricciardo has copped heavy criticism for a sloppy incident which ended a ferrari rival's race on lap 1 with a former driver warning the Aussie must step up to secure his future.
Daniel Ricciardo ended Ferrari driver Carlos Sainz's home race on the first lap at Imola in what experts have described as an "embarrassing mistake" by the Australian.
The pair were driving side by side going into Tamburello before the McLaren clipped the back of the Ferrari and both cars went into the gravel.
Ricciardo made it out, Sainz did not marking his second consecutive retirement this season.
Ricciardo went straight to Ferrari HQ after the race to apologise.
"What happened from memory was I got onto the kerb, I know it's going to bottle up at some point, so tried to give myself a little bit more space," Ricciardo said in the media pen after the race.
"But I think as soon as I got onto it, I just started sliding straight off it and then slid up into the track, and obviously then went into Carlos.
"I'll see if I could have done anything different. It's tough because you go slower into Turn 1, you be more cautious and then someone's going to probably do the same to you, or you might put yourself in a more sandwiched position.
"I went into [Turn] 1 feeling like it was all under control. Obviously it wasn't, but for now I'll go and see Carlos and apologise.
"It's not fun to ruin your day but also someone else's, so one of those days."
While Ricciardo lamented his actions on another wasted weekend, experts took aim at his error.
"It was a racing incident of course," said Anthony Davidson of Sky F1. "He hit the kerb and sent the car out but it's an embarrassing mistake it shouldn't be happening at this level from someone asd usually polished as Ricciardo.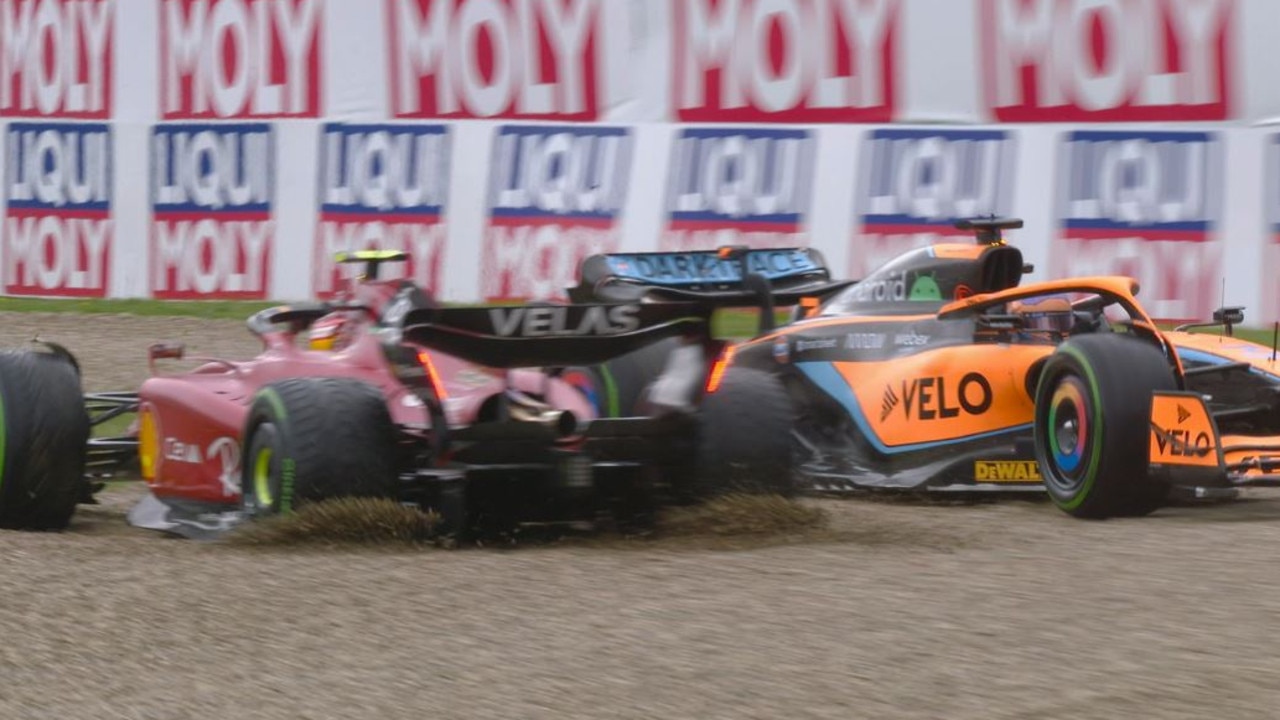 Image of Sainz and Ricciardo after their collision
"We know the car at those speeds is twitchy (but) to end a Ferrari race on lap one, I would be taking an early exit."
Former world champion and ex Mercedes driver Nico Rosberg warned that if ricciardo continued to be outperformed by his teammate Lando Norris, his future with the team might be up for debate.
"We know Daniel is one of the best wheel to wheel drivers but today he should have been more cautious," Rosberg said.
"Not good for the overall situation he is in. Lando was on the podium, he has been dominating Daniel for over a year now, Daniel needs to find a way to turn this around and find an upper hand, it's very important for his season and future."
WHAT DID SAINZ SAY?
Sainz was vocal in Australia about the run of bad luck he was having compared to his teammate and championship leader Charles Leclerc, but when asked for his thoughts on the incident at Imola, th Spaniard was measured.
"I didn't get the best of starts together with Charles we need to analyse what happened there at the start," he said.
"[We'd] prefer to have had a good start but we still managed to get cleanly into Turn 2, and for some reason I think Daniel went into the kerb, left him plenty of space but I think he must have lost the front of the car and bumped into me, with the unlucky situation that I got stuck yet again in the gravel. So nothing really I could have done differently there."

MAX IS BACK
World champion Max Verstappen rekindled his title defence and acclaimed his resurgent Red Bull team after he led Sergio Perez home in a dominant one-two triumph in Ferrari's backyard at the Emilia Romagna Grand Prix.
In a rain-affected race, the 24-year-old Dutchman came home 16.5 seconds ahead of his Red Bull team-mate as Charles Leclerc and Ferrari endured a disappointing day in front of passionate home support at the Autodromo Enzo e Dino Ferrari.
Leclerc, who started second on the grid, finished sixth after making a poor start and spinning in the closing laps while running third, allowing Lando Norris to take third for McLaren.
After Saudi Arabia, it was Verstappen's second win this season which has also included two retirements, and the 22nd win of his career.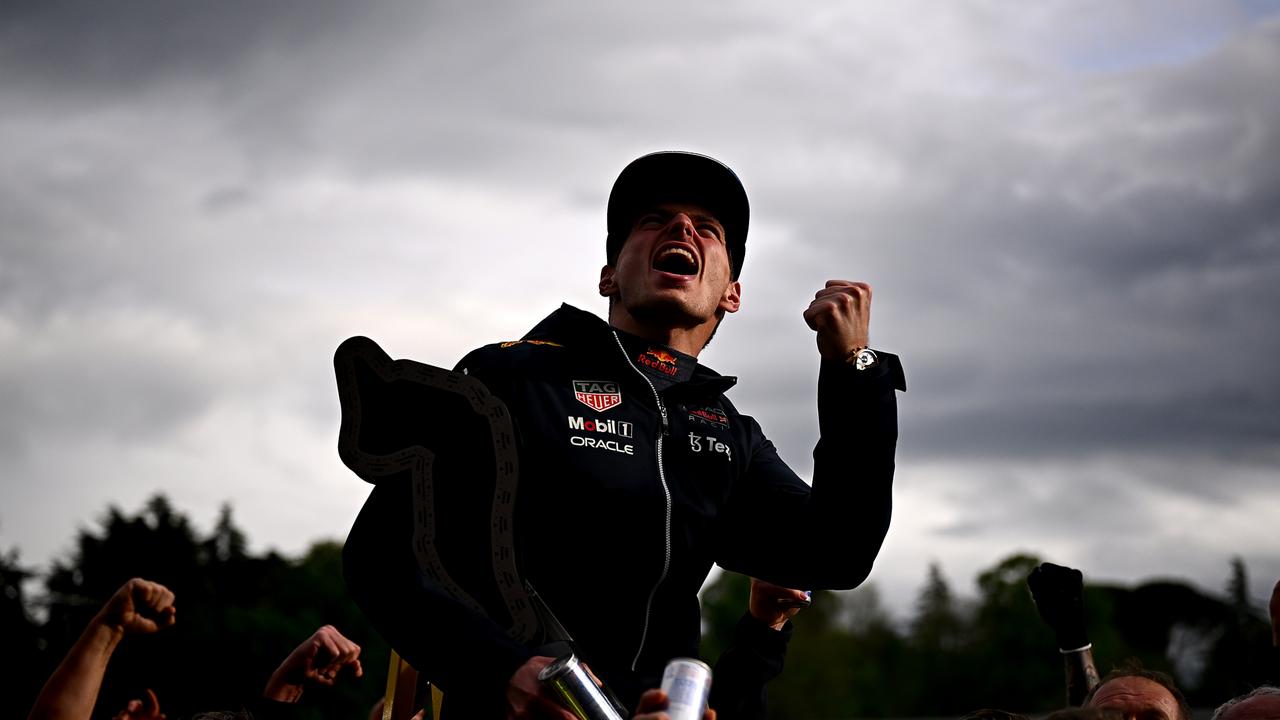 Race winner Max Verstappen
He reeled off a 'grand slam' weekend with pole position, victory and fastest lap as well as victory in Saturday's sprint race.
He moved up to second in the title race behind Leclerc, reducing his deficit from 45 points to 27 to set up the prospect of an intense duel this year between them and their teams.
"It's always tough to achieve something like that, but already yesterday and the day before, we were on it," said Verstappen.
"And it was looking like a strong weekend. You never know with the weather how competitive you are going to be, but I think we did very well and this one-two is very deserved.
"The start was very important, but afterwards, judging the conditions and when to swap to the slick tyres -- because in the lead you have to always dictate the pace."
Perez said he was delighted to bring smiles to the Red Bull team. "It was really intense," he said. "The most important thing today was not to make mistakes because with these conditions it was so tricky. To get a one-two, out there, is a great result for the team.
"I am very pleased to see everyone in my team smiling today and I am happy for Max." Norris said: "An amazing race! An amazing weekend.
"I'm happy. The team deserves it. It was a mixture of tricky conditions, but we've been able to capitalise on that -- I love these conditions, so always do quite well." George Russell produced a stirring drive for Mercedes to come home fourth after starting 11th, fending off Valtteri Bottas's Alfa Romeo at the finish, while team-mate seven-time champion Lewis Hamilton finished a distant 13th.
- AFP
MERCEDES BOSS MAKES STUNNING APOLOGY

Mercedes team boss Toto Wolff made an extraordinary public apology to a crestfallen Lewis Hamilton on Sunday, describing his car as "undriveable" and unworthy for a world champion.
Wolff spoke on team radio and then to reporters after a desultory day for Hamilton who finished the Emilia Romagna Grand Prix in a lowly 13th while Mercedes team-mate George Russell was fourth.
Adding insult to injury, Hamilton was lapped by his recent nemesis world champion Max Verstappen.
Verstappen won the race ahead of Red Bull team-mate Sergio Perez to trim Charles Leclerc's lead in the title race to 27 points with Lando Norris finishing third for McLaren.
Russell, 24, competing in the same difficult 'porpoising' and under-performing Mercedes car as the 37-year-old seven-time champion has now beaten Hamilton in each of the last three races.
"We are not good enough for a world champion -- and we just need to fix the car," said Wolff.
On team radio, he apologised to Hamilton as soon as the race ended. "I am sorry for what you had to drive today. I know it was undriveable. This was a terrible race." Hamilton responded: "No worries, Toto. Just keep working hard."
Hamilton's most humbling moment in a desultory race came when he was lapped by Verstappen who enjoyed an easy pass for the race-leading Red Bull.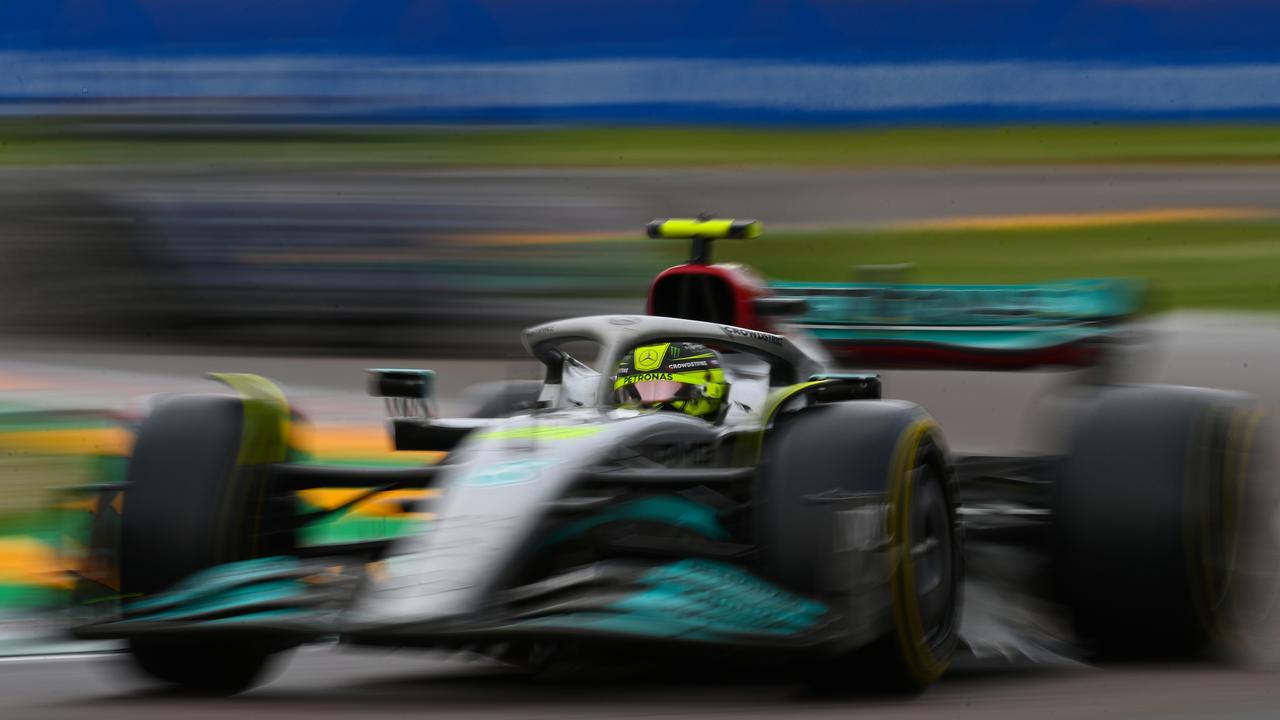 Lewis Hamilton endured a nightmare weekend
Sunday's result was one of Hamilton's worst since he joined Mercedes. His only previous pointless finish came at last year's Azerbaijan Grand Prix where he was 15th.
His previous worst run of results came in 2009 when he struggled in an uncompetitive McLaren and registered his worst finish of 18th at the German Grand Prix.
Hamilton was at a loss.
"It's been difficult, but I don't really know what to say," he said. "It's definitely not easy and we all feel it as a team. At least George got some points so my apologies to everyone (that) I wasn't able to do the same.
"I just wasn't fast enough to overtake and I don't really know why. I just wasn't moving forwards. I was just a bit of a sitting duck." Hamilton said he had experienced worse times in his career.
"I've definitely had lower moments so it's not the lowest, for sure," he said. "Everyone's feeling it and everyone's just head down trying their best. There's no-one that's giving up and everyone's just trying to move it forward as fast as they can.
Mercedes are now third in the constructors standings with Russell having contributed 49 of their 77 points.
"Lewis is going to come back incredibly strong, I have no doubt," said Russell. "He's definitely going to be pushing me all the way. I think it's just how things fall out sometimes in a race weekend. I made a very strong start -- I don't know what happened to him at the start.
"But I expect him to come back so strong. The way he is pushing and motivating the team is inspiring. I'm not getting comfortable with this position, because I know what he's capable of."


Originally published as F1 results Emilia Romagna Grand Prix: Daniel Ricciardo apologises for Ferrari crash